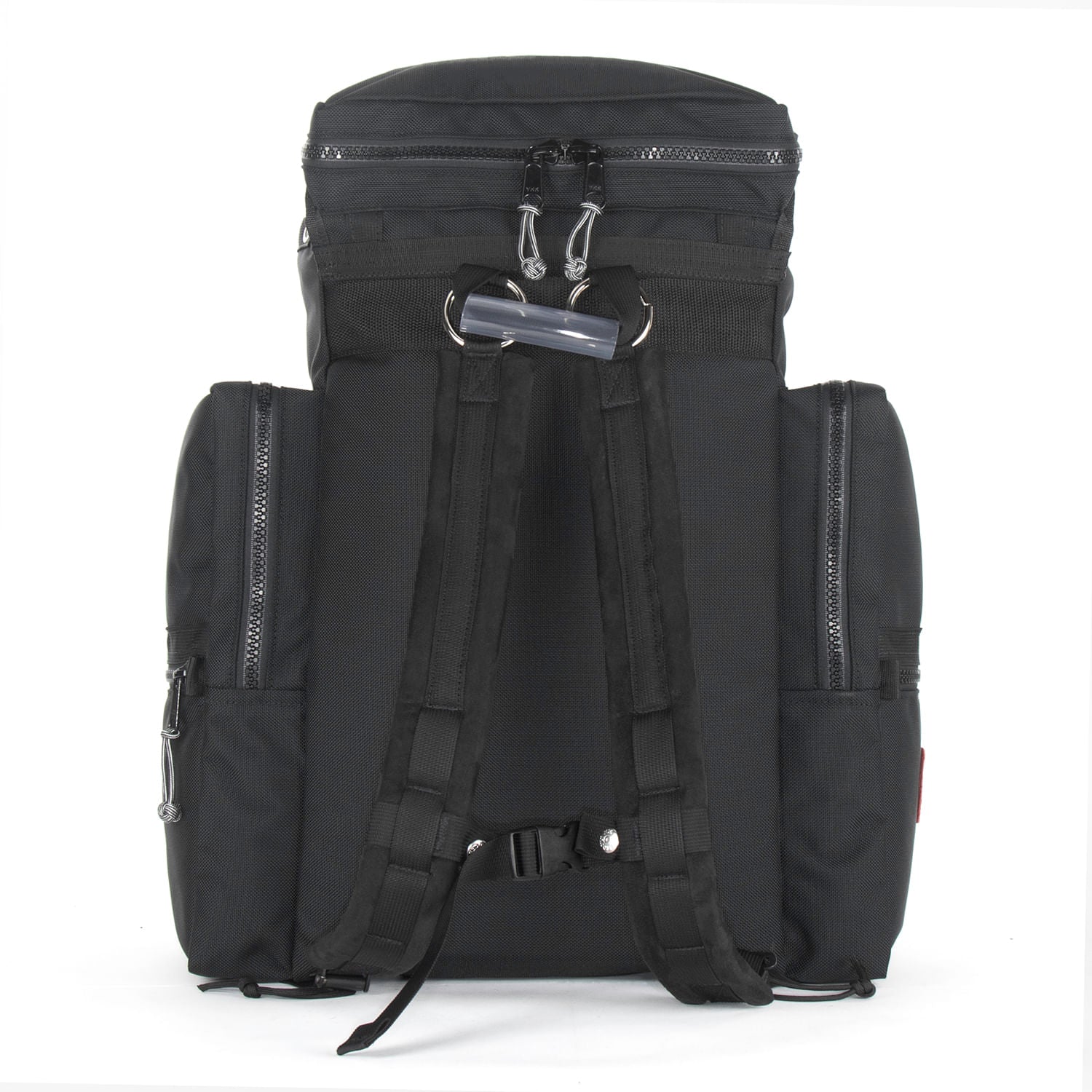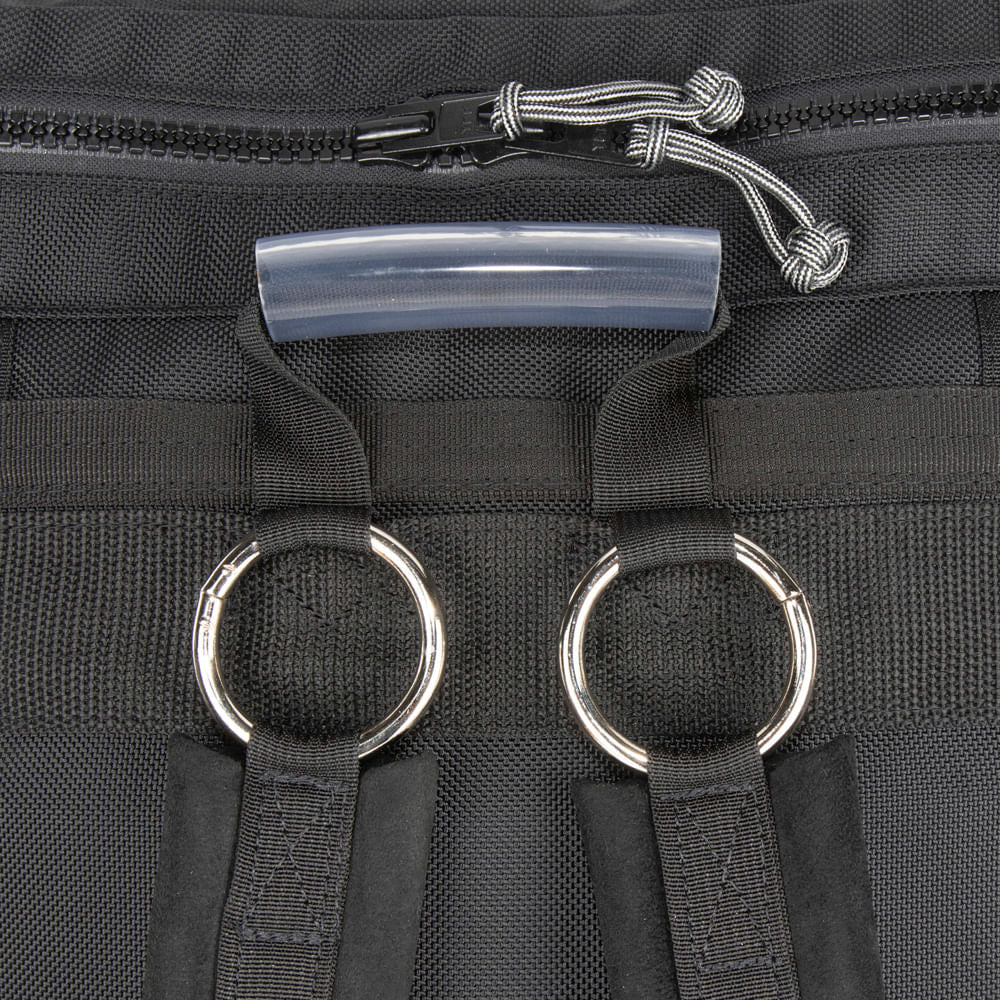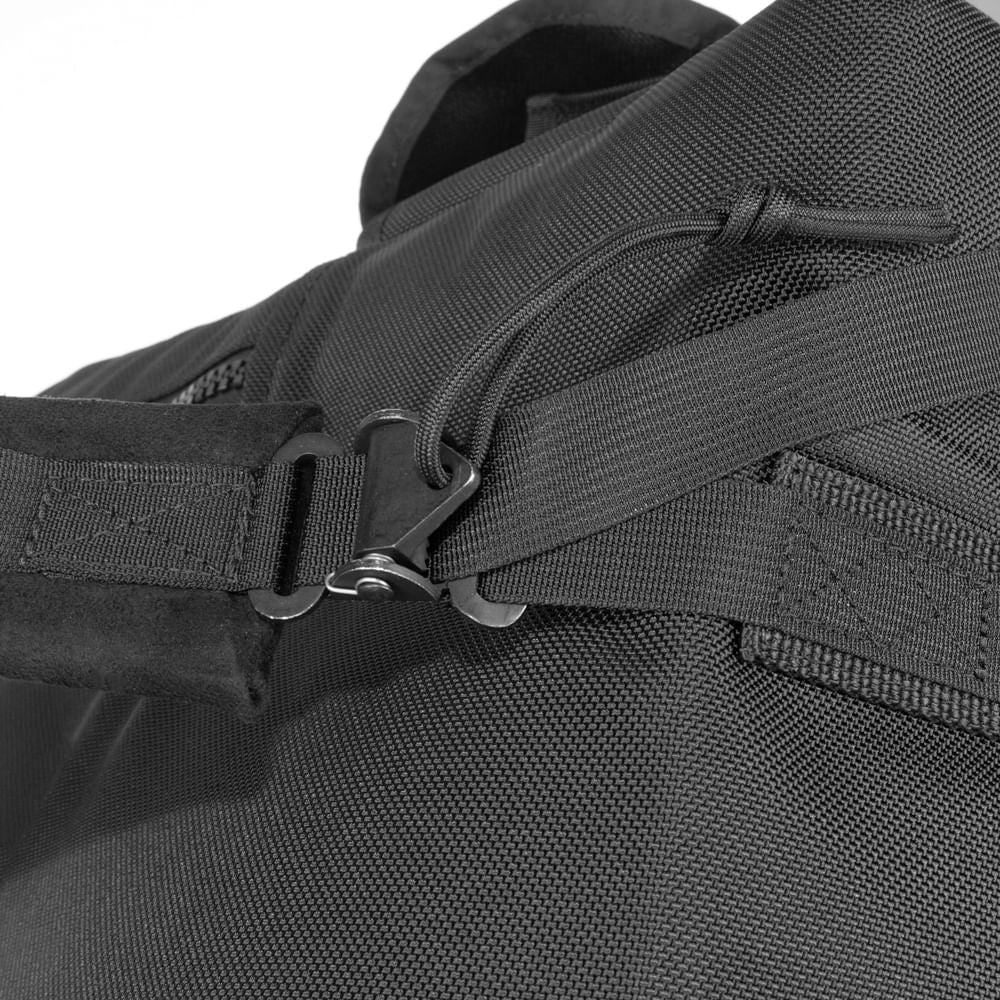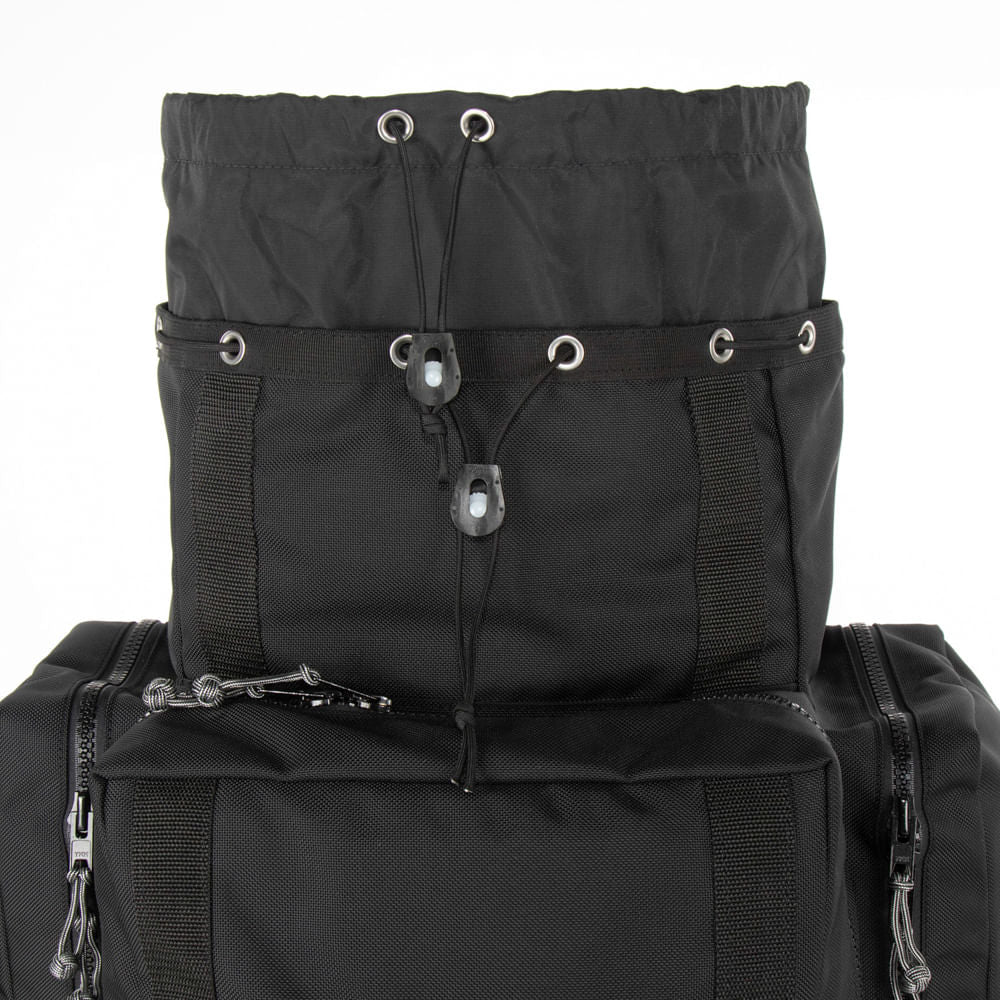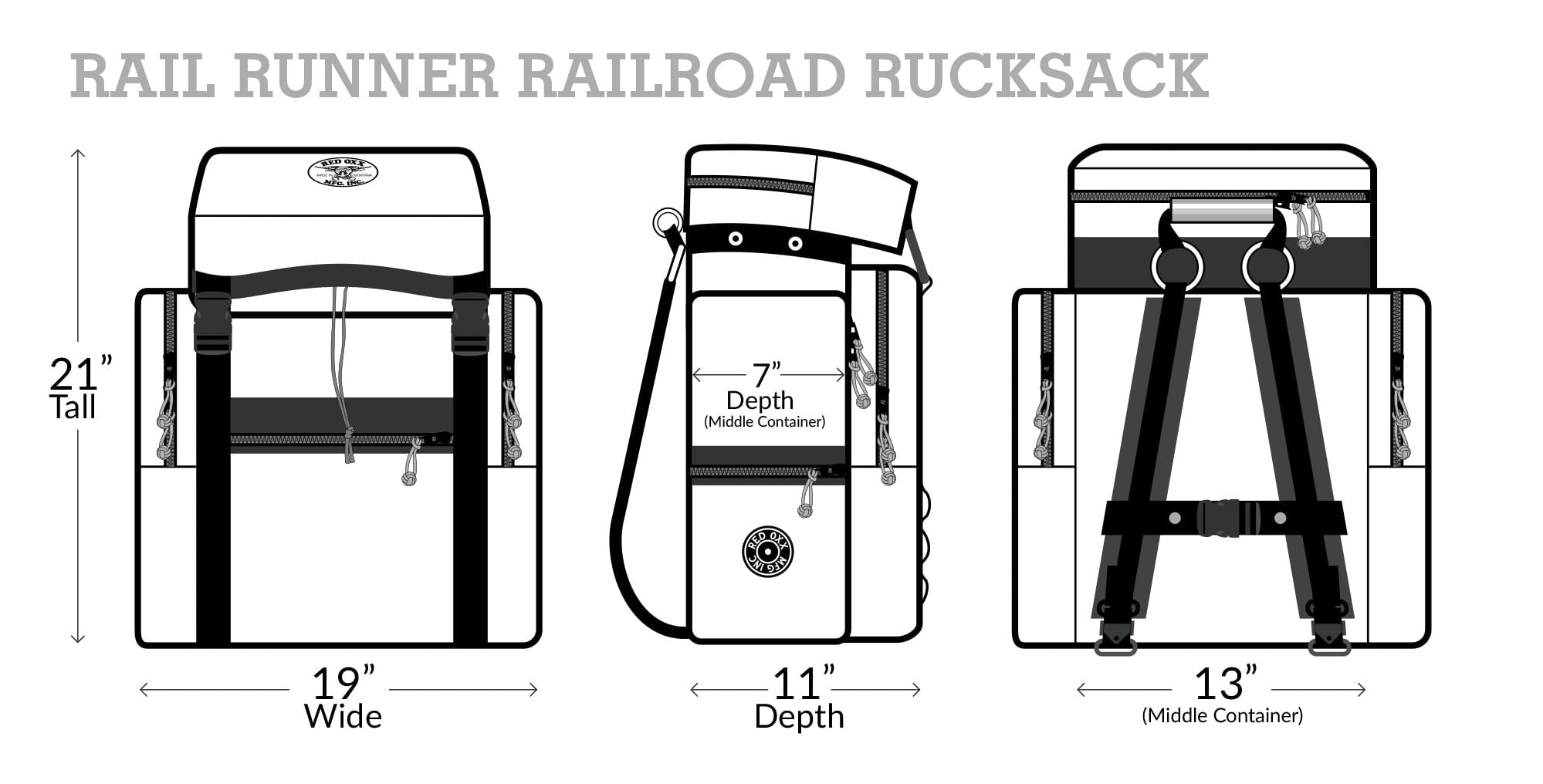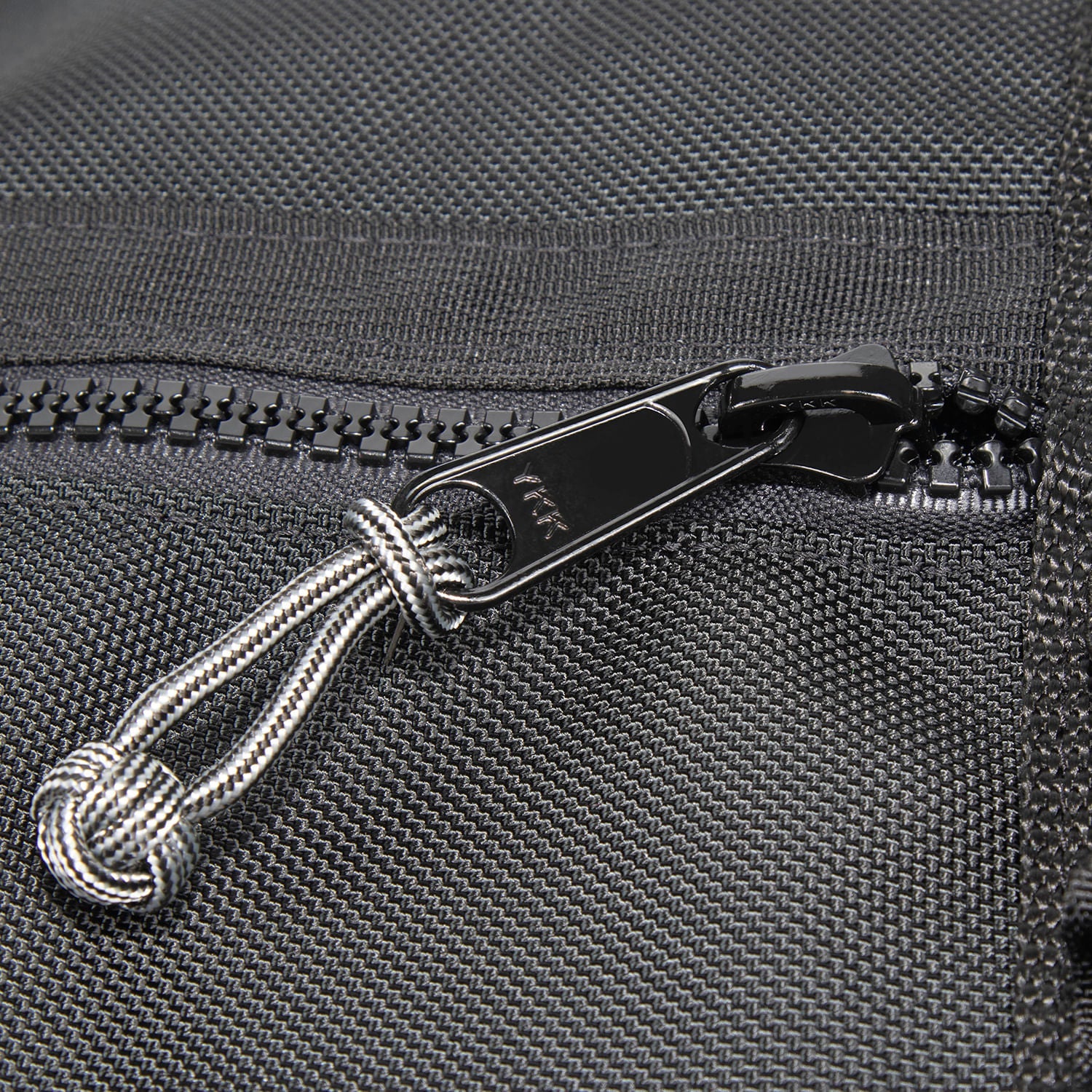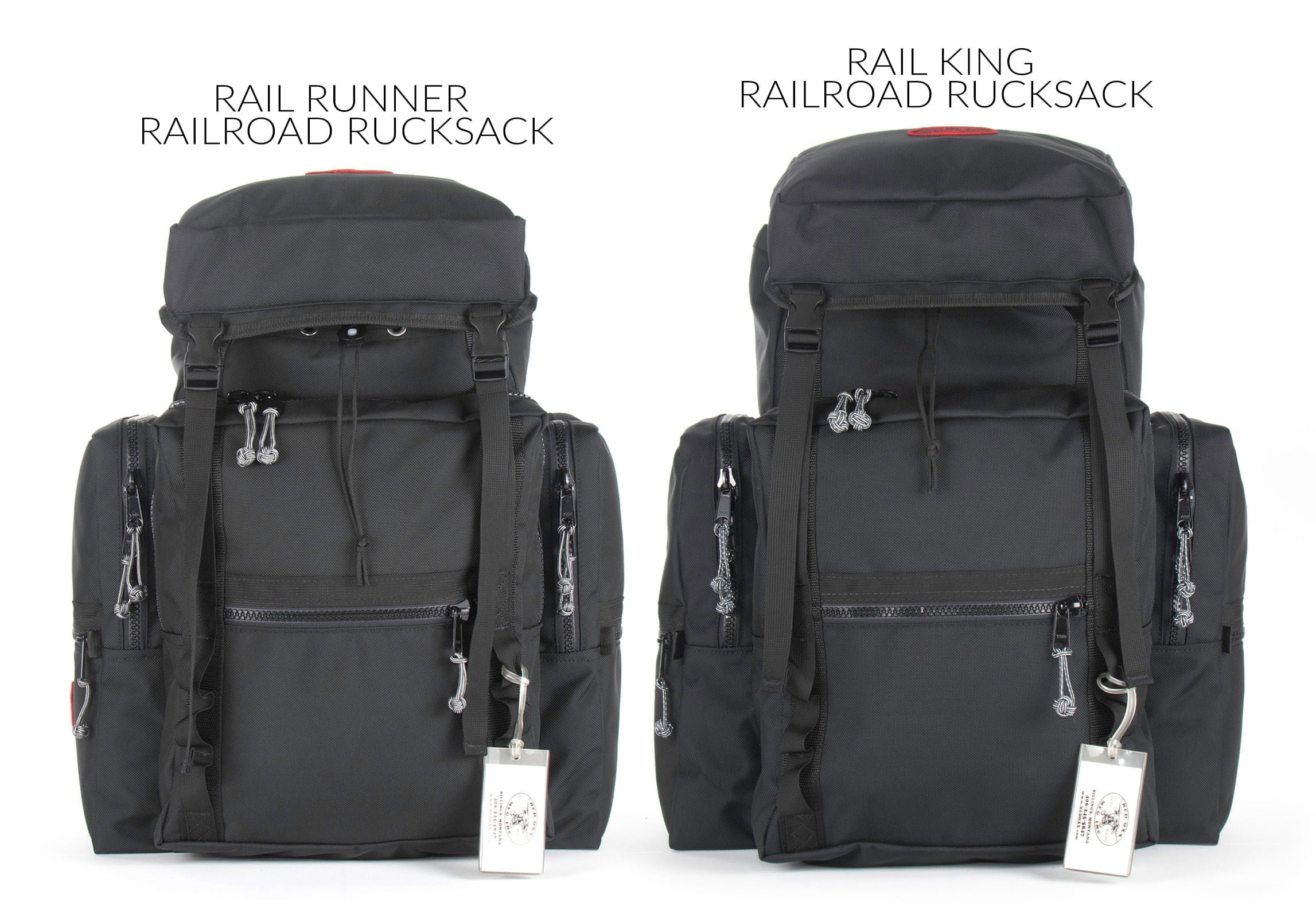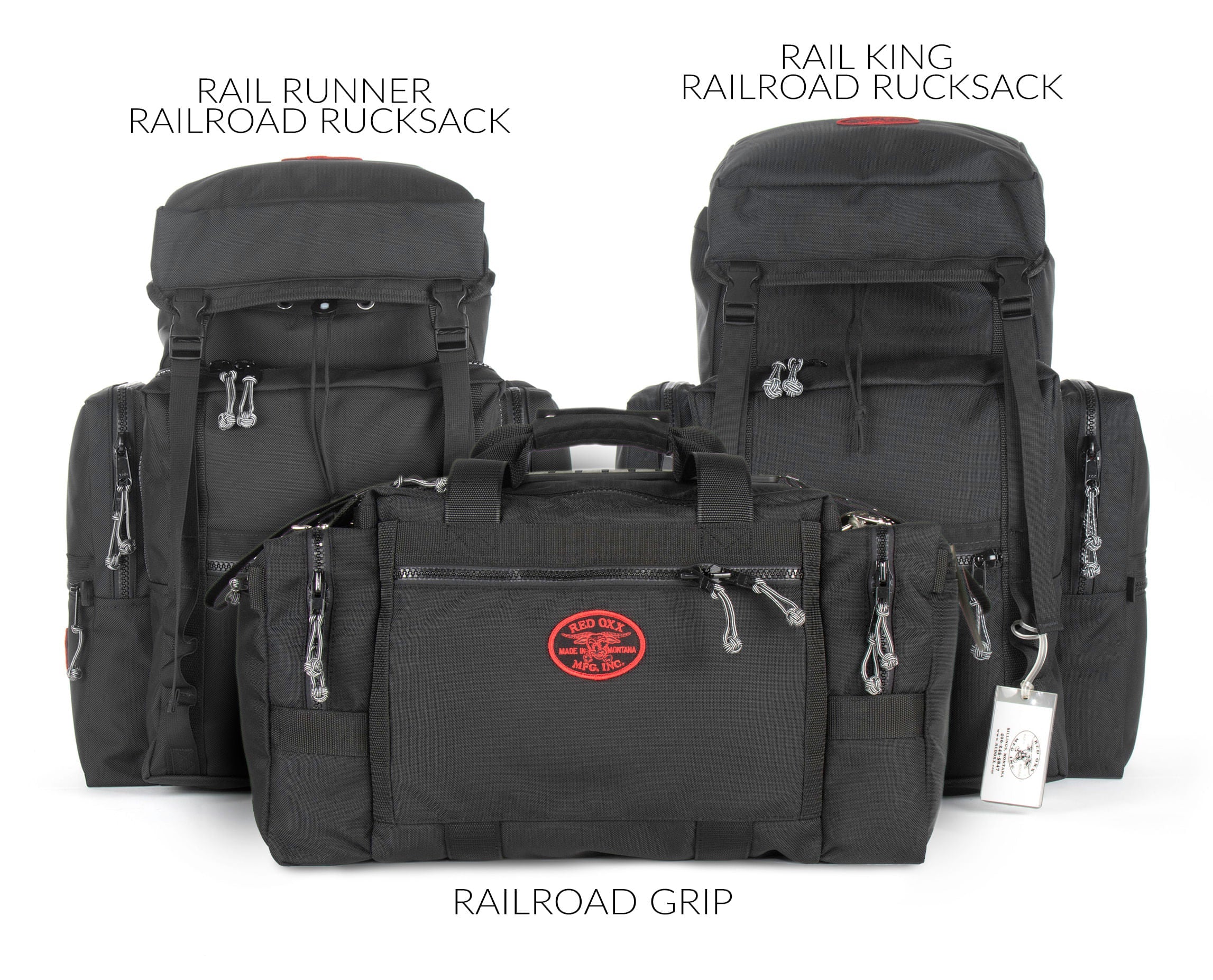 Rail Runner Railroad Rucksack
Conductor's Favorite Railroad Rucksack. 
The Rail Runner Railroad Rucksack is constructed from high-grade ballistic nylon and is designed to provide reliable, long-term protection for your belongings. With reinforced handles and easy-access pockets, you can carry your company bibles with ease and organize your tools and gear with confidence. Perfect for extended runs, this rucksack is the ideal choice for railroaders.
Made in U.S.A. with our "No Bull" Lifetime Warranty
Dimensions: 19"W x 21"H x 11"D
All our railroad bags are built to order and will ship within​ 14 days
Designed by Railroaders for Railroaders

Made from 1050 weight urethane coated, Ballistic Nylon fabric

Over 60 liters of organized space for all your gear

Tough enough for the harsh railroad environment

DESCRIPTION

DESIGNED EXCLUSIVELY FOR SHORTER TRIP RAIL RIDERS.
Get ready for the shorter runs. Here's a bag railroaders can carry on their shoulders; a tough as nails rucksack. The Rail Runner Railroad Rucksack is designed with everything our rail conductors and train engineers have been asking for.

WE HEARD THE LONE QUILLER IN THE DARKNESS.
The new Rail Runner has plenty of pockets. Toss your pencils and pens in the top lid "stuff" pocket. There's also a flat slip pocket on the raised front pocket. This raised front pocket is a perfect location for the GCOR rulebook or tablet. Easy to get to when you need it. There's a laptop notebook or tablet slip pocket in the same front pocket for easy access to your computer, too.

Hoist your Rail Runner through the narrow engine door by the comfortable clear rubber Euro handle.

THE PERFECT SIZE FOR WARMER WEATHER.
With the arrival of warmer weather, it's time to ditch the heavy coveralls and travel light again. Loading up the Rail Runner, you can organize your personal stuff, carry your laptop notebook safely inside your bag, load your summer gear, and still have room for the required typical lamp, radio and GCOR rulebook or tablet.

COMFORT AND STRENGTH.
Upgraded durable Uni-Suede padded articulating shoulder straps for carry comfort cinch down with Mil-Spec A.L.I.C.E. hardware. As usual, every stress point is double box stitched for your peace of mind. Just like our famous Railroad Grip, the Rail Runner is hand-built in our factory in Billings, Montana. It still comes with our famous no questions asked "No Bull" Lifetime Warranty.

Made with tough 1050 wt Ballistic Nylon materials (available in Ballistic Black only). Now you can ride the summertime Red Oxx Hi-Ball on the roll by!

Other ideal uses for the rugged Rail Runner Railroad Rucksack include:

Riggers Rucksack Backpack - tough enough for any oil rigging job
Trucker cargo ruck - ideal for tools and travel gear
Roughneck rucksack - If you work a big tough job, this is your bag
U.S.A. Dimensions:

Overall 21"H x 19"W x 11"D
Total Capacity - including all pockets: 4179 total cubic inches
Main Compartment: 20"H x 13"W x 7"D
Main Compartment Capacity: 1820 cubic inches
Weight: 5.4 pounds

Metric Dimensions:

Overall 53.3cm H x 48.2cm W x 28cm D
Total Capacity - including all pockets: 68.5 Liters
Main Compartment: 51cm H x 33cm W x 17.8cm D
Main Compartment Capacity: 29.8 Liters
Weight: 2.5 Kilos

Pocket Measurements:

Extended skirt: 5"H x 13"W x 7"D
Exterior dual side raised top-zippered pockets: 15"H x 7"W x 3"D
Exterior dual side zippered slip pockets: 7"H x 7"W
Exterior front raised pocket: 15"H x 13"W x 4"D
Exterior front zipper flat pocket: 10"W x 9" H
Exterior zippered top lid pocket: 12"W x 11"H x 3"D
Interior computer slip pocket inside the front raised pocket: 12"H x 14"W

Features:

1050 weight urethane coated, Dupont certified Ballistic Nylon fabric
Weather resistant (NOT waterproof)
400 Denier High Density Nylon Pack Cloth soft black lining
All zippers #10 YKK
Thread: Anefil Nylon, Bonded Type 6,6 Tex 90-Black
All seams double stitched and bound
Stainless Steel Mil spec snaps with Red Oxx logo
Daisy chain loops on ruck body and both straps
Includes adjustable detachable sternum chest strap
Free heavy-duty vinyl luggage tag
Double box stitching on stress points such as carry handles
Includes Cable Lock
Dual set of Fastex side release buckles
A.L.I.C.E. pack strap adjusters
Nickel plated 1/4" O-rings allow articulating shoulder straps
Grab loop with Euro-handle
Mil-Spec parachute cord with adjustable Fastex tension locks
Spurred stainless steel grommets
4# Fuzion STD Natural closed cell foam padding in back
Uni-Suede padded articulating backpack straps
Available in Ballistic Black Only
Can this be used as a carry on bag for flying?

The Rail Runner (at 4036 cubic inches/or 66 Liters) exceeds carry-on requirements and would have to be checked.The Carry-On C-RuckorRoadster Mini Ruckare both carry-on compatible and of similar design.

Can I order this in a midnight blue color?

The 1050 ballistic nylon used for the Railroad Bags is only available in black.

Why does it take so many days to build and ship my Rail Runner Rucksack?
Red Oxx is hand-crafting your order on a "first order in, first order out" basis. More details regarding supply chain issues can be found here.

What's the difference between the Rail Runner Rucksack, the C-Ruck, or Roadster Mini Ruck?
The Rail Runner is made with a heavier and stronger 1050 weight Ballistic nylon, our toughest fabric. Ideal for Railroaders and the harsh rail yard lifestyle.

Can I get one in a different color other than black?
Our U.S.A. sourced ballistic nylon is only available in black.

What is Ballistic Nylon?
Ballistic nylon is a thick, tough, synthetic nylon fabric used for a variety of applications. Ballistic nylon was originally developed by the DuPont corporation as a material for flak jackets to be worn by World War II airmen. The term ballistic nylon takes its name from the fact that it was intended to protect its wearers from flying debris and fragmentation caused by artillery shell impacts. This is a special grade heavier weight nylon fabric that can handle hard use and the black color helps hide dirt, oil and grease stains.

What colors does the embroidery come in?
Embroidery is only available in red.

Will my CGOR rulebook (US), radio, and lantern fit inside?
Yes, the Rail Runner was specifically designed to hold this exclusive railroader gear. GCOR rulebook or tablet in the front raised pocket, radio and lantern in either raised side pockets.

Will a laptop fit in the Rail Runner? What size laptop?
The Rail Runner Rucksack has a special slide pocket inside the front raised pocket that will accommodate Laptops up to 15 inches.

Are there any interior pockets or dividers?
We recommend using our Nomad toiletry kit and/or Lil Roy Gadget bags to organize your belongings inside your Rail Runner Rucksack. The Tri-fold Toiletry bag is also a great organizer due to its three individual zippered mesh pockets and unique fold open flat hanging design.

Is there a railroad discount available?
Red Oxx eliminates the middle man with it's factory direct to consumer model. Our prices are based on the length of time it takes to build a bag and the cost of materials. Each product we build comes with our iron clad "No Bull," no questions asked lifetime warranty. You will save considerable money in the long run because you bought only one railbag, not to mention peace-of-mind knowing you own a railroad rucksack that will not fail.

Is there a way to securely lock the pockets on my rucksack?
Sure, you can use any TSA approved bag lock or try our Cable Lock for a simple, semi-secure solution. Watch this video where CEO Jim Markel demonstrates how you can use the cable that comes with the product Dog Tag price tag on your bag to secure your bag. Keep in mind, any determined thief can still cut open a soft sided bag with a sharp knife.

The teeth on my zipper have separated. Do I send it in for warranty repair?
No need for warranty repair, easily fix it yourself. Check out this video where CEO Jim Markel shows how simple it is to do it yourself.

Do you ship your Rail Runner to Canada and how much does that cost?
Certainly, we ship to Canada for a fixed Priority International shipping fee of $30.00. All disbursement fees due on delivery are the responsibility of the buyer. Other international orders are $50.00, except Australia and New Zealand for $55.00.

Can you ship USPS?
Yes, Red Oxx will ship USPS upon request. Simply state, "Please ship USPS" in the cart comments during checkout and we will adjust your billing accordingly.
This product has no reviews yet.
This product has no reviews yet.
This product has no reviews yet.