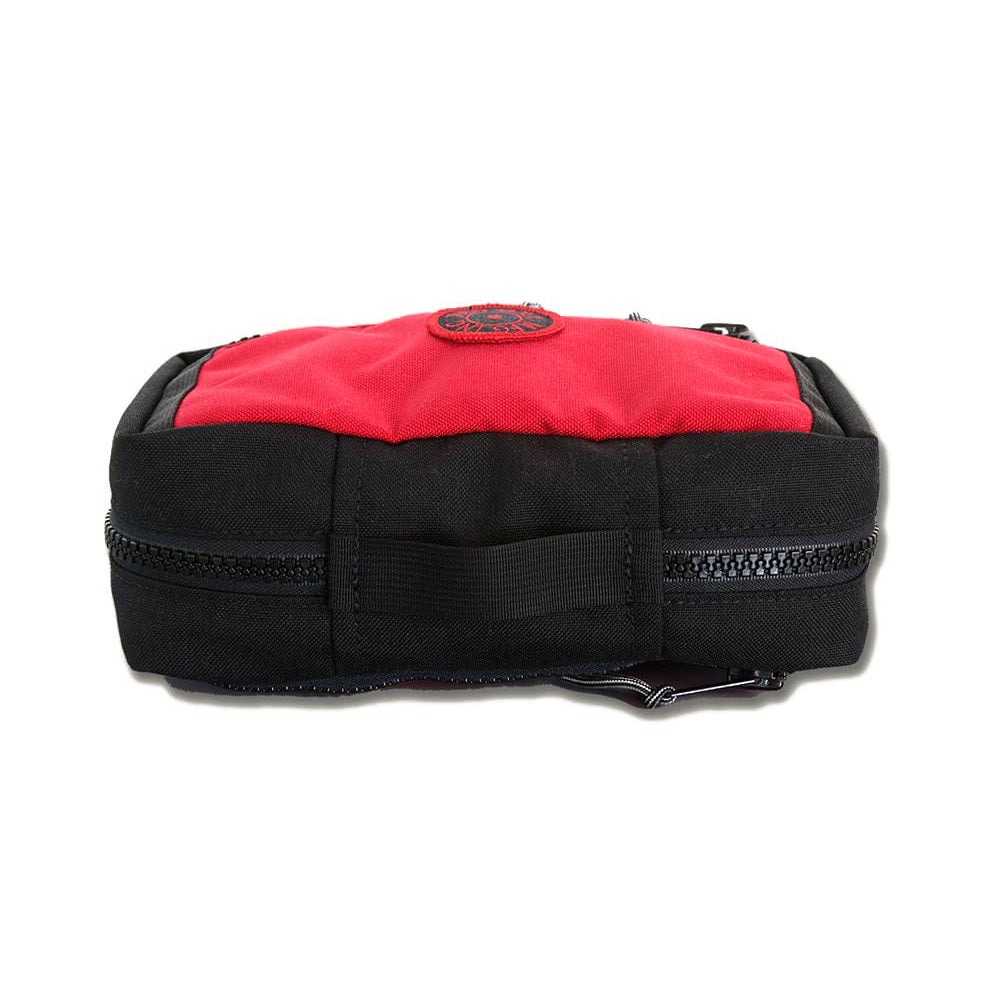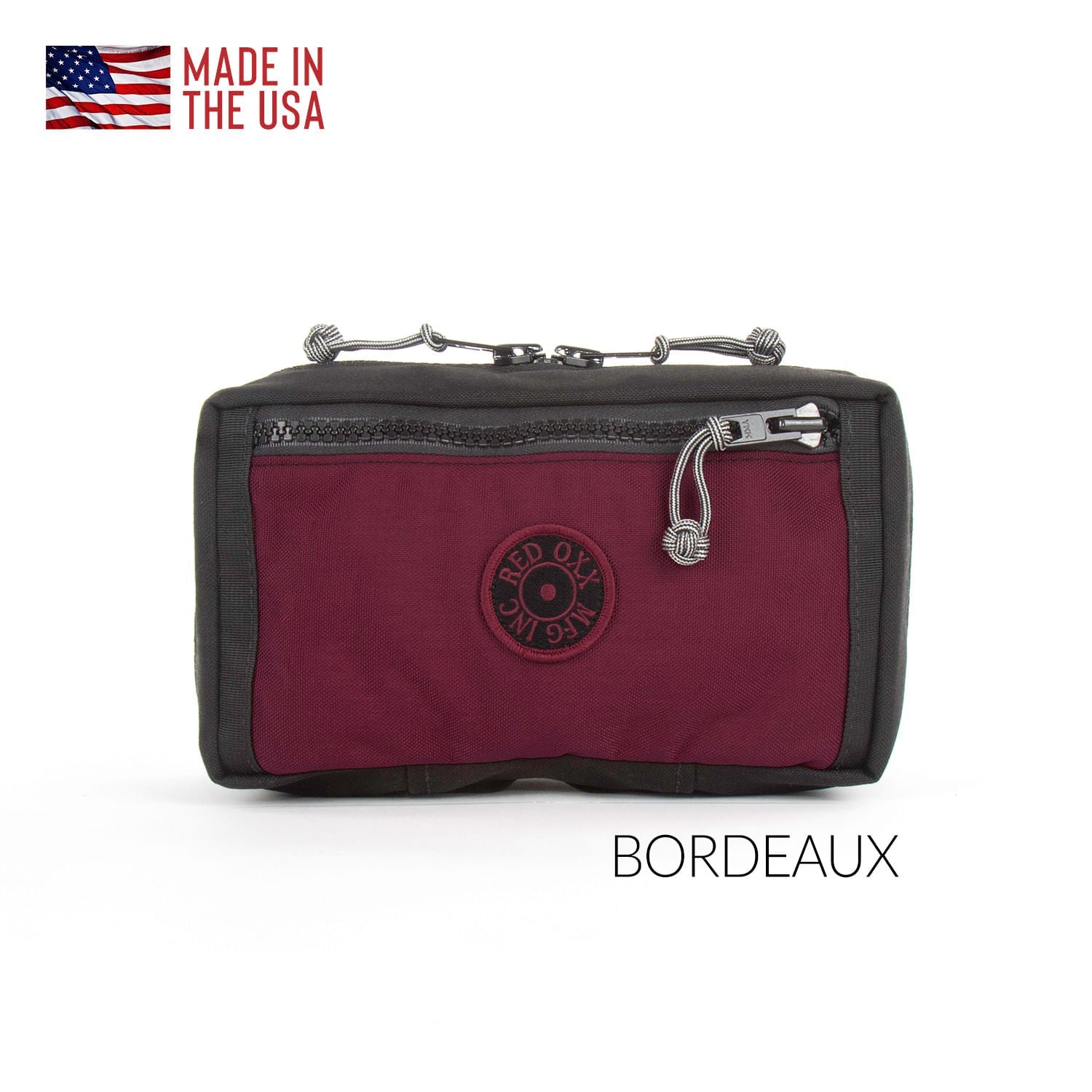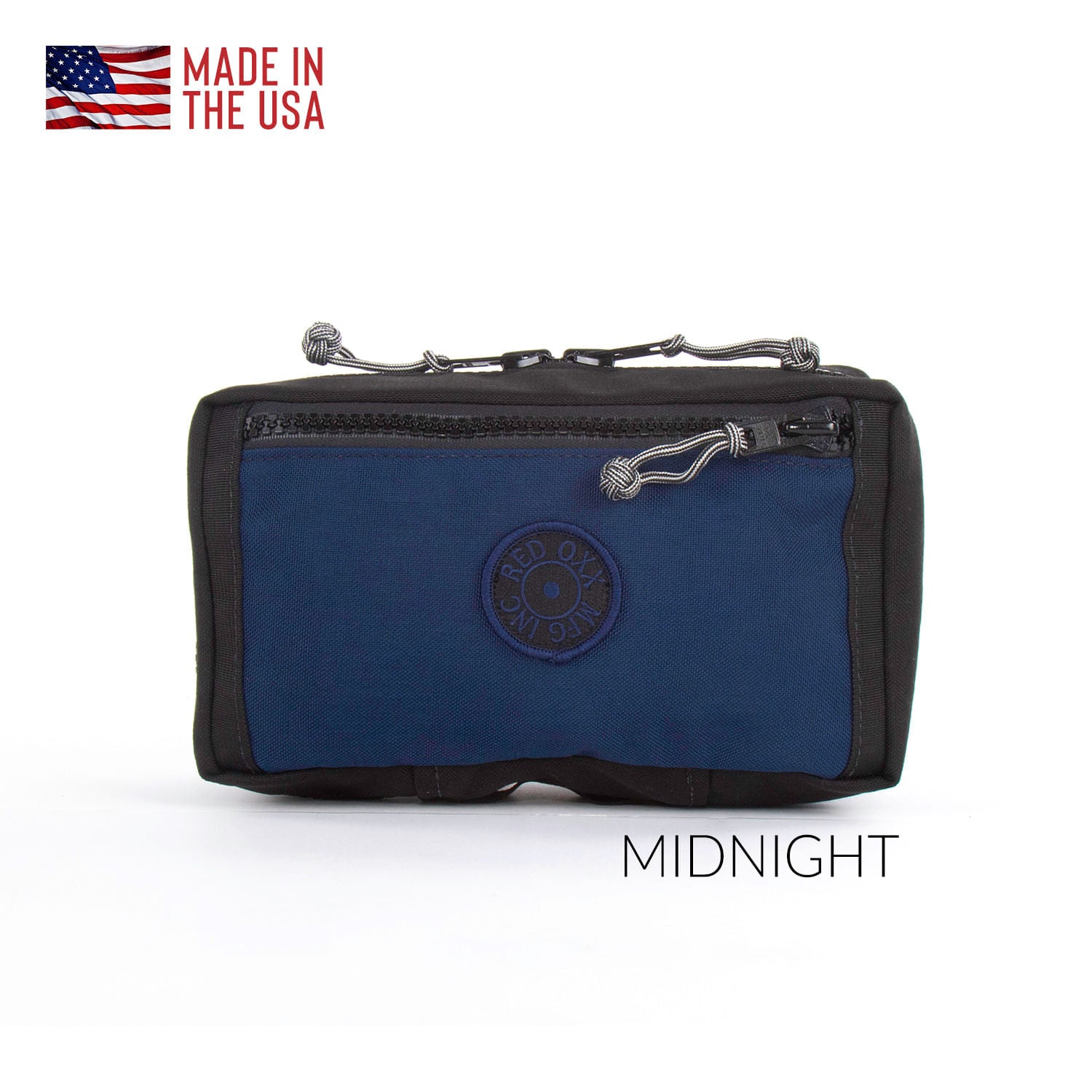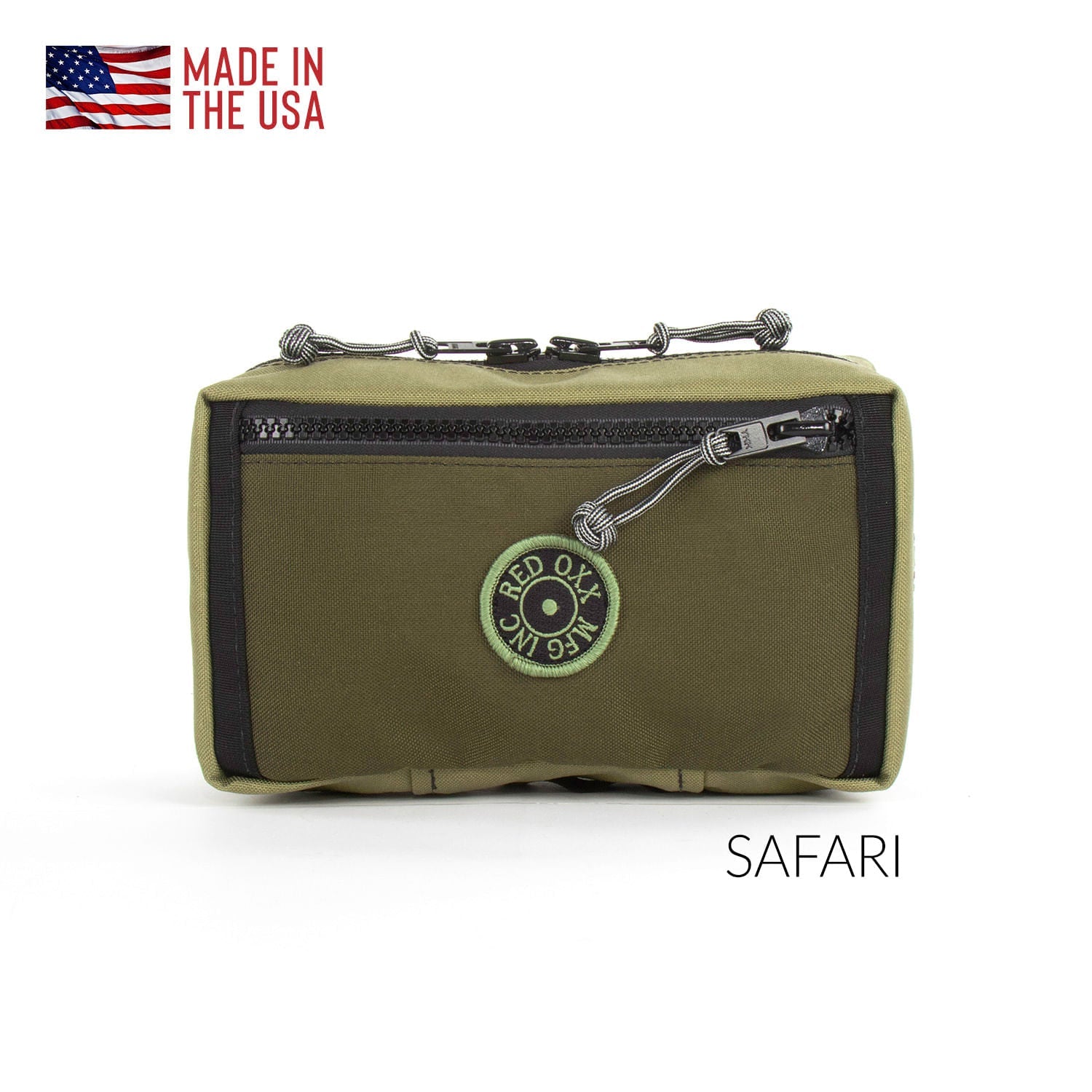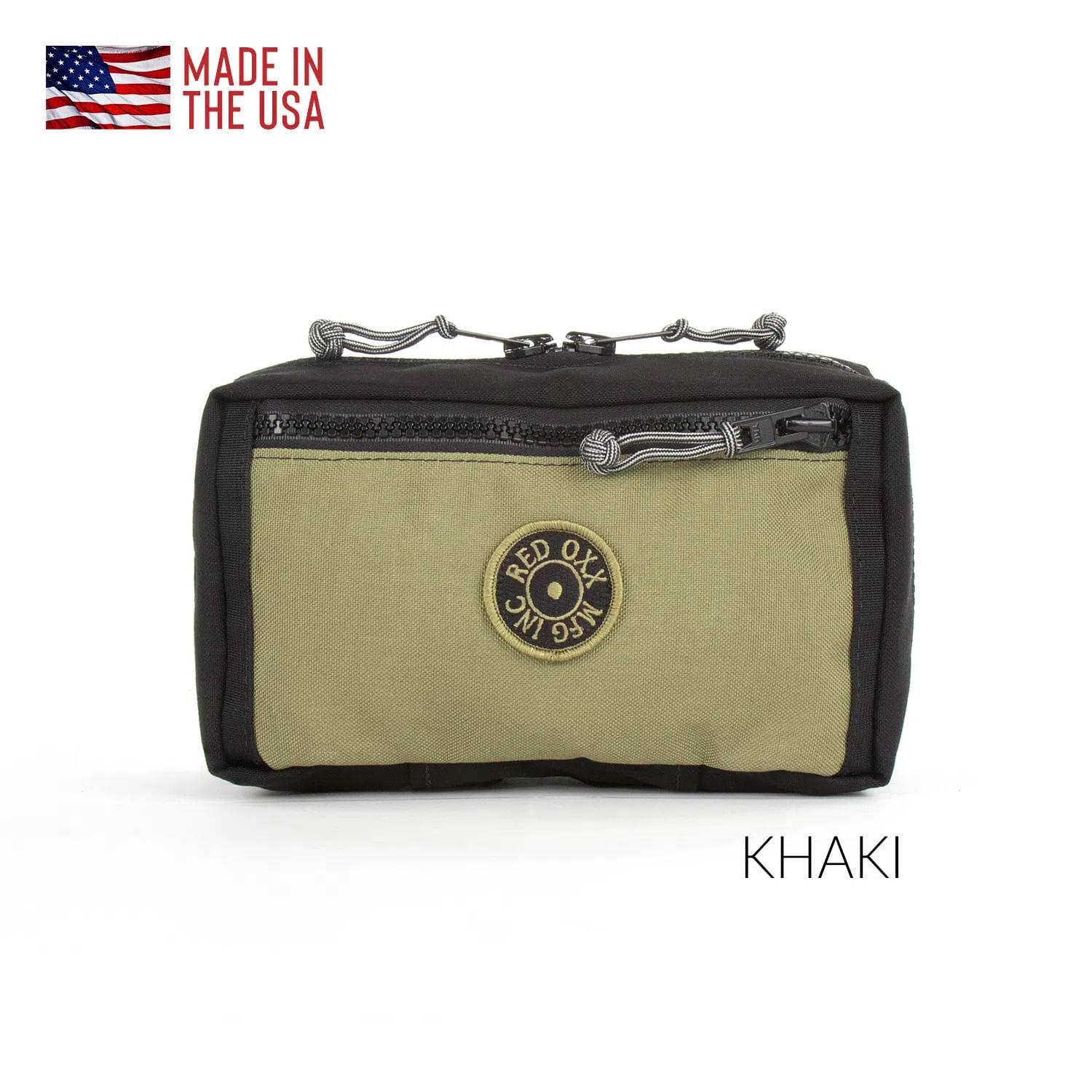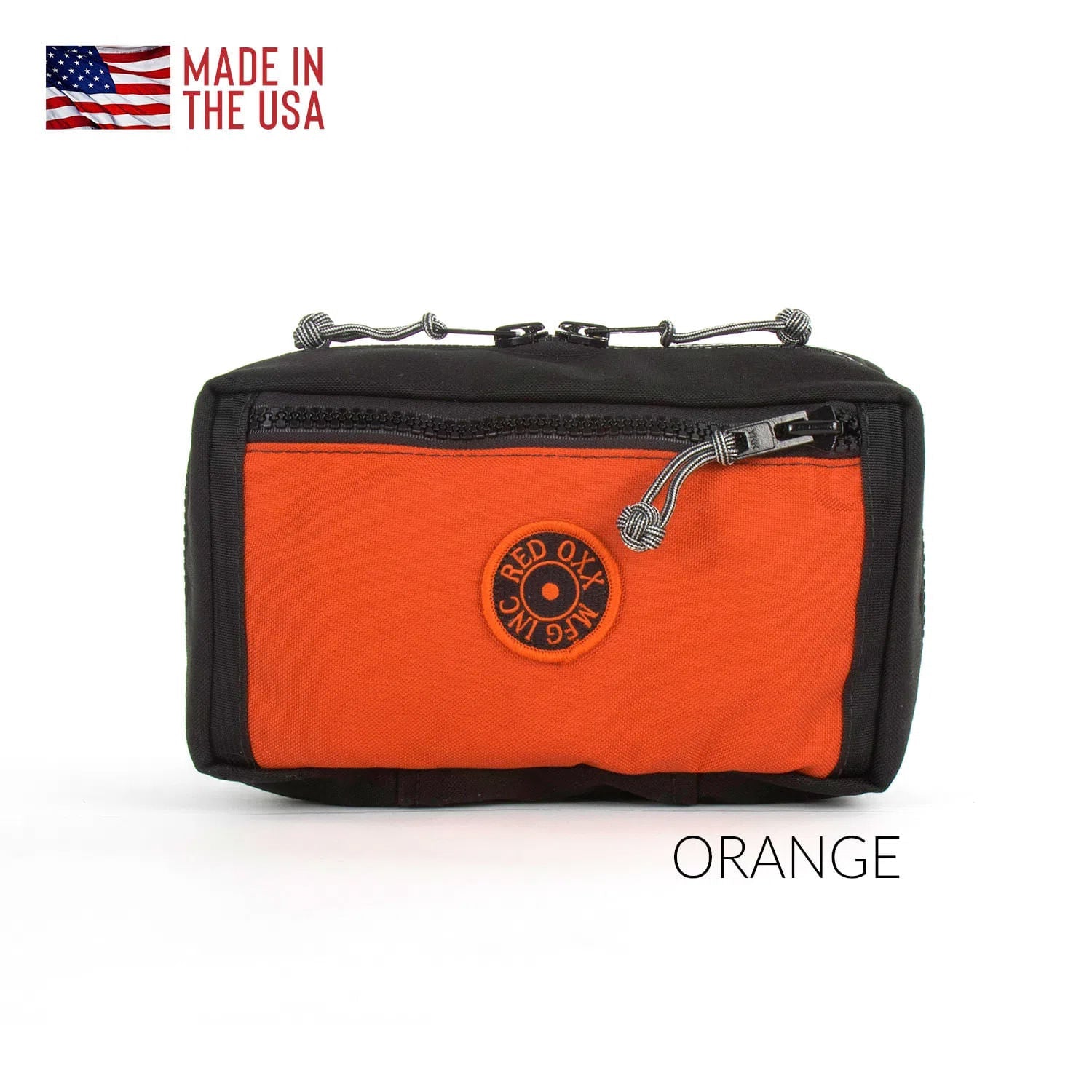 Tri-fold Shave Kit
I live in hotels and motels and sometimes the plains of Africa. 
Featuring plenty of storage space for the perpetual traveler, this toiletry kit is perfect for road warriors and rock stars.  Who require organization and room to spare. 
Made in U.S.A. with our "No Bull" Lifetime Warranty
Dimensions: 10"L x 6"W x 4 1/2"H (Closed)
24"L x 10"W (Open flat zippered twin mesh pockets are 2" deep).

3 compartment toiletry kit opens flat

Hangs up using the retractable handle

2mesh interior pockets and fold-out privacy pocket

Also makes and excellent fist aid kit

Can fit standard sized bottles 8-13 fl. oz.

See-thru mesh pockets to find your stored cosmetics and toiletries without digging

DESCRIPTION

Is your vacation is going to last awhile? Business taking you on the road for an extended trip? The Red Oxx Tri-fold Shaving Toiletry Kit (and Cosmetics Travel Case) is the solution to your need for storing personal hygiene items. Zips open flat using the same heavy-duty YKK #10 size zippers and Fair Trade Monkey's Fist Zip Knots as all our other travel bags.

FOLDS OPEN FLAT.
Conveniently designed to lay flat or hang open, you'll have quick and easy access to your shaving kit, deodorant, shampoo, toothpaste, makeup and so on.

PLENTY OF POCKETS.
Two zippered interior mesh pockets allow your personal items to air dry and a third flip-out privacy pocket to store things that are more personal!

BUILT-IN CARRY STRAP.
Includes an adjustable release buckle carry strap located inside one of the two full-length exterior zip pockets. Use it to hang your Tri-fold Shave Kit conveniently from tree limbs, hotel racks, vehicle door handles, or doorknobs.

You'll appreciate the handy open access to your grooming gear. Smartly designed with efficiency and practicality in mind, the Tri-fold Shave Kit is the last toiletry bag you will ever have to buy!

MORE THAN JUST A TOILETRY KIT
Because of the nifty nature of the tri-fold hanging design and individual compartments of this shaving kit, with a little imagination you can use it for a number of things. Here's a list of some great ideas we've seen.

Store and organize your cutlery while camping
Create a first aid kit, the flat fold open design and see-through mesh pockets, along with the quick-zip zippers makes it an ideal first aid responder kit bag.
Cooking spices kit for camping. Simply hang it up over your cooking area for quick and easy access to spices, cooking oils, etc.
Organize your electronics gear. Separate pockets allow you to stuff your chargers, power strips, batteries and more.
Organize your makeup cosmetics, hair sprays and lotions.
Simple tools bag - organize your automotive repair wrenches and ratchets in the three pockets.
Range bag - organize your shooting accessories - hearing protection, eye protection, extra magazines, boxes of ammo, etc.

"No Bull" no question's asked Lifetime Warranty. Red Oxx lasts longer.
Thoughtfully designed, lovingly hand-crafted, and quickly shipped from Billings, Montana U.S.A..
Transit Shipping Time Map.

Witness the birth of your bag and learn about the many steps it takes to handcraft your Tri-fold.

Meet the thundering herd who build your gear with pride.

Red Oxx is a 2nd Generation Family Veteran owned and operated US Manufacturer.

EMAIL POLICY: Online orders will receive an order confirmation email, a tracking information email when your order ships and a product review request follow-up email from Shopper Approved after 60 days. Your email address is secure.

Red Oxx Tri-fold Shave Kit Toiletry Bag is a Red Oxx "Staff Pick" favorite.

Keep in mind: Colors on your monitor will vary from the actual color of the fabric. The only way to accurately gauge a color is to request a swatch.

Questions? Visit our Customer Service Help Desk or call our Toll Free Hot Line: 1-888-733-6999.

4.7Out of 5.0Overall Rating95%of customers thatbuy this product giveit a 4 or 5-Star rating.Verified Buyer"Great "Personal care bagAugust 20, 2023 byB***(IA, United States)"Perfect size fits everything you need to be on the road"Gear review usage.Works perfect for the railroadFuture Gear.A railroad lunch boxProduct ChoicequalityVerified Buyer"Great buy"Love this bag!!August 10, 2023 byTJM(NM, United States)"Great bag, super efficient for easy and compact packing!! Bought for my son to use at National Jamboree and it worked like a charm!!"Gear review usage.My son was heading to National Jamboree for Scouting and we needed an efficient way to pack toiletries that helped to make his packing easy. This tri-fold was perfect!!Future Gear.I honestly love everything that we have so far… electronic charging cord organizers are always a huge help. Not sure if one is already made as I haven't looked.Product ChoiceIt feels the need we had for packing my 15 year old son for National JamboreeVerified Buyer"Great value"August 3, 2023 byJohn(LA, United States)"https://redoxx.vteximg.com.br/arquivos/ids/159283_2"Gear review usage.every trip i makeFuture Gear.A regular luggage line with wheelsProduct Choicepast buyerDisplay OptionsSort ReviewsHighest to LowestNewest to OldestOldest to NewestLowest to HighestFavorite Reviews
U.S.A. Dimensions:

Closed: 10"L x 6"W x 4 1/2"D
Open: 24"L x 10"W x 2"D
Capacity: 270 cubic inches.
Weight: 0.9 pounds.

Metric Dimensions:

Closed: 25.4cm L x 15.2cm W x 11.4cm D.
Open: 60.9cm L x 25.4 W x 5cm D
Capacity: 4.4 Liters.
Weight: 0.41 Kilo.

Pocket measurements:

Dual Exterior flat pockets: 9.5"L x 5.5"W
Dual interior mesh pockets: 10"L x 5"D x 2"W
Interior fold out pocket: 7"L x 4.5"W

Features:

Makes a useful compartmental cosmetics case
Suitable for storing a first aid kit
Handy as a kitchen utensils bag for cross country trips
Fabric: 1000 weight urethane coated, Dupont certified CORDURA® Brand nylon
Exterior front pocket contains buckled hanging handle
Handle has Fastex side-release buckle, loop adjustable 3-7" H
Weather resistant fabric
Main zippers #10 YKK VISLON® self-locking
Thread: Anefil Nylon, Bonded Type 6,6 Tex 90-Black
All seams double stitched and bound
Double box stitching on all stress points such as hanging handle
Includes Cable Lock
Monkey Fist Zip Knots on all zippers
What's the difference between the Tri-fold and the Nomad Shave Kit?
The Nomad is simpler, featuring a large basic main compartment and twin exterior flat pockets whereas the Tri-fold has two zippered interior mesh interior pockets and a zippered flat fold-out "privacy pocket" and can be opened flat for quick, easy access.

Why is the price higher for a Tri-fold Toiletry Kit?
Assembly involves a number of small pieces that are difficult to stitch together, so the Tri-fold takes longer to assemble, thus the price is a reflection of its labor costs.

Will the Tri-fold fit in the end pockets of the Beanos Duffels, the raised side pockets of the Sun Chaser and Flying Boxcar, etc?
The Tri-fold Shave Kit was designed to fit perfectly in the end pockets of all the Safari Beanos series as well as the larger raised side pockets of the Sun Chaser and Flying Boxcar. The Tri-fold will also fit beautifully in the middle compartments of the Sky Train and Air Boss.

What's the side release buckle for?
This handy buckle allows the Tri-fold to be hung open, say over a doorknob or carried as a handle, yet be tucked away inside its zippered pocket when not needed.

Is there a way to securely lock my Shave Kit?
Sure, you can use any TSA approved bag lock or try our Cable Lock for a simple, semi-secure solution. Watch this video where CEO Jim Markel demonstrates how you can use the cable that comes with the product Dog Tag price tag to secure your bag. Keep in mind, any determined thief can still cut open a soft sided bag with a sharp knife.

My zipper broke. The teeth have separated. Do I send it in for warranty repair?
No need for warranty repair, try to fix it yourself. Check out this video where CEO Jim Markel shows how easy it is to do it yourself.

Can you ship USPS?
Yes, Red Oxx will ship USPS upon request. Simply state, "Please ship USPS" in the cart comments during checkout and we will adjust your billing accordingly.
This product has no reviews yet.
This product has no reviews yet.
This product has no reviews yet.