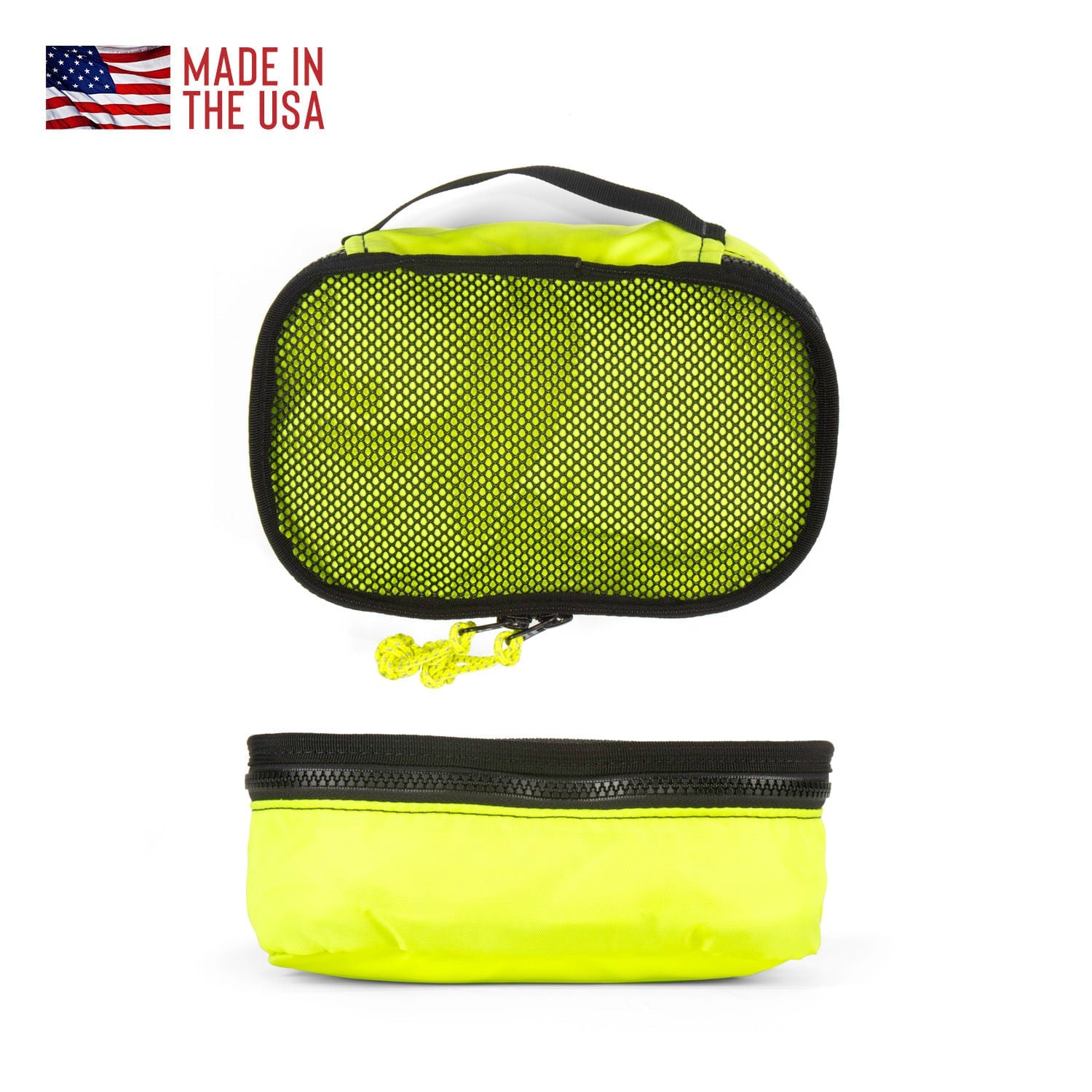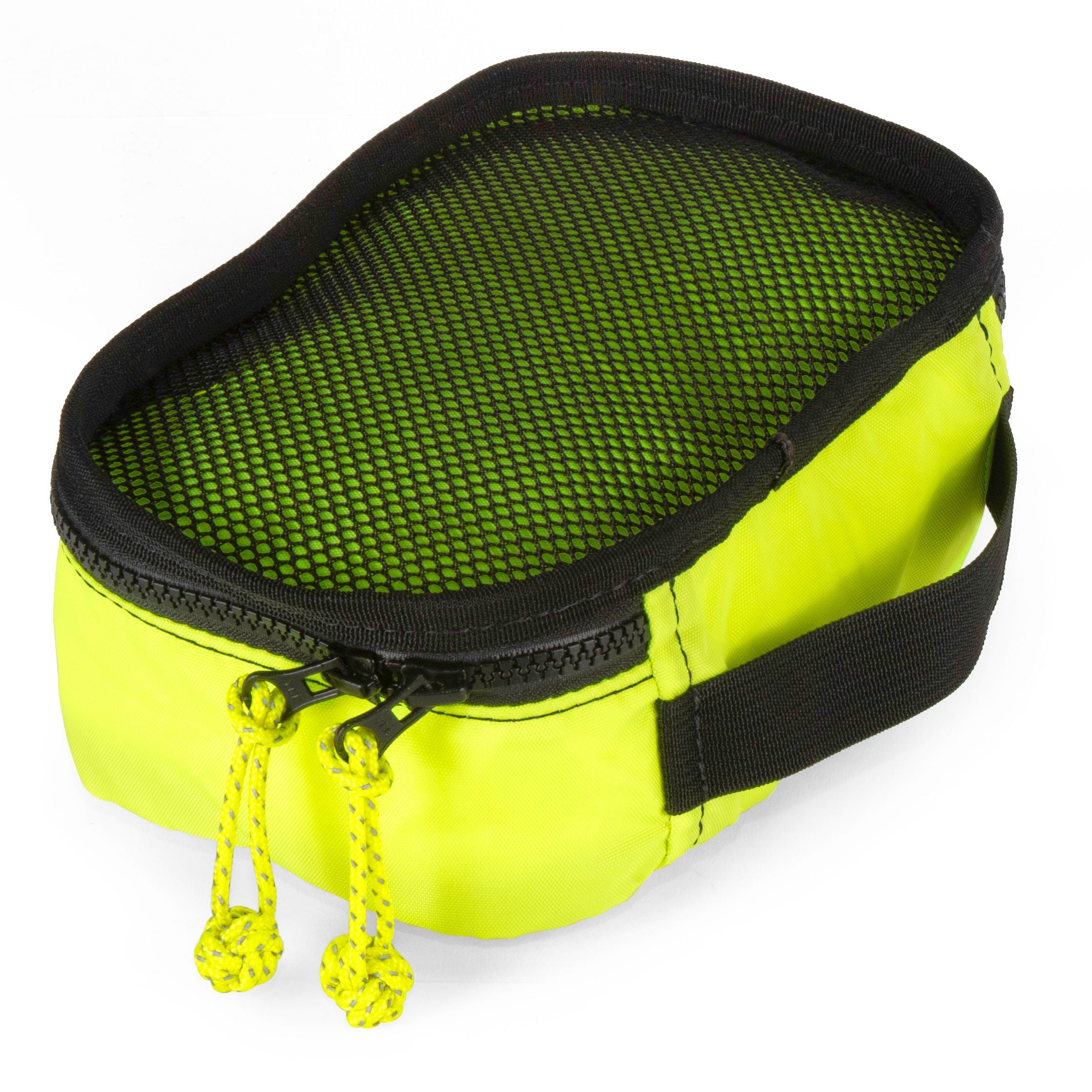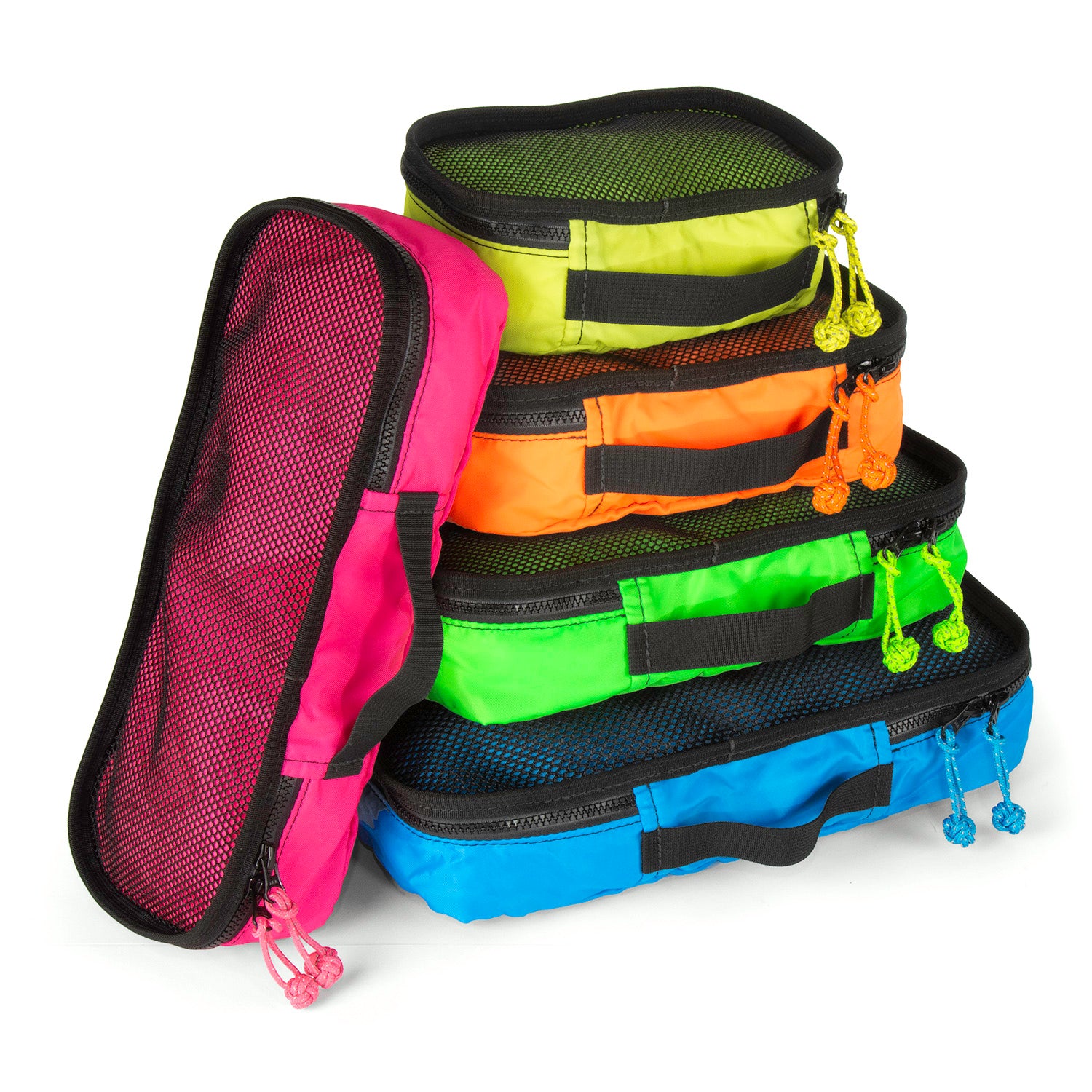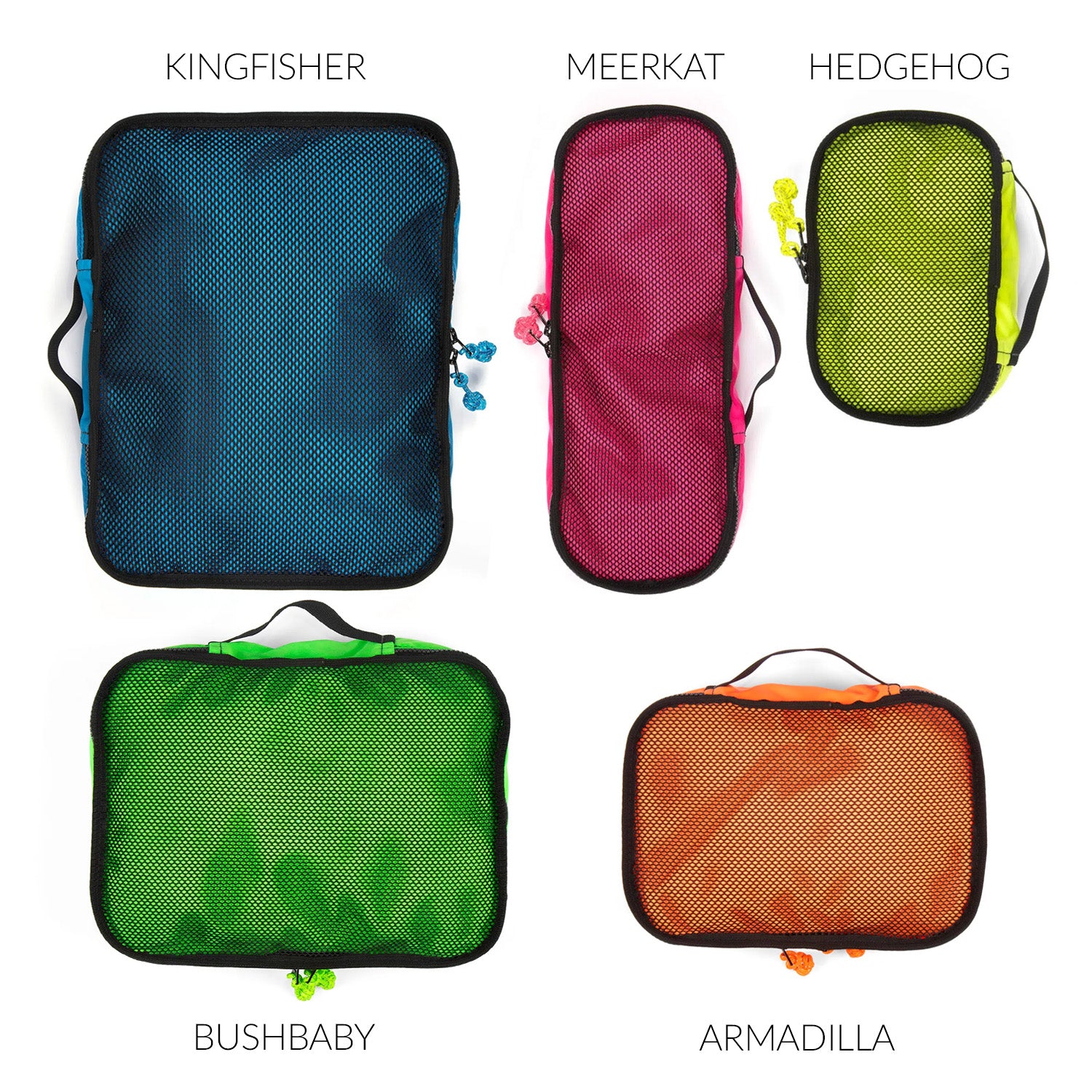 Hedgehog XS Packing Cube
I have an appetite for digital accessories. 
The Hedgehog XS Packing Cube is the perfect storage solution for your digital charging accessories. Its compact, lightweight design ensures that your cords and blocks stay organized and secure without taking up valuable space. Keep your small items in check!
APEX Mesh lid and built from washable 400 weight Neon CORDURA® Brand Nylon fabric
Made in U.S.A. with our "No Bull" Lifetime Warranty
Dimensions: 8"L x 5"W x 2"D
Light Reflective Monkey Fist Zip Knot zipper pulls

1992 Black 100% Polyester Mesh lid

Made with washable 400 weight CORDURA® Brand Nylon Pack Cloth

Light reflecting Monkey Fist Zip Knot zipper pulls

Designed and hand-crafted with pride from American-sourced materials in Billings, Montana U.S.A.

The Red Oxx Hedgehog Extra Small Packing Cube is small on the outside and like all our bags, big on the inside. Sized at just five inches wide by eight inches long and two inches deep, the XS Hedgehog is just right for a carry-on legal travel bottle liquids kit. Or use it to pack your toiletries, socks, sleepmask, makeup, shaving kit or any little items that you want organized, but easy to find. And with the urethane-coated, water-resistant, lightweight bright neon yellow 400 Denier Nylon Packcloth, in combination with the cool matching sunny yellow light-reflecting Fair Trade Monkey Fist Zip Knots, the Hedgehog Toiletry Bag will leap out of the darkness of your carry-on luggage.

No leaping? No problem, simply grab it by the one-inch wide web handle. With a sleek see-through zip open 100% Polyester mesh lid, operated by super tough #5 YKK Vislon® self-locking zippers, accessing your packed and organized travel goodies is a piece of cake. Now you can get color-coordinated in your packing endeavors.

HOW TO PACK YOUR HEDGEHOG TOILETRY CUBE

We recommend that you fold, then roll your belongings for best packing cube fit and superior wrinkle reduction.

1. Lay your undergarments on a flat surface such as a bed. With both hands, pull outwards at the side edges of each garment. Attempt to lay your clothes as flat as possible with this method, then you can gently sweep your hands over the clothing and flatten it as best you can. The idea is to create a flat garment with crisp edges and minimal wrinkles that is ready to be folded over lengthwise, top to bottom.

2. Next, fold the undergarment in half. Socks can be tucked into each other, with the tops folded over (lay one on top of the other, then pull the rim of one side down over both socks).

3. Now very carefully roll the belonging up from the bottom, once more smoothing out any wrinkles. Now you have a rolled package that will fit neatly width wise in the Hedgehog Packing Cube. You should be able to add two to six or so more belongings nestled inside the cube. Grasp the edge of the lid with one hand and pull on a zip knot with the other, zipping it around to the front, repeat on the other side.

4. Open the main compartment of your Air Boss or Sky Train carry-on bag and lay flat. Insert your packed cubes into the main compartment or use the tie downs in the side compartments of your Red Oxx Airline Carry-on Bag to hold the packing cube in place. The Hedgehog will also fit snugly in any end pockets of a Safari Beanos Duffel Bags or a side pocket of an Air Boss or Sky Train. See photos tab for inspiration.

Build your very own Red Oxx Custom Packing Cube Kit right here starting with some Extra Small Hedgehog Packing Cubes today.

Dimensions:
U.S.A.: 8"L x 5W x 2"D
U.S.A. Capacity: 120 cubic inches
Metric: 20.3cm L x 12.7cm W x 5cm D
Metric Capacity: 2 liters
U.S.A. Weight: 3.2 oz
Metric Weight: 90 grams

Thoughtfully designed, lovingly hand-crafted, and quickly shipped from Billings, Montana U.S.A..
Bright Florescent Yellow 400 Denier Nylon Pack Cloth
Matching yellow reflective Monkey Fist Zip Knots
One inch wide nylon carry handle
#5 YKK Vislon® Zipper
Double stitched and bound
Includes dog tag and cable lock
Dimensions U.S.A.: 8"L x 5W x 2"D
U.S.A. Capacity: 120 cubic inches
Dimensions Metric: 20.3cm L x 12.7cm W x 5cm D
Metric Capacity: 2 liters
U.S.A. Weight: 3.2 oz
Metric Weight: 90 grams
Designed AND hand made in U.S.A.
My packing cubes got a little dirty, what is the best way to clean them?
Red Oxx recommends a soft soap like Dr. Bronner's and a bucket or sink with warm water. You can spot stains with the liquid soap, then brush out the stain with a soft nylon brush. Rinse and hang out to air dry. Never put your packing cube in an electric dryer.

Can I get different color Monkey Fist Zip Knots for my packing cubes?
Red Oxx cannot switch-out, trade or replace the existing matching color zip knots. But you can.

What about a different colors for the cubes in this set?
Colors are standardized to match sizes to keep our manufacturing lean. This allows us to build cubes here in the U.S.A. and offer them at competitive prices.

What else can I use these packing cubes for?
Use them to organize your camping belongings like in an RV or trailer. Stuff them in your motorcycle panniers or fuel tank bag. Use your imagination. Add them to your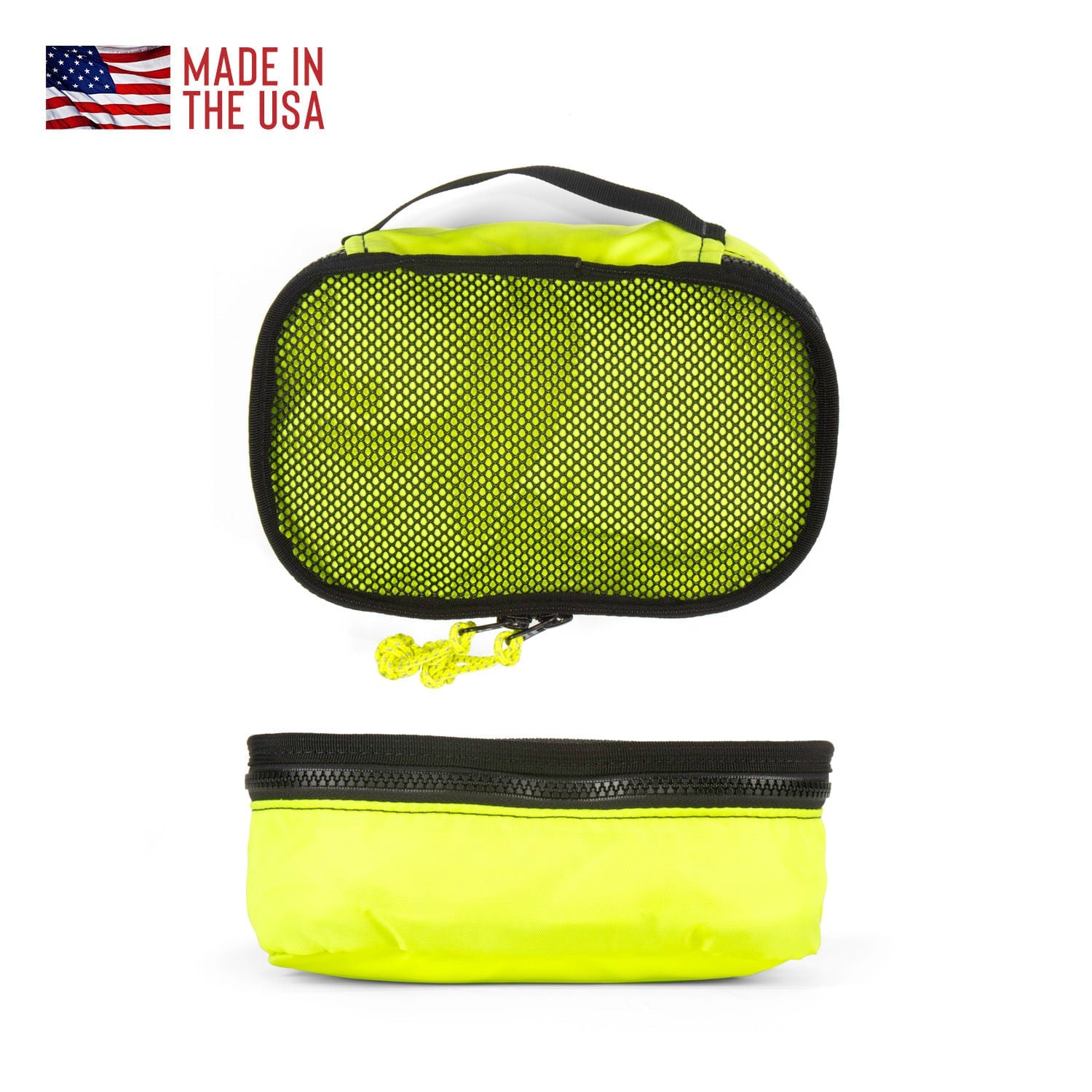 This product has no reviews yet.
This product has no reviews yet.
This product has no reviews yet.