CAREER OPPORTUNITIES WITH RED OXX
Red Oxx is always looking for hard working people who are enthusiastic, reliable, patient, prompt and punctual, have an eye for detail, can perform tedious and repetitive work and have a positive attitude.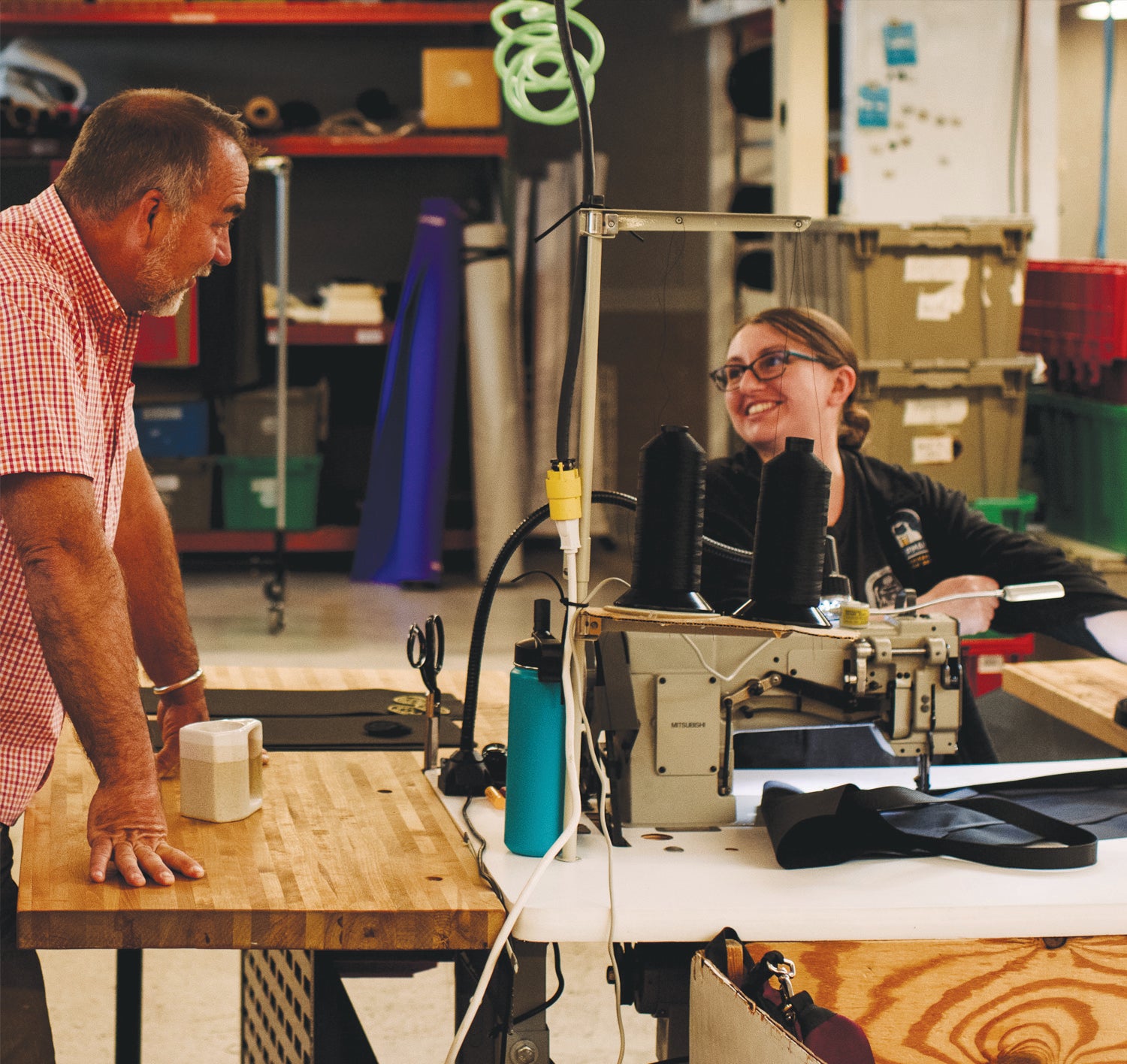 Find Out What it Takes to Join the Herd.
To keep up with meeting intense bag-building demand, Red Oxx is hiring new employees on an on-going basis.
If you're interested in learning a trade, such as becoming a sewing and production specialist, then Red Oxx wants you. Create a rewarding career with a rising company who abides by old-fashioned values. Red Oxx builds their bags by hand in Billings, Montana USA.
Do you have a outstanding work ethic, with an "I care", and "I can do" attitude?
Are you the kind of person who holds teamwork and personal integrity in high regard?
Do these characteristics hold meaningful value in your vision for your future?
For all positions, experience is preferred, however Red Oxx is willing to train the right person.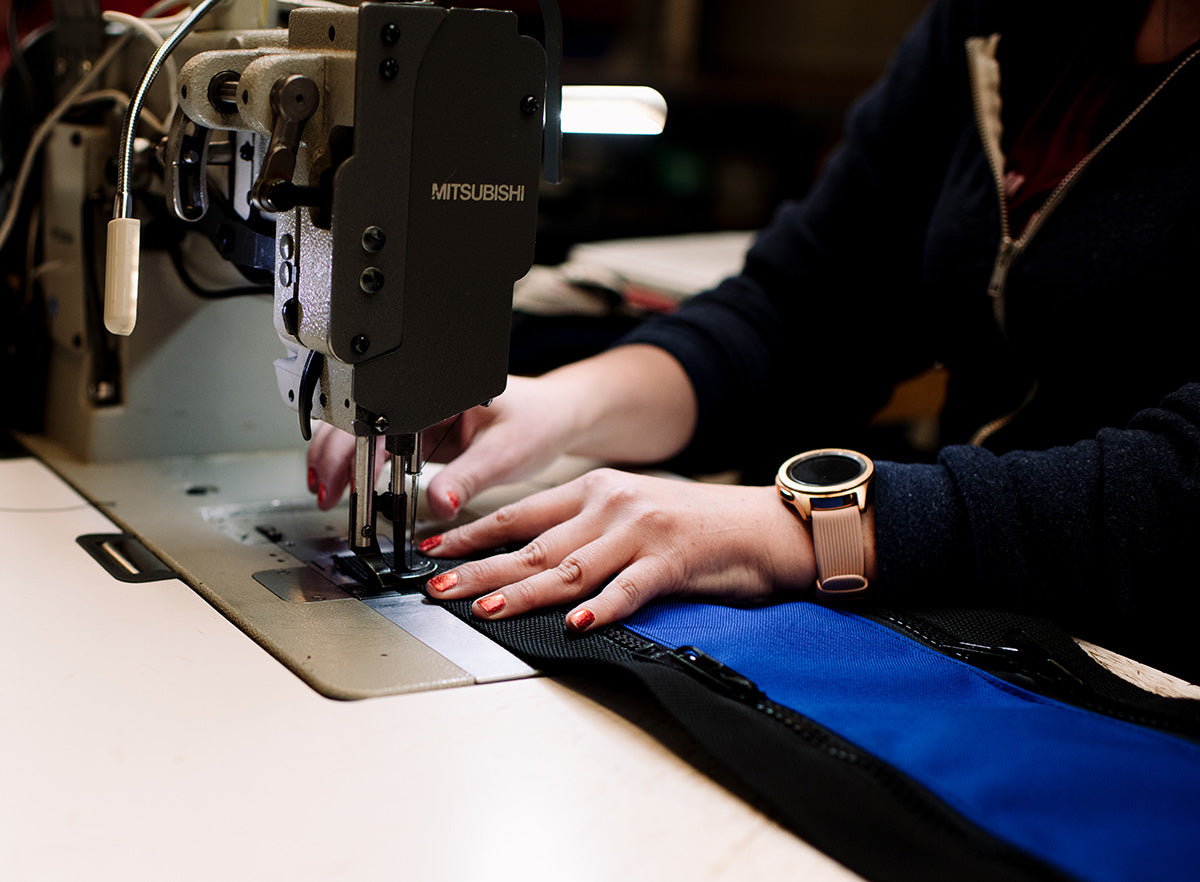 Full-time and part-time jobs at Red Oxx may include:
Sewing and Production Specialists
Skills for this line production manufacturing position include: Firstly - strong hands, a positive can-do attitude, a willingness to listen and learn, keen attention to detail. Secondly - you must have the ability to visualize and sew together textile assemblies into a finished bag. In conclusion, skilled control using an industrial sewing machine is absolutely necessary. However, we are willing to train the right applicants.
Industrial Edging Machine Operators
First and foremost skills and abilities include: strong hands, a positive can-do attitude, and a keen attention to detail. You must have an ability to guide large, bulky textile assemblies quickly through a sewing machine while stitching on edging. This requires proficient control of your edging machine. IN conclusion, patience with repetition is required.
Cutters and Pattern Layers
Skills include: drawing precise lines on fabric using patterns and rulers. The strength and ability to load heavy textile rolls onto the fabric roller machine. To summarize, experience in using a fabric-cutting machine to cut out multiple layers of pattern pieces is desirable. Skill in using a hot cutter tool to cut webbing. A strong back, attention to detail, and a sharp eye for seeing textile flaws are required. Be aware, the position of Cutter and Pattern layer involves standing up to eight hours a day.
Runners
Skills for this variable position include: being able to quickly adjust from one type of manufacturing production position to another. The ability to use a grommet setter accurately and quickly. Preparing smaller pieces like handclasps, pockets and straps and quickly transferring finished bag assemblies from one sewing station to the next. Attention to quality details and patience with repetition is required. It's vital that Runners must be able to multi-task and quickly reorient on demand.
Quality Control and Final Inspectors:
Quality Control skills include having strong hands for turning bags inside out, keen attention to detail, and the ability to remember all the additional parts that go with a bag before it goes out the door. You will be adding Monkey Fist Zip Knots, Dog Tag Gear IDs, and tying on Luggage Tags. Basic computer skills are desirable as this position also logs in new inventory into the system. There may also be some operation of the Dog Tag Embossing Machine. QC and Final Inspection positions can involve extensive day-long standing.
Shipping and Receiving
Skills include: assisting with receiving inventory, picking orders, packing boxes, weighing, and shipping gear. A strong sense of organization and memory desirable to track backorders. Attention to detail is a must and basic computer skills are required. Applicants must be able to pass a personal credit and background check due to handling sensitive credit card information.
Customer Service
Skills for this sales position in retail include: pleasantly answering phones and greeting and assisting guests in the retail store. Competently answering inquiries by email while assisting customers in finding them the right gear. Increasing the average order value for all phone or store orders is a priority. Must be able to competently handle inventory in the store such as hanging bags, tidying racks, etc.. Basic knowledge of online and brick and mortar marketing is preferred. This applicant must be able to pass a credit and background check due to handling sensitive credit card information.
Interested parties please download this handy employment application, right click and save it with a file name referencing the position you're applying for and your last name. Fill out the forms (you can do so on your computer) and email it to info@redoxx.com. Please include the position you're filing for in the subject line.
You may also drop off your application in person or snail-mail your complete application to:
Red Oxx Mfg. - Attn: Employment
310 North 13th
Billings, Montana 59101