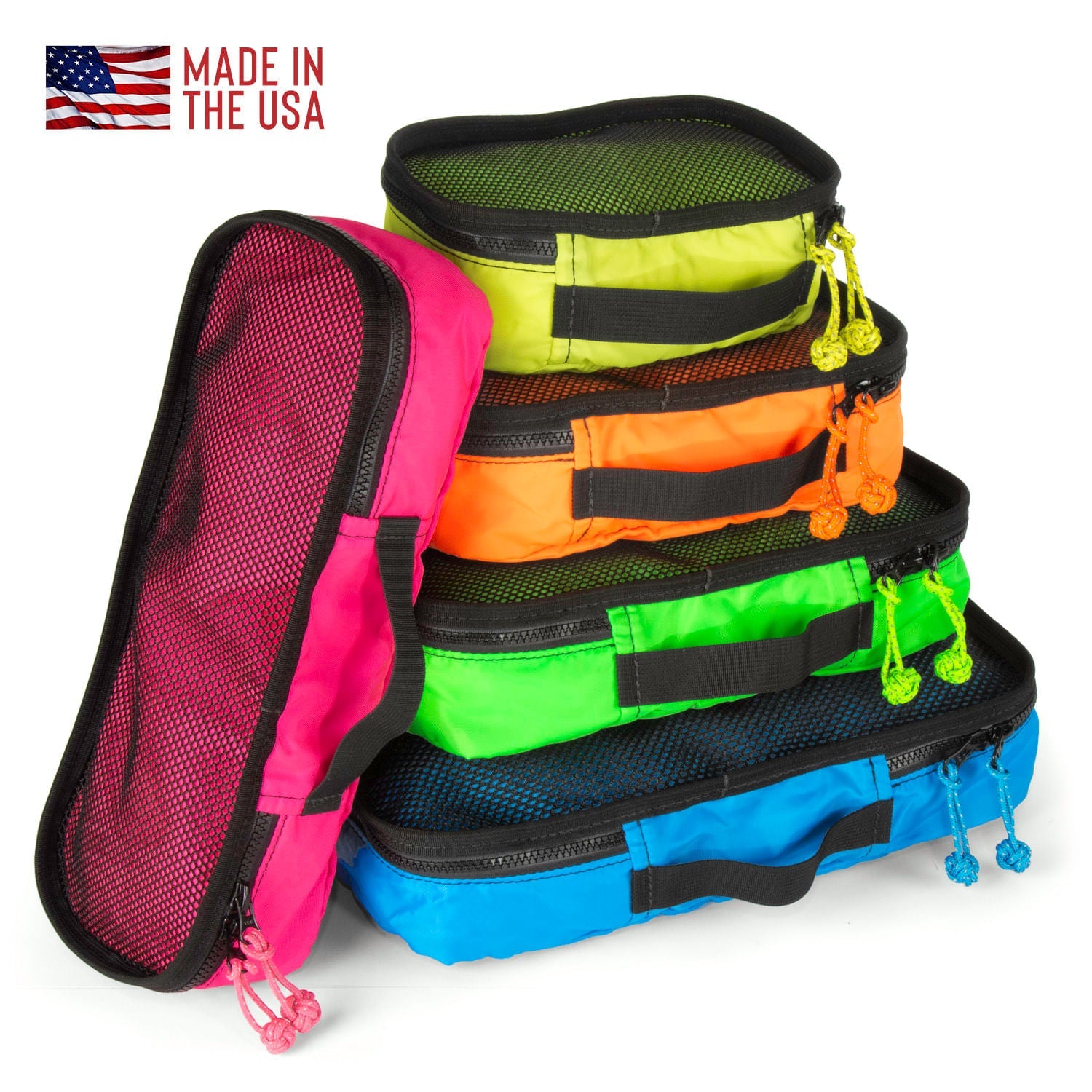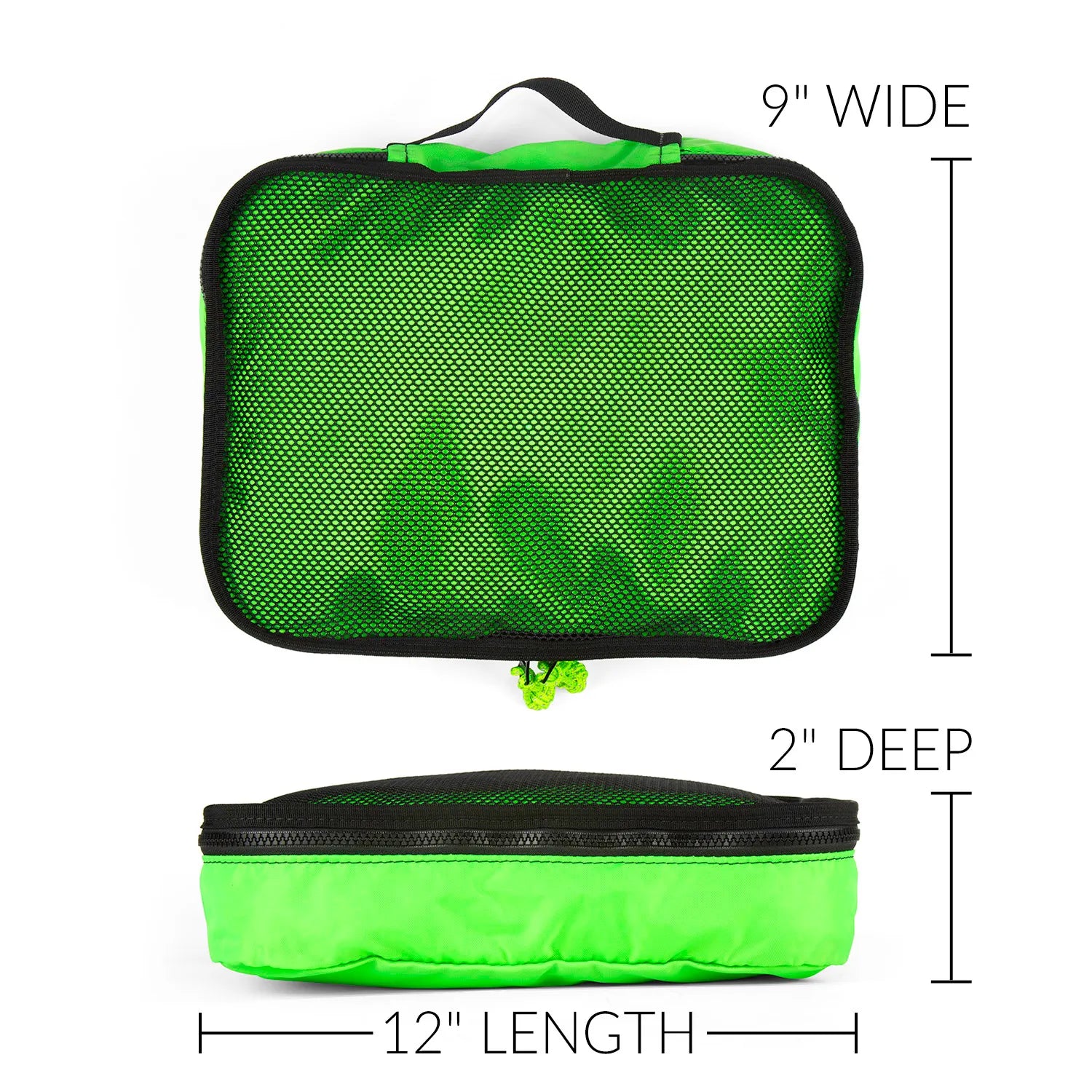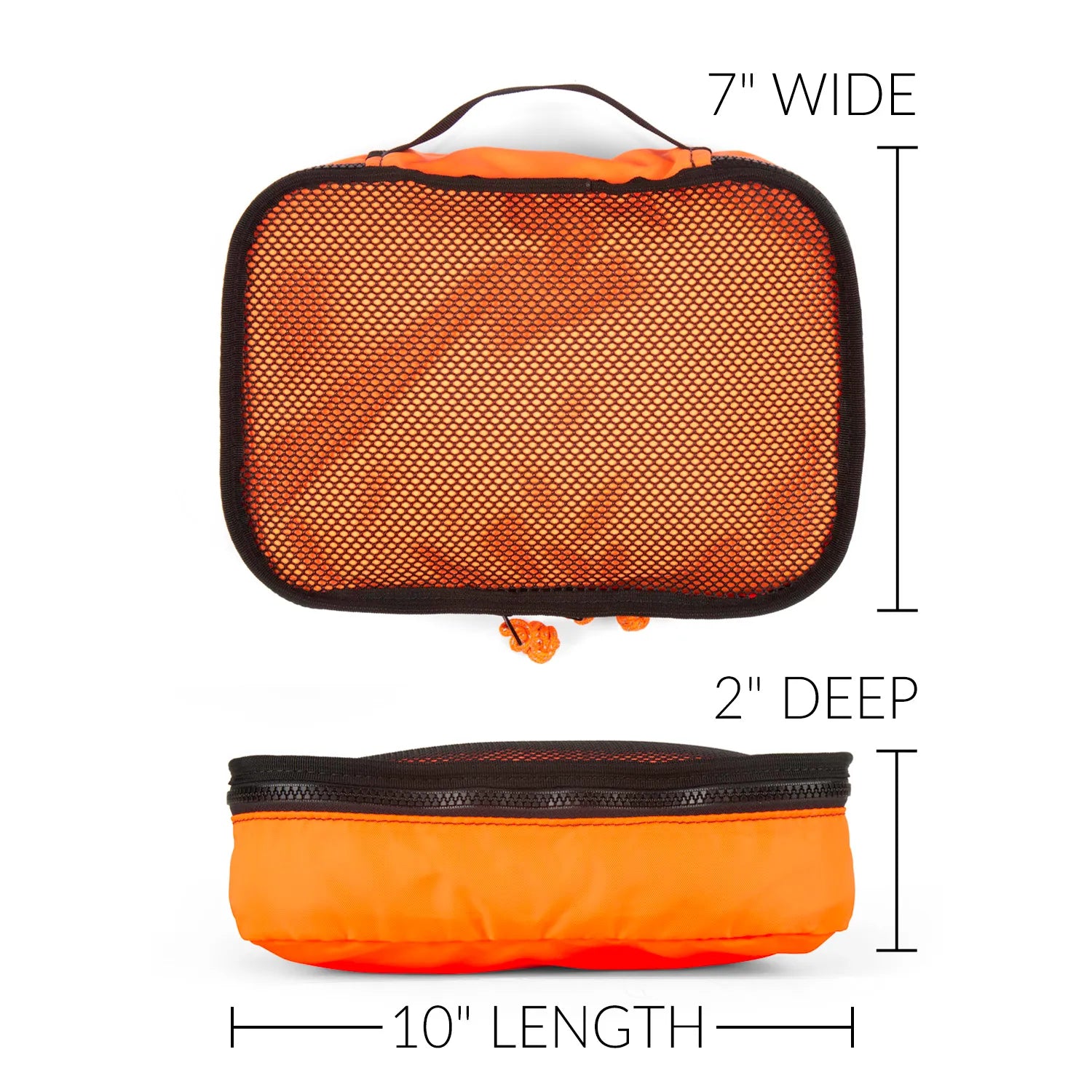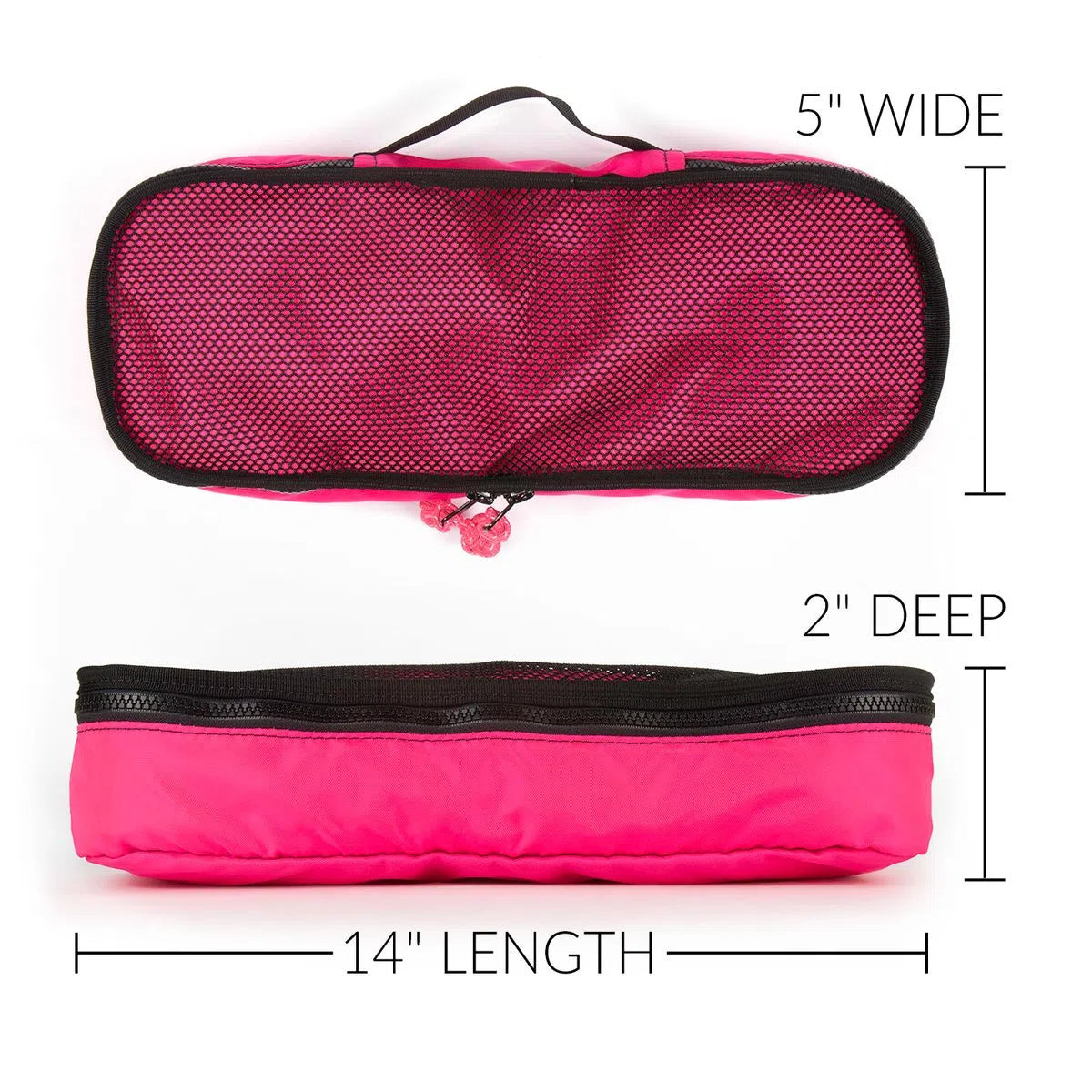 Red Oxx Packing Cube Set
Cubist color coded organizational bliss.
The Red Oxx Packing Cube Set is designed to simplify packing for the frequent traveler. Constructed with durable mesh and color-coded for easy identification, the set includes four cubes to help organize belongings inside any bag. The mesh lids provide ventilation and visibility for quick access to items.
Made in U.S.A. with our "No Bull" Lifetime Warranty
5 convenient sizes designed to work with Red Oxx bags

5 color coordinated sizes keeps you organized

Bushbaby-Neon Green

Armadilla-Neon Orange

Meerkat-Neon Pink

Hedgehog-Neon Yellow

Kingfisher-Neon Blue

Neon colored 400 weight CORDURA® Brand Nylon Pack Cloth with APEX mesh lids and matching Reflective Monkey Fist Zip Knot zipper pulls

Stackable rectangle design with sturdy zippers

Water resistant base with mesh lids that are easy to see through

The Red Oxx Packing Cube Set features one each of our tough nesting cubes: the large Kingfisher, perfect for slacks, sweaters and bulkier clothes; the medium Bushbaby, ideal for shirts, leggings and dresses; a small Armadilla, designed for swimwear, undies and socks; our extra small Hedgehog, great for carrying your toiletries, gloves, etc.; and a long tube Meerkat, for those longer toiletries like brushes, curling irons.
Packing Cubes Dimensions

KingFisher Large : 14"L x 11"W x 2"D or 35.5cm x 28cm x 5cm

BushBaby Medium : 12"L x 9"W x 2"D or 30.5cm x 23cm x 5cm

Armadilla Small : 10"L x 7"W x 2"D or 25.4cm x 18cm x 5cm

HedgeHog Extra Small : 8"L x 5"W x 2"D or 20.3cm x 12.7cm x 5cm

MeerKat Long Tube Cube: 14"L x 5"W x 2"D or 35.5cm x 12.7cm x 5cm

Storage Capaicity Breakdown:

U.S.A. Total Capacity for All 5 Cubes: 1326 cubic inches
Metric Capacity All 5Cubes: 21.7 liters
Kingfisher: 308 cubic inches or 5 liters
Bushbaby: 216 cubic inches or 3.5 liters
Armadilla: 140 cubic inches or 2.3 liters
Hedgehog: 80 cubic inches or 1.3 liters
Meerkat: 140 cubic inches or 2.3 liters
Total Weight All 5 Cubes: 21.6 oz
Total Metric Weight All Cubes: 612 grams

Features:

5 assorted sizes
Water resistant base with see thru mesh lid
Bright Neon Colors Weight 400 Denier CORDURA® Brand Nylon Pack Cloth
1992 Black 100% Polyester mesh
Matching color light-reflecting Fair Trade Monkey Fist Zip Knots
#5 YKK Vislon® Zipper
One inch wide nylon carry handle
Double stitched and bound
Includes dog tag and cable lock
See garment tag for cleaning instructions
My packing cubes got a little dirty, what is the best way to clean them?
Red Oxx recommends a soft soap like Dr. Bronner's and a bucket or sink with warm water. You can spot stains with the liquid soap, then brush out the stain with a soft nylon brush. Rinse and hang out to air dry. Never put your packing cube in an electric dryer.

A zipper on one of my packing cubes broke. The teeth have separated. Do I send it in for warranty repair?
No need for warranty repair, try to fix it yourself. Check out this video where CEO Jim Markel shows how easy it is to do it yourself.

Can I get different color Monkey Fist Zip Knots for my packing cubes?
Red Oxx cannot switch-out, trade or replace the existing matching color zip knots. But you can.

What about a different colors for the cubes in this set?
Colors are standardized to match sizes to keep our manufacturing lean. This allows us to build cubes here in the U.S.A. and offer them at competitive prices.

What else can I use these packing cubes for?
Use them to organize your camping belongings like in an RV or trailer. Stuff them in your motorcycle panniers or fuel tank bag. Use your imagination. Add them to your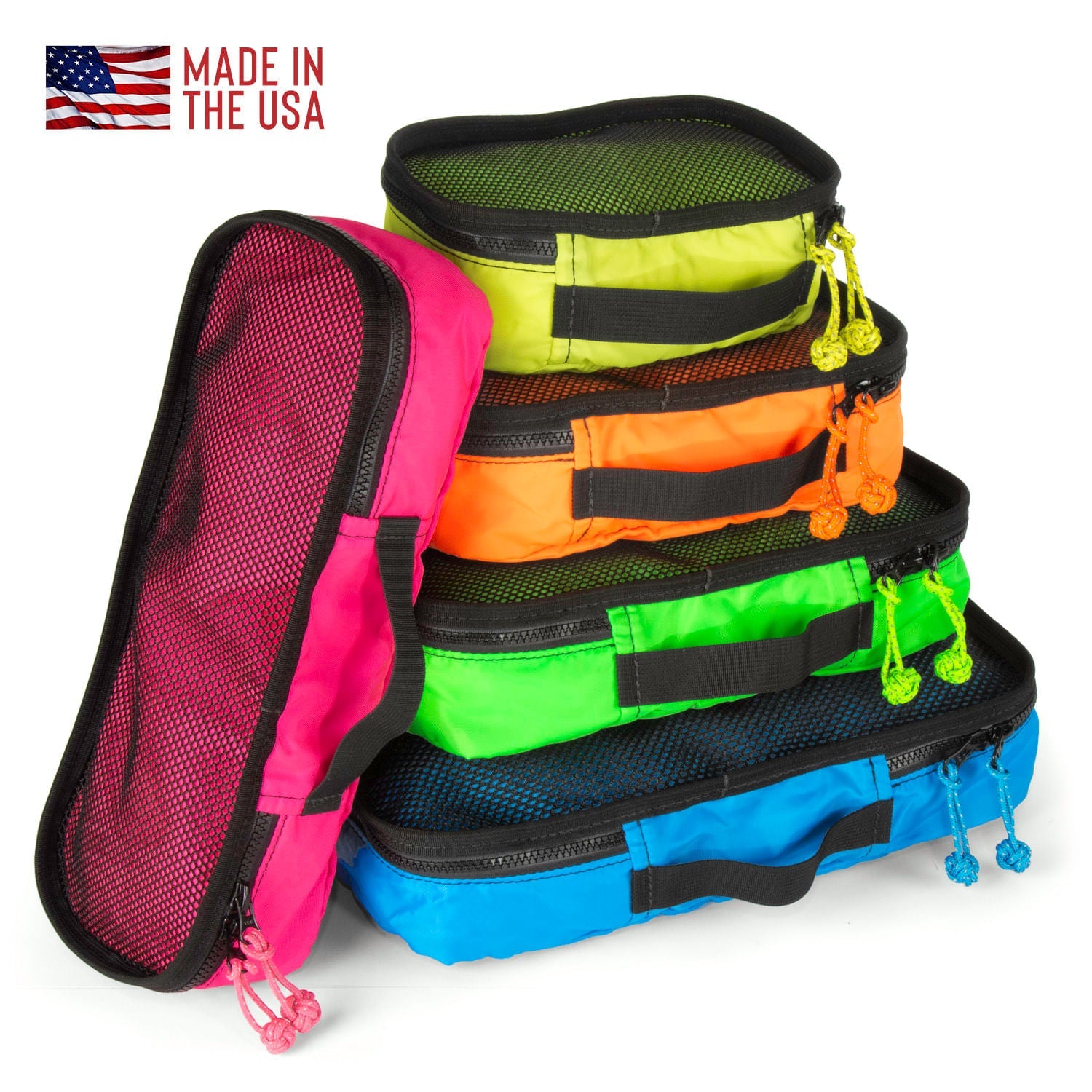 This product has no reviews yet.
This product has no reviews yet.
This product has no reviews yet.