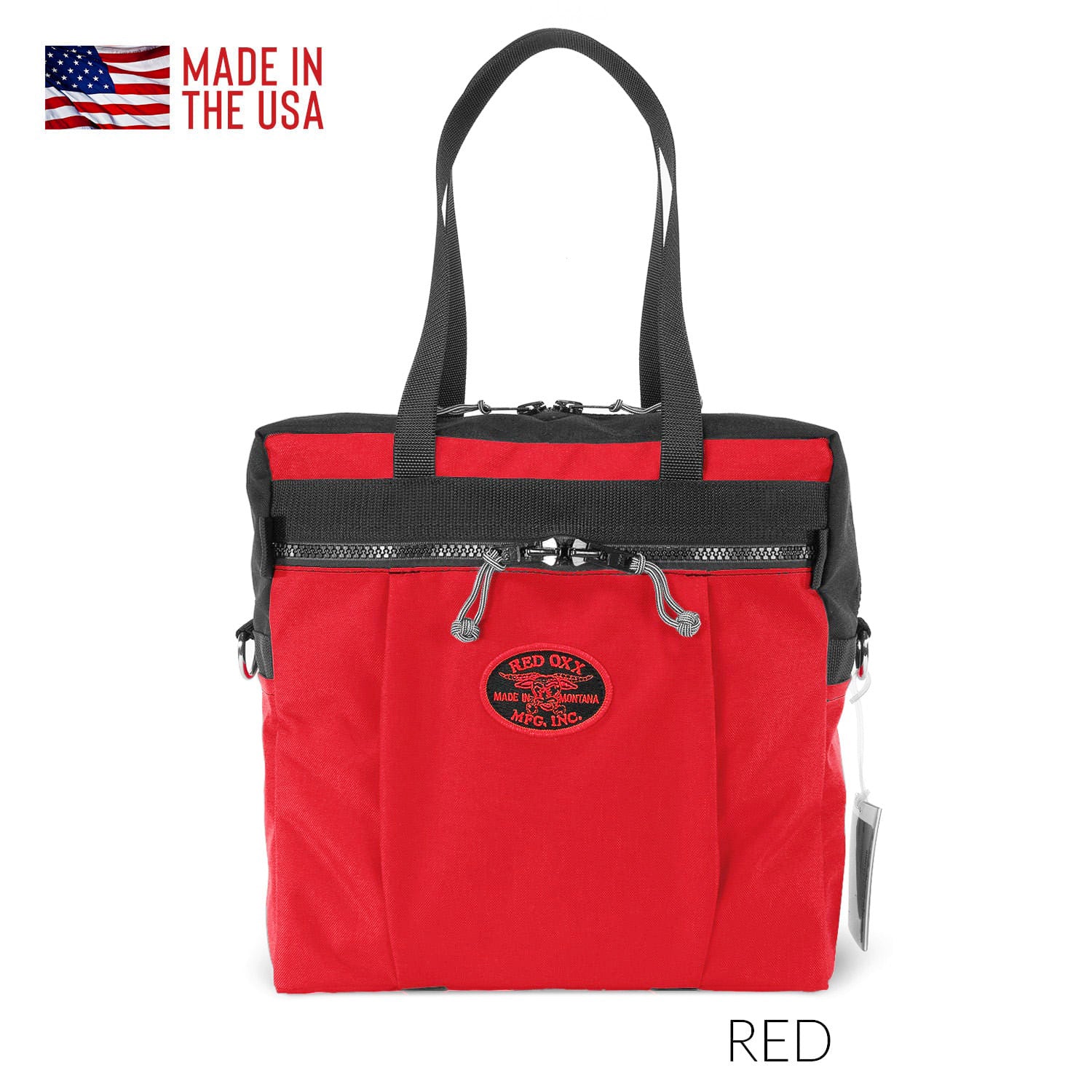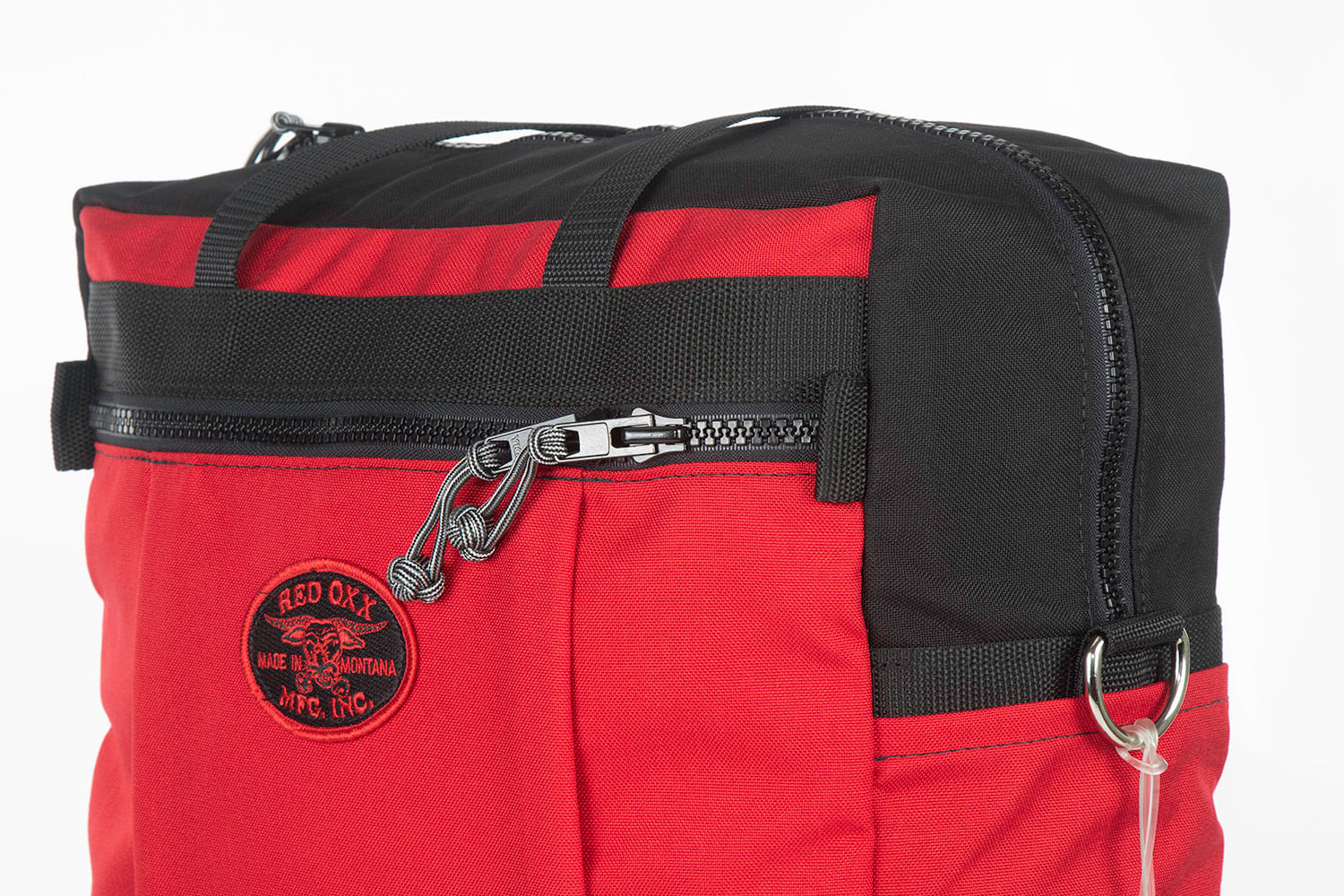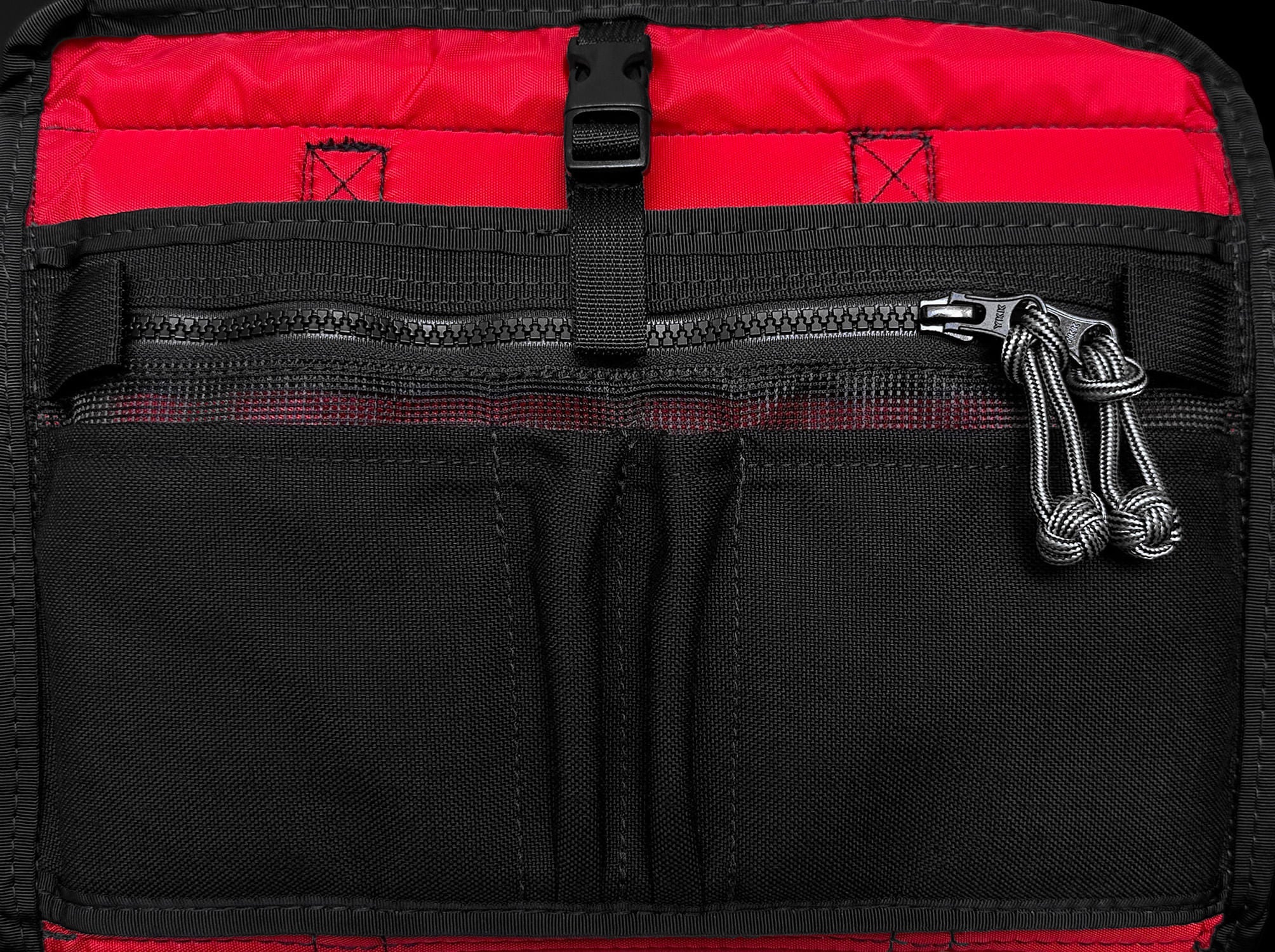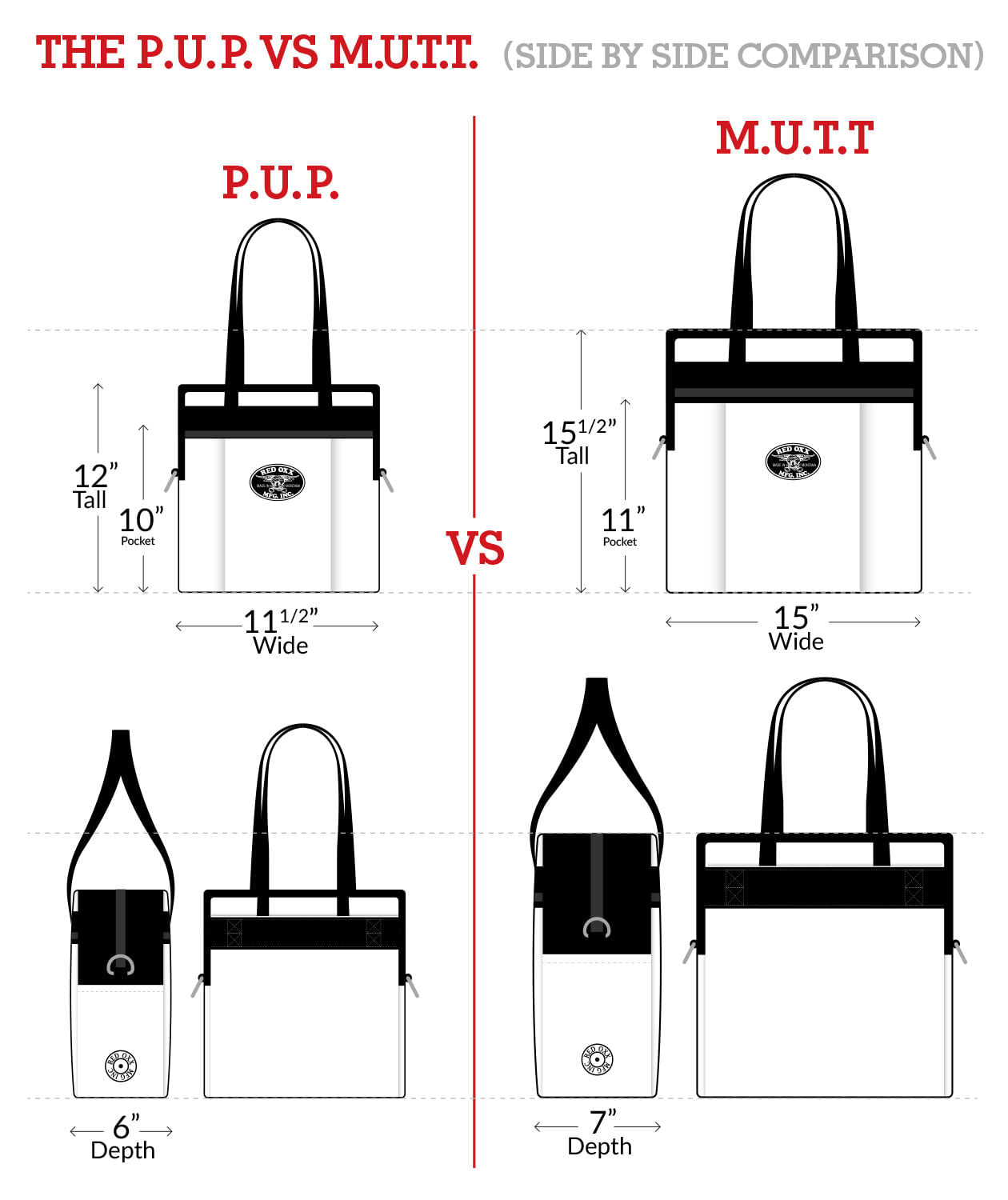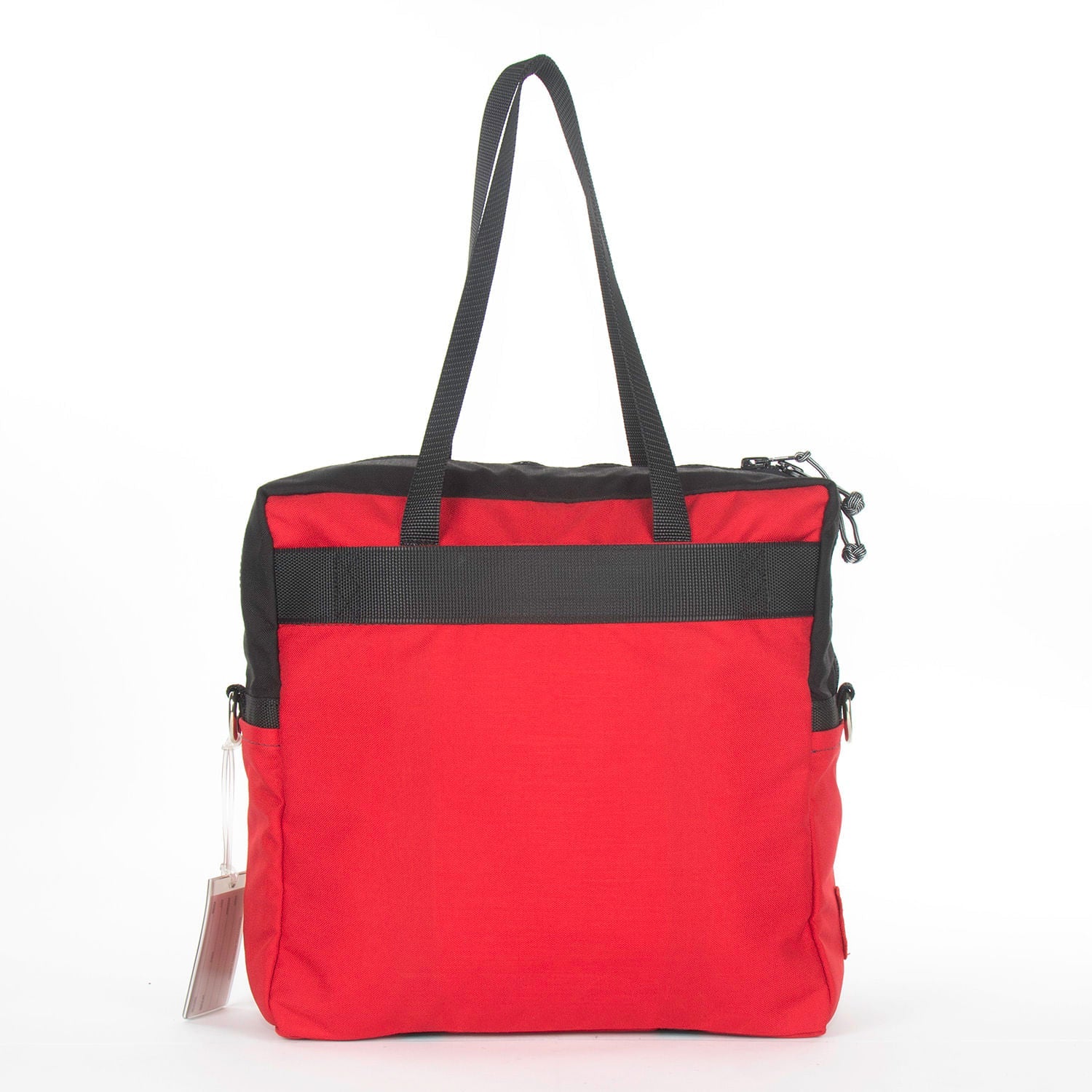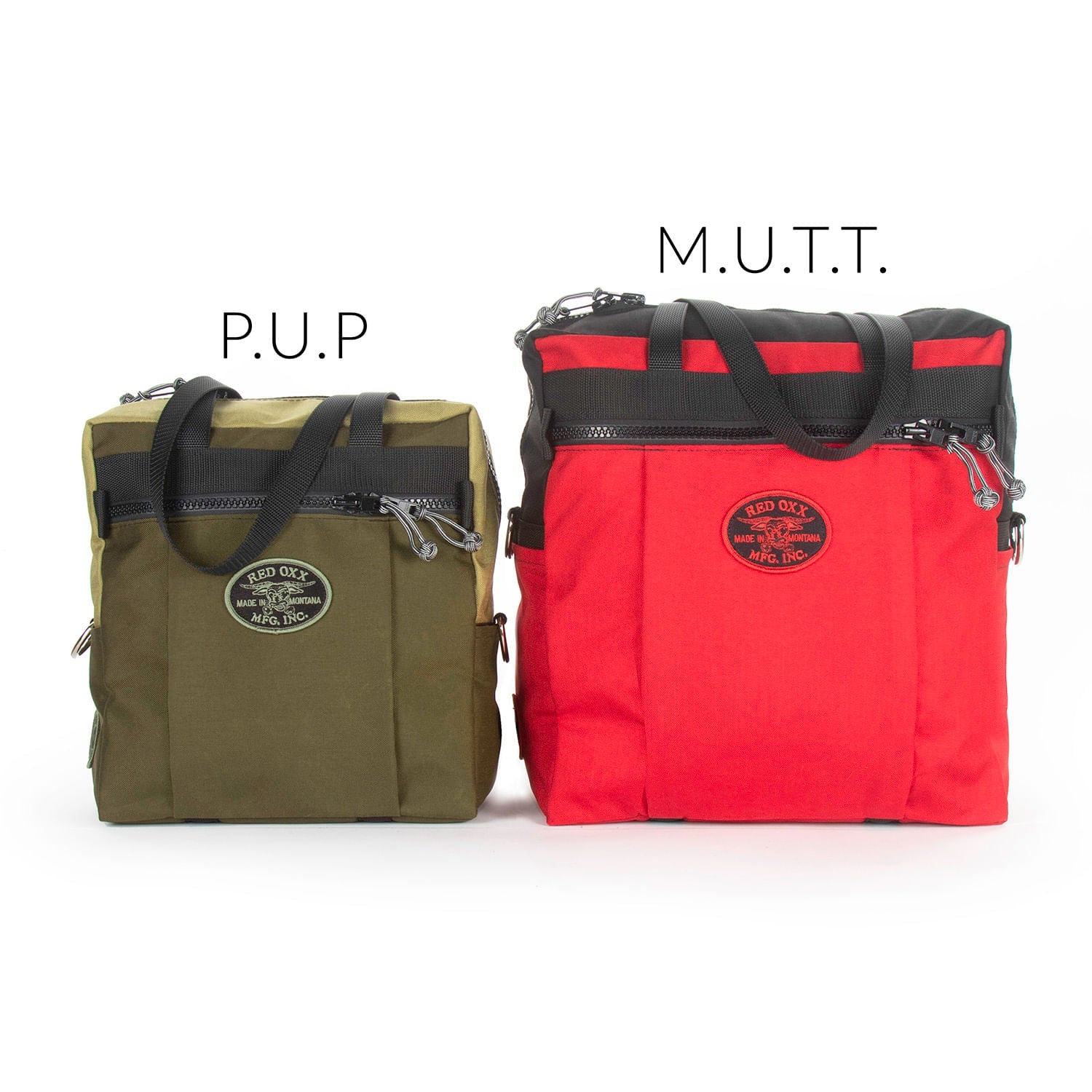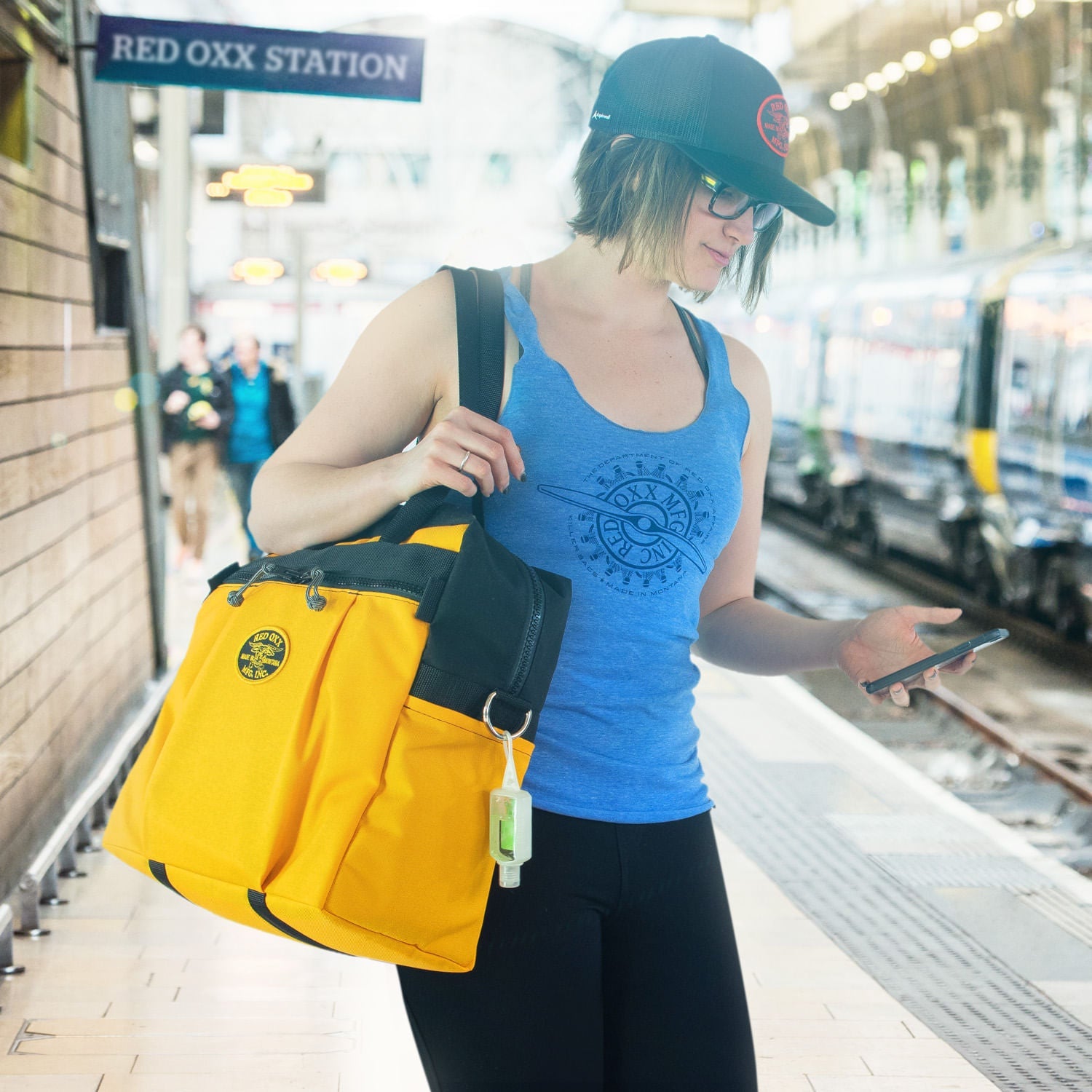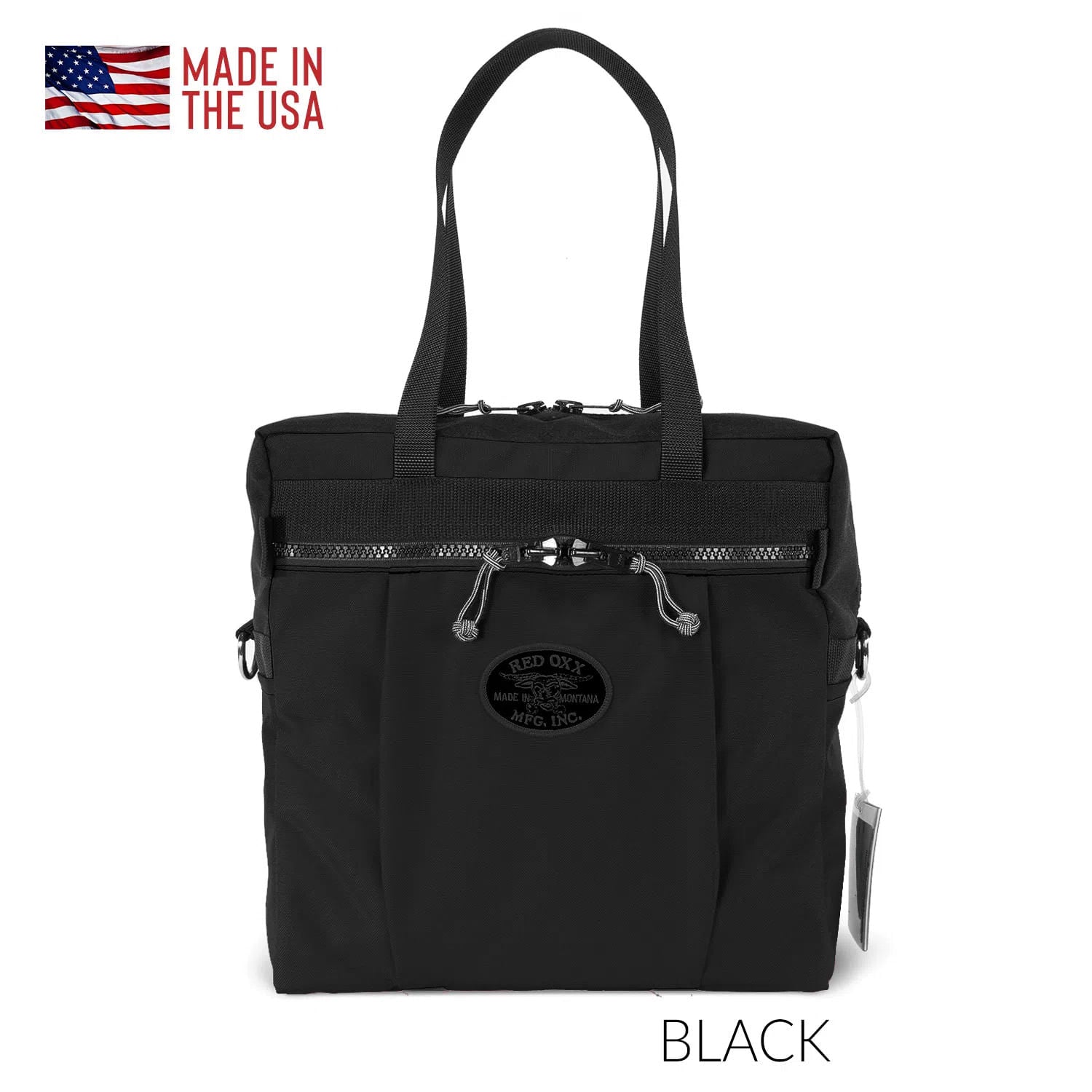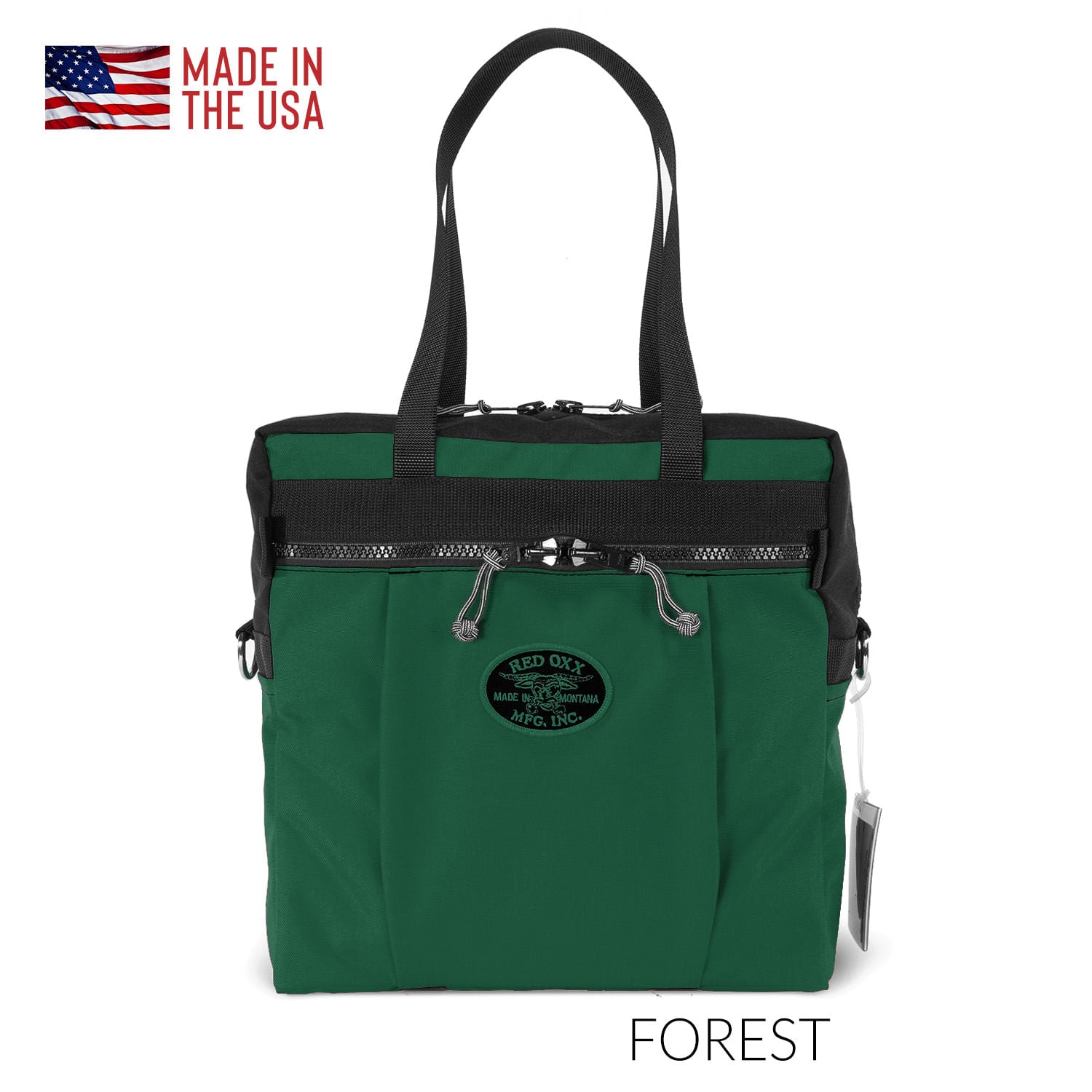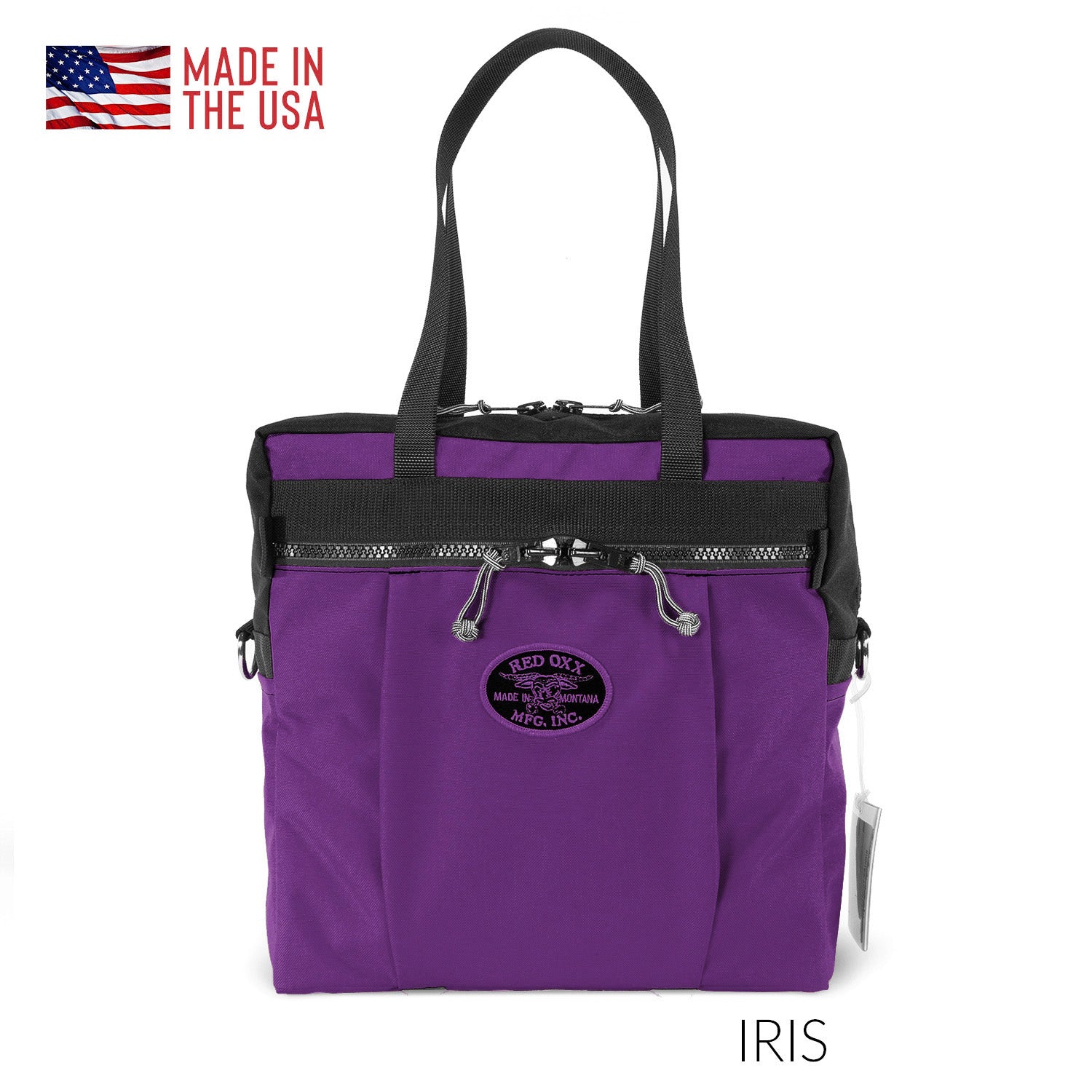 Maximum Utility Travel Tote
Like a good dog, the M.U.T.T. is always ready to go for a walk. 
The Maximum Utility Travel Tote is a must-have for teachers and busy moms. With a zipper closure for added security and privacy, it has plenty of pockets and organization for anything you need to bring. Perfect for those who need to tote books, lesson plans, and more.
Made in U.S.A. with our "No Bull" Lifetime Warranty
15 1/2"H x 7"D x 15"W

Heavy-duty secure zippered top

Padded bottom with laptop sleeve water bottle pocket and 3 interior storage pockets

The perfect weekender bag

Fits laptops up to 15"

Fits under airline seats as a personal item

DESCRIPTION

A utility tote that's home for everything you need, with room to spare at 1628 cubic inch capacity. Makes a superb personal item carry-on that's ideal for overnight stays on short notice, like babysitting, or emergency hospital visits.

Nicked-named the M.U.T.T, this unique padded "Maximum Utility Travel Tote" is hand-crafted one at a time.

The large 15 1/2 inch high by 7 inch wide and 15 inch long main compartment is big enough for all your daily use items.

High Density Padded Bottom: remove the worry about hard drops with the padding sewn into the base of the tote. The padding helps the bag to stand upright on its own as well.

Laptop Sleeve: a mesh pocket divides the interior and secures your laptop using our tried and true Fastex 3/8-inch clasp to hold your laptop in place.

Water Bottle Pockets: 2 side pockets big enough for quart water bottles.

Zippered Bellowed Front Pocket: this expanding pocket measures 14 inches wide by 10 inches deep and can expand outwards up to two-plus inches. Perfect for storing hats, gloves, and scarves.

Snap-closure Bellowed Back Pocket: this is a large snap closure pocket located on the other side of the bag. At a foot deep and 14 inches wide this large pocket is secured by a snap closure. Nice for items you want quick access to, like a magazine, book, or just a place to quickly dump things.

Rollaboard Trolley Sleeve: this is a 9" wide handle pass-through webbing slot used for securing the tote to a rollaboard. Next time you travel with a rollaboard, slip the M.U.T.T. over the handle of your carry-on, and roll with your tote bag sitting securely on top.

Large Interior Single-zipper Mesh Pocket: 15-inch wide by 3-inch deep mesh pockets can hold items like lip stick, memory sticks, earbud and regular headphones.

Dual (2) Interior Slip Pockets: measuring five-inches wide by five-inches deep, you can securely slip your smartphone into one slot and a wallet.

Over-the-shoulder Carry Straps or D-rings: Now you have the option of carrying the bag over your shoulder using the one-inch wide webbing straps, or use the D-rings on each end to attach an optional heavy-duty or comfort-carry shoulder strap (both sold separately).

400 Denier Nylon Lined Red Pack Cloth Interior: the bright red lining means you can see inside your bag and find what you need.
U.S.A. Dimensions:

15 1/2"H x 7"D x 15"W
Capacity: 1,628 cubic inches
Weight: 2.2 Pounds

Metric Dimensions:>

39.4cm H x 17.8cm D x 38.1cm W
Capacity: 27 Liters
Weight: 1 Kilo

Pocket measurements:

Exterior front zippered bellows pocket: 14"W x 10"H
Exterior back snap pocket with Trolley Sleeve: 14"W x 12"H
Laptop Pocket with internal padding:14"W x 8"H with adjustable fastex clip on top at 11"H
Full width interior mesh pocket: 14"W x 6"H
Two interior slip pockets: 6"W x 4"H

Features:

Double slider zippered opening top
Padded bottom
Laptop sleeve
Water bottle pocket
Zippered expanding "bellows" pleated front pocket
Snap-closure expanding "bellows" pleated back pocket with...
Rollaboard Trolley sleeve
2 pen/pencil slots
Full width interior single-zipper mesh pocket
2 interior slip pockets
Comfortable over-the-shoulder 1-inch wide webbing carry straps
Heavy-duty stainless steel D-rings on each end (for use with optional replacement carry strap) -- sold separately
Fabric: 1000 weight urethane coated, Dupont certified CORDURA® Brand Nylon
400 weight denier red lining soft nylon pack cloth
Weather resistant
Thread: Anefil Nylon, Bonded Type 6,6 Tex 90-Black
Double box stitching on all stress points such as carry handles
Heavy-duty Stainless Steel D-rings on each end
#10 YKK Vislon self-locking zippers
Monkey Fist Zip Knots on all zippers
Includes Cable Lock
Does the MUTT fit under an airline seat?

Yes, the P.U.P. Zipper Tote Bag will fit under the seat for air travel.

Does the black version have contrasting color in the interior or is it also black?

All colors of The MUTT come standard with 400 Denier Nylon Lined Red Pack Cloth Interior:the bright red lining means you can see inside your bag and find what you need, and the lining is luxury smooth and easy to clean.

Does it come with a shoulder strap?

No. This tote has the option of carrying the bag over your shoulder using the one-inch wide webbing straps. You can however use the D-rings on each end to attach an optionalheavy-dutyorcomfort-carry shoulder strap(both sold separately).

Why did you add zippers?
The herd asked for a tote that could be carried on subways and around town that securely held their belongings. The #10 YKK zipper has a self-locking feature and can't be stealth opened or forced open with a pen or tool.

Why are the handles so long?
The M.U.T.T. was designed for shoulder carry. Shorter handles wouldn't allow this style of carry. You can, however, easily shorten the handles by looping them over each other or purchase an optional adjustable carry strap. Red Oxx offers two excellent replacement straps, the Long Hauler Comfort Carry Strap and the Claw, no slip strap.

I'm a DJ, will this tote hold record albums?
As a matter of fact, our Minister of Information is also a DJ and he confirms that indeed, record albums will fit perfectly. He's carried up to 25 record albums in the tote with ease. He also loves the bellows pocket for storing his headphones or old-school CDs.

Are there any interior pockets?
The M.U.T.T. contains several small interior pockets and a slip pocket for securing a laptop.

I've read you referenced EDC. What does it mean?
EDC is an acronym for Every Day Carry, a popular new market segment that defines the importance of bringing along certain items that you use daily.

Can I wash my MUTT?
Certainly. We recommend using a mild soap like Dr. Bronner's Liquid Soap. Follow the directions for use (be sure to dilute the soap), use a bucket or sink filled with warm soapy water, and a soft nylon brush for more challenging cleaning. Do NOT wash your bag in a washing machine, avoid harsh chemicals like bleach and industrial cleaners, do NOT put in a dryer, as these things can ruin the interior coated lining of the CORDURA® Brand Nylon Fabric. Rinse and then simply hang it up and let it air dry. Washing your bags gently by hand does not void our Lifetime Warranty.

Can you ship USPS?
Yes, Red Oxx will ship USPS upon request. Simply state, "Please ship USPS" in the cart comments during checkout and we will adjust your billing accordingly.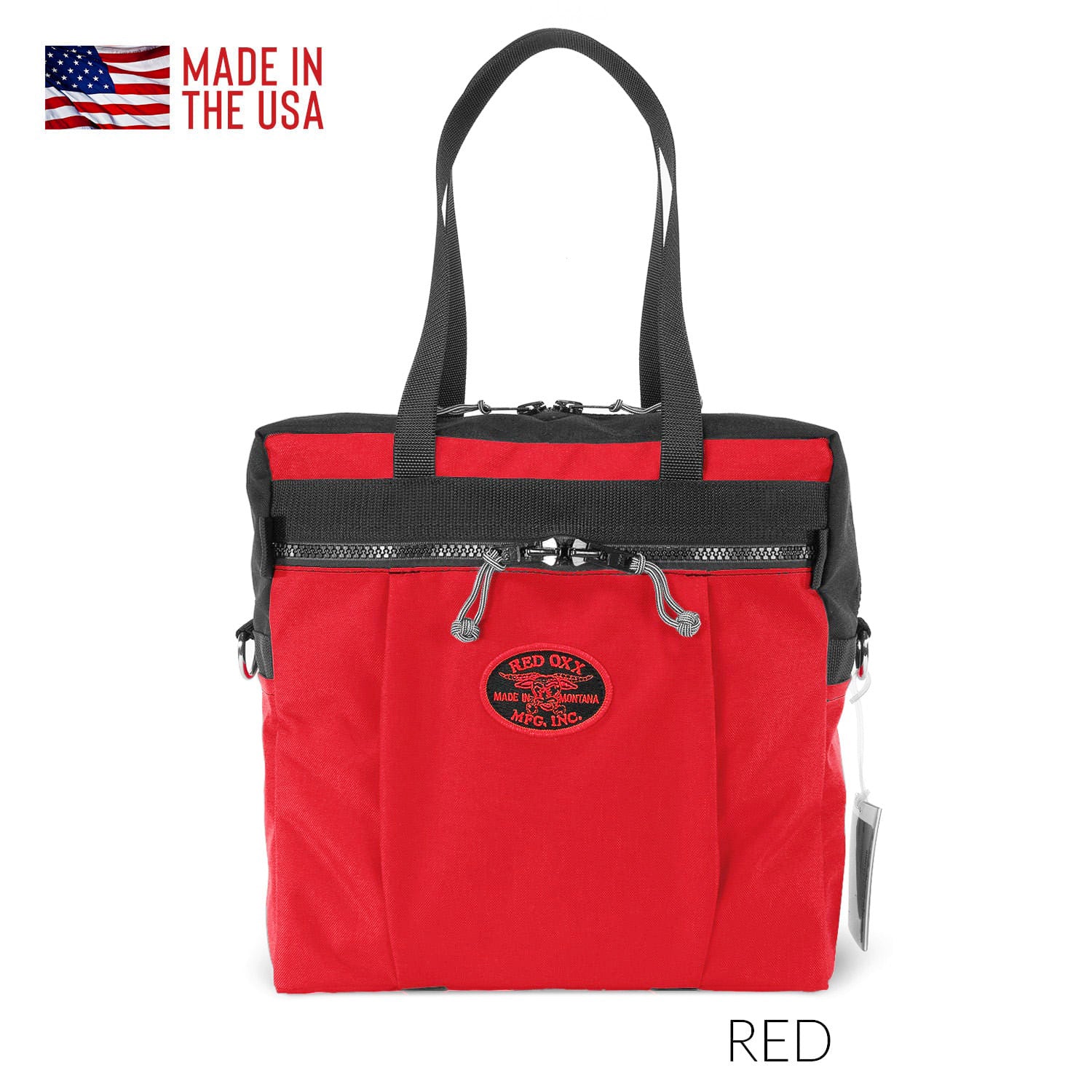 This product has no reviews yet.
This product has no reviews yet.
This product has no reviews yet.