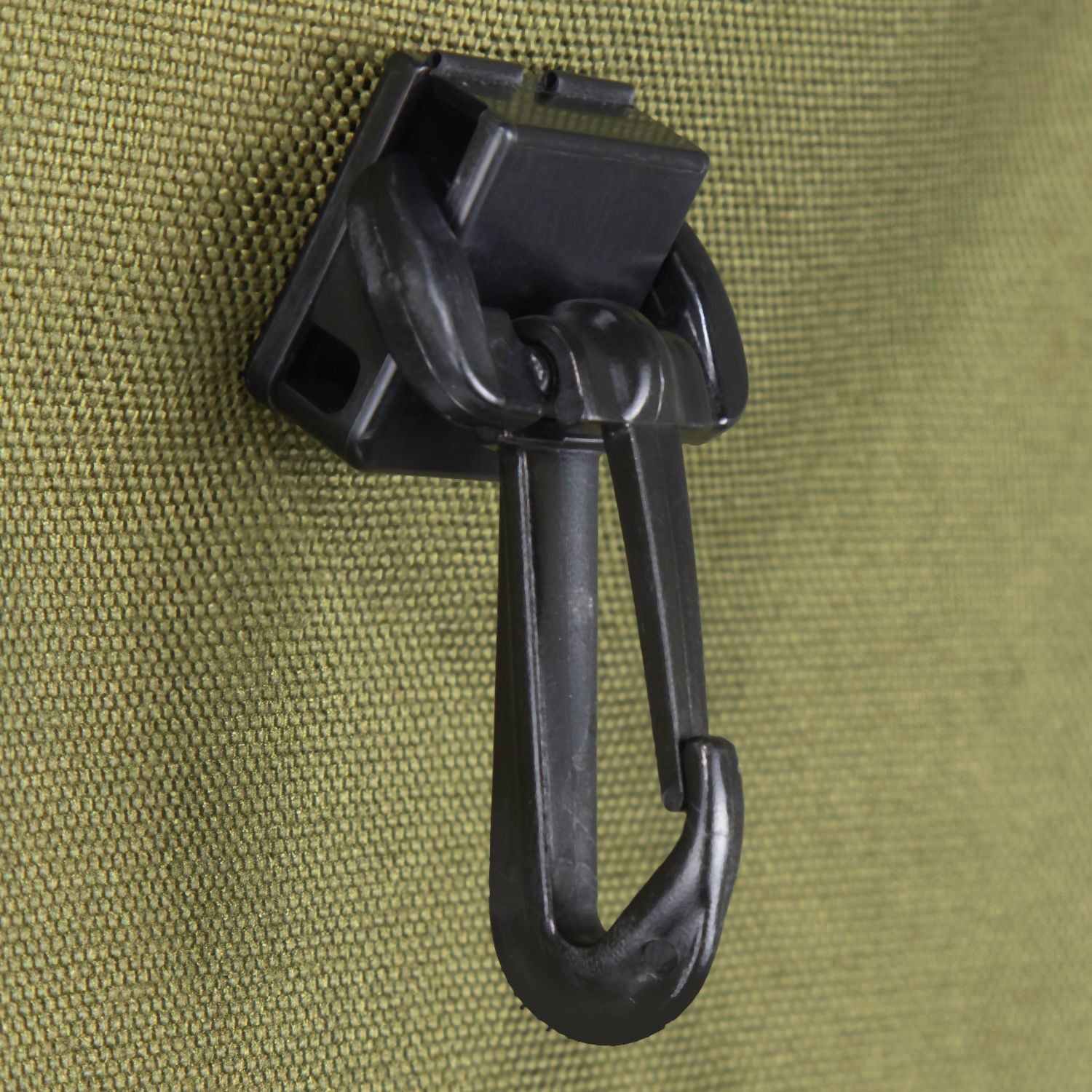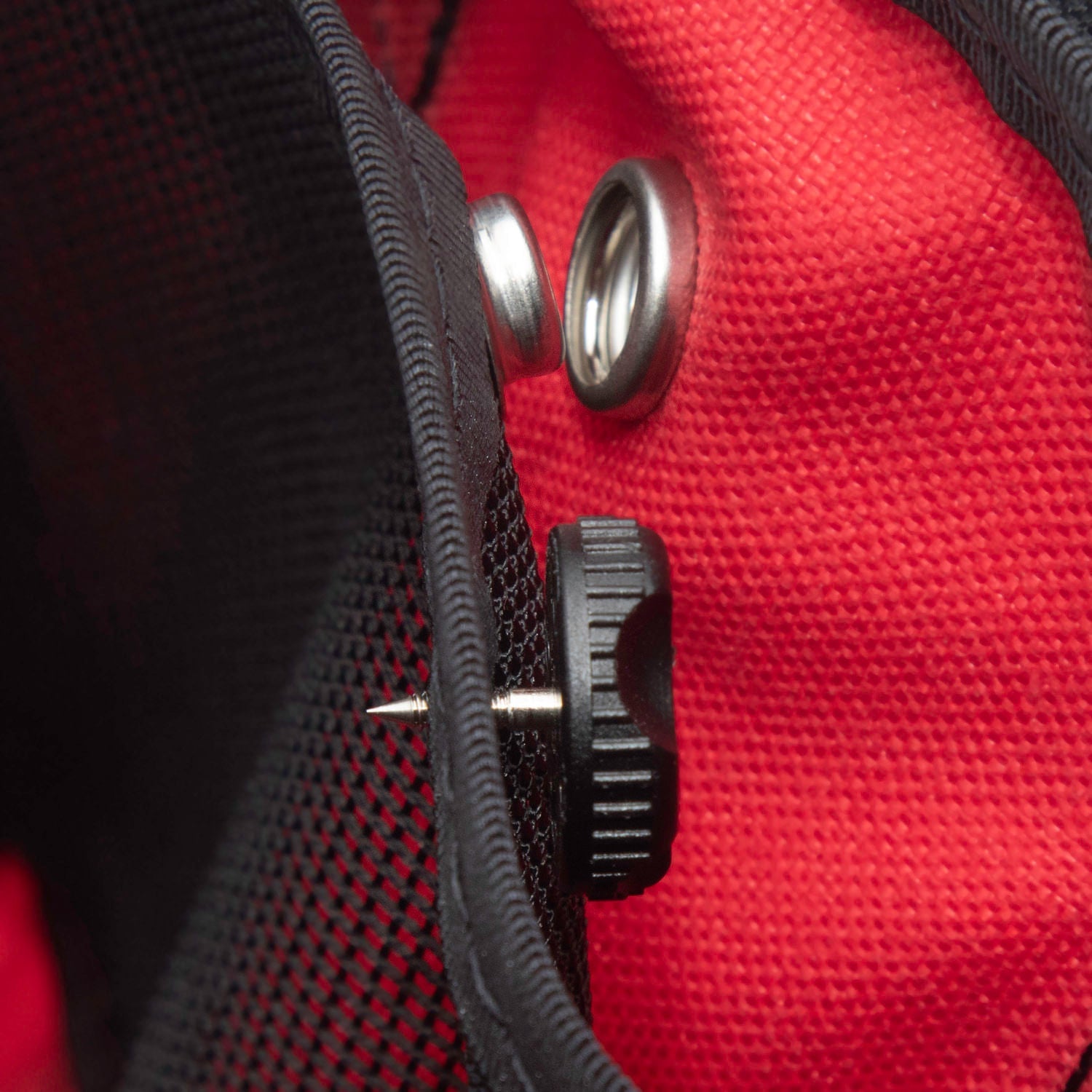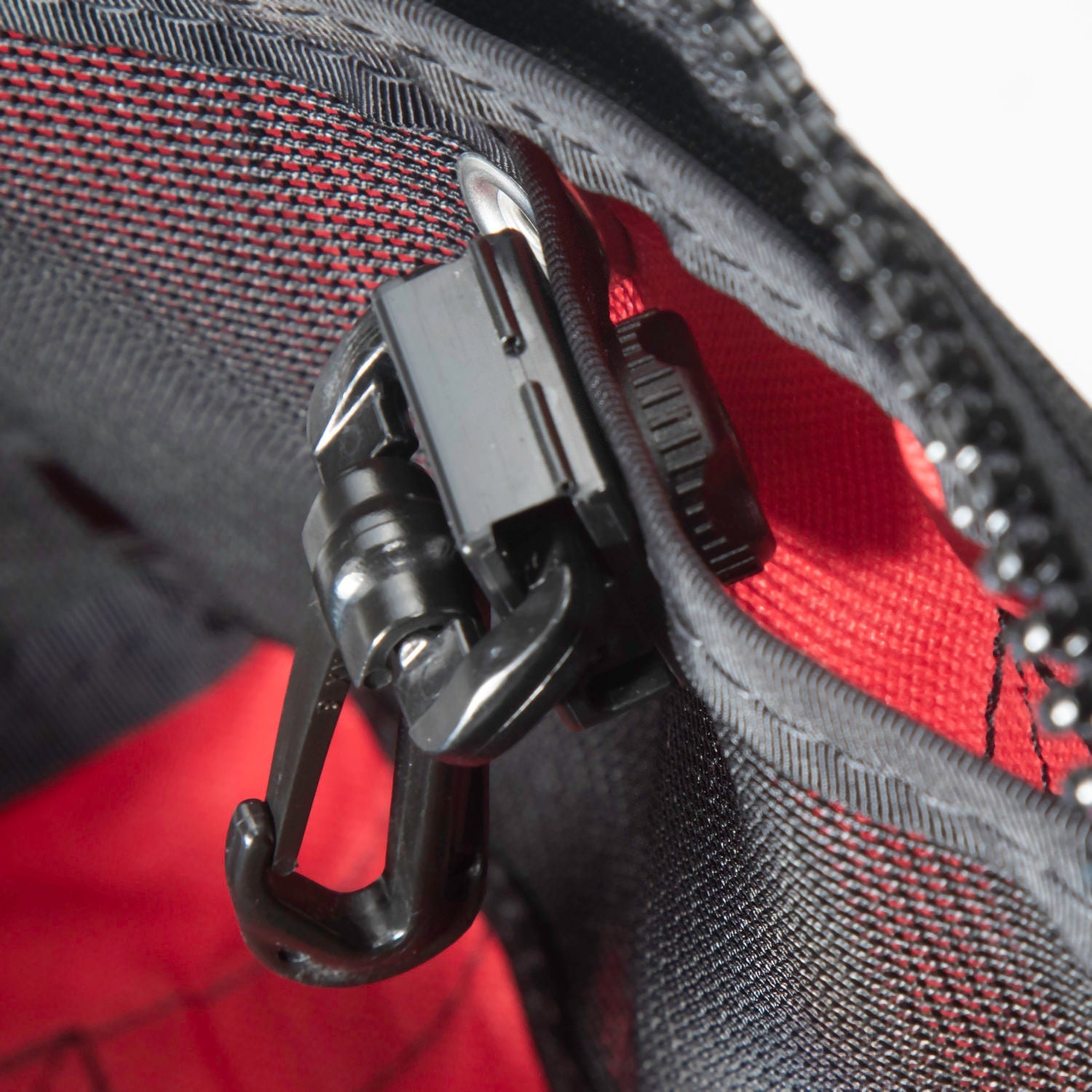 Pin-Mounted Bag Key Clip
The age old question... have you seen my keys?
Our Pin-Mounted Bag Key Clip is a versatile solution to keep your keys organized and accessible. With the ability to mount the clip wherever desired, you'll find yourself reaching for your keys with ease. Red Oxx's premium product is an ideal key organization solution.
Made in U.S.A. with our "No Bull" Lifetime Warranty


Allows the user to position their key clip anywhere they want inside their bag

This key clip features a plastic loop hook with closer tab for quick slip on / slip off for your keys. Using the stainless Pin Mount, simply press and screw the pin grip through your bag's fabric or webbing (preferred), position the base mount on the fabric and spin the base mount onto the pin grip.

These precision crafted pin mounts mean easy attachment for a handy key ring. Now you can hang your keys onto any bag we make. Mount it to the inside lip of a pocket on our backpacks, carry on bags, briefcases. Or attach to the webbing on a strap - should you not want to poke a hole in your bag!

Not just for bags, the Pin Mount Key Clip can also be attached to belts, pants, work coats, and so on. Secure your keys, yet still have quick access. Also good for attaching tools, flash lights, knives, anything with a key ring, lanyard or 1/4" hole. Tested tough by divers under harsh oceanic conditions.

Key Clip Mounting Instructions:

1. Grasp pin grip, turn left to unwind, remove pin grip from base mount. CAREFUL Pin is quite sharp

2. Position base mount where you want to mount your key clip. Screw pin through backside of material, then screw pin onto base mount. Flip base over so key loop hangs with opening pointing outwards. Tighten screw pin firmly in place on backside. If tab is above hook, push tab on loop hook sideways until it pops under the hook on the loop. Click "Additional Images" at left for clarification.

NOTE: Removing the pin will leave a puncture mark in CORDURA® Brand Nylon. Red Oxx recommends screwing, not pushing, the pin through the fabric, if possible, between woven threads to minimize damage to the fabric.

For best results, mount the key clip to a mesh pocket, an interior flat pocket or interior webbing.
Precision machined stainless steel screw pin

Knurled pin grip with 4 finger-tip grooves

One piece plastic loop key clip

Injection molded plastic

100% rust-proof

Made in U.S.A. for Red Oxx by a Diving Products company.
Where do I put the key clip?
The flexibility of the Pin Mount Key Clip allows you to mount it (pin it) anywhere you like. Be aware that penetrating any of the webbing is quite difficult.

Will this void the warranty?
CORDURA is designed to not tear or rip, even when cut. Punching a few holes in a bag with the Pin Mount will not void the warranty.

What is this thing and why not sew in a key clip?
The Pin Mount feature allows you to mount your Key Clip anywhere you like. If we mounted it inside the bag, folks would want it outside the bag, and so on. Flexibility is the key to its functionality.

How do I reverse the key clip?
Remove the pin mount, unscrew the two screws, open the clip and remove / reverse the hook. Screw it back together and remount the Pin Mount. Key Clip is now reversed.

The key clip came unscrewed in my bag? I nearly lost my keys. What do I do now?
Apply Loctite® Blue Threadlocker to the thread. This should prevent your Key Clip from coming unscrewed under normal use. Loctite® Red Threadlocker is the strongest thread locker available. However, you will need heat and tools to unlock the thread if you use the Red Threadlocker.

Can you ship USPS?
Yes, Red Oxx will ship USPS upon request. Simply state, "Please ship USPS" in the cart comments during checkout and we will adjust your billing accordingly.
This product has no reviews yet.
This product has no reviews yet.