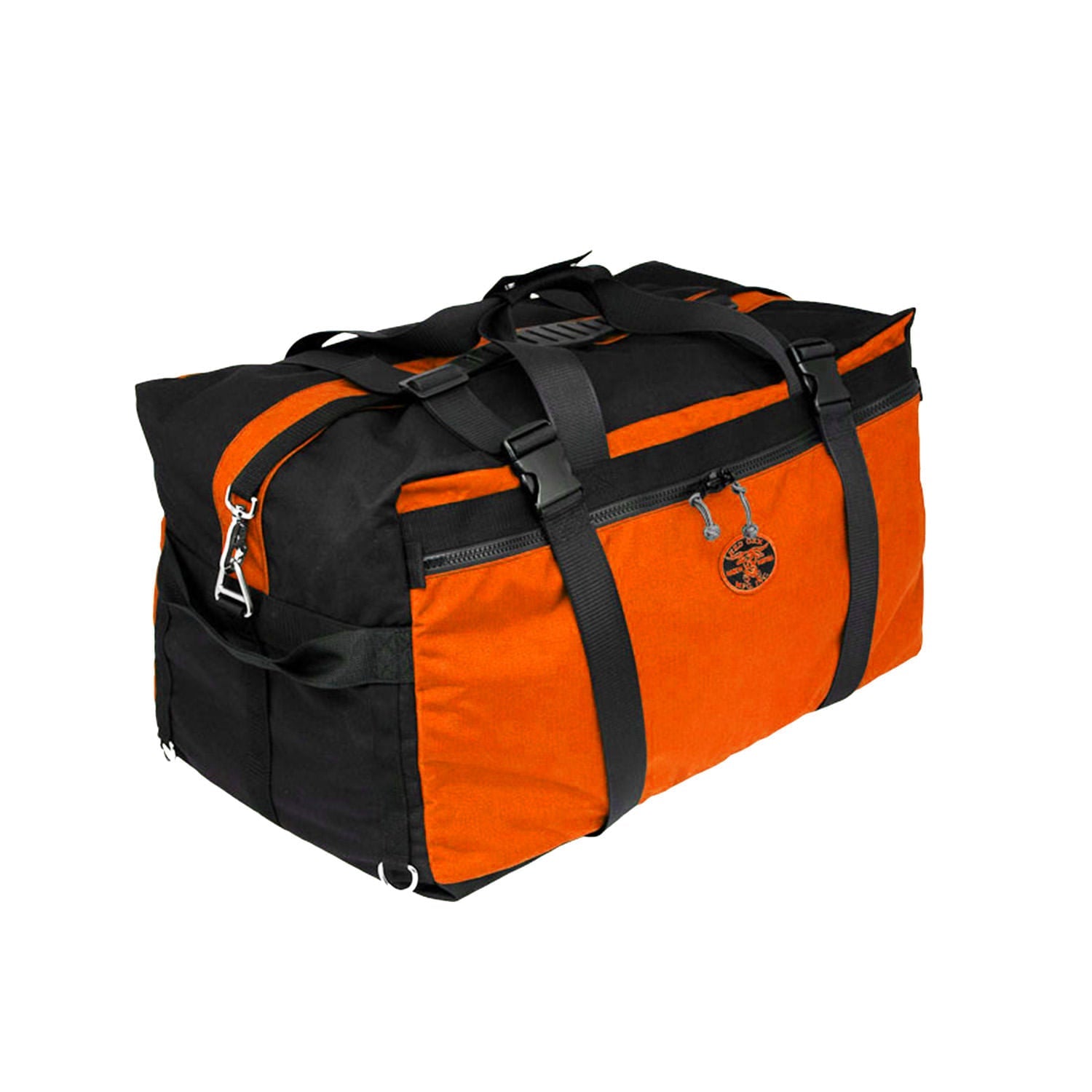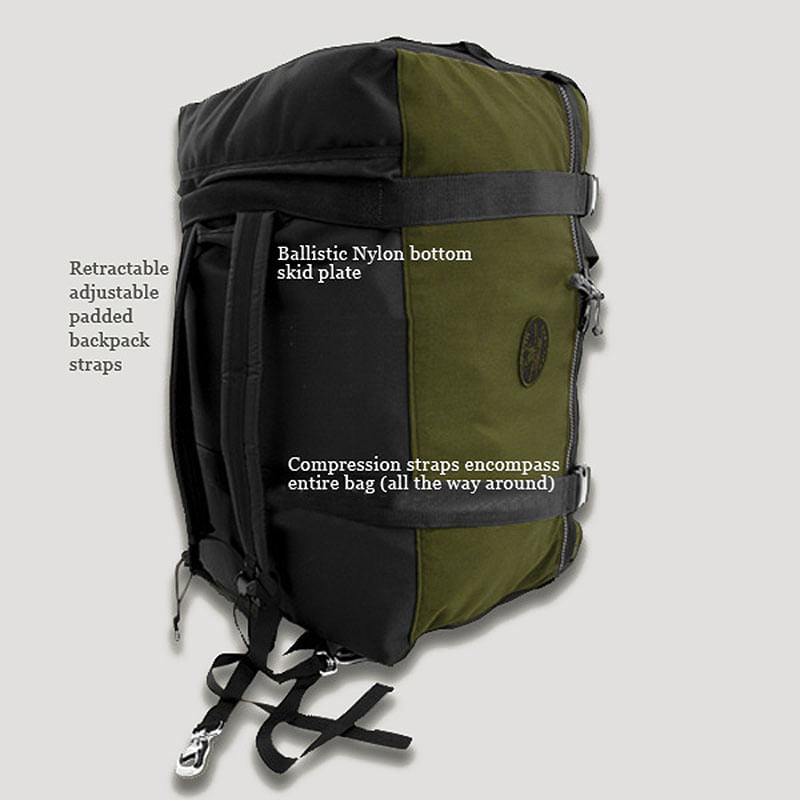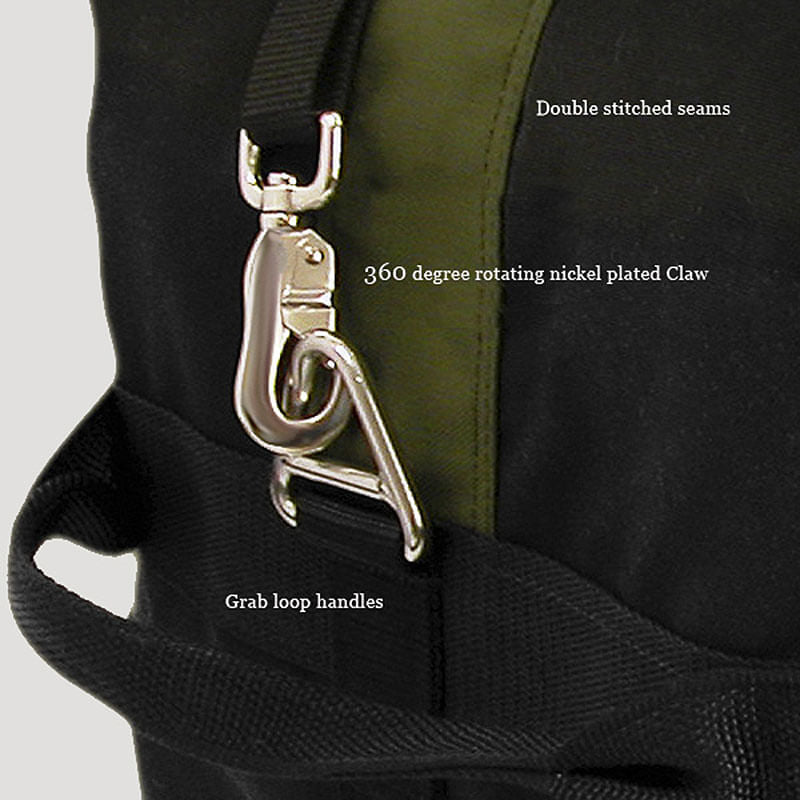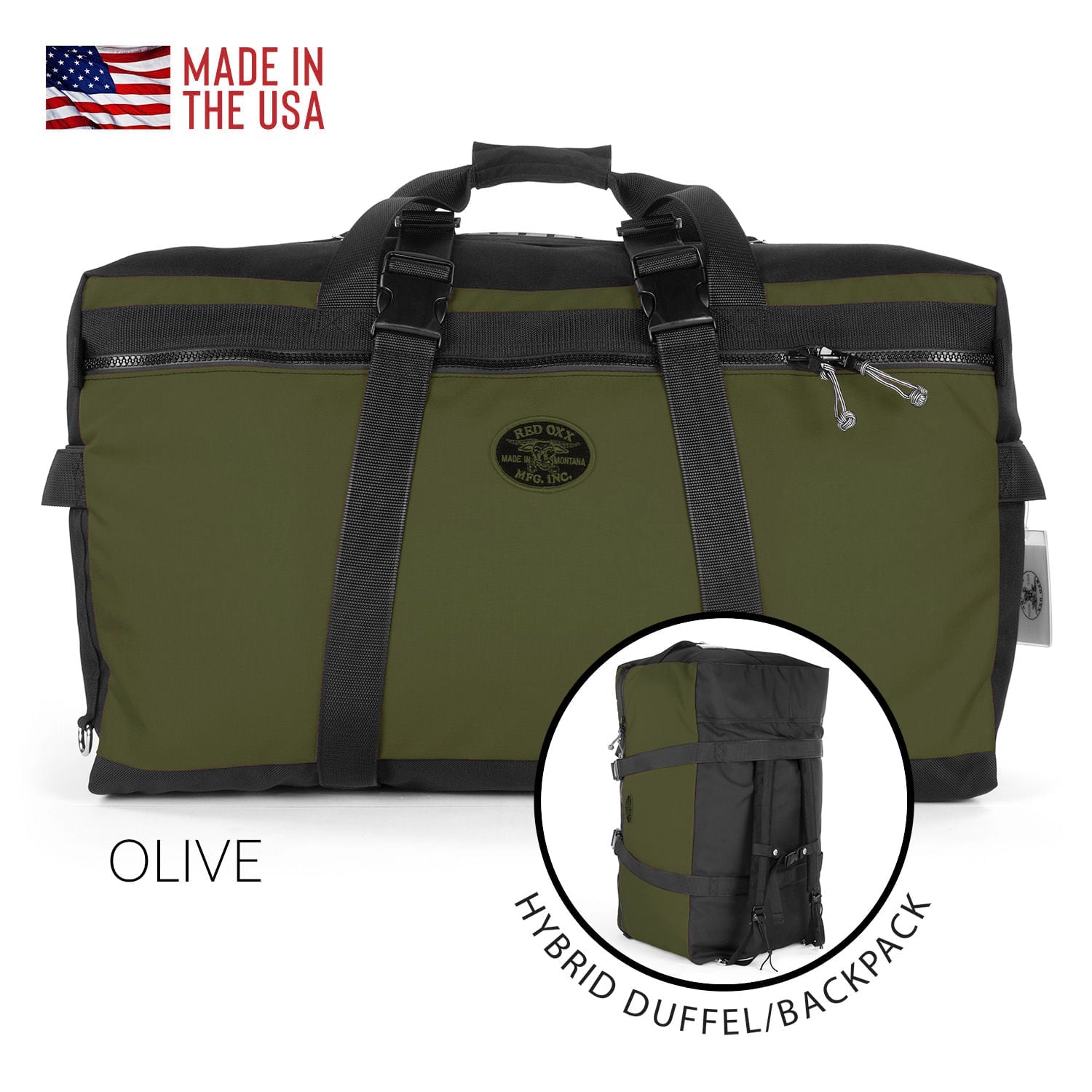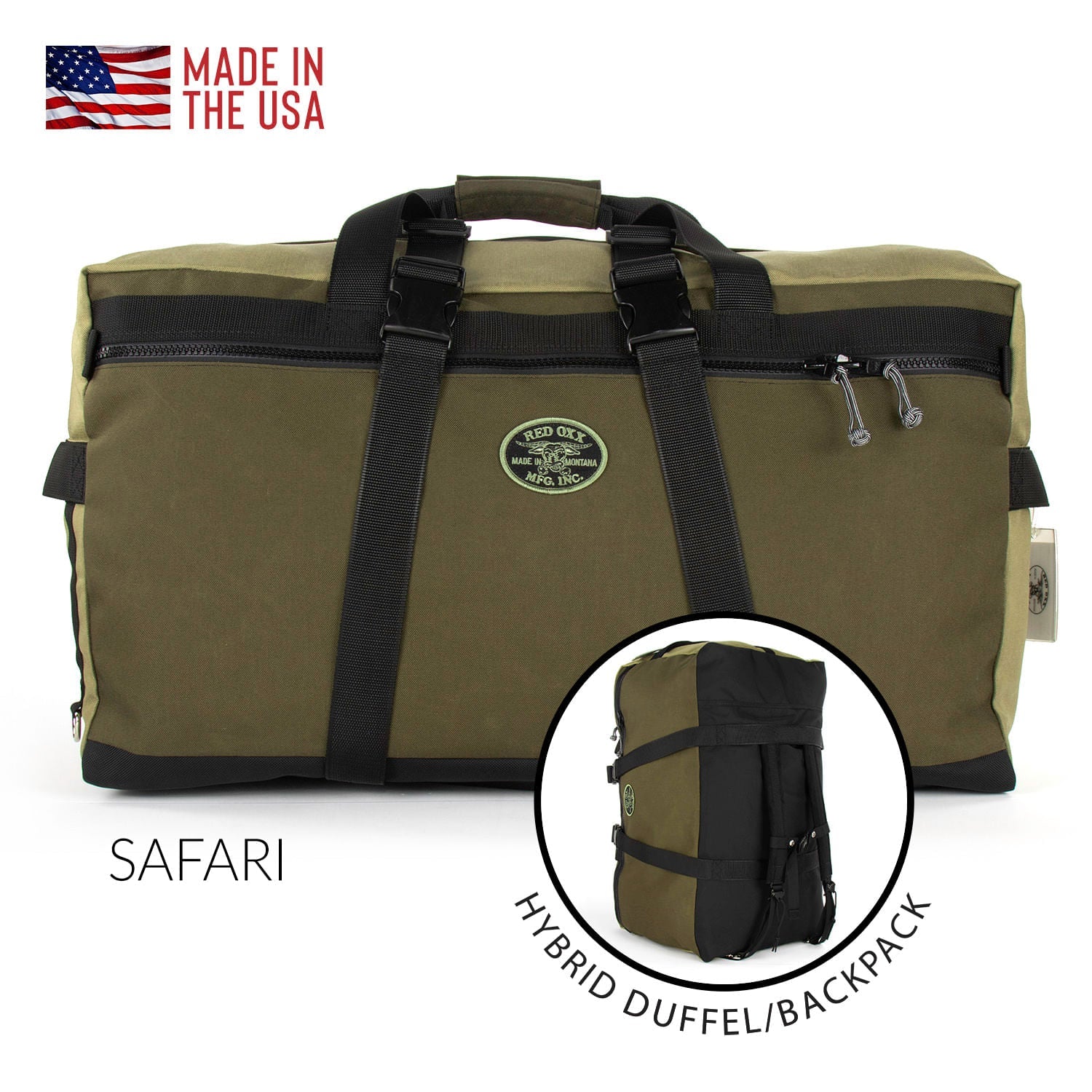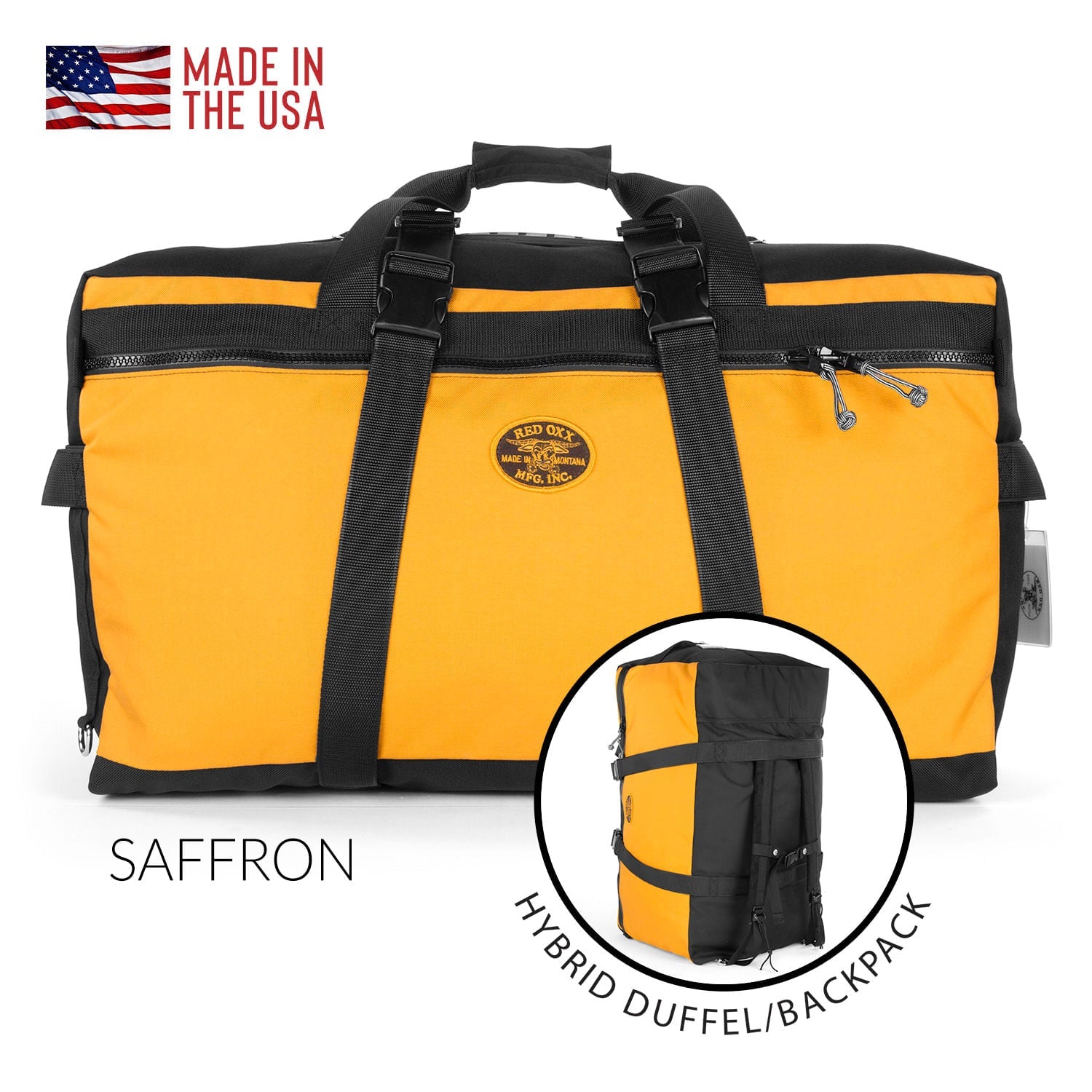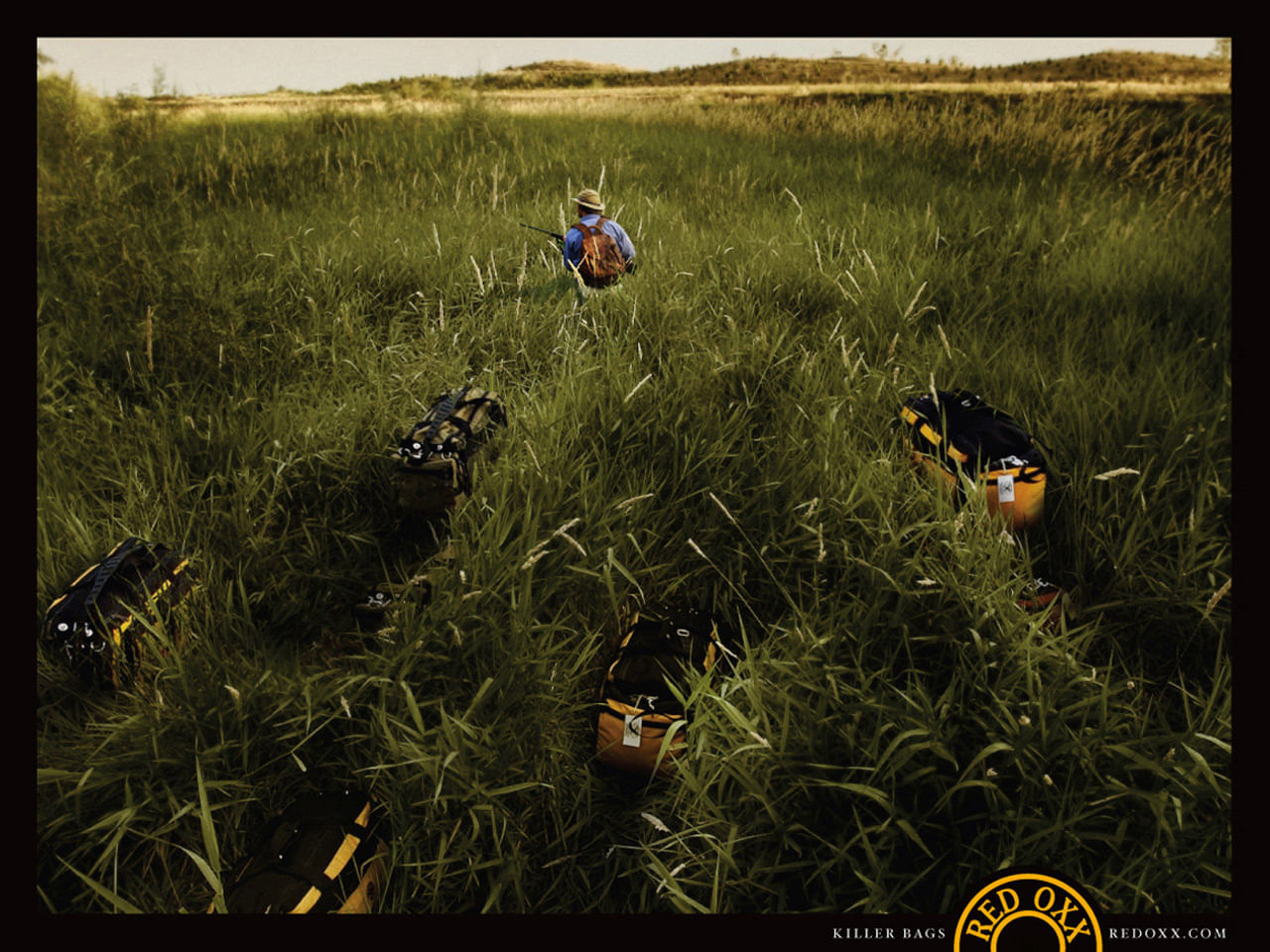 Big Oxx Expedition Series
The Big Oxx Expedition Series is the perfect bag for keeping mass cargo under control. When it's time to haul it all, just keep packing.... Our Largest Expedition Outfitter's Bag. Room enough to stow either yourself or all your gear.
Made in U.S.A. with our "No Bull" Lifetime Warranty
Dimensions: 16"W x 16"H x 30"L
Stowable backpack straps for hands-free carry

Padded ballistic nylon base - 7,680 Cubic In Capacity

Compression straps help reduce the load size and secure contents

Works for well for bush plane travel

Perfect camp duffel at 125 liters

Weather resistant

DESCRIPTION

ROOMY COMPARTMENT.
Featuring plenty of room in the spacious main compartment, you can pack for a week in cold weather or a month on the run! Easy to carry with retractable stow-able back pack straps that hide in the smuggler's pocket.

CARRY FLEXIBILITY.
If you only need to get this outfitters expedition bag from your car to the tent, you can use the handles, bag end grab loops or the No Slip Claw Shoulder Strap; leaving the retractable back pack straps out of sight. Basically, like its big brother the Sherpa Jr. you can carry the Big Oxx six different ways.

Carry it by the top handle.
Carry it by both end handles.
Carry it with one end handle.
Carry it on your back with the retractable backpack straps.
Carry it with The Claw No-Slip Shoulder Strap.
Let a real Sherpa carry it for you.

CINCH IT DOWN.
The Big Oxx Bag comes with dual exterior compression straps and two exterior flat zippered side pockets, securing all of your hunting, camping, snowmobiling, or safari overland gear and valuables safely in place and making it easy to get to what you need. The carry handles and compression straps fully wrap around the bag, effectively doubling up the no rip carry strength.
U.S.A. Dimensions:

30"L x 16"W x 16"H
Capacity: 7,680 cu. inches.
Weight: 7 pounds.

Metric Dimensions:

76.2cm L x 40.6cm W x 40.6cm H
Capacity: 125.6 Liters
Weight: 3.18 Kilos

Pocket measurements:

Dual exterior flat full length zippered pockets: 13" D x 29.5"L
Bottom strap flat storage pocket (non-zippered): 22"L x 15.5"W
Main compartment: 29.5"L x 15.5"W x 15.5"H

Features:

Detachable Claw No-Slip Adjustable Shoulder Strap
3/8 Neoprene blend rubber padded bottom
Compression straps
1050 weight urethane coated, Dupont certified Ballistic nylon bottom skid plate
Weather resistant
Full length 1"W Storm Flap
Double end grab handle loops
2" wide heavy-duty Nylon Compression Straps wrap around bag
Fabric: 1000 wt. urethane coated, Dupont certified CORDURA® brand nylon
Padded, retractable, adjustable back pack shoulder straps
All zippers #10 YKK VISLON® self-locking
Thread: #92 bonded SolarMax Nylon
All seams double stitched and bound
Stainless steel Mil-Spec snaps with Red Oxx logo
Fair trade Monkey Fist Zip Knots on all zippers
Free heavy-duty vinyl luggage tag
Embroidered Logo Patches
Double box stitching on stress points such as carry handles
Includes Cable Lock
Choose from 13 vibrant colors
Is the Big Oxx carry-on legal?
This bag is for checked travel only.

Where are the backpack straps located?
The retractable straps are located in a hidden zippered pocket on the bottom of the bag.

What are the D-Rings for?
To attach the backpack straps on their clip-on snap hook end.

Are there any internal pockets?
The Big Oxx features only one large main compartment and two large exterior flat pockets.

How many days of travel will fit in the Big Oxx?
This is an expedition sized bag. Going somewhere for awhile? This is your bag. Properly packed one could live out of a Big Oxx. for a several weeks.

What's the average weight when full?
Depends what you pack in it. A few weeks of hunting gear for example, could weigh up to a hundred pounds.

Does it come with a waist belt?
Since the Big Oxx is a frameless soft sided bag, a waist belt would not work.

Why does the Big Oxx have a storm flap over the zippers and your other bags don't?
The Big Oxx was designed with rugged outdoor use in mind. A storm flap helps make the bag more water resistant.

How do the compression straps work?
They encompass the bag's exterior helping to keep your gear in place through, you guessed it, compression.

What's the difference between the Big Oxx, the PR6 and the Sherpa Jr.?
The Big Oxx is our largest capacity outfitter's bag equipped with one main compartment as opposed to the PR6 which has a large center compartment and two end compartments.

Is there a way to securely lock my bag?
Sure, you can use any TSA approved bag lock or try our Cable Lock for a simple, semi-secure solution. Watch this video where CEO Jim Markel demonstrates how you can use the cable that comes with the product Dog Tag price tag to secure your bag. Keep in mind, any determined thief can still cut open a soft sided bag with a sharp knife.

Will a sleeping bag fit inside the Big Oxx?
Absolutely, it will easily fit a large Butler Sleeping Bag.

Are there any interior pockets?
The Big Oxx has only one large main compartment and two exterior flat pockets.

My zipper broke. The teeth have separated. Do I send it in for warranty repair?
No need for warranty repair, fix it yourself. Check out this video where CEO Jim Markel
This product has no reviews yet.
This product has no reviews yet.
This product has no reviews yet.