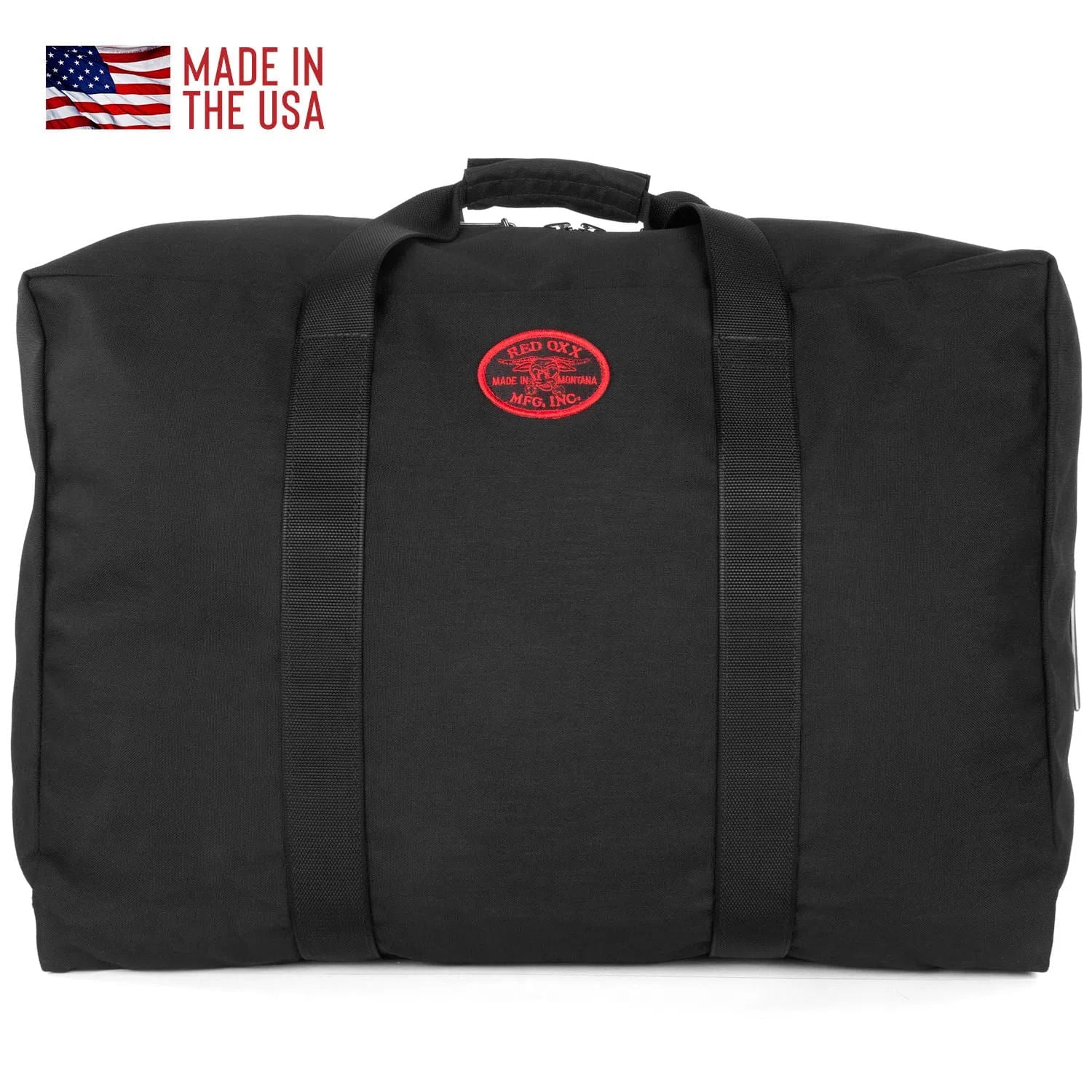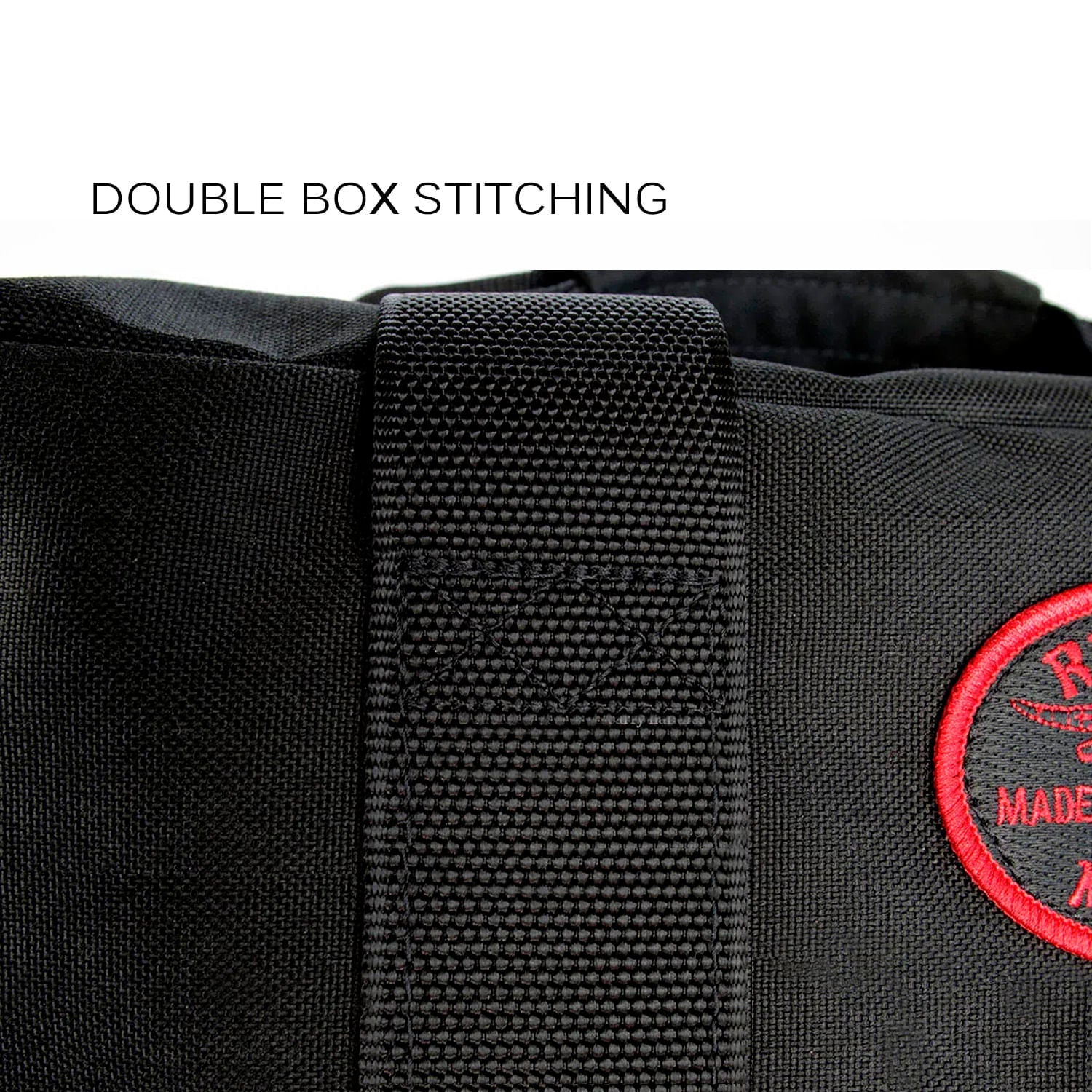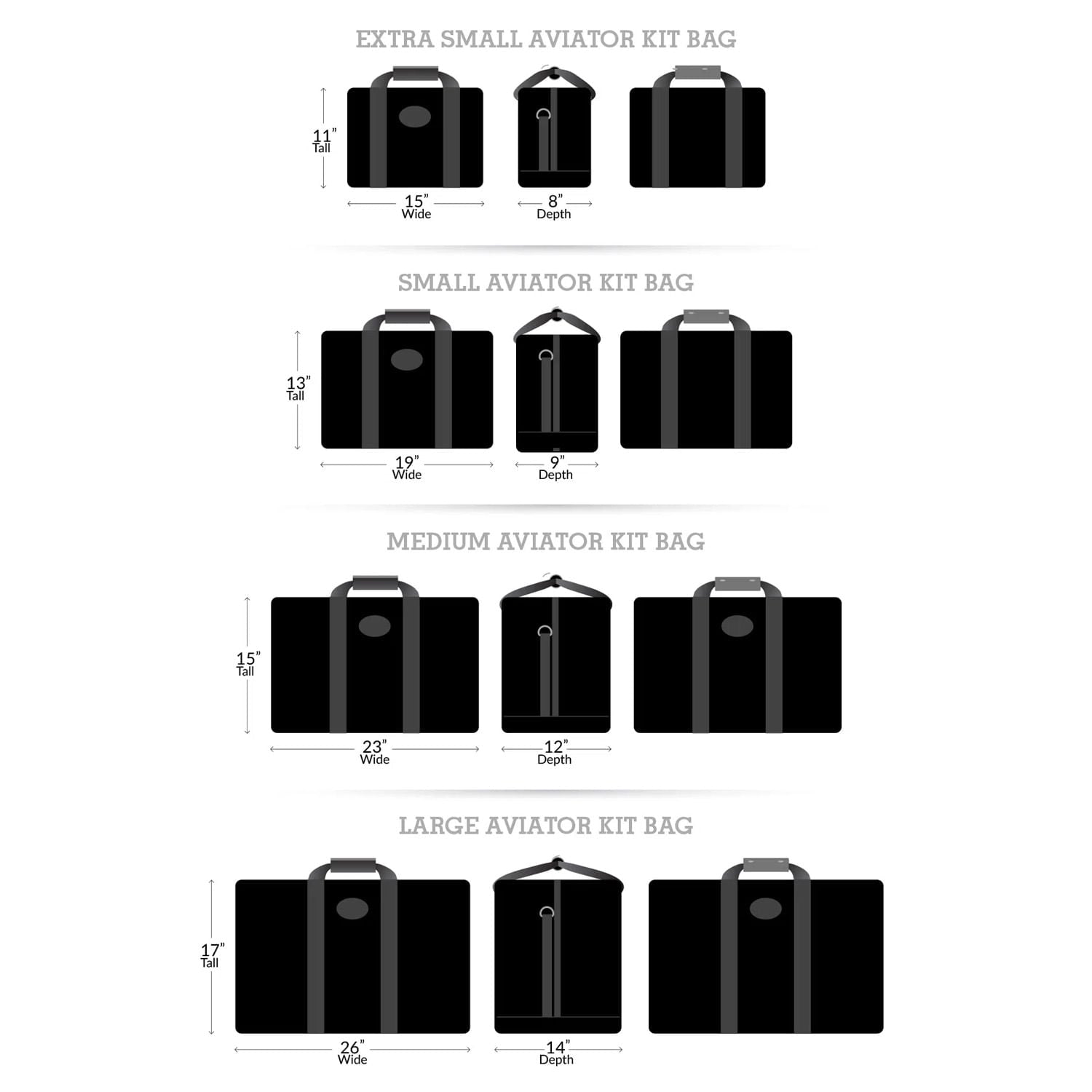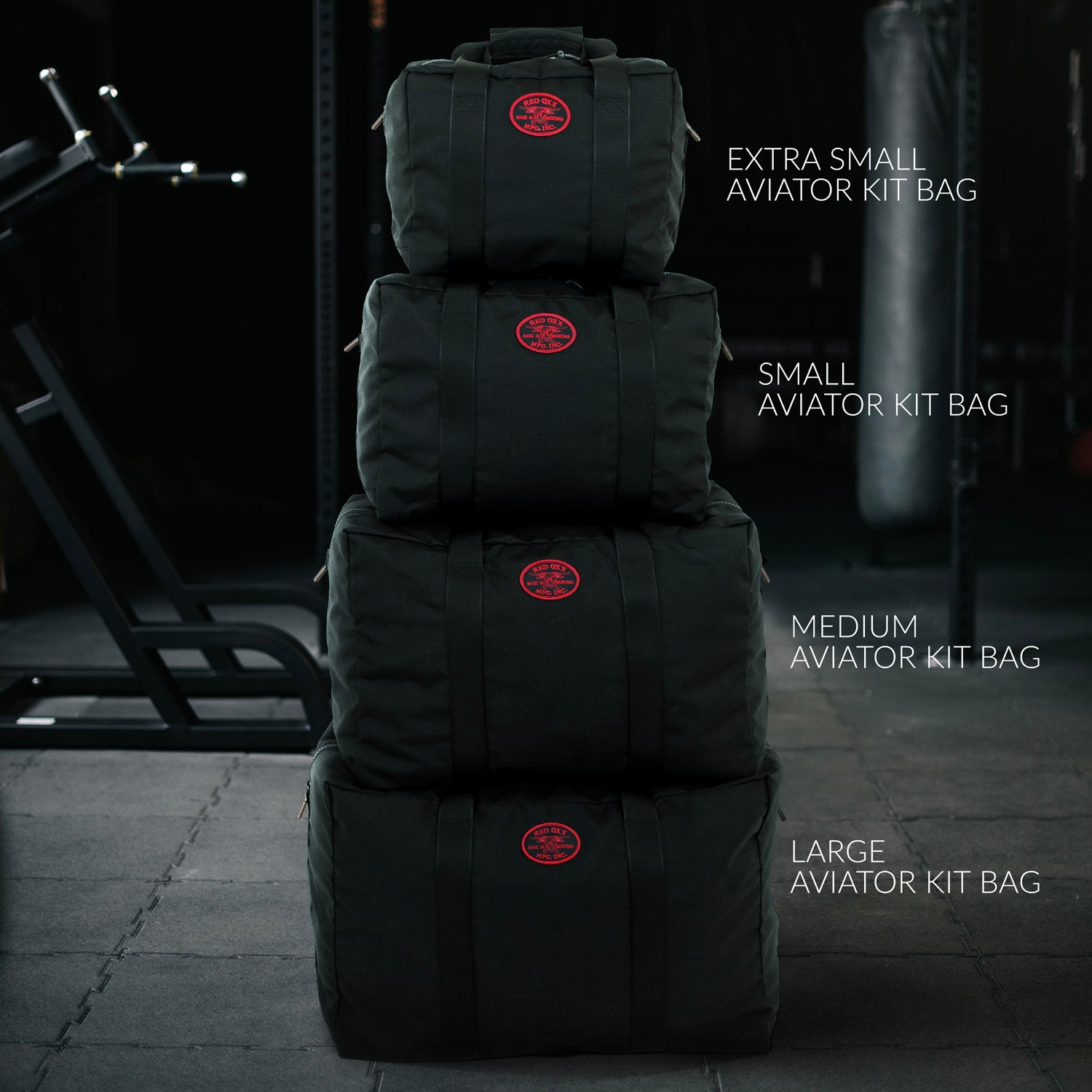 Large Aviator Kit Bag
Our Large Aviator Kit Bag is designed to withstand the toughest outdoor activities. It's the perfect storage option for bulky sporting gear, crafted from high-quality materials to ensure maximum durability.


Made in U.S.A. with our "No Bull" Lifetime Warranty

Dimensions: 26"L x 14"W x 17"H.
Simplicity in design; a single compartment large gear storage bag

D-rings for Comfort Carry Shoulder Strap attachment (sold separately)

Classic military aviator kit design

Perfect size for camping gear

Also works as a Fireman's turnout bag

DESCRIPTION

This Large Aviator Kit Bag is used by our local firemen here in Billings, Montana as a "turnout bag" and they love it! It'll easily hold a turn-out coat, rubber pants, rigid helmet, rubber boots, and miscellaneous equipment like safety lamp, gloves and flashlight.

Makes a great storage and transfer bag for all kinds of sporting, camping and hunting gear.

Measures over two feet long, 15 inches wide, and 14 inches tall. The 3/4 wrap-around "break-over" #10 YKK heavy duty zipper configuration opens up the bag nearly flat. Imagine plenty of room to "step in and dress."
U.S.A. Dimensions:

26"L x 14"W x 17"H
Capacity: 6188 Cubic Inches
Weight: 2.1 Pounds

Metric Dimensions:

66cm H x 36cm W x 43cm H
Capacity: 101 Liters
Weight: 1 Kilo

Features:

Fabric: 1000 weight urethane coated, Dupont certified CORDURA® Brand Nylon
Weather resistant
All zippers #10 YKK VISLON® self locking
Thread: Anefil Nylon, Bonded Type 6,6 Tex 90-Black
All seams double stitched and bound
Fair trade Monkey Fist Zip Knots on all zippers
Includes heavy-duty vinyl luggage tag
Double box stitching on stress points such as carry handles
Includes Cable Lock
Wraparound handclasp with Mil-Spec stainless steel Red Oxx embossed snaps
Nickel plated carry strap D-rings
Available in Black only
Which bag would make a good gym bag to keep clothes in and shower material? Would the large bag be too big for a gym?

The Large Aviator is excessive for gym use unless you have larger items to carry. We recommend either theExtra Small Aviatorat 1320 cubic inches and measures 15" x 8" x 11"or slightly larger the Small Aviator at 2223 cubic inches and measures 19" x 9" x 13" as ideal sizes for the gym.

Additionally, Red Oxx does make a designated barrel style Gym Bag complete with a shoulder strap and has mesh side panels for breath-ability.

What's the size difference between the Aviators?
Red Oxx Aviator Kit Bags are built in four sizes.

Do you have a comparison chart?
There's a photograph of all the bags side by side located in the Photos.

Are these carry-on legal?
The Extra Small and the Small Aviator are both carry-on legal. The Medium and Large Aviator Kit Bags would have to be checked.

Can you tell me what a "break over zipper configuration" is?
The zipper goes up over the top and down the sides of the bag.

Are the Kit Bags waterproof?
All Red Oxx bags are water resistant, not waterproof. The stitching puts holes in the fabric. Feel free to use 3M Scotchgard Water Shield to increase your bag's water resistance.

Are they a lesser quality than the rest of your bags?
All Red Oxx Bags are all made to the same high quality standards and are covered by our no questions asked, "No Bull" lifetime warranty.

Why is the pricing less?
Our Aviator Kit bag line represents refined simplicity. By having fewer features such as pockets, less heavy-duty hardware, and being made in one color with fewer pieces to be cut and stitched, and less time to make each bag, we can offer a lower price.

Are there any interior pockets?
To keep the price down, we did not include interior pockets. If you want to organize your belongings, we developed a line of cool Red Oxx Packing Cubes. You can build your very own custom packing cube kit.

My zipper broke. The teeth have separated. Do I send it in for warranty repair?
No need for warranty repair, try to fix it yourself. Check out this video where CEO Jim Markel shows how easy it is to do it yourself.

Is there a way to securely lock my bag?
Sure, you can use any TSA approved bag lock or try our Cable Lock for a simple, semi-secure solution. Watch this video where CEO Jim Markel demonstrates how you can use the cable that comes with the product Dog Tag price tag to secure your bag. Keep in mind, any determined thief can still cut open a soft sided bag with a sharp knife.

Can you ship USPS?
Yes, Red Oxx will ship USPS upon request. Simply state, "Please ship USPS" in the cart comments during checkout and we will adjust your billing accordingly.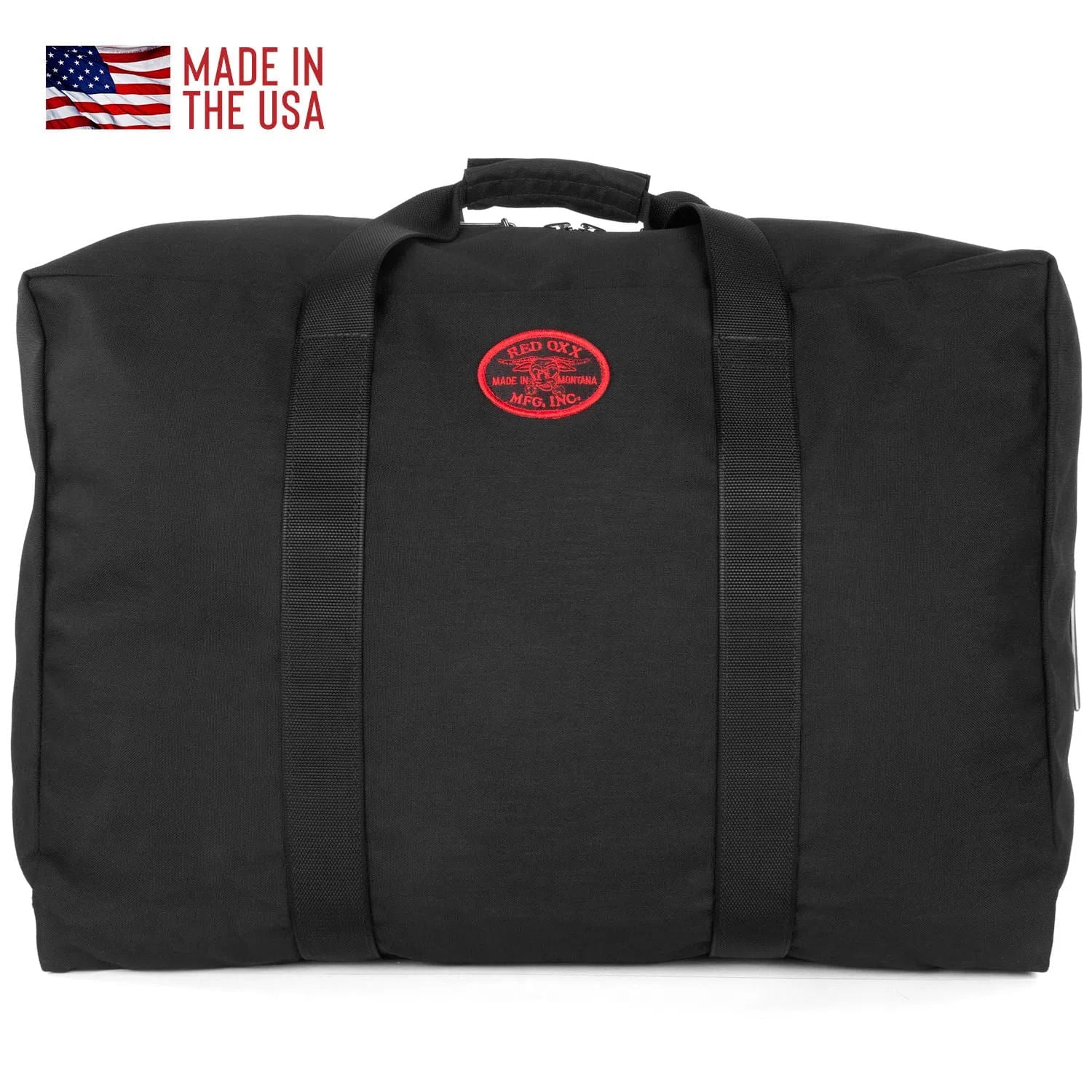 This product has no reviews yet.
This product has no reviews yet.
This product has no reviews yet.