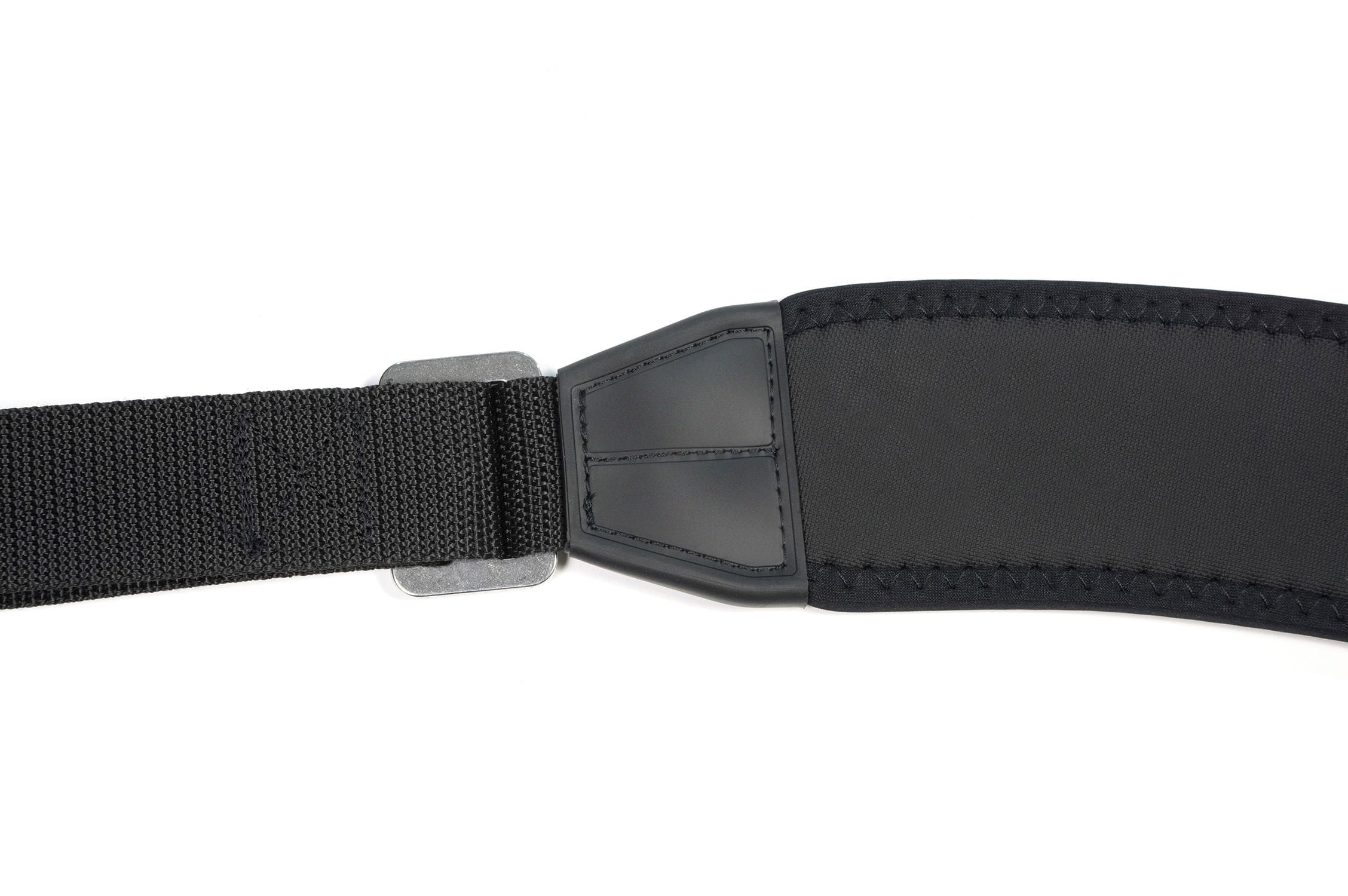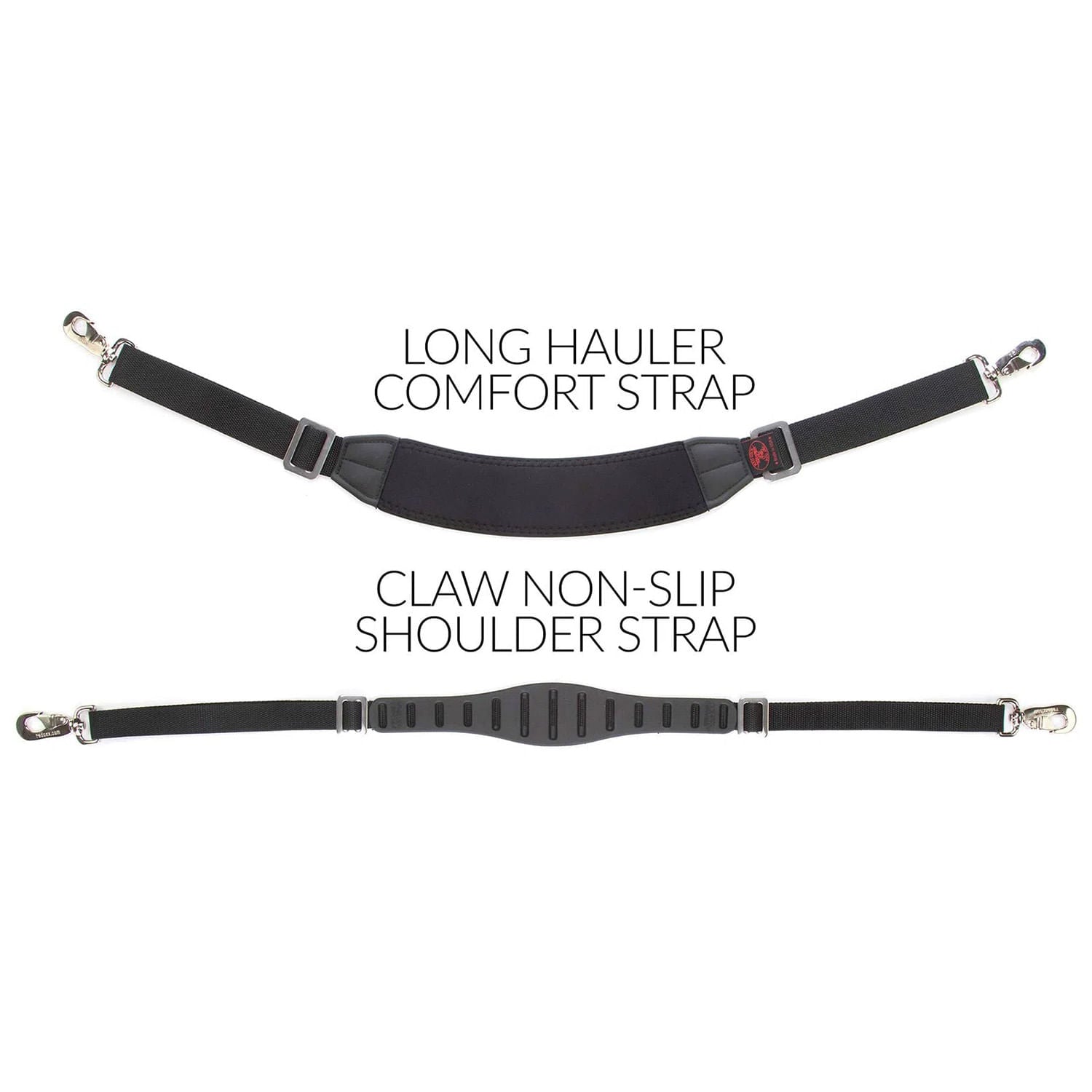 Long Hauler Comfort Strap
In it for the long haul? 
The Long Hauler Comfort Strap offers supreme comfort and strength. Crafted from neoprene, it offers flexibility and durability, meant to last you through your toughest trips. Upgrade your bag today with this comfortable, reliable shoulder strap.
Made in U.S.A. with our "No Bull" Lifetime Warranty


Dimensions:
Adjustable from 36" to a full 50 inches in length

Comfort-carry stretchable ergonomic neoprene shoulder pad

Heavy-duty 360° swivel clips and adjustable from 36" to 50"

Comfort carry stretchable ergonomic neoprene shoulder pad

Heavy-duty 360° swivel clips

Adjustable from 36" to 50"

Designed to carry lighter bags 30lbs or less

Presenting the comfort carry bag strap that will outlast every other neoprene shoulder strap on the market. Go ahead, compare our tough unbreakable nickel-plated spring-loaded 360-degree swivel clasps with anybody else.

Like those featured on our classic "The Claw" non-slip shoulder strap. Materials that would travel that extra mile, after mile...

Nobody even comes close to our durability.

This shoulder strap comes with wider webbing to match the pad and offer extra stability for cross-body carry. The full 1.5-inch wide nylon webbing is fully adjustable for length.

Featuring custom-made stainless steel sliders on both ends, created exclusively for the Long Hauler Strap. You'll appreciate how nice it is to grasp these whopping sliders and not struggle setting the length you need, when you need it. Adjustable from 36 to 50 inches, this replacement strap is rated to carry up to 30 pounds.

You'll think you're carrying something much lighter as it stays put on your shoulder through short or long hauls.

The center shoulder contact section, or "smile section", is fully padded featuring a high tech internal control stretch system that efficiently, and effectively, distributes the carry weight across its 2.75-inch wide and 11.5-inch long padded mass.

On the inside is a slip-resistant surface that won't tear at your skin or mark your clothes. This spongy, padded section absorbs shock and reduces pressure on the neck and shoulders.

The "smile" shape is slightly curved to allow the strap to adapt to the curvature of your shoulders, and therefore hang more securely.

Just like The Claw, the Long Hauler Comfort Strap easily and quickly detaches to slip inside your bag for checked travel. This is the upgraded luggage strap recommended for lightly-built travelers who have to lug a cumbersome load.

NOTE: the Long Hauler Comfort Carry Strap has a recommended maximum load limit of 30 pounds.

Dozens of Uses. Replace your wimpy old worn-out luggage straps. Use your imagination:

Messenger Bag
Briefcase Strap
Laptop / Notebook / Netbook Computer Bag or Sleeve Strap
Replacement Bag Strap
Laundry Bag Strap
Gym Bag
Duffel Bag
Or any container with at minimum 1/2" diameter rings, no thicker than 1/4" thick
U.S.A. Dimensions:

50"L (extended) x 2.75"W (at apex).
Weight: 9.5 ounces.

Metric Dimensions:

127cm L (extended) x 7cm W (at apex).
Weight: 269 Grams.

Features:

30 POUND WEIGHT LIMIT
Dual 2-inch tri-glide steel strap adjusters
2 matching spring-loaded 360 degree heavy-duty stainless steel "Claw" swivel clip fasteners
Adjustable from 36-inches to a full 50-inches in length
Approximately 2 inches of stretch
Comfort "stretch" neoprene webbing
Ergonomically curved to match your shoulder
Available in Black Only
Made in U.S.A.
Where is the Long Hauler Replacement Bag Strap made?
The Long Hauler's high tech neoprene padded center section is constructed by an experienced Montana strap manufacturer partner. Red Oxx then finishes out the Long Hauler Strap by adding our proprietary heavy-duty stainless steel nickel-plated swivel clips, 1-1/2 inch wide nylon webbing, and 2-inch wide tri-glide stainless steel strap adjusters.

Is the Long Hauler available as a longer strap?
Fully extended, The Long Hauler is a full 50 inches long and comes in this one adjustable size only.

How much weight can the Long Hauler Replacement Strap hold?
It's recommended that you do not exceed 30 pounds with this strap. If you have a heavier load, we recommend The Claw Non-slip Shoulder Strap.

How long/short will the Long Hauler adjust to?
The Long Hauler Comfort Carry Strap can be adjusted from 36 inches to 50 inches.

Will it leave a mark on my shirt or jacket?
There will be no marks on your shirt or jacket.

Can I get a padded version?
The Long Hauler Strap has 1/4-inch thick flexible padding in the "S" curve that is contained in a zig-zag stitched stretchable neoprene casing.

Can you ship USPS?
Yes, Red Oxx will ship USPS upon request. Simply state, "Please ship USPS" in the cart comments during checkout and we will adjust your billing accordingly.
This product has no reviews yet.
This product has no reviews yet.