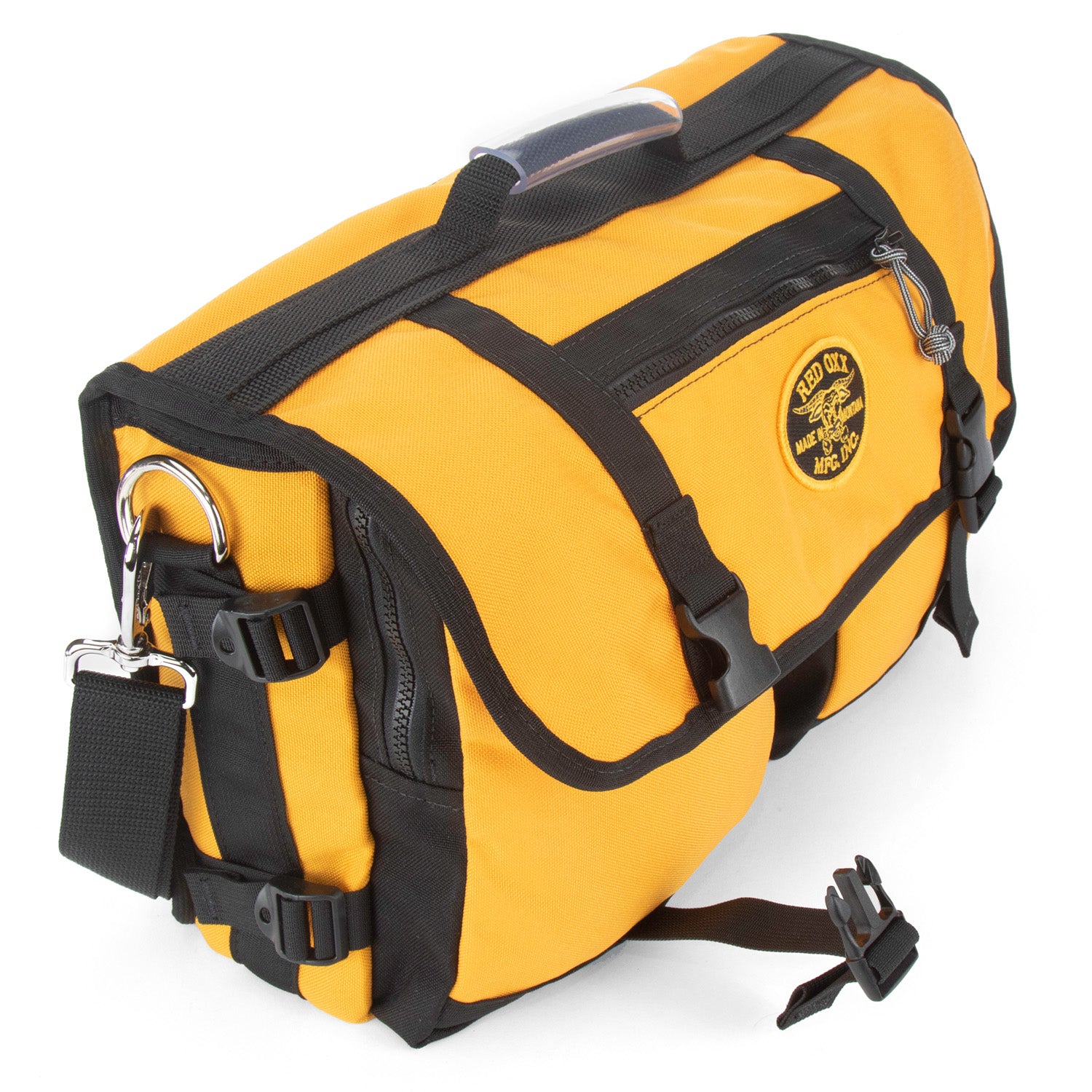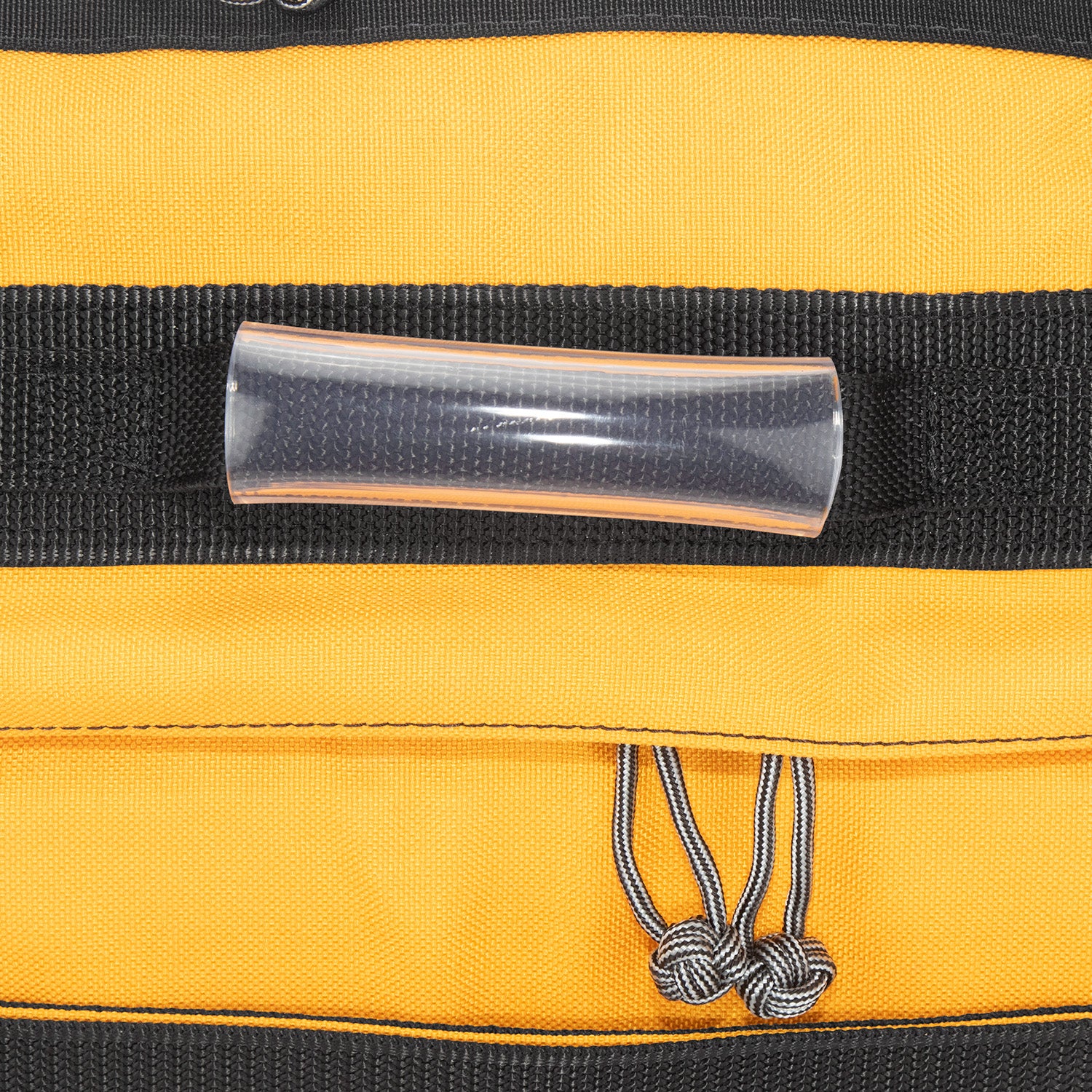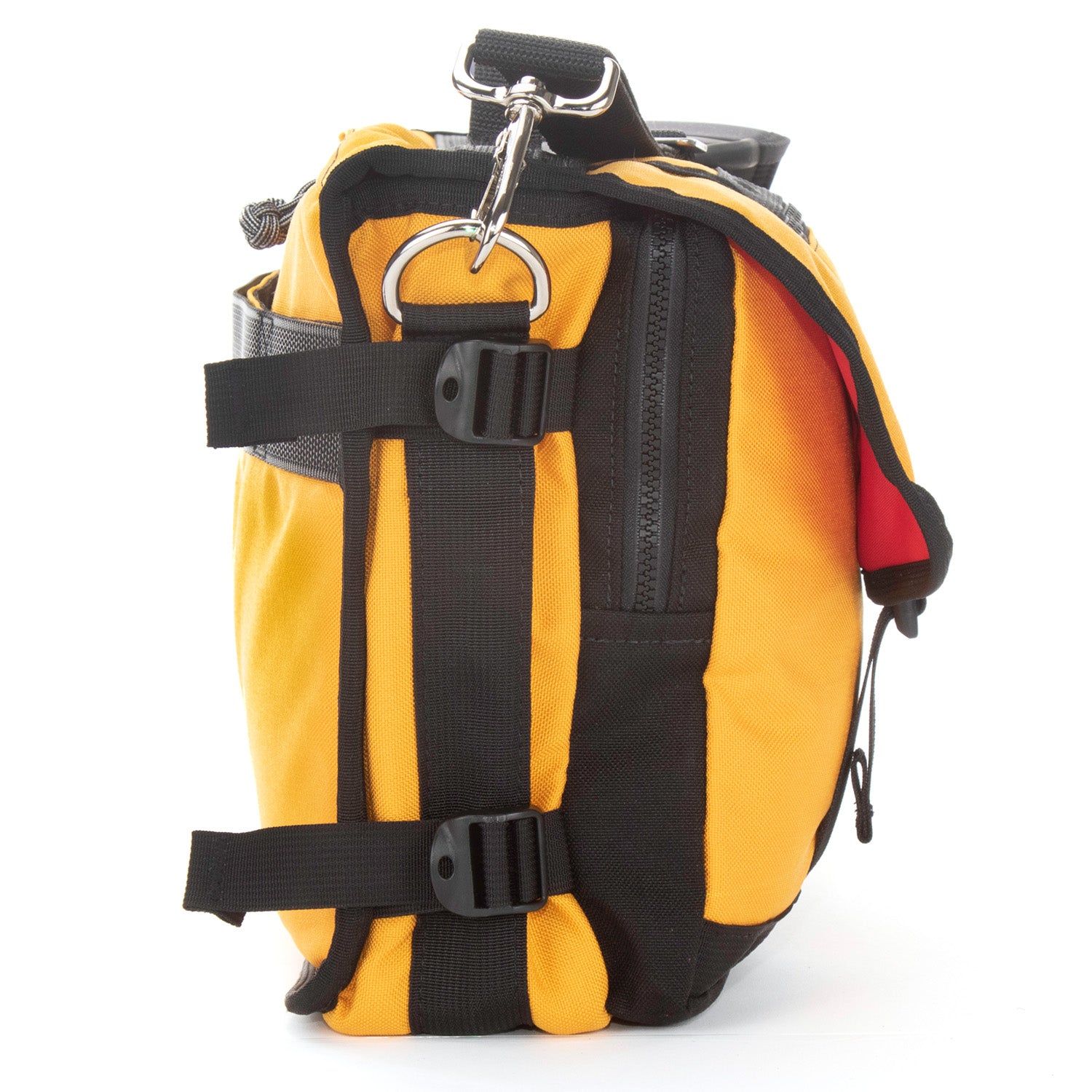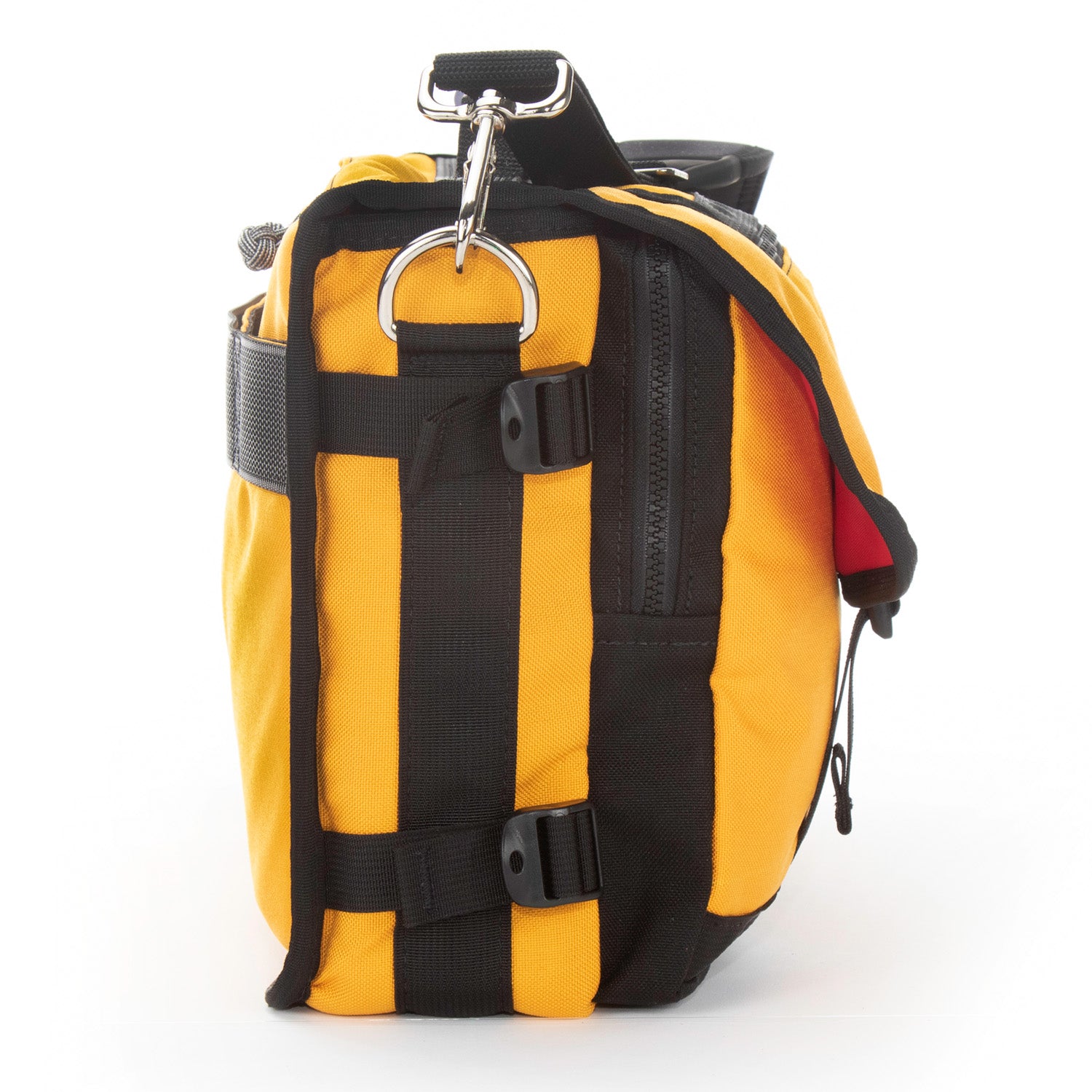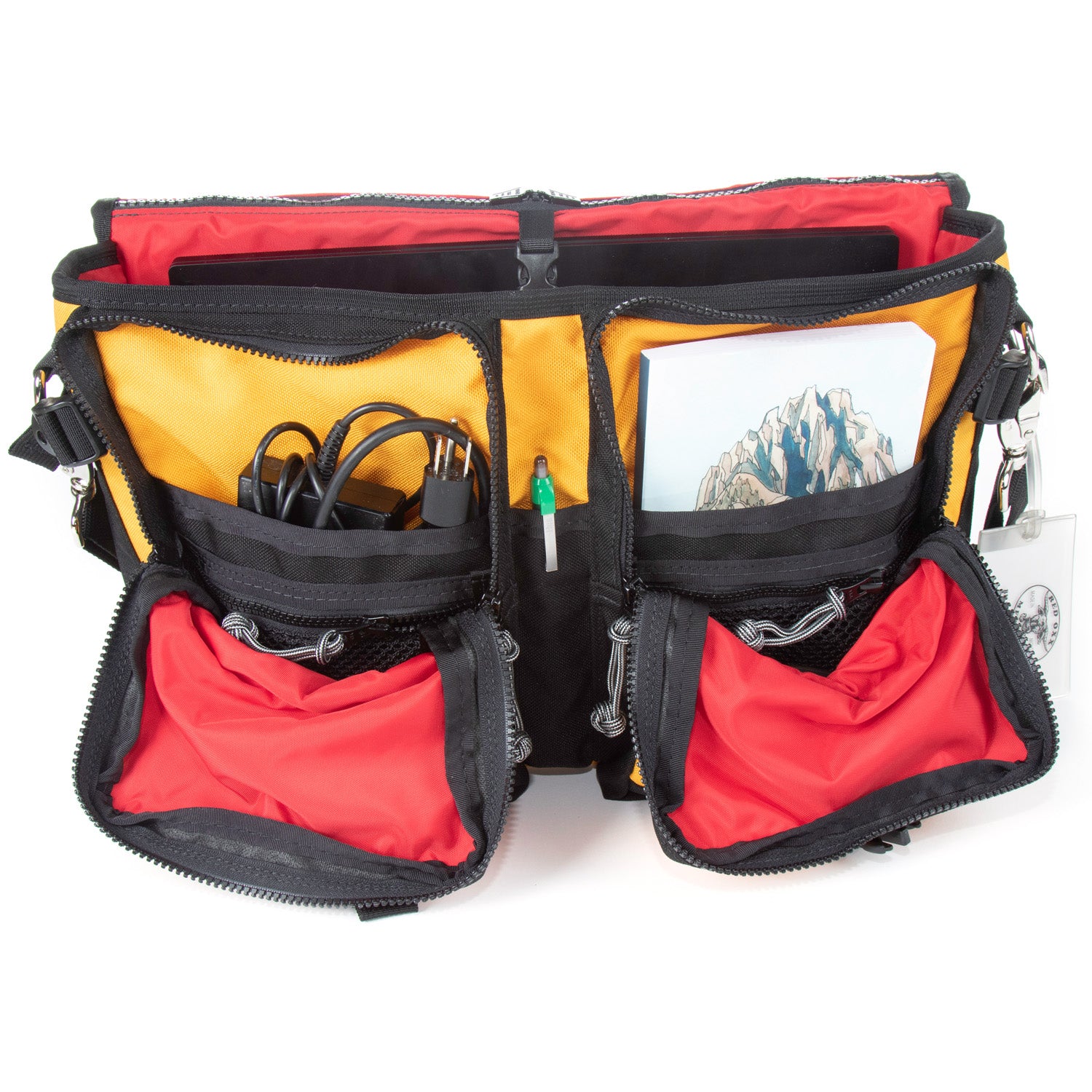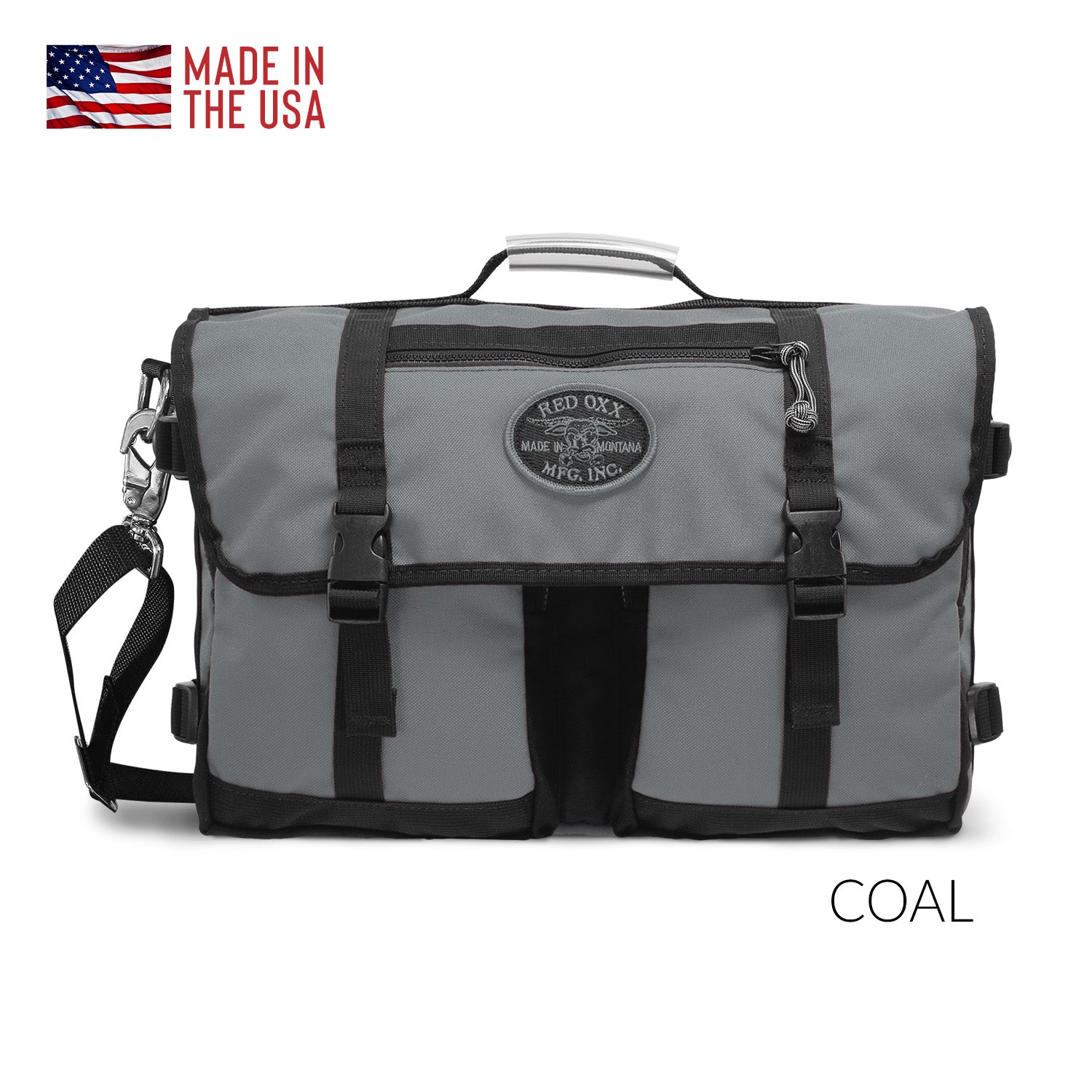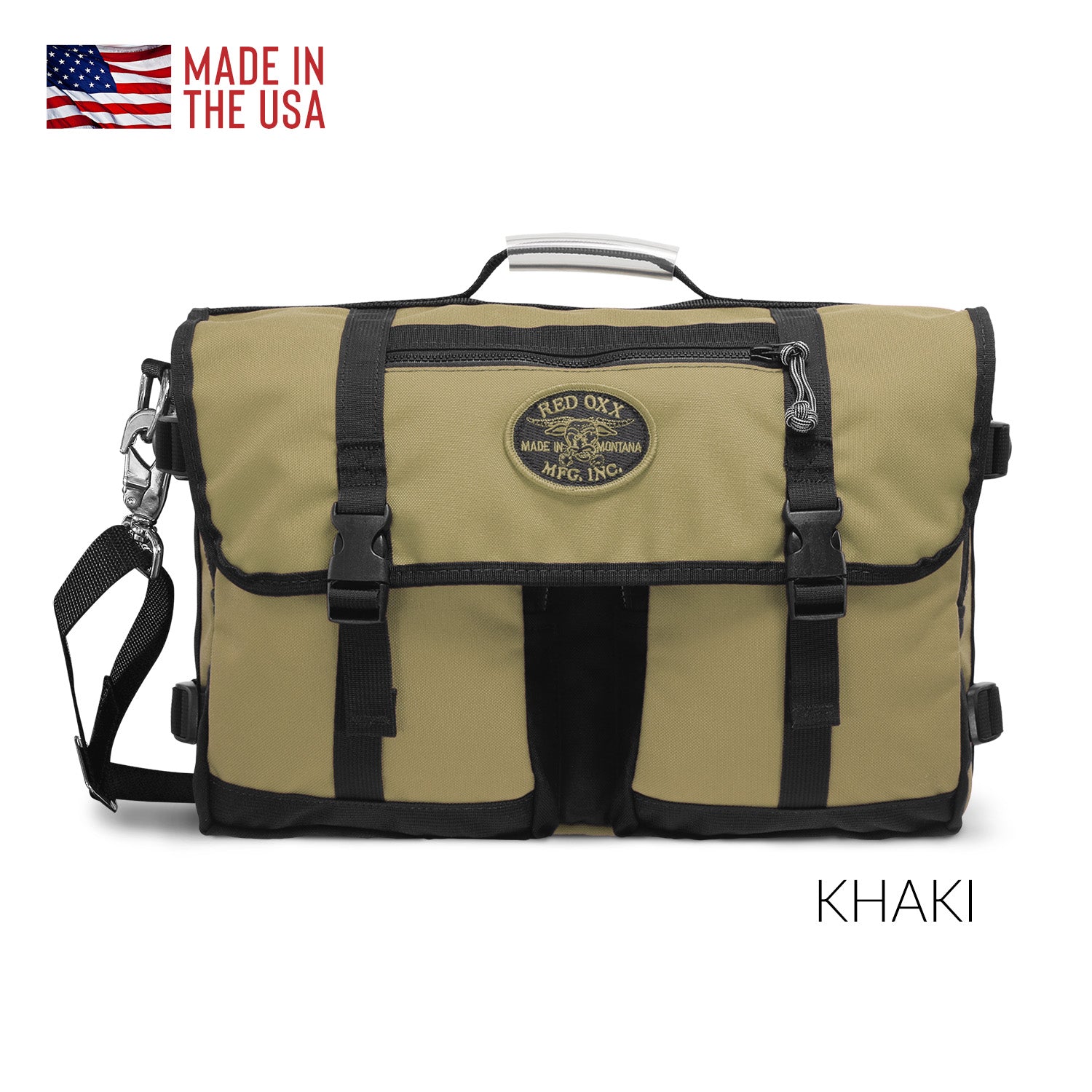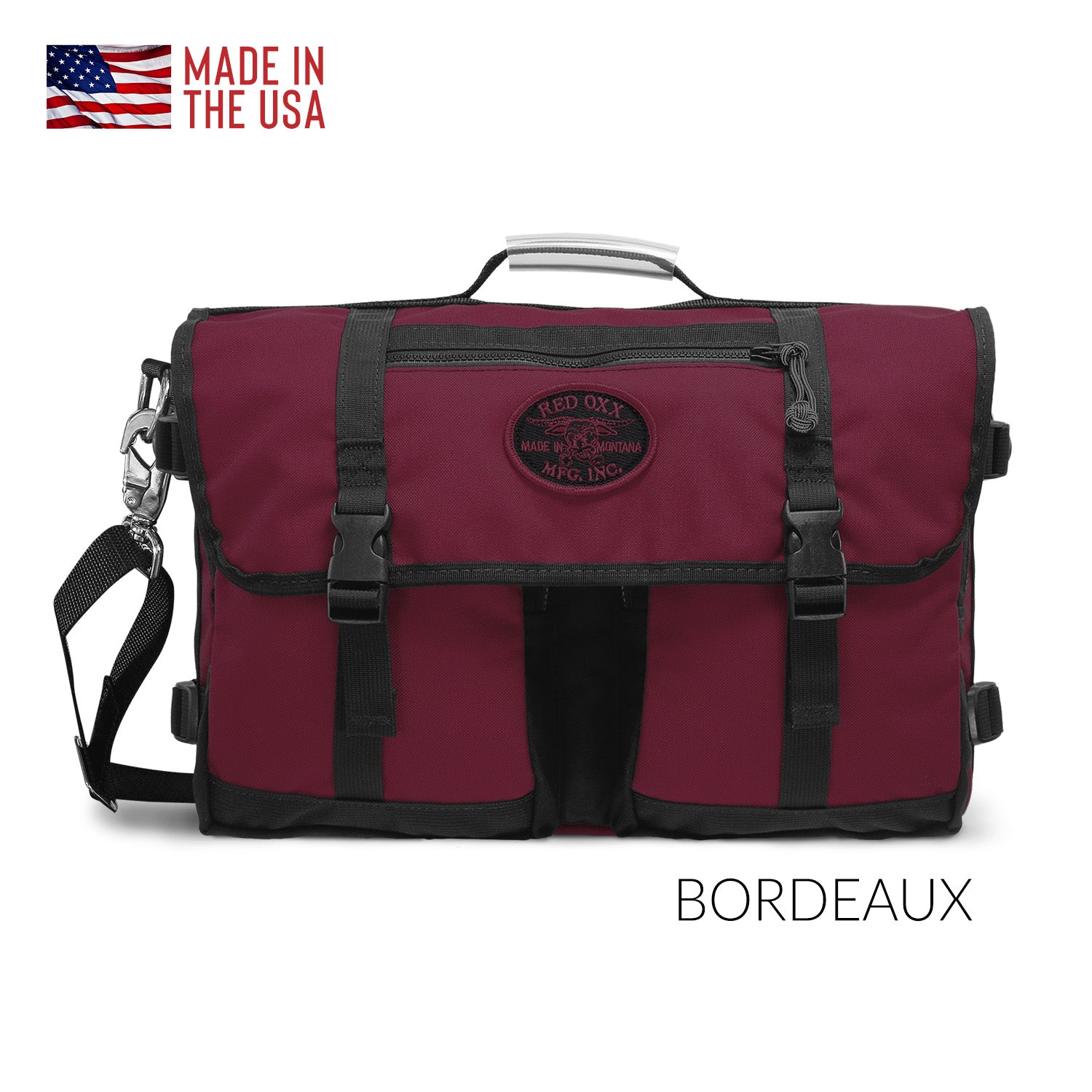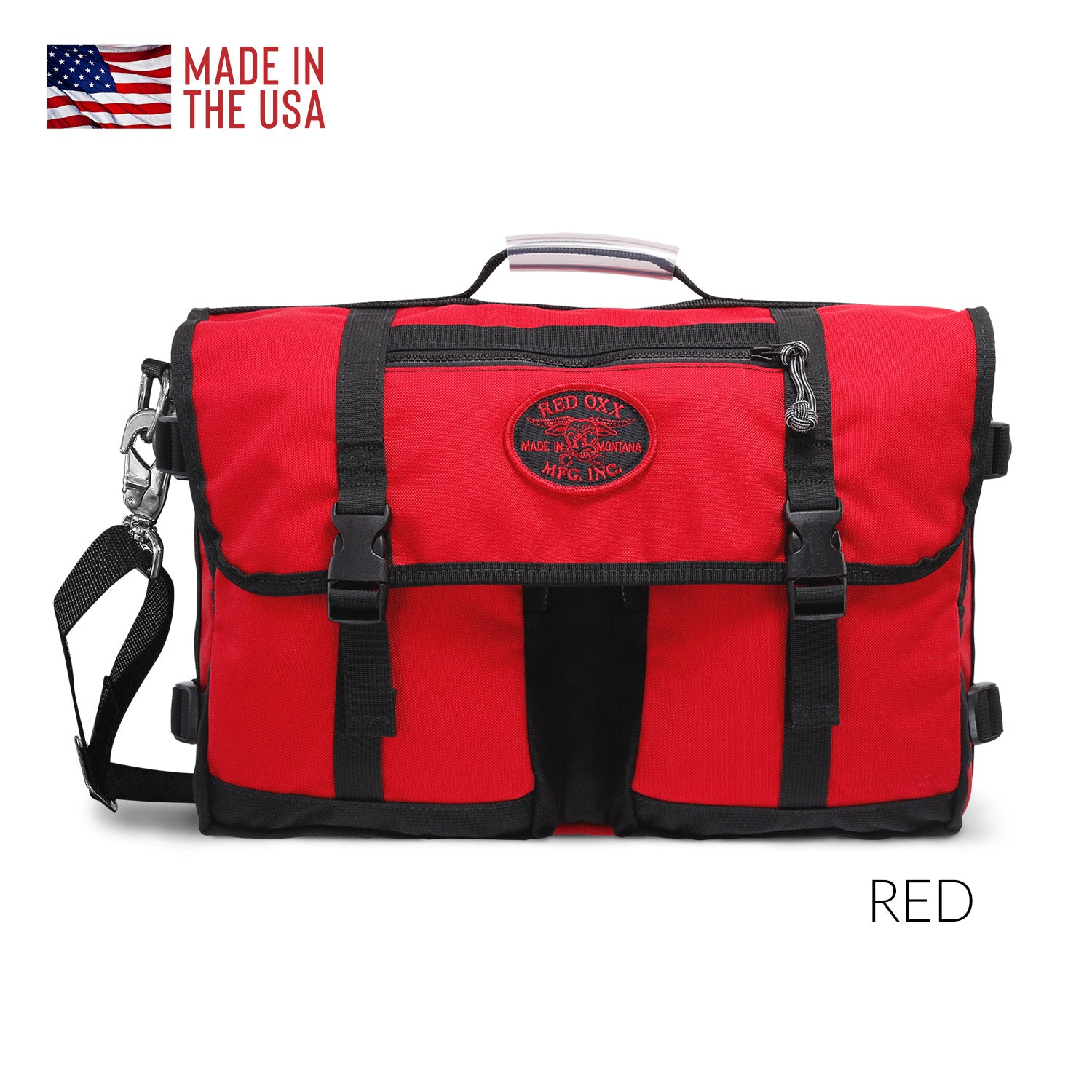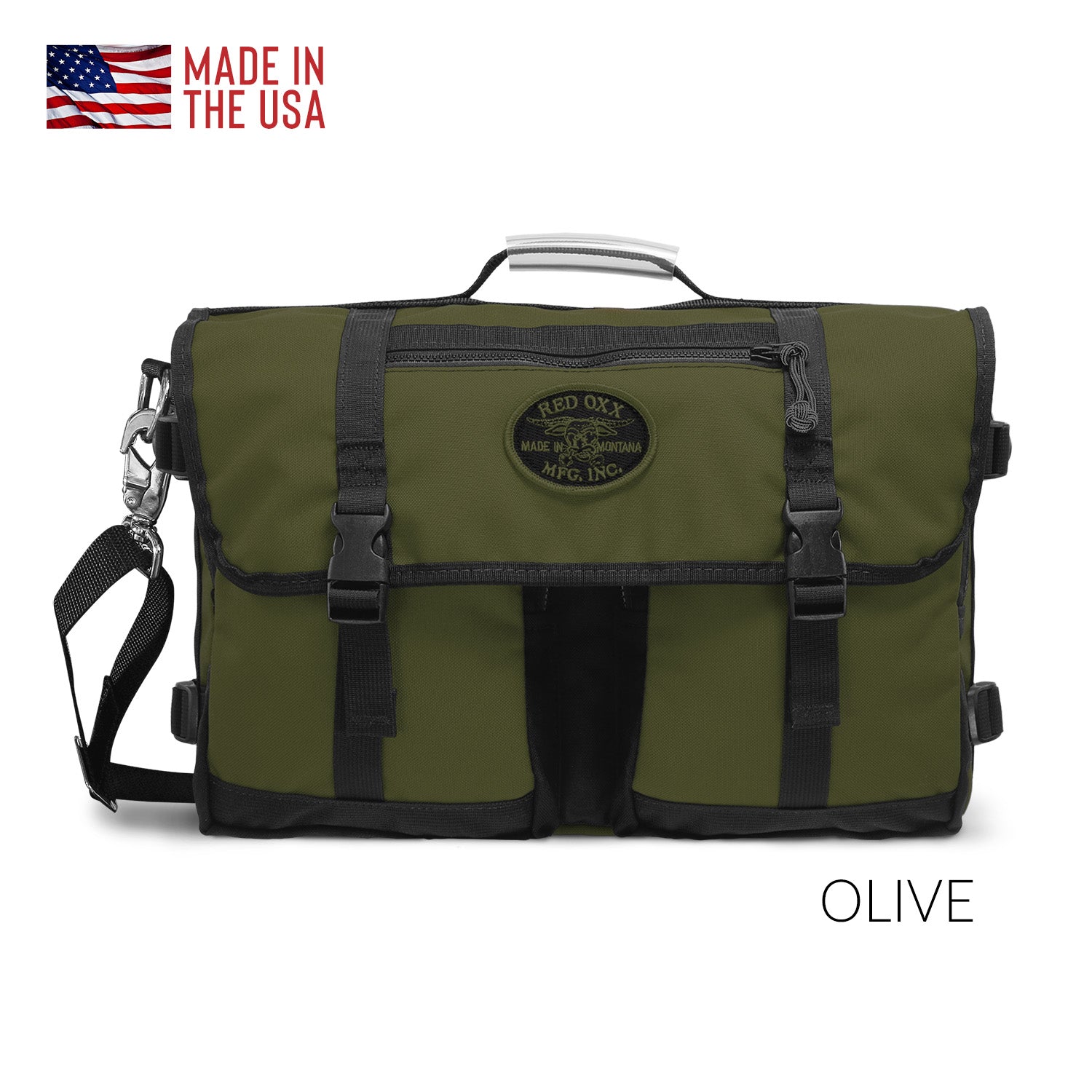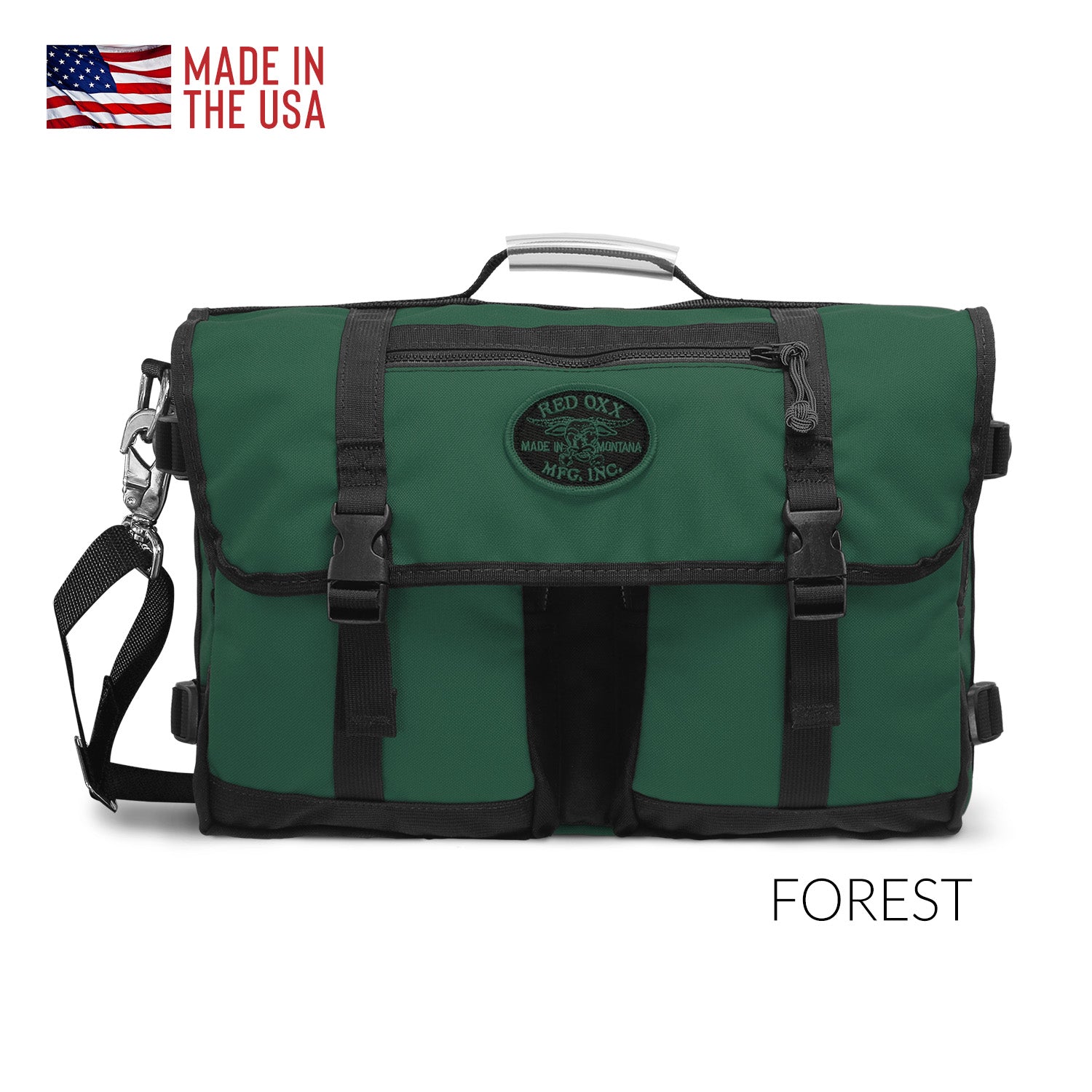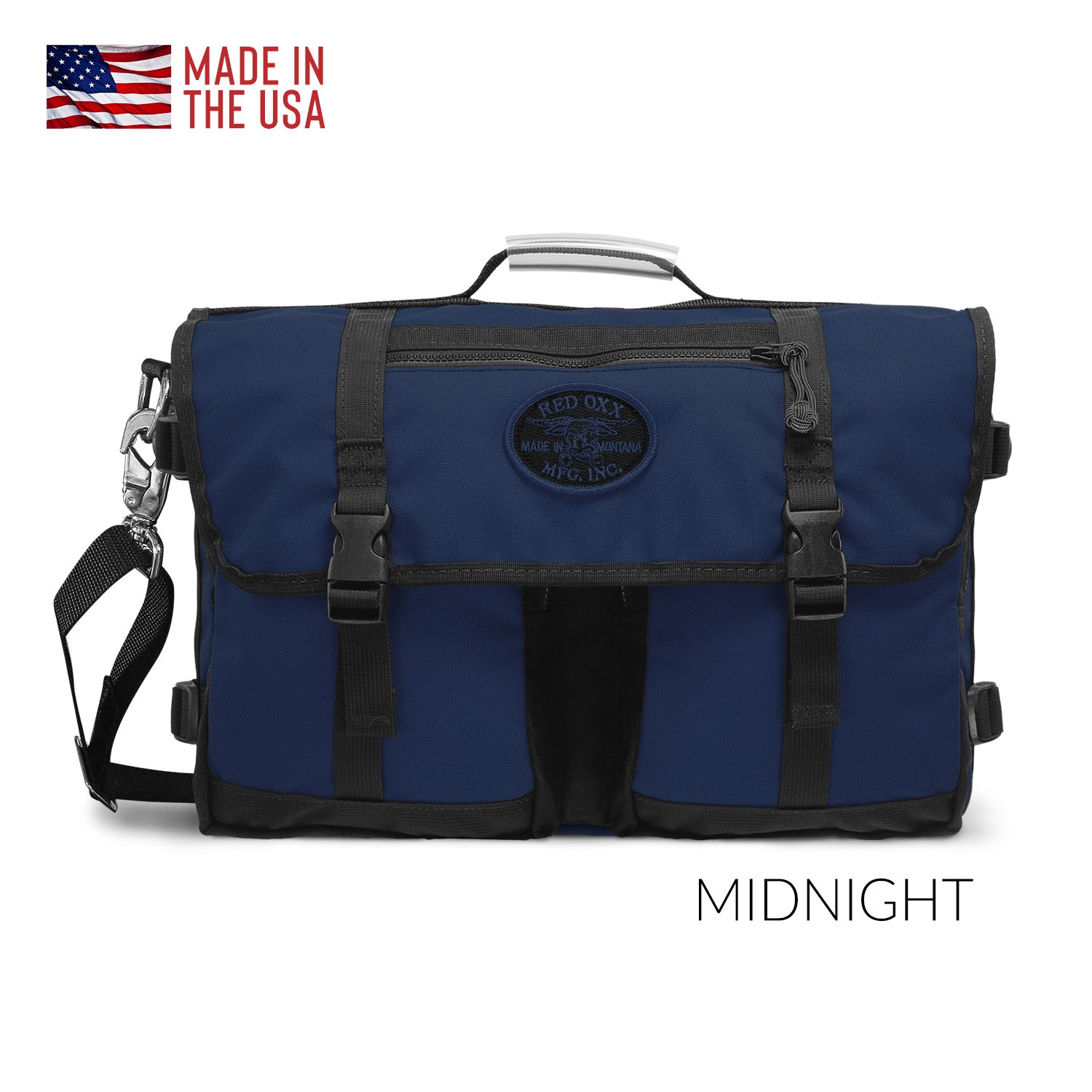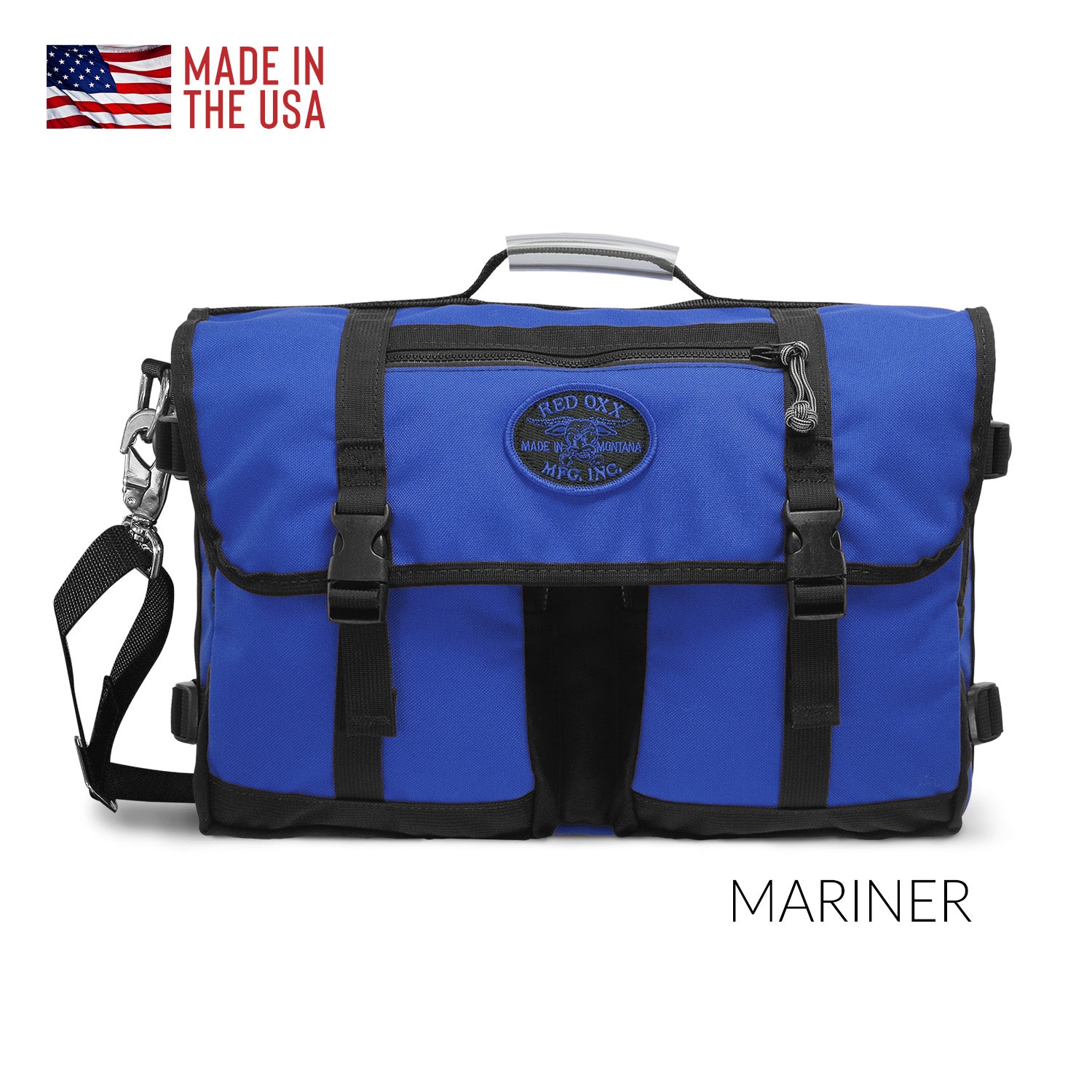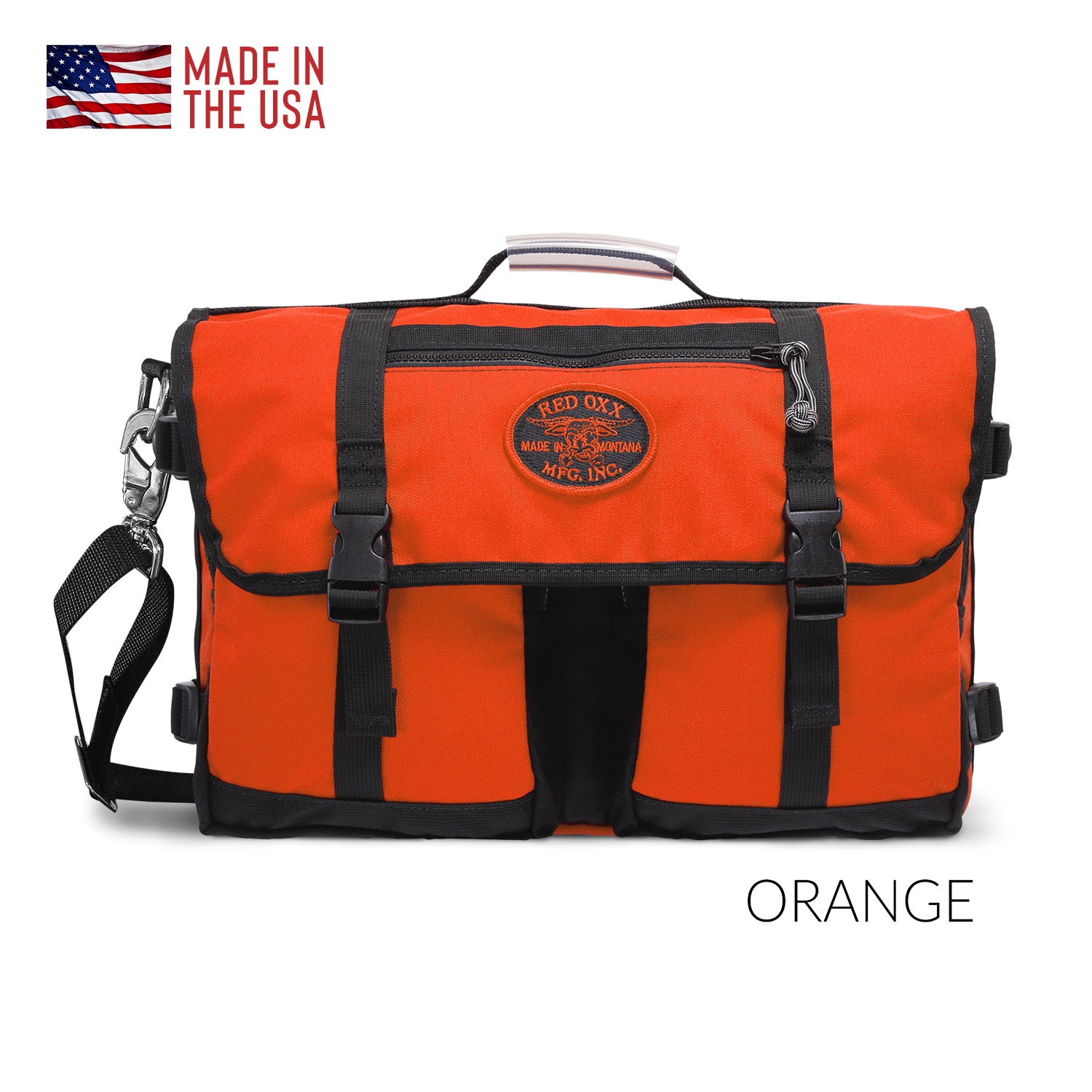 C.C. Rider Messenger Bag
"Everything would be alright "

The C.C. Rider Messenger Bag is the perfect combination of style, function, and balance. The bag features plenty of storage and protection options, all designed to offer a great balance between comfort and durability. Your laptop will stay safe and secure inside, while you move around in style.
Made in U.S.A. with our "No Bull" Lifetime Warranty
Dimensions: 16"L x 4"W x 10"H
Padded Hypur-Cel laptop sleeve holds computers up to 17"

Dual raised exterior pockets with quick access pocket on flap

Ultimate organization with lots of pockets

Easy access top hidden zipper

Excellent EDC and comfortable crossbody wear

LAPTOP CRADLE - A padded laptop sleeve 16-inches long by 7-inches deep is on one side inside and is complemented by a long flat slip pocket in front of it at 7-inches deep that will accommodate magazines or 8x10 folders. An adjustable Fastex buckle secures your laptop in place. An additional full-length zippered mesh pocket rounds out the spacious interior.

Opposite the laptop sleeve are two long flat pockets with two pen slots separating them. Each slip pocket on this side is 6 by 6-inches. The main compartment measures 16-inches long by 4-inches wide and 10-inches tall. Both the main compartment and the two front raised pockets are lined by soft 400 denier weight CORDURA® Brand Nylon Fabric, making viewing inside easier.

TROLLEY SLEEVE - A slot to slip your bag over a rollaboard seems so de rigueur these days. The trolley sleeve that was developed from our revised briefcase line was adapted. This slot will fit a rolling bag's handles that are no more than 8-inches wide. There's also a snap-closure slip pocket located under the trolley sleeve on the back of the bag.

PADDED PROTECTION - High-tech Hypur-Cel padding embraces the main compartment and laptop sleeve. Around back, closed-cell foam padding adds structure and protection, preventing the bag from tipping over. The big strap steel D-rings are secured by webbing that wraps around the bottom of the bag. This prevents the shoulder strap from creating "pull points".

"The C.C. Rider Messenger Bag is a prime example of the innovation that comes from the scheming minds of the Red Eye Collective."
U.S.A. Dimensions:

16"L x 4"W x 10"H.
Capacity: 640 cubic Inches.
Weight: 3.75 pounds.

Metric Dimensions:

40.6cm L x 10.1cm W x 25.4cm H
Capacity: 10.5 Liters.
Weight: 1.7 Kilos.

Pocket measurements:

Twin extended zipper pockets: 10"H x 7"W x 1.5"D
Flat slip pockets inside extended pockets: 7"H x 7"W
Mesh zippered pockets inside extended pockets: 7"W x 5"H
Front pocket on flap lid: 8"W x 4"D
Back side snap slip pocket: 8"H x 16.5"W
Padded laptop sleeve: 7.5"H (10"D to top of bag) x 15"W
Slip pocket on front of laptop sleeve: 15"W x 7"H
Twin mesh pockets on laptop sleeve: 8"W x 4.5"H
2 pen slots and 2 flat slip pockets, each 7"W x 6"H
Main compartment: 16"W x 4"D x 10"H

Features:

Trolley sleeve for use with roll-aboard luggage.
Fits under the seat for air travel
Fabric: 1000 weight urethane coated, Dupont certified CORDURA® Brand Nylon
Weather resistant
400 weight denier soft red nylon lining
Pocket zippers #5 YKK VISLON® self-locking
Main compartment zipper #10 YKK VISLON® self locking
laptop storage in main compartment
All seams double stitched and bound
Box stitching on stress points such as at carry handles
3250 welded D-rings
Stainless steel Mil-Spec snaps with Red Oxx logo
Detachable, adjustable Long Hauler Comfort Carry Strap
Fair trade Monkey Fist Zip Knots on all zippers
Free heavy-duty vinyl luggage tag
Embroidered Logo Patches
Includes Cable Lock
4# Fuzion STD Natural closed cell foam padding
Hypur-Cel foam padding for laptop sleeve
Classified as a "personal item"
Internal zippered mesh pockets
Can the CC Rider accommodate a 15 inch laptop and a 12.9 inch iPad Pro?

The C.C. Rider can easily accommodate both a 15" laptop and a 12.9 IPad Pro. There are 2 full length pockets inside with padding in between and the adjustable strap is long enough to secure both.

Can you tell me more about the handle? Is that a plastic band around it?

The "Euro" clear vinyl carry handle makes for a more comfortable grip on the bag and keeps the web from cutting into your palm when there's weight in in the bag. If you want a different look try our Luggage Handle Wrap over the Euro handle.

How do you request your initials on it ?

We have to send out for our embroidery so we currently only offer it on our Railroad bags and corporate orders. That being said, you're welcome to get your bag embroidered by a local embroidery shop in your area and this won't void your warranty in any way.
This product has no reviews yet.
This product has no reviews yet.
This product has no reviews yet.