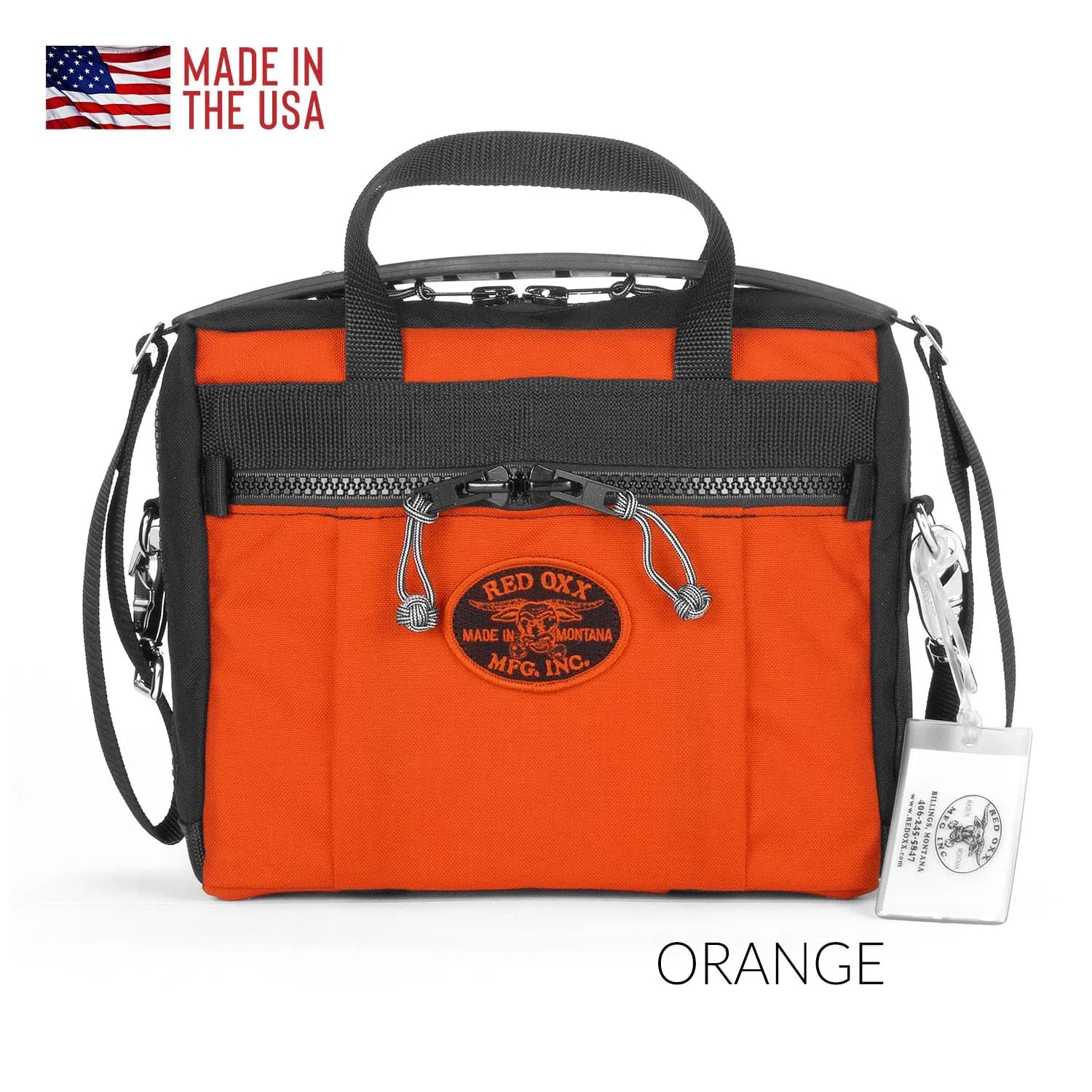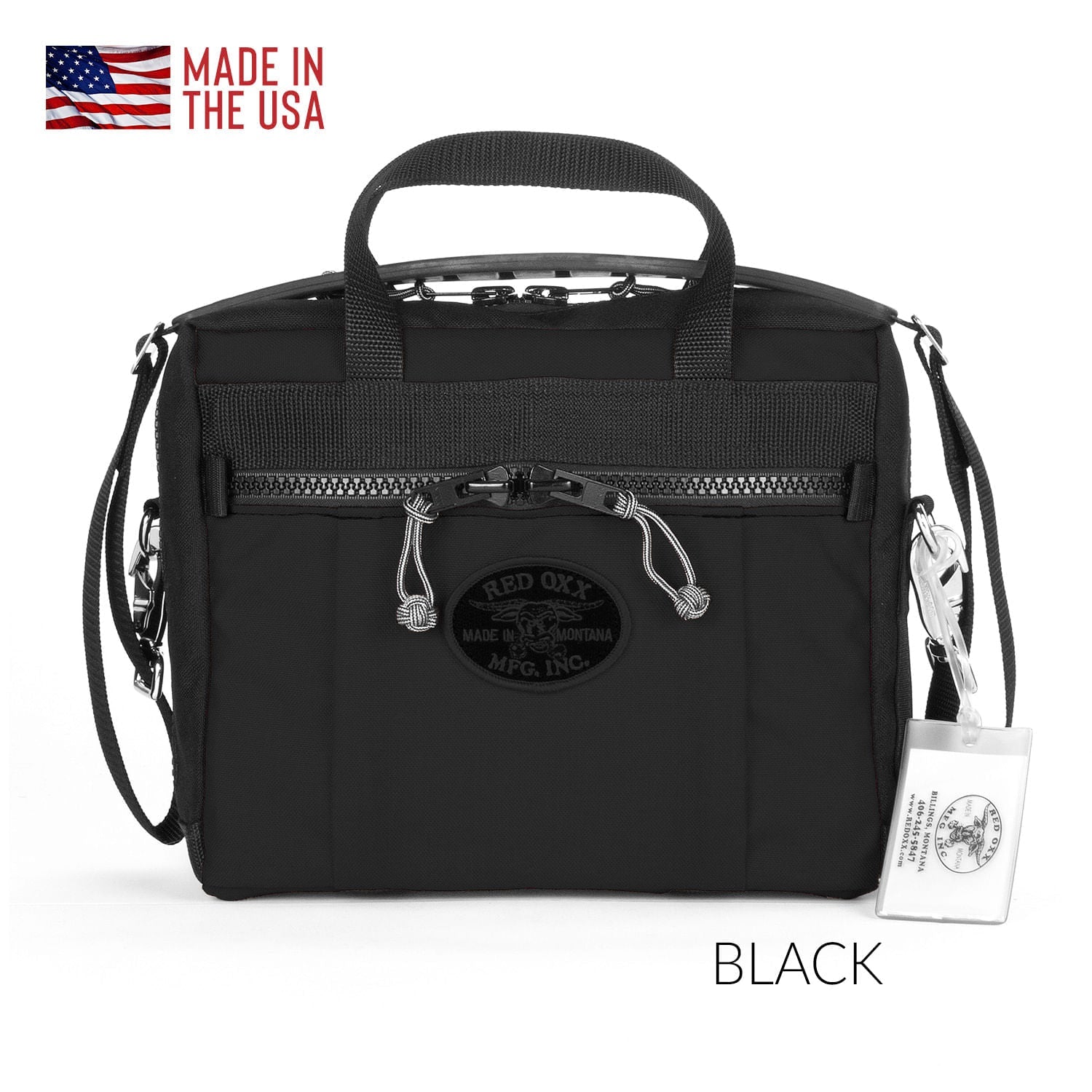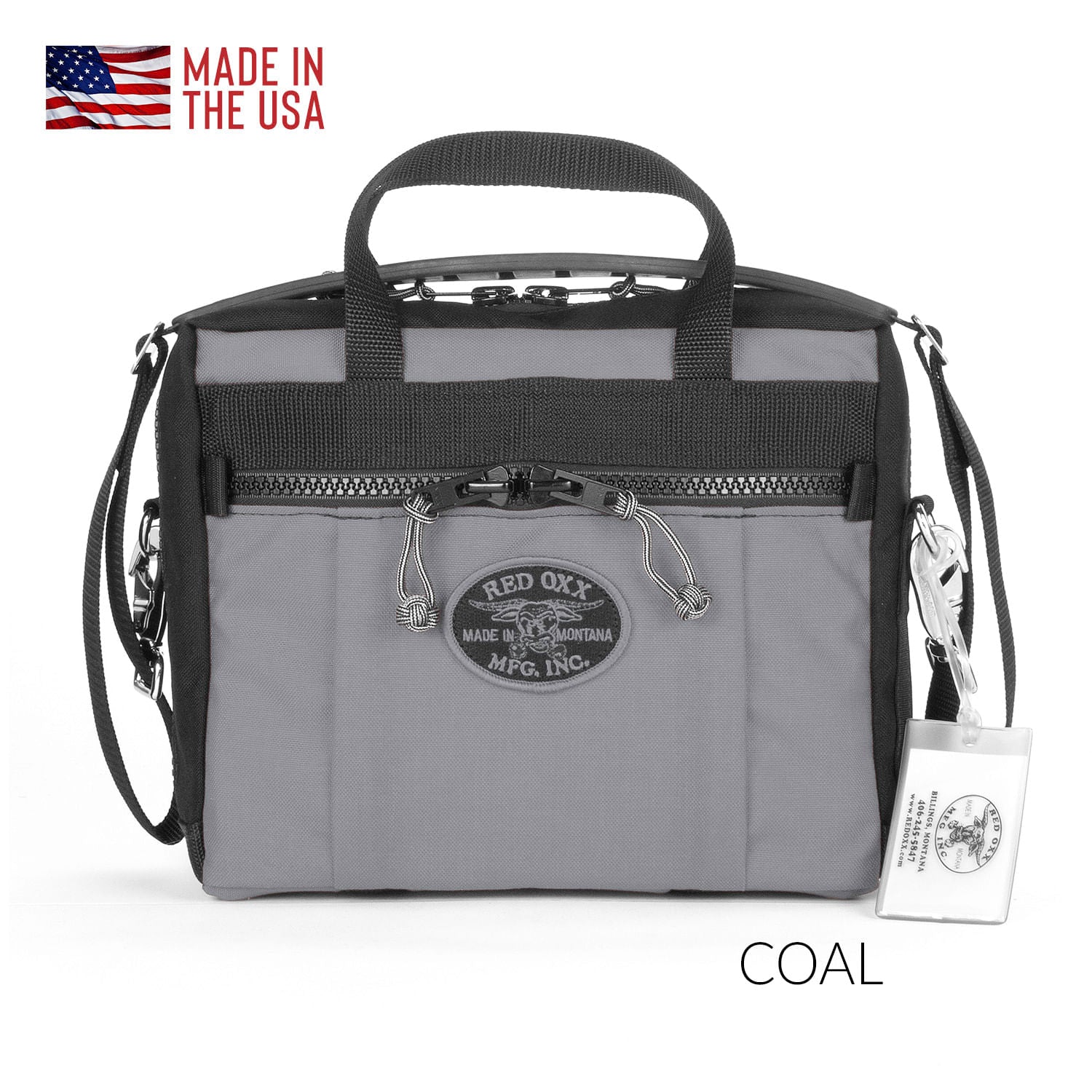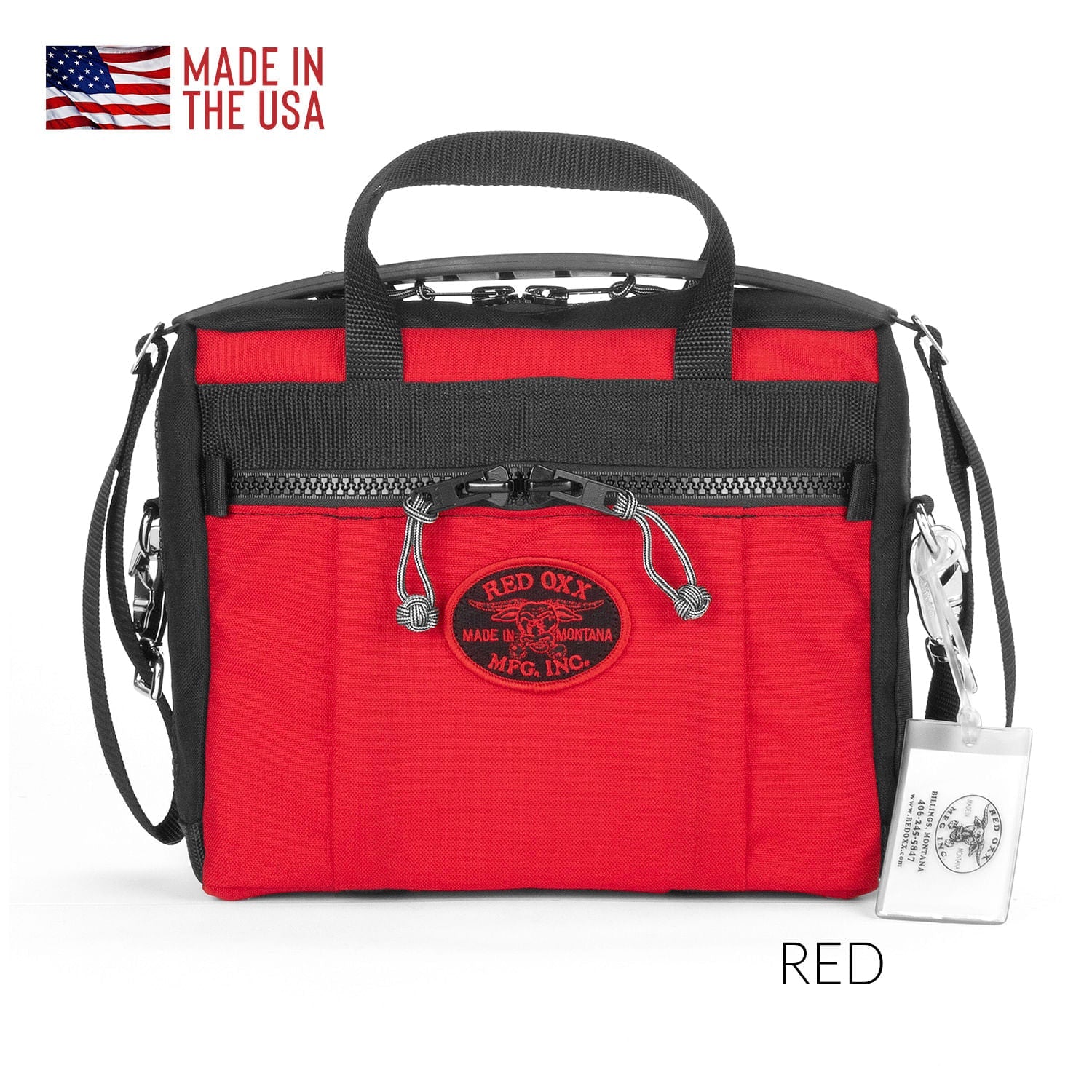 Micro Manager Tablet Briefcase
When being micromanaged is acceptable...  
The Micro Manager Tablet Briefcase is a slim and stylish way to carry your essential technology needs. It is designed to fit tablets, up to a 10.5" screen, with plenty of room for notepads, pens, and charging cords. The interior is padded to provide extra protection for your devices.

Perfect for Tablets up to 11"W
Made in U.S.A. with our "No Bull" Lifetime Warranty
Dimensions: 4"W x 9.5"H x12"L



Hyper-Cel padded storage for your iPad or tablet, also fits the 13" MacBook Pro

Laptop Mesh interior pocket and bellows pleated side pocket

Perfect for Tablets up to 11" ; W and files, chargers etc.

Internal zippered pockets

YKK VISLON® zippers built to withstand decades of use

DESCRIPTION

To keep ahead in today's world you know it's imperative to shield your delicate connection tools and keep them available, easy to access, yet rather inconspicuous.

Introducing the Micro Manager, an everyday carry devices briefcase to store your tablets, iPads, and the associated electronic gear like keyboards, flash drives, batteries, chargers and cables all in one handy "EDC" bag.

Sturdy, self-balancing and self standing. The MM is reinforced with 4 pound Fuzion Natural closed-cell foam padding that wraps not only completely around the bottom and sides and Hypercell padding graces the interior slip pocket that embraces your tablet or iPad.
U.S.A. Dimensions:

12"L x 4"W x 9.5"H
Capacity: 432 Cubic Inches
Weight: 2 Pounds

Metric Dimensions:

30.5cm L x 10.2cm W x 23cm H
Capacity: 7.1 Liters
Weight: 0.9 Kilos

Pocket measurements:

Exterior pleated pocket: 12"W x 8"H x 3"D
Exterior flat slip pocket: 12"W x 8"H
Dual interior flat pockets: 4.5"W x 4.5"H
Two pen / pencil slots 4.5"D
Interior divider slip pocket: 11"W x 8"H
Interior zippered slip pocket: 9"W x 4"H
Interior padded tablet pocket: 11"W x 8"H
Main compartment: 12"L x 4"W x 9.5"H

Features:

High-visibility red interior
Adjustable security strap with Fastex buckle on tablet sleeve
Web loop lash points on inside for keys and such
Detachable The Claw no-slip adjustable shoulder strap
Weather resistant
Fabric: 1000 weight urethane coated, Dupont certified CORDURA® Brand Nylon
Fully padded with closed cell foam for ultimate tech protection
All zippers #10 YKK VISLON® self-locking
Thread: Anefil Nylon, Bonded Type 6,6 Tex 90-Black
All seams double stitched and bound
Double box stitched seams on all stress points
3250 welded D-rings, nickel plated
Fair trade Monkey Fist Zip Knots on all zippers
Includes heavy-duty vinyl luggage tag
Includes Cable Lock
I'm guessing the micromanager won't except a 12.9 inch iPad Pro. Which will?

The Slip pocket of the Micro Manager only allows for tablets up to 11". For larger tablets and laptops theMetro Laptop BriefcaseandC.C. Rider Messenger Bagare wide enough to accommodate up to 17" laptops.

Would a Macbook Air (M1 model) fit in the tablet pocket of this bag?

Macbook Air (M1 model) would be just a little too large for the designated tablet sleeve on the Micro manager. However the C.C. Rider and the Metro Briefcase would work

Will a Micro Manager meet the airline's personal item standards?
Yes, and you can fit the bag under the seat, too.

Will my tablet fit in the padded slip pocket?
Most netbooks, iPads, Tablets and "mini" laptops will fit. A standard MacBook Pro with up to a 15-inch screen will also fit in the standard compartment (not the slip pocket).

Will my work files fit inside?
If you want a business briefcase that will hold your files and a laptop, look into our Briefcase line, specifically the Metro and the wider CPA.

Can the Micro Manager double as an SLR camera bag?
Yes, the Micro Manager makes for a perfect SLR camera bag due to it's generous, yet practical size, its full wrap-around protective padding and handy slip pockets.

What are the differences between the Micro Manger, the Gator and the Metro and / or CPA?
The Metro and CPA are specifically designed to be full size laptop business briefcases, whereas the Gator and Micro Manager are more of a general multipurpose, multi-use everyday carry bags. Watch the comparison video to learn more.

Will the iPad, iPad II or most other Tablets fit inside?
Yes, the Micro Manager makes an ideal Tablet bag. Tablets will tuck nicely into the interior padded slip pocket and are doubly protected by the bag's wrap around exterior padding.

I've read you referenced EDC. What does it mean?
EDC is an acronym for Every Day Carry, a popular new market segment that defines the importance of bringing along certain items that you use daily.

Are there any interior pockets?
It has one flat panel pocket with pouches for smaller items and a padded pocket with slots for writing instruments.

Can I fit my C-pap machine inside?
The Micro Manager might be too narrow for a typical C-pap machine.

My zipper broke. The teeth have separated. Do I send it in for warranty repair?
No need for warranty repair, try and fix it yourself. Check out this video where CEO Jim Markel shows how easy it is to do it yourself.

Is there a way to securely lock my bag?
Sure, you can use any TSA approved bag lock or try our Cable Lock for a simple, semi-secure solution. Watch this video where CEO Jim Markel demonstrates how you can use the cable that comes with the product Dog Tag price tag to secure your bag. Keep in mind, any determined thief can still cut open a soft sided bag with a sharp knife.

Can you ship USPS?
Yes, Red Oxx will ship USPS upon request. Simply state, "Please ship USPS" in the cart comments during checkout and we will adjust your billing accordingly.
This product has no reviews yet.
This product has no reviews yet.
This product has no reviews yet.