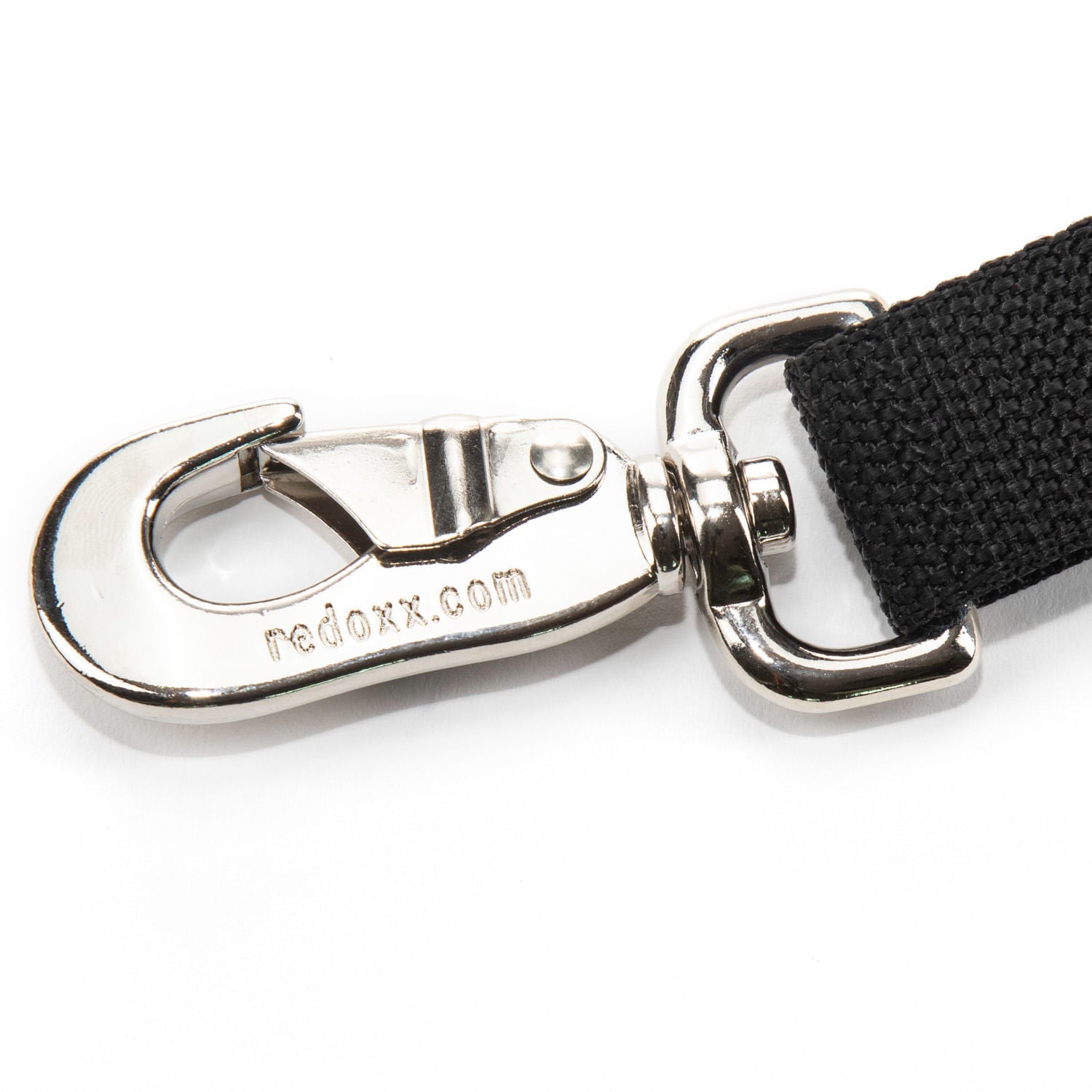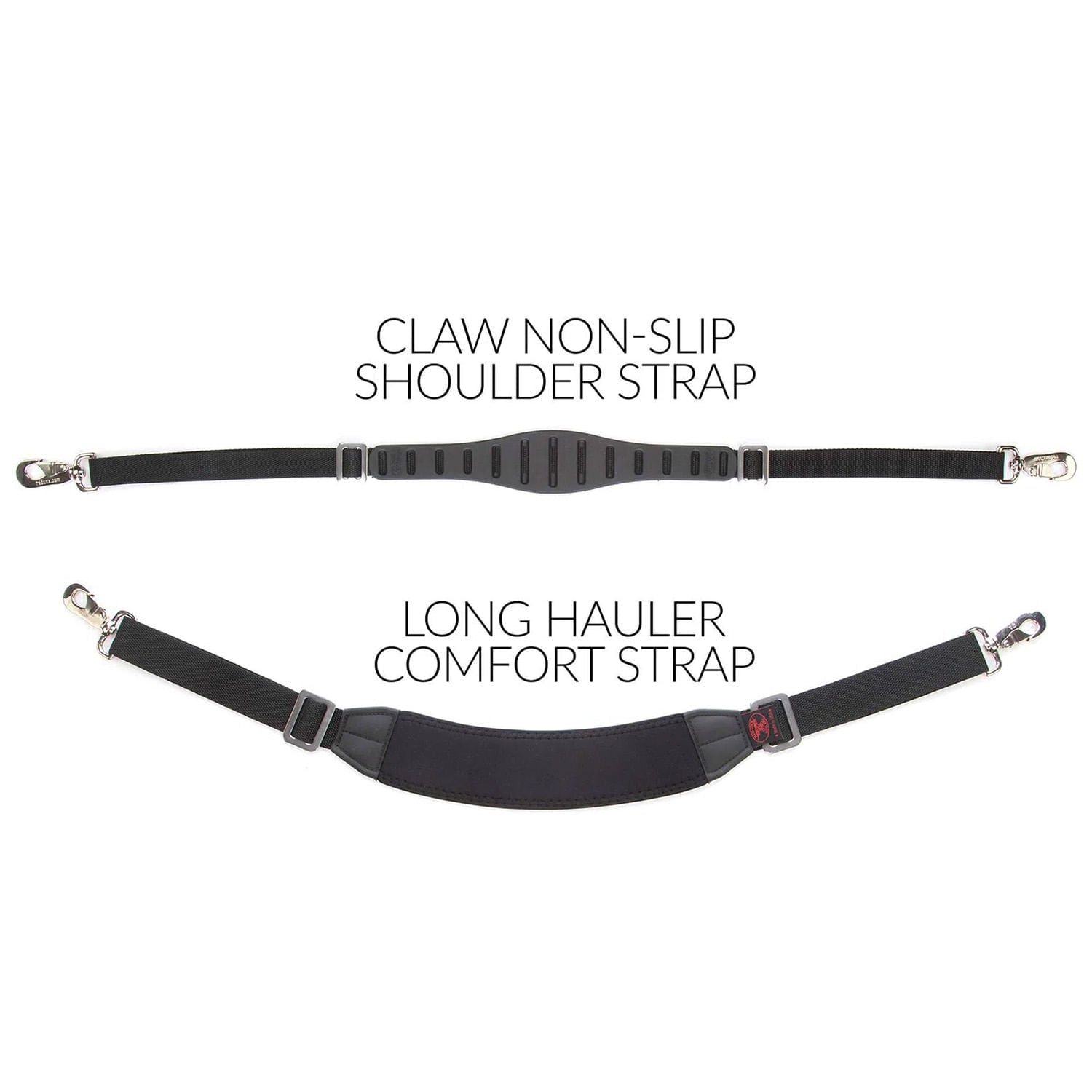 Claw Non-slip Shoulder Strap
Non-slip travel bag shoulder carry strap stays put where others fail. 
Claw Non-slip Shoulder Strap is designed for extreme durability, featuring a flexible construction able to withstand temperatures as low as -40 degrees and a non-slip grip for secure carrying. Made in the USA, it is crafted with patented strap won't slip off your shoulder. 
Adjustable from 38 inches to a full 54 inches in length.

Padded rubber won't slip off your shoulder

Heavy-duty Stainless Steel "Claw" 360 degree swivel clip and adjustable from 38 to 54" long

Durable, odor resistant pad is molded into the webbing

Remains flexible to -40 degrees Fahrenheit

U.V. stabilized to prevent cracking or fading

The Claw's padding is made from a soft, pliable, durable, polymer-based rubber. Resistant to sun fading or cracking, flexible to 40 degrees below zero, and will not hold water like foam, urethane or leather straps. The Claw no slip strap is an ideal choice for a reliable anti-slip shoulder strap for those traveling the world over.

The unique clenching action (wet or dry, warm or cold) won't slide off your shoulder and holds firmly to all fabrics, even slick silk, nylon, patent leather, leather or satin.

Fully adjustable from 38" to 54" long,

The Claw non slip strap will not leave black marks on your clothing and is also resistant to most chemicals.

The 1" wide nylon webbing is molded directly into the 5/16" thick rubber shoulder pad. This makes The Claw shoulder strap extremely strong and flexible. In fact, it's rated at a tensile strength of 868-980 lbs

Easily and quickly detaches to slip inside your bag for checked travel.
U.S.A. Dimensions:

50"L (extended) x 2.75"W (at apex).
Weight: 9.5 ounces.

Metric Dimensions:

127cm L (extended) x 7cm W (at apex).
Weight: 269 Grams.

Features:

30 POUND WEIGHT LIMIT
Dual 2-inch tri-glide steel strap adjusters
2 matching spring-loaded 360 degree heavy-duty stainless steel "Claw" swivel clip fasteners
Adjustable from 36-inches to a full 50-inches in length
Approximately 2 inches of stretch
Comfort "stretch" neoprene webbing
Ergonomically curved to match your shoulder
Available in Black Only
Made in U.S.A.
Where is the Claw made?
The Claw's rubber mounted webbing is molded by Quake Industries, located in our sister city of Bozeman, Montana. Red Oxx then finishes out The Claw Shoulder Strap by adding our proprietary heavy-duty nickel plated swivel clips and stainless steel tri-glide strap adjusters here in our factory in Billings, Montana.

Is the non-slip Claw available with a longer strap?
Fully extended, The Claw is a full 54 inches long and comes in this one adjustable size only.

How long/short will the Claw adjust to?
The Claw strap can be adjusted from 38 inches to 54 inches.

Will it leave a mark on my shirt or jacket?
There will be no marks on your shirt or jacket.

I'm allergic to latex. Is the Claw's rubber composed using latex?
The rubber does NOT contain any latex. It's considered "hypoallergenic".

Can I get the padded version?
The Claw Non-slip Shoulder Strap has 5/16 inch thick rubber padding molded directly to the webbing. If you are interested in a "comfort" style strap, check out our Long Hauler Comfort Carry Strap.

Can you ship USPS?
Yes, Red Oxx will ship USPS upon request. Simply state, "Please ship USPS" in the cart comments during checkout and we will adjust your billing accordingly.
This product has no reviews yet.
This product has no reviews yet.