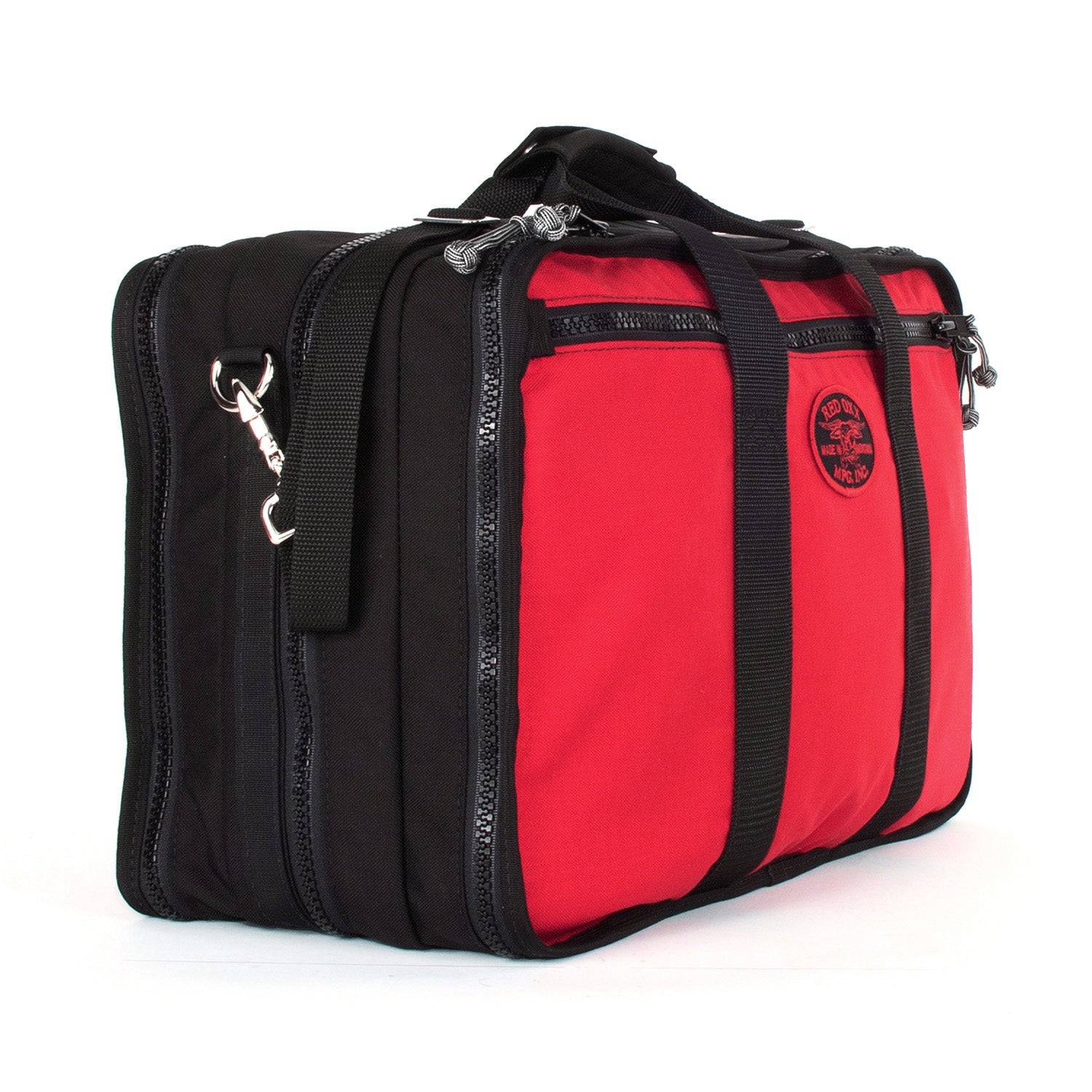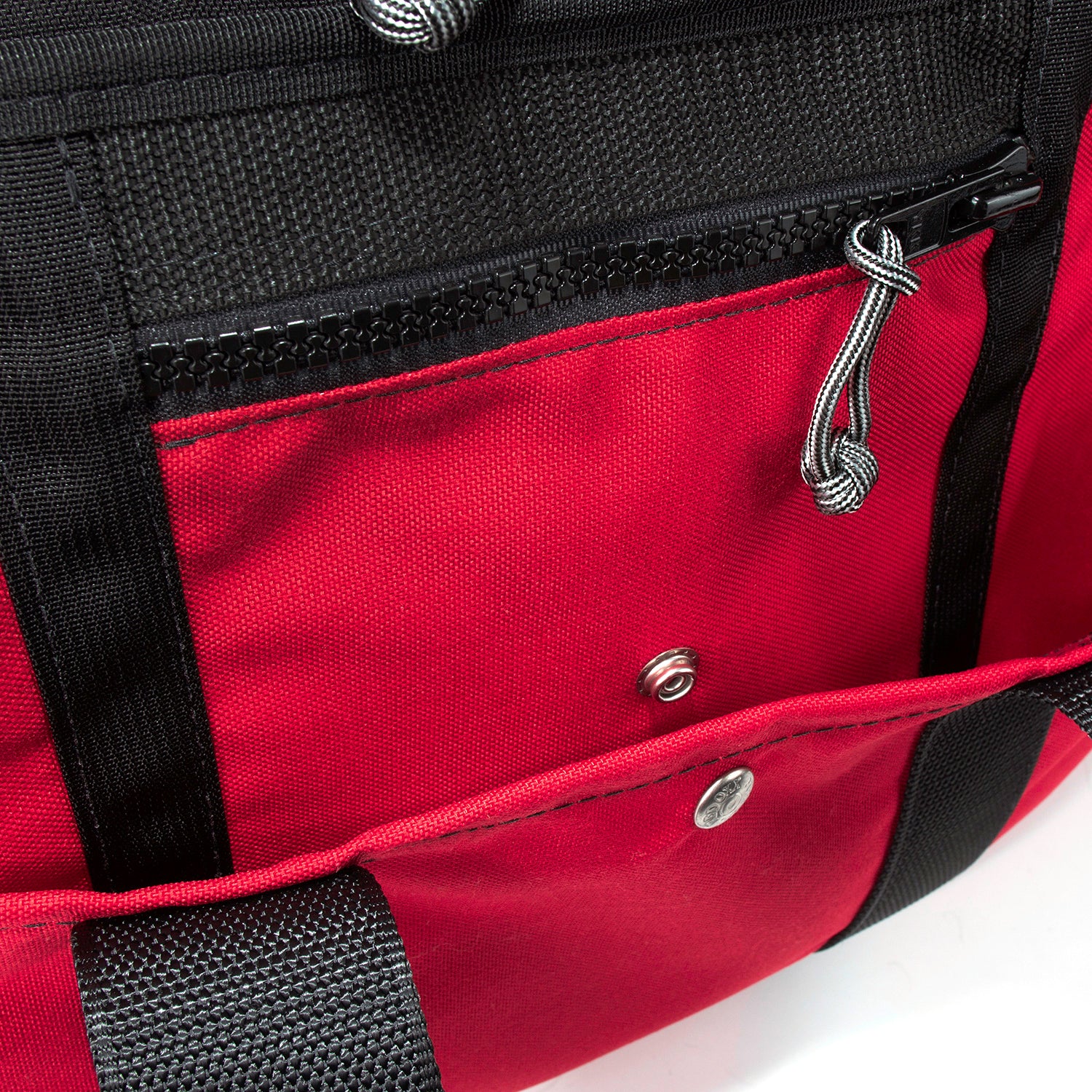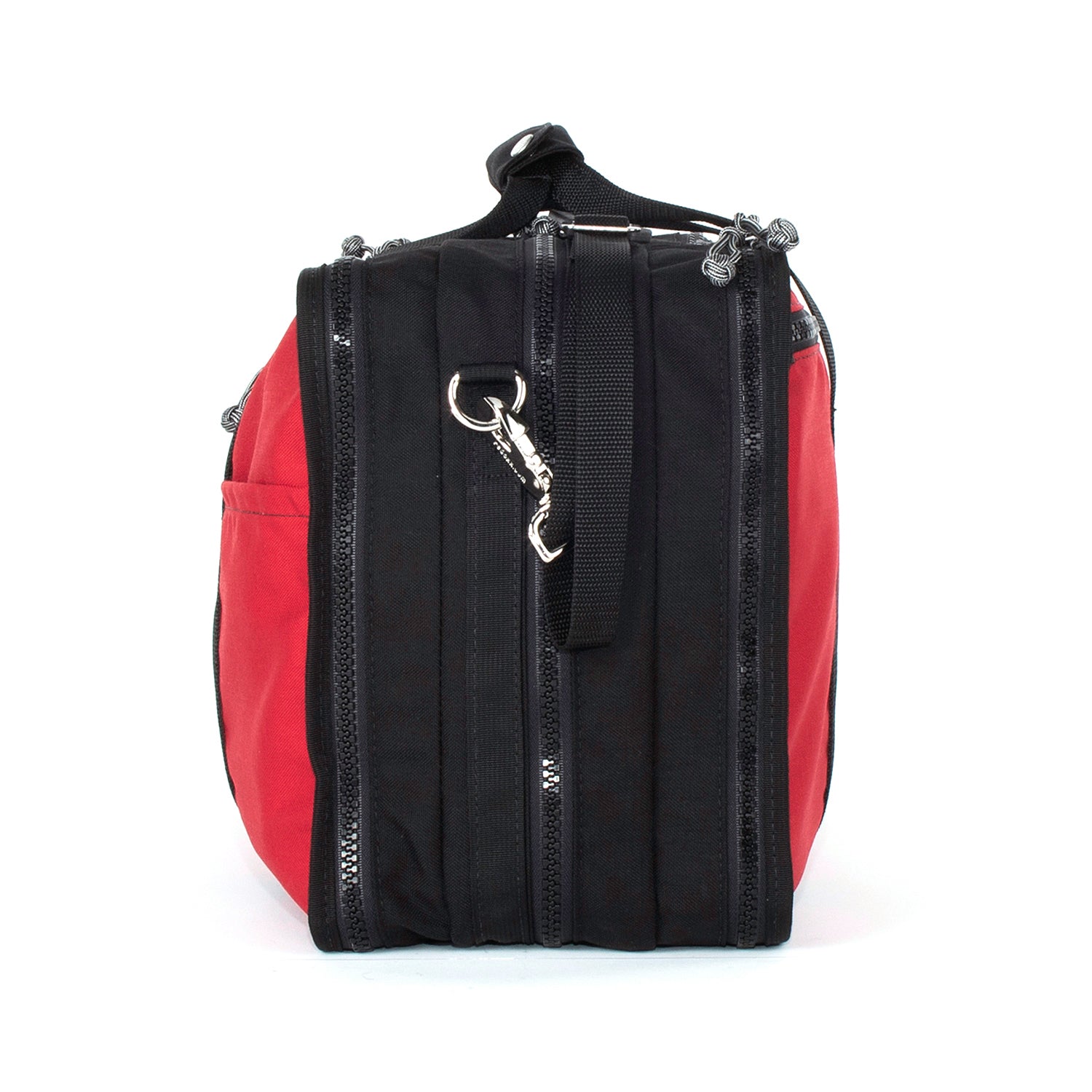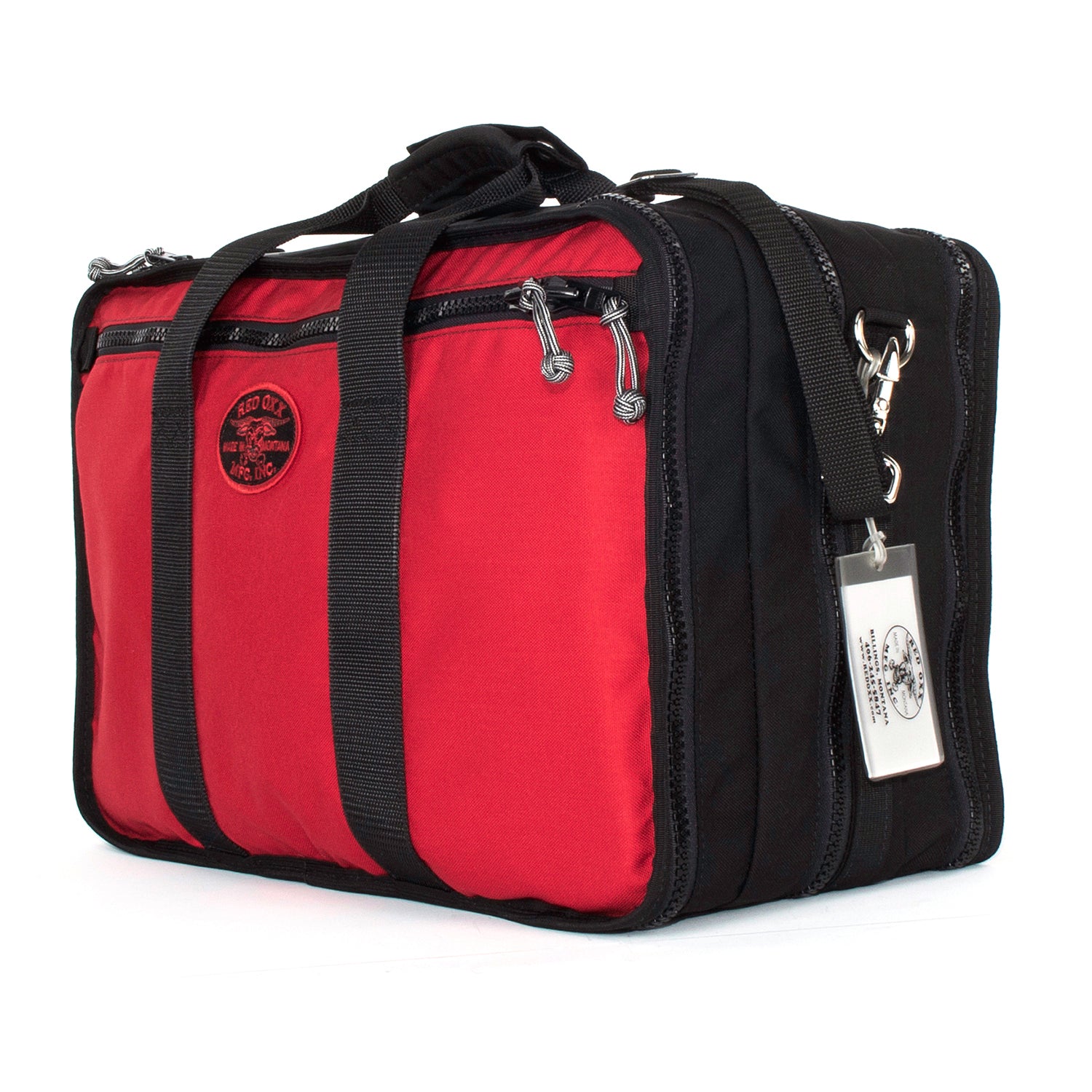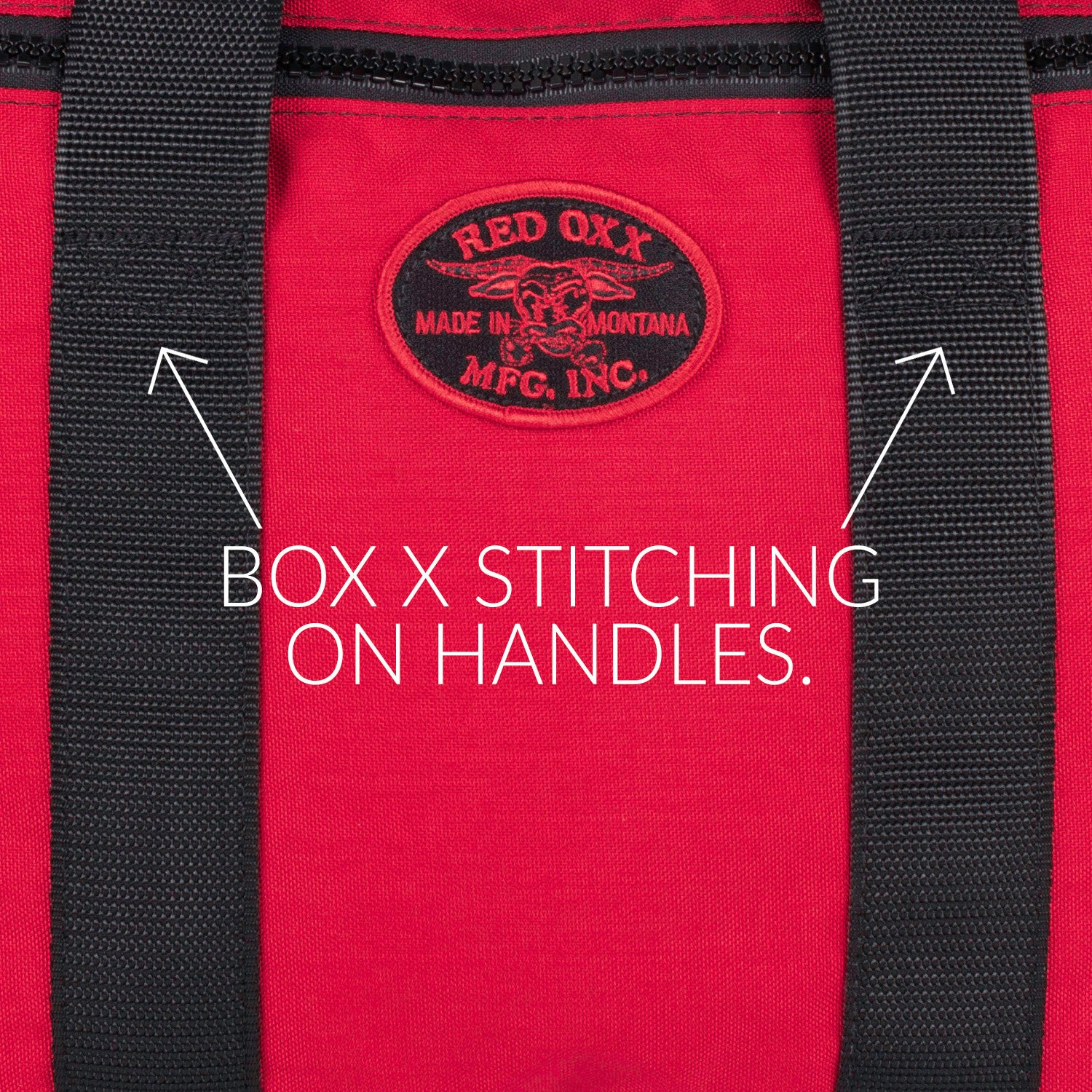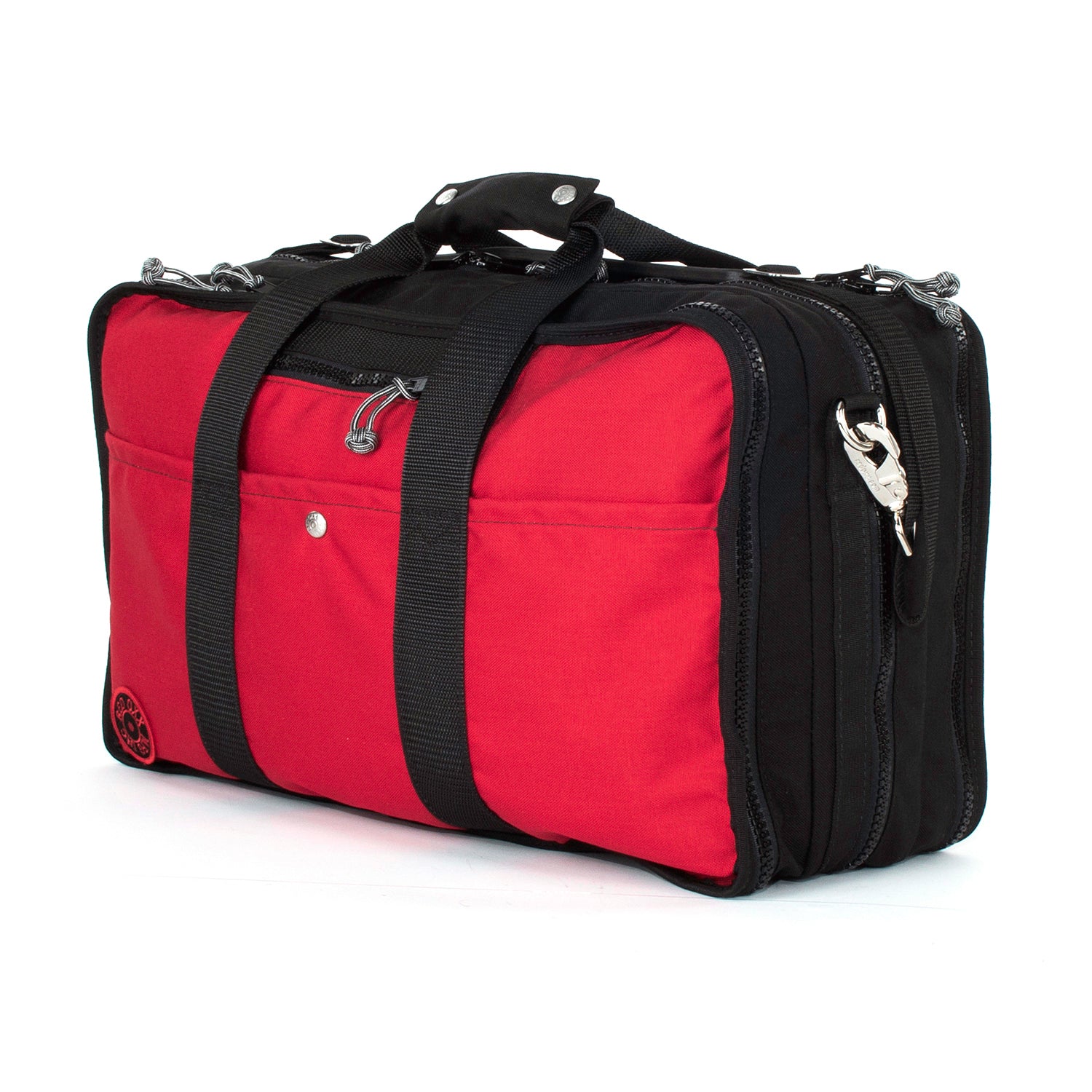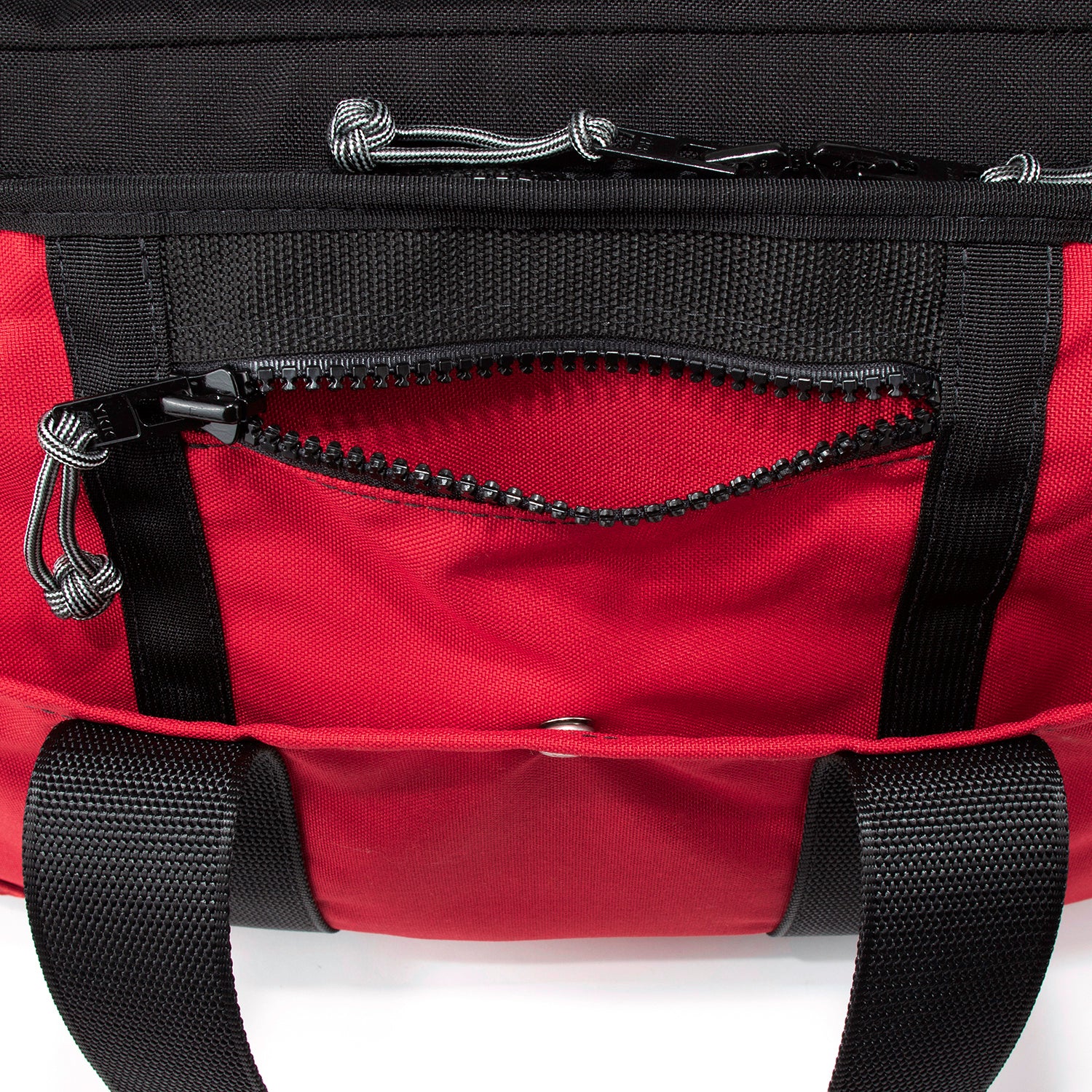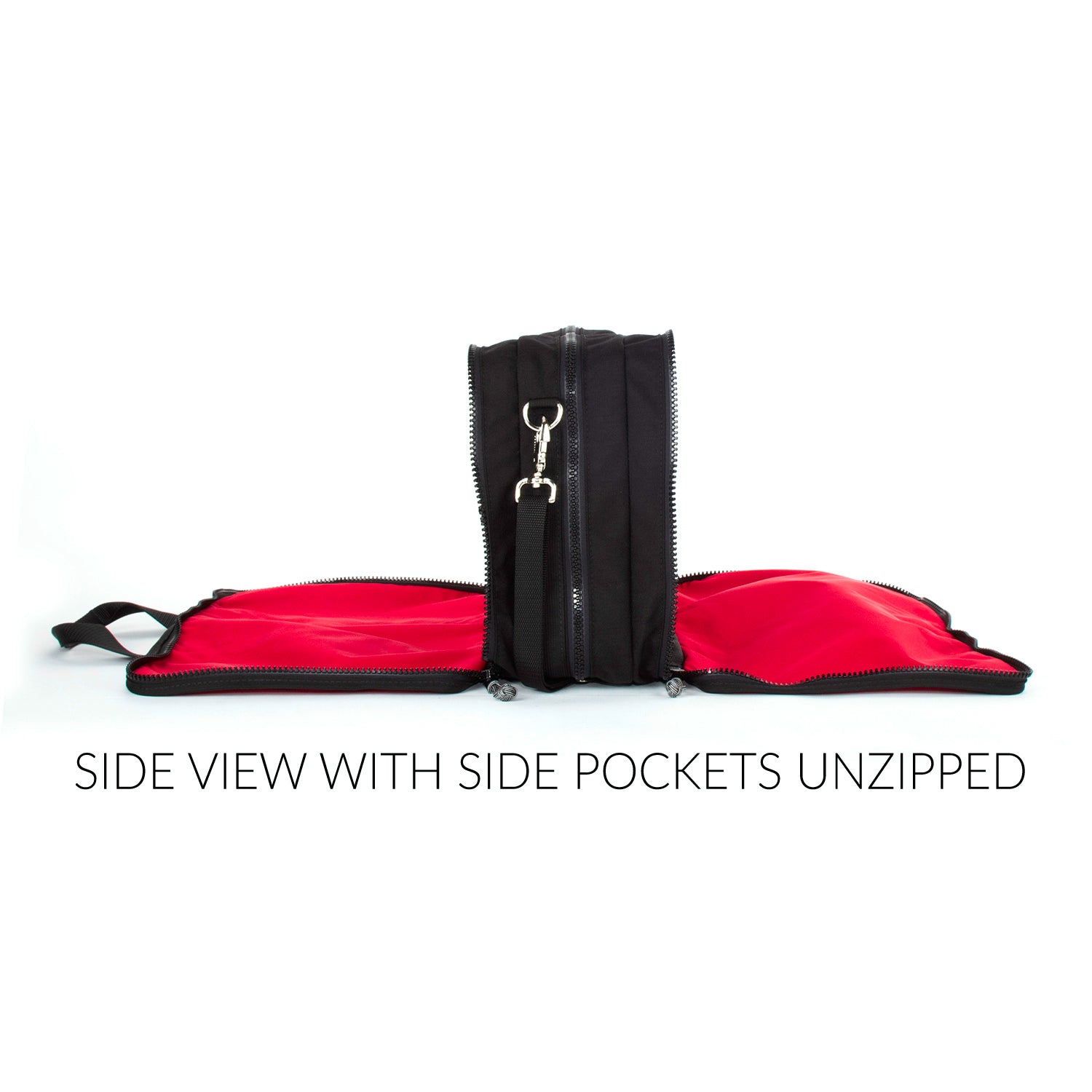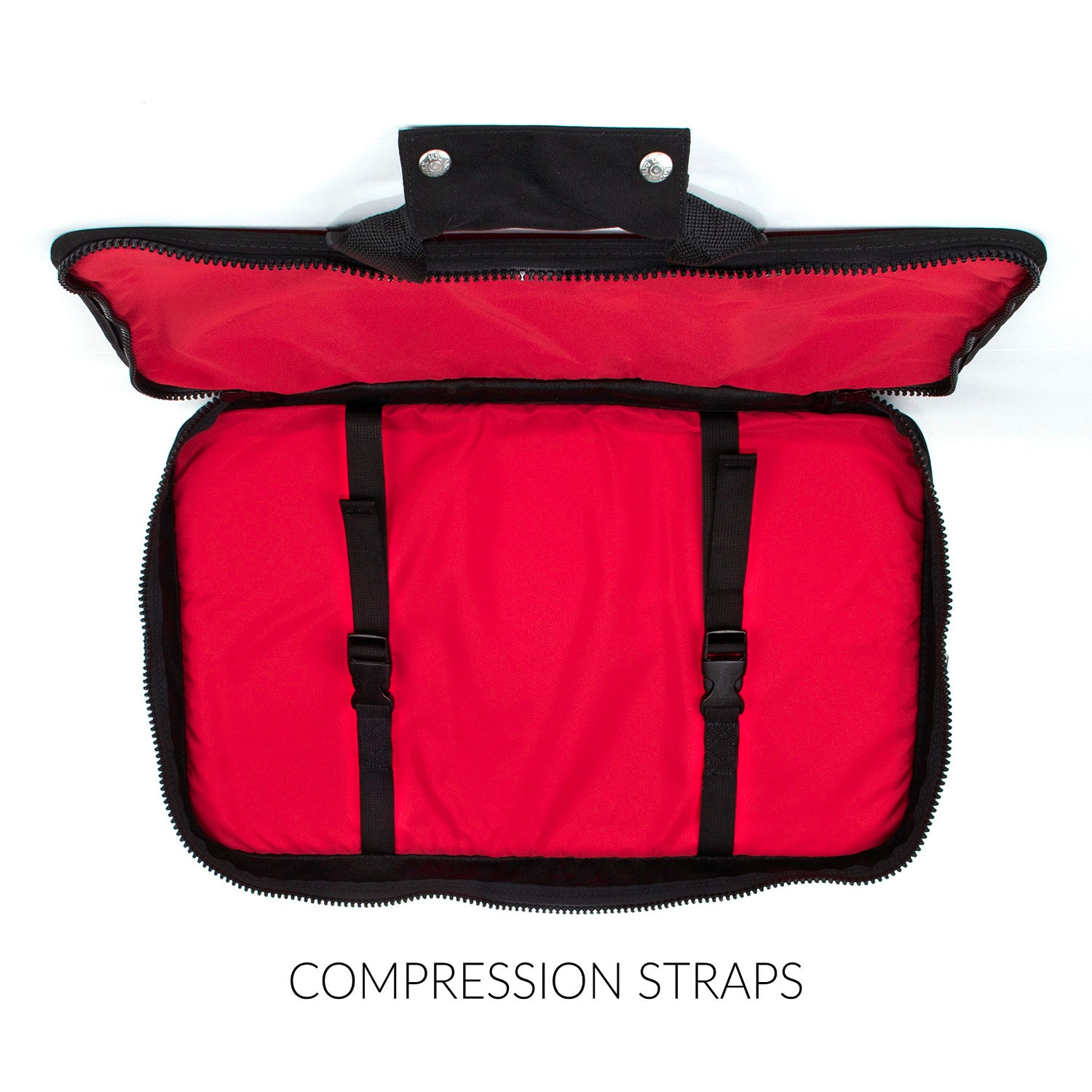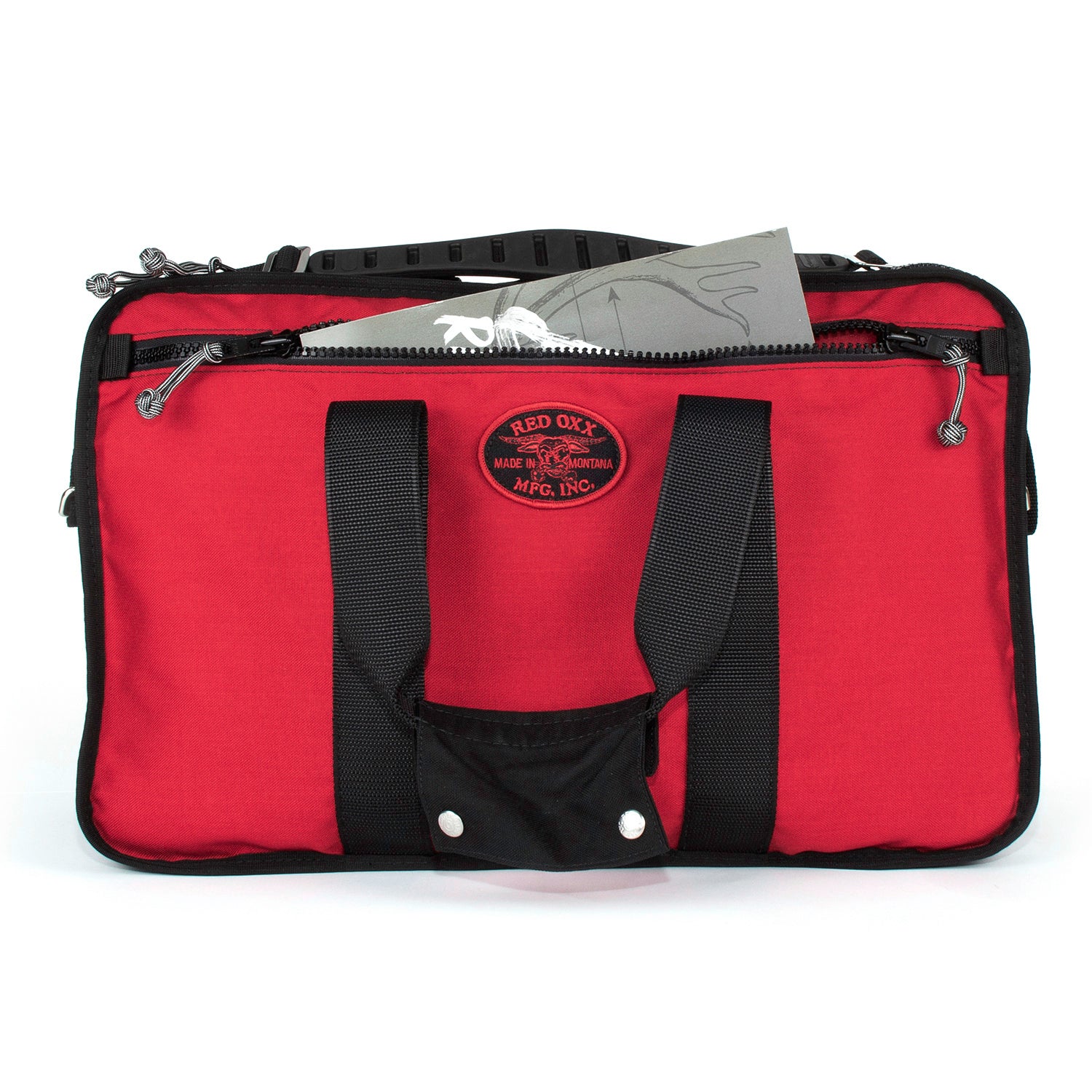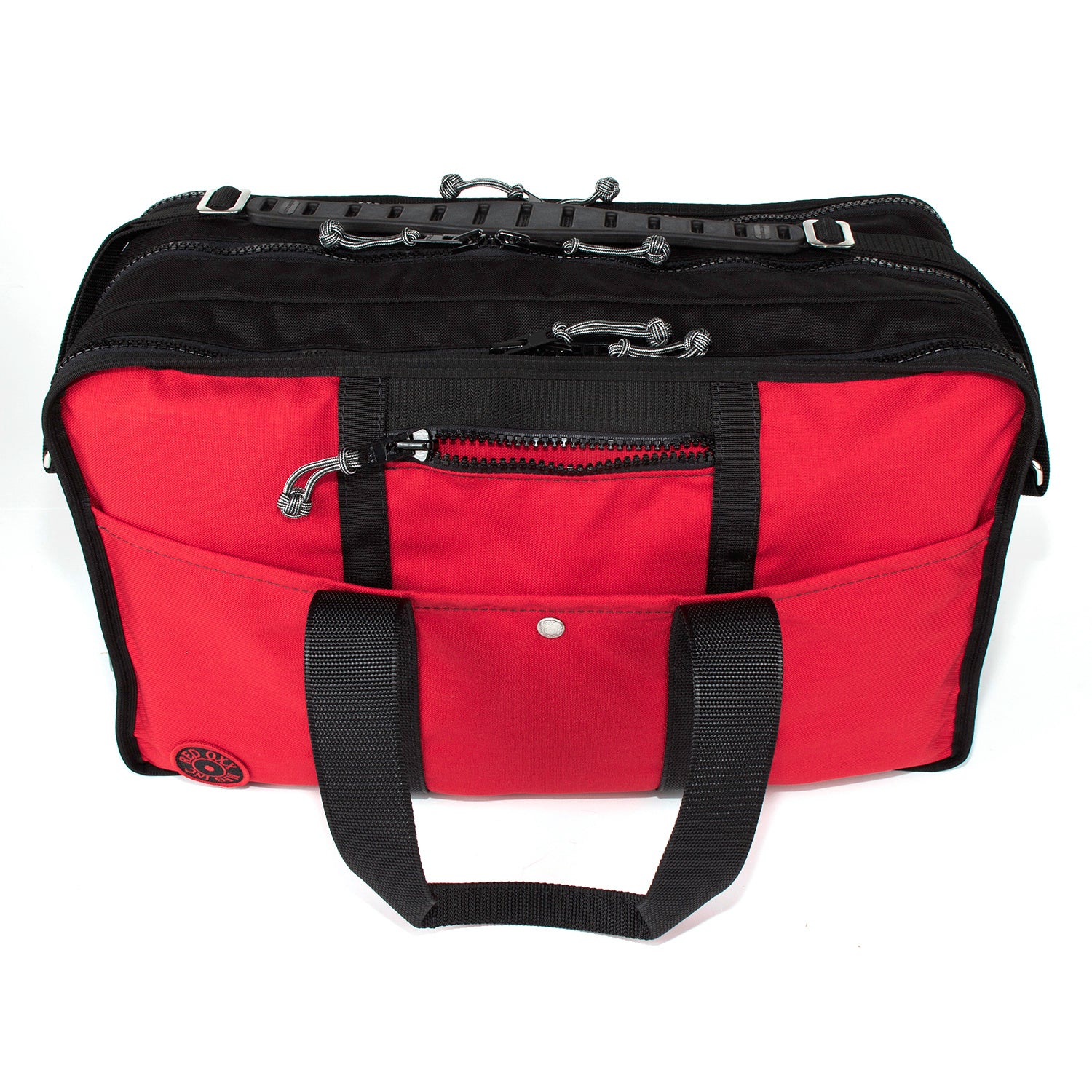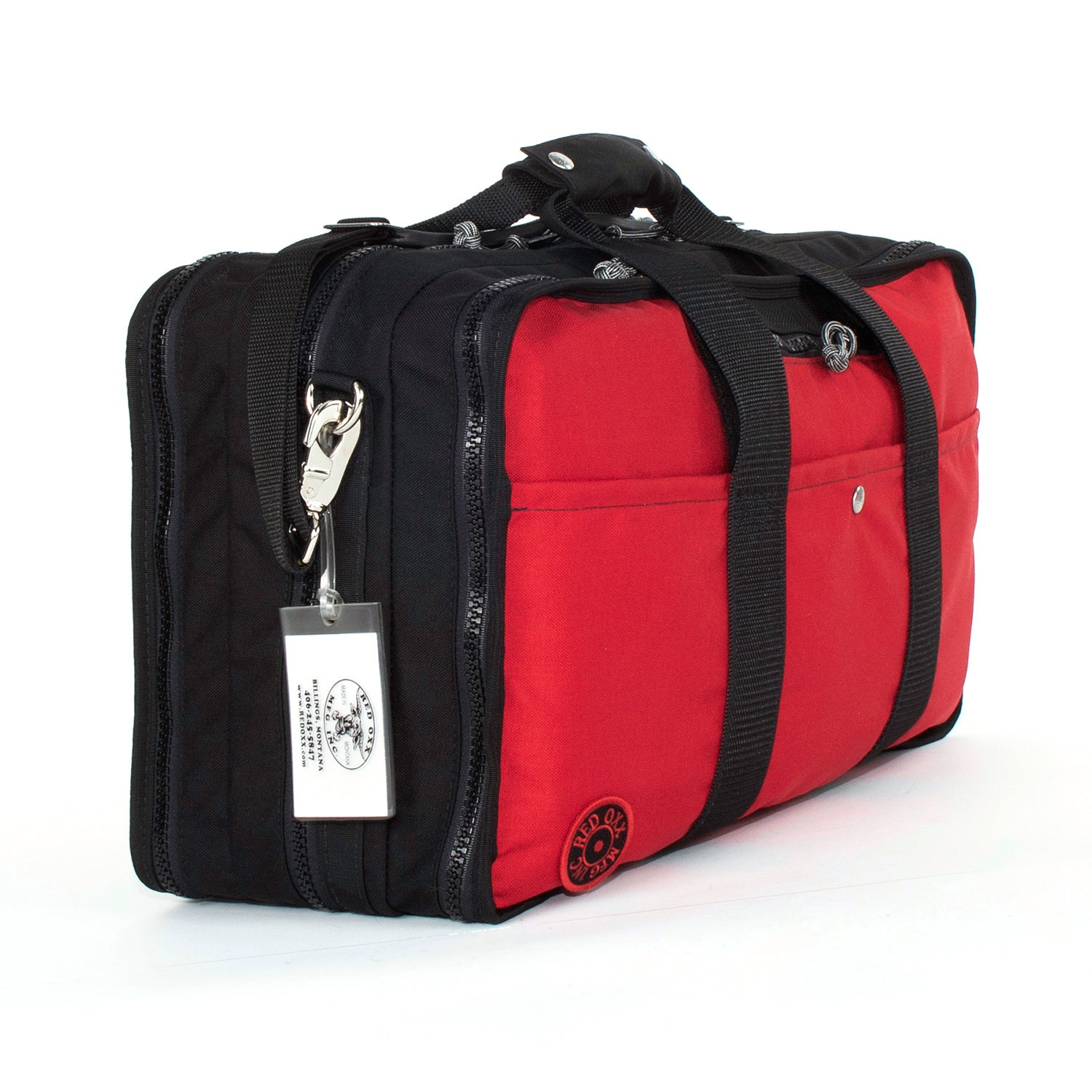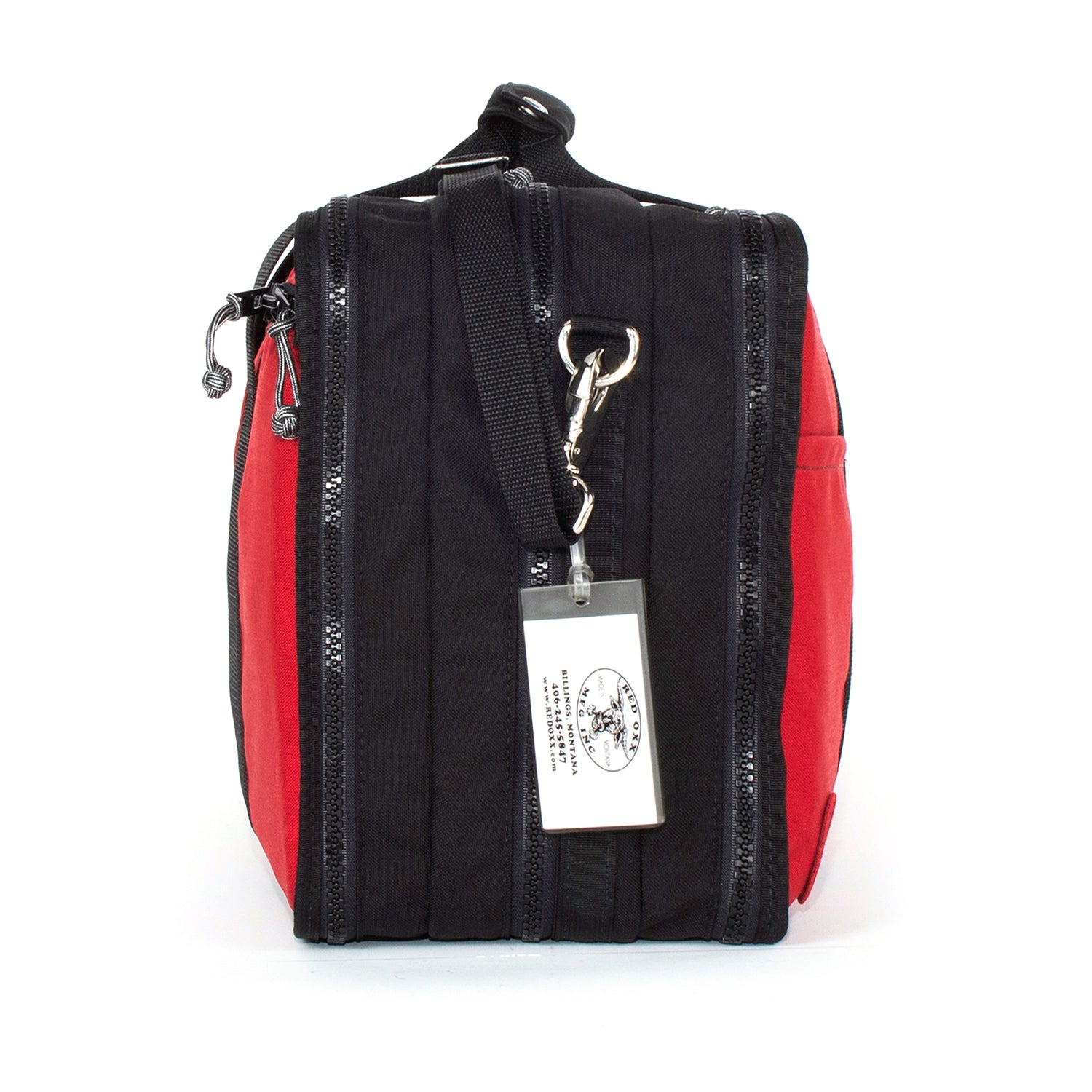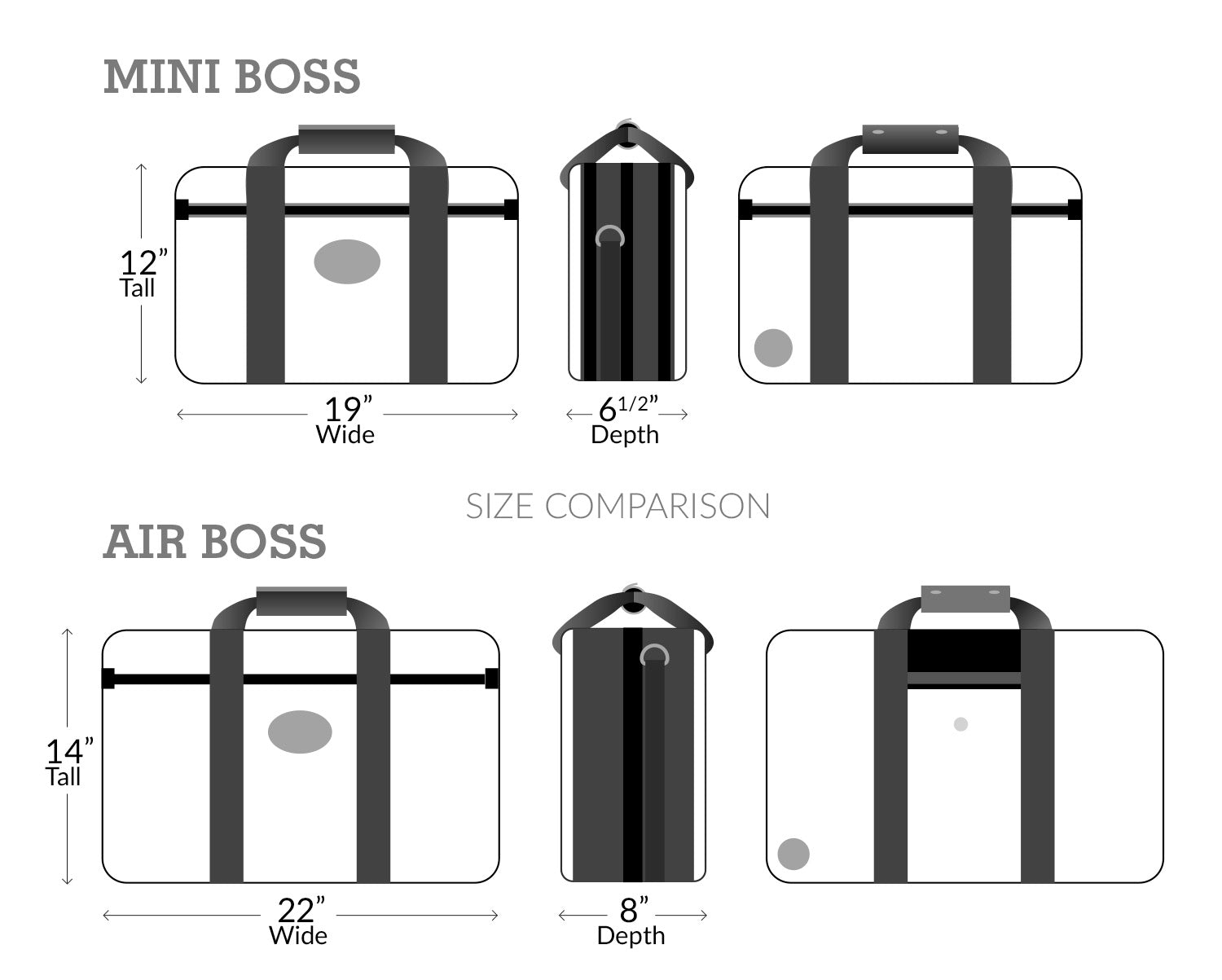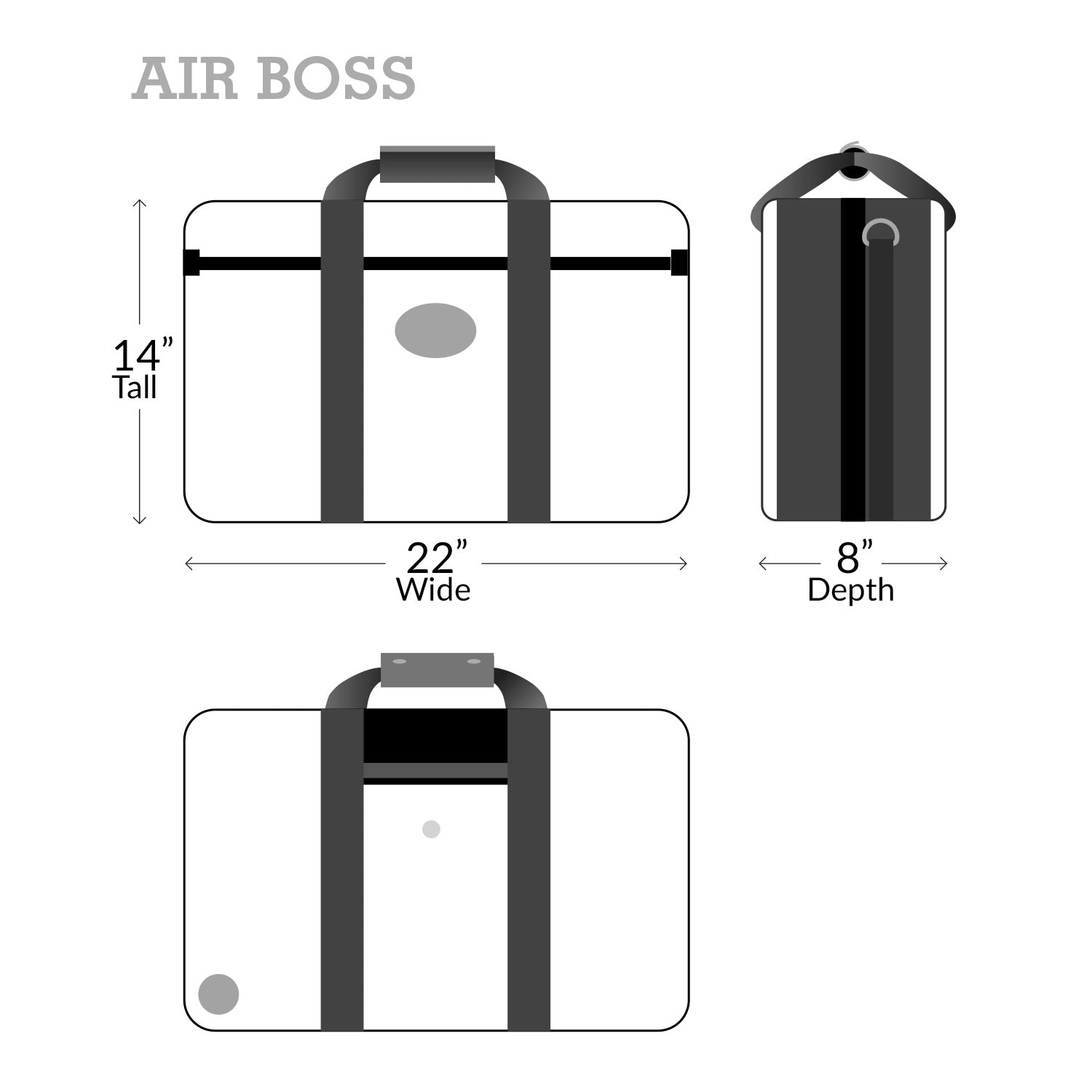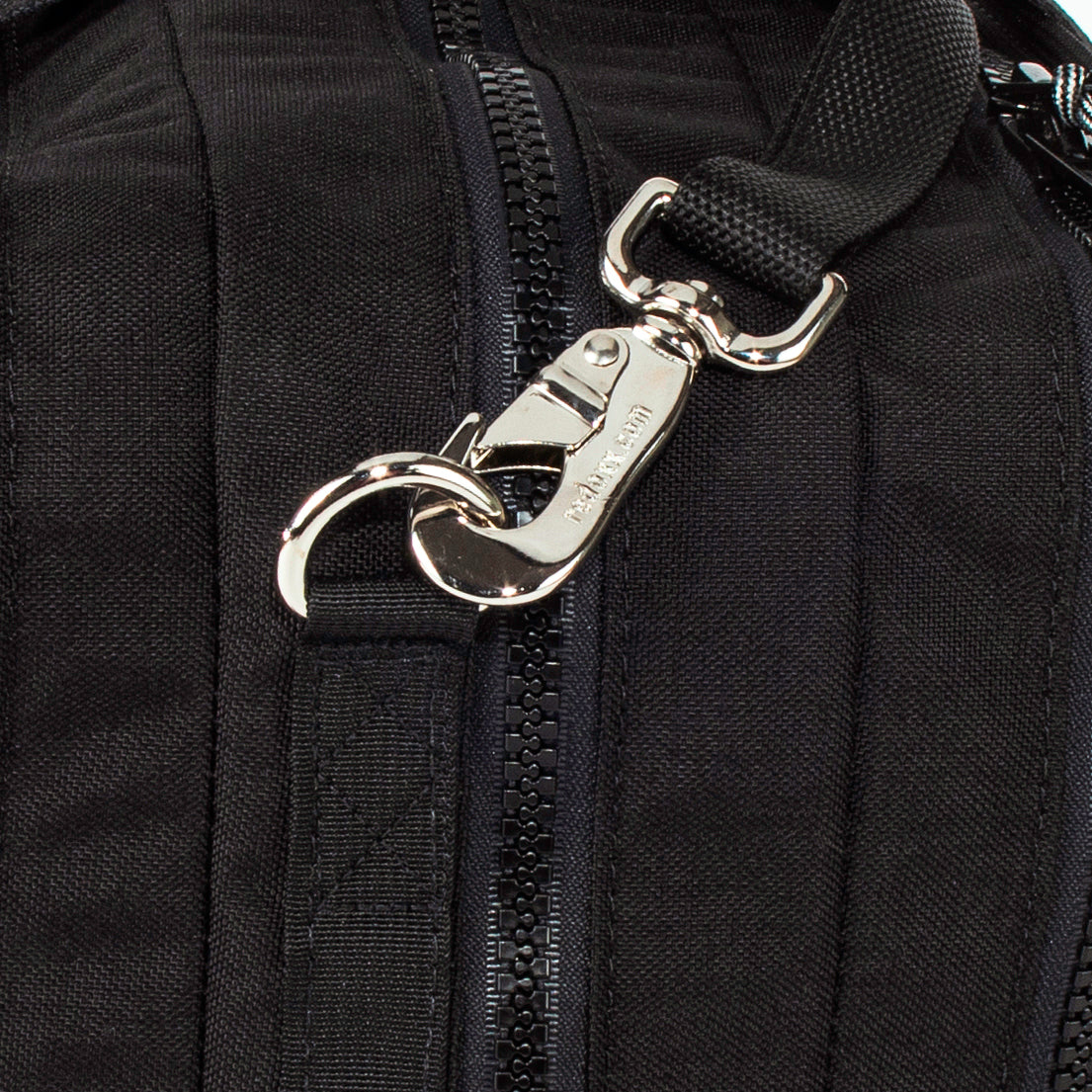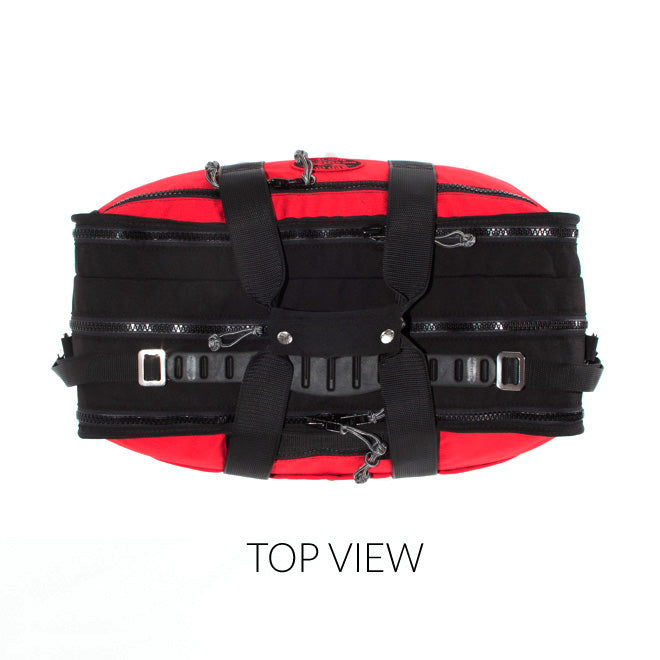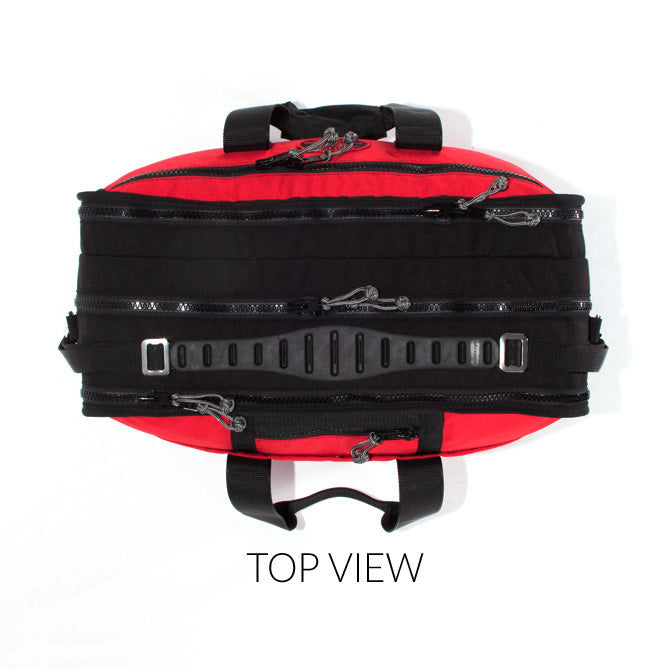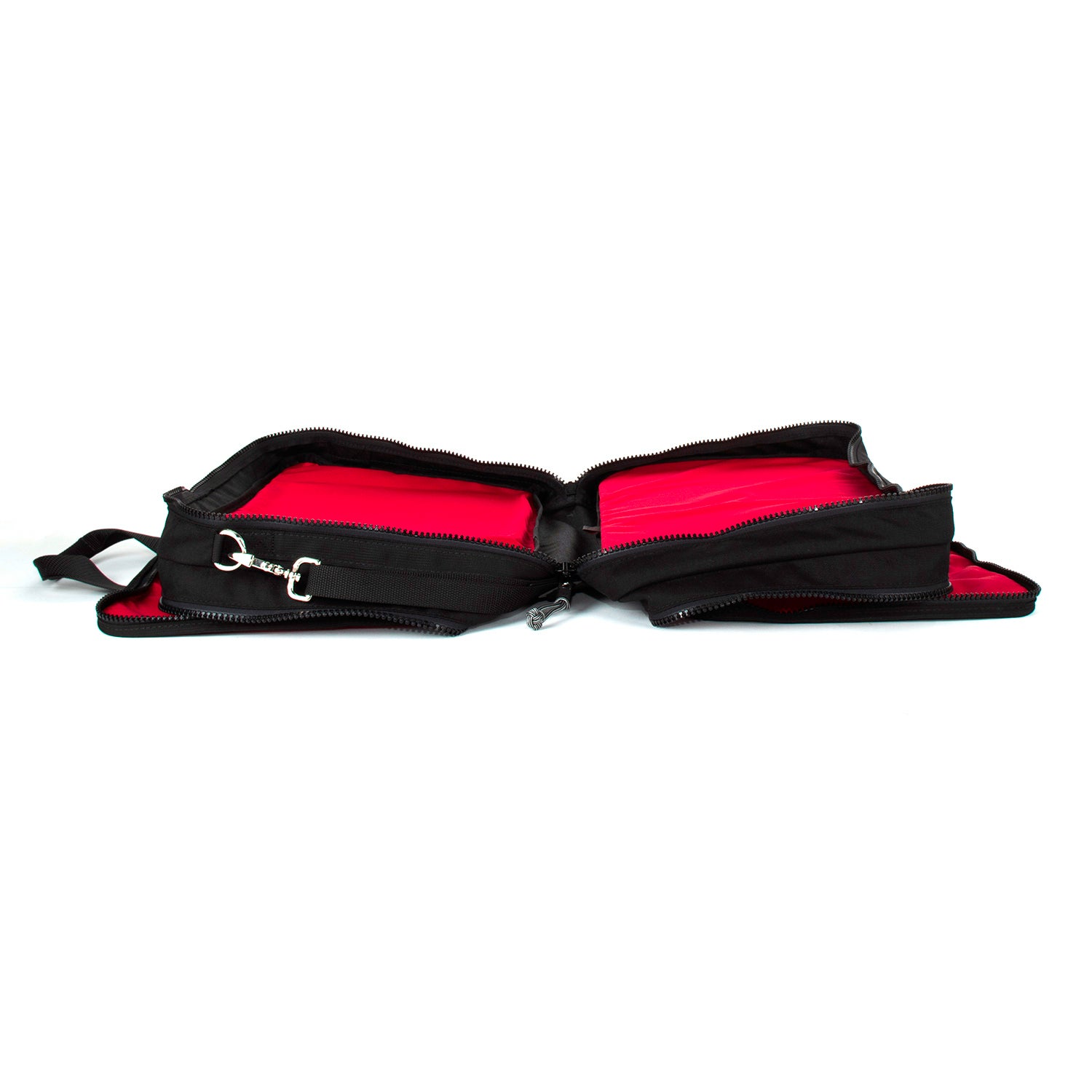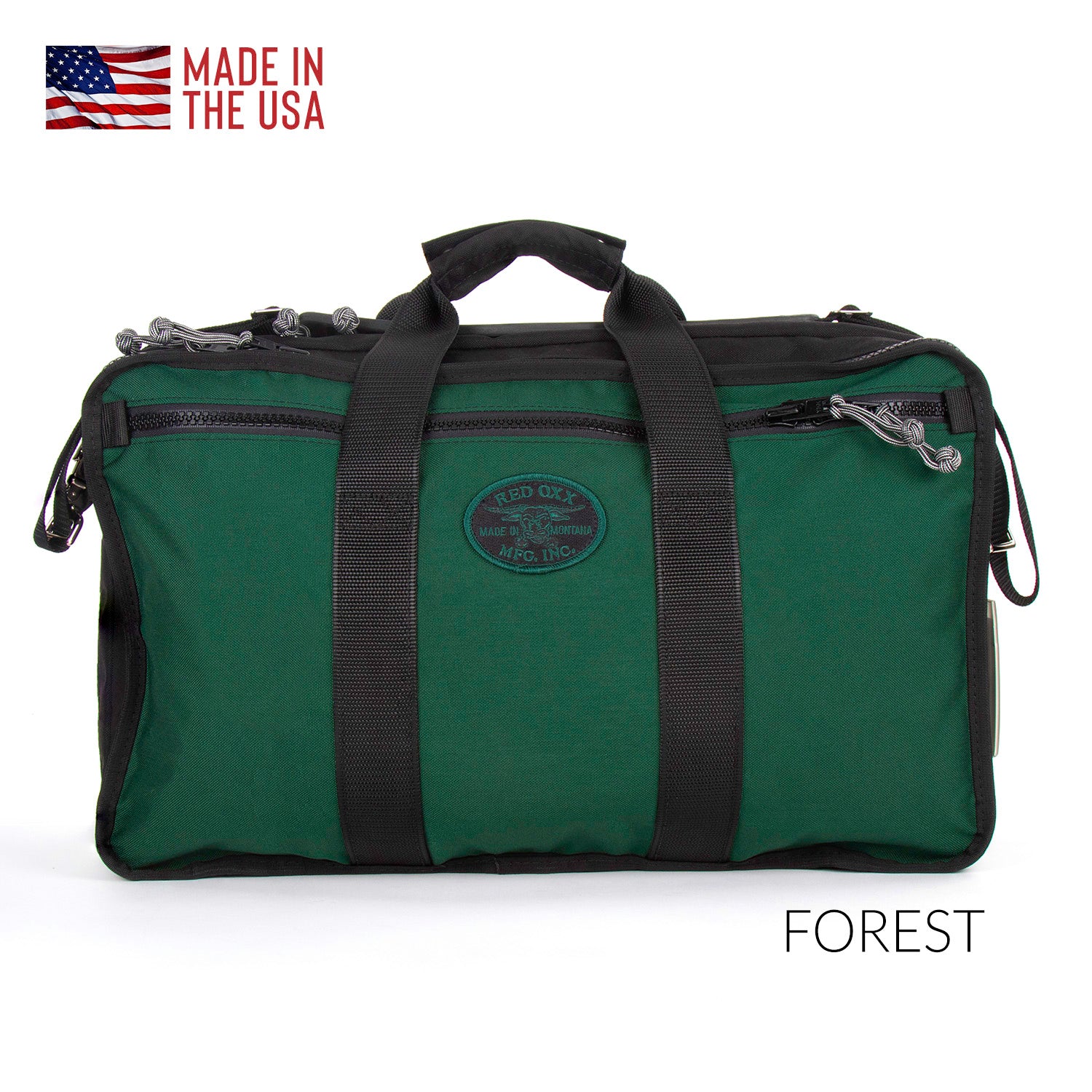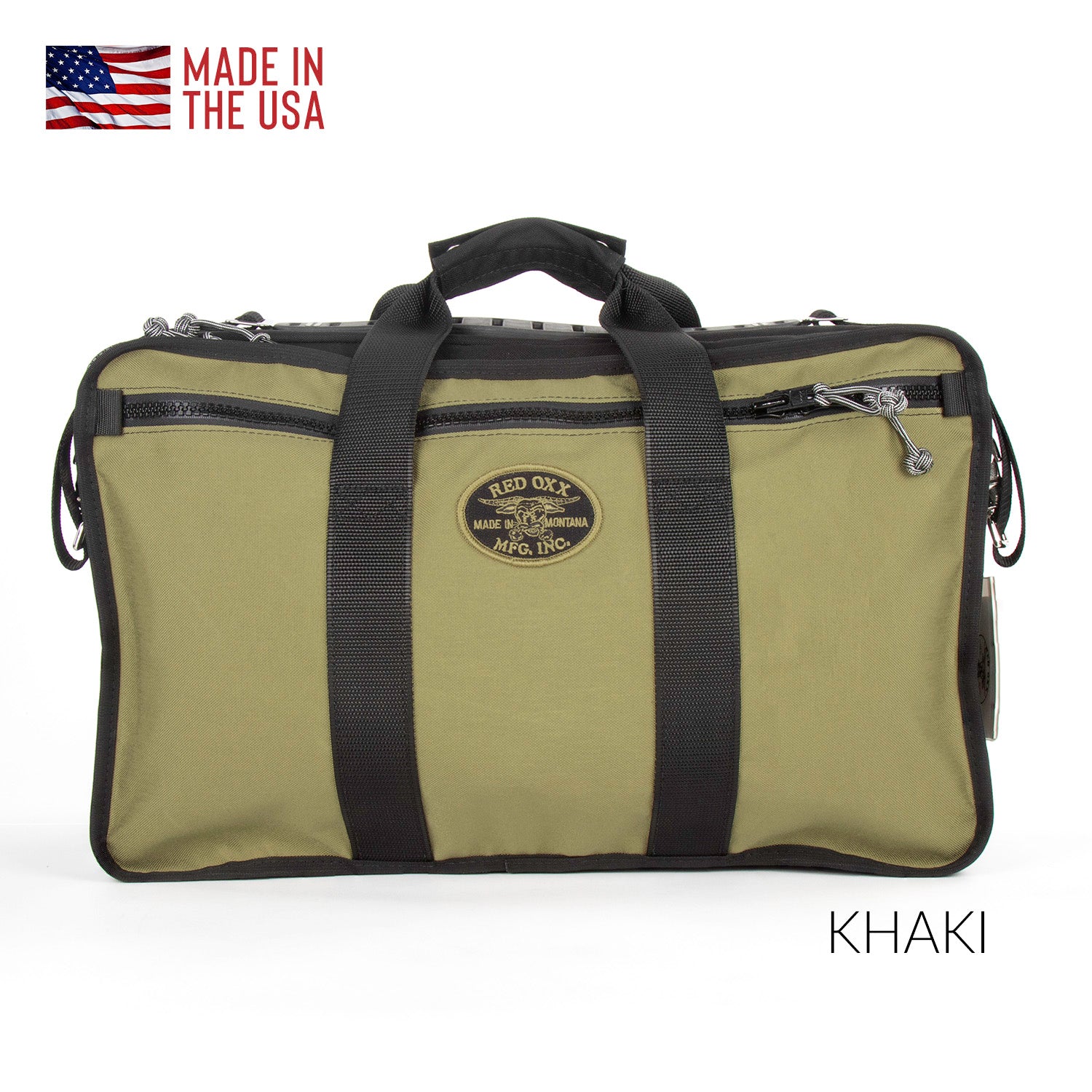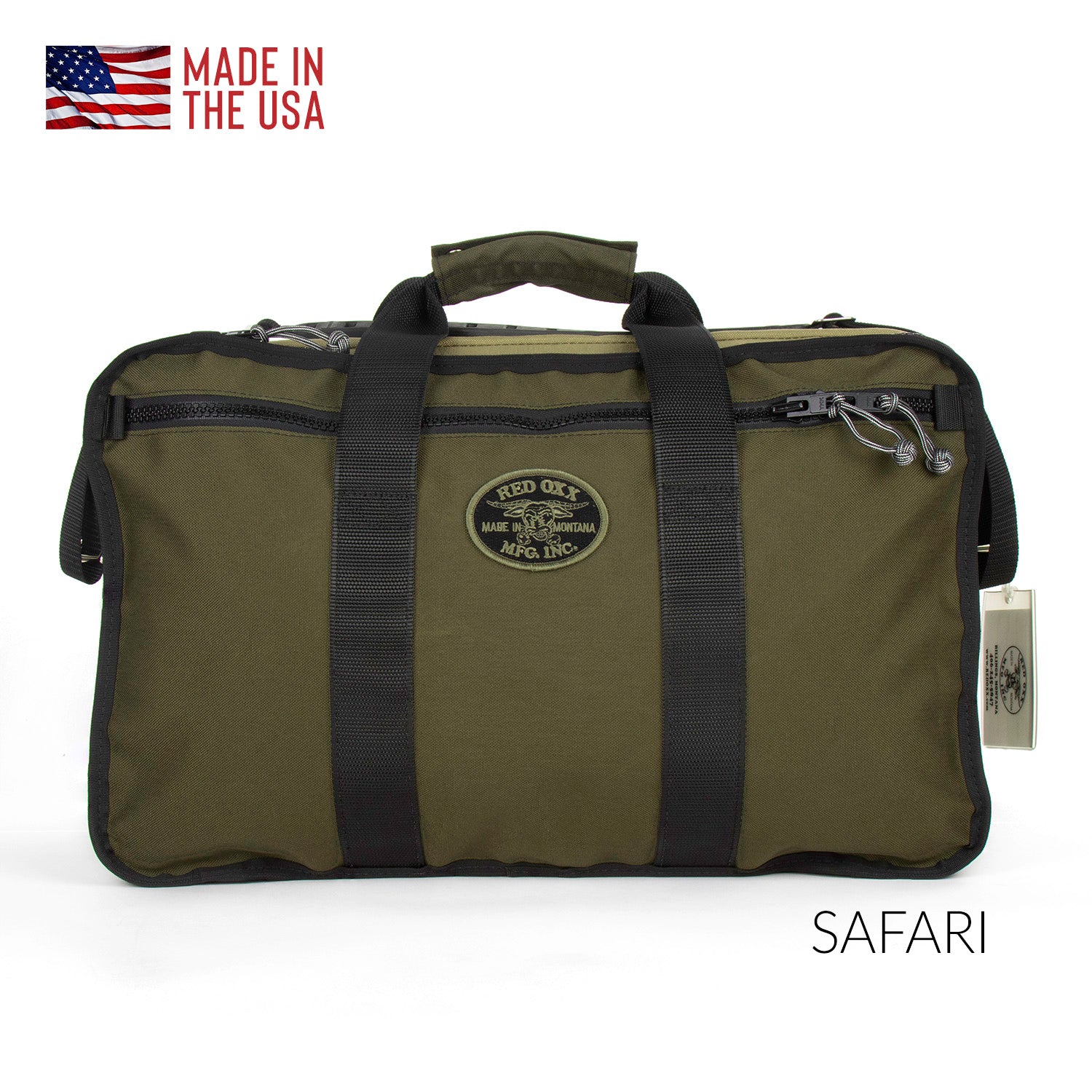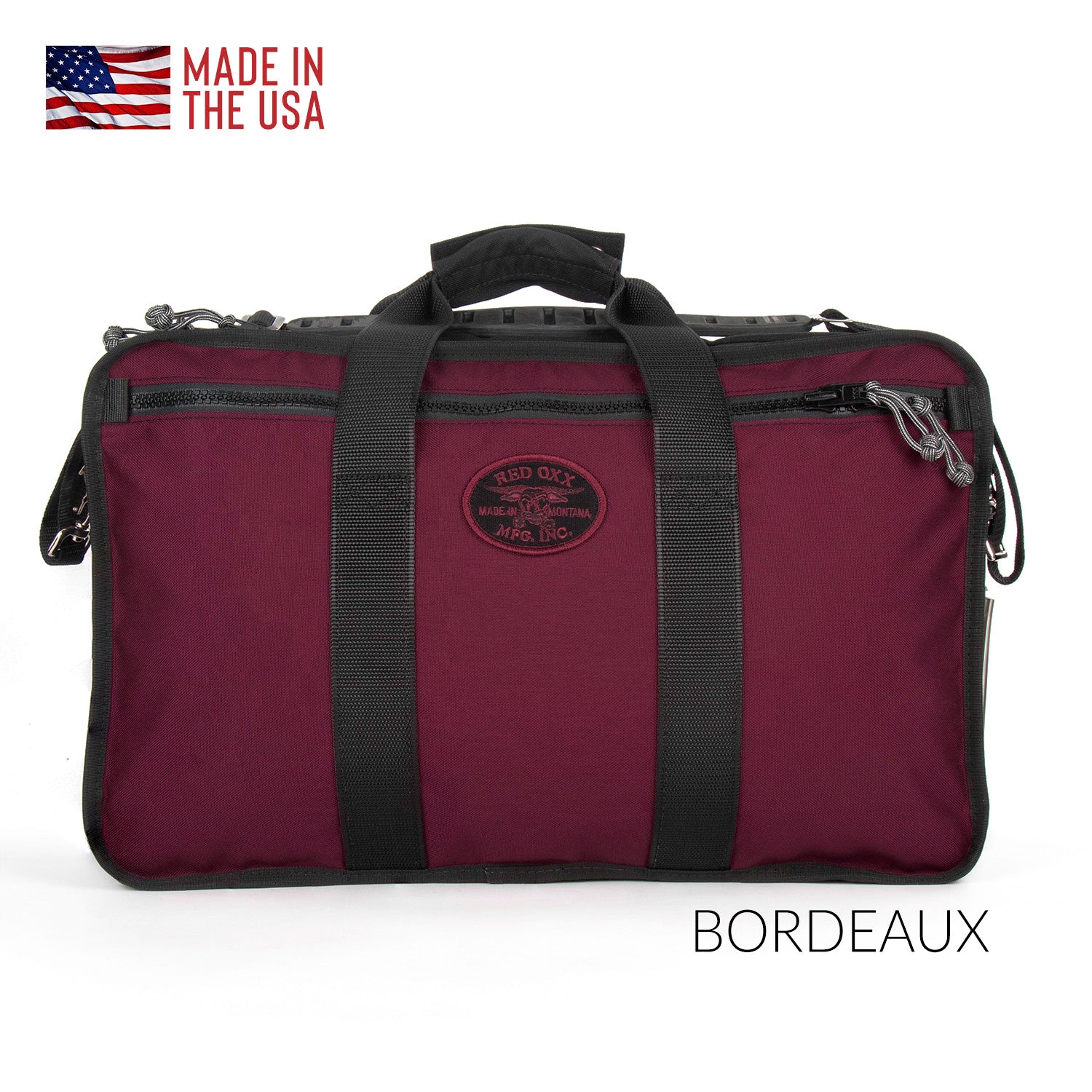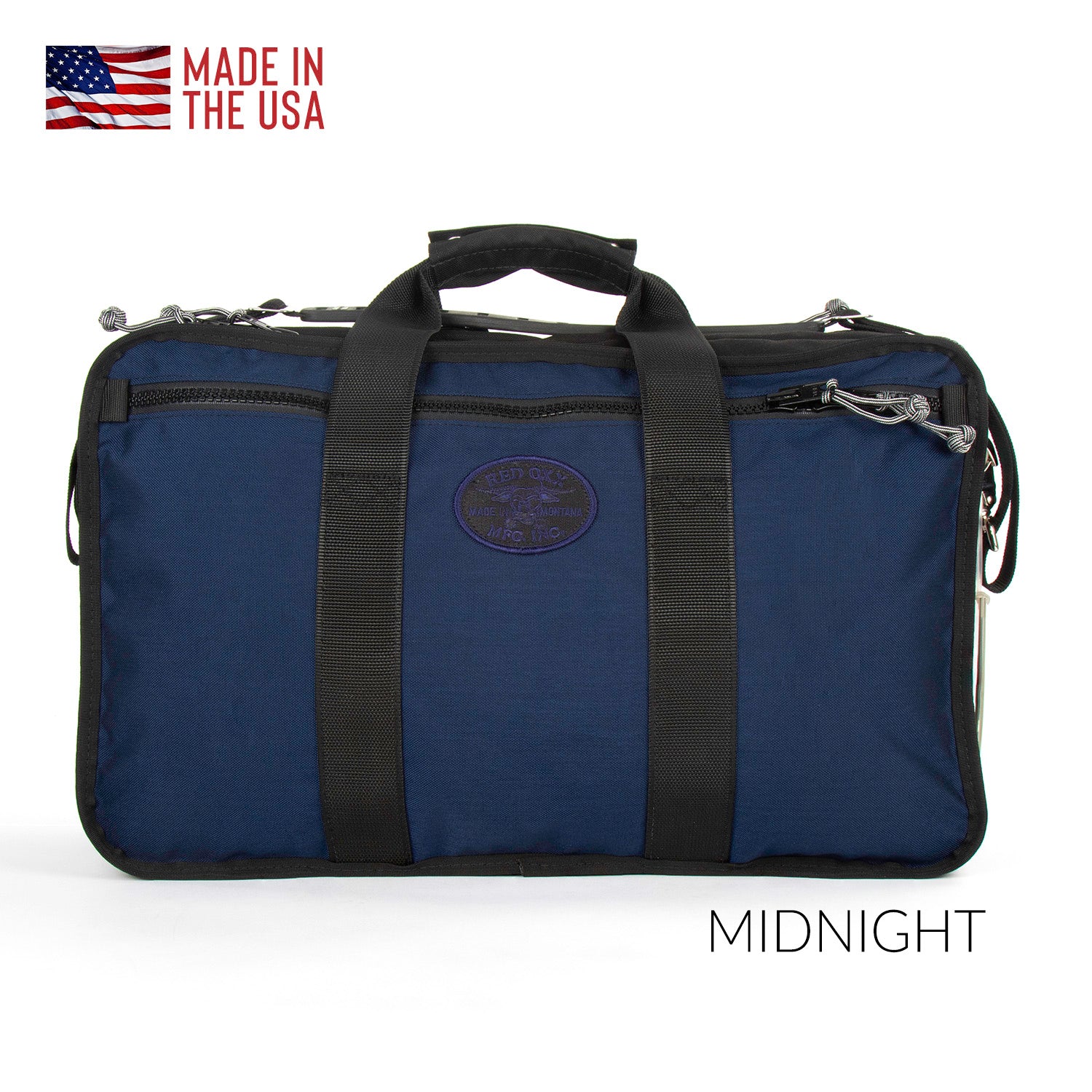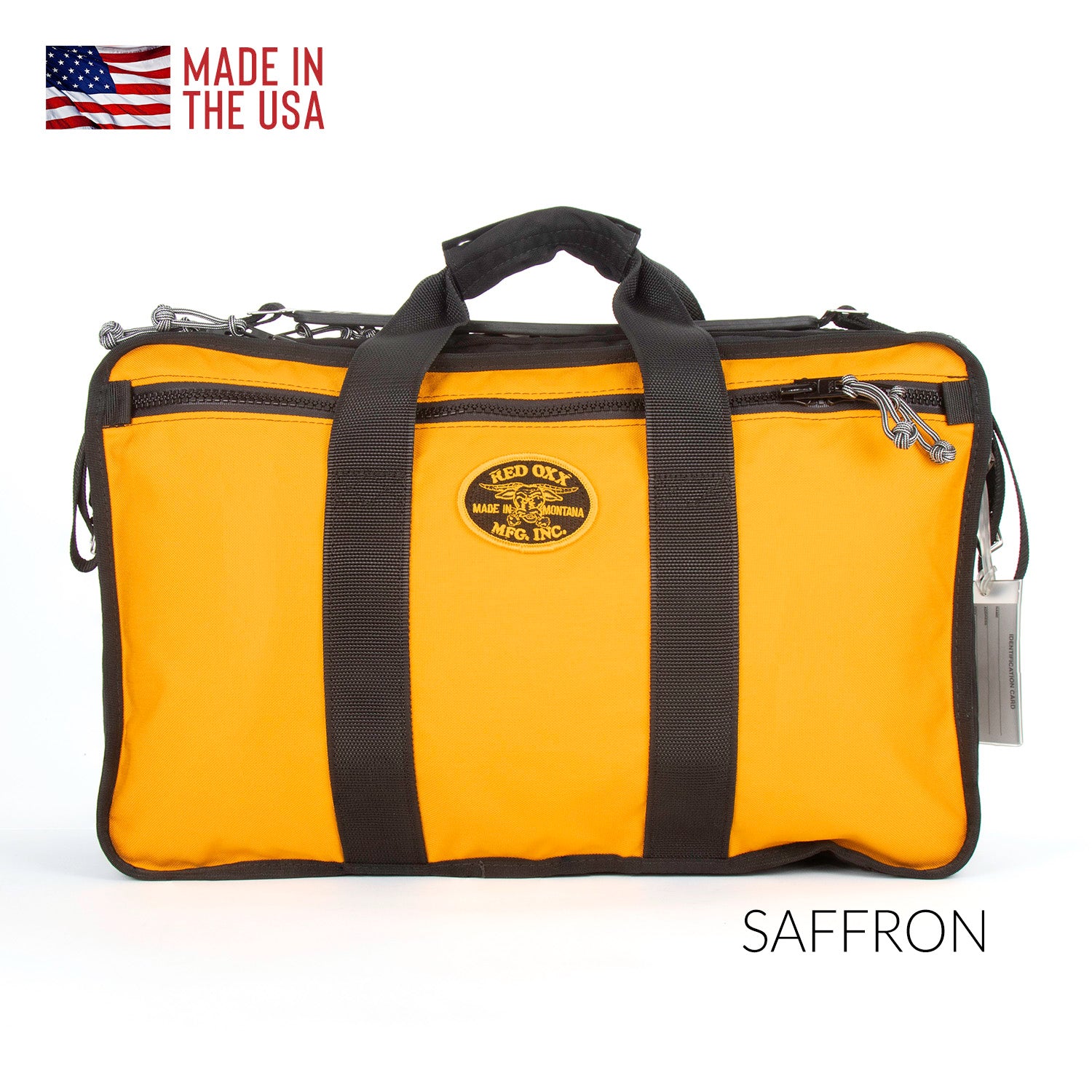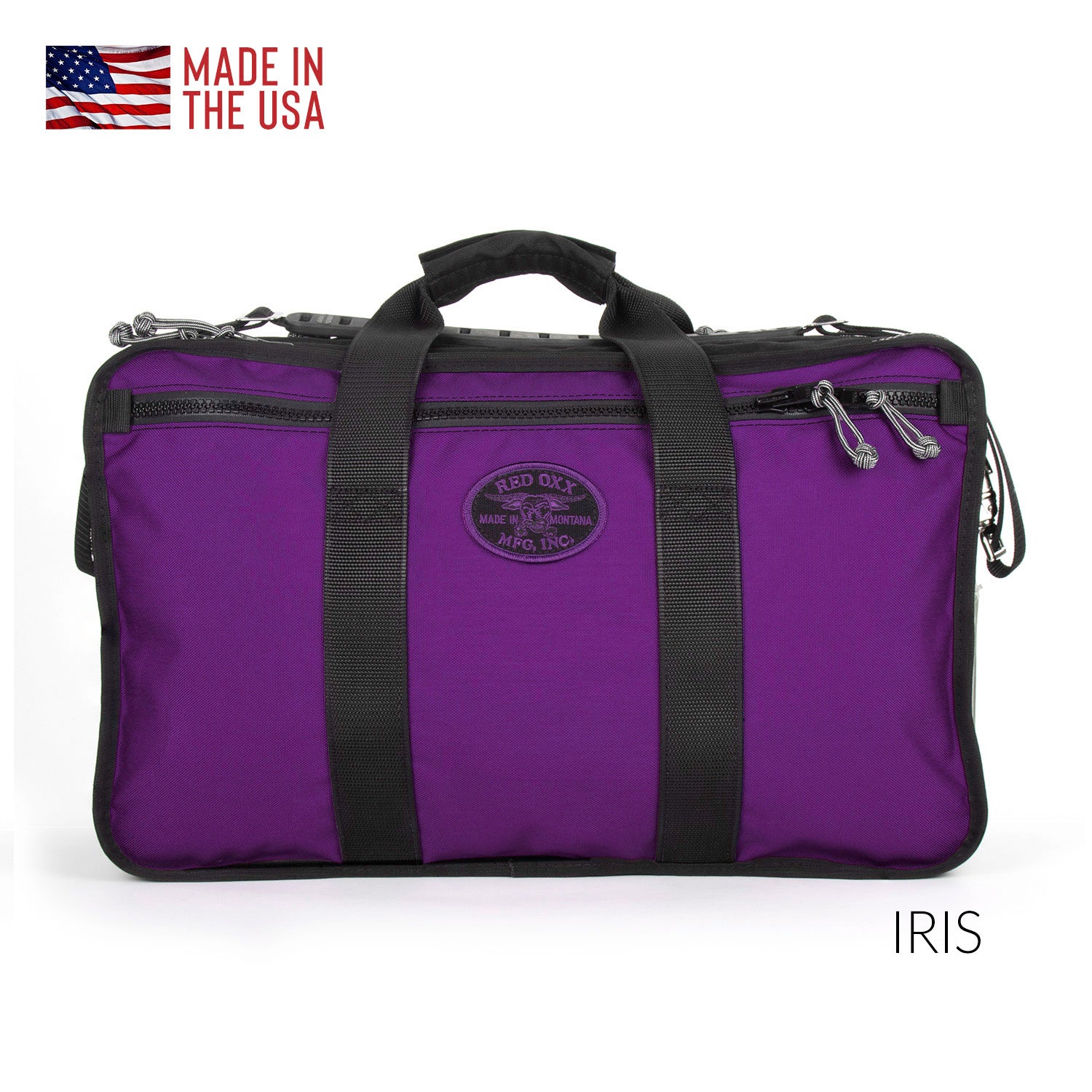 Air Boss
Move Over Rollaboards- Road warriors know when wheels get in the way. 
Air Boss is the perfect carry-on for business travelers. It was designed with the input of travel expert Doug Dyment, delivering superior functionality and stylish design. Its various compartments meet all your needs to keep you organized on the go. Experience ultimate convenience and comfort on your next business trip with the Air Boss.

Made in U.S.A. with our "No Bull" Lifetime Warranty
Dimensions:8"W x 14"H x 22L
Three compartment travel bag designed by onebag.com's Doug Dyment.

Business travel favorite.

American made Air Boss airline carry-on legal shoulder bag is a must-have for anyone who enjoys the many advantages of traveling light.

less of your time wasted waiting in baggage and boarding lines
never any lost luggage

EXPERT DESIGN AND DEVELOPMENT.
Follow the link to learn Doug Dyment's packing technique so you can fit everything you need, and nothing you don't, in your Air Boss airline carry-on bag to become a more organized and happier traveler.

WRINKLE-FREE TRAVEL.
Designed with three large main compartments, the Air Boss carry-on bag also features two outside zippered slip pockets; one full-length, one for your airline tickets, and an outside sleeve pocket for magazines, files, or a tablet. Inside the Air Boss are two outer compartments that each have buckled adjustable tie-downs inside to keep your belongings, or packing cubes, held in position and wrinkle-free until you unpack at your destination.

A SPACIOUS PLACE FOR YOUR TRAVEL BELONGINGS.
The center compartment is spacious enough to hold your Toiletries, extra shoes, work-out gear, business briefcase, etc. Volara closed-cell foam padding is sewn into the sides, so you've got a rigid, yet flexible, piece of carry-on luggage that still protects your valuable belongings.

2009 Winner of the "Best Durable Luggage Award" from Bestcovery.com; "Discover the Best of Everything."

Selected as Kiplinger's Expert Picks The Best List of 2008 for Best Carry-on Travel Bag.

Air Boss Trivia:
On the flight deck of an aircraft carrier, the Air Boss is in charge of all the operations of the flight deck. they control the moving of planes on deck, landing of aircraft, launching aircraft, ordinance handling, and safety of all the personnel occupying the flight deck. The Air Boss oversees from the command tower.
U.S.A. Dimensions:

22"L x 8"W x 14"H.
Capacity: 2,352 cubic inches.
Weight: 3.9 pounds.

Metric Dimensions:

55.9cm L x 20.3cm W x 35.5cm H
Capacity: 40.4 Liters.
Weight: 1.77 Kilos

Pocket measurements:

Exterior full length zippered side flat pocket: 13"H x 20"W
Exterior full length flat snap pocket: 9.5"H x 20"W
Exterior zippered side flat passport / map pocket: 12.5"D x 7"W
Dual zippered tie-down compartments: 2"D x 20.5"L x 12.5"H
Main center compartment: 4"D x 20.5"L x 12.5"H

Features:

Fabric: 1000 weight urethane coated, Dupont certified CORDURA® Brand Nylon
Weather resistant
400 Denier High Density Nylon Pack Cloth lining
4# Fuzion STD Natural closed cell foam padding on exterior panels
Double Box stitching on stress points such as carry handles
All zippers: #10 YKK VISLON® self-locking
Thread: Anefil Nylon, Bonded Type 6,6 Tex 90-Black
All seams double stitched and bound
Stainless steel Mil-Spec snaps with Red Oxx logo
Detachable Claw nonslip adjustable shoulder strap
Fair trade Monkey Fist Zip Knots on all zippers
Free heavy-duty vinyl luggage tag
Embroidered Logo Patches
Includes Cable Lock
Back Pack Straps on Airboss?

The design of the Air Boss doesn't allow for backpack straps which is why we created the Sky Train.

The video says the bag is 21x8x13. But the specs say it's 22x8x14. Which is correct?

The actual size of the Air Boss has not changed since it's creation in 2004. What has changed is the way in which we pull our measurements.

The new measurement is taken from the exterior of the bag and is more accurate than the way it was listed before when the dimensions were taken from inside the finished seam. Given the flexibility of a soft-sided bag this was a more practical assessment.

Is the Air Boss carry-on legal?

Yes, the Air Boss is carry-on legal on most continental jet airlines and many international ones as well. Our bags fit!

What's the best way to pack the Air Boss?

We recommend you build your own packing cube kit. If you're not into cube packing, the bundle packing method is handy. Watch the packing Air Boss video or download a printable Air Boss luggage packing diagram (Pdf file).

What's the difference between the Air Boss and the Sky Train?

There are two principle differences between the Air Boss and the Sky Train: The Sky Train has retractable backpack straps and opens flat lengthwise whereas the Air Boss opens flat like a book and is carried by a shoulder strap.

Will the Air Boss fit under the seat in front of me?

If it will fit, you can go ahead and cram your Air Boss under the seat, just be sure to slip the Claw Shoulder Strap inside the bag so it won't get caught on anything, (or anyone).

Will the Eagle Creek packing cubes fit the Air Boss?

Skip those cheap imported packing cubes and create your own custom Red Oxx Packing Cube Kit. Or try our Nomad Shave Kit, Lil Roy Gadget Bag or Tri-fold Toiletry bag as packing cubes? You can color co-ordinate them to your preference and they come with useful carry handles. The Tri-fold Toiletry Kit is also a brilliant shave kit organizer due to its three individual zippered mesh pockets and unique fold-open-flat hanging design.

How many pounds will the Air Boss weigh when packed?

It depends on what you pack. A typical 3-5 day load will weigh about 20-25 pounds.

How many days of travel can I fit in the Air Boss Carry-on?

Most travelers can get about 3-5 days with a typical load. Some adventurous types have been able to pack from a week to ten days! It all depends on how you pack and what you pack.

Where do I pack my laptop?

You can use the center compartment. We recommend that you use a padded neoprene sleeve to protect your laptop.

What's the best way to pack footwear?

Sole-to-sole to minimize the dirt and placed in the middle compartment inside a plastic bag.

Can I order a bag without the logo?

Logo Patches are centered using a hole punch. If you remove the patch, there will be a hole in the bag that could cause a snag. Red Oxx cannot build a bag without a logo as this would disrupt the efficiency of the production line.

Is there a way to securely lock my bag?

Sure, you can use any TSA approved bag lock or try our Cable Lock for a simple, semi-secure solution. Watch this video where CEO Jim Markel demonstrates how you can use the cable that comes with the product Dog Tag price tag to secure your bag. Keep in mind, any determined thief can still cut open a soft sided bag with a sharp knife.

Are there any interior pockets?

The Air Boss has three large internal compartments. In the interest of simplicity, there are no internal pockets.

My zipper broke. The teeth have separated. Do I send it in for warranty repair?

No need for warranty repair, try and fix it yourself. Check out this video where CEO Jim Markel shows how easy it is to do it yourself.

Can you ship USPS?

Yes, Red Oxx will ship USPS upon request. Simply state, "Please ship USPS" in the cart comments during checkout and we will adjust your billing accordingly.
Air Boss
Sale price

$350.00 USD
Regular price
(/)
This product has no reviews yet.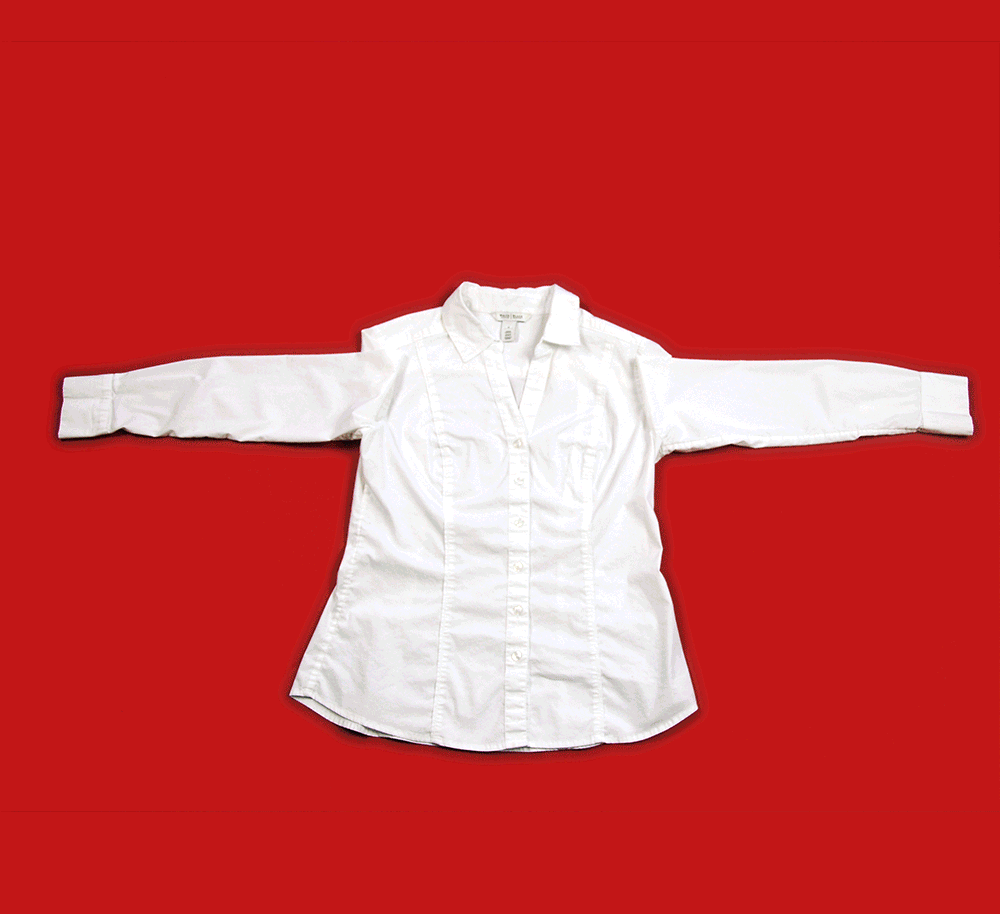 Bundle Wrapping Instructions
The bundle wrap method avoids the creases and wrinkles you get from folding or rolling your clothes. Say good-bye to the hotel iron!
Click on the button below to download a printable pdf of the bundle wrapping instructions. (right click to save it as a pdf)
Bundle Wrapping Instructions
The bundle wrap method avoids the creases and wrinkles you get from folding or rolling your clothes. Say good-bye to the hotel iron!
Click on the button below to download a printable pdf of the bundle wrapping instructions. (right click to save it as a pdf)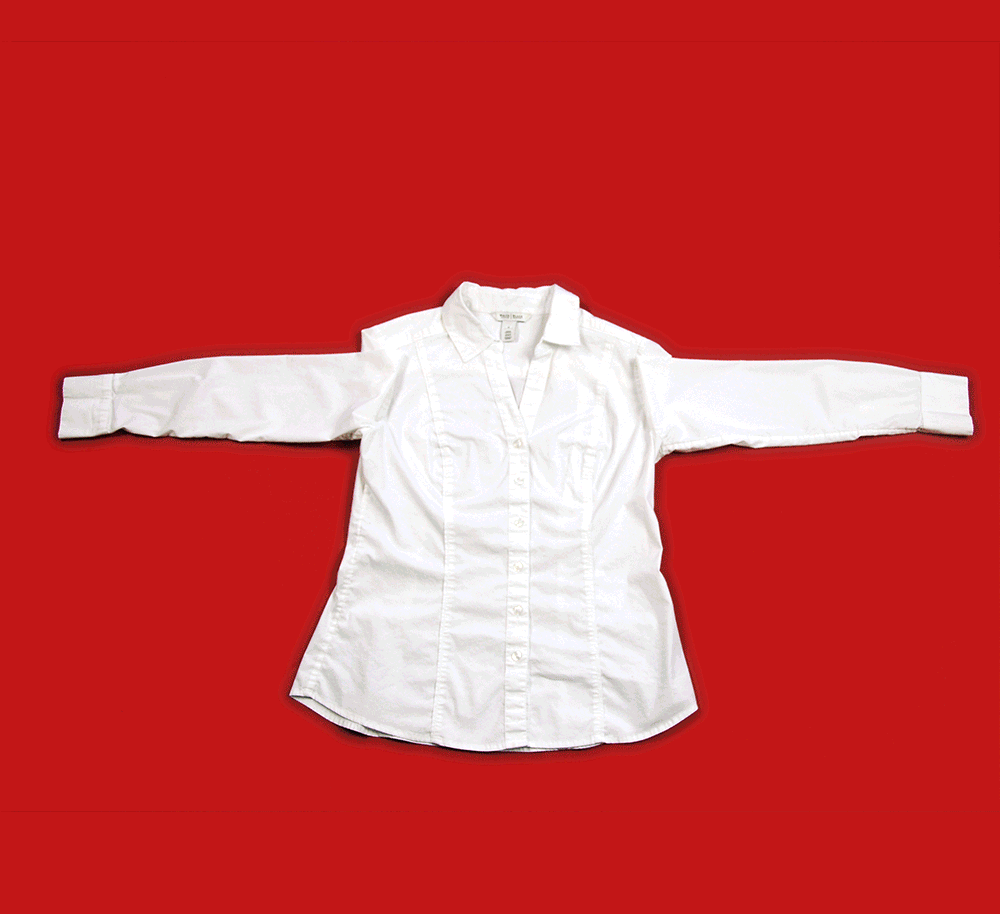 This product has no reviews yet.
This product has no reviews yet.