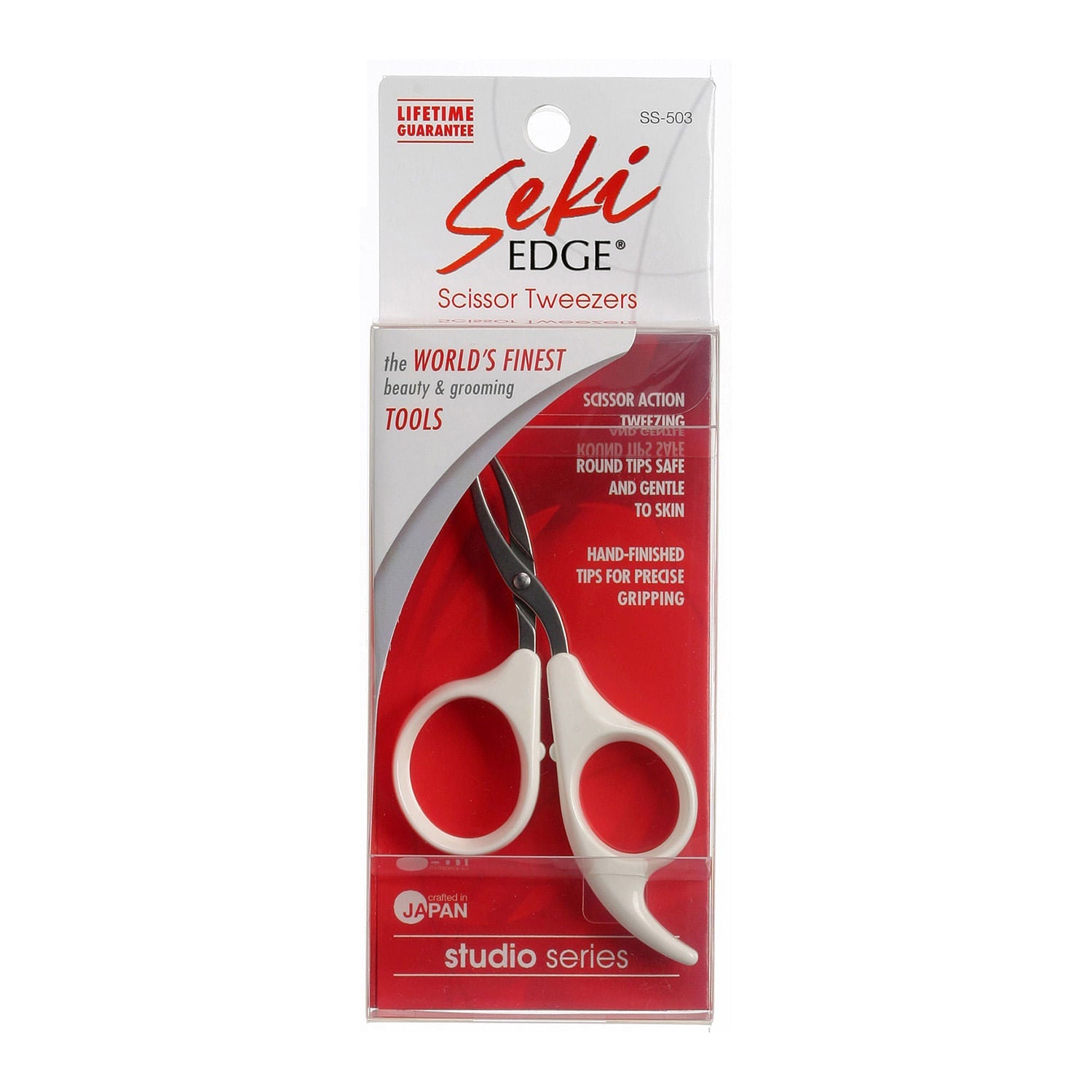 Seki Edge Scissors Tweezer
Grip your tweezer with precision and accuracy while maintaining maximum comfort and control.
Dimensions:
4"L x 2" W

High quality weather resistant materials

Perfect for windows, bumpers and more.

Screen printed in carmine red on white vinyl with a glitter clearcoat.

Hand finished and sharped gripping point for accurate tweezing and plucking

Scissor-like coated grip aids in comfort and accuracy

Samurai stainless steel

Made in Japan

A Red Oxx Recommended Travel Accessory.

Doe your tweezers slip from your hand? Do you fear stabbing yourself in the eyeball when this happens while shaping your eyebrows? If you're having trouble using a standard tweezer to keep your eyebrows beautiful, worry no more. The Seki Edge Scissors Tweezer combines the accuracy and precision of a tweezer tip with the comfort and control of a scissors handle. .

Now you can safely perfect the shape of your eyebrows while tweezing. In addition, these scissors tweezers will assist in quickly removing splinters.

With a Seki Edge Scissors Tweezers you can easily grasp splinter ends for removal with minimal, if any, damage to the surrounding skin. Old world Asian craftsmanship from the creators of the Samurai sword teams up with modern design and inventive technology. The result? A dynamic blend of ergonomics, industrial engineering, and stylish art.

Seki Edge, crafters of fine hand finished personal care grooming instruments proudly announce a tweezer that out performs your standard tweezer for a lifetime of safe and satisfying use.

Only the best tweezers have carefully aligned blades to ensure the most accurate tweezing --thus providing a strong grip on any kind of splinter or eyebrow hair. The coated scissor-like finger loop handles provide ergonomic comfort, resulting in less stress on your hand and peace of mind.

Classic in design, yet utilizing modern manufacture, this contemporary scissor tweezer is so easy to use for all of your basic tweezing needs that you'll never go back to standard tweezers.

This effortless efficiency make it the go-to choice for salon professionals around the globe. This success leads to many satisfied clients.

Seki Edge Scissor Tweezers can be used for plucking hairs, pulling slivers, removing debris from surface skin wounds, or any other suitable medical or personal care procedures.

If you want one of the world's best scissor tweezer, one that will last for years, and will function the same every day as the day you purchased them, then this stylish tweezer is for you. Feel the Seki Edge!

Seki Edge Scissor Tweezer Advantages:

Precision ground tips allow for easier shaping of your eyebrows.
Comfortable scissor style tweezer finger loop handles make for a vise like grip on hair, stubby and thick, or fine and thin.
Strong precise squeeze plucking, minimal effort, maximum results.
Precision tip can remove splinters, ticks, insect stingers, and is ideal for first-aid applications for debris trapped in skin injuries.
Twice tempered stainless steel never rusts

Individually hand-finished tips stay precise and sharp

Lightweight

Long ergonomic scissor action and coated finger loop grips for ease of handling

Gentle to the skin when used as directed

Made in Japan

Lifetime Guarantee
Believe it or not, my Seki Stainless Slant Edge Tweezers have an issue?
No problem, Seki Edge provides a Lifetime Guarantee. Click here for information on how to return your Seki Edge Tweezers for servicing such as sharpening or repair. Do not send them to Red Oxx!
This product has no reviews yet.
This product has no reviews yet.