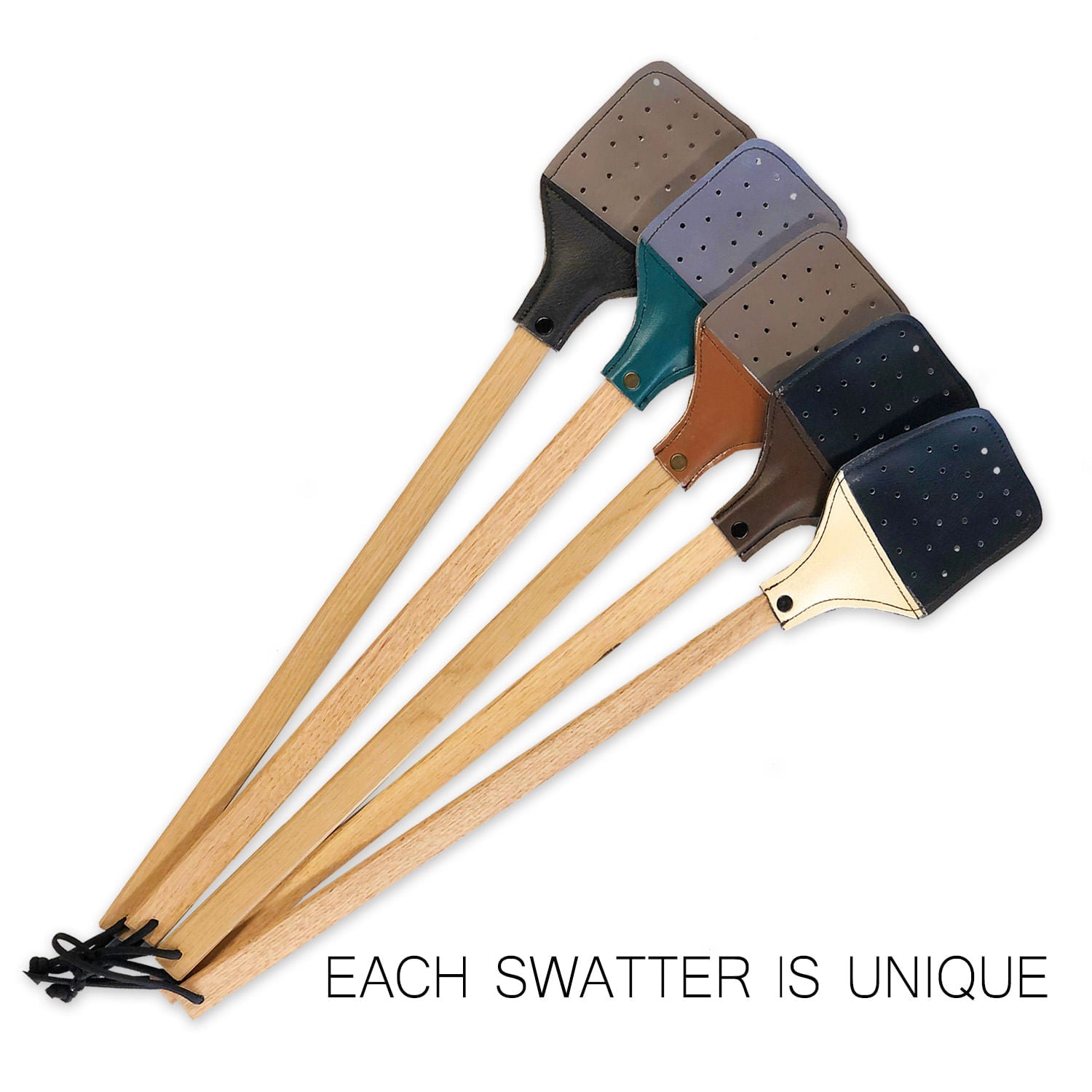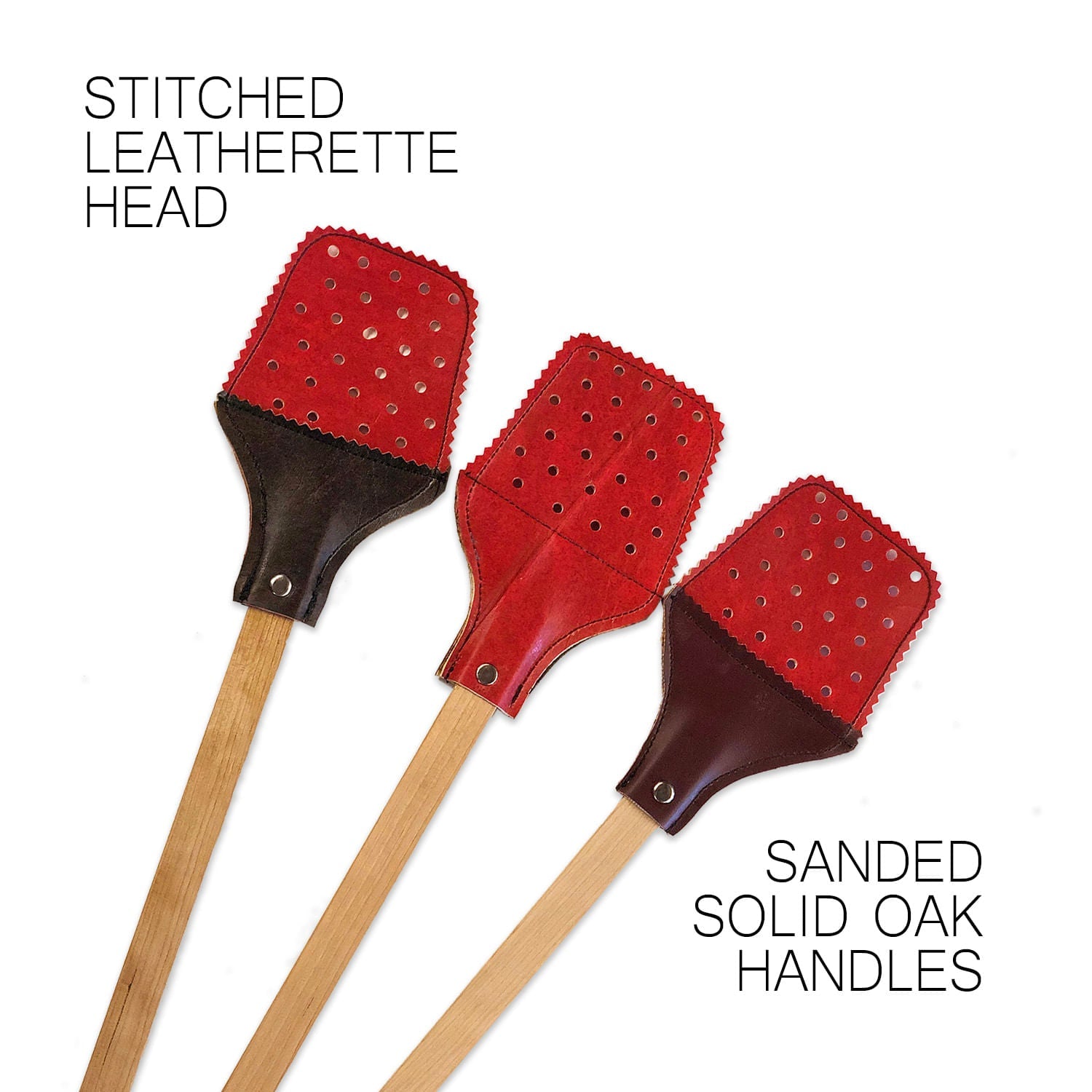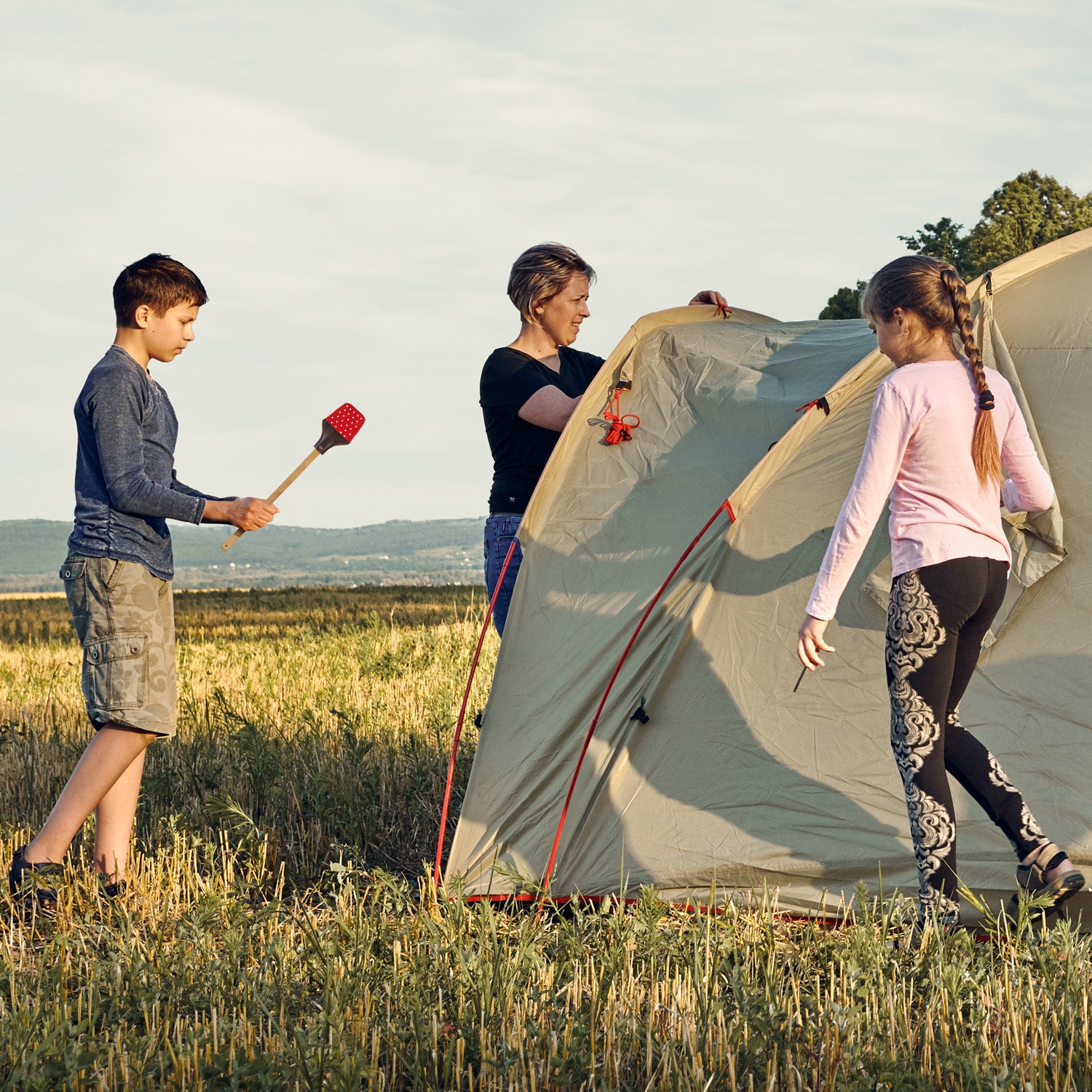 Hutterite Fly Swatter
"A matter of time before that fly has to die"   anonymous Cowgirl 
This Hutterite Fly Swatter is a must-have tool for keeping flying pests away. Hand-crafted by our friends at the Mountain View Colony. Faux Leather, it's built to last and provide reliable performance season after season. Get dependable, long-lasting protection from annoying flies.
Made In Montana 
Each Fly Swatter smacker head is unique in color. Some smacker heads are cut smooth, some with jagged edging.

Solid hardwood handles. ( NOTE: Notching the handle for each kill is not recommended as it can weaken it).

Built to smack flies for years to come.

Flexible Synthetic Faux Leather Swatter Head is hand cut out and double sided, then stitched together. Heads are then manually hole punched for aerodynamic targeting. Built tough to smack flies for years to come!

Own this hand-crafted piece of Montana Heritage that you can use to rid your world of flying pests.

Red Oxx has paired with the Hutterites at the nearby Mountain View Colony for many years. Mutual respect and appreciation of the many talents these fine people offer defines our partnership.

In addition to being amazing farmers who create delicious, healthy and wholesome foods sold locally, the Hutterites possess a variety of hard-to-find skills.

Despite common perceptions, and unlike the Amish, the Hutterites keep pace with modern technology. They use current farming methods, with some old-fashioned family-type harvesting, carry cell phones, use power tools, and drive trucks and tractors.

Like many religions in America, the Hutterites sought freedom from religious persecution in their home countries of origin, originally Germany and Austria. After moving to a variety of Balkan states in the 1600s and 1700s, they ended up in Russia in the mid-1800s.

Hutterites don't believe in violence so when the Russian government revoked their freedom from military service, they migrated one last time in the 1870s to the United States.

Their principals of their religion are based on the Anabaptist movement from the 1500s. The basic tenant of Hutterite religion is entrenched in their belief that giving to their community, and living as one community, is the most preferential way to commune with God.

Red Oxx President Perry Jones has a close relationship with the colony, helping on projects at Mountain View. In return, they delight us with their gifts of delicious Thanksgiving turkeys for the Red Oxx herd, and the creation of a variety of useful, functional, and beautiful hand-crafted merchandise like the Oak Handle Faux Leather Fly Swatter you hold in your hands.
Solid wood handles are 21" long.

Flexible leatherette bug smacker head measures 4"W x 4.5"L to the handle seam.

Flyswatter Head is steel riveted to the handle.

Hand knotted parachute cord hanging lanyard loop.

Dual sided hand cut leatherette heads are stitched together.

Hand-punched swatter head vent holes.

Easy to wipe clean.

Hand-crafted one at a time at the Montana Mountain View Hutterite Colony.

Made in U.S.A. from American sourced materials.
Can I choose which color to get?Each Fly Swatter is hand-crafted to be unique and individual. No two Fly Swatter's are alike. Colors of the leatherette smacker head may vary from lot to lot. As does the edging trim on the head - some are jagged, some are smooth. Your order color selection is random upon packing and shipping.
This product has no reviews yet.
This product has no reviews yet.