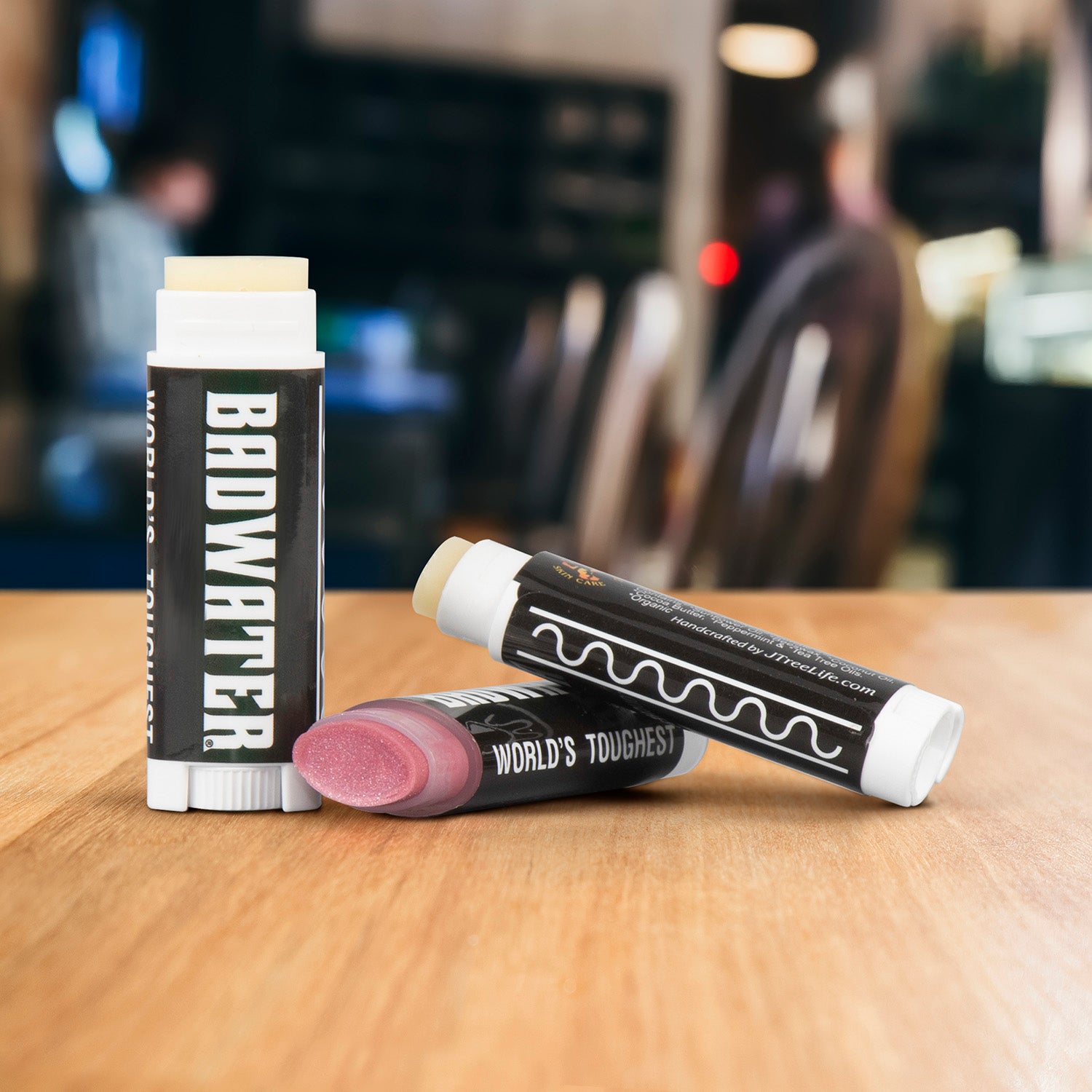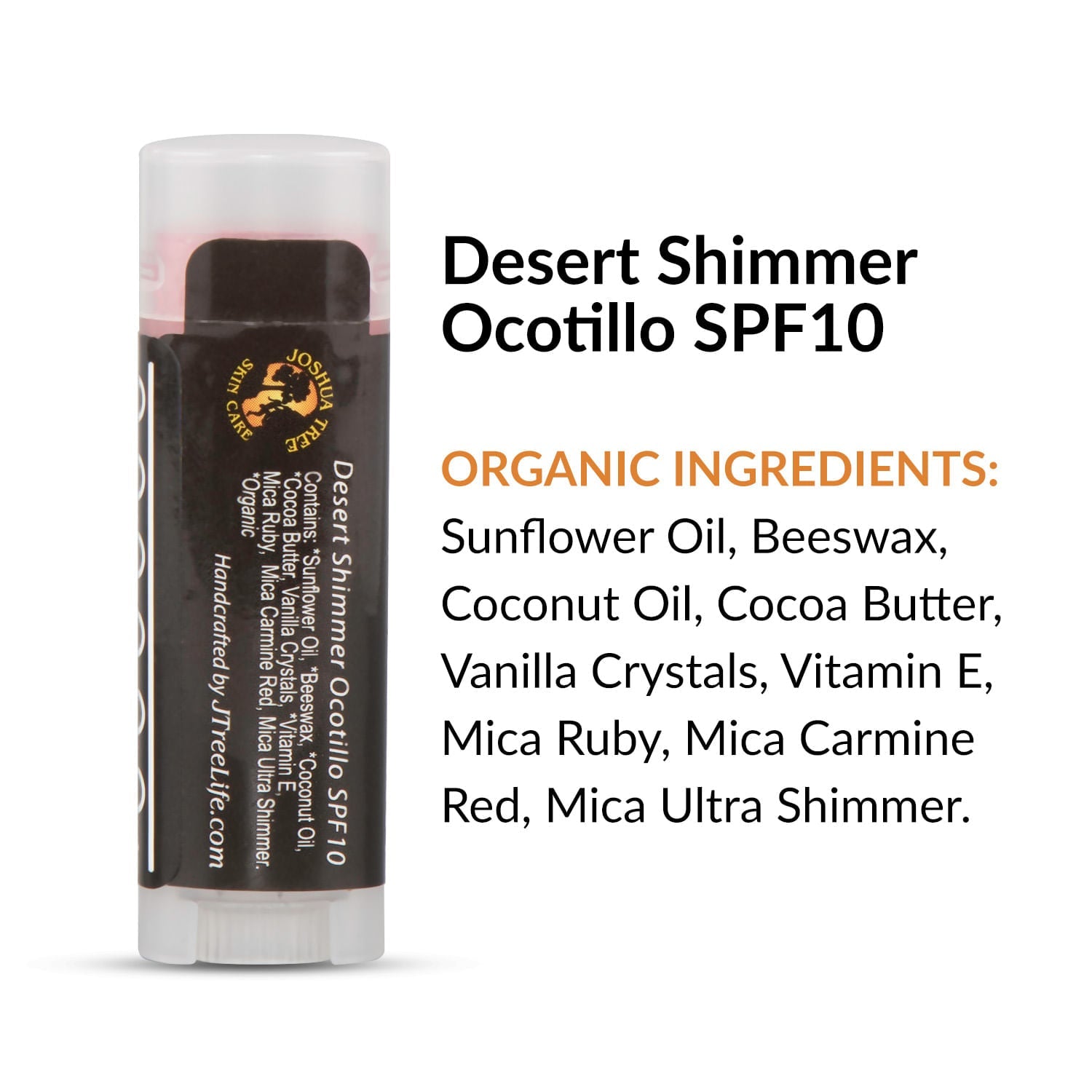 Badwater® Lip Balm
Only the toughest lip balms survive the Badwater Ultramarathon!
Hand-made from all natural organic ingredients in Michigan, U.S.A. for AdventureCORPS® by Joshua Tree Products
Hand-made from all natural organic ingredients in Michigan, U.S.A. for AdventurCorps® by Joshua Tree Products

SPF10-15 rated sunscreen protection

Available in three luscious flavors: Montana Huckleberry, Mountain Mint and Desert Shimmer Octotillo

A Red Oxx Recommended Lifestyle Travel Accessory.

Badwater® Lip Balm from AdventureCORPS® is the branded lip balm approved by the world's toughest long distance marathon athletes. AdventureCORPS® worked with Joshua Tree Products to create a lip balm that would stand up to the harshest conditions Badwater® Ultramarathon participants endure.

It had to be organic, it had to be SPF-15 or greater for sun burn protection, and it had to taste good!

While we don't recommend eating a stick of this lip balm, putting it to your lips should be a pleasant experience. Who wants a lip balm that tastes terrible?

Not only that but you should look good wearing it. The sparkly Pink Desert Shimmer Ocotillo is just the ticket for female athletes on the go.

Check out the exclusive made for Montana fans, the Montana Huckleberry...yummy. Not into berries? Be a mint man (or woman) and go with Mountain Mint... so refreshing!

Cleverly designed using an oval shaped dispensary tube that won't roll away if you set it down on the counter, Badwater® Lip Balm is a smart choice for anyone, not just hard-core Ultramarathon athletes.

No matter which flavor you choose (or all three... go ahead), Badwater® Lip Balm is sure to please and protect!
Made from all-natural organic sourced ingredients

Available in three flavors: Mountain Mint, Desert Shimmer Ocotillo and exclusively from AdventureCorps® for Red Oxx: Montana Huckleberry

Exclusive oval shaped tube won't roll away

Made in U.S.A.

SPC-15 sun protection

Formula developed and hand-made by Joshua Tree Skin Care Products

ORGANIC INGREDIENTS

Montana Huckleberry:OM - Cinnamate 5%, sunflower oil, coconut oil, cocoa butter, beeswax, Huckleberry flavor oils

Mountain Mint: OM - Cinnamate 5%, sunflower oil, cocoa butter, beeswax, peppermint and tea tree oils

Desert Shimmer Octotillo: Sunflower oil, coconut oil, cocoa butter, beeswax, vanilla crystals, Vitamin E, mica ruby, mica carmine red, mica ultra shimmer

NOTE: Some people can have an allergic reaction to Tea Tree Oil. Always be sure to "test" a small spot on the inside of your arm for an allergic reaction before you place the lip balm to your lips! Avoid blimp lip!
What is the sun protection factor (SPF) for Badwater Lip Balm?
Badwater® Lip Balm is rated at SPF-15

Is this Lip Balm waterproof or sweat-proof?
AdventureCORPS® Badwater® Lip Balm has been tested under the toughest marathon conditions around the world and is Badwater® Family Athlete approved! It's recommended that you reapply a light film if you have been drinking water or profusely sweating.

What does Octotillo mean? Is that a flavor?
Octotillo is a desert succulent that grows in the regions of the Sonoran and Chihuahuan Deserts in the S.W. United States. While not actually a cactus, the Octotillo sprouts beautiful bright red or pink flowers atop it's spiny stick-like branches. Highly drought resistant, yet hardy down to 10 degrees Fahrenheit. Popular as a decorative landscaping plant for use with S.W. style architecture.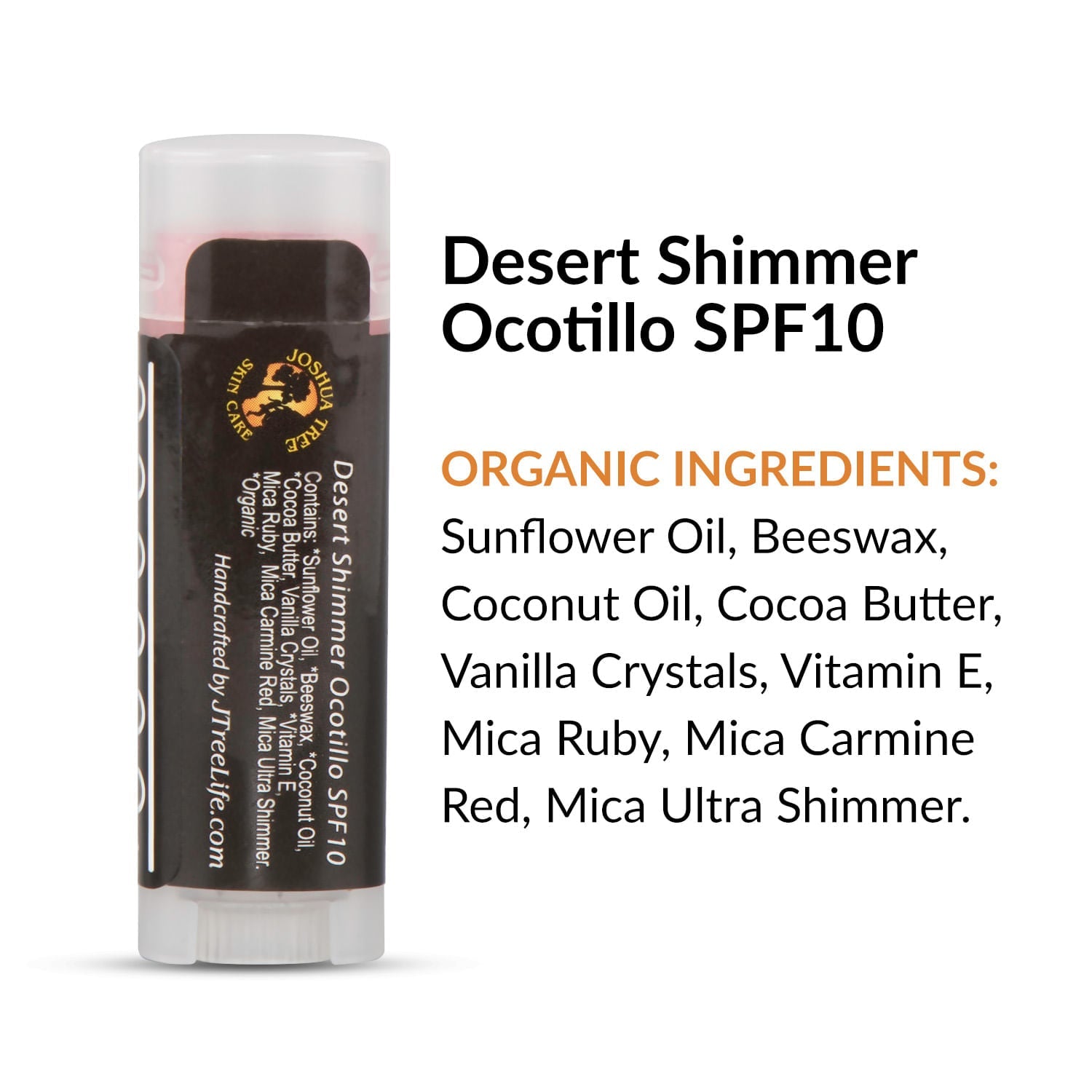 This product has no reviews yet.
This product has no reviews yet.