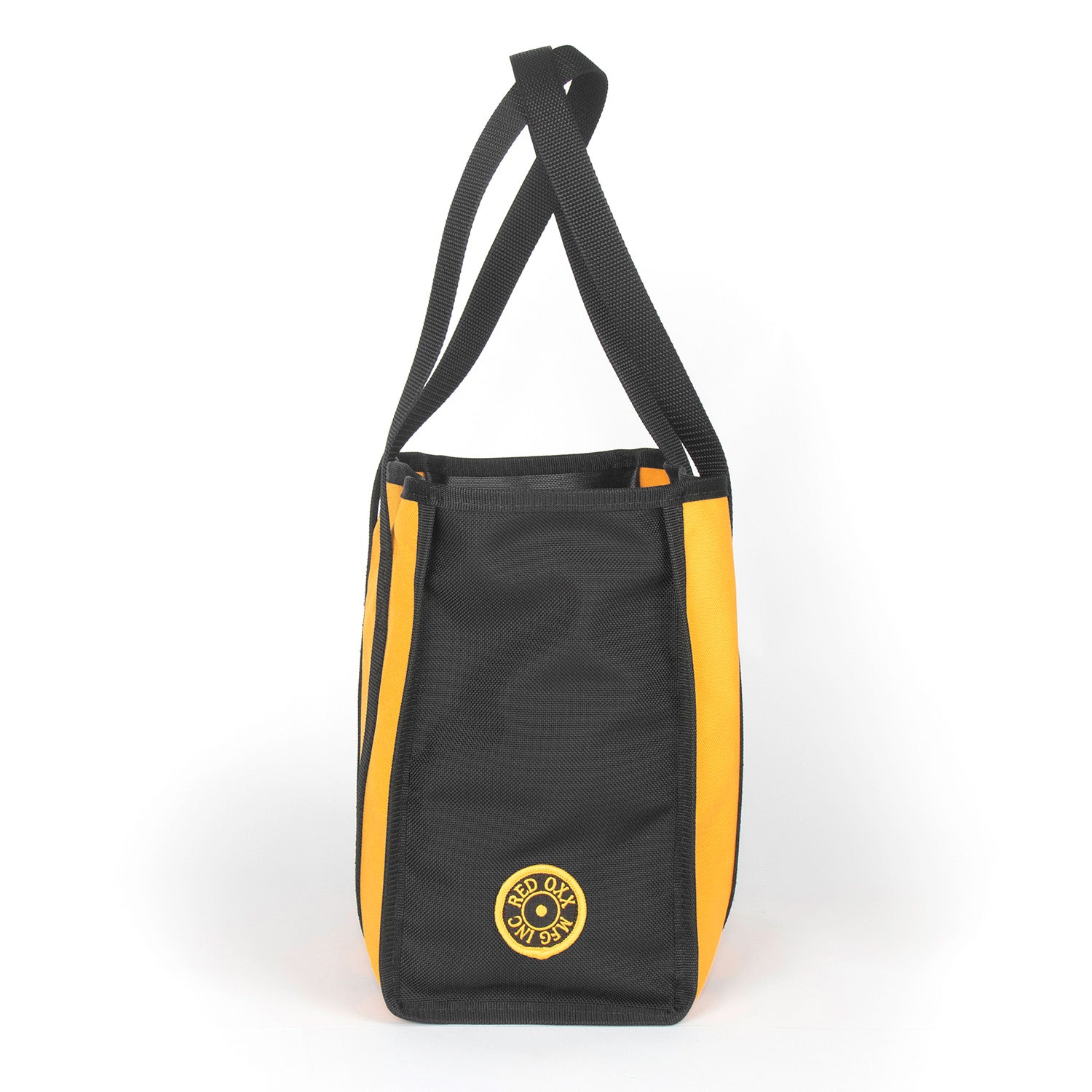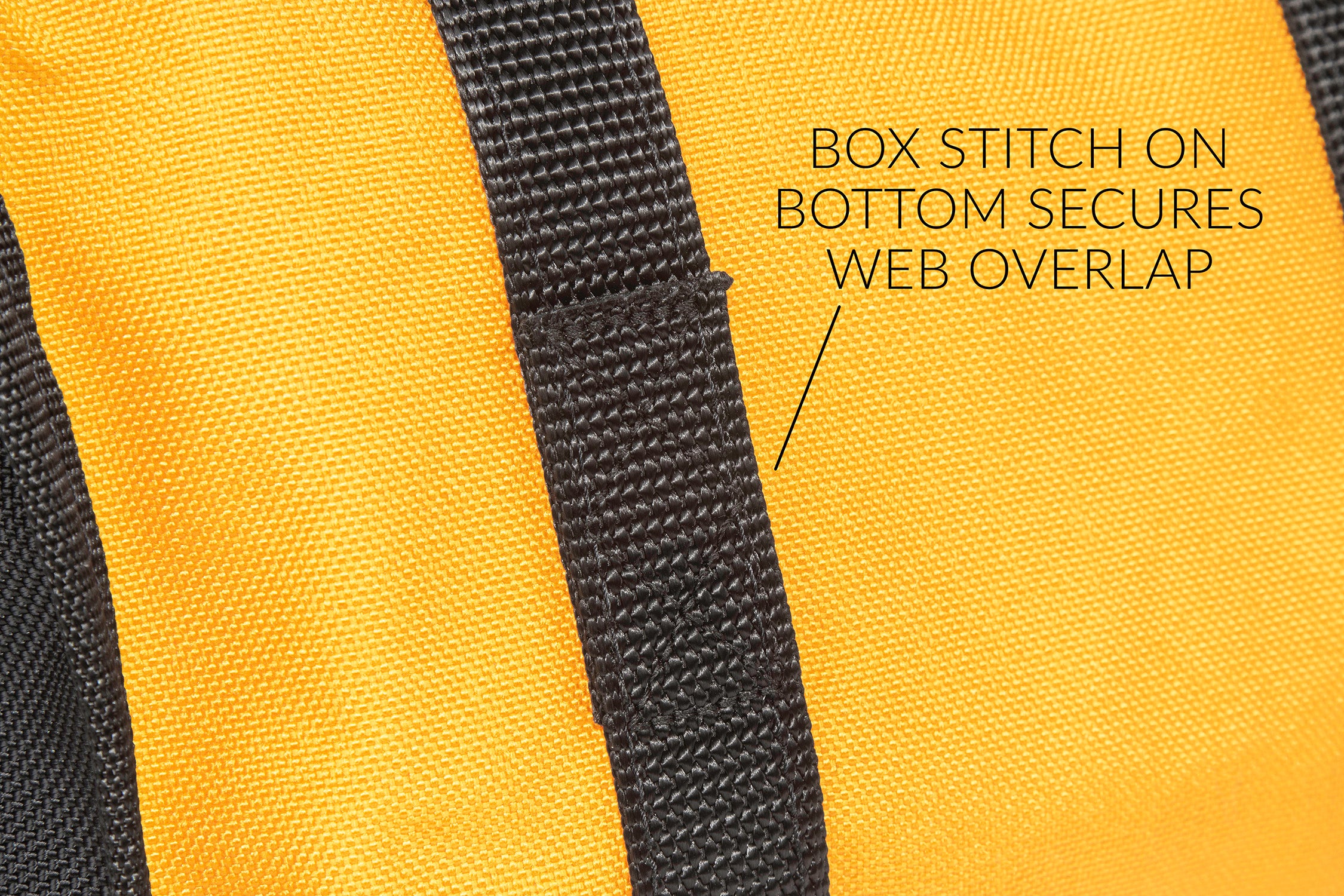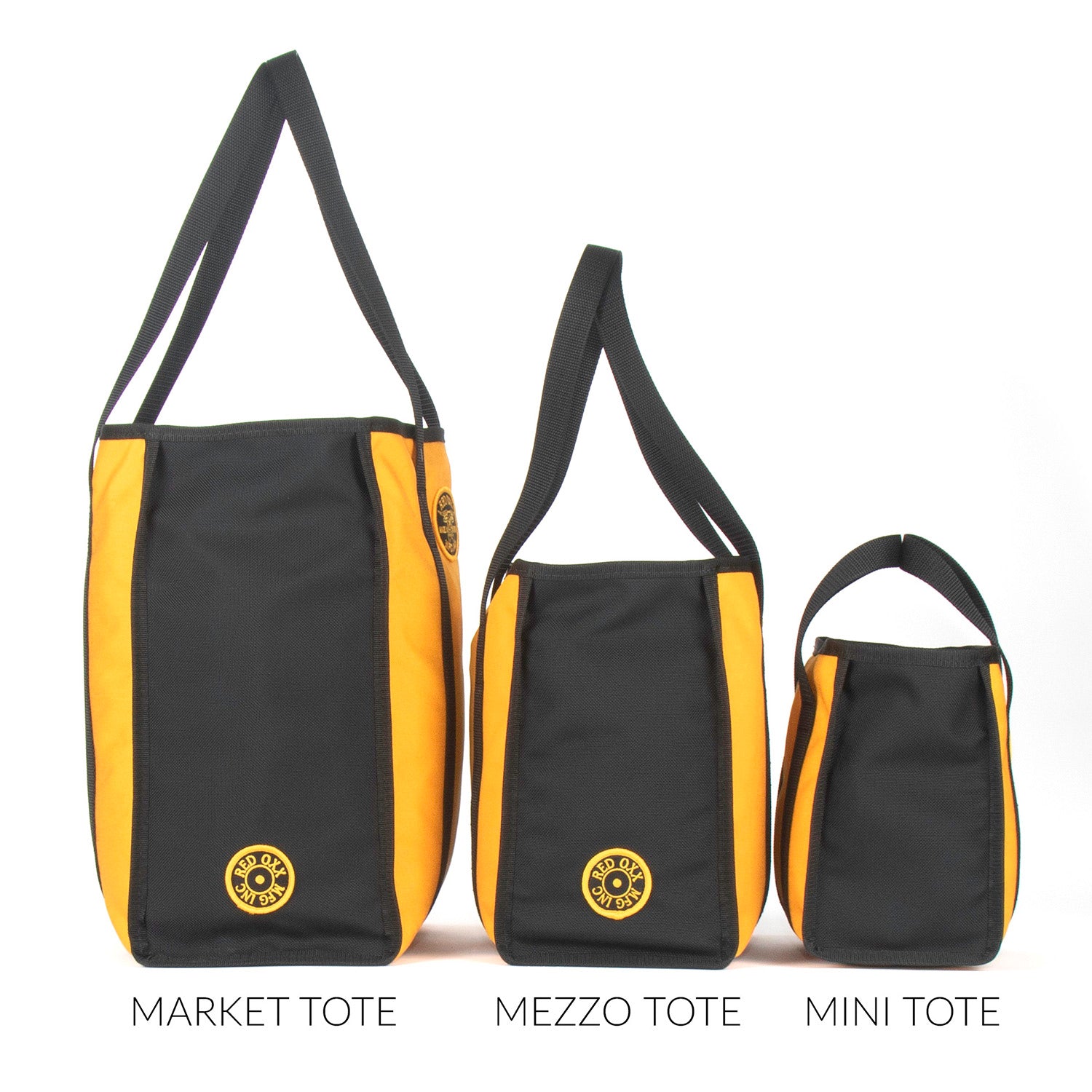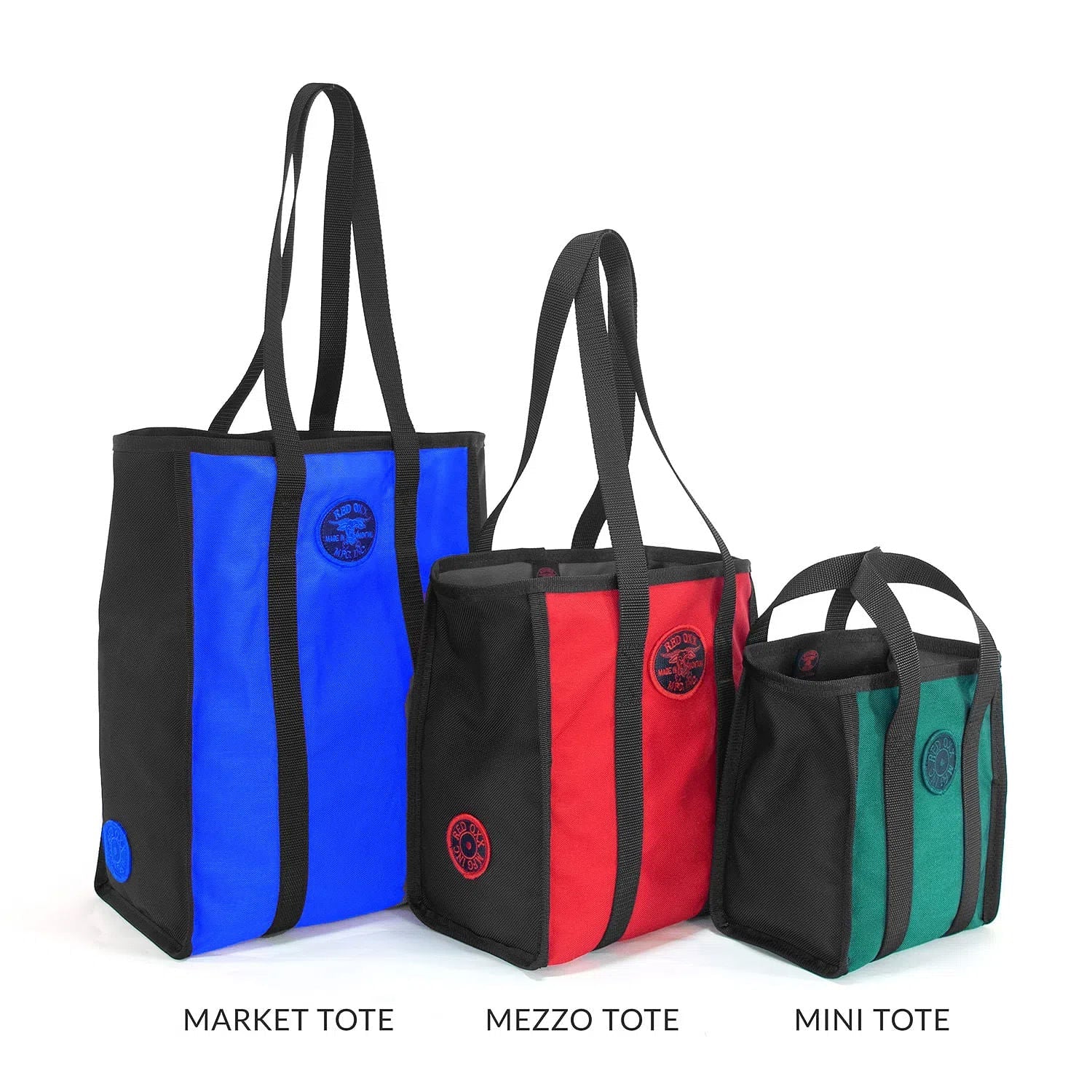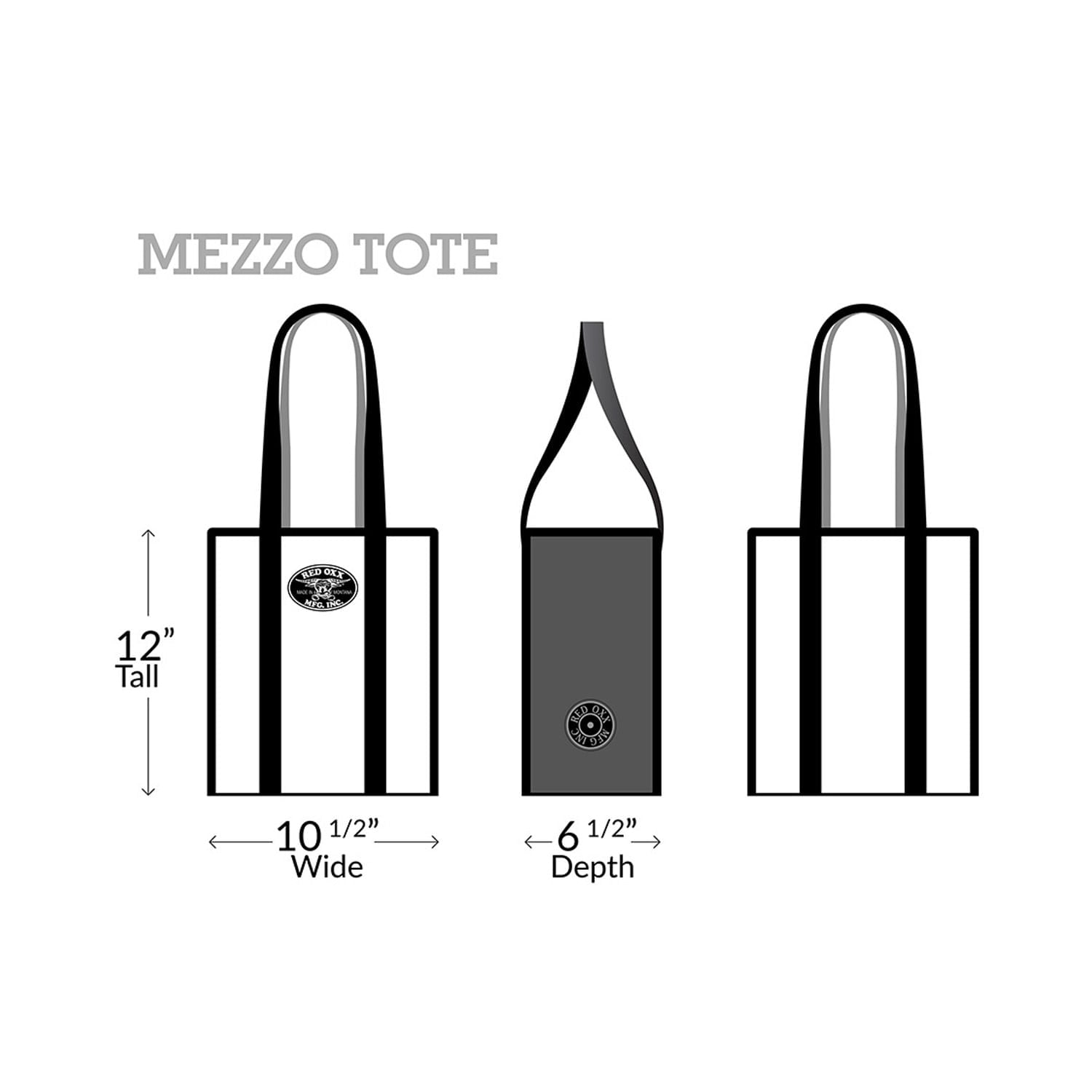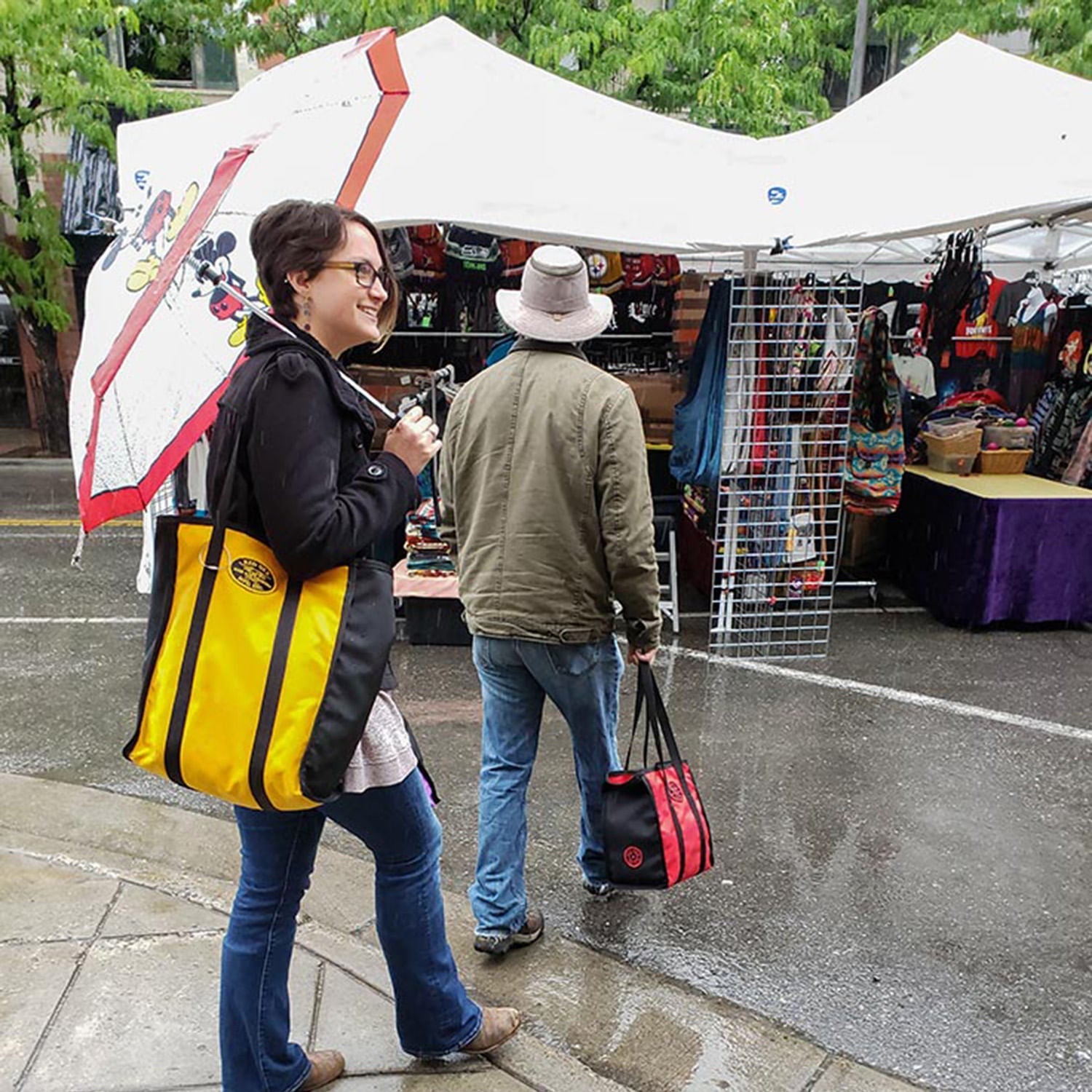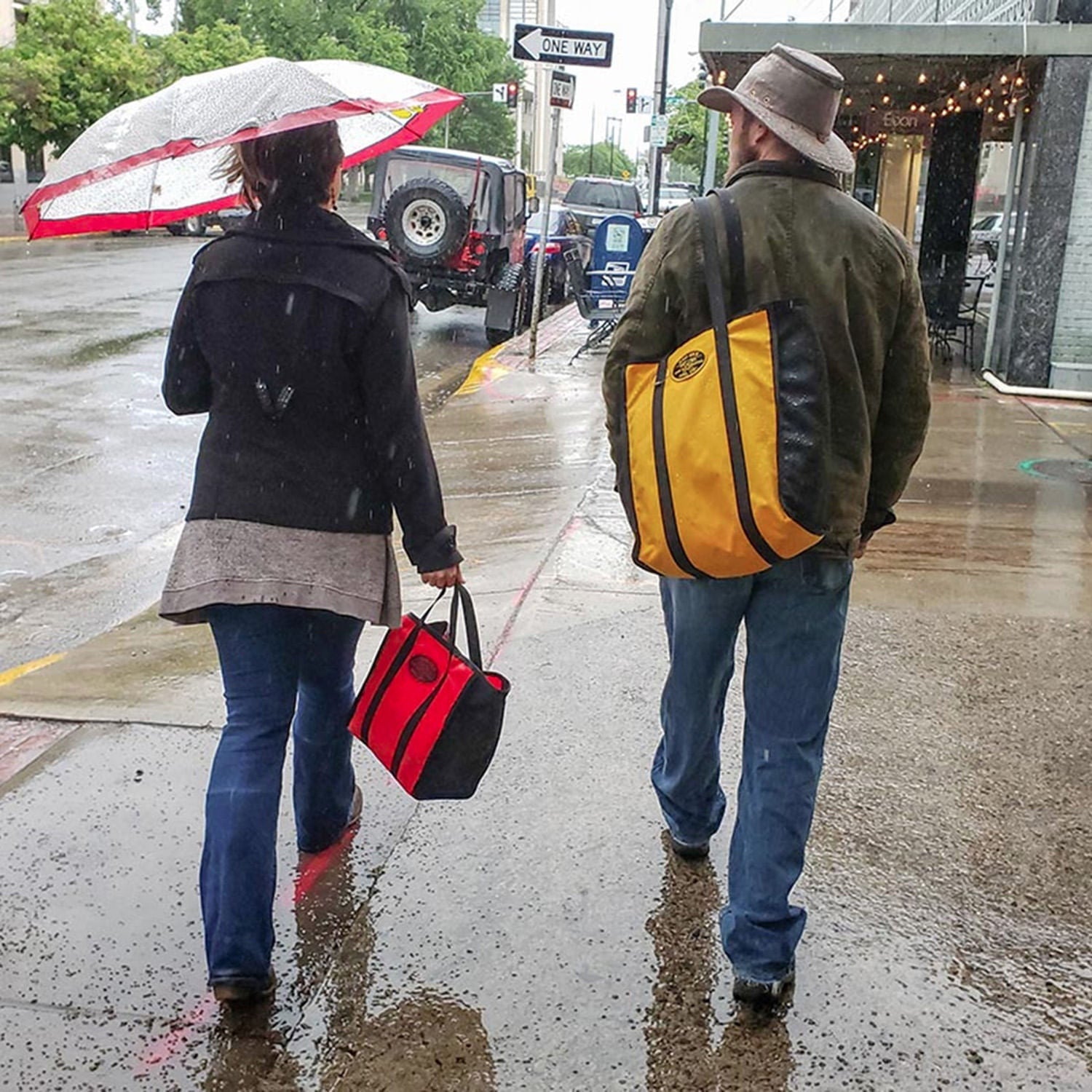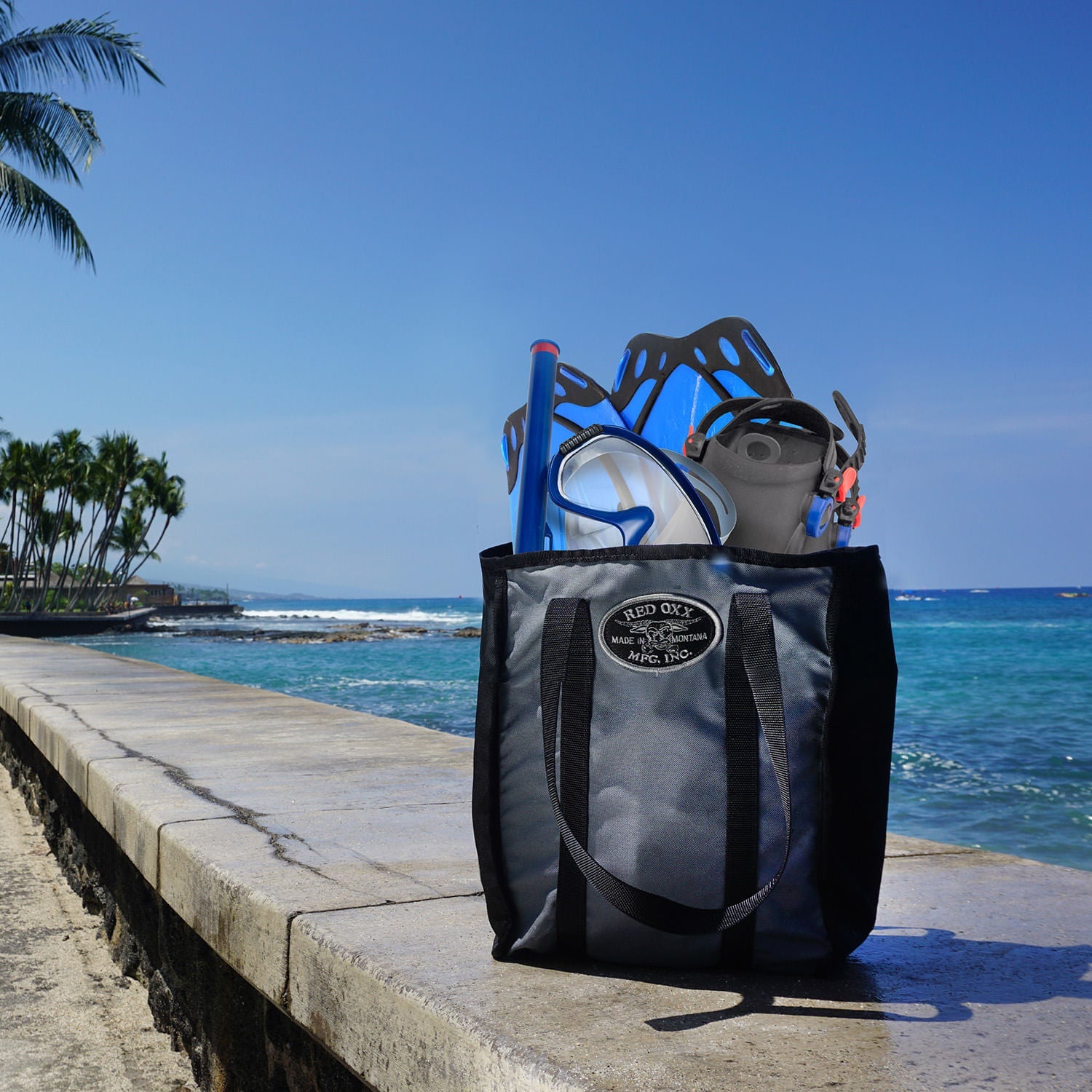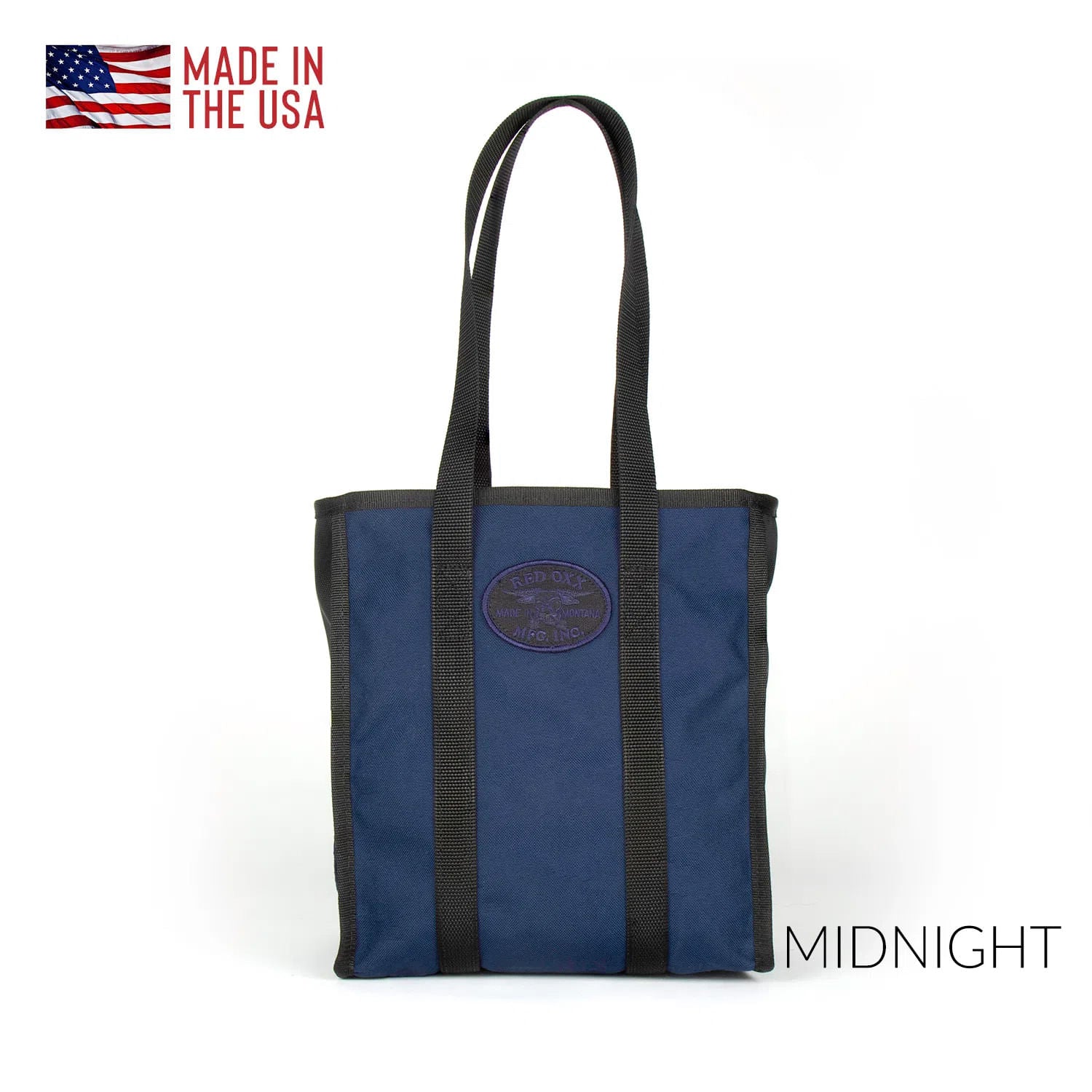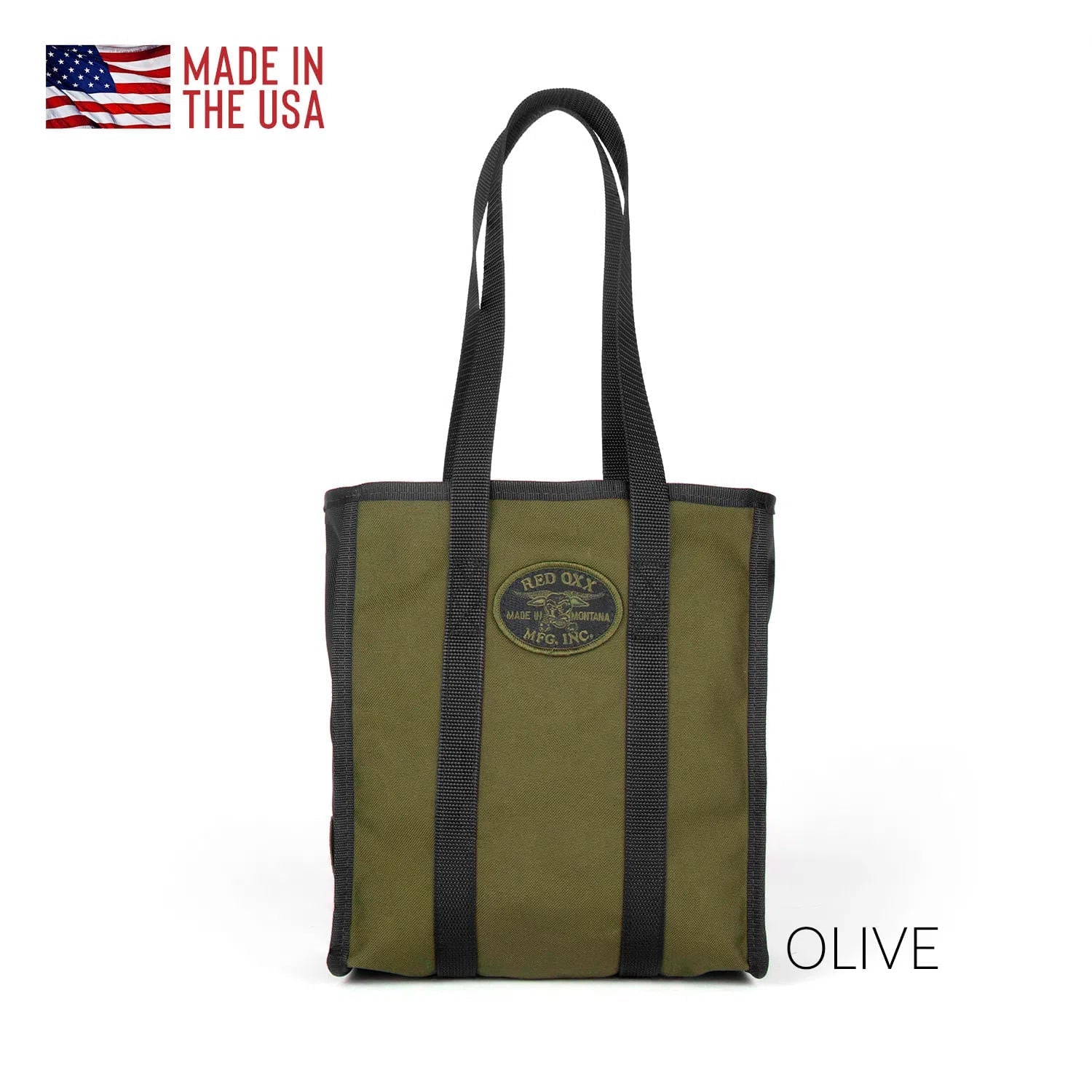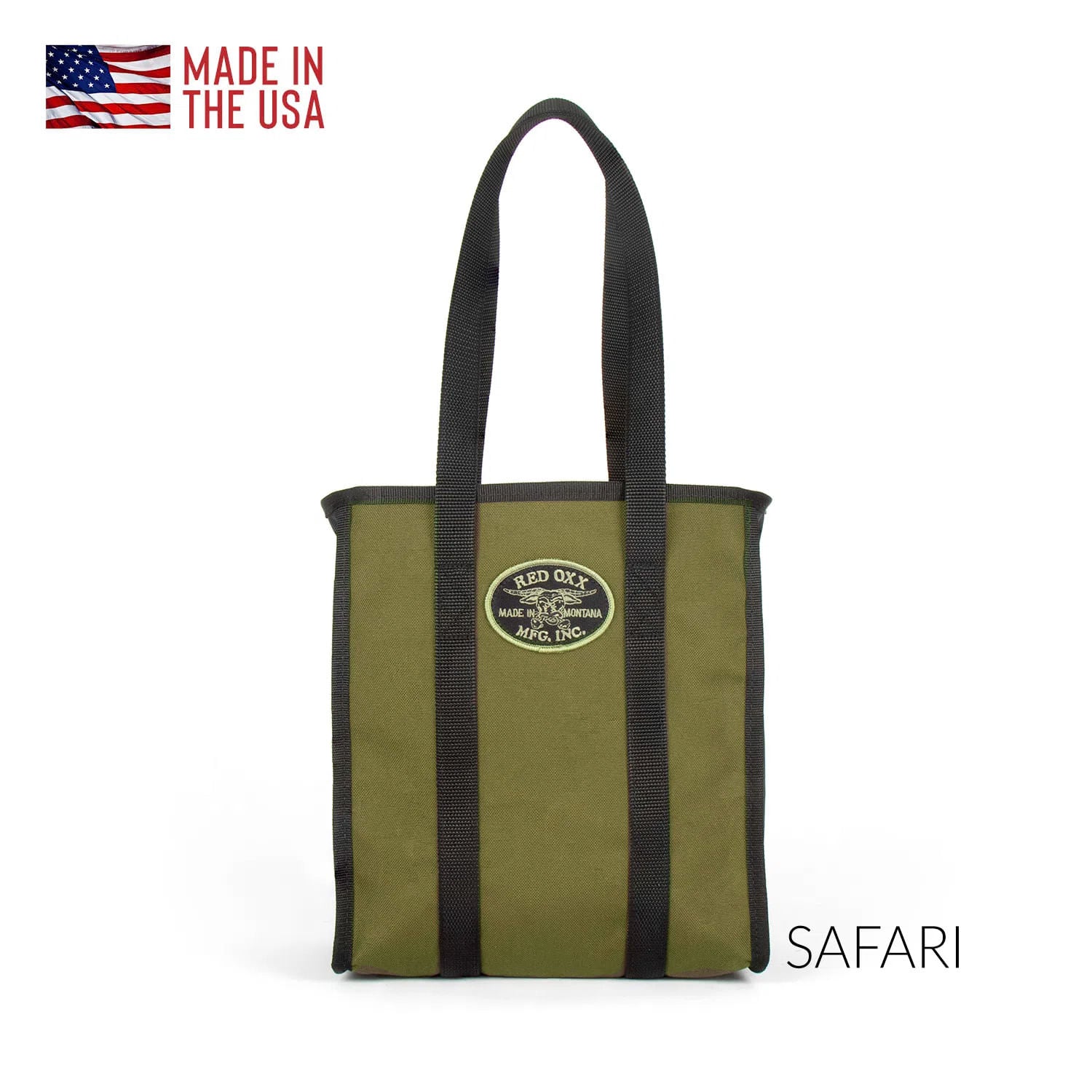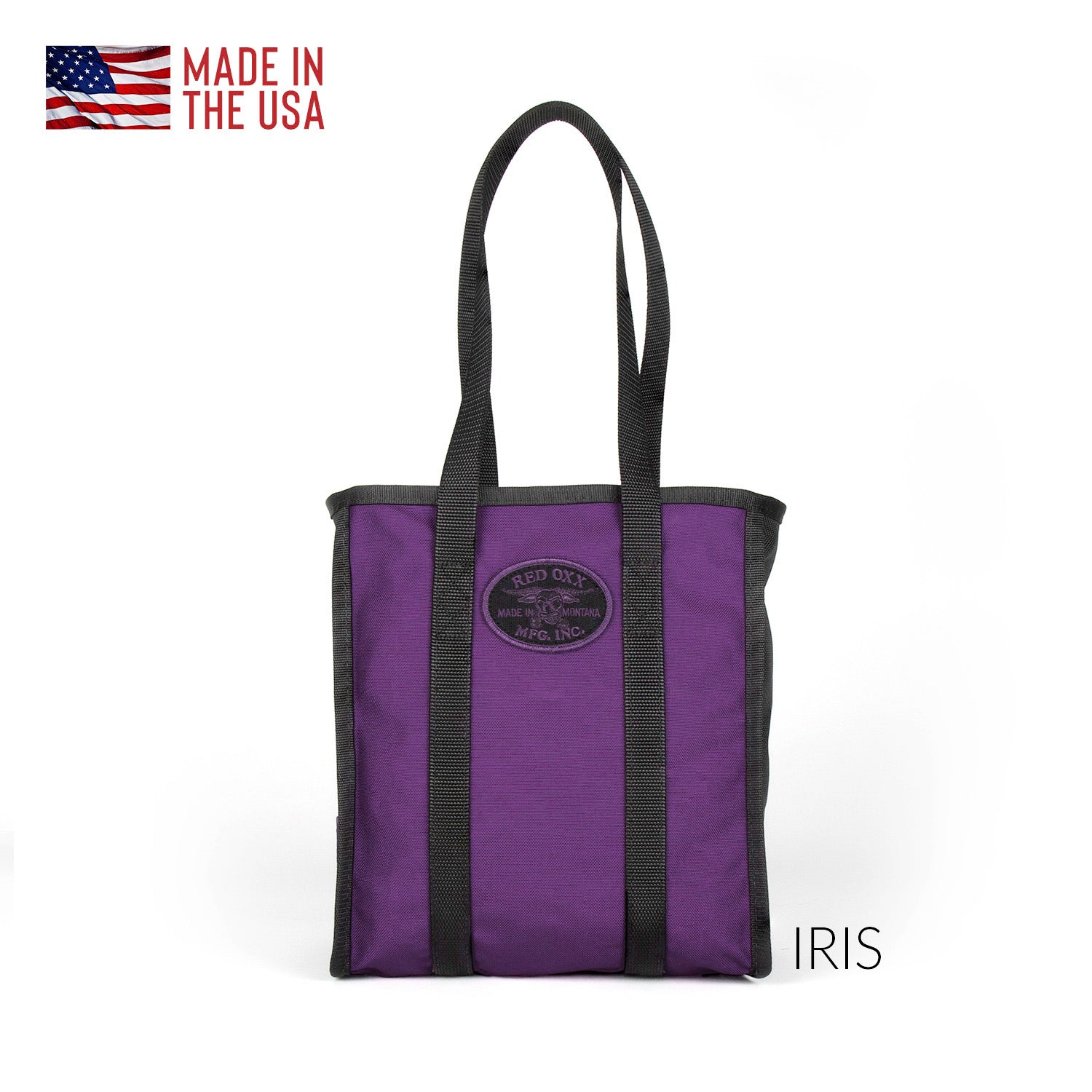 Mezzo Medium Tote
Midsize is just right size tote. A "Singles" Grocery Bag for Solo Shoppers.
The Mezzo Medium Tote is the perfect everyday bag for the single or once-a-day shopper. The timeless and minimalistic design is both stylish and practical. This long-lasting, eco-friendly tote is made to last. Which not only helps reduce plastic bag usage but also keeps waste out of the landfills.
Made in U.S.A. with our "No Bull" Lifetime Warranty
Dimensions: 12"H x 6.5"D x 10.5"W
Ballistic Nylon sides help tote to stand upright

Midsize tote for the single or once-a-day shopper

Great as a book bag or grab and go for a few items

Sturdy nylon handles wrap around the base of the bag

DESCRIPTION

Our legendary Market Tote Bag has been the quintessential reusable grocery bag among the herd for many years. A few years ago, Red Oxx introduced the Mini Tote, a smaller tote that made for an ideal beverage growler bag or lunch tote.

UNCOMMONLY COMFORTABLE SIDE CARRY.
The Mezzo Tote shorter handles that allow for a comfortable side carry.

STANDS UP BY ITSELF.
The tested tough 1000 denier military grade CORDURA® Brand Nylon is water-resistant and twice as strong as standard nylon. In fact, out of curiosity the herd tested our standard bearer, the Market Tote with gobs of rocks. Watch the video on the Market Tote page to see how many pounds of rocks it held.

The heavyweight 1050 ballistic nylon on the sides helps this shopping tote to "stand up" and keep its shape so you can easily fill it, or empty it -- a handy feature not seen on any reusable grocery tote we know of. Grocery clerks frequently comment on this favorable feature.

The Mezzo Medium Tote Bag can be used for:

potlucks (it's large enough to hold a 5 Qt crock pot),
a book bag,
carry it to and from arts and crafts classes crammed with art or knitting supplies.
ideal for hauling melons, smaller pumpkins, squash and other awkward shaped vegetables.
a couple of six packs or a case of your favorite beverage,

FOR SCHOOL
Students could use the Mezzo Medium Tote as a college textbook bag. Its sturdy build and "just right" size easily holds a laptop, tablet, several large textbooks, writing notebooks and project files.
U.S.A. Dimensions:

12"H x 6.5"D x 10.5"W
Capacity: 819 cubic inches
Weight: 0.6 Pounds

Metric Dimensions:

30.5cm H x 16.5cm D x 26.7cm W
Capacity: 13 Liters
Weight: 0.27 Kilos

Features:

Sturdy nylon straps that wrap around the base of the bag
Easy carry handles
Fabric: 1000 weight urethane coated, Dupont certified CORDURA® Brand Nylon
1150 weight black Ballistic nylon on the sides
Water resistant, colorfast materials
Thread: Anefil Nylon, Bonded Type 6,6 Tex 90-Black
All seams double stitched and bound
Double box stitching on all stress points such as carry handles
Includes Cable Lock
Can the Mezzo Tote be used for a carry-on personal item?
The Mezzo Medium Tote makes a wonderful carry-on personal item. Since it can be folded flat, one can also pack it into your luggage for tourist shopping, then bring it home as your personal item carry-on.

Why is there no zipper?
Here is our novel zippered tote, the Maximum Utility Travel Tote is now avalable. Be sure to join the herd, either our email newsletter, or follow us on social media to be the first to be notified of new bags or special limited editions.

This grocery tote is too small for a family shopper, do you have a larger version?
We sure do, check out the original Red Oxx Market Tote Bag, a popular shopping tote for all seasons.

How many groceries can the Mezzo Tote hold?
It can hold the same volume as the typical plastic grocery bag, but is far stronger and will last a lifetime (or two, or three).

Are there any interior pockets?
The Mezzo Tote contains only one main compartment.

Can I wash my Mezzo Tote?
Certainly. We recommend using a mild soap like Dr. Bronner's Liquid Soap. Follow the directions for use (be sure to dilute the soap), use a bucket or sink filled with warm soapy water, and a soft nylon brush for more challenging cleaning. Do not wash your your bag in a washing machine, avoid harsh chemicals like bleach and industrial cleaners, or put in a dryer, as these things can ruin the interior coated lining of the CORDURA® Brand Nylon Fabric. Rinse and then simply hang it up and let it air dry. Washing your bags gently by hand does not void our Lifetime Warranty.

Is the opening close-able?
The bag is not close-able, it does not have a zipper or a snap.

Can you ship USPS?
Yes, Red Oxx will ship USPS upon request. Simply state, "Please ship USPS" in the cart comments during checkout and we will adjust your billing accordingly.

5Out of 5.0Overall Rating100%of customers thatbuy this product giveit a 4 or 5-Star rating.Verified Buyer"Great value"May 16, 2023 byCHARLIE W.(CO, United States)"rugged , carries heavy items , Straps extend around the bottom of the bag, no concern of handles tearing or coming off"Gear review usage.took to the beachProduct ChoiceDuarabilityVerified Buyer"Great buy"Well built bagOctober 11, 2022 byDavid(TN, United States)"I was suprised how durably and well built this tote was. I use it for hauling random sized items for whatever. Even it falls apart (which would suprise me) It has a lifetime warranty (my favorite kind)."Gear review usage.Used for taking small to medium items with me.Product ChoiceTravelVerified Buyer"Great value"Love Red Oxx!November 9, 2021 byMichele(MT, United States)"Beautifully made - love the color!"Gear review usage.Christmas Gift for my daughter.Display OptionsSort ReviewsHighest to LowestNewest to OldestOldest to NewestLowest to HighestFavorite Reviews
This product has no reviews yet.
This product has no reviews yet.
This product has no reviews yet.