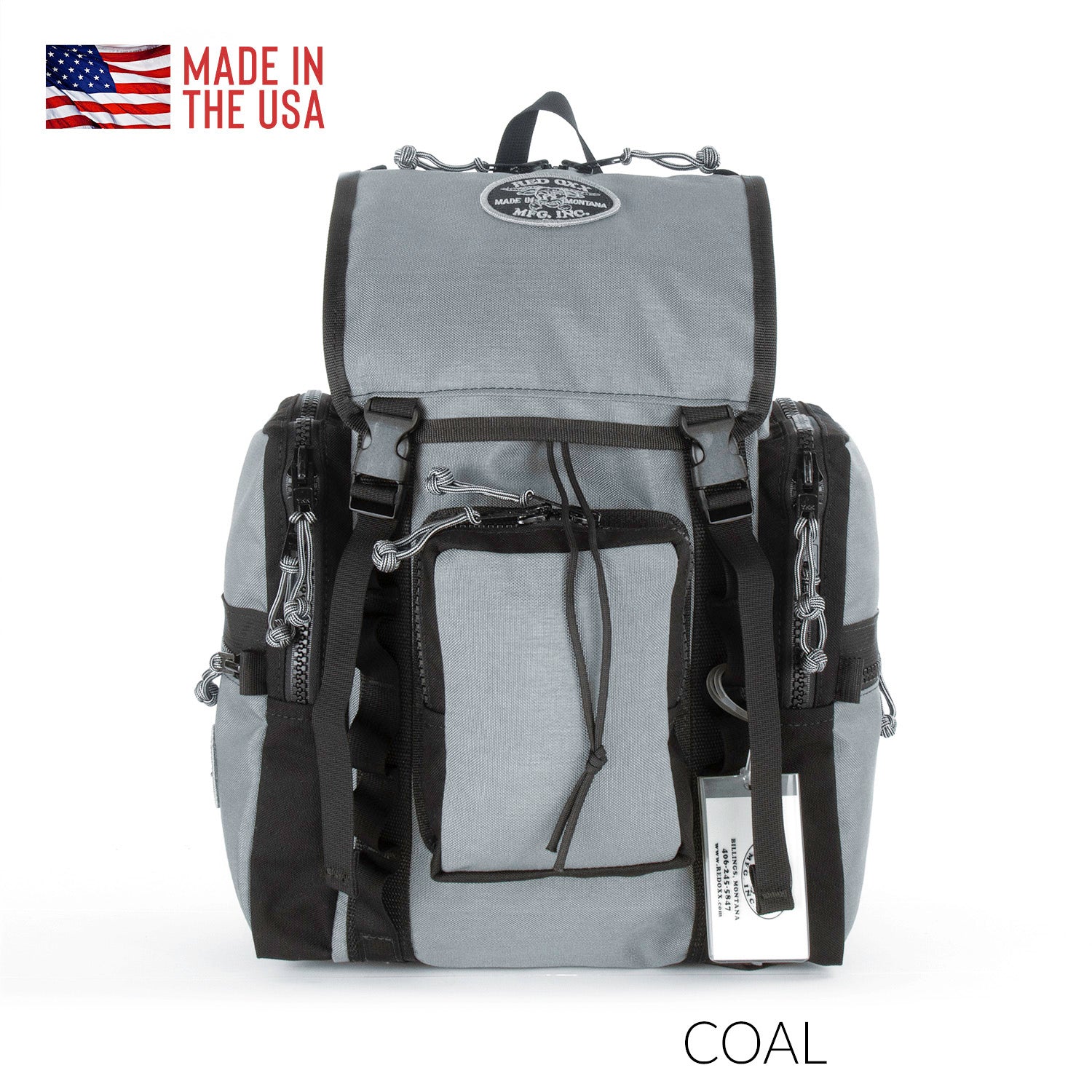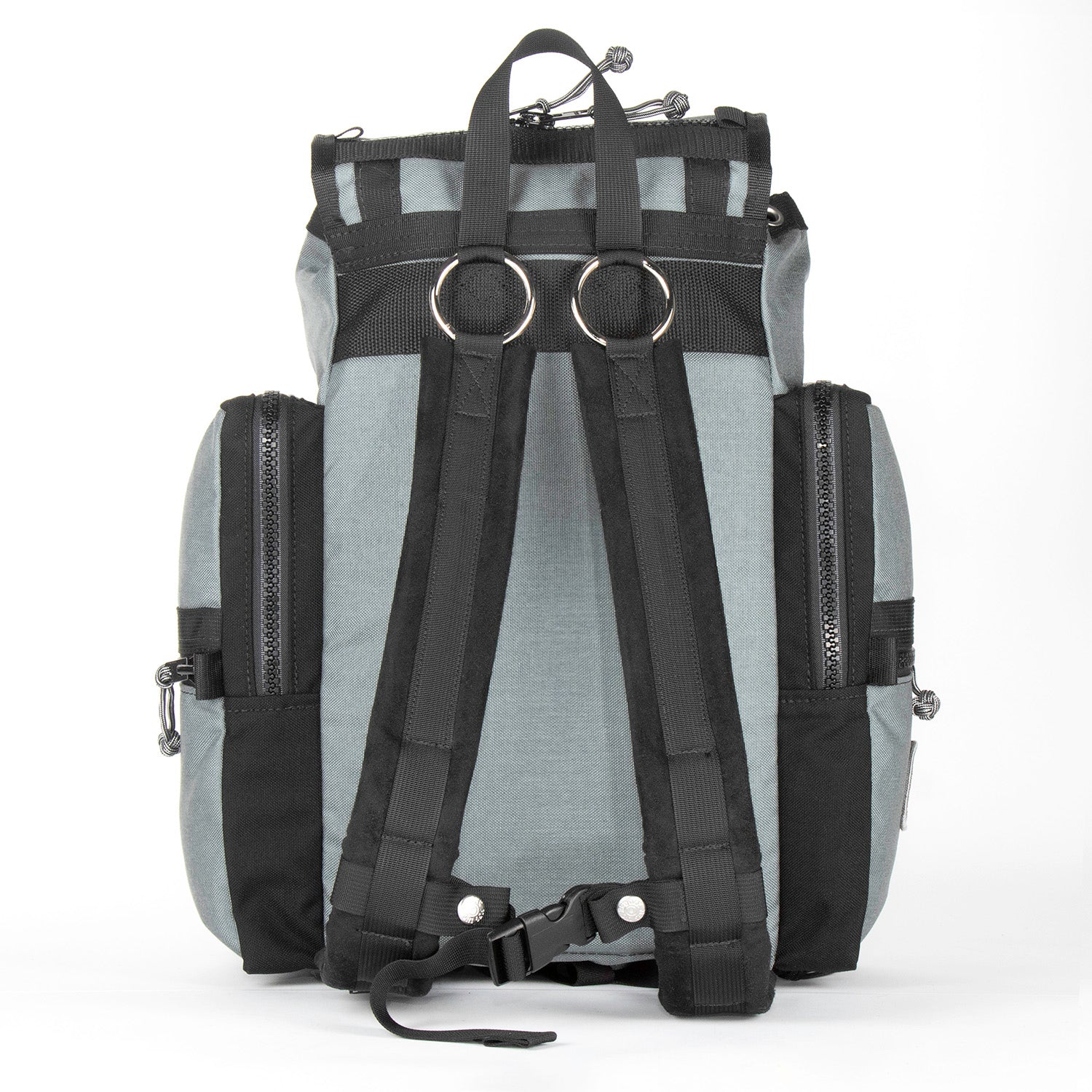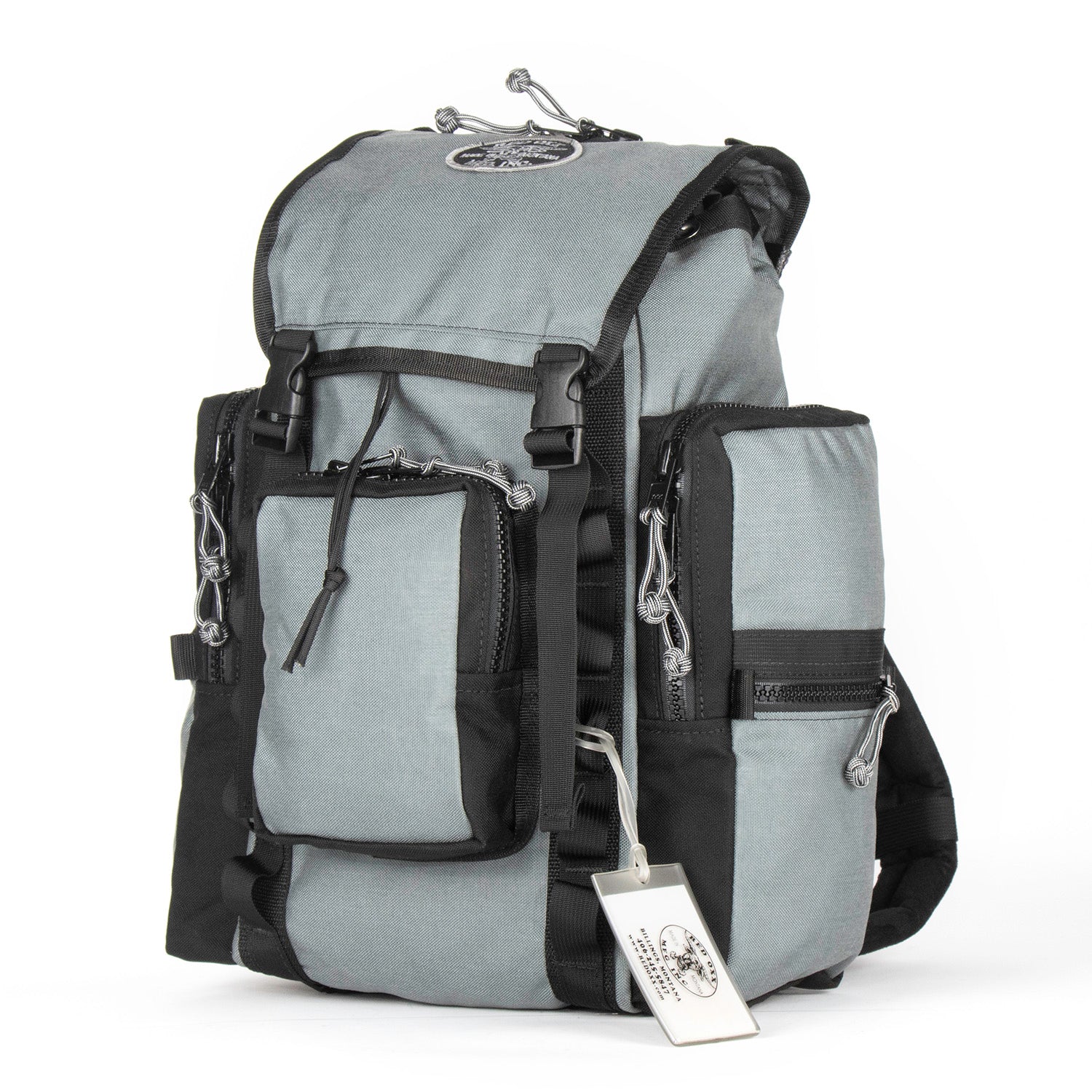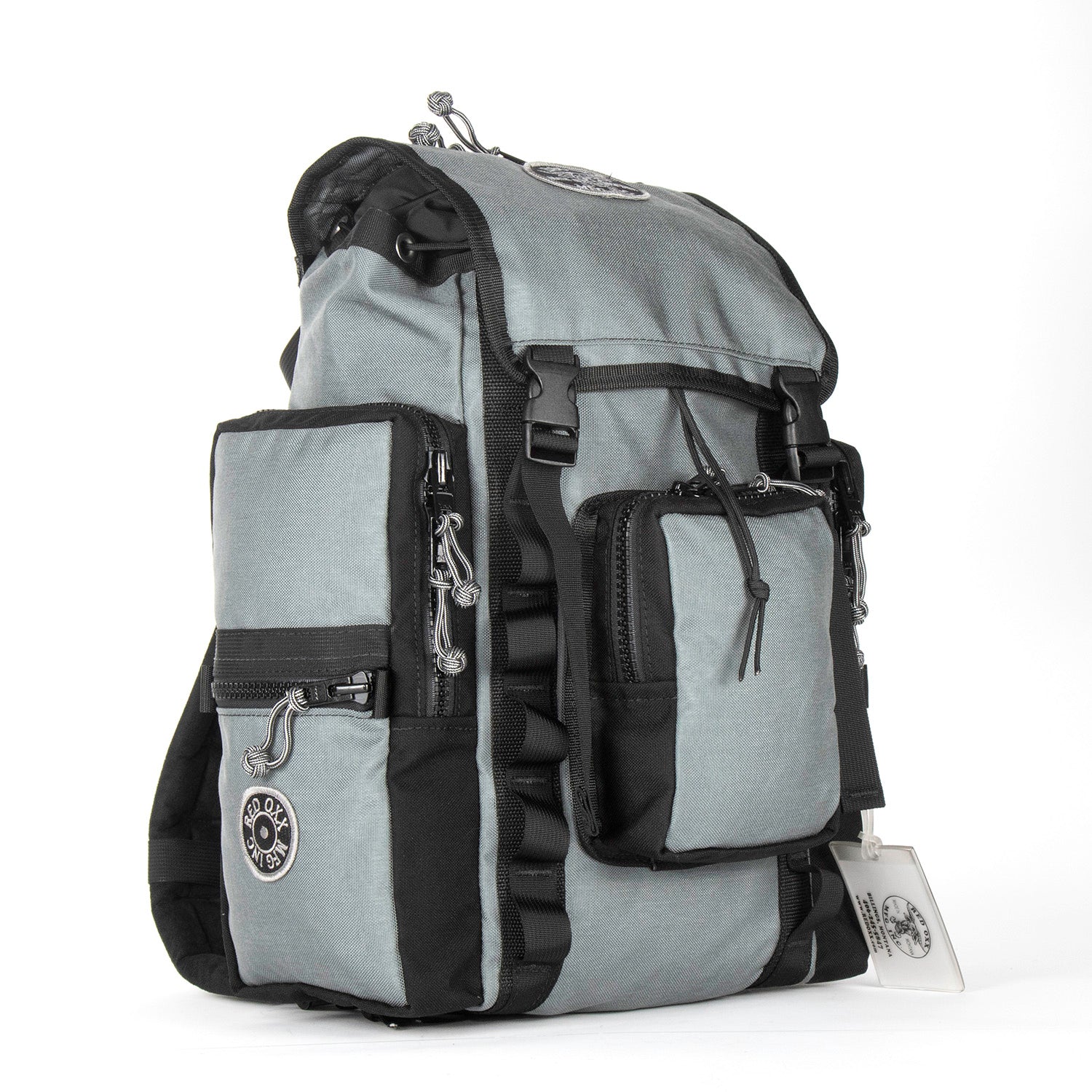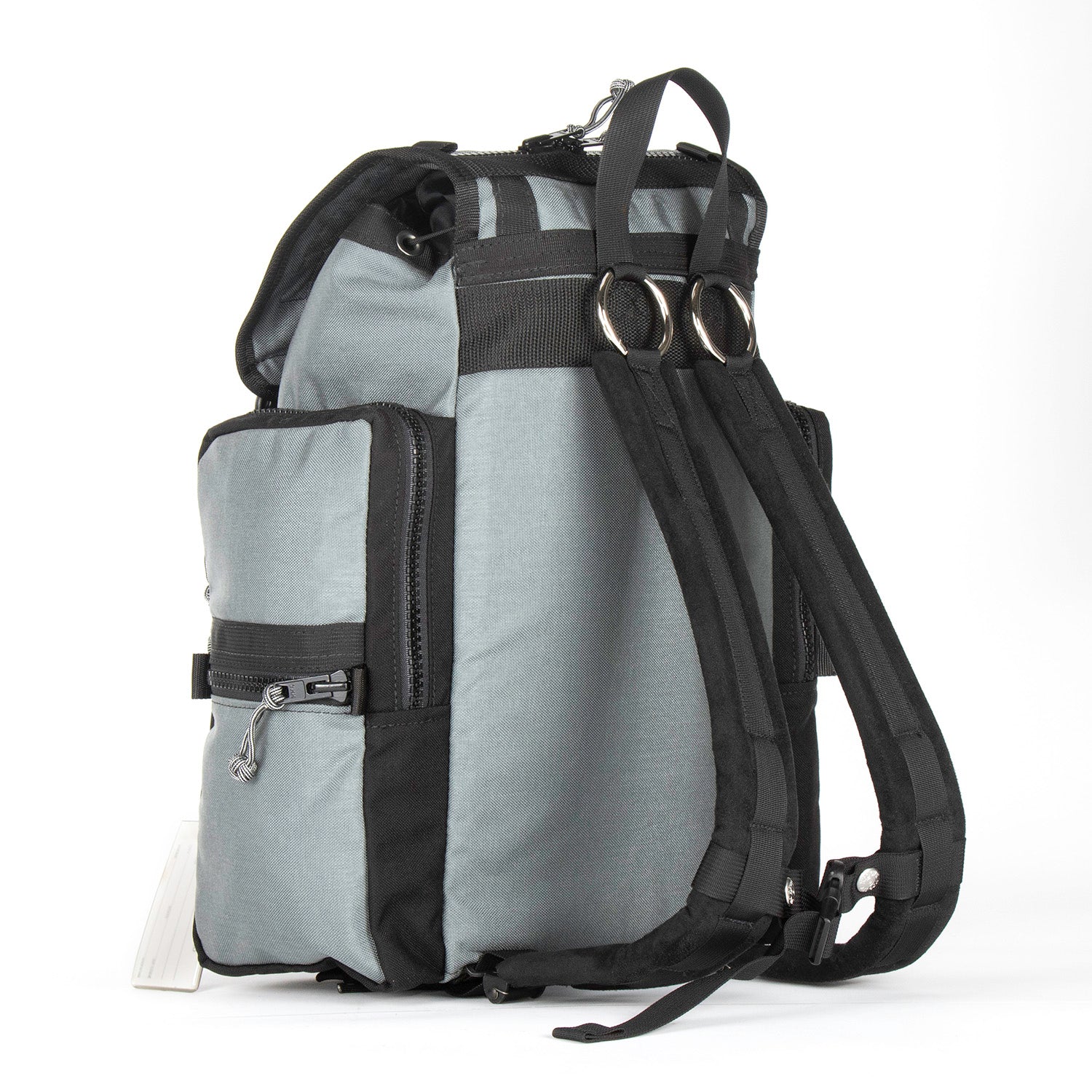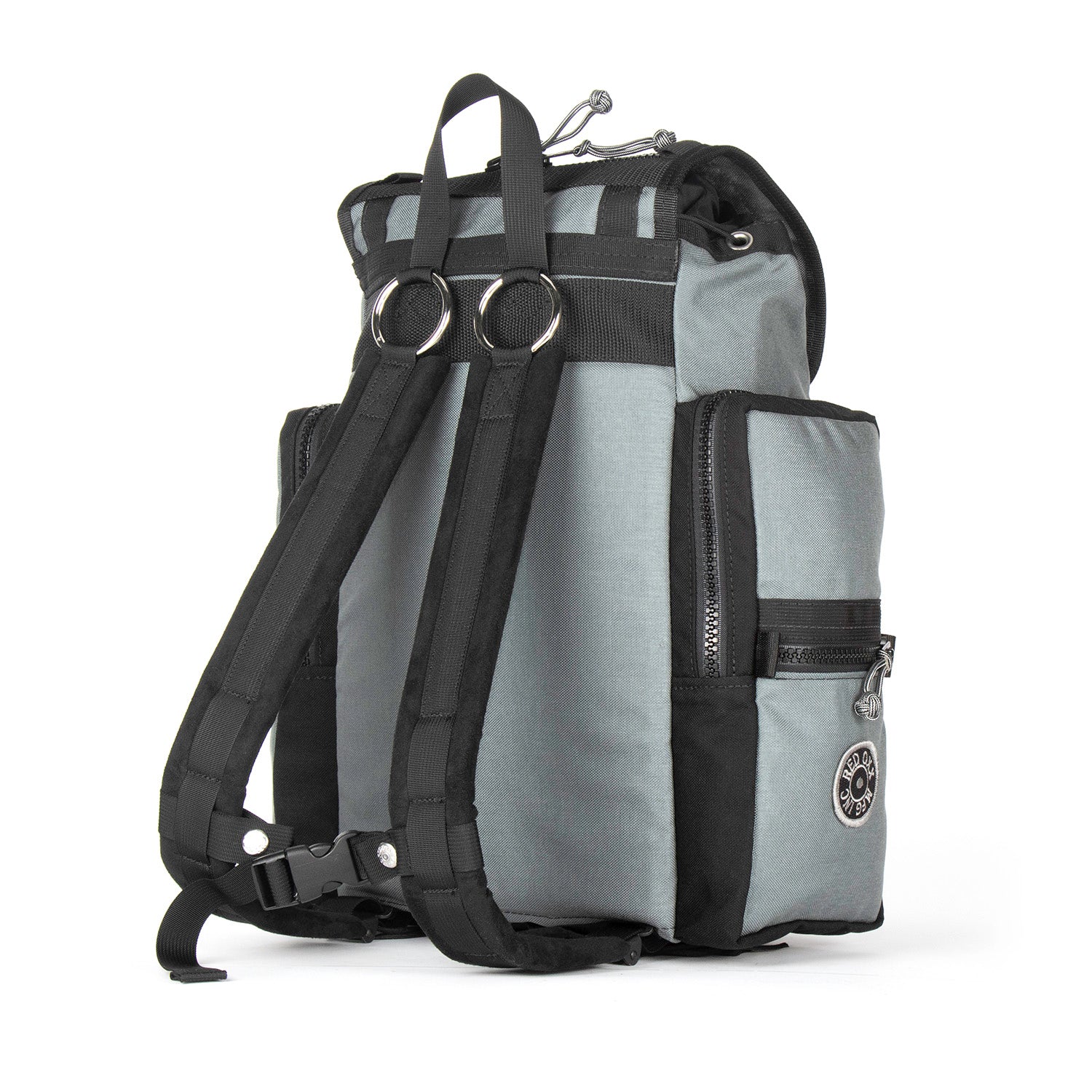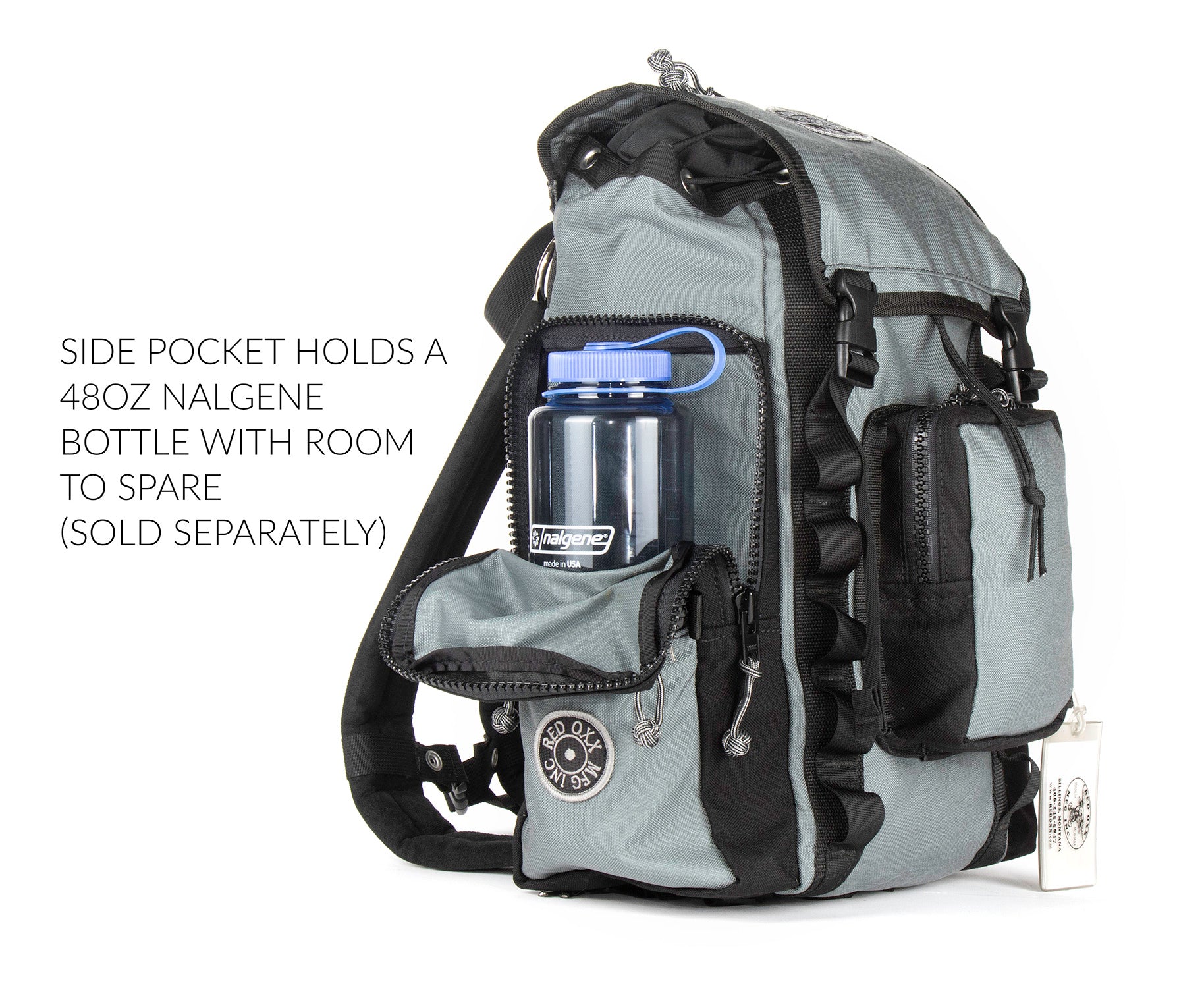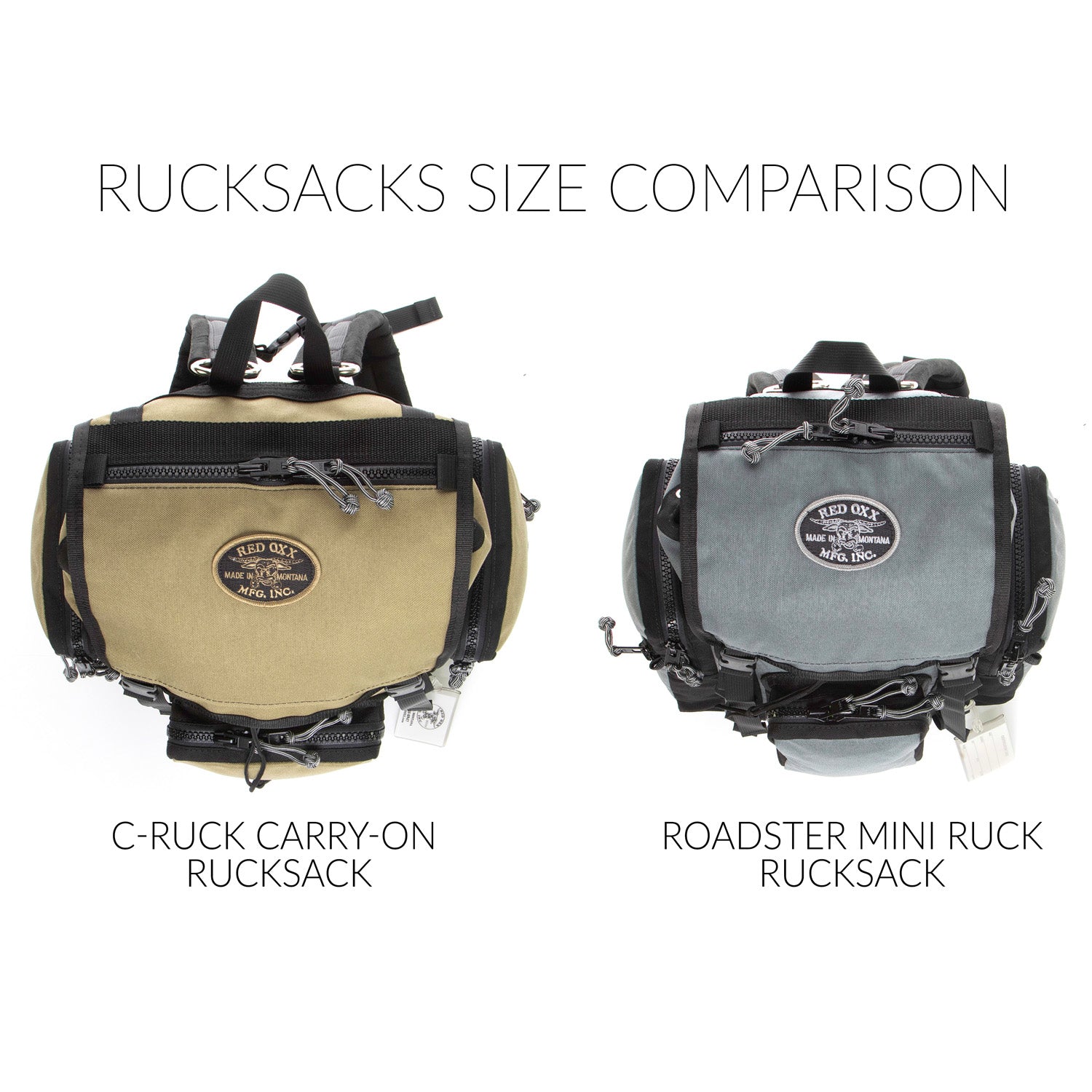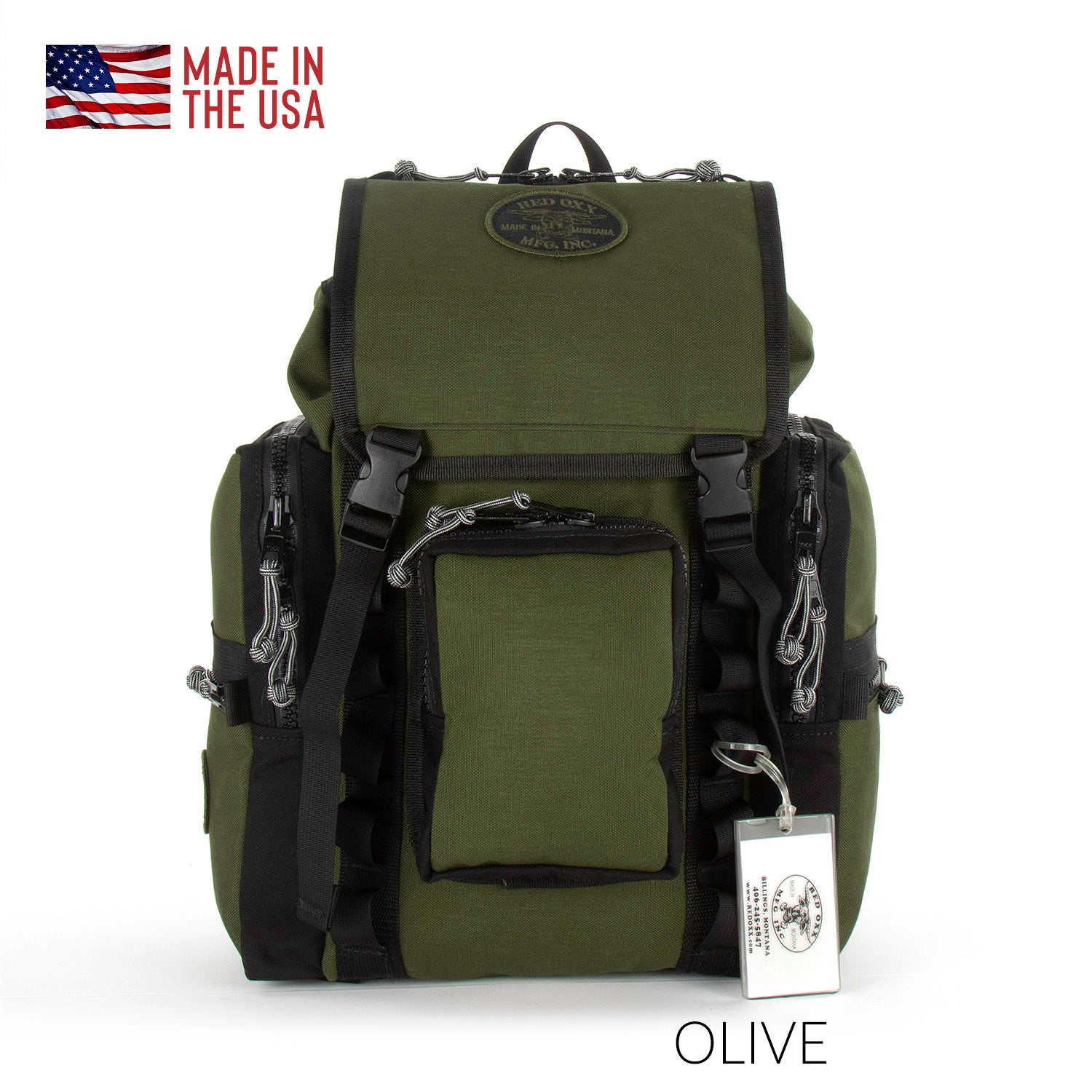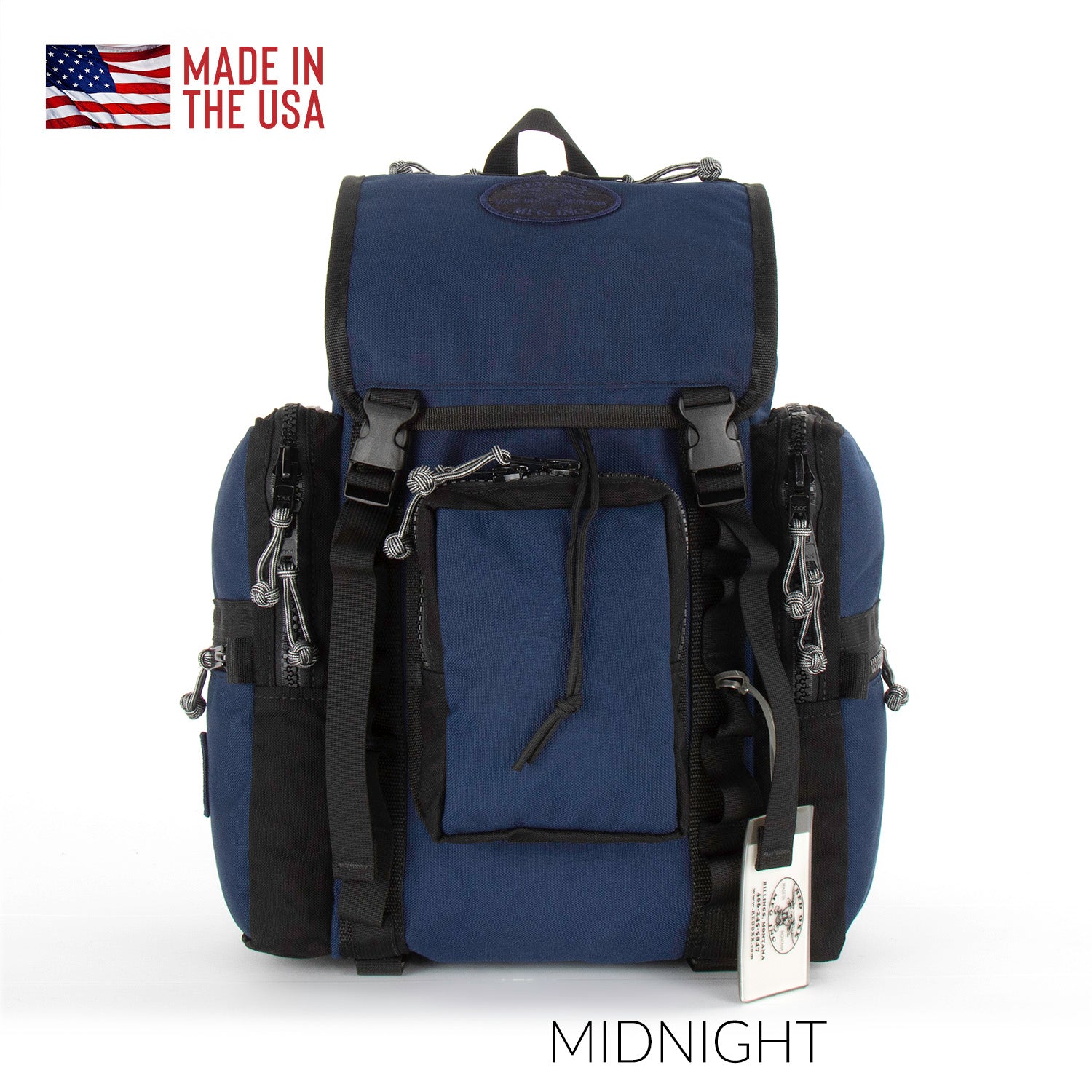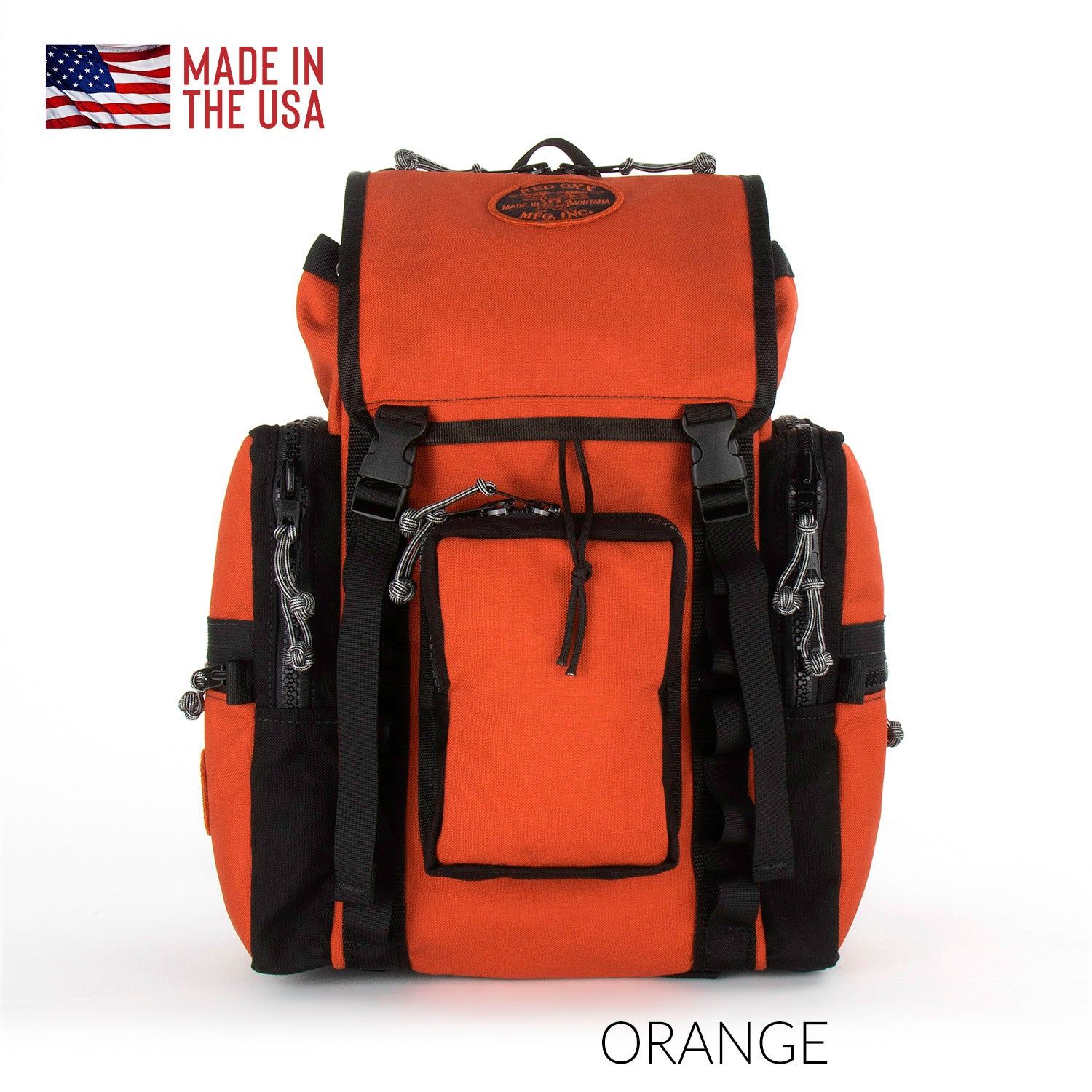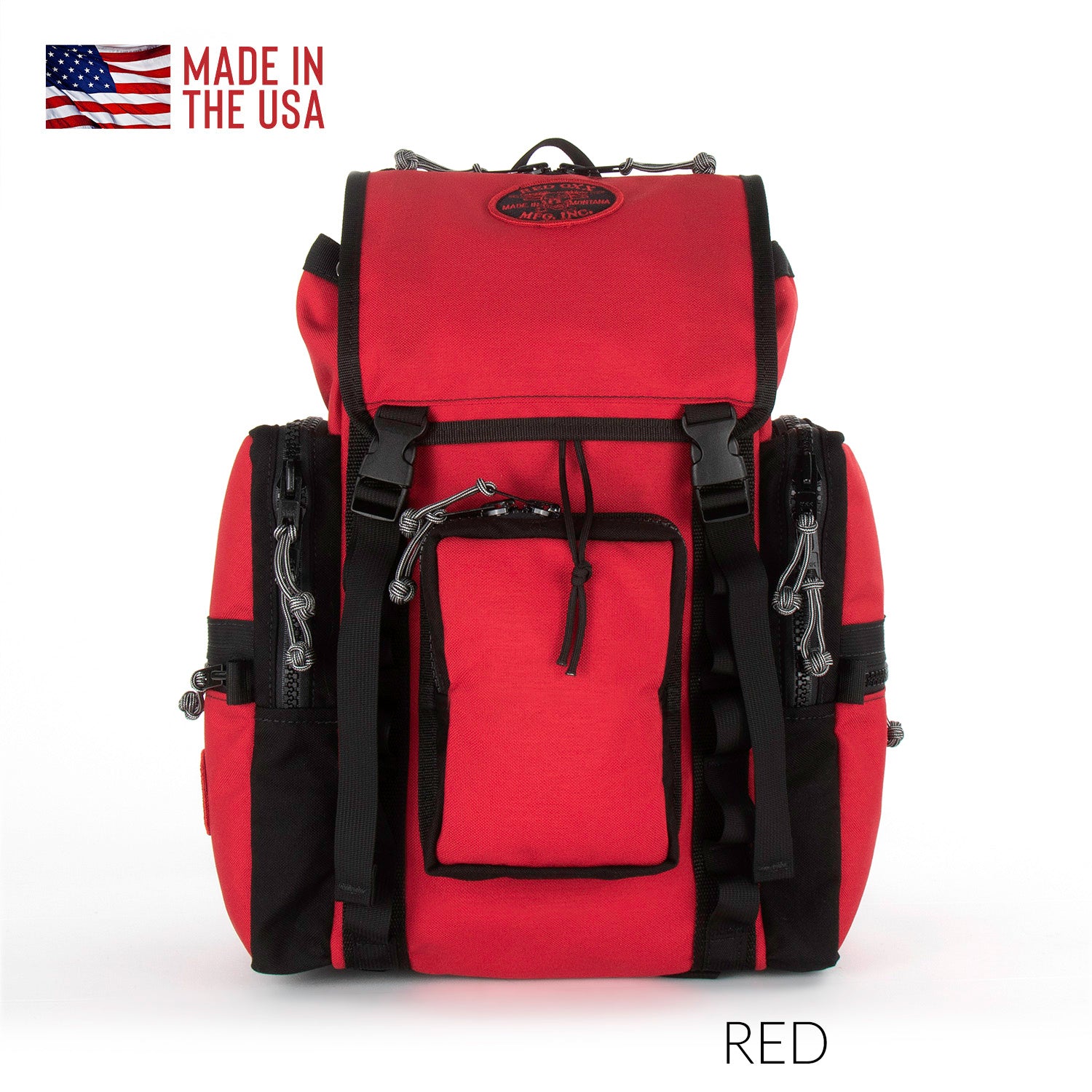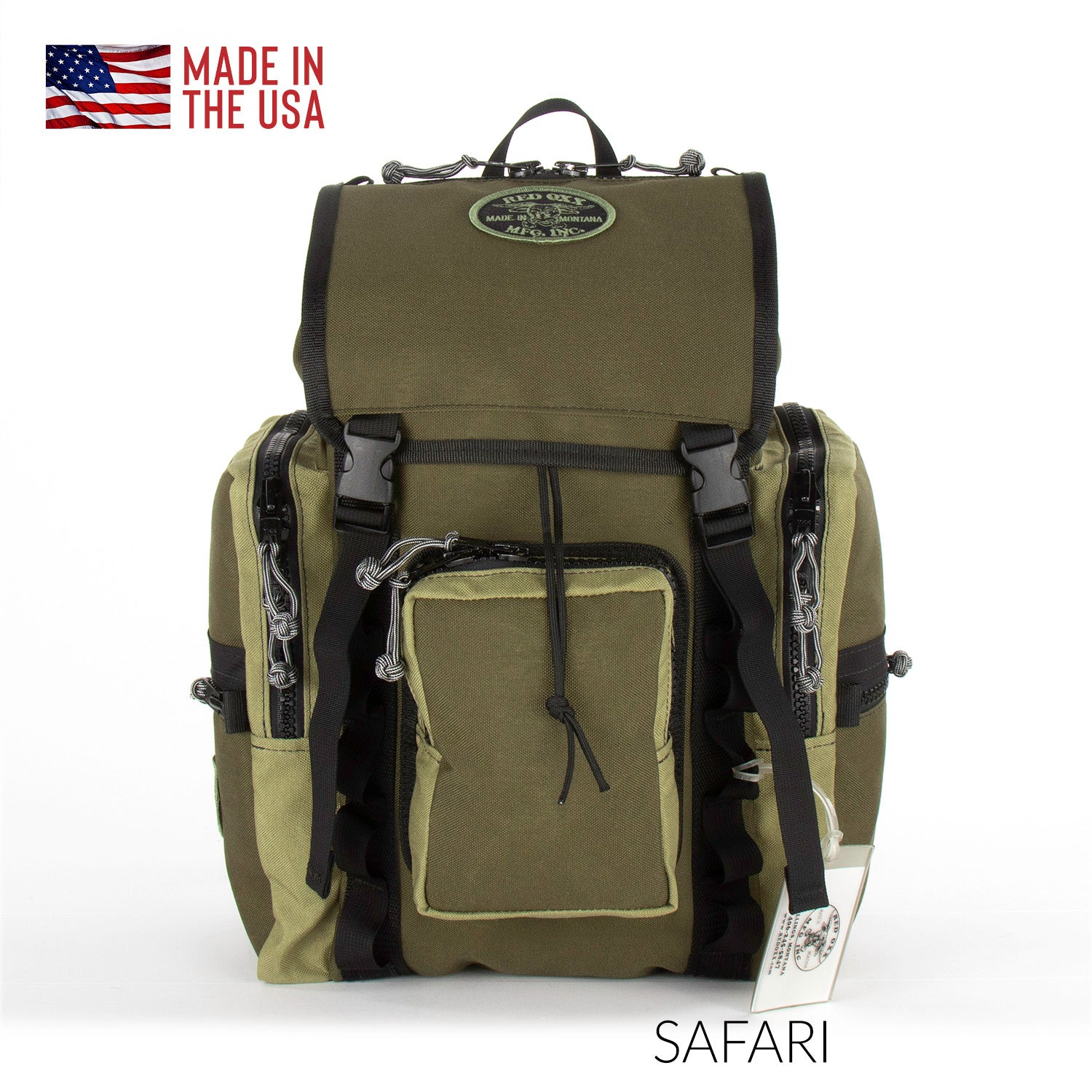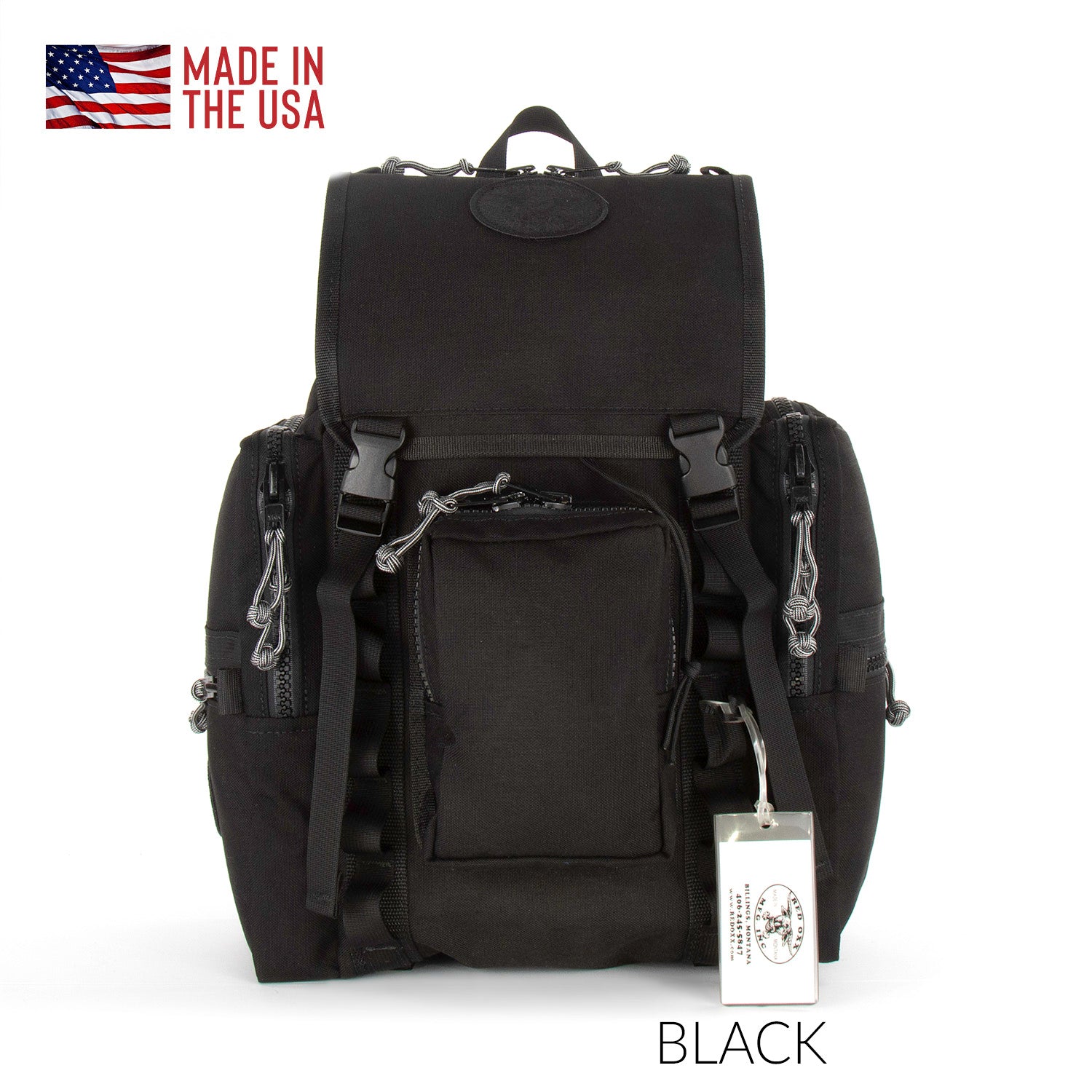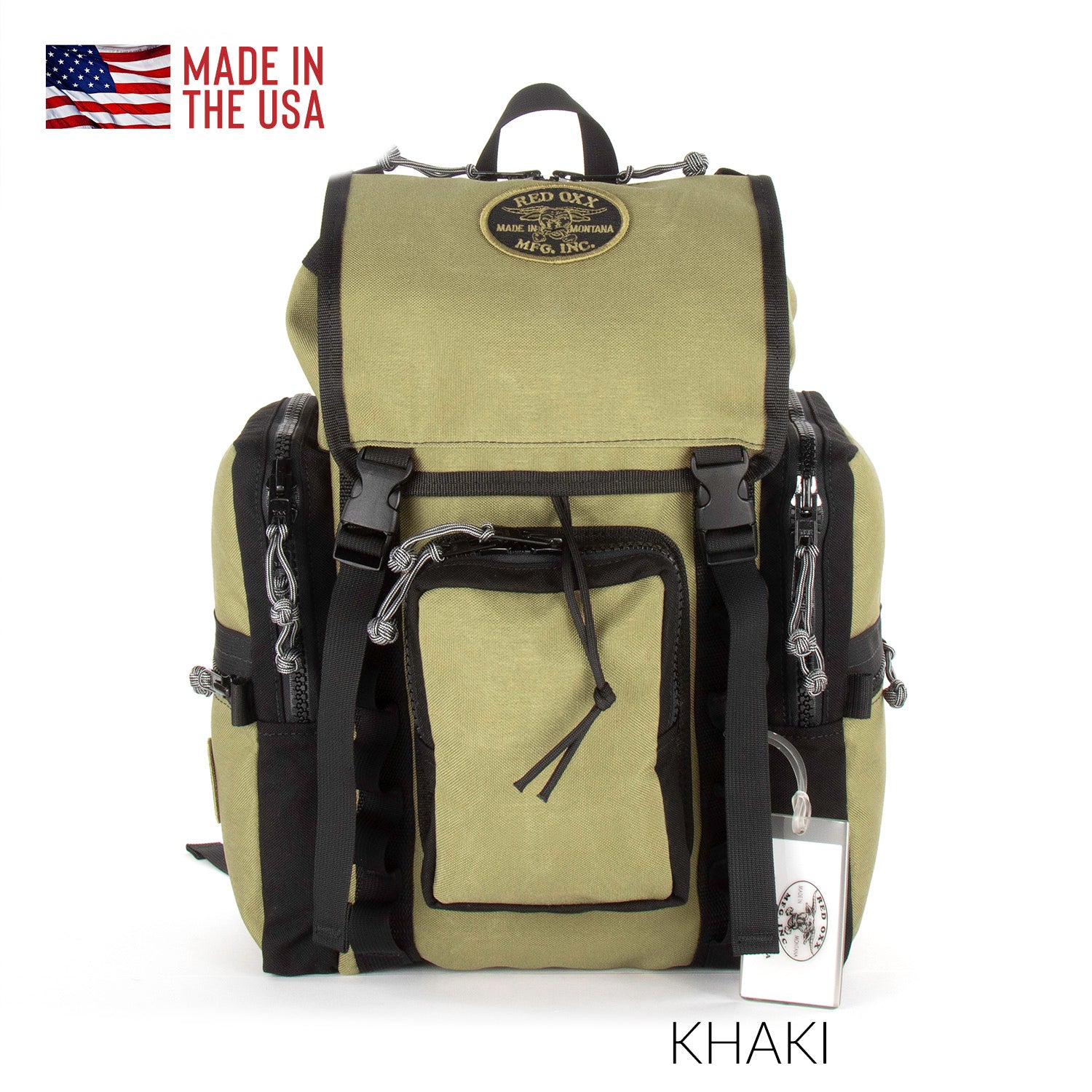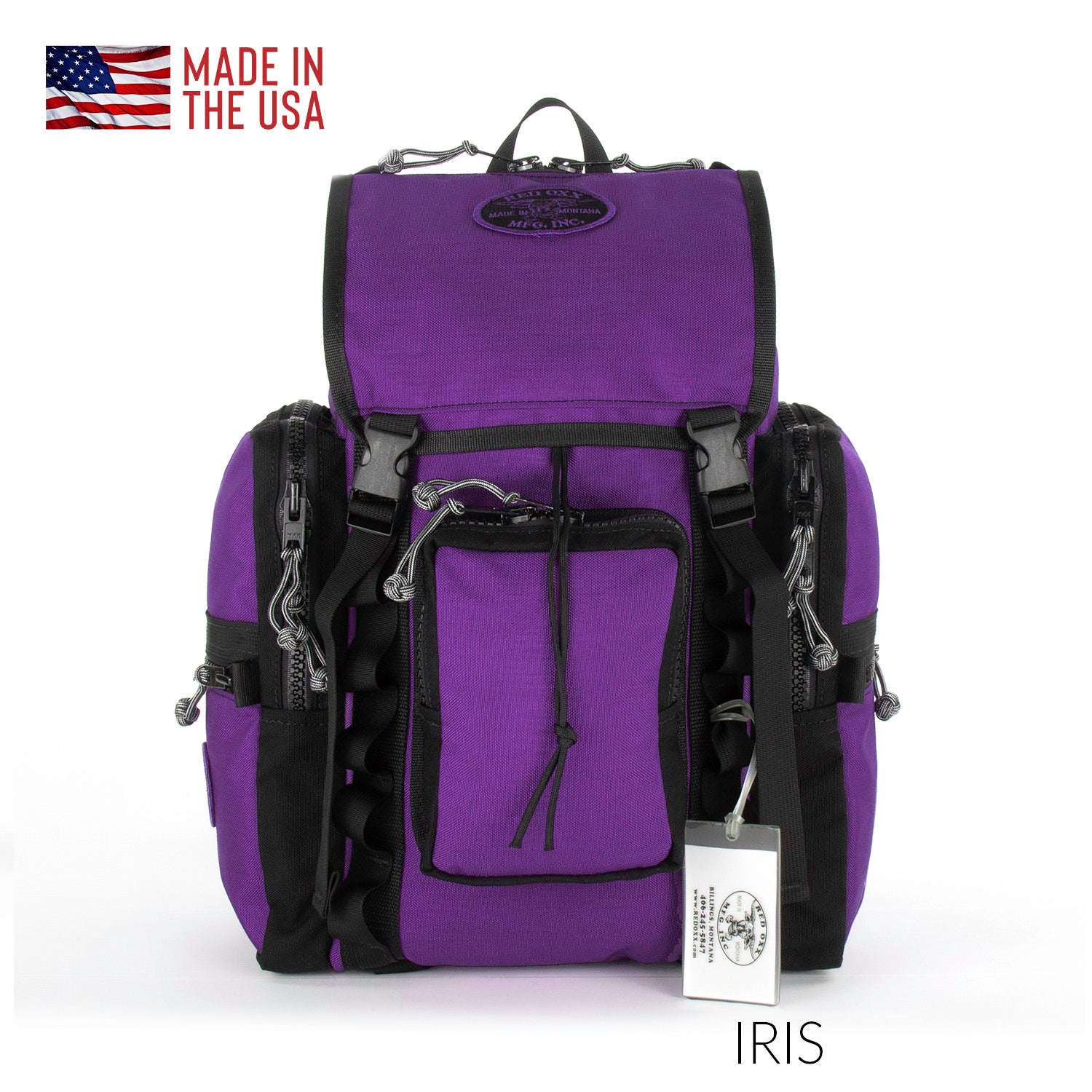 Roadster Mini Ruck Rucksack
Small but MIGHTY- really not that Mini 
The Roadster Mini Ruck Rucksack is the perfect everyday commuter bag with a vintage, rugged design. It provides enough room to store your most necessary items and makes transitioning from home to work or school effortless. With its strong stitching and sturdy construction, the Ruck Rucksack will be your go-to bag for years to come.
Dimensions: Overall - 17"L x 13"W x 8"H
Made in U.S.A. backed by our "No Bull" Lifetime Warranty
Rugged top-loading classic paratrooper rucksack design with extension sleeve and flap lid

Dual raised side pockets and easy on and off articulated unique O-ring shoulder straps

Weather resistant materials

Large cavernous main compartment

Fits under the seat for air travel

Interior slip pocket for laptop or hydration pack

DESCRIPTION

The Roadster Mini Rucksack is the scaled-down version of the classic Airborne Military Style Rucksack . Load up the Mini Ruck Rucksack for a day of shopping or hiking on the trail in the mountains. Volara foam padded backing on the main compartment cushions your back. The main compartment will hold more than enough belongings for an afternoon hike.

PLACES FOR YOUR BELONGINGS.
You want pockets? The Roadster Rucksack has handy extended front and side pockets to give you plenty of room and keep your belongings organized.

In the spacious main top-loading compartment you could pack your plentiful picnic, the raised side pockets holding your wine, spirits or soda bottles and glasses and the front pocket your cheese, appetizers or dessert and the top flap pocket your silverware. Attach your blanket with the buckled loop compression straps on the bottom.

WILL IT FIT MY COMPUTER?
This durable CORDURA® Brand Nylon Rucksack has an interior slip pocket that holds your Notebook laptop safe against the thick interior 4 pound Fuzion back padding. After a great day at the market, tighten down the second drawstring at the top of the rucksack (10" x 6" x 4") and safely tote all your goodies home.

WHY THE BIG SHOULDER STRAP O-RINGS?
The Mini features upgraded durable Uni Suede padded articulating shoulder straps for carrying comfort. Using articulating straps makes it easier to put on, and take off, your Mini Rucksack. Then you can easily cinch down the straps using the tough Mil-Spec A.L.I.C.E. hardware.

Heavy-duty compression straps on bottom of the Mini Rucksack store your jacket, blanket or bedroll out of the way. When a full-sized Military style Rucksack is too big, or if you are lean in frame and build, try the Red Oxx Roadster Mini Rucksack.

Mini Rucksack Trivia:
Rucksack is German for Backpack. Der Rücken refers to the back part of the body and translates as "to move". Sack means "pack". To move a pack. Surprising similarities exist in other European languages such as Rucksack is Rygsæk in Danish, Rugzak in Dutch, Ryggsäck in Swedish, Ryggsekk in Norwegian, and Rugsak in South Afrikaans. A Ruck Sack is also commonly called a Haversack, Knapsack or Packsack.
U.S.A. Dimensions:

Overall 17"H x 13"W x 8"H
Total Capacity: 1,896 cubic Inches-including pockets
Main Compartment: 17"H x 10"W x 6"D
Main Compartment Capacity:1,020 cubic inches
Weight: 3.35 pounds.

Metric Dimensions:

Overall: 43.2cm H x 33cm W x 20cm D
Total Capacity: 31 Liters
Main Compartment:43.2cm H x 25.4cm W x 15.2cm D
Main Compartment Capacity: 25 Liters
Weight: 1.52 Kilos

Pocket Measurements:

Dual extended side pockets: 12"H x 6"W x 2"D
Twin exterior zippered side flat pockets: 6"W x 7"H
Front extended pocket: 7"H x 5"W x 2"D
Top lid zippered slip pocket: 9"W x 9"H
Interior slip pocket: 9.5"W x 13"D

Features:

Roomy Side Pockets fit a large Water Bottle or Dopp Kit
Interior pocket, great for laptop or hydration reservoir
Fabric: 1000 wt urethane coated, Dupont certified CORDURA® nylon
Weather resistant (NOT waterproof)
400 Denier High Density Nylon Pack Cloth
All zippers #10 YKK VISLON® self-locking
Thread: Anefil Nylon, Bonded Type 6,6 Tex 90-Black
All seams double stitched and bound
Double box stitching on stress points such as carry handles
Monkey Fist Zip knots on all zippers
Daisy chain loops on ruck body and both straps
Includes adjustable detachable sternum chest strap
Fastex side release buckles
Two 15" adjustable straps on bottom to secure a jacket or umbrella
A.L.I.C.E. pack strap adjusters
Nickel plated 1/4" O-rings allow articulating shoulder straps
Grab loop carry handle
Mil-Spec parachute cord with adjustable Fastex tension locks
Spurred stainless steel grommets
4# Fuzion STD Natural foam padding in back
Uni Suede padded articulating backpack straps
Capacity up to 1,896 cu. inches
Free heavy-duty vinyl luggage tag
Includes Cable Lock
Will you put a name patch on these?

We have to send out for our embroidery so we currently only offer it on our Railroad bags and corporate orders.
That being said, you're welcome to get your bag embroidered by a local embroidery shop in your area and this won't void your warranty in any way.

Are bags waterproof ?

While CORDURA® Brand Nylon Fabric and Ballistic Nylon has a waterproof poly-urethane backing, our gear is classified as water-resistant. Waterproof bags require heat sealed and taped seams; ours are sewn. Every stitch can be considered a "hole" for water to leak through. That said, Red Oxx bags can withstand most inclement weather such as rain and snow while keeping your gear inside dry. Just don't toss it in the lake and expect the same outcome.

CORDURA® Brand Nylon Fabric and Ballistic Nylon can also be treated with an additional ScotchGuard Heavy Duty Water Shield Spray if necessary. Follow manufacturer's water-treatment product instructions on the label for best results.

What's the difference between Roadster Mini Rucksack, K-12 Kat Pack Backpack, and the C-Ruck?

The Roadster Mini Rucksack is the little brother to the C-Ruck. It's two inches narrower and one inch shorter. These smaller dimensions are also reflected in the side pockets, front raised pocket and cover flat pocket. See the Specifications Tab for further dimension details. The K-12 is a rectangular style school backpack that zips open down the top and sides.

Will the Roadster meet personal item carry-on standards?

Certainly, the Mini Ruck will easily fit into any overhead bin and even under a few airline seats.

What's the best way to pack the Roadster?

Since Rucksacks are top loaders, the most efficient way to pack one is to pack items you may need easy access to in the raised exterior pockets and rolling each piece of clothing. Another option we recommend is to use our Red Oxx Packing Cubes. Some people also use the Nomad Shave Kits and Lil Roy Gadget Bags as packing cubes. This way you can compartmentalize everything by color coding. Bundle wrapping would require pulling the entire bundle out to access anything.

How many days worth of supplies will fit in the Roadster Rucksack?

Depends on how good a packer you are. Most people can get a weekends worth of clothes in the Roadster. We'd estimate two to three days.

Will a laptop fit in the Roadster? What size laptop?

Virtually any laptop or tablet with up to a 15" diagonal screen and two inches thick will slide into the padded sleeve inside the rucksack.

What's the red fabric on the inside of the bag for?

Having a bright color on the inside of the bag helps to see what's inside the bag. It also adds an extra layer of weather resistant protection.

Does the Mini Rucksack have a belly strap?

Because the Roadster does not have a bulky built-in frame, a belt strap would not help to balance the load.

Are there any interior pockets?

There is a notebook / laptop stitched-in sleeve located in the back of the rucksack.

Is there a way to securely lock the pockets on my rucksack?

Sure, you can use any TSA approved bag lock or try our Cable Lock for a simple, semi-secure solution. Watch this video where CEO Jim Markel demonstrates how you can use the cable that comes with the product Dog Tag price tag to secure your bag. Keep in mind, any determined thief can still cut open a soft sided bag with a sharp knife.

My zipper broke. The teeth have separated. Do I send it in for warranty repair?

No need for warranty repair, fix it yourself. Check out this video where CEO Jim Markel shows how easy it is to do it yourself.

How do I use or store my bag to keep its original padded shape and prevent it from slouching?

When using your bag, pack heavy items in the bottom of the bag. When storing your bag, removed any items and press flat. You can stack your bags in your closet in this manner or better yet, use a compression strap (sold separately) to hang your bag.

Can you ship USPS?

Yes, Red Oxx will ship USPS upon request. Simply state, "Please ship USPS" in the cart comments during checkout and we will adjust your billing accordingly.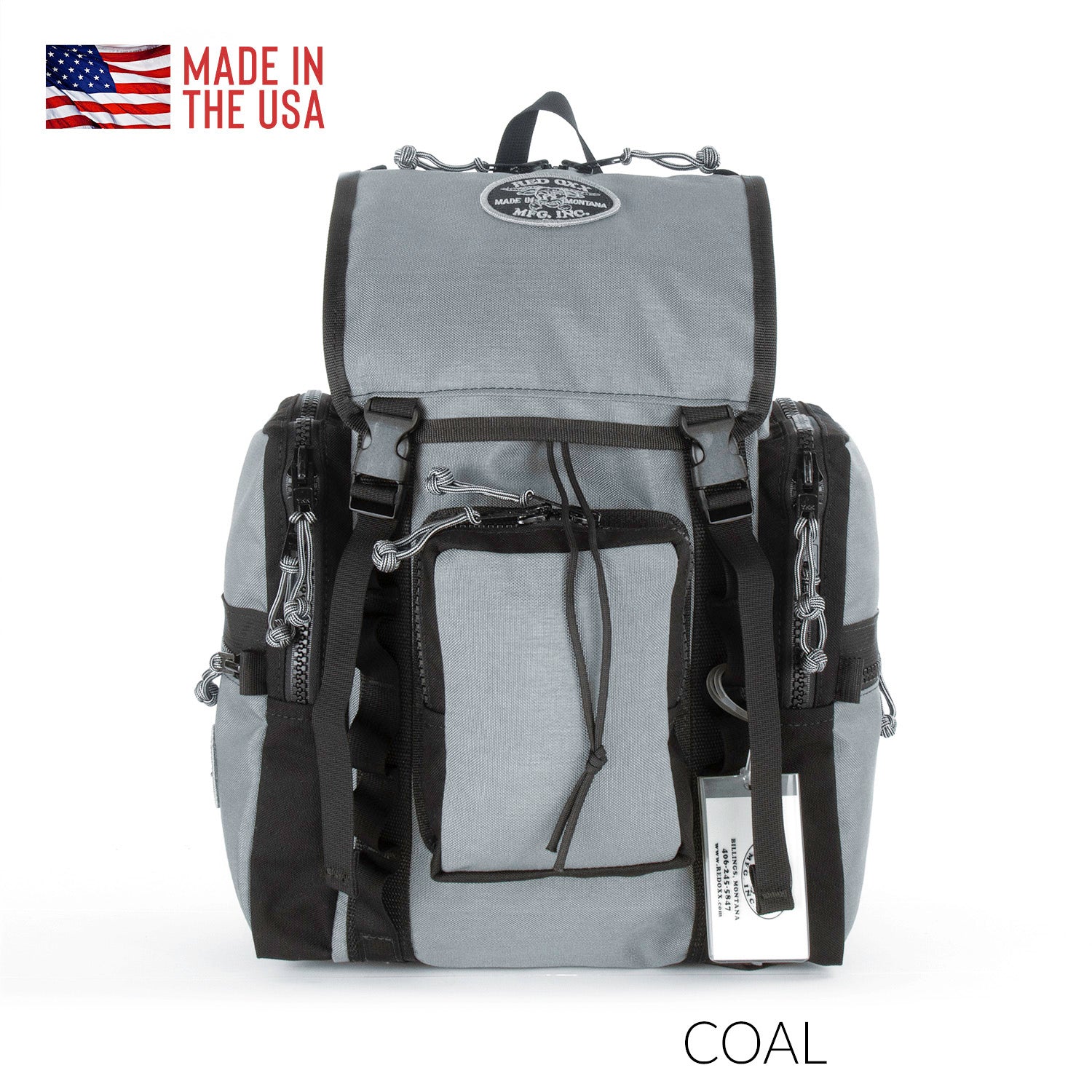 This product has no reviews yet.
This product has no reviews yet.
This product has no reviews yet.