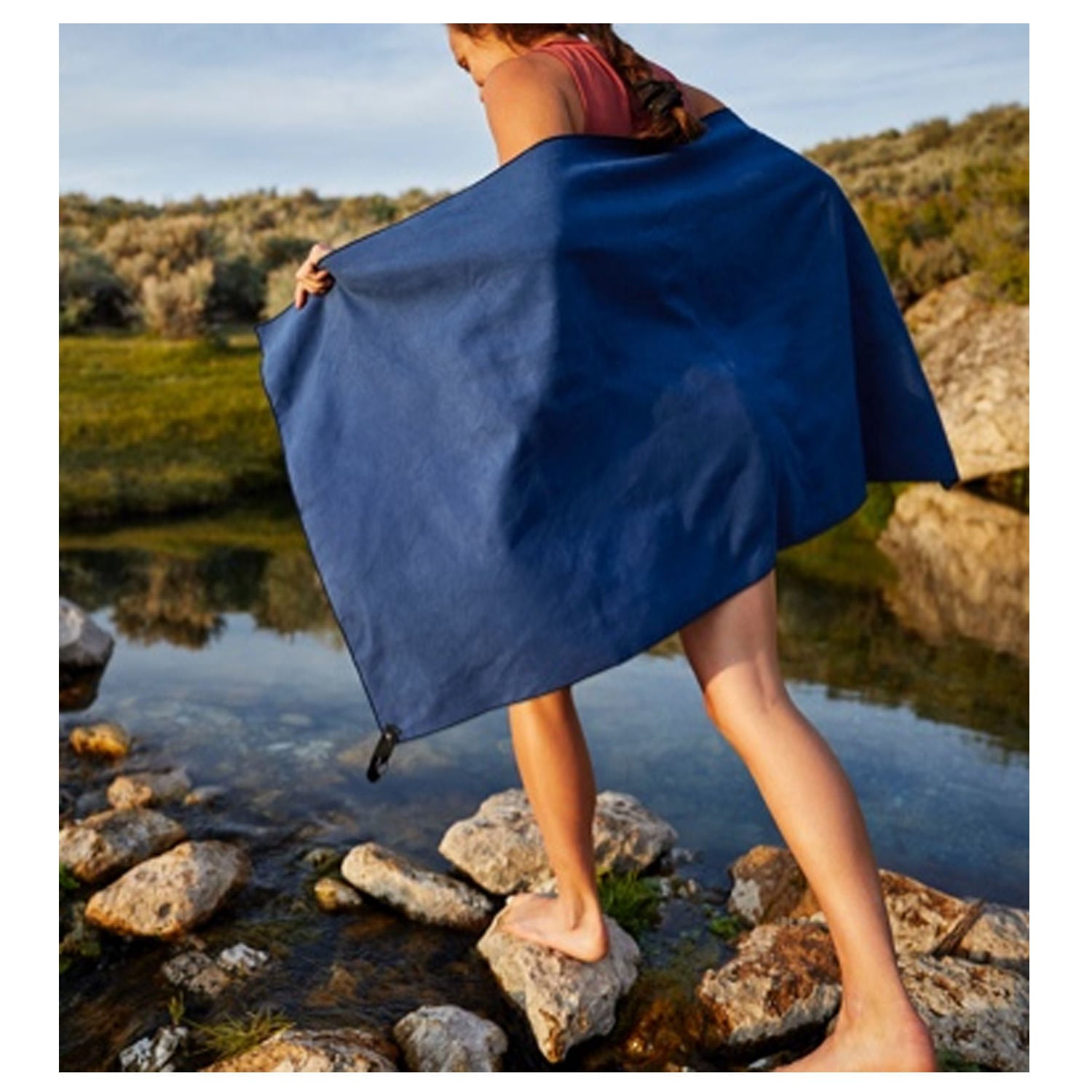 PackTowl Travel Towels
Come dry with me! The secret everyday carry traveler's companion. Wrings nearly dry.
Made from sustainable wood fibers
Extra Large - 54" x 25"

Large - 36" x 16.5"

Medium - 22" x 12"

Small - 14" x 10"

Made from sustainable wood fibers

Absorbs 10 times it's dry weight

Available in four (4) convenient sizes

A Red Oxx Recommended Travel Accessory.

Red Oxx is owned and operated by 2nd Generation Family Veterans since 1986.

Now you don't have to sweat the small stuff.

Introducing the PackTowl "Original", the wonderful portable ultralite everyday carry towel ready to travel with you and dry you off during your adventures around the world. Compact, efficient and super soft, the PackTowl is the original super absorbent towel. PackTowl can absorb up to ten times its dry weight in fluids.

The PackTowl portable towel comes in four handy sizes ready to meet any outdoor or indoor need. Small (see dimensions below) for your face or the cleaning up the little tykes.

Medium is ideal for a hand towel.

Large for body drying kids or teens.

Extra Large for your adult beach, shower or hot springs soaking excursions.

EDC PackTowl towels will fold up and fit neatly in their own individual size compact breathable mesh carry and storage sack that you can toss in your belongings, ready to dry something, or someone, when you need them.

PackTowl portable travel towels are engineered from a wood fiber that is viscose in nature from sustainable forests. Viscose is a special fiber that is highly absorbent and dries quickly once wrung out. PackTowl ultralite towels soften with every wash, so they actually get better with age.

PackTowl fabric is made in Germany and finished in Seattle, Washington by Cascade Designs, Inc.

Try the PackTowl advantage today:

Super-absorbency: PackTowl travel towels have 10 times the rapid-cycle absorbency rate -- that is, they can soak up to ten times their weight in water. The Large size towel can absorb a full quart of water!
Wrings nearly dry: PackTowl Original travel towels can be hand wrung almost completely dry - again and again.
Multipurpose: Perfect for everything from campsite to water sports to kitchen and even workshop use.
Softens with use: Your PackTowl will become softer and more absorbent with each washing.
Easy care: Hand wash or simply machine wash, then hang dry using the convenient snap loop, or tumble dry low in a dryer.
Dimensions:

Extra Large:
54 x 25 inches - 4.4 ounces USA
137 x 64 centimetres - 126 grams Metric

Large:
36 x 16.5 inches - 2.1 ounces USA
92 x 42 centimetres - 59 grams Metric

Medium:
22 x 12 inches- 1 ounce USA
56 x 30 centimetres - 29 grams Metric

Small:
14 x 10 inches - 0.6 ounces USA
35 x 25 centimetres - 18 grams Metric

Natural sustainable wood fiber
Available in four sizes
PackTowl Towel includes hang loop
Slate blue in color
Includes mesh carry bag with zipper closure tab and hang loop
Made in Germany
Absorbs ten times its dry weight
Gets softer with each washing
Easy to wring nearly dry
How do I clean my PackTowl?
PackTowls can be easily cleaned either by hand in a sink, creek, or bucket or wash them into a standard washing machine. Afterwards, you can hang them up to drip dry or use a dryer on low setting. PackTowls will soften with repeated cleaning and drying.

Can you ship USPS?
Yes, Red Oxx will ship USPS upon request. Simply state, "Please ship USPS" in the cart comments during checkout and we will adjust your billing accordingly.
This product has no reviews yet.
This product has no reviews yet.