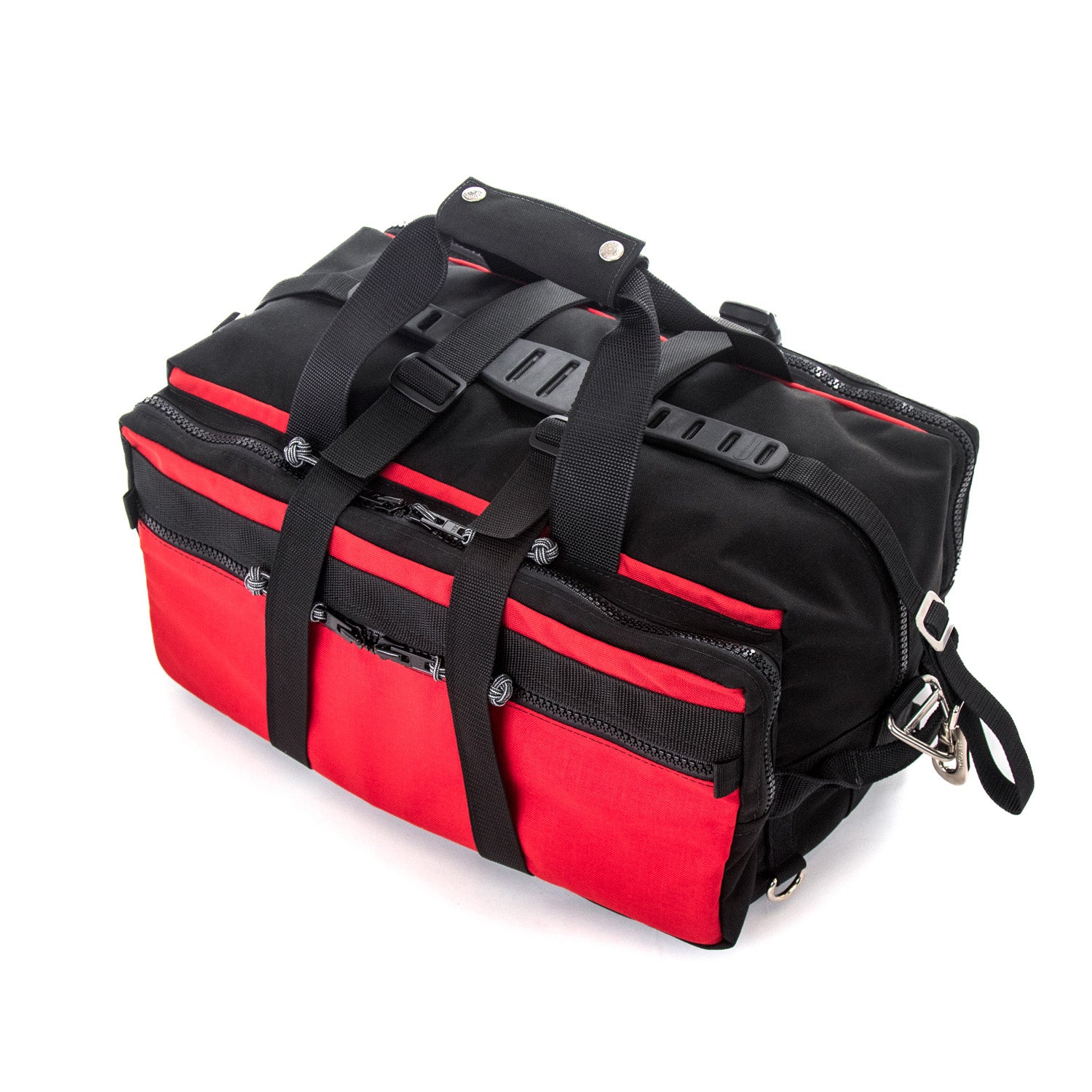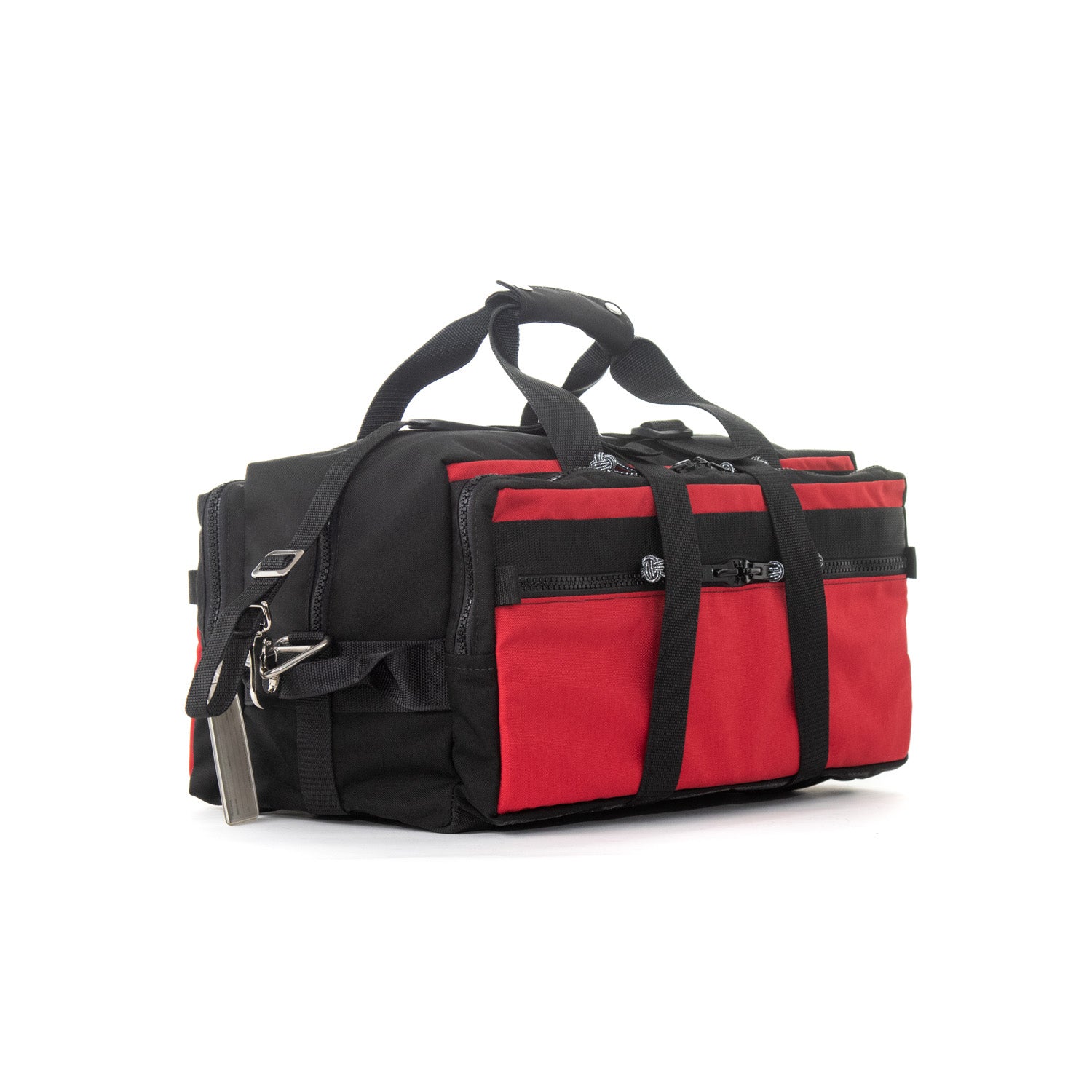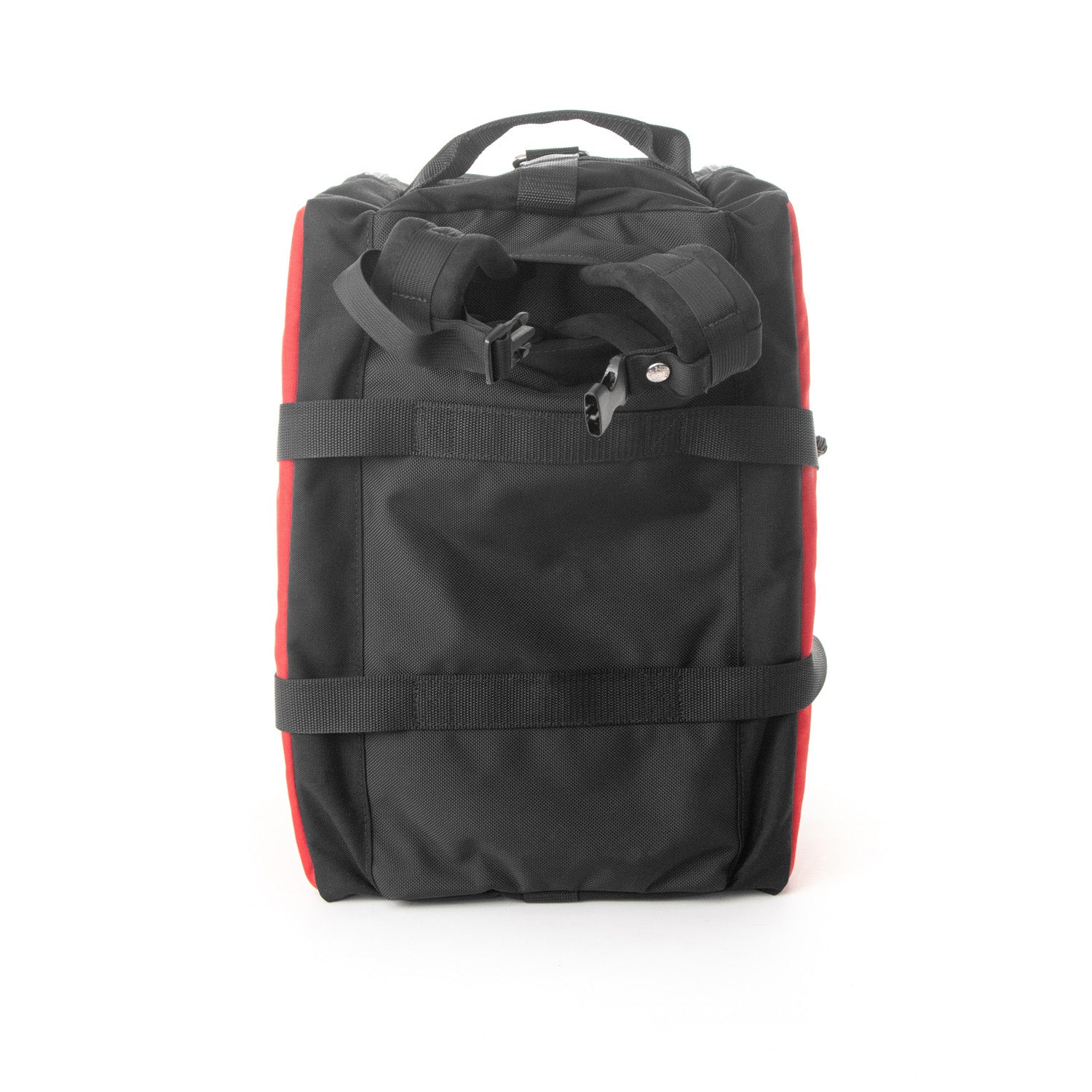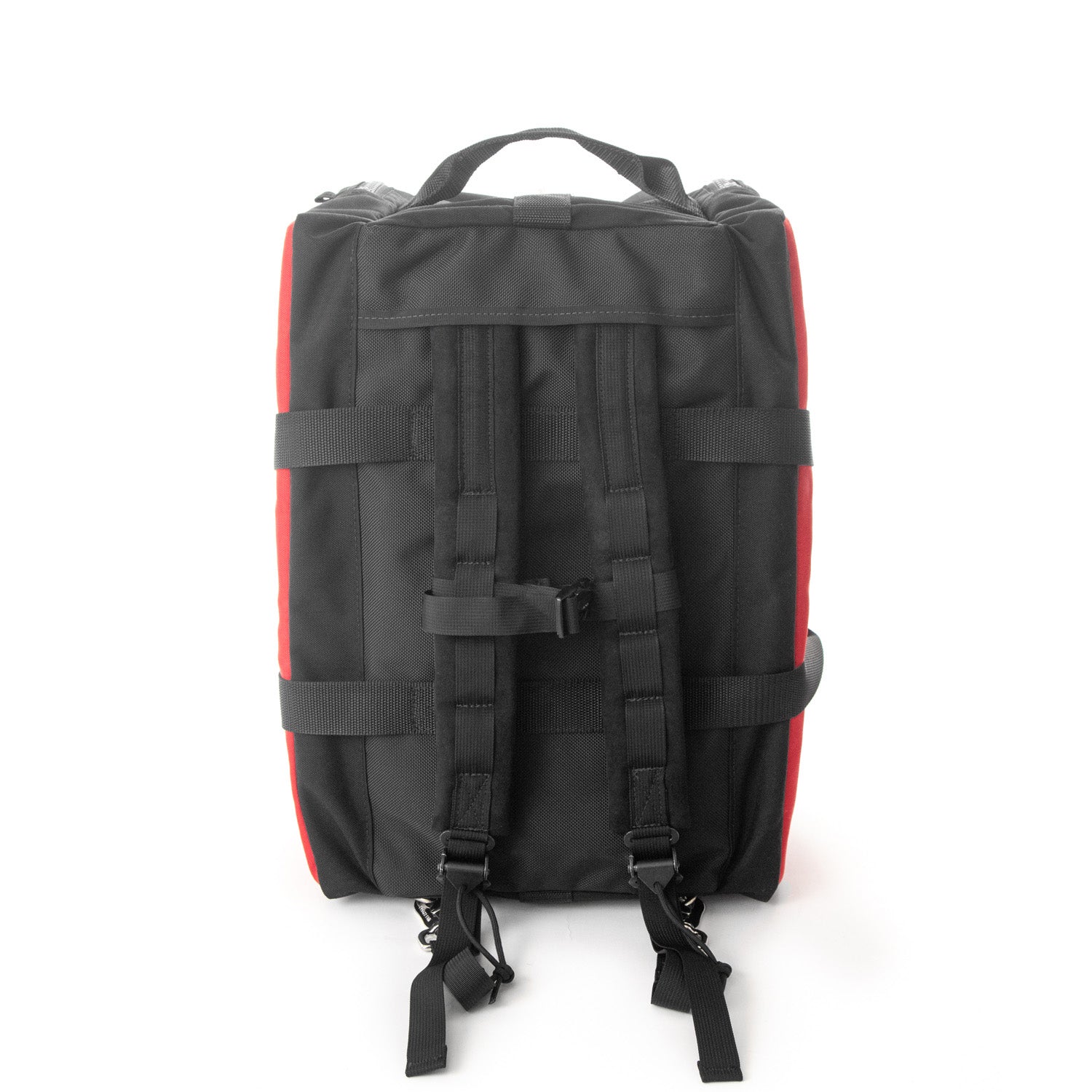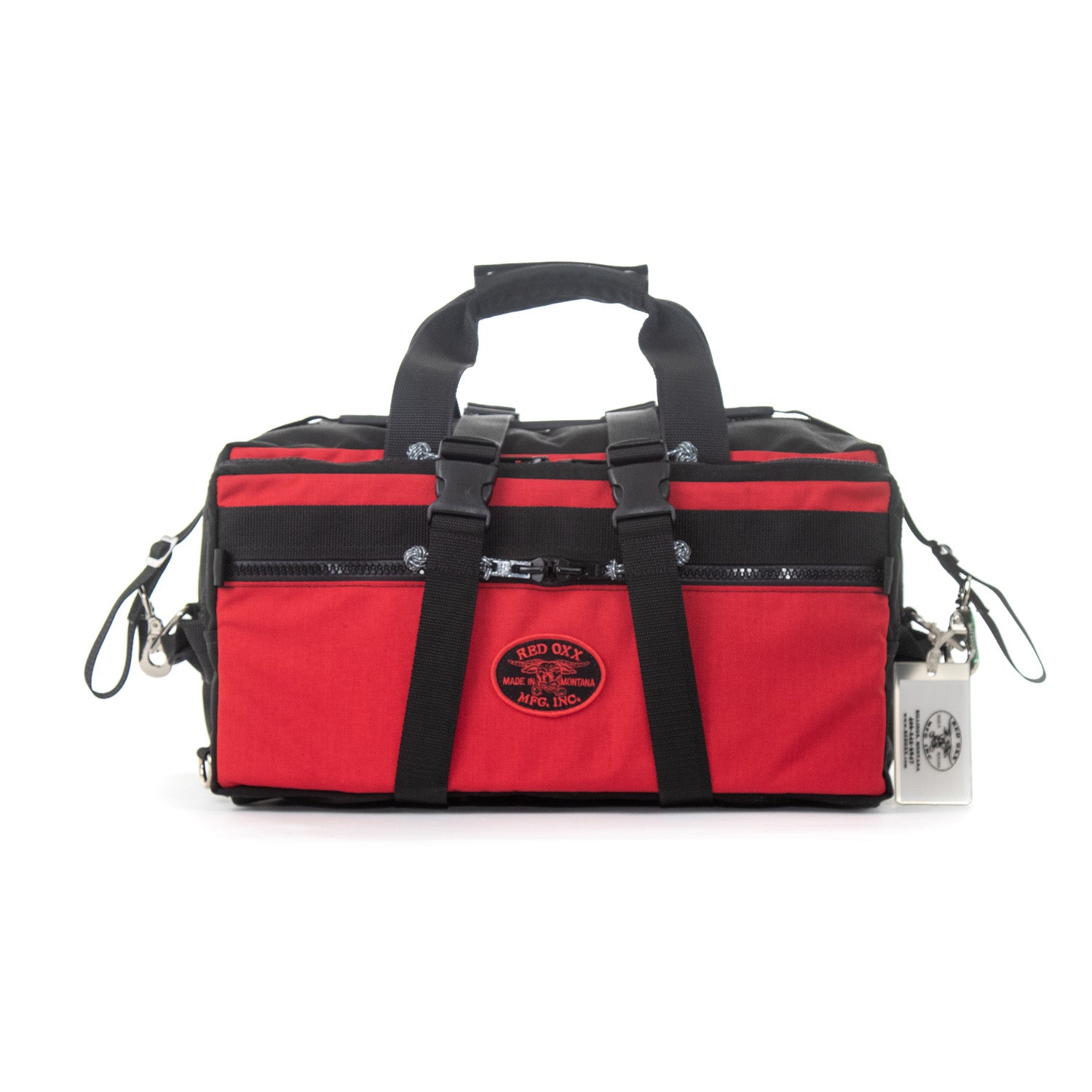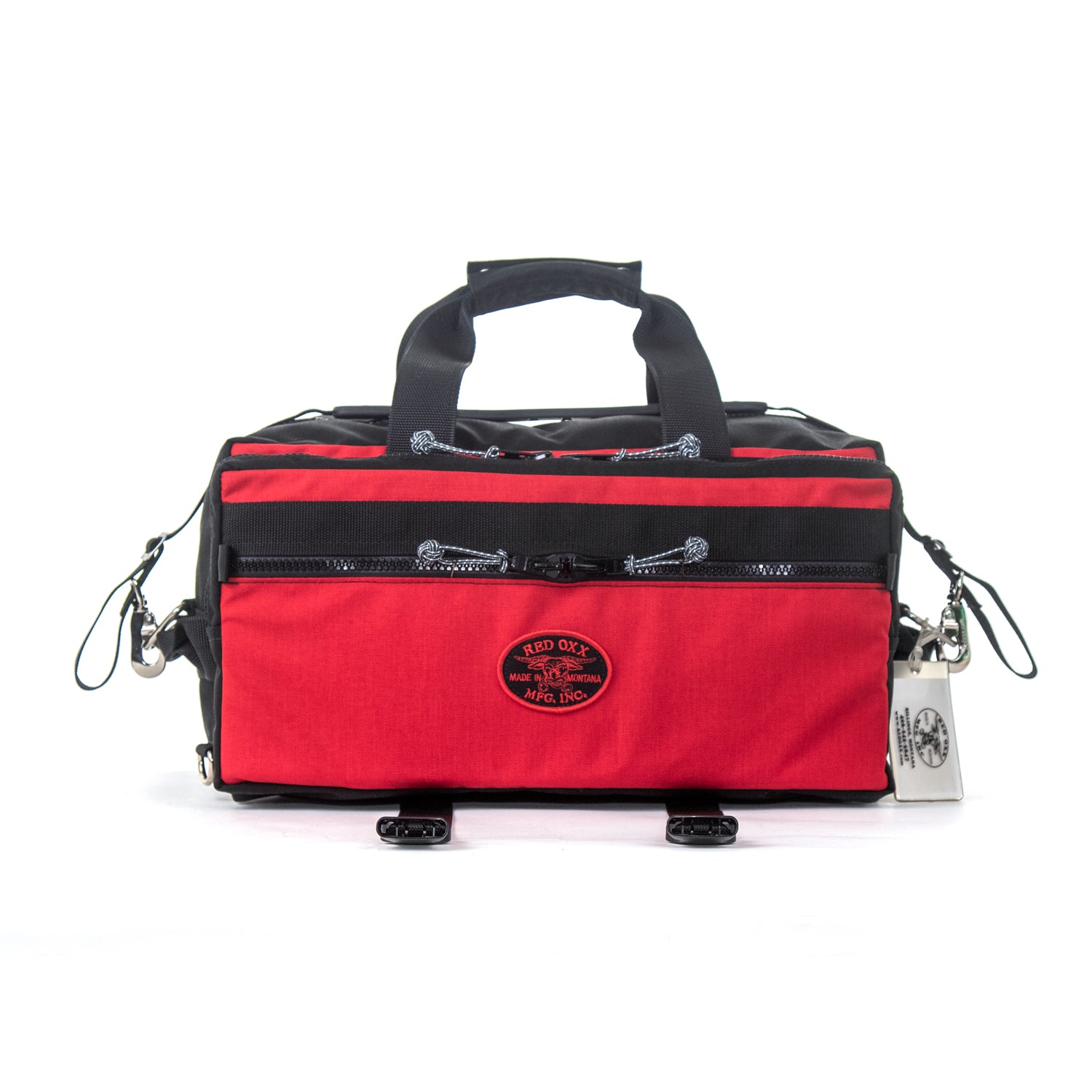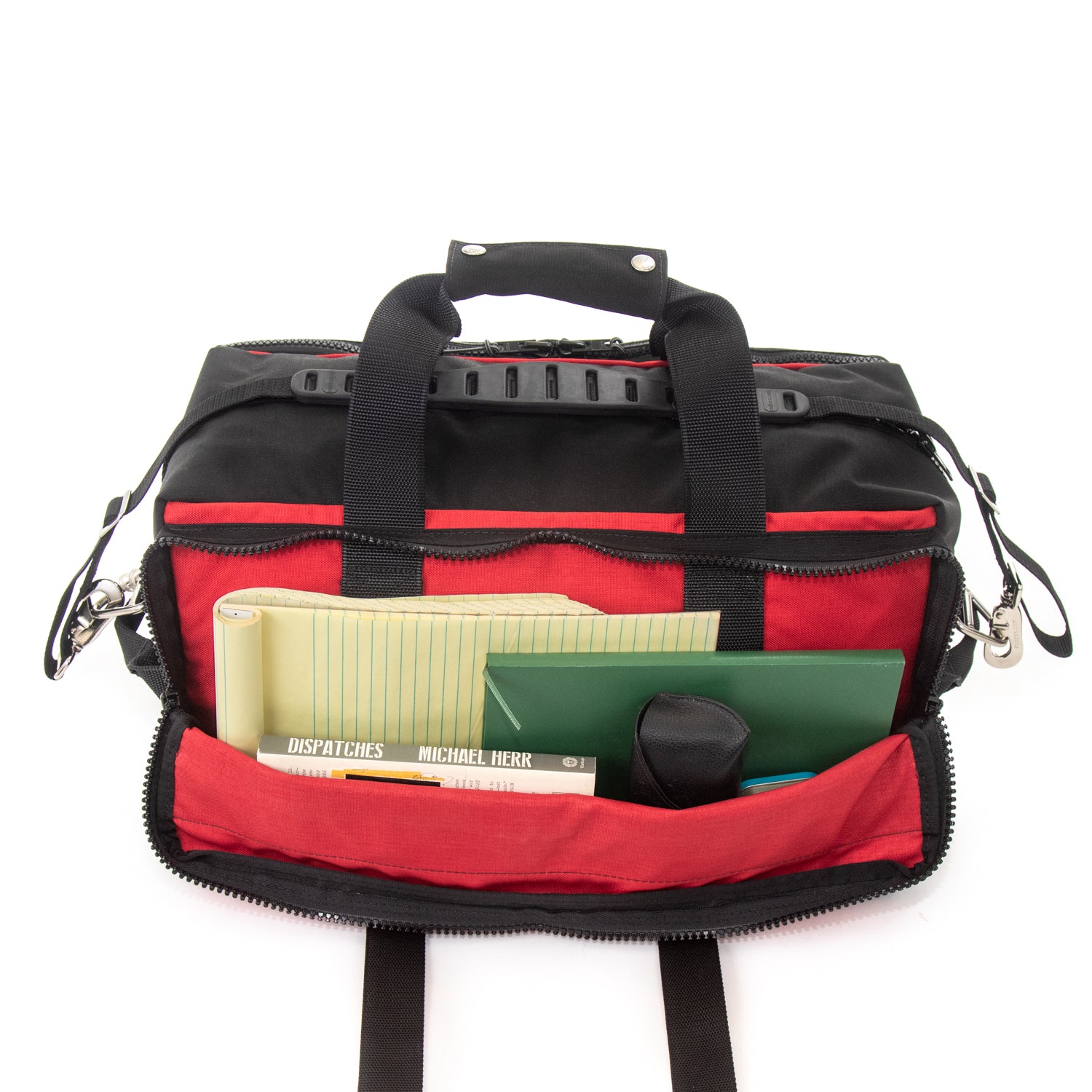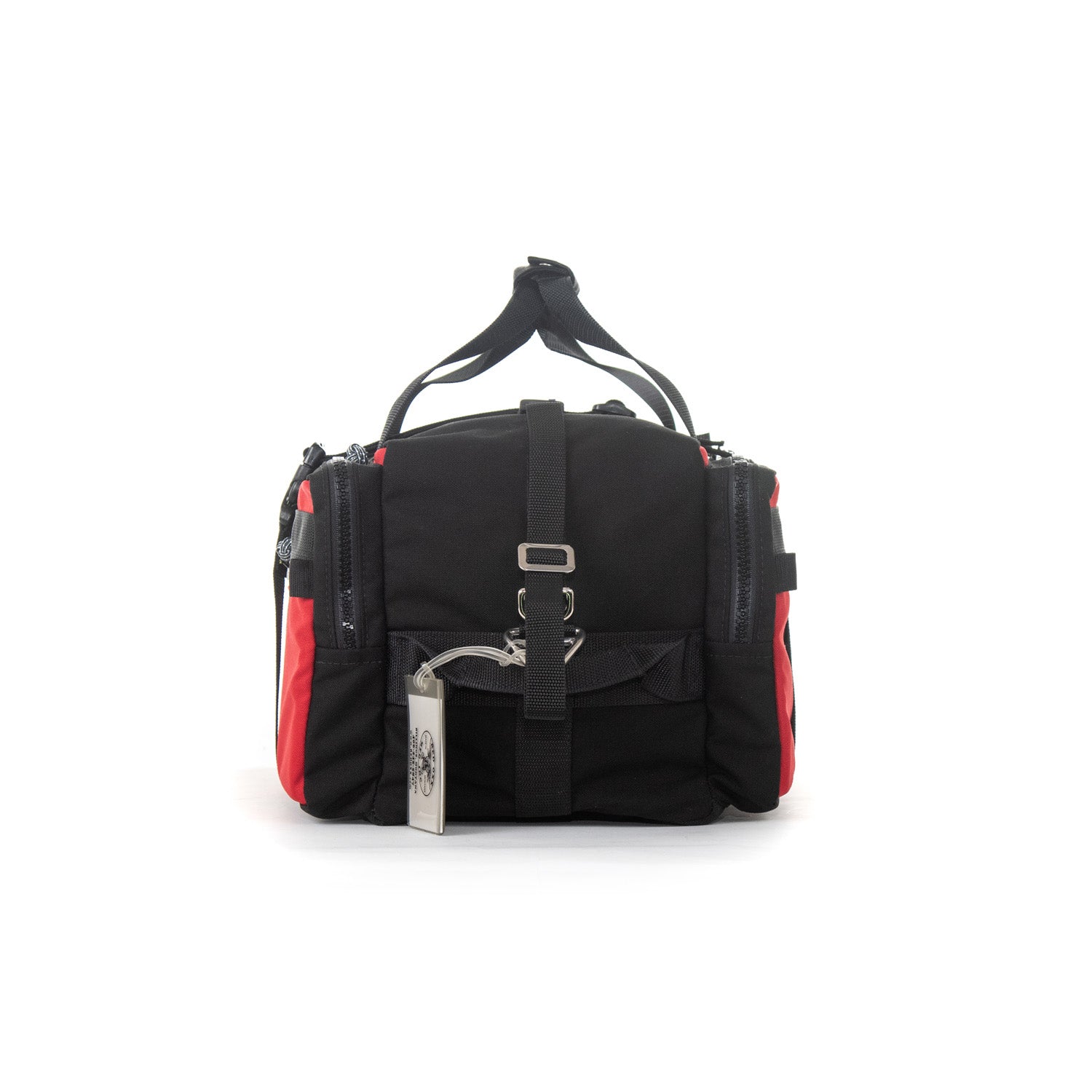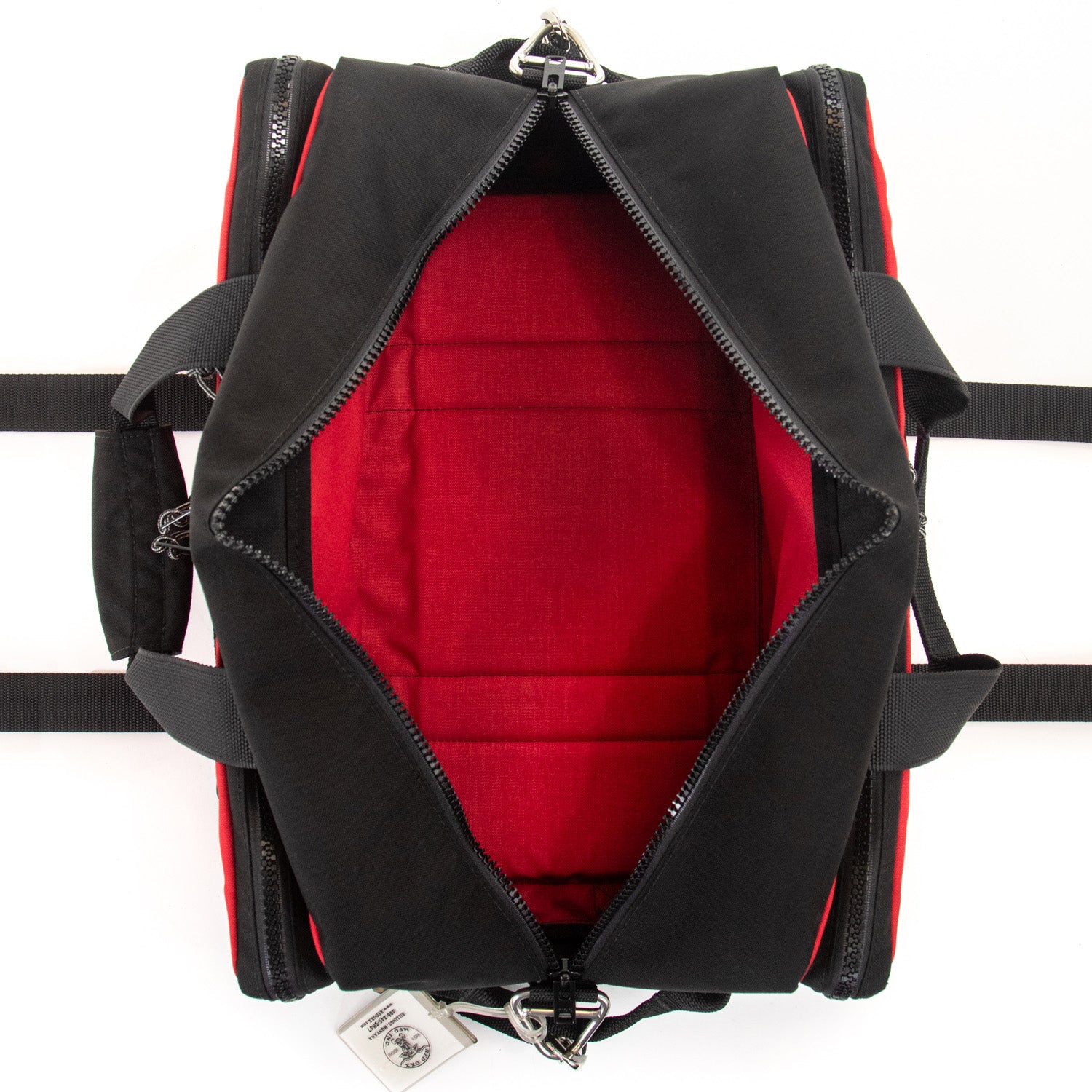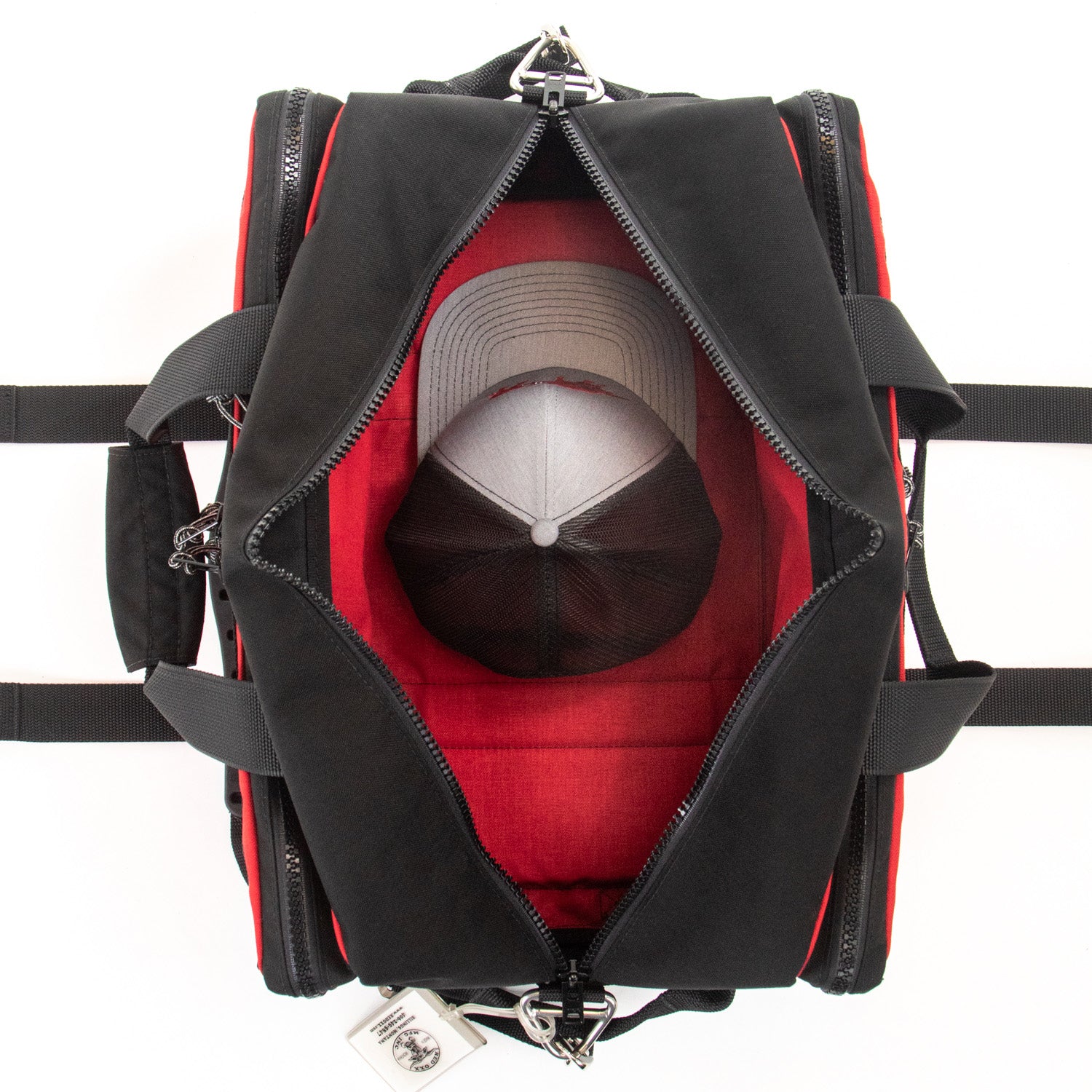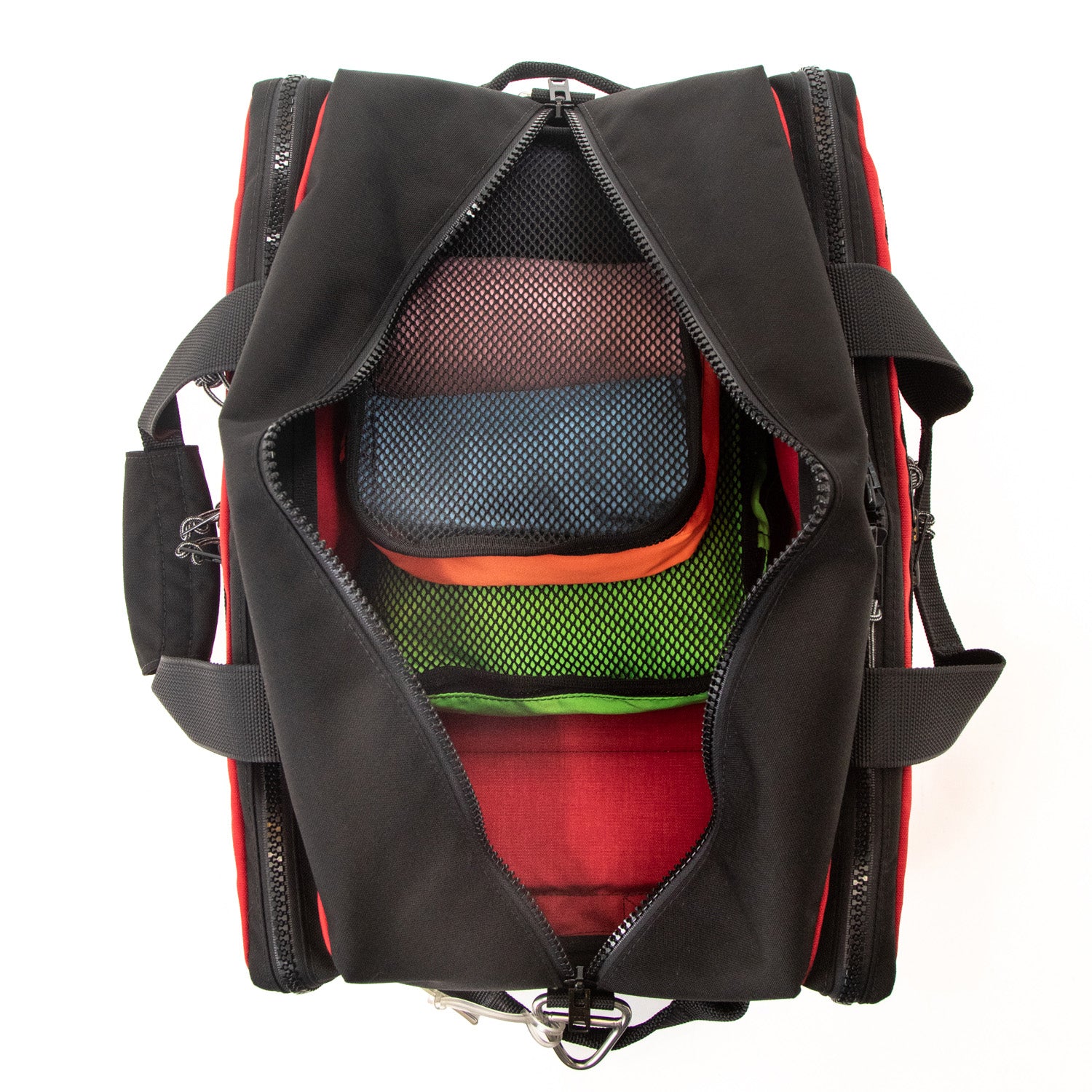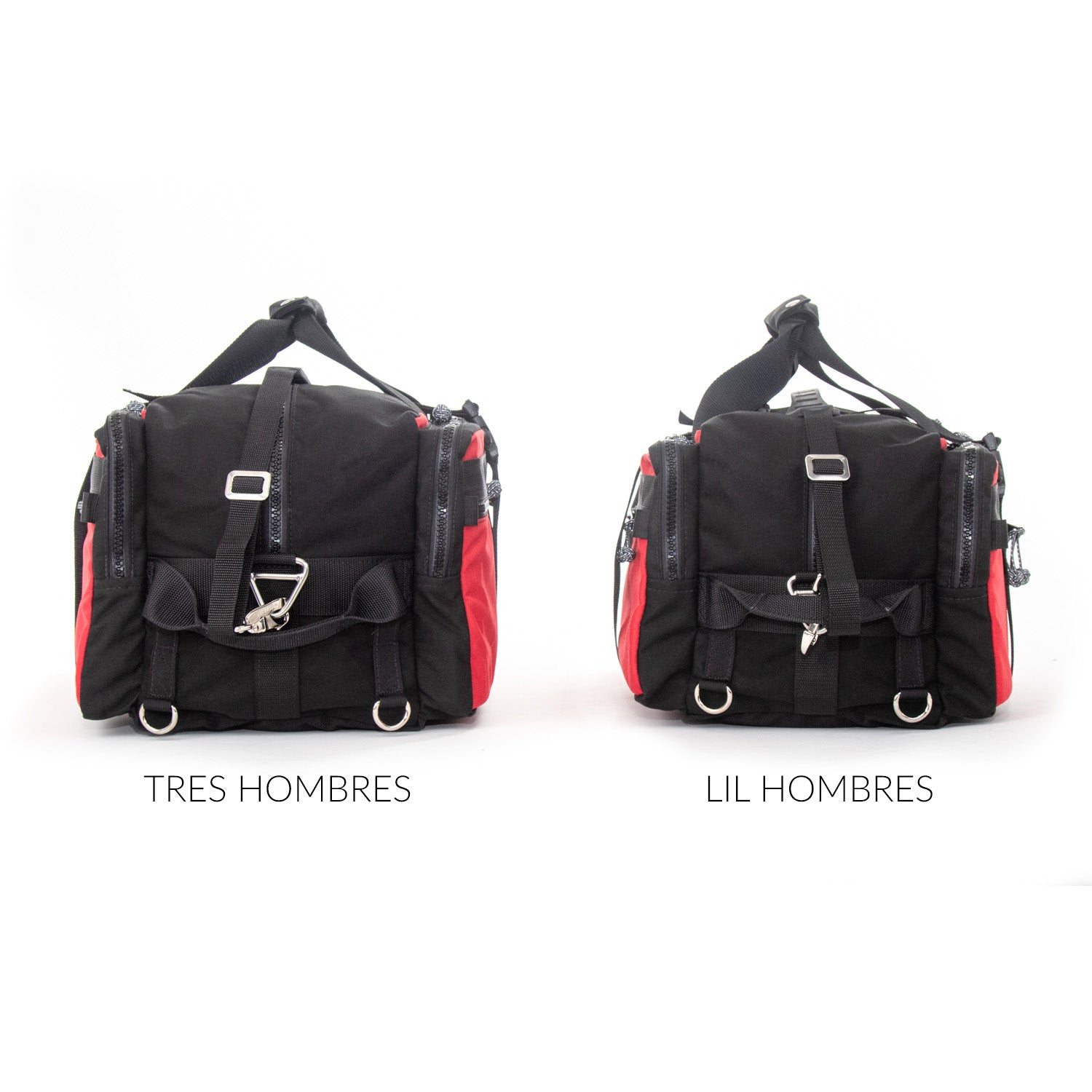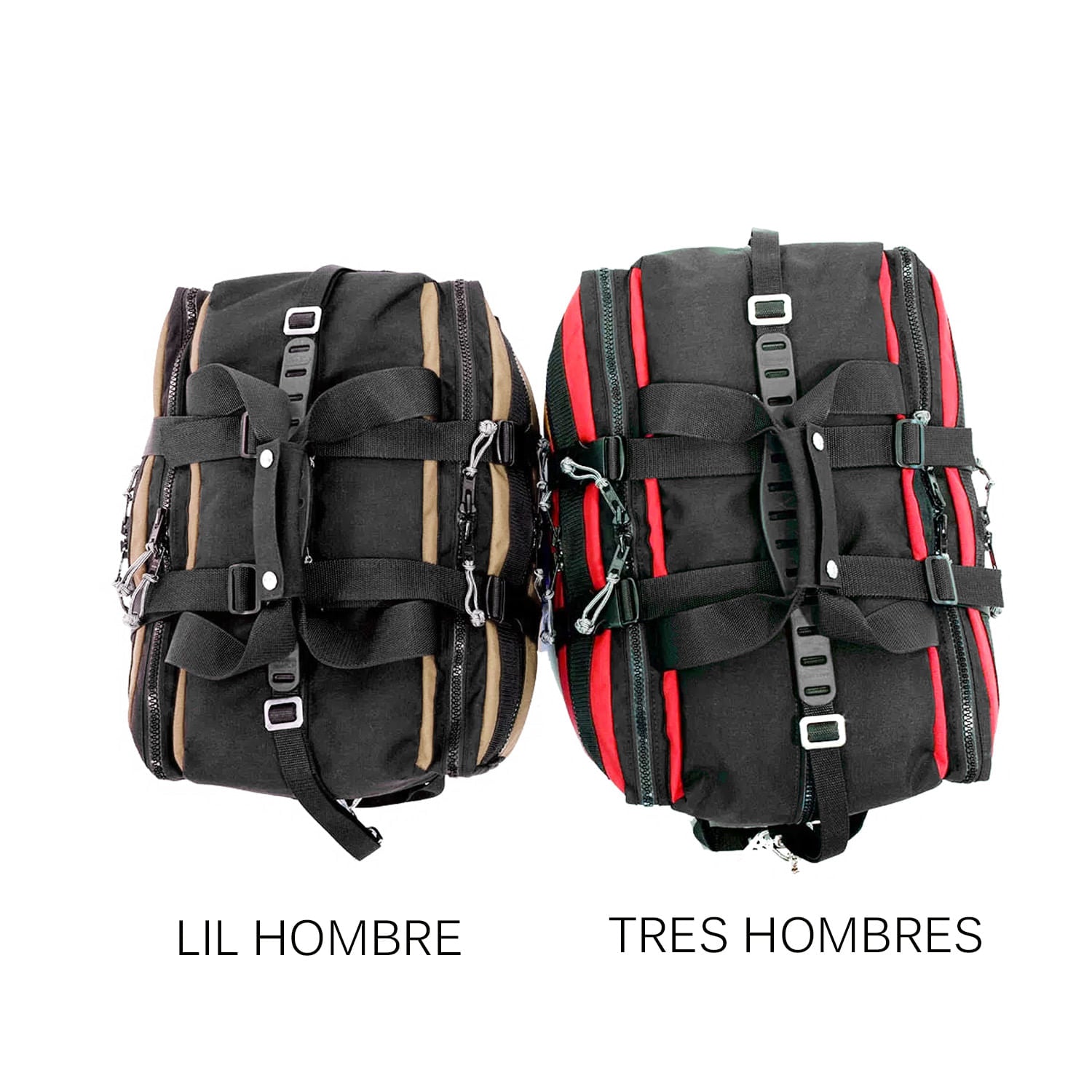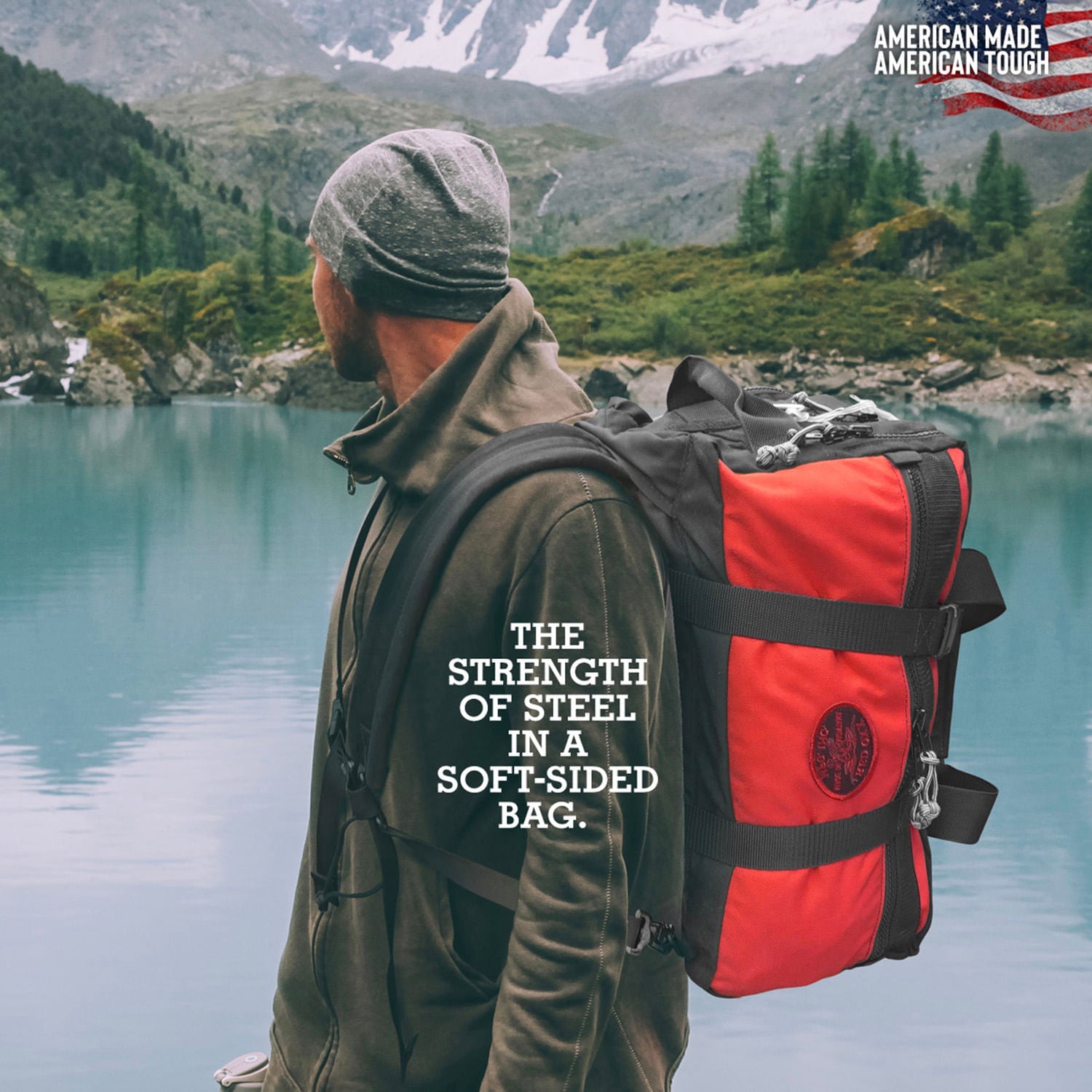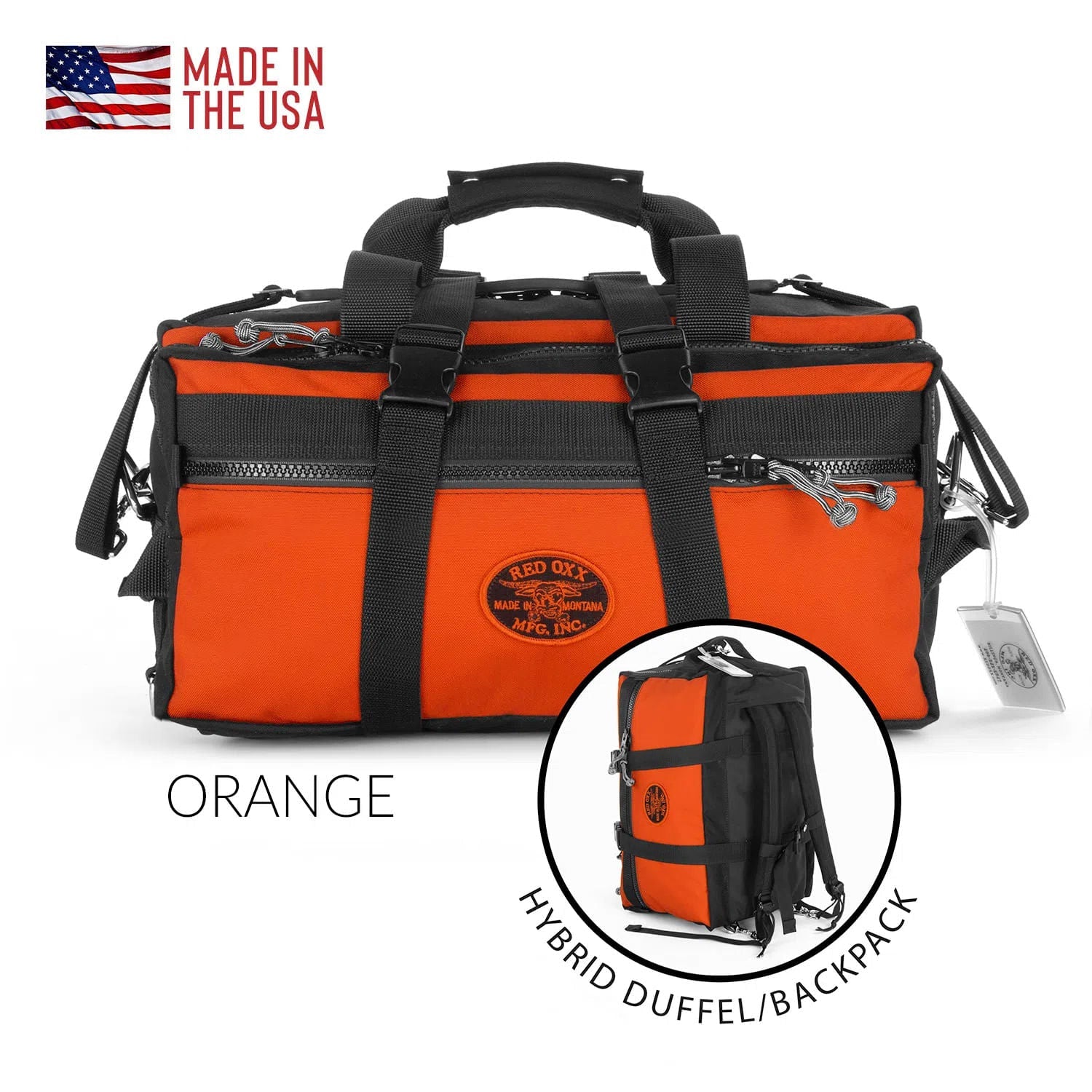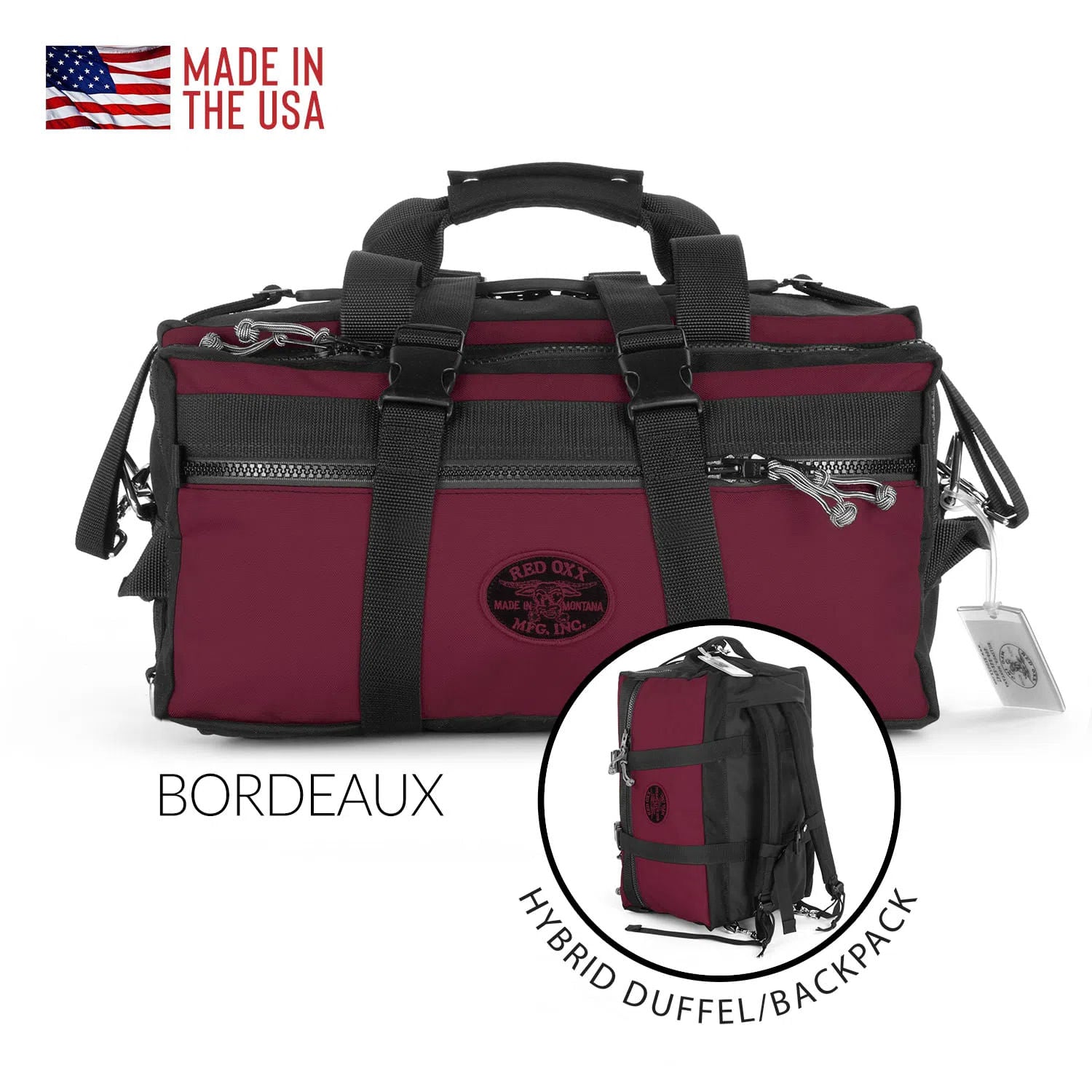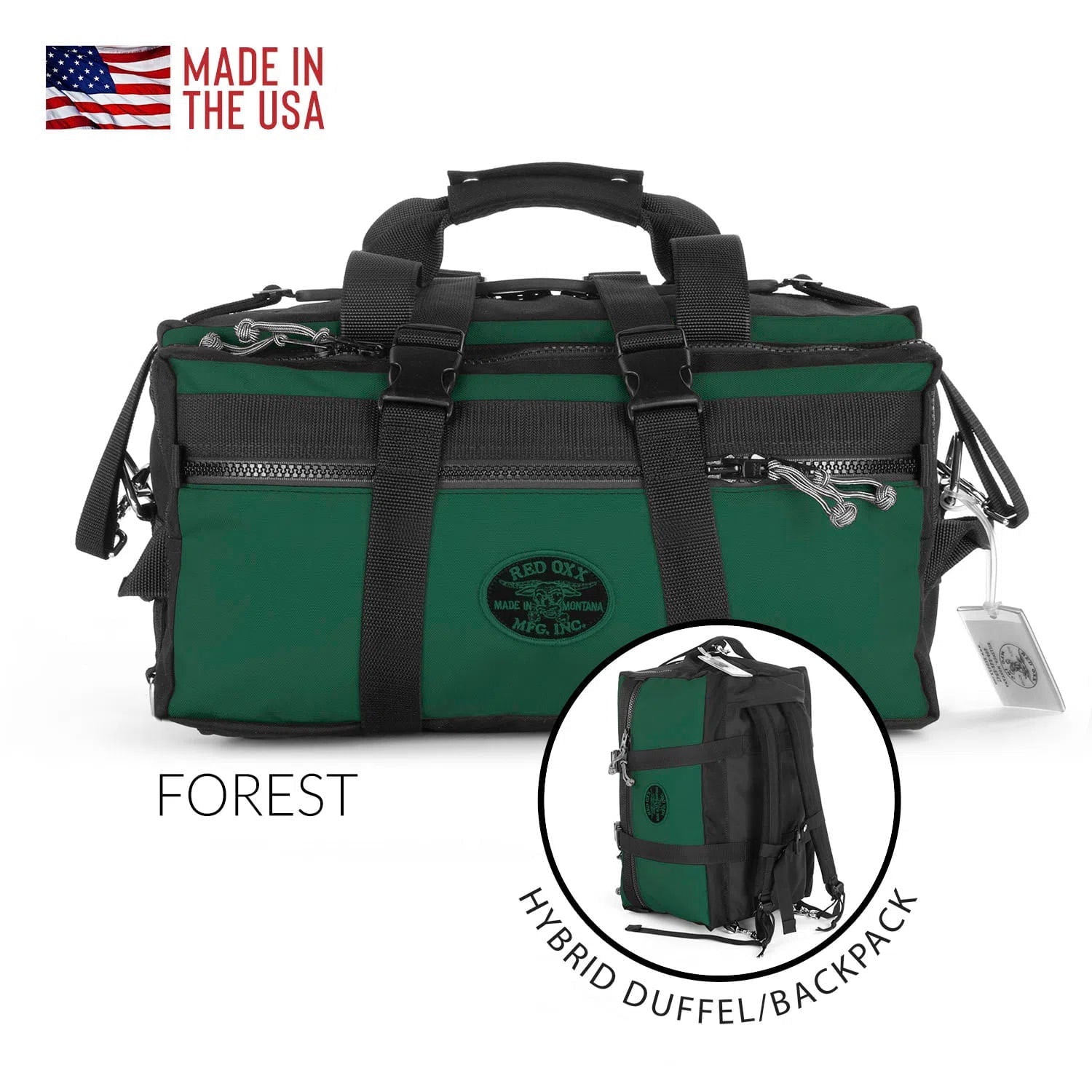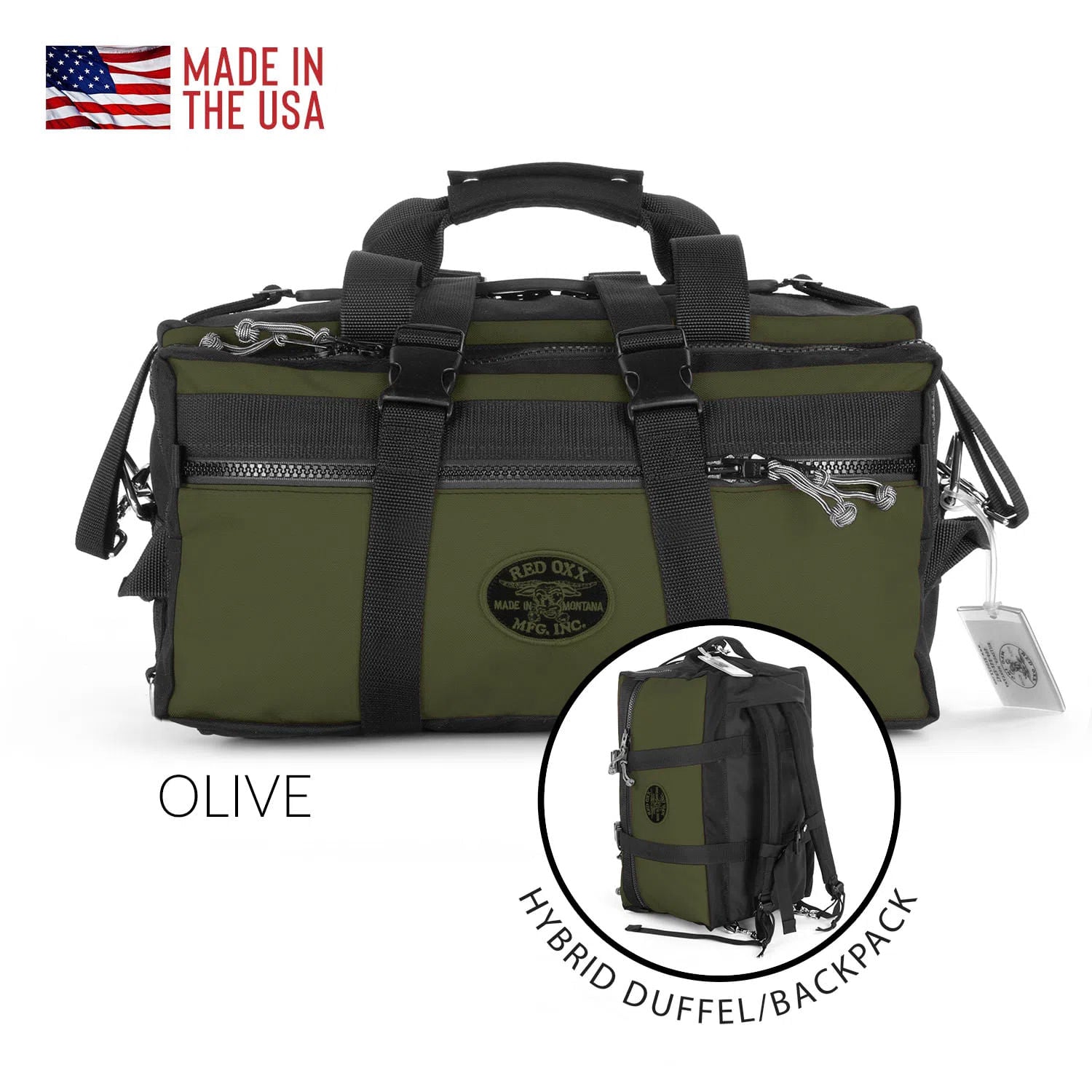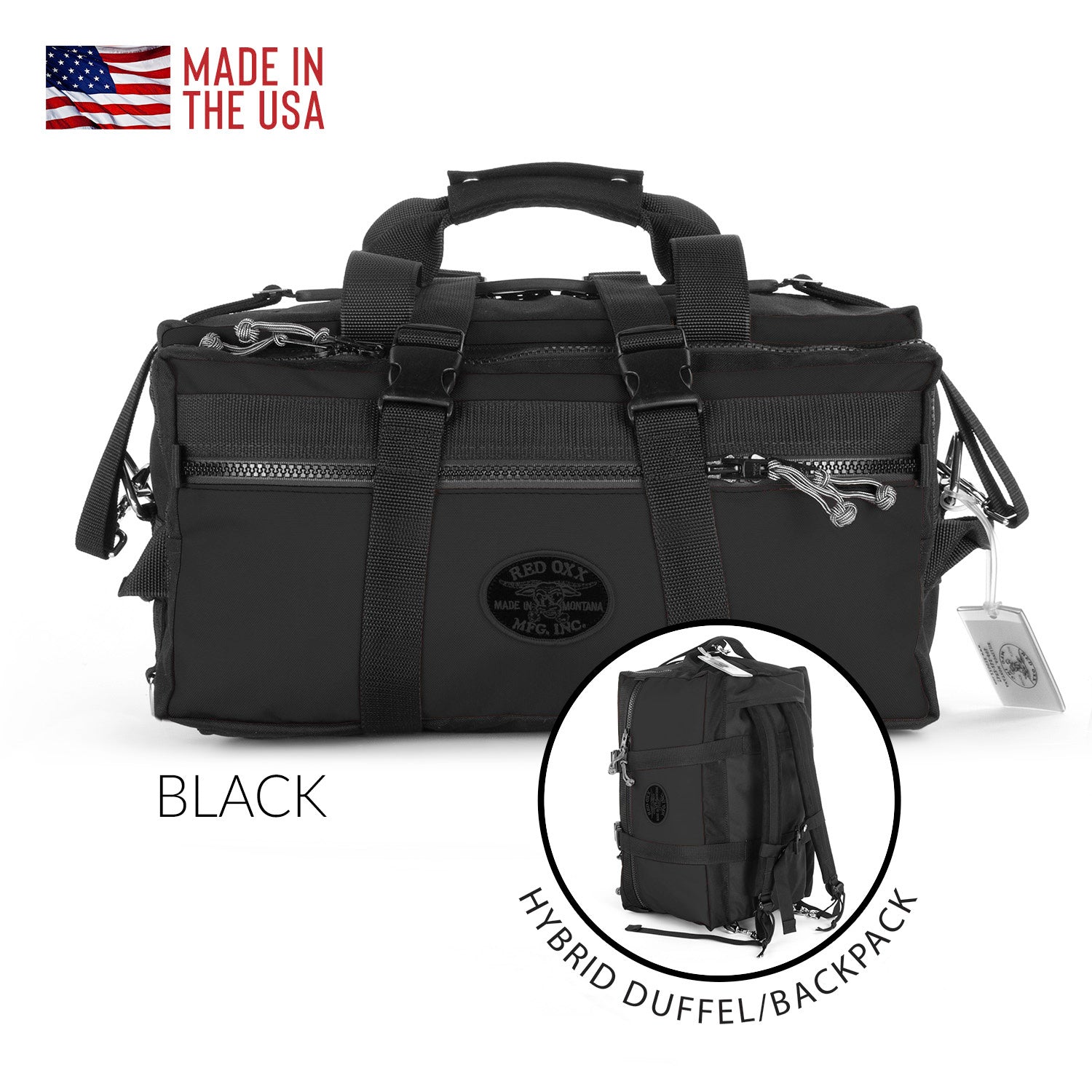 Lil Hombre Convertible Duffel
The uber minimalist travel companion for traveling light and freezing at night.  No room for your binky here.  Just the right amount space for those who love to go without.  
Stowable backpack straps, carry handle, end grab loops and shoulder strap maximize carry options.
Made in U.S.A. with our "No Bull" Lifetime Warranty
Dimensions: 13"W x 10"H x 19"L 
Three long storage compartments with external compression straps allow load control

Stowable backpack straps, carry handle, end grab loops and shoulder strap maximize carry options

Ultimate in Versatility

Grab and Go with this hands free carry-on

One Bag Travel has never been easier

DESCRIPTION

This tough carry-on legal, convertible-hybrid, backpack-duffel style bag is the next great evolution in airline carry-on bags. Down-sized to fit travelers with smaller frames.

EXTERNAL LUGGAGE COMPRESSION STRAPS
The twin exterior cinch-down compression straps were thoughtfully added. Using these adjustable straps allows you to cinch down and collapse your belongings or lumpy, bulky items and hold 'em in place. Which is especially awesome if you plan on bringing home more than what you shipped out with.

Handy grab loops on each end help you to easily pull it out of overhead bins or drag it on or off vehicle roof racks. The padded bottom cover features our tough 1050 weight Ballistic CORDURA® Brand nylon fabric for extra protection and service life, and of course, the store-able, padded backpack straps make for comfortable hands-free shoulder carry.

THREE EXTRA LONG STORAGE COMPARTMENTS.
The Lil Hombre features a unique three long compartment system that is carry-on legal . There's the long main compartment in the middle with more than enough room for your clothes or other long belongings like scuba gear. This compartment features a "break-over" zipper across the top, a configuration that allows you to unzip the bag part-way down the sides thus giving you a more open access to the compartment.

The two raised pocket equally long side compartments give you the option of storing your dress shoes, running shoes or heels in these 19-inch long compartments. Tucked into the outside of each raised side compartments there are twin flat side panel zippered pockets for smaller flat.

LOTS OF CARRY OPTIONS

In front of you by both end grab loop handles using both hands.
To your side hanging down by one end-loop handle.
Flip it over one shoulder using one end-loop handle.
Wear it on your back like a backpack using the clever padded retractable backpack straps.
Over your shoulder with The Claw Nonslip Shoulder Strap.
Or cross-body with The Claw shoulder strap.
U.S.A. Dimensions:

19"L x 13"W x 10"H
Capacity: 2,470 Cubic Inches
Weight: 4 Pounds

Metric Dimensions:

48.2cm L x 33cm W x 25.4cm H
Capacity: 40 Liters
Weight: 1.81 Kilos

Pocket measurements:

Main compartment: 19"L x 9"W x 10"H
Two full-length extended pockets: 19"L x 9"H x 2"D
Two full-length flat pockets: 19"L x 6"H
Bottom storage pocket for stowable backpack straps: 17"L x 9"W

Features:

Padded, stowatable back pack shoulder straps
A.L.I.C.E. pack strap adjusters
Bottom is padded with 4lb Volara foam for comfort and protection
Attached 1.5"W heavy-duty adjustable compression straps to tighly cinch bag
Quick release Fastex buckles on compressions straps for easy access
Sturdy Top handle and grab loops on each end for quick pick-ups
Weather resistant materials
Fabric: 1000 weight urethane coated, Dupont certified CORDURA® Brand Nylon
Bottom: 1050 weight urethane coated, Dupont certified Ballistic CORDURA® Brand Nylon
All zippers #10 YKK VISLON® self locking
Detachable Claw No Slip Adjustable Shoulder Strap
All seams double stitched and bound
Stainless steel Mil-Spec snaps with embossed Red Oxx logo
Fair trade Monkey Fist Zip Knots on all zippers
Included heavy-duty vinyl luggage tag
Double box stitching on stress points such as carry handles
Includes Cable Lock
Can I get my name embroidery l on Lil hombre

We have to send out for our embroidery so we currently only offer it on ourRailroad bagsand corporate orders. That being said, you're welcome to get your bag embroidered by a local embroidery shop in your area and this won't void your warranty in any way.

Is the Lil Hombre International carry-on legal?
The bag meets the most legal requirements for carry-on dimensions, both domestic and International - Height + Width + Length.

Where are the backpack straps located?
The retractable backpack straps are located in a hidden pocket on the bottom (backside) of the bag.

What are the Metal Rings for?
To attach the backpack straps on their clip-on snap hook end.

How many days of travel will fit in the Lil Hombre?
This is an carry-on sized bag. Going somewhere for a week? This is your bag. Properly packed, one could live out of a Lil Hombre Duffel for a week.

What's the average weight when full?
Depends what you pack in it. Adding boots or shoes to your clothes could weigh up to 40 pounds, putting it at the carry-on limit.

Does it come with a waist belt?
Since the Lil Hombre is a frameless soft-sided bag, a waist belt would not work.

How do the external compression straps work?
They encompass the bag's exterior collapsing it to keep your gear in place through, you guessed it, compression.

Can you tell me what a "break over zipper configuration" is?
The zipper zips up and across the top and part way down the sides. This makes access to the main compartment easier.

What's the difference between the Lil Hombres, Mini Boss and the Sky Train?
The Lil Hombre is a three compartment carry-on bag equipped with one long primary compartment and two long side compartments and is compressed with straps on the outside of the bag as opposed to the Mini Boss which has a larger center compartment and one side compartment with compression straps on the inside compartment and the Sky Train which has two main compartments, only one of which has interior compression straps.

Is there a way to securely lock my bag?
Sure, you can use any TSA approved bag lock or try our Cable Lock for a simple, semi-secure solution. Watch this video where CEO Jim Markel demonstrates how you can use the cable that comes with the product Dog Tag price tag to secure your bag. Keep in mind, any determined thief can still cut open a soft sided bag with a sharp knife.

Will a sleeping bag fit inside the Lil Hombre?
Absolutely, it will fit a small frame Sleeping Bag.

Are there any interior pockets?
The Lil Hombre has only one large main compartment and two exterior raised pockets.

My zipper broke. The teeth have separated. Do I send it in for warranty repair?
No need for warranty repair, try and fix it yourself. Check out this video where CEO Jim Markel shows how easy it is to do it yourself.

Will a laptop fit in the Lil Hombre?
Sure, though you will want to slip it into a neoprene sleeve and place the laptop in the bottom of the main compartment. While the padding in the base of the bag will protect your computer, be aware it will shift around unless your compartment is tightly packed.

How do I use or store my bag to keep its original padded shape and prevent it from slouching?
When using your bag, pack heavy items in the bottom of the bag. When storing your bag, removed any items and press flat. You can stack your bags in your closet in this manner or hang up your bag.

Can you ship USPS?
Yes, Red Oxx will ship USPS upon request. Simply state, "Please ship USPS" in the cart comments during checkout and we will adjust your billing accordingly.
This product has no reviews yet.
This product has no reviews yet.
This product has no reviews yet.