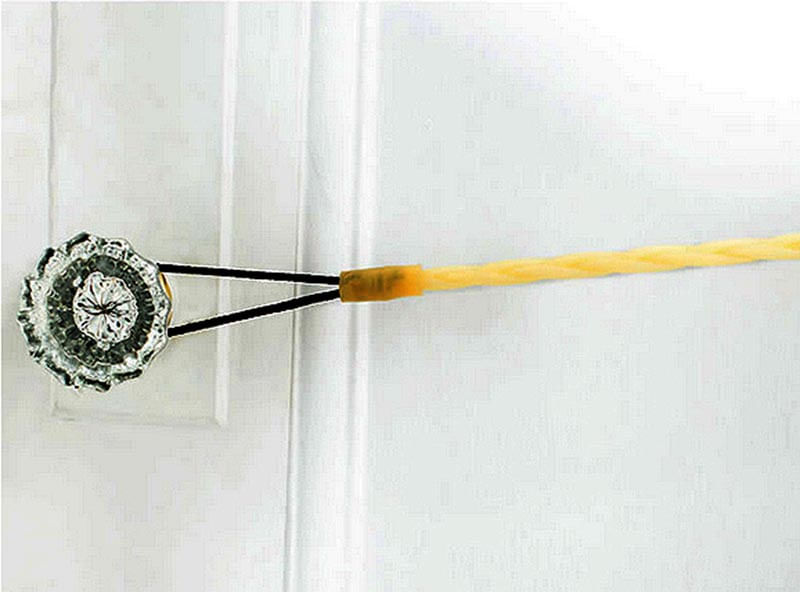 Flexo-Line Travel Clothesline
Hang your clothes to dry anywhere. Look sharp while you travel near and far. 
Flexo-Line Travel Clothesline is the perfect travel companion. The Canadian-made product is constructed with top-grade surgical tubing for reliable performance. Easily install it to complete laundry on the go.


Stretches to up to seven feet long.
Stretches to up to seven feet long

Supports up to 12 pounds of wet clothing

Durable and lightweight

3 braid strand for extra grip

Smooth & won't snag on delicate fabrics

Made from surgical grade natural Latex rubber

Here's the ideal solution to keeping your clothes looking sharp while traveling. Red Oxx has found it. Since 1943, the Flexo-Line Travel Clothesline has been an essential accessory for leisure and business travelers seeking to trim their travel budgets by laundering their own clothes.

Created by agricultural engineer Lloyd Copeman, the Flexo-Line Traveler's Clothesline is stretchy and simple to use and was cleverly designed to ditch the need for clumsy clothespins.

Crafted with durable, high quality, lightweight materials, this handy portable clothesline will last for years.

Constructed out of surgical-quality natural latex rubber tubing with triple strand braids for extra grip the Flex0-line is hand-washable. It's smooth surface won't snag delicate fabrics, and it easily loops around doorknobs, hooks, trees or towel bars.

This Extra Large model stretches up to seven feet long (2.1 meters) and will support up to 12 pounds (4.5 kg) of clothing. So lightweight, the Flexo-Line weighs less than an ounce. Goodbye clumsy clothespins, your wet clothes will tuck into the twisted gaps and hang there until dry.

Flexo-Line Portable Laundry Clotheslines can be used while cruising, backpacking, camping, RV-ing, sailing and of course, while staying in hotels, vacation rentals, hostels, apartments & even dorms.
Lightweight at less than an ounce

Stretches to over seven (7) feet long

Supports up to 12 pounds of clothing

Wraps easily around door handles, towel bars, tree stumps, etc.

Sturdy surgical tubing lasts for years of trouble free use
What is the Flexo-Line made of?
The Flexo-Line is made of triple strands of durable surgical latex rubber tubing. The loops on each end are made of high quality nylon. Properly cared for, your Flexo-line will last for many years.

How far does the Flexo-Line Extra Large stretch?
It stretches up to seven feet (2.1 meters).

How much weight can the Flexo-Line hold?
It can suspend up to 12 pounds (5.4 kg). Squeeze out as much water as possible from your wet clothes before hanging up to dry.

How much does the Flexo-Line weigh?
The Flexo-Line weighs less than 1 ounce (27 grams).

How do clothes attach to the Flexo-Line without using clothespins?
Clothes are held in place by the triple braided tubing. Simply tuck a corner or end of the article of clothing in between the braids.

What can the Flexo-Line attach to?
The line can be attached to any sturdy stationary objects such as hooks, poles, door knobs, tree branches, bed posts, towel rods, and more.

How do I attach the Flexo-Line?
To attach the Flexo-Line, wrap one of the bottoms of the loops around a sturdy, stationary object. Thread the clothesline through the loop until the loop is snugly wrapped around the object. Hook the second loop to another sturdy, stationary object.

Where can I use the Flexo-Line?
The Flexo-Line can be used in a wide variety of places including: hotels, cruise ships, vacation rentals, apartments, RVs, campgrounds, boats, dormitories, and more.

How can I help my Flexo-Line last for many years?
Natural rubber products can be damaged by ozone, heat, and light. To help your Flexo-Line to last for many years, store it away from direct sunlight. Avoid extreme temperatures; temperatures below 90°F (32°C) are preferable. Also, avoid leaving it stretched out for long periods of time.

Is the Flexo-Line washable?
Yes. It can be hand-washed with lukewarm water and mild soap.
This product has no reviews yet.
This product has no reviews yet.