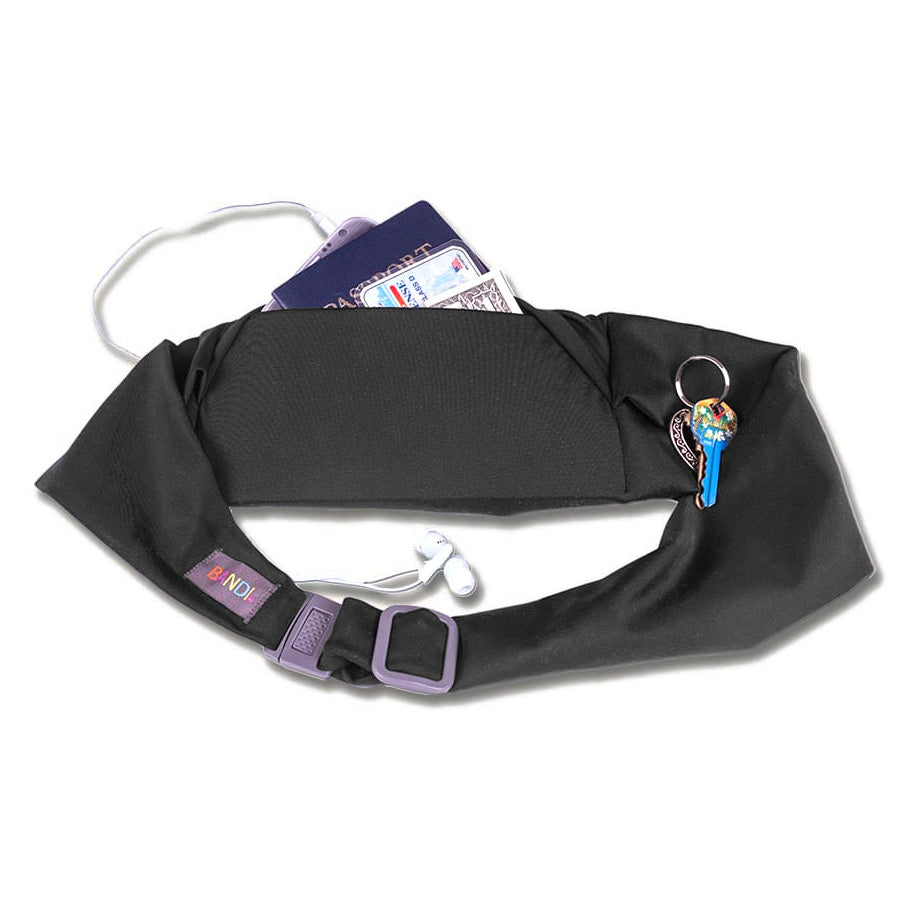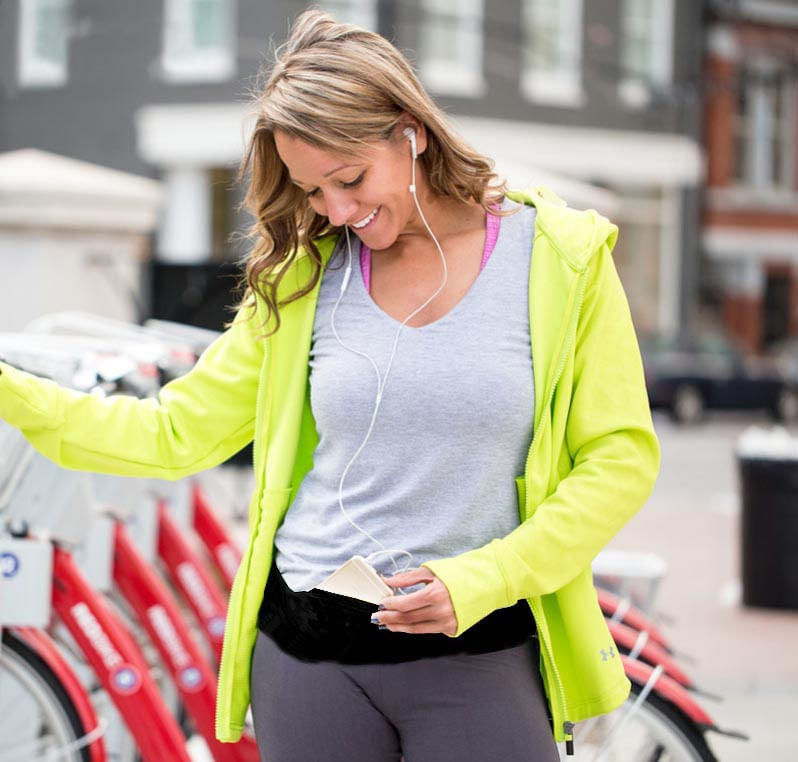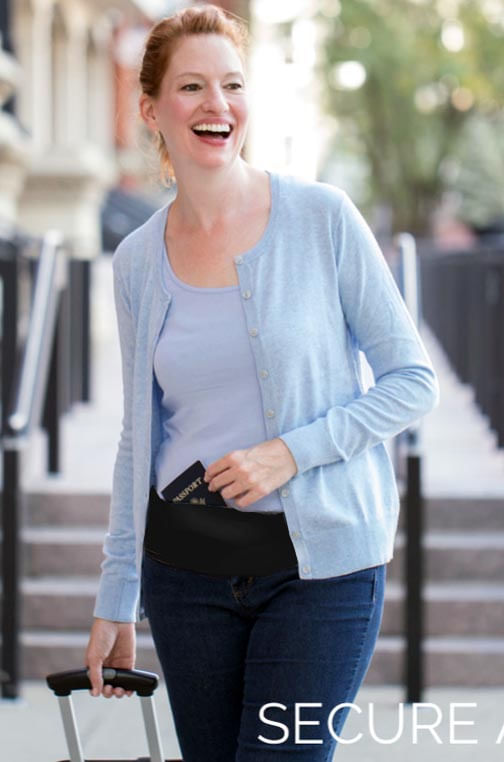 BANDI® Large Pocket Belt
BANDI® Large Pocket Belt is an adjustable, comfortable accessory with a slim wallet to securely carry your phone during running, travel, and events.  
Dimensions: 7-1/2"L x 3 1/2"W opening on main pocket
Sleek pocket fold instead of a zipper

Soft spandex fabric stretches to fit your body movements

Sleek pocket fold instead of a zipper

Soft spandex fabric stretches to fit your body movements

Made in U.S.A.

A Red Oxx Recommended Travel Accessory.

Looking for a sleek and discreet way to carry your large screen smartphone, Passport, ID, cash, credit or debit cards, car keys, or iPod/MP3 player? Tired of that clumsy old (and ugly) fanny pack causing ridicule? Check out the body-hugging low-profile pocket money belts from BANDI®.

The size Large BANDI® Pocket Belt has all the same features of the Classic BANDI® Belt; a low-profile, center release buckle and tri-glide for an adjustable, no-bounce fit. The unique folded storage pocket will secure your important belongings without using bulky zippers or annoying noisy Velcro.

Stitched together in the U.S.A. using a soft, spandex knit fabric that stretches to conform to the shape of stored items, thus holding them snug with your body and giving you a sleek profile without added bulges. Goodbye lumpy fanny pack!

The easy-to-adjust Tri-glide, in conjunction with the soft stretch spandex fabric, means that your BANDI® Size Large Pocket Money Belt will comfortably fit most waist sizes from 28 inches to 42 inches.

Extensive testing and positive customer feedback has demonstrated that even the Large BANDI® Money Belt won't "ride up" when you go running. The sleek tapered design and the adjustable fit hugs your hips, preventing bouncing.

BANDI® Pocket Belt's spandex knit fabric is naturally water resistant. Spandex fabric also has sweat wicking properties. These belts contain two layers of poly stabilizer which pads and protects your items. Want to keep your stuff dry, simply store them in a plastic Ziploc bag.

Everyday items that fit in the size Large BANDI® Belt include:

Cash and coins
Credit and Debit cards
ID
Passport
Large format Smart phones including Samsung Galaxy Note and iPhone 6+.
MP3 player or iPod
Keys, including larger keychains or security keys
Lip balm
Tube of sunscreen
Medications including pill containers, an asthma inhaler or even an insulin pump
Tickets, receipts, tissues

How to Keep Your BANDI® Large Storage Money Belt Clean:
Hand wash in cold water, no bleach. Lay flat or hang up to dry. Ironing is not recommended.

Pocket Dimensions:
Main Pocket: 7 1/2 inches long by 3 1/2 inches wide.
Side Pocket: 4 inches long.

You will love the extra pocket space of the BANDI® Large Pocket Belt. BANDI® Belts are so comfortable, you'll hardly know you're wearing one! Available in Black only.
7 1/2"L x 3 1/2"W opening on main pocket

Inside divider on main pocket separates phone from small essentials

4"L side pocket to stash keys/coins

Designed with sleek pocket fold on the inside to secure your stuff without bulky zippers or fasteners

Low profile, center release buckle

Tri-glide adjusts size for comfort and no-bounce fit for runners

Soft, black spandex knit fabric stretches to conform to your body

Made in U.S.A.
How do you wear a size Large BANDI® Belt?
Position it around your lower waist, just above the hip. The low profile buckle allows you to eaily put on and take it off. You can adjust the fit by sliding the tri-glide adjuster tighter or looser. Wear it with the pocket opening facing you slightly off-center next to your right hip.

How do I care for my BANDI® Belt Large Money Belt?
Hand wash in cool water and hang dry. Do not iron or dry clean.

What size phones will fit the Large BANDI® Belt?
The Large Pocket Belt accommodates nearly all smartphones, especially larger models. It will easily hold an iPhone 4s, iPhone 5, iPhone 6 and 6+, Galaxy Note, Galaxy S3, Galaxy S4, Galaxy S5, Google Nexus 5, Droid Razer, LG Optimus Exceed 2 and Nokia Lumia. For reference, pocket dimensions are: 7 1/2" L x 3 1/2" W.

How many pockets does the Large BANDI® Belt have?
The BANDI® Belt size Large, has two pockets. The main pocket is divided to keep your phone separated from your cards and cash. Another pocket next to the main pocket holds bulkier items like keys, lip balm etc. The main pocket is divided by a sewn-in stiff poly stabilizer that provides structure, stability and protection for your valuables.

Can you suggest activities that a Larger BANDI® Belt would be ideal for?
Running, walking your dog, taking a stroll on the beach, and other vacation and travel activities including hiking, biking, attending concerts, sporting events, tail-gating, soccer games, swim meets, roller blading, night-clubbing, shopping, brewfests, horse-back riding, golfing, gardening, amusement parks – you name it!

I see it's designed without a zipper. Will my stuff fall out?
The spandex stretch fabric coddles and holds your items tightly. Be sure the fold is pulled over the top of the pocket, as this will secure everything.
This product has no reviews yet.
This product has no reviews yet.