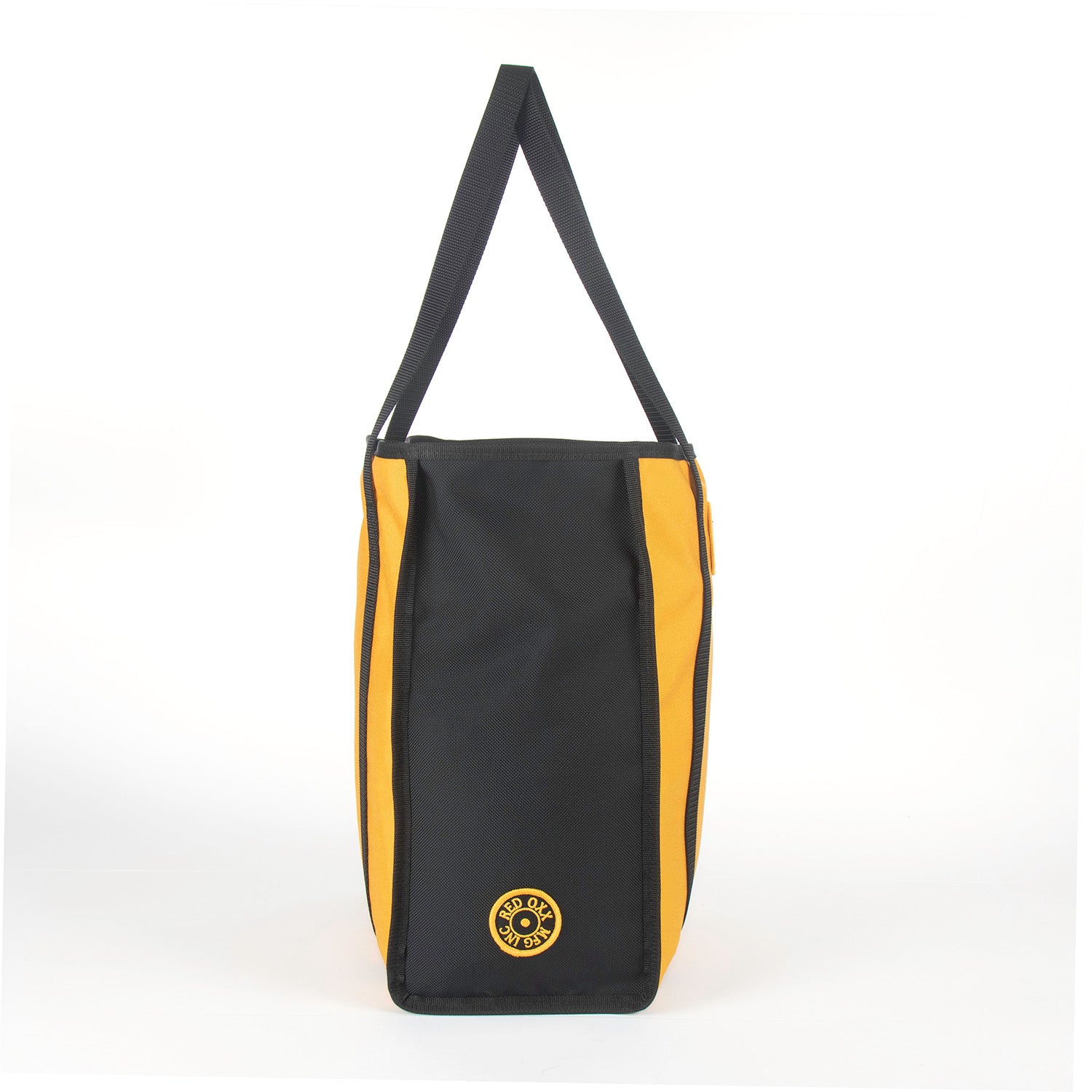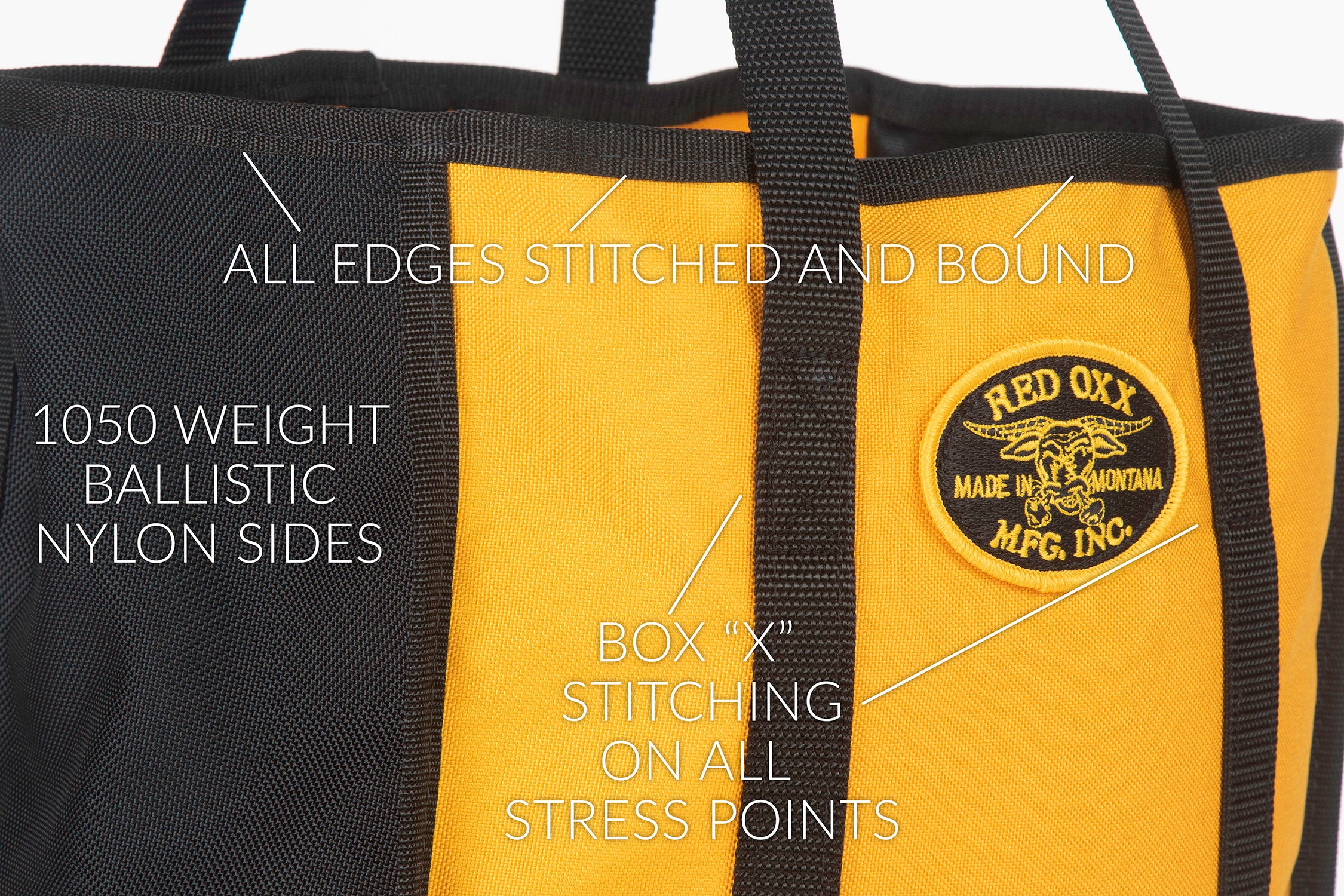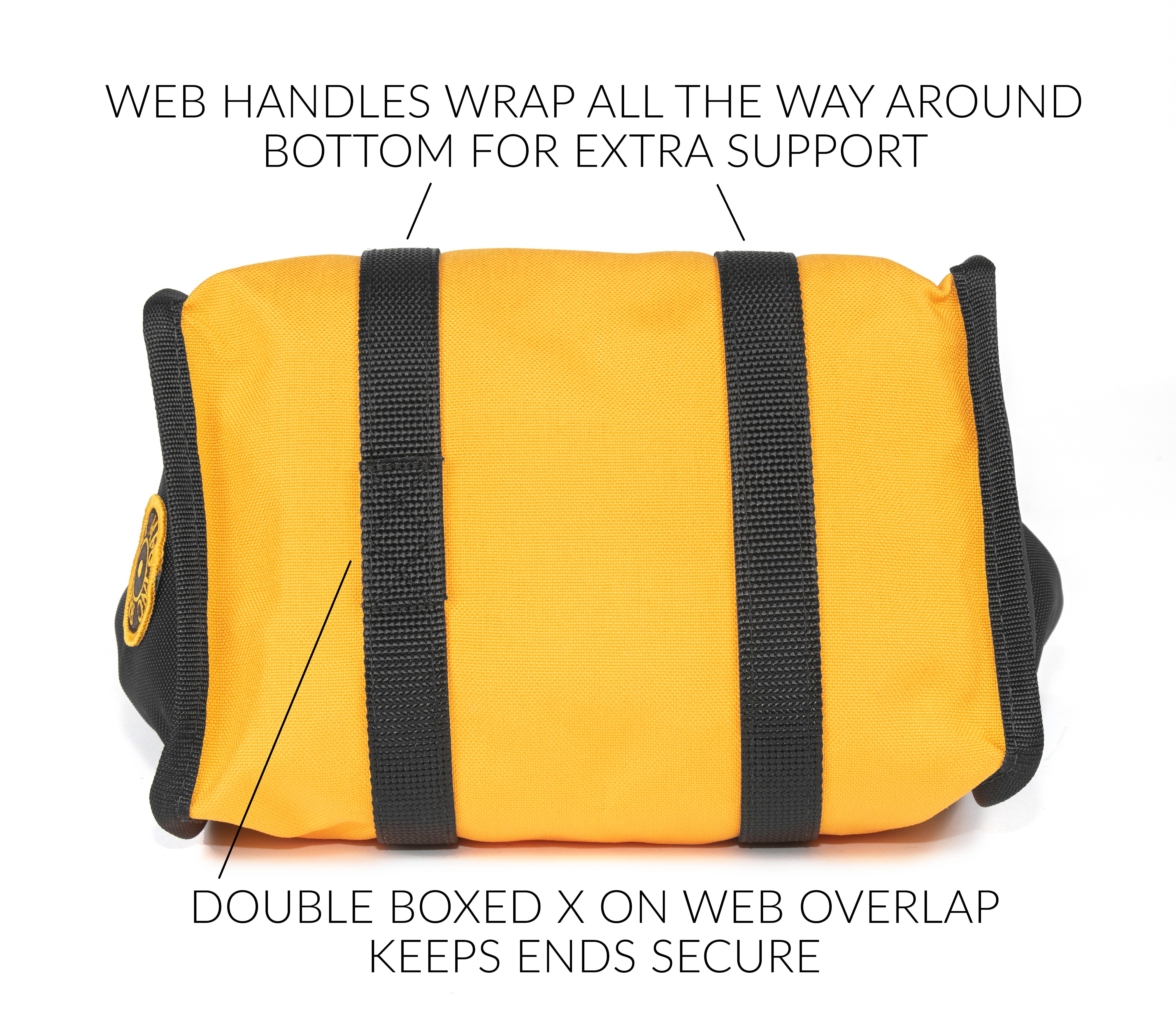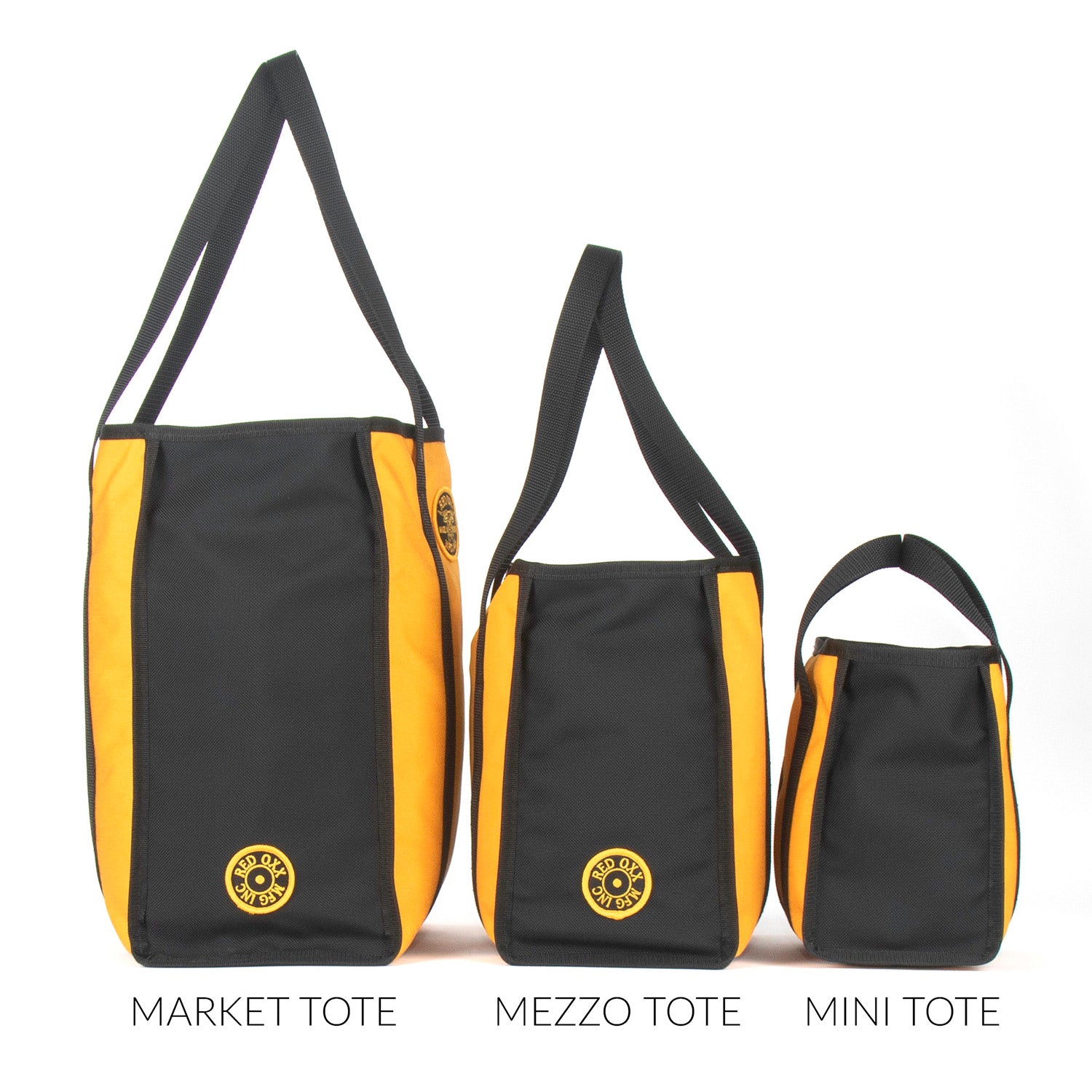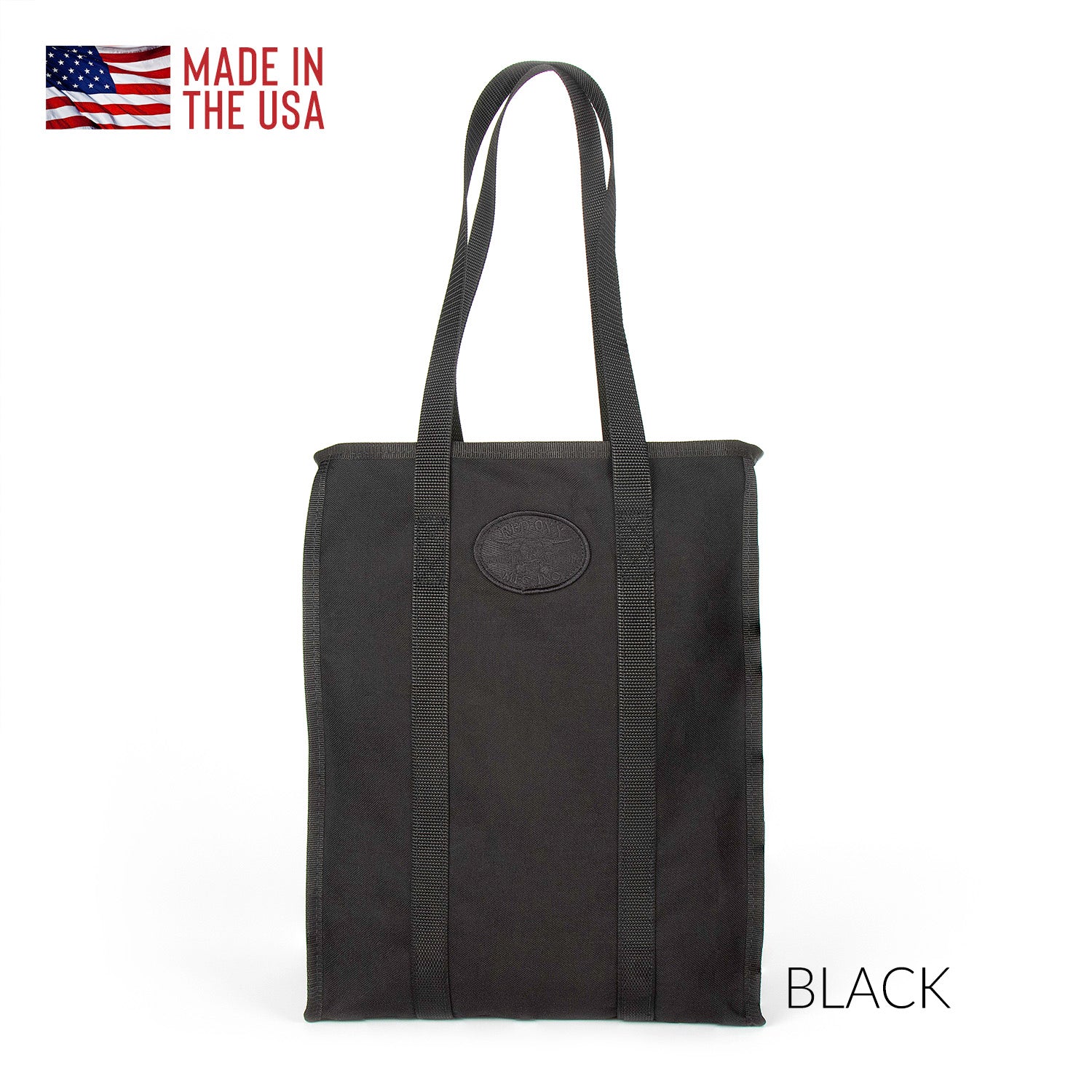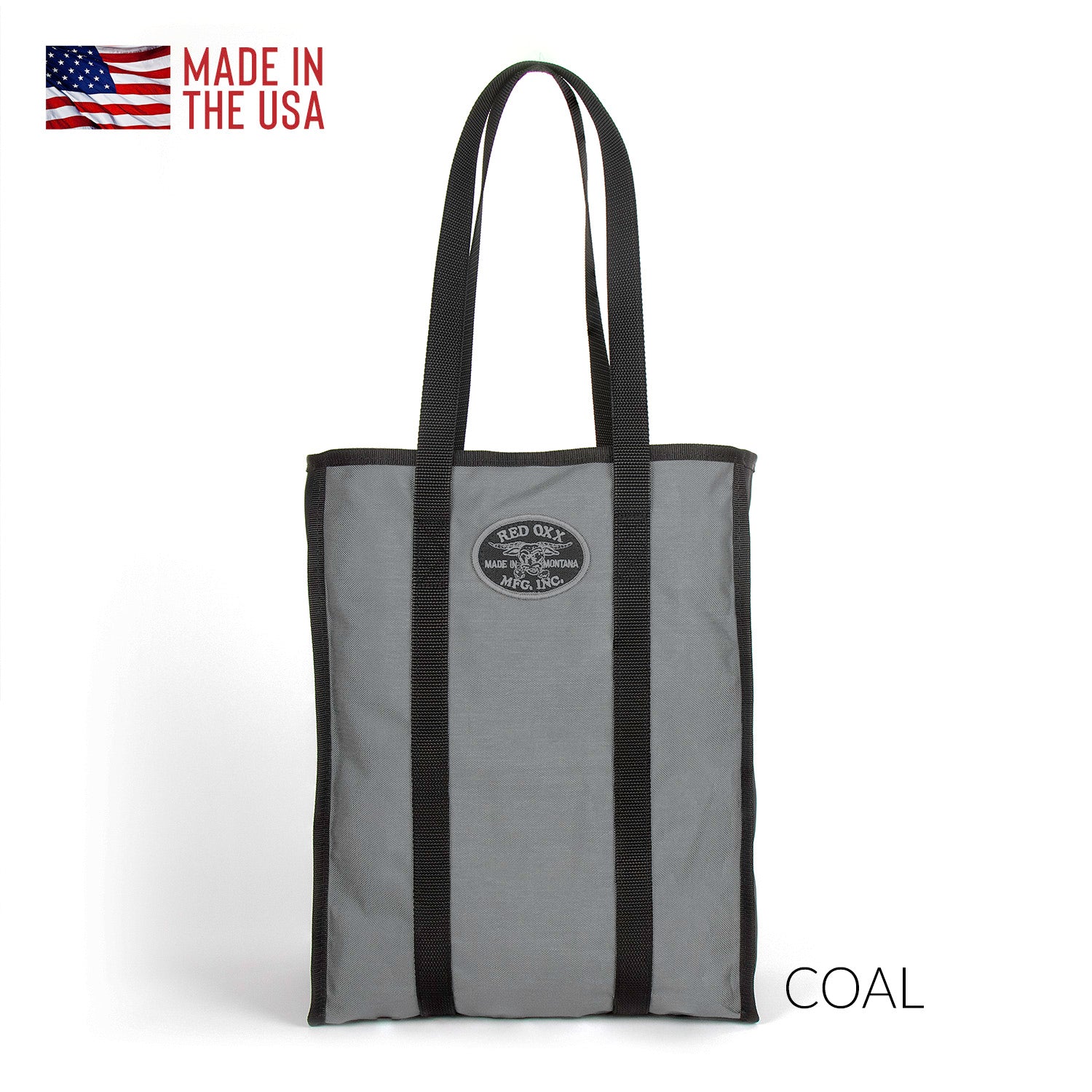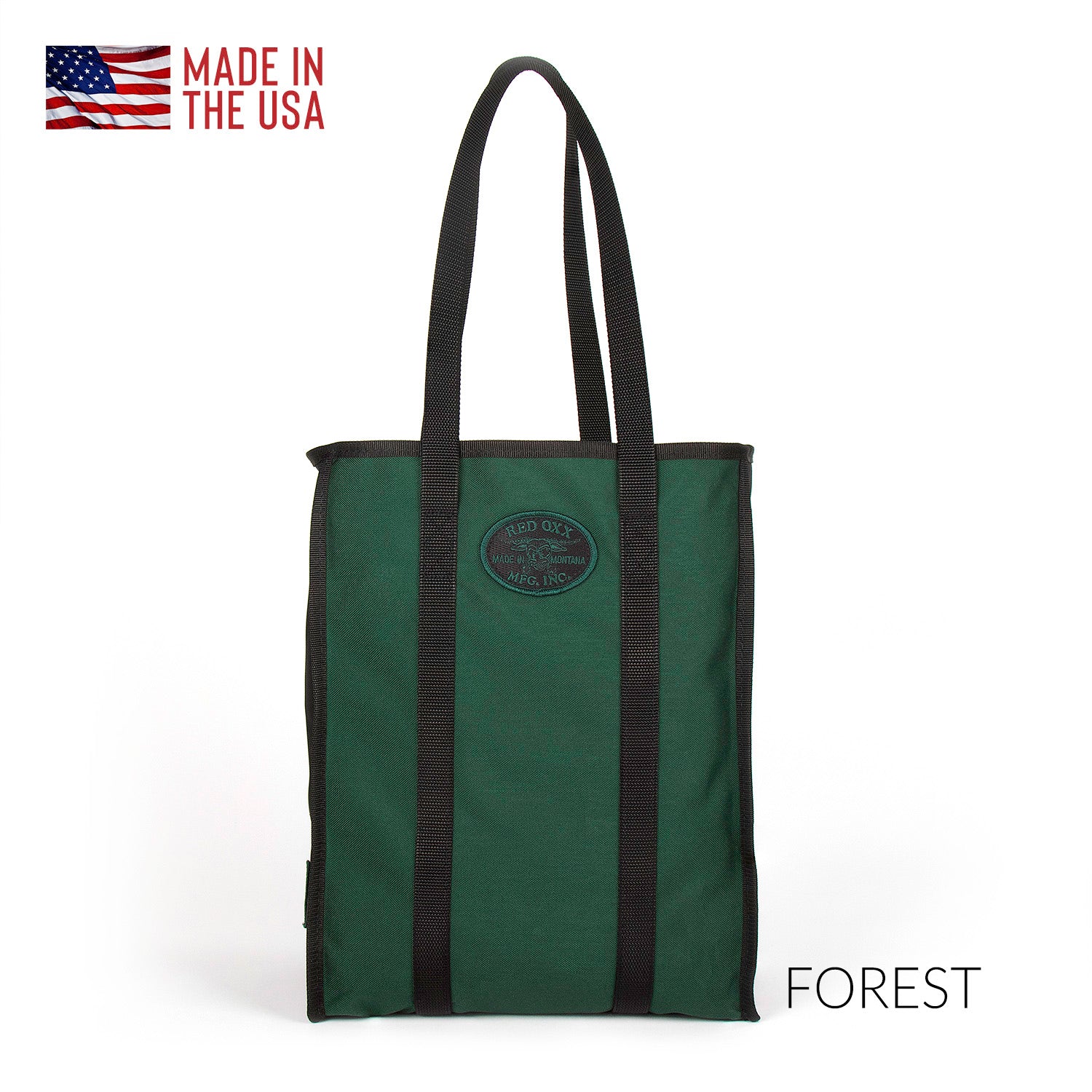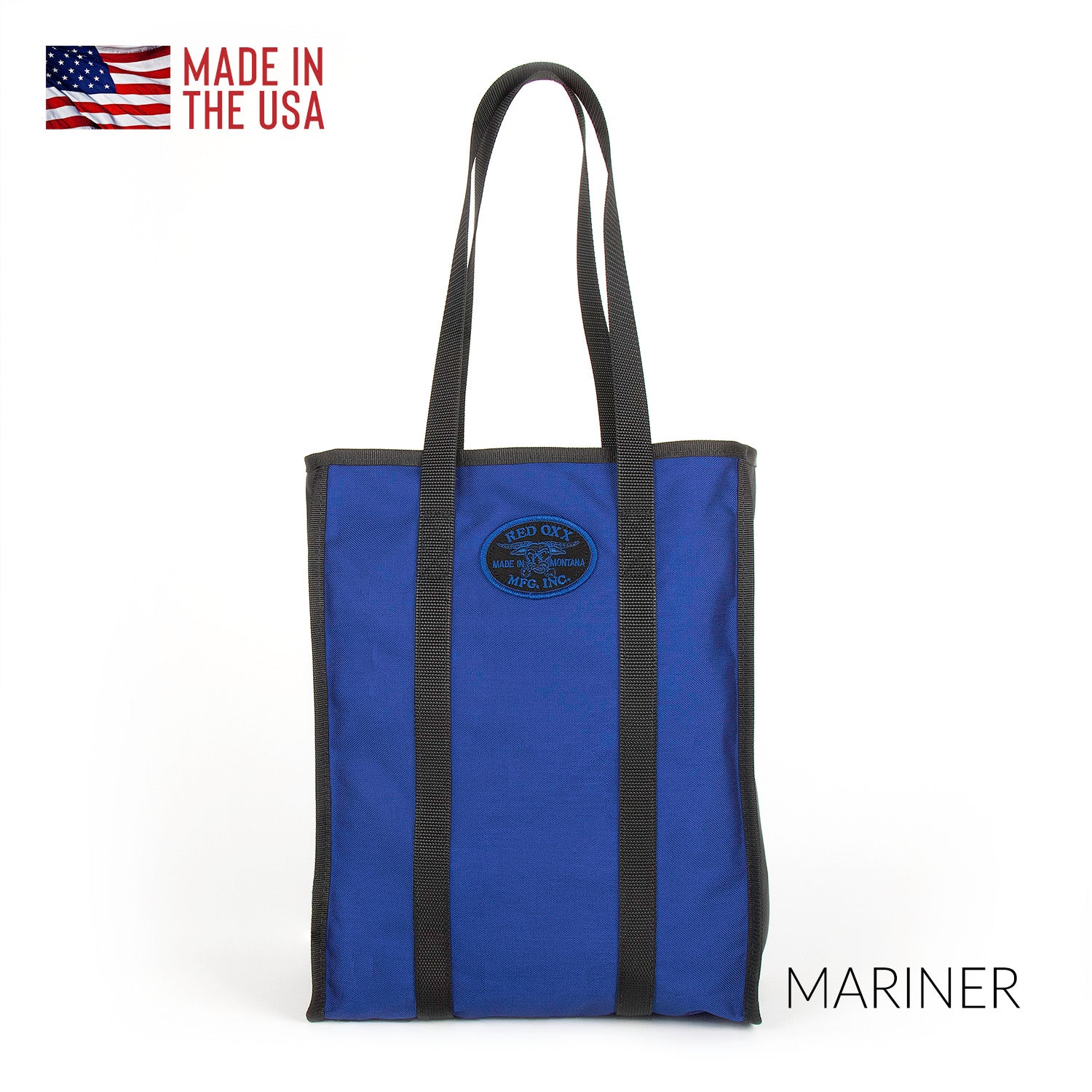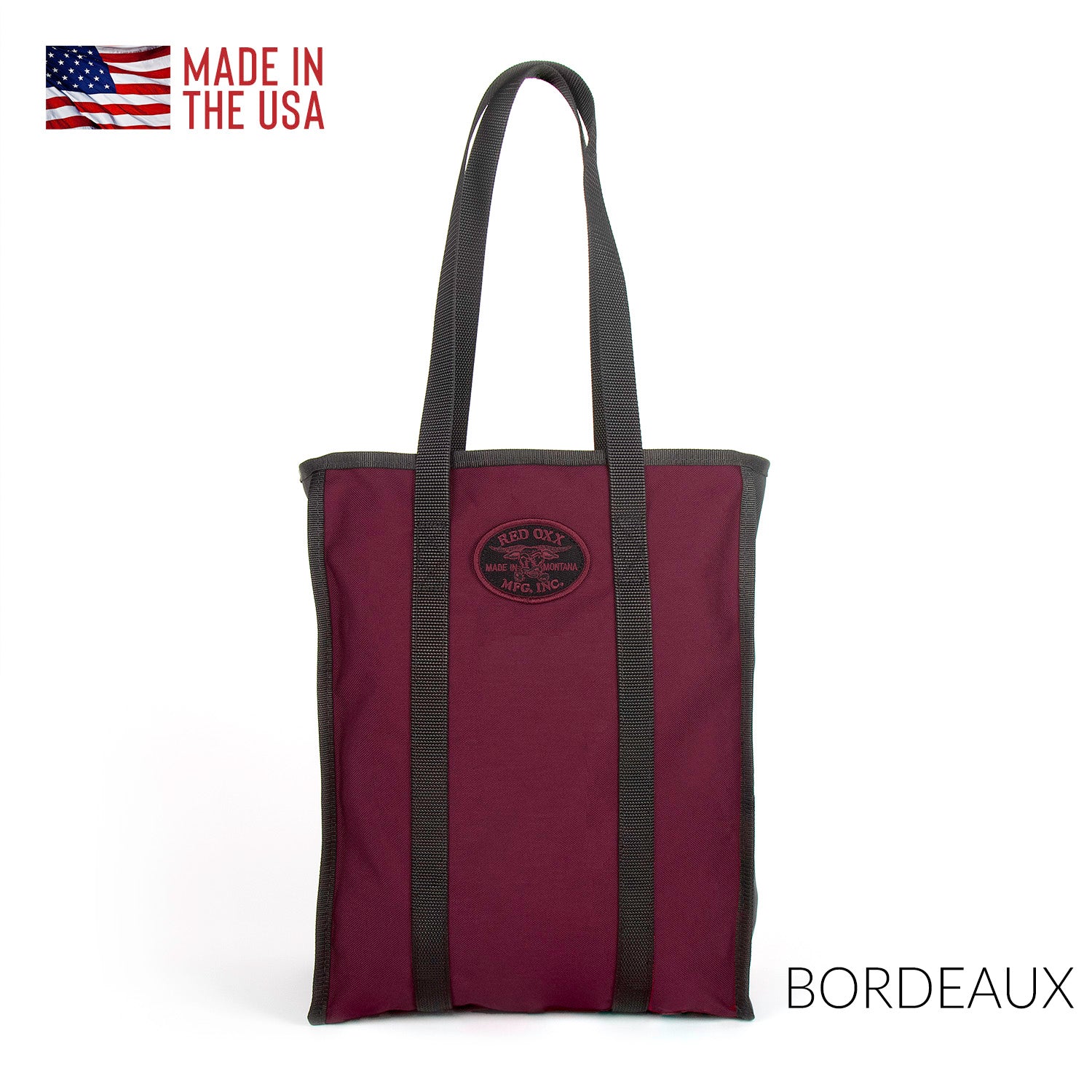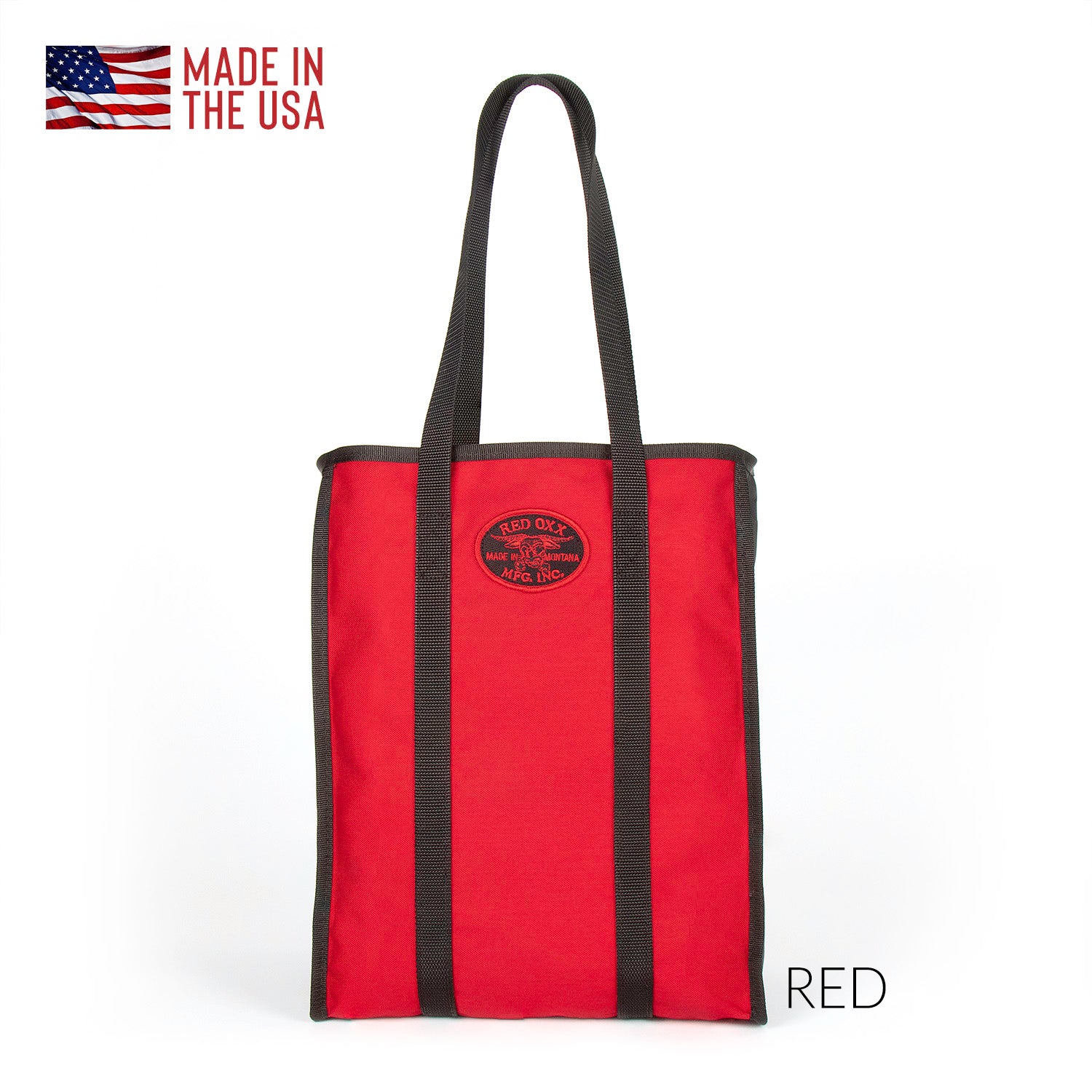 Market Tote
I won't leave you holding a bag with hole in it. 
Perfect for big grocery runs. Its large size and strong material can hold more jars of pickles than you can imagine. No more broken bags or messes in the driveway. Enjoy a reliable and mess-free haul with our Market Tote. (Sized like the original paper bag)
Made in U.S.A. with our "No Bull" Lifetime Warranty

Dimensions: 16"H x 6"D x 12"W
Long handles for comfortable shoulder carry

A great tote for the beach

Minimalistic and hella strong!
US Dimensions:

16"H x 6"D x 12"W
Capacity: 1,440 cubic inches
Weight: 0.85 Pounds

Metric Dimensions:

40.6cm H x 15.2cm D x 30.5cm W
Capacity: 18.8 Liters
Weight: 0.38 Kilos

Features:

Classic size like the old paper bags holds a lot of groceries
Sturdy nylon straps wrap around the base for extra support
Handles long enough for shoulder carry
Fabric: 1000 weight urethane coated, Dupont certified CORDURA® nylon
1150 weight black Ballistic nylon on the sides
Weather resistant
Thread: Anefil Nylon, Bonded Type 6,6 Tex 90-Black
All seams double stitched and bound
Double box stitching on all stress points such as carry handles
Includes Cable Lock

Our Market Tote Bag is THE contemporary reusable grocery bag.

Its measurements are the same as the old classic 'Brown Paper Bag.' This is a large tote shopping bag of outstanding quality compared to the typical cheap imported junk they hawk at the grocery store.

STRONG BOTTOM.
Our handles are stitched completely around the sides and bottom of the bag with double box stitching at all stress points. No more worries about the bottom of this grocery bag ever blowing out! Rugged, reliable and tough.

HANDS-FREE SHOULDER CARRY.
Extra-long carry handles allow you to carry the grocery Market Tote on your shoulder. We've seen folks carry the tote like a backpack! And as spacious as this tote bag is, you can use one Red Oxx Market Tote instead of half a dozen flimsy plastic grocery bags that end up as modern tumbleweeds! Remember to keep it in your car so you'll have it with you. Or hang it over the front door knob. Can't miss it on the way out.

SHORTER HANDLE CARRY TIP.
Don't like to shoulder carry your Tote? Straps seem too long? Drags on the ground when you hand carry it? No problem. Simply place the bag upright on the ground and drape each carry handle to your left and right. Now grasp each handle and cross them over each other. Next slip each handle under the other and pull the end loops upwards. Like tying a knot. You can now carry the Market Tote by the crossed-over loops, thus shortening the straps by about a third of their length.

STANDS UP BY ITSELF.
The tough 1000 denier military grade CORDURA® Brand nylon fabric is water-resistant and twice as strong as standard nylon. This heavyweight 1050 ballistic nylon on the sides helps this shopping tote to "stand up" and keep its shape so you can easily fill it, or empty it -- a handy feature not seen on any reusable grocery tote we know of. Grocery clerks love this handy feature. Keep in mind that straight out of the box when new, you'll need to pack it out first to push out the folds from shipping.

The Market Tote Bag has been used for:

potlucks (it's large enough to hold a 5 Qt crock pot),
as a pool and beach bag,
a utility bag
a book bag
to and from arts and crafts classes crammed with art or knitting supplies.
hauling melons, pumpkins, squash and other large and awkward shaped vegetables or wrapped cuts of meat like roasts, chickens or quarters, and whole fish that would stretch a regular grocery bag to it's limits (and likely bruise your food).

CARRY-ON PERSONAL ITEM? YOU BET!
The ladies love using it as a sewing tote, crochet bag or knitting bag. Yoga lovers carry their yoga mats, sweats, and other accouterments in the Market Tote. Then there are those adventurous types who take it with them around the world and use it for more things than we could ever think of. Since they fold flat, packing several Market Totes along as "luggage extenders" means you can carry-on as a personal item and bring home extra goodies and gifts from your travels.

FOR SCHOOL, TOO.
Even students find the Market Tote useful as a college book bag. Its sturdy build and just-right size easily holds a cased laptop, tablet, several large textbooks, writing notebooks and project files. Toss your pens and electronic gadgets such as chargers or cables into a Lil Roy and all your loose items are organized.

Buy two or more Totes, you'll always find a use for more than one! Think it might be too big? Move down one size to the Mezzo Tote, a mid size tote bag for singles shoppers. Or go small with a Mini Tote Bag instead.

EASY TO CLEAN.
Totes exposed to food can get yucky quickly. Dirt, vegetable matter, crushed fruit, spilled juices or soda, sticky candy, leaking jars and bottles can gunk up the interior of your Market Tote. Fortunately, it's a piece of cake (pun intended) to clean your Tote. Simply fill a sink, bucket or tub with warm soapy water (we like Dr. Bronner's), grab a nylon bristle brush and lightly scrub your bag clean. Simply turn it inside out to scrub out the interior.

Then rinse both sides in warm water and hang up to dry on the shower head or outdoors on laundry line. Never use a machine dryer to dry any Red Oxx bag and always avoid solvents or harsh industrial cleaning agents (including bleach) as they will damage the lining.

The good folks at the Weather Underground seem to think our Market Tote is a great choice for a reusable grocery bag. Read up on their great Farmer's Market shopping tips.

"Go Green, save a tree, recycle some oil, use, reuse and well, reusable forever, the Red Oxx Market Tote Grocery Bag. Sustainable shopping indeed!"

Or as the locals at the Farmer's Market say, "If you turnip, lettuce bear your fruit..."

"No Bull" no question's asked Lifetime Warranty. Red Oxx lasts longer.
Transit Shipping Time Map.

Witness the birth of your bag and learn about the many steps it takes to handcraft your Market Tote.

Meet the thundering herd who build your gear with pride.

Red Oxx is a 2nd Generation Family Veteran owned and operated US Manufacturer.

EMAIL POLICY: Online orders will receive an order confirmation email, a tracking information email when your order ships and a product review request follow-up email from Shopper Approved after 60 days. Your email address is secure.

Market Tote Trivia: Modeled straight from the measurements of the original brown paper sack from the grocery store. The Tote was birthed before stores started carrying those cheap-o imported grocery totes, the kind that start unraveling after just a few uses.

Market Tote is a Red Oxx "Staff Pick" favorite.

Keep in mind: Colors on your monitor will vary from the actual color of the fabric. The only way to accurately gauge a color is to request a swatch.

Questions? Visit our Customer Service Help Desk or call our Toll Free Hot Line: 1-888-733-6999.
Can the Market Tote be used for a carry-on personal item?

The Market Tote makes a wonderful carry-on personal item. Since it can be folded flat, one can also pack it into your luggage for local shopping, then bring it home as your personal item carry-on.

Why is there no zipper?

A prototype model zippered tote has been designed and is in the testing stage. However if an enclosed tote is what you need please check out the Maximum Utility Travel Tote and the P.U.P. Zipper Tote Bag.

Why are the handles so long?

The Tote was designed for shoulder carry as well as a simple backpack. Shorter handles wouldn't allow these styles of carry. You can, however, easily shorten the handles by looping them over each other. See overview for a detailed description or refer to the photos tab.

Can I wash my tote bag?

Certainly. We recommend using a mild soap like Dr. Bronner's Liquid Soap. Follow the directions for use (be sure to dilute the soap), use a bucket or sink filled with warm soapy water, and a soft nylon brush for more challenging cleaning. Do not wash your your bag in a washing machine, avoid harsh chemicals like bleach and industrial cleaners, or put in a dryer, as these things can ruin the interior coated lining of the CORDURA® Brand Nylon Fabric. Rinse and then simply hang it up and let it air dry. Washing your bags gently by hand does not void our Lifetime Warranty.

This grocery tote is too big for a single person, do you have a smaller version?

We sure do, check out the Red Oxx Mezzo Tote, a bag for all seasons. And an even smaller version, the Mini Tote, a bag for all reasons!

How many groceries can the Market Tote hold?

It can hold the same amount as the classic paper grocery bag.

Are there any interior pockets?

The Market Tote contains only one main compartment.

Is the opening closeable?

The bag is not closeable.

Can you ship USPS?

Yes, Red Oxx will ship USPS upon request. Simply state, "Please ship USPS" in the cart comments during checkout and we will adjust your billing accordingly.
This product has no reviews yet.
This product has no reviews yet.
This product has no reviews yet.
This product has no reviews yet.