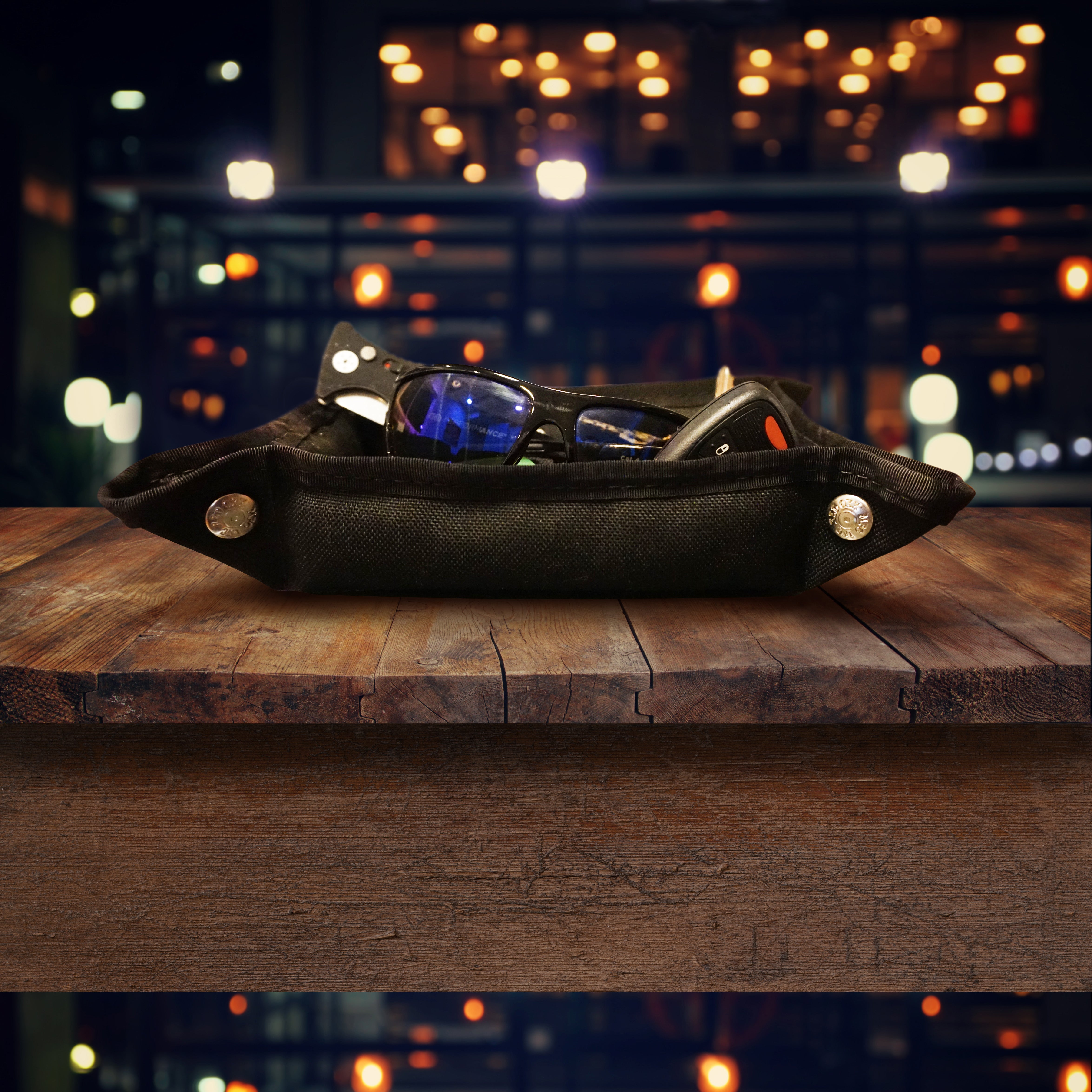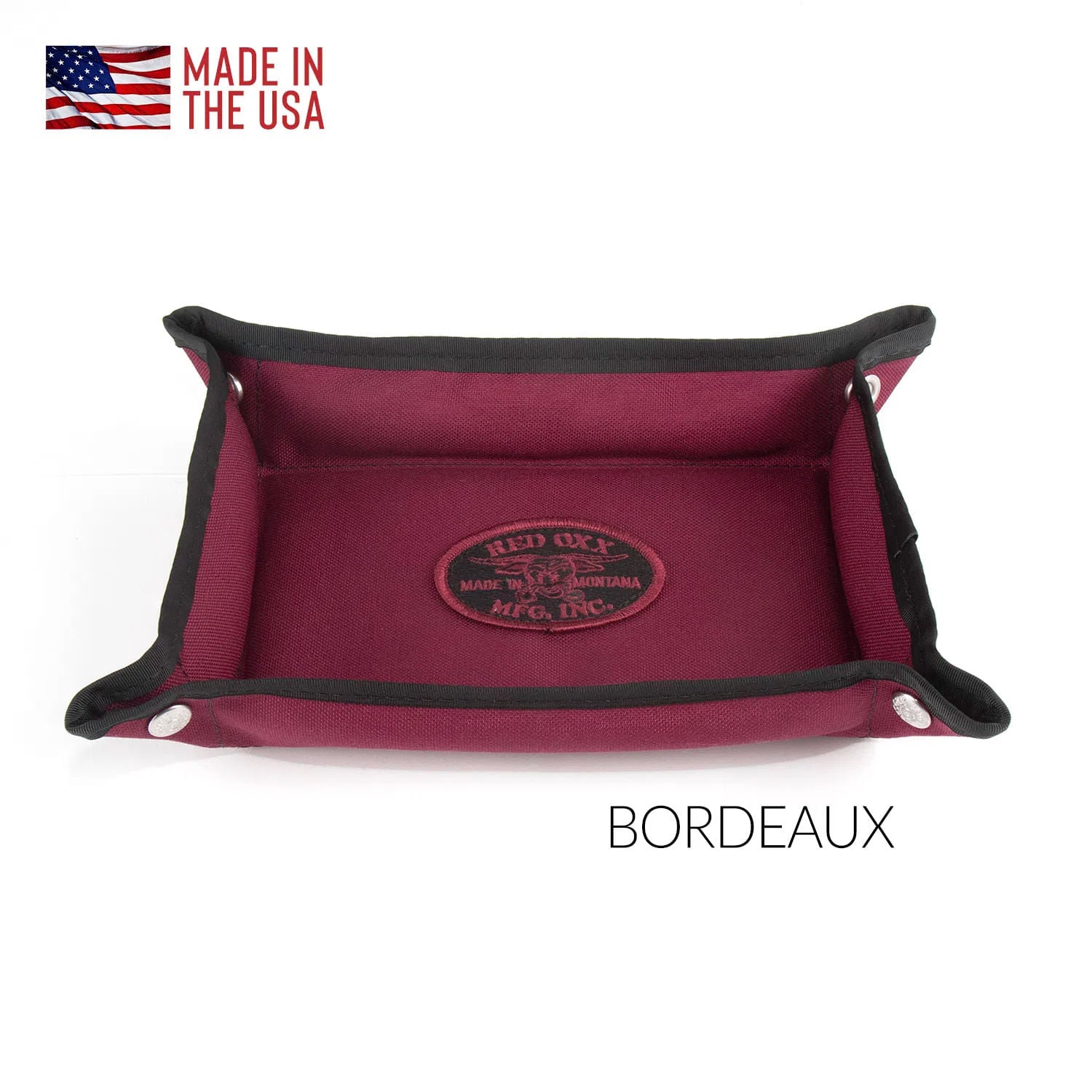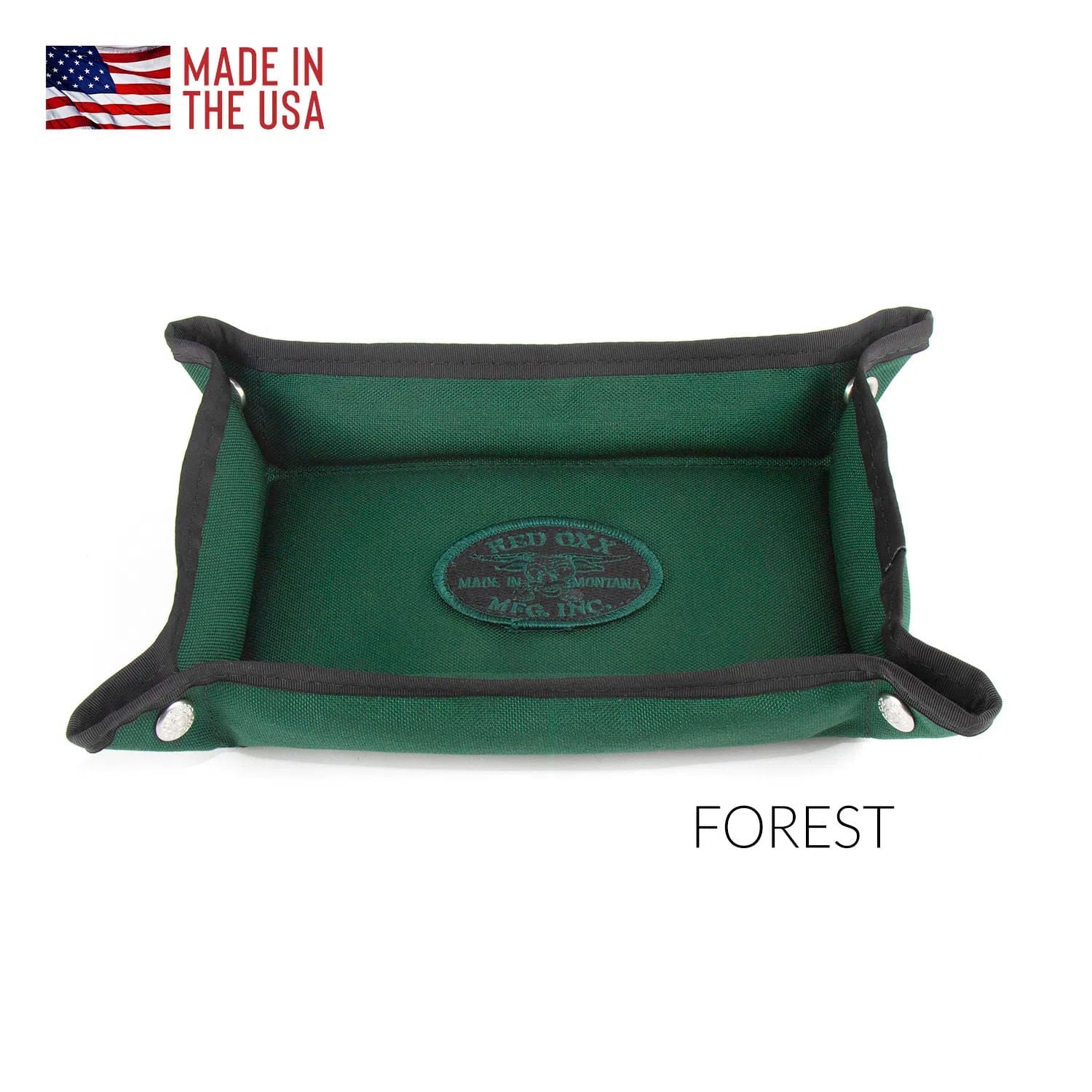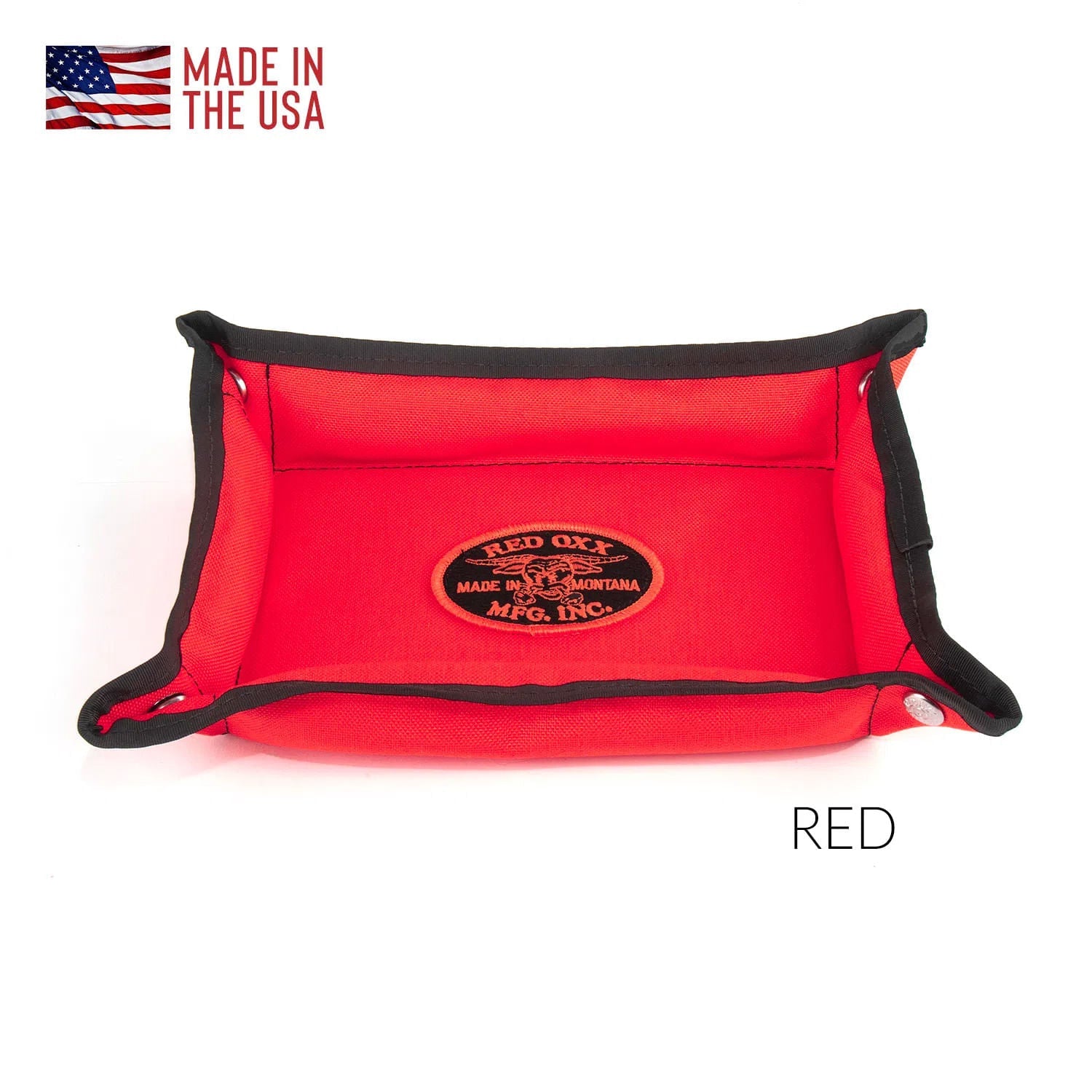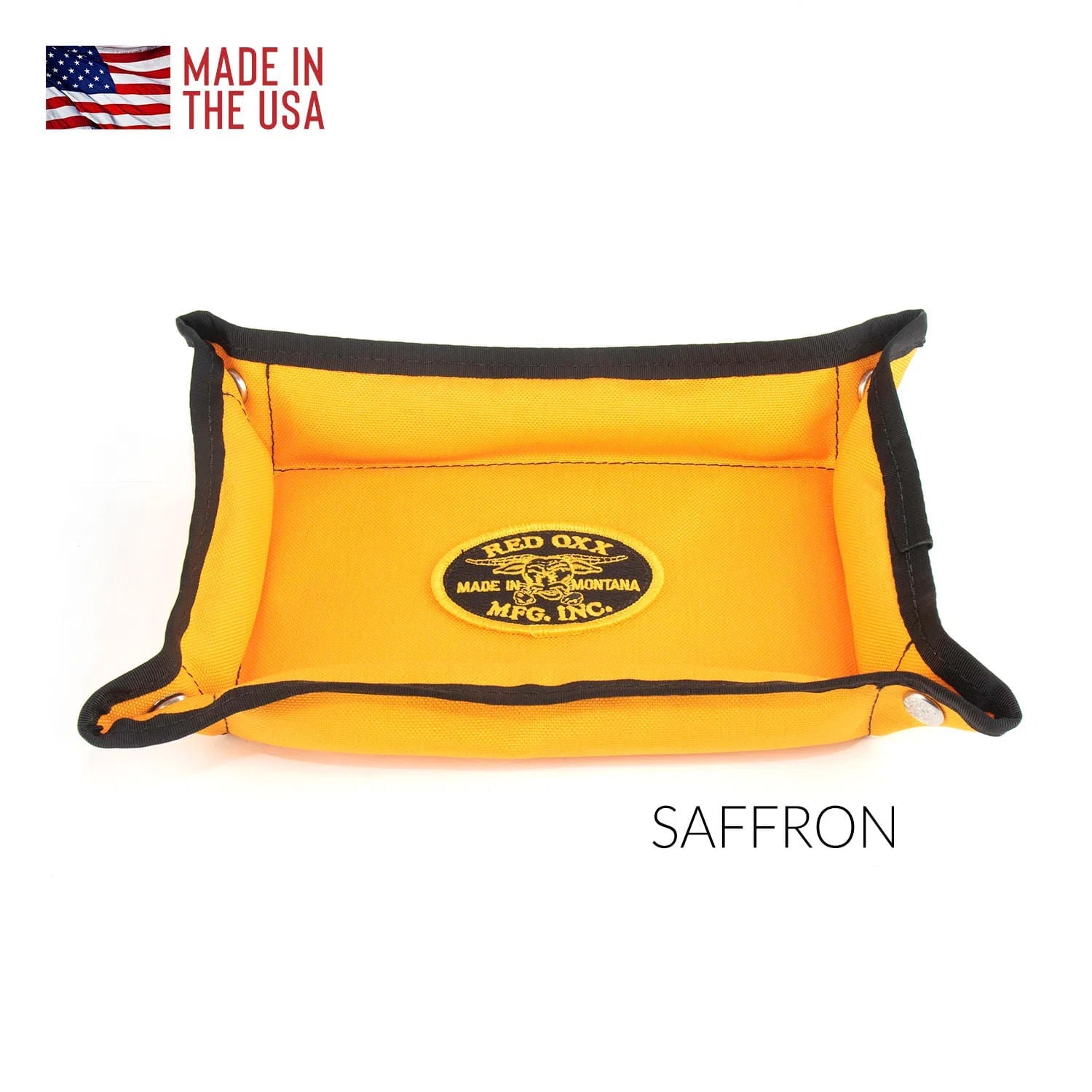 Travel Tray
Your pocket dumpsite no matter where you roam. 
The perfect portable catchall, the Travel Tray valet is crafted with foam padding and stainless-steel snaps for secure assembly. (Unsnap and fold flat for easy travel) Keep your cell phone, keys, and other small items secure and organized.
Made in U.S.A. with our "No Bull" Lifetime Warranty

Safely stores you phone, keys, change and pocket items

Stows flat when not in use

A favorite way to keep your pocket goods accounted for when you're traveling or even if you're not.
Dimensions: 9"L x 6.5"W x 2"D (snapped into tray position)
12.5"L x 10"W x 1/4"H (unsnapped flat)
Weight: 4.8 Ounces.

Fabric: 1000 weight urethane coated, Dupont certified CORDURA® Brand Nylon Scraps

4# Fuzion STD Natural closed cell foam padding base

Thread: Anefil Nylon, Bonded Type 6,6 Tex 90-Black

Hollofil padded side walls

Stainless steel Mil-Spec snaps with embossed Red Oxx logo

Choose from 13 vibrant colors

"No Bull" Lifetime Warranty
Can you use this a dog bowl?
We don't recommend using the Travel Tray as a dog bowl.

What are the snaps for?
When snapped together, they hold the Travel Trays sides up thus keeping your items from rolling out.

How do you use the Travel Tray?
Easy, simply snap the snaps together and the valet is ready to store your passport, keys, wallet, glasses, change, you name it.

Is it waterproof?
All Red Oxx products are water resistant, not waterproof. Each stitch accounts for a hole in the fabric.

How do I pack the Travel Tray?
Unsnap the snaps and fold down the sides flat. It takes up hardly any room at all. You can even use it to pad and protect something like your tablet by slipping the Tray between the wall of your bag and your tablet.

Can you ship USPS?
Yes, Red Oxx will ship USPS upon request. Simply state, "Please ship USPS" in the cart comments during checkout and we will adjust your billing accordingly.
This product has no reviews yet.
This product has no reviews yet.