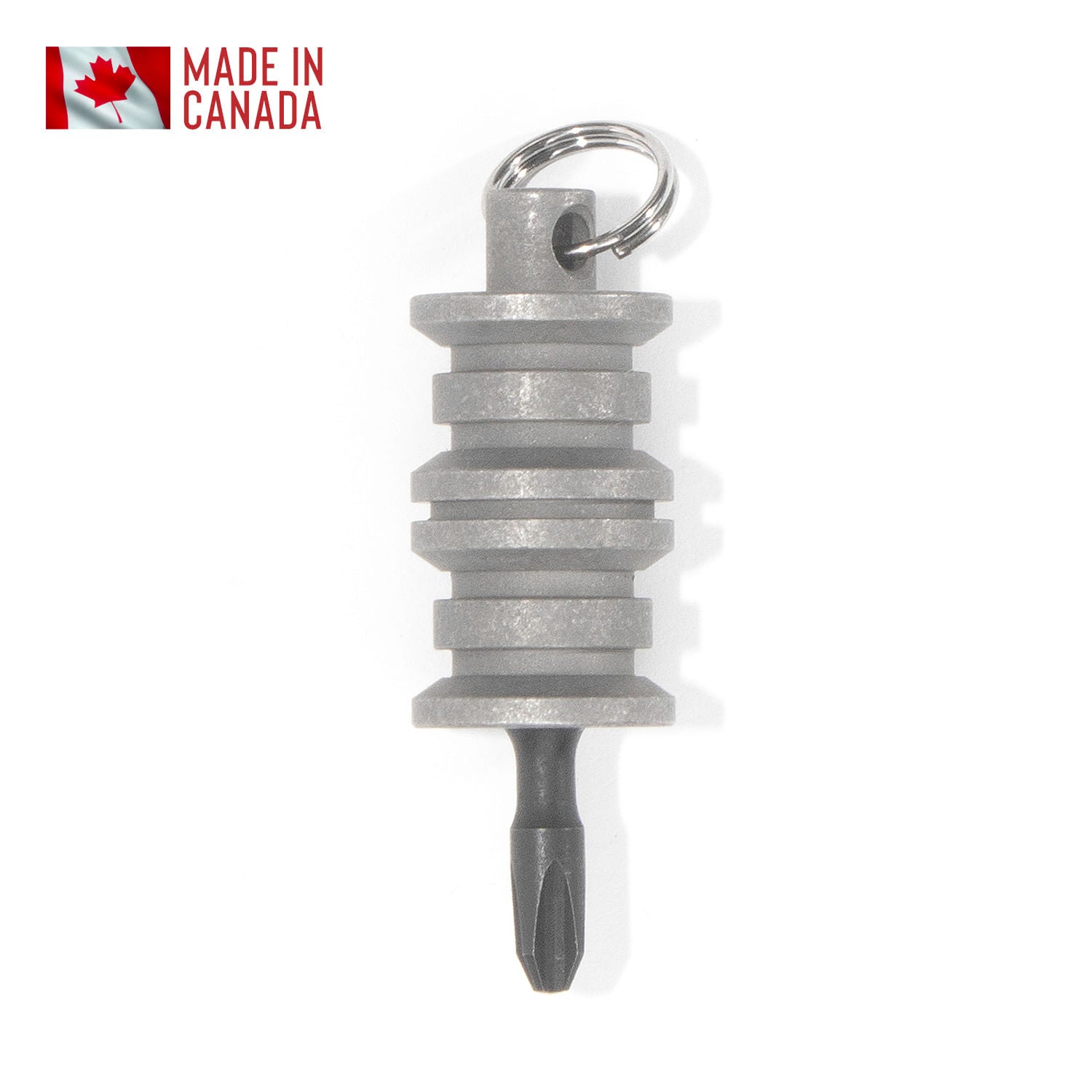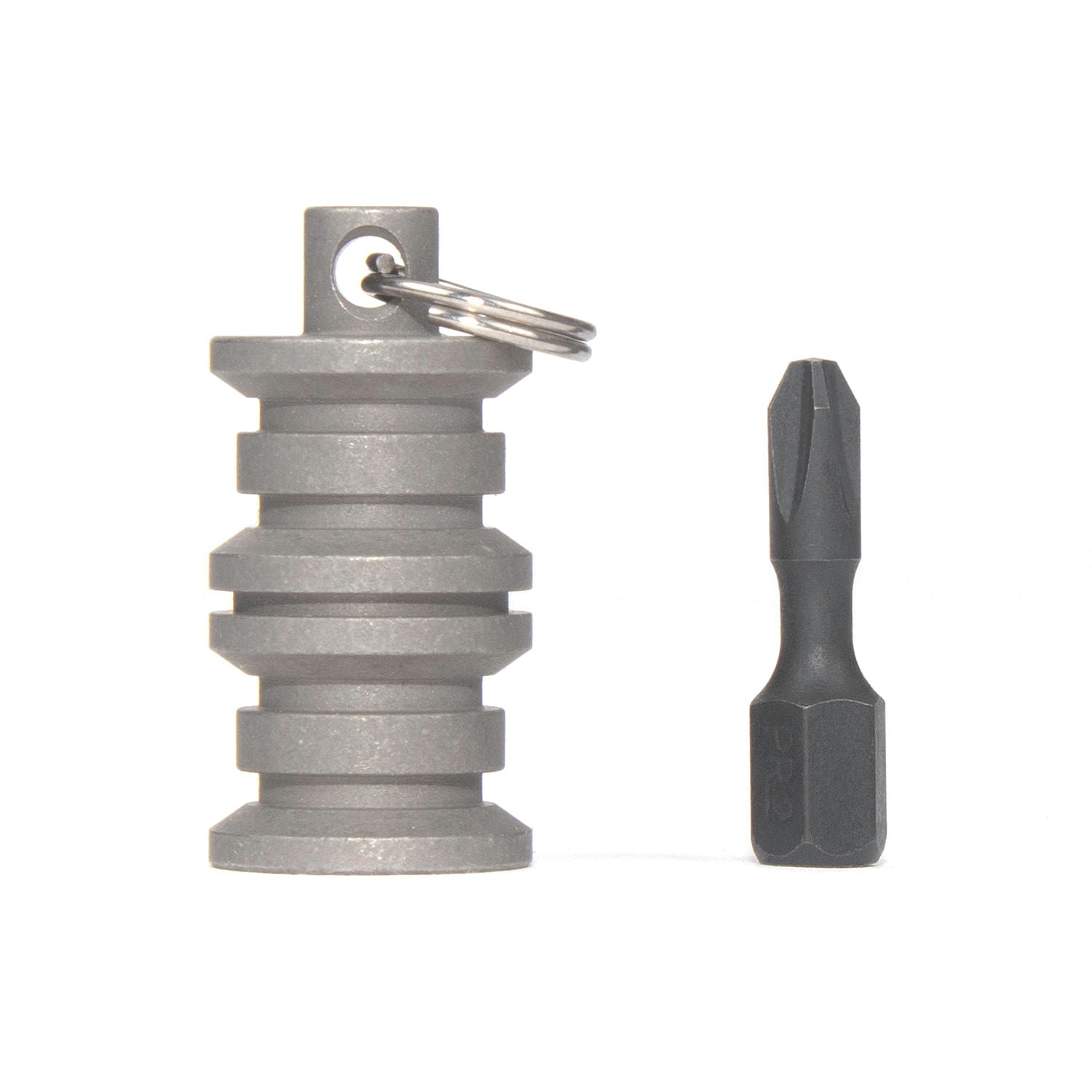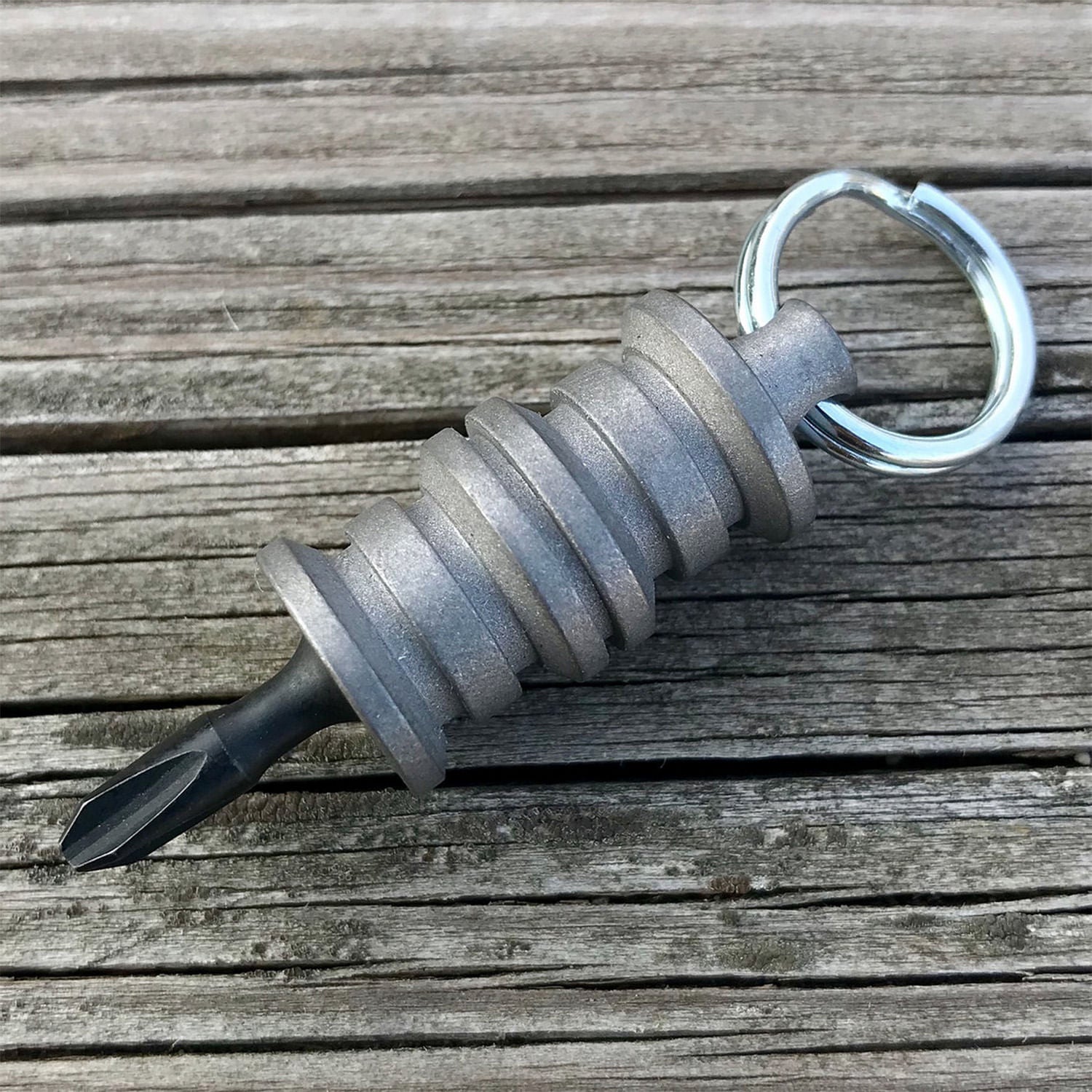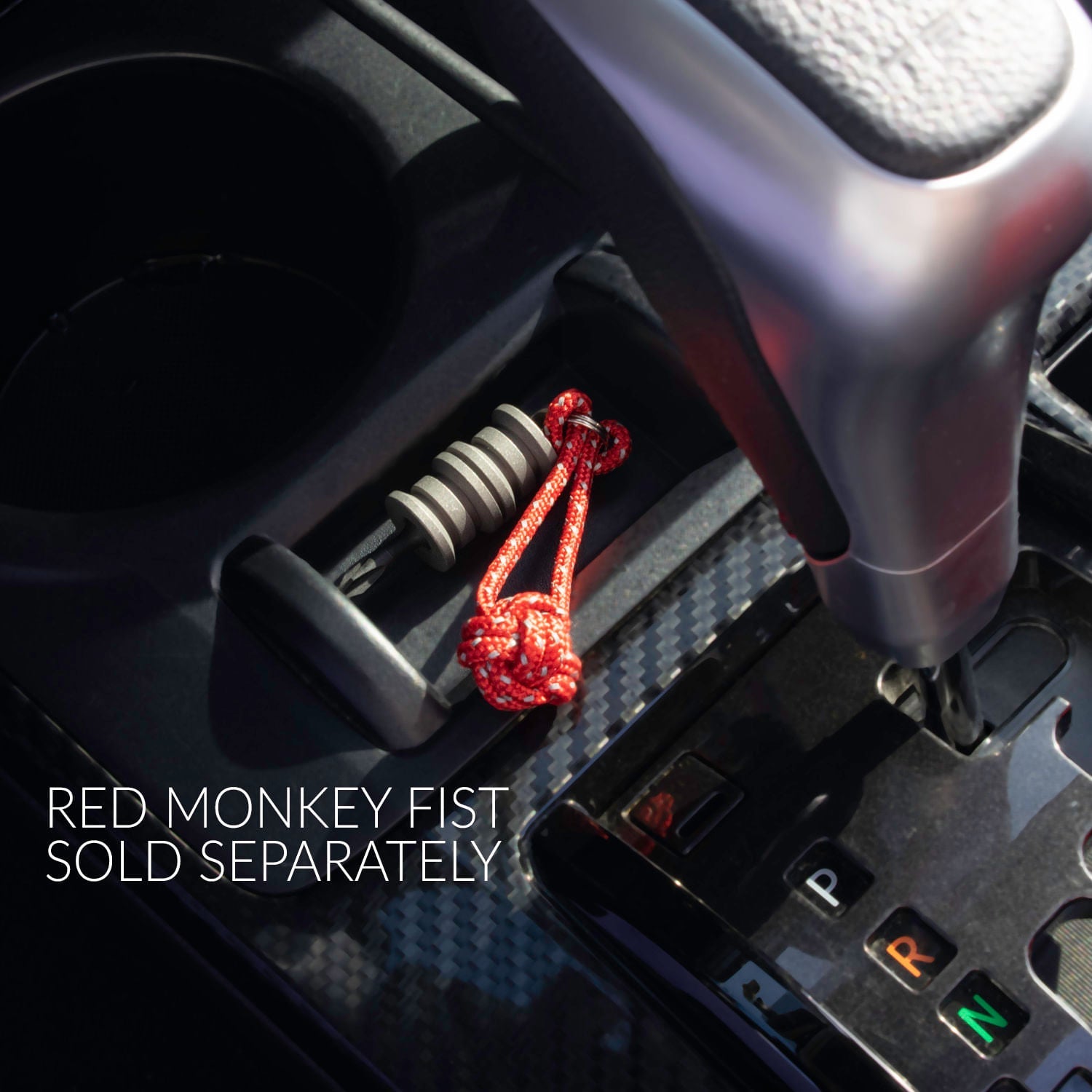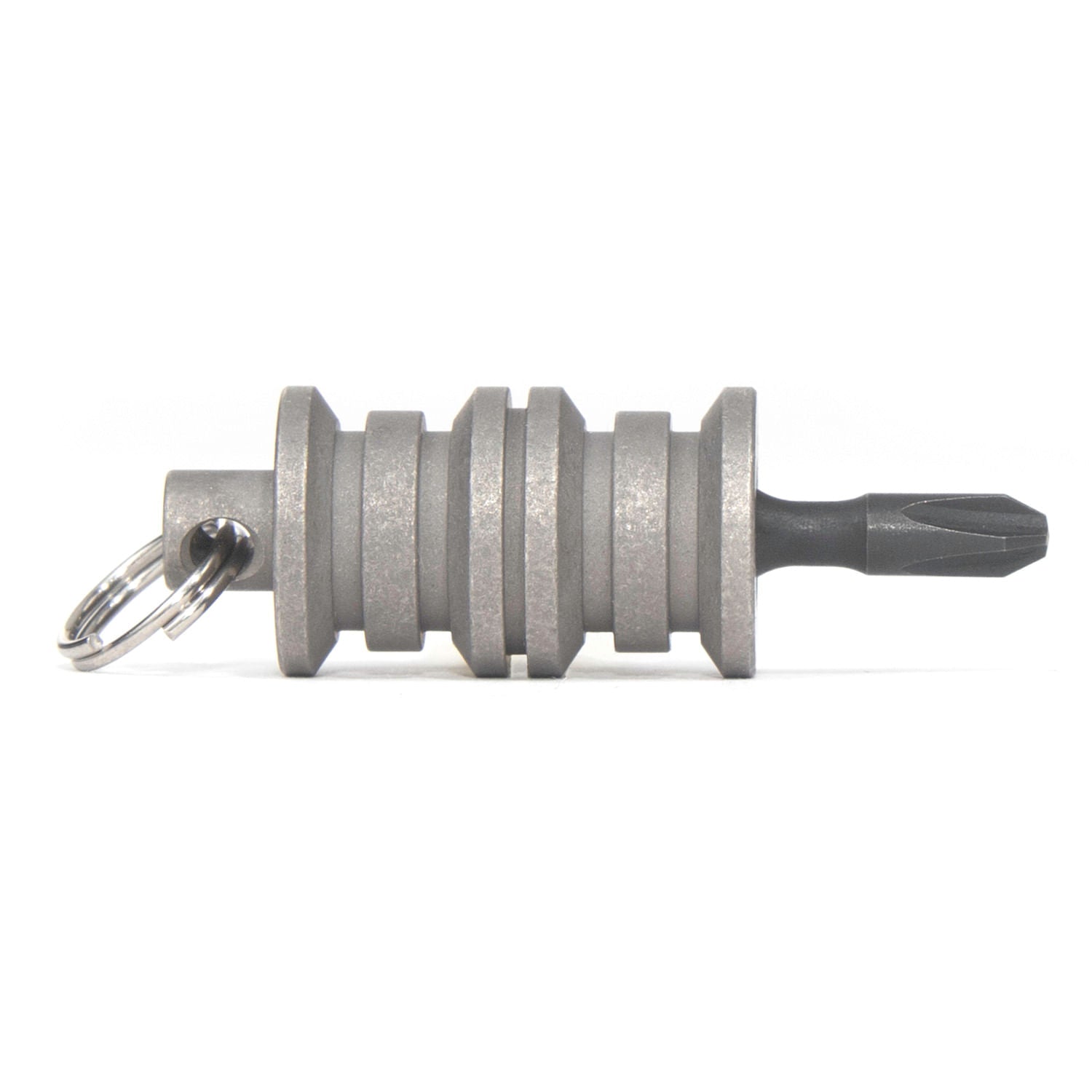 Titanium Line Of Fire FOB
Super lightweight titanium key fob with removable 1/4" #2 Steel Phillips head screwdriver bit.

Lightweight Titanium weighs less than an ounce.

Lightweight Titanium weighs less than an ounce.

Includes removable #2 Phillips head screw bit.

Individually hand-crafted in Canada by GRIFFIN Co.

Proprietary custom unique blackened titanium finish on each bead. May vary somewhat from photographs and from bead to bead.

Titanium tension key ring

Removable magnetic held #2 Phillips head screwdriver bit

Designed and hand-crafted in Canada by GRIFFIN Co.

Lifetime Warranty from GRIFFIN Co

The Line of Fire FOB is a distinctive titanium key fob that is practically indestructible and will carry your keys with distinction. Each "Combat Bead" has a proprietary finish unique from each other. Toss one in into your EDC Kit as a handy screwdriver or carry on a paracord lanyard with your keys safely on its titanium key ring.

The lightweight titanium bead and key ring will never rust and is as strong as steel. Standard 1/4" #2 Philips head screw bit can be used to screw or unscrew common Phillips screws. Read the FAQS tab to learn about the interesting history of the Combat Bead and the discovery of titanium.

NOTE: the variations in finish color can be expected from bead to bead as the finish is individually treated. Beads are randomly selected, our choice.

Complete Dimensions: 1"L x 5/8"W.

Origin of the name Line of Fire Trivia "Line of Fire" is a series of novels by author W.E.B. Griffin about the Marine Corps during WWII in the Pacific Theater.
Machined from solid titanium
Bead measures 1" long x 5/8" diameter
Bead, screw bit and key ring weigh 0.7 ounces (20 grams)
Removable Standard 1/4"W #2 Phillips Screw Bit with a 3/4" long shaft
Magnetized screwdriver bit sheath holds bit in place
Unique individually different blasted finish - no two alike
Strong lightweight titanium key ring
Handmade for Red Oxx in limited quantities in Canada
Lifetime Warranty: send your bead to GRIFFIN Co for repair/replacement.
What are combat beads?
The combat bead's history is slightly murky and enveloped in military and religious doctrine and branches off in different directions under different names. The story begins with Rosary Bead Necklaces that were ordered by the U.S. and French Governments for servicemen of Catholic faith in 1916 during WWI. At the time they were called Combat Rosaries.

After WWII they were adapted by the emerging branches of the Special Forces as a useful and handy tool to measure distances. This soon became required navigation training called Pace Count.

Troops could mark off distances, especially helpful in the dark, by moving each bead on a piece of paracord, usually handily attached to their knife as a lanyard. Ironically doing this not only decorated their lanyard but provided a more certain grip on the knife when used under combat conditions.

Typically there are 9 beads on a paracord lanyard. By this time they'd acquired the name of Ranger Beads and learning how to navigate with them they became part of the requirement for Special Forces Selection and Assessment (SFAS). The beads are used to pace out 100 meters. This training is called Land Nav. Each 9 beads marks off a klick or 1000 meters.

As more special forces veterans retired into civilian life they took their habits with them. The field of Everyday Carry, or EDC as it's commonly known, developed because former soldiers know it's important to be prepared. And preparation means survival. For them the key to preparation, besides training, is having the right equipment.

The EDC crowd, attracted to edged weapons and military history, adopted the idea of the Ranger Bead and began making cool looking Lanyard Beads to decorate their knives, or keys, or whatever EDC tool in their kit they wanted to look cool.

The description Combat Bead comes from the decorative finish applied to the Life of Fire metal beads by designer Keith Griffin of GRIFFIN Co. To summarize, "They look like they've been through combat."

What's so great about titanium?
Titanium is a super light, low density metal that is extremely strong and can withstand extreme temperatures. It's highly resistant to corrosion. As such it's prized for these qualities and it used in the aircraft, spacecraft and oceanic industries. Favored by the medical industry due to it's lack of rejection by the body. Titanium is common in paint pigments due to it's excellent coverage ability. Titanium oxide is also useful in sunscreens as it blocks the sun's UV light. Titanium was discovered in 1791 by the Reverend William Gregor. In 1910 M. A. Hunter, a chemist for General Electric, created pure titanium metal by heating titanium tetrachloride and sodium metal. It's the 9th most common metal in the world.

Can you use a different screw bit, such as a flat blade, if it's the same 1/4" driver?
Sure, so long at it's made of metal so that the end will stick to the magnet inside the bead.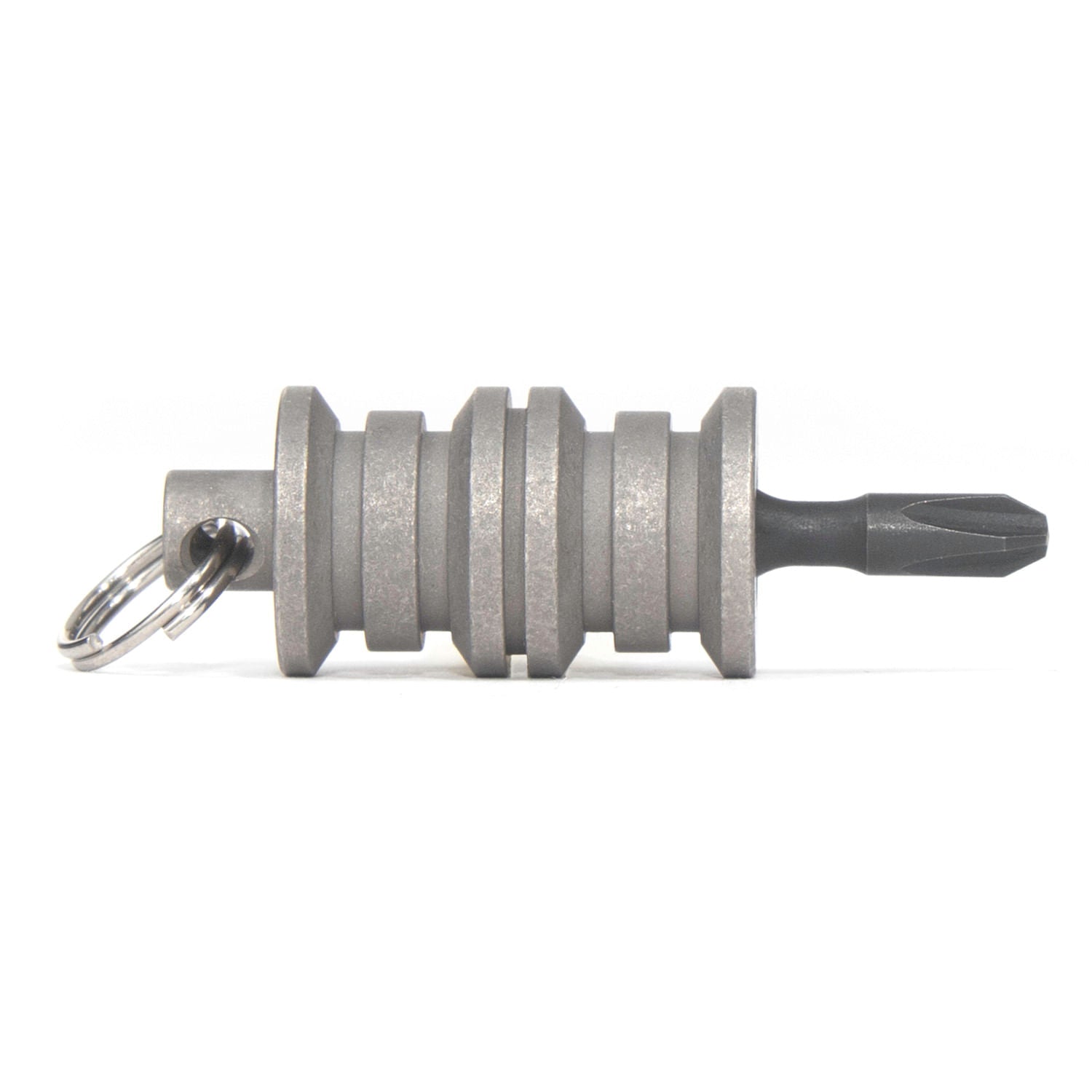 This product has no reviews yet.
This product has no reviews yet.