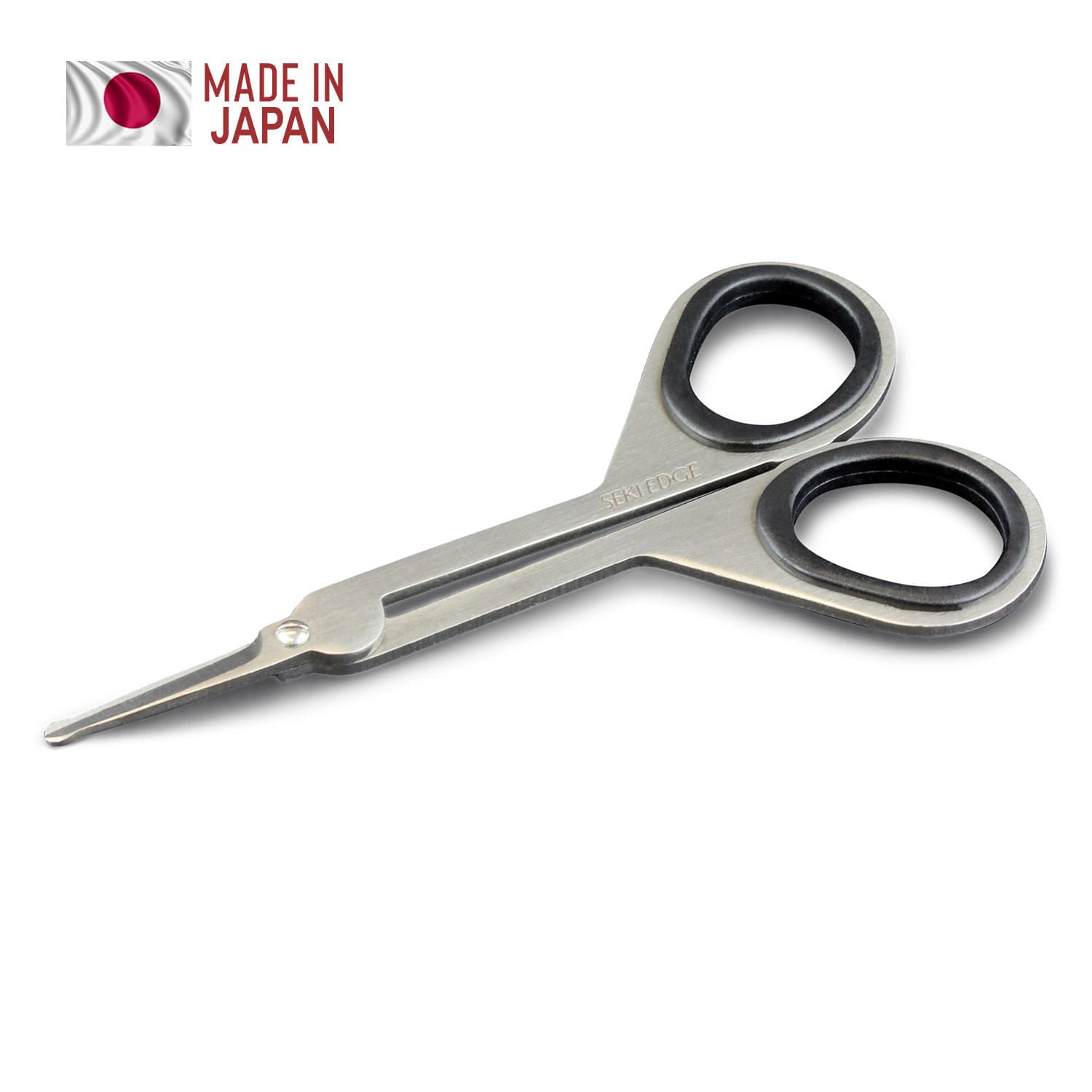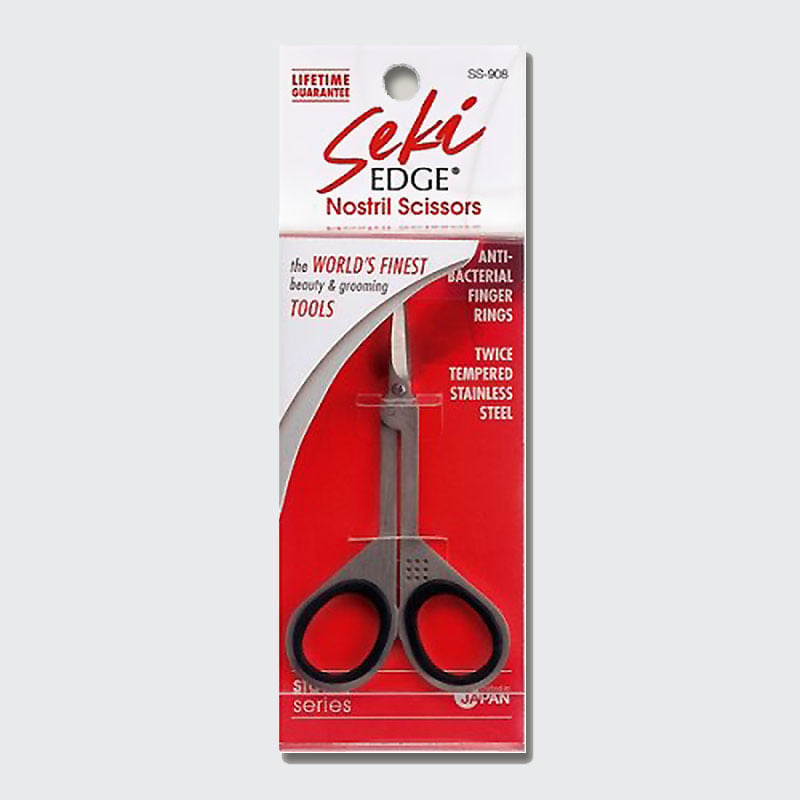 Seki Edge Nostril Safety Scissors
Helps your Nostache hairs stay trim. Follow your nose, but not your nose hairs.

Made from Samurai-strength stainless steel
Dimensions: 4-3/4"L x 1 1/2" W

Crafted from Samurai strength stainless steel

Rounded hand-finished tips won't stab or puncture

Made in Japan and recommended by Red Oxx

Made from Samurai-strength stainless steel

Rounded hand-finished tips won't stab or poke

Made in Japan

A Red Oxx Recommended Travel Accessory.

Red Oxx is owned and operated by 2nd Generation Family Veterans since 1986.

Facial hair is a fanciful thing. From eyebrows to mustaches to beards people have been grooming their facial hair for centuries. One thing that seems to have never been popular however was long nostril hairs.

The "Nostache" just never caught on.

While we don't have room for speculation here, we can say that most folks go "ew" at the sight of long nostril hairs. The question remains, "How do you trim them without getting a bloody nose?"

Never fear, Seki EDGE has you covered with the world's finest Stainless Steel Nostril Hair Trimming Scissors.

From the creators of the Samurai sword in the mountains of Seki, Japan, age old craftsmanship meets modern design and technology to create an exquisite blend of ergonomics and art. Seki Edge, crafters of fine hand finished personal care grooming products proudly announce a pair of Nostril Scissors with a sleek stainless steel satin finish, hand ground, individually sharpened blades with dulled, rounded tips for a lifetime of rust-free use.

The last thing you want to worry about is cutting inside your nose when trimming obnoxious nose hairs. Seki Edge Stainless Steel Nostril Scissors feature a smooth, rounded tip to prevent stabbing and cutting those sensitive areas inside your nose.

Designed with safety in mind, these nostril scissors are rounded at the ends of the scissor blades. They're made from twice-tempered stainless steel for a sharp blade edge and a lifetime of use.

The rubber finger-hole "soft touch" ring inserts provide for finger grip comfort. After all, using nose hair scissors should be a comfortable and relaxing experience.

Not only can you use them for trimming nose hairs, they also work great for other facial hair like mustaches, goatees and beards. Leave a good hygienic impression and keep your nose hairs out of sight inside your nose!

Short blades and gently rounded tips for easy and safe trimming along the inner areas of your nose.
Cuts hair cleanly without painfully pulling at hairs.
Use to trim facial hair with ease and precision.
Rubber inserts provide a comfortable grip while trimming.
Lifetime performance.

Dimensions: 4 3/4"L x 1 1/2" W
Twice tempered stainless steel construction
Rounded and hand-dulled scissor tips
Comfortable soft rubber finger rings
Hand-finished
Sharp cutting blade edges
Made in Japan
Lifetime Guarantee
Believe it or not, my Seki Nail Nostril Scissors have an issue?

No problem, Seki Edge provides a Lifetime Guarantee. Clickhere for information on how to returnyour Seki Edge Nostril Trimming Scissors for servicing such as sharpening or repair. Do not send them to Red Oxx!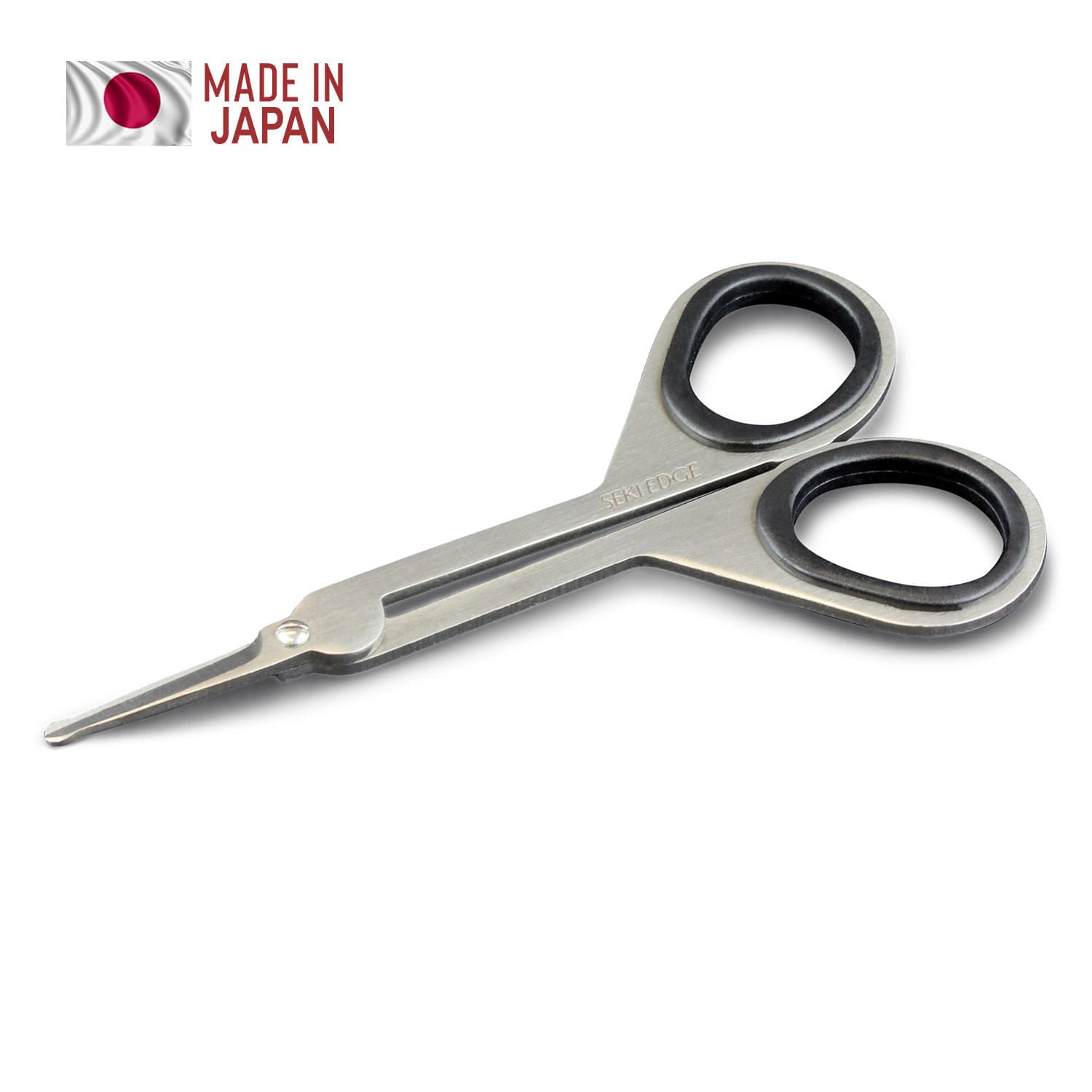 This product has no reviews yet.
This product has no reviews yet.