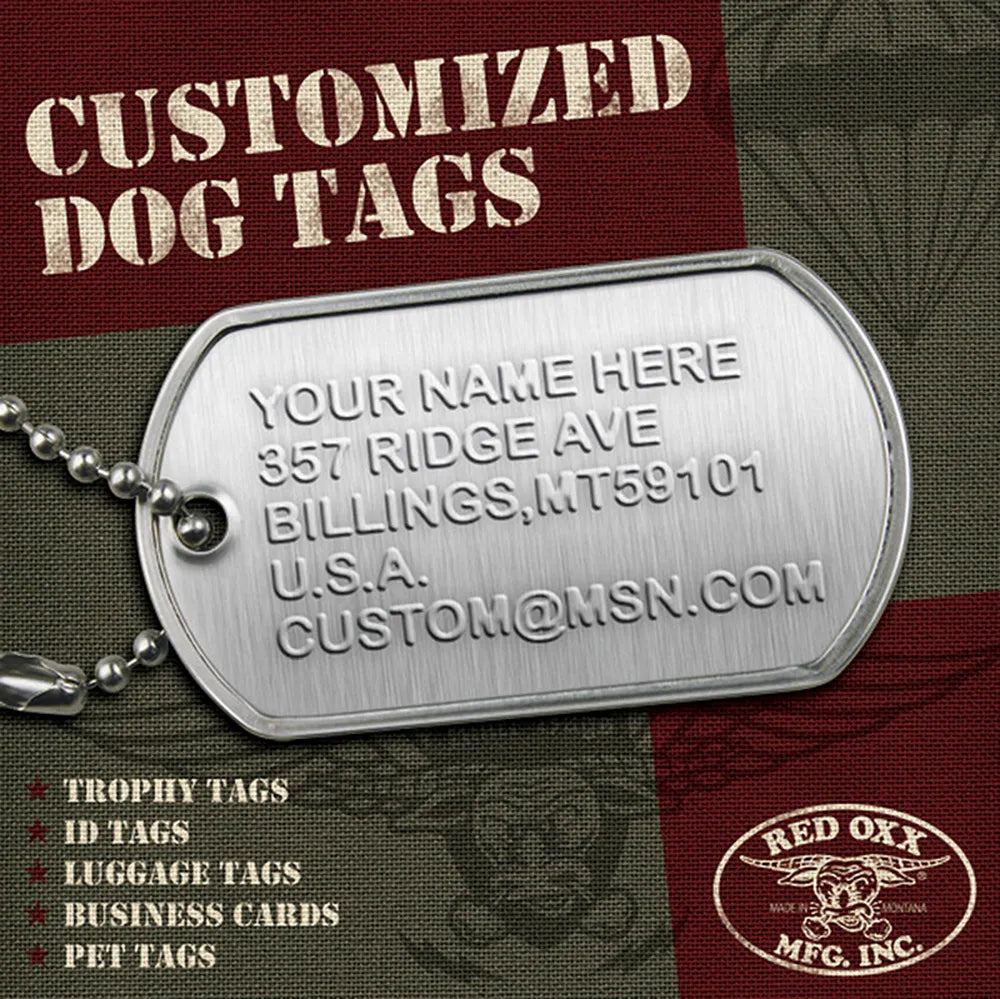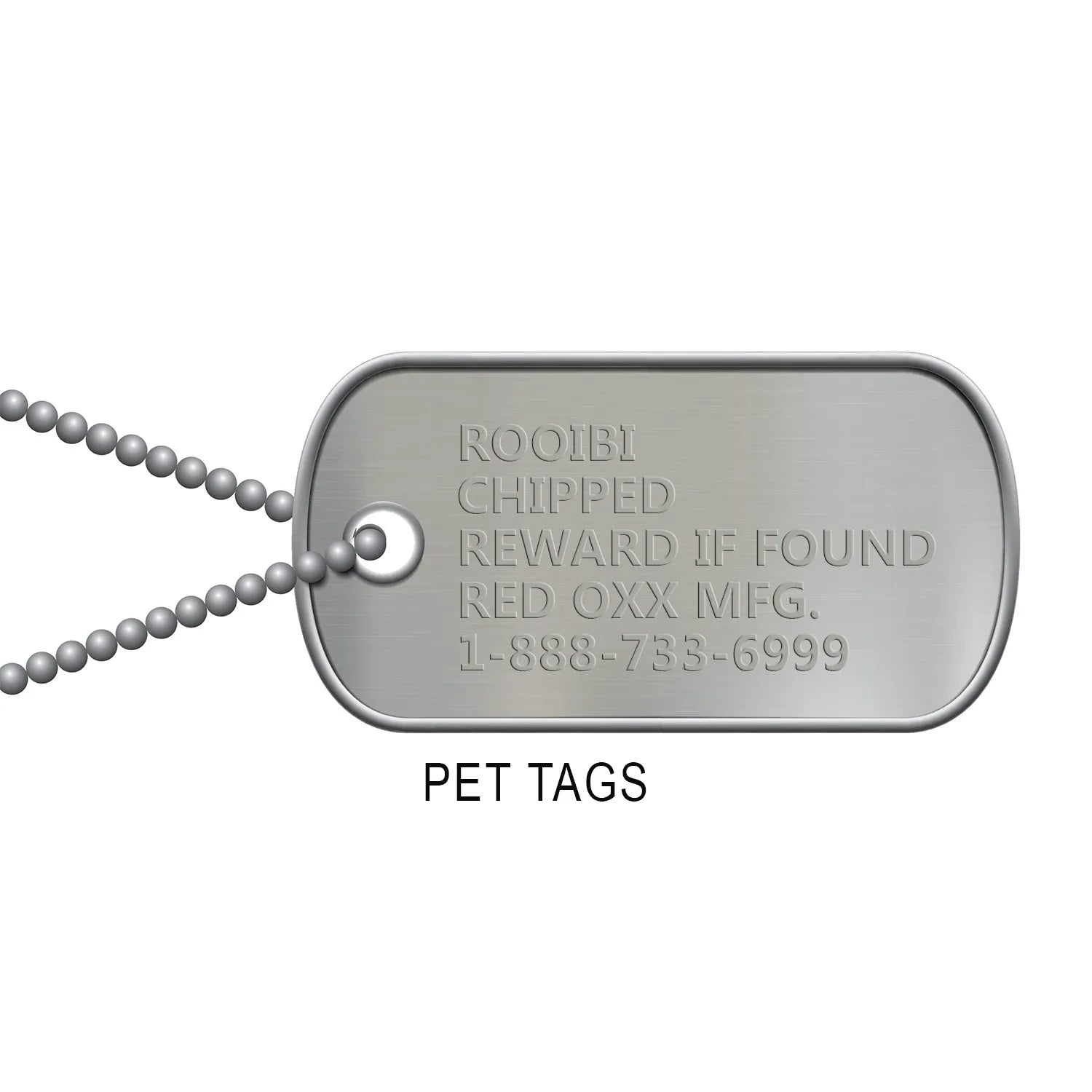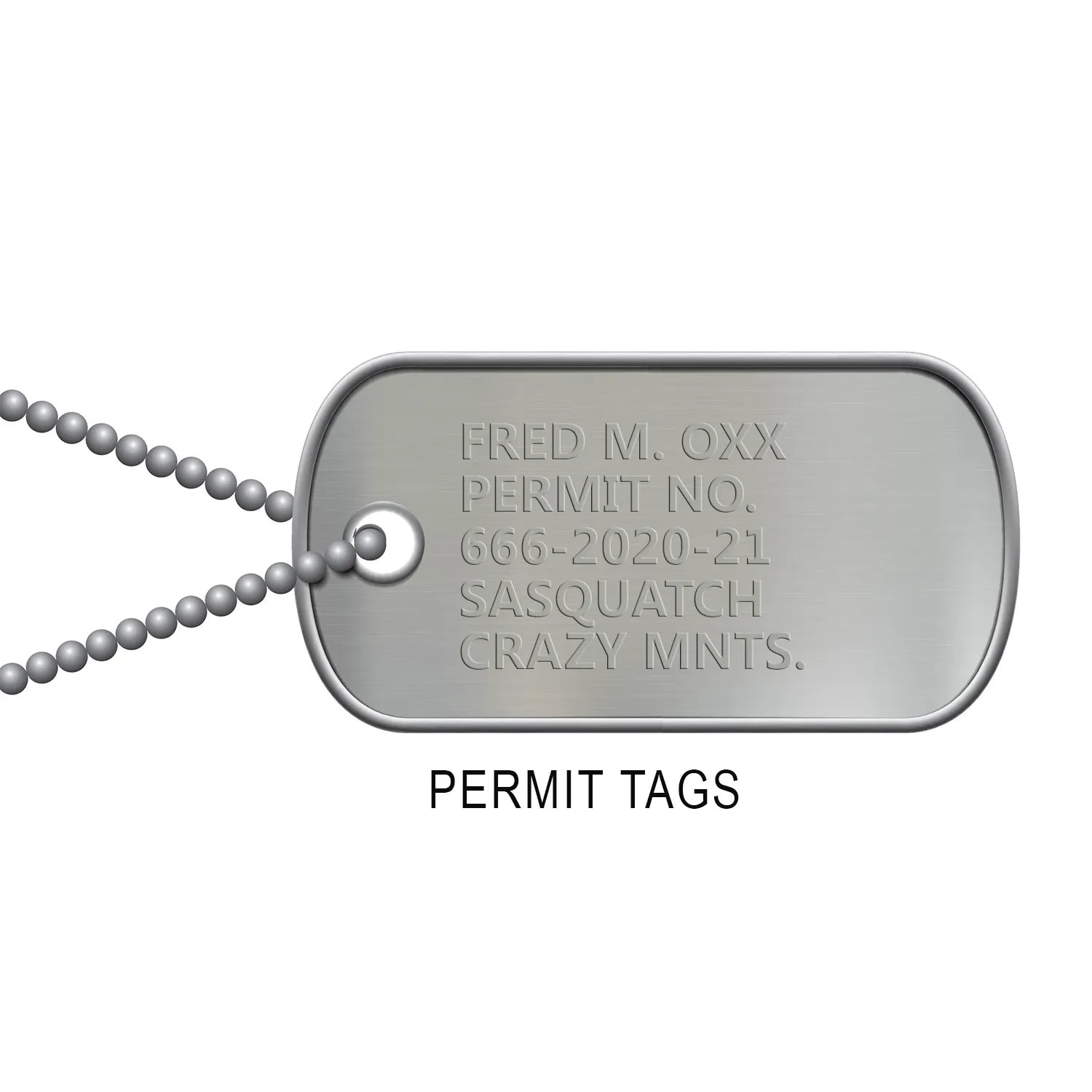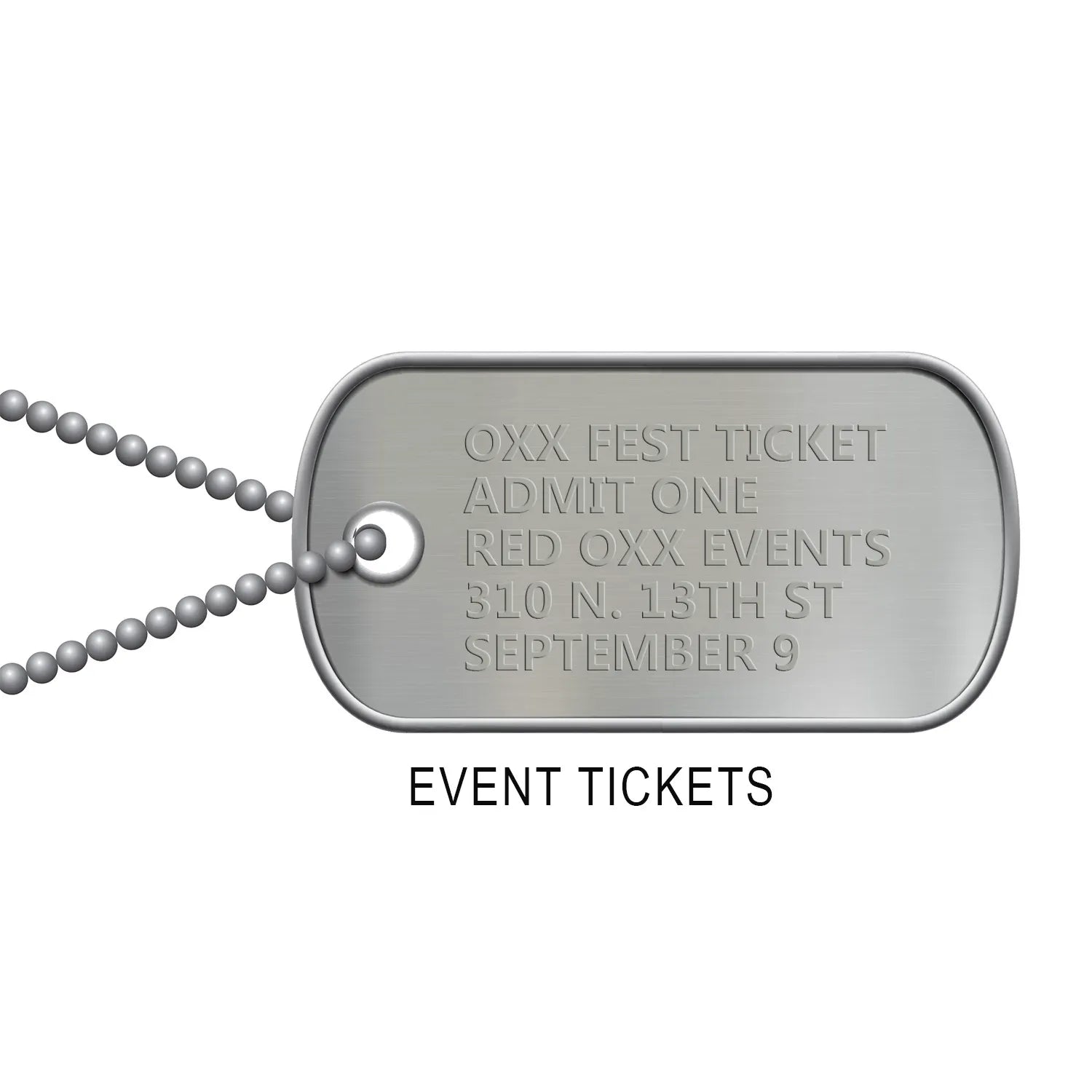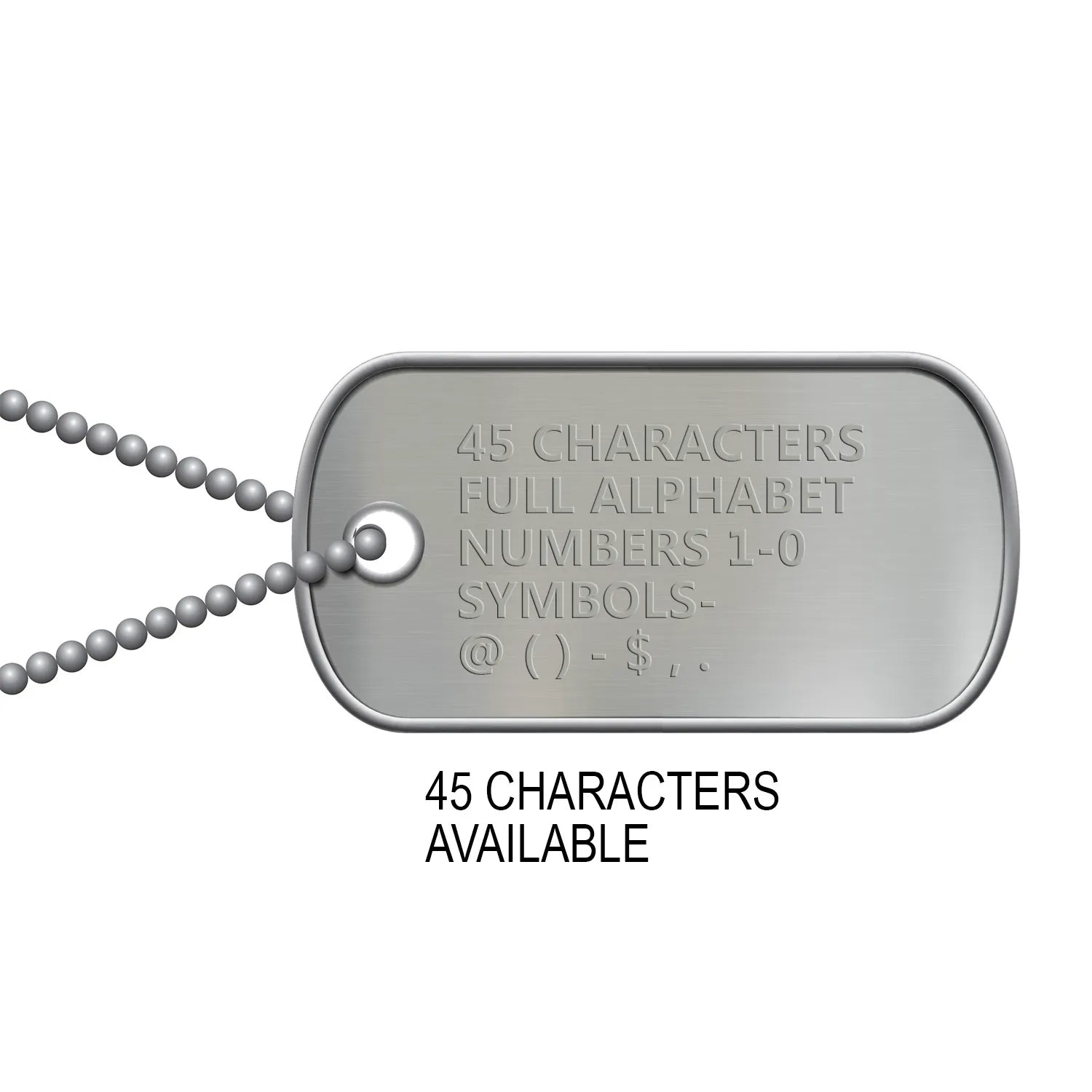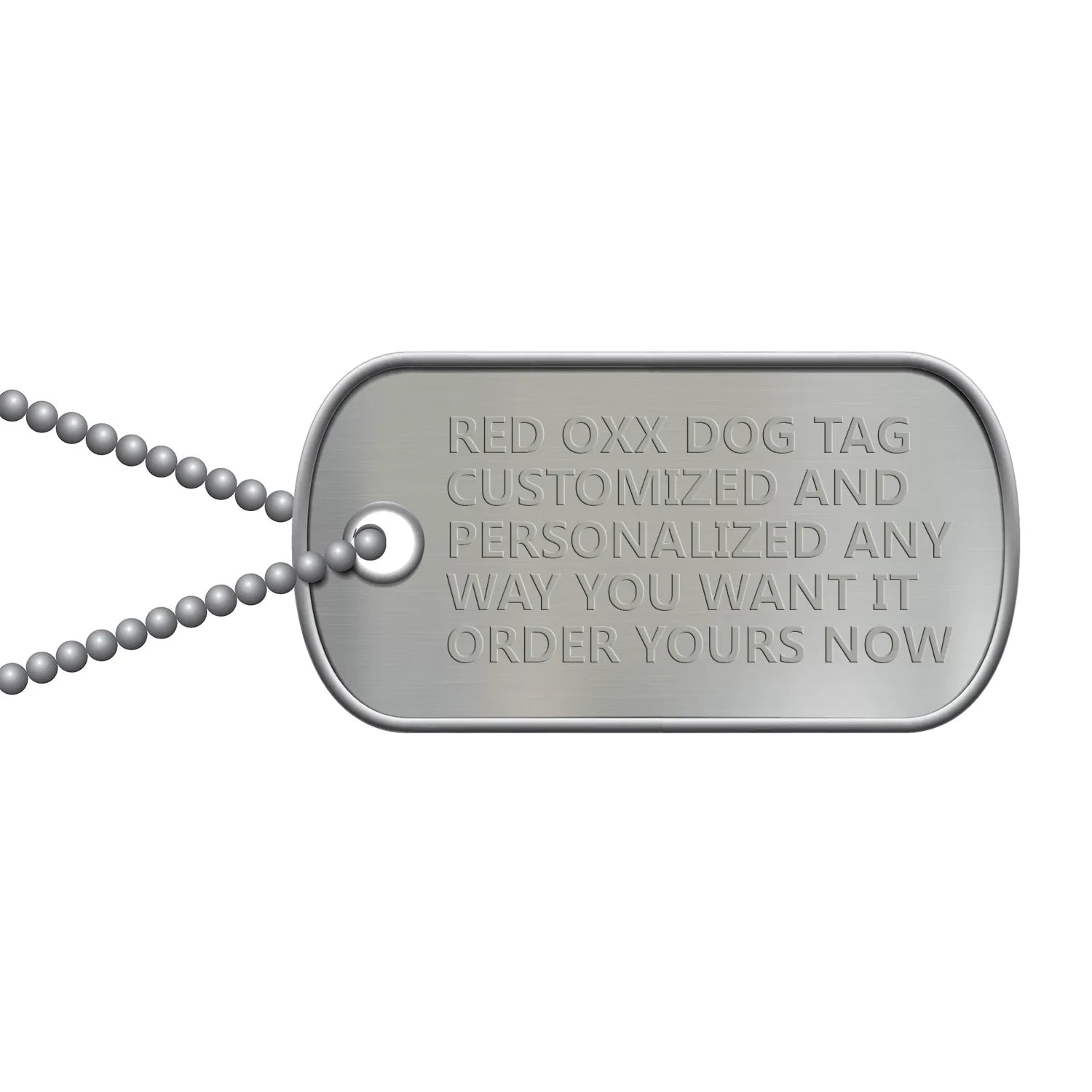 Personalized Dog Tag
You've bagged it, now tag it. Customized Dog Tags.
Military Spec Stainless Steel. Includes 4.5" beaded chain.
Dimensions: 2"L x 1"W
Machine embossed using American-sourced Mil-Spec materials

Includes 4.5" beaded chain.

Military dog tags have long been used to identify our soldiers in action. Why not identify your luggage in the field in the same fashion? Introducing a new concept in luggage ID tags.

Try a personalized authentic metal military style luggage dog tag from Red Oxx.

Dozens of uses... limited only by your imagination.

HOW MUCH TEXT SPACE?
Featuring five lines of available text, there's plenty of room for your address essentials and an extra line for that contemporary contact info, like your website or email address.

Your Custom Dog Tag could include information such as emergency contact info, travel group info, allergies and your important medical data such as blood type, medications, etc. See below for instructions on "How to Order" your Dog Tag.

All letters are stamped in easy-to-read CAPS, as embossed raised lettering. Each Dog Tag has a double-thick folded frame to resist creasing and bending. Red Oxx Custom Embossed Dog Tags are highly distinctive and appreciated inexpensive presents for traveling families, tour groups and your buddies.

45 LETTERS AND SPECIAL CHARACTERS AVAILABLE.

LETTERS:
A B C D E F G H I J K L M N O P Q R S T U V W X Y Z

NUMBERS:
0 1 2 3 4 5 6 7 8 9 0

SPECIAL CHARACTERS:
@ ( ) / - $ , .

Comes with a 4.5" beaded metal chain OR purchase a Cable Lock to secure the tag to your luggage.
Dimensions: 1"W x 2"L.

HOW TO ORDER
NOTE: We recommend leaving the last box on each line blank, if possible, as this results in better alignment of the letters and even stamping in our machine.

Fill out the display Dog Tag form which is open with the five lines of text. NOTE: you must follow the letters, numbers, and special characters instructions. If you use a special character not listed, we cannot emboss that character. Add your custom dog tag order to cart in the quantity you desire. If you want a new and different dog tag you will have to add your first order to cart, then reopen the dog tag page to place your new order.

Customized. Personalized. The Red Oxx Dog Tag, an inexpensive metal ID tag made just for you.

Red Oxx is a 2nd Generation Family Veteran owned and operated US Manufacturer.
2"L x 1"W
Genuine military dimensions
Military Spec stainless steel
Room for 5 lines of text
Line 1 & 5 (15 characters)
lines 2, 3 & 4 (16 characters each)
45 Available characters: ABCDEFGHIJKLMNOPQRSTUVWXYZ @ 1234567890 ( ) / - $ , .
Personalized for your name and contact info
Embossed capital lettering
Sturdy polished steel construction
Rolled and folded edging resists bending
Includes 4.5" long metal beaded chain
Custom embossed at our factory in Billings, Montana USA
Dog Tag orders download at 3:00 pm MST and ship same business day. If your order includes a built-to-order bag the shipping may take up to 48 hours.
Dog tag line 5?
The machine is only capable of printing the number characters onto the dog tag that the form allows. 1 Character per square
line 1: 15
line 2: 16
line 3: 16
line 4: 16
line 5: 15
Only characters listed below are available to print.
ABCDEFGHIJKLMNOPQRSTUVWXYZ @ 1234567890 ( ) / $ , . -

Do the dog tags only come with the chain attached? worried about the durability of the chain.

The Dog Tag comes standard with the 4.5" long metal beaded chain which is quite sturdy. However, you can purchase our threaded Cable Locks separately to attach your dog tag as an alternative.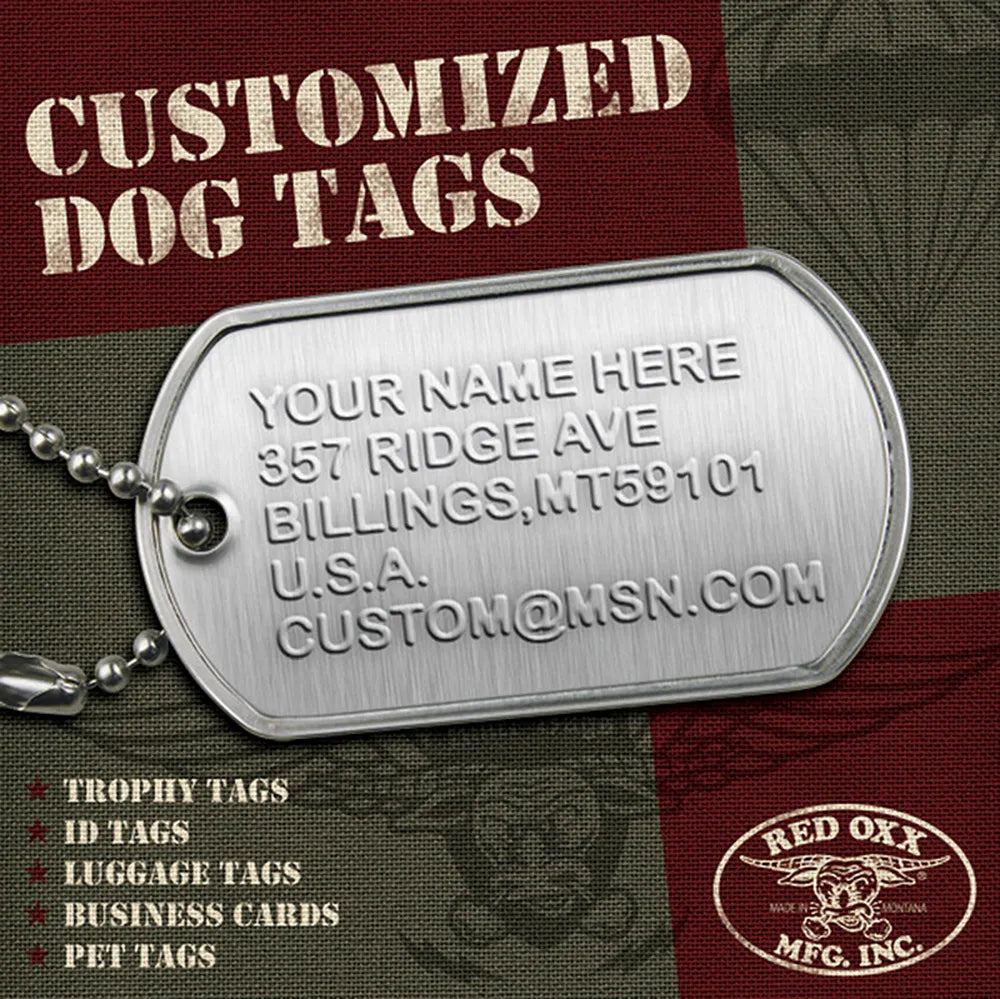 This product has no reviews yet.
This product has no reviews yet.