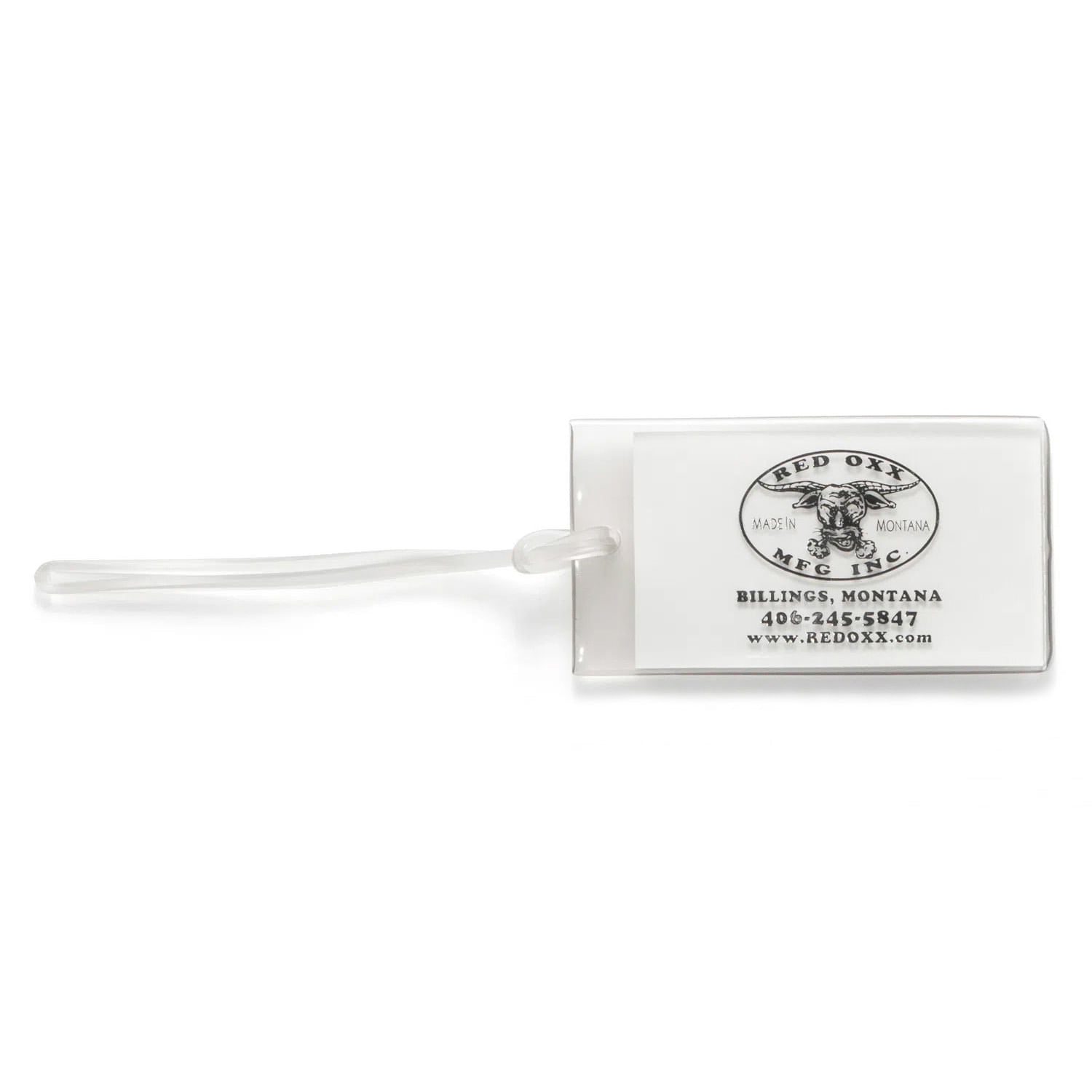 Luggage Tag
I'm retro vinyl, forever classic. Tested. And Approved.
Keep your luggage identifiable by slipping a standard business card inside. Its classic design and durable construction make it easy to attach securely to your bag with a half hitch. A must-have for checked luggage.
Made in U.S.A. with our "No Bull" Lifetime Warranty
Dimensions: 4 1/8"L x 2 1/4"W x 1/8"D, Strap: 4 1/2"L
Made in U.S.A. for Red Oxx by Brown & Bigelow

Injection molded flexible vinyl

Includes vinyl strap and identification card

Designed with pride from American-sourced materials for Red Oxx Mfg.

Clear vinyl cover has Red Oxx logo on one side and comes with ID card or fits a standard business card

The Red Oxx vinyl luggage tag has been tested around the globe for years. Holds a standard size business card. Placing two on your checked bags for added security is highly recommended.
Dimensions - Tag: 4 1/8"L x 2 1/4"W x 1/8"D, Strap: 4 1/2"L
Are there other colors available?
To keep the cost down, we only offer the one color combination, semi-clear.

Can I put my own logo on the luggage tag?
If you want your logo to appear, you'll need to use a business card and have your logo on the opposite side ours is on.

How do I fill out the luggage tag?
Simply remove the card that comes with the tag and fill in the blanks, then reinsert the card into the tag.

Can you ship USPS?
Yes, Red Oxx will ship USPS upon request. Simply state, "Please ship USPS" in the cart comments during checkout and we will adjust your billing accordingly.
This product has no reviews yet.
This product has no reviews yet.