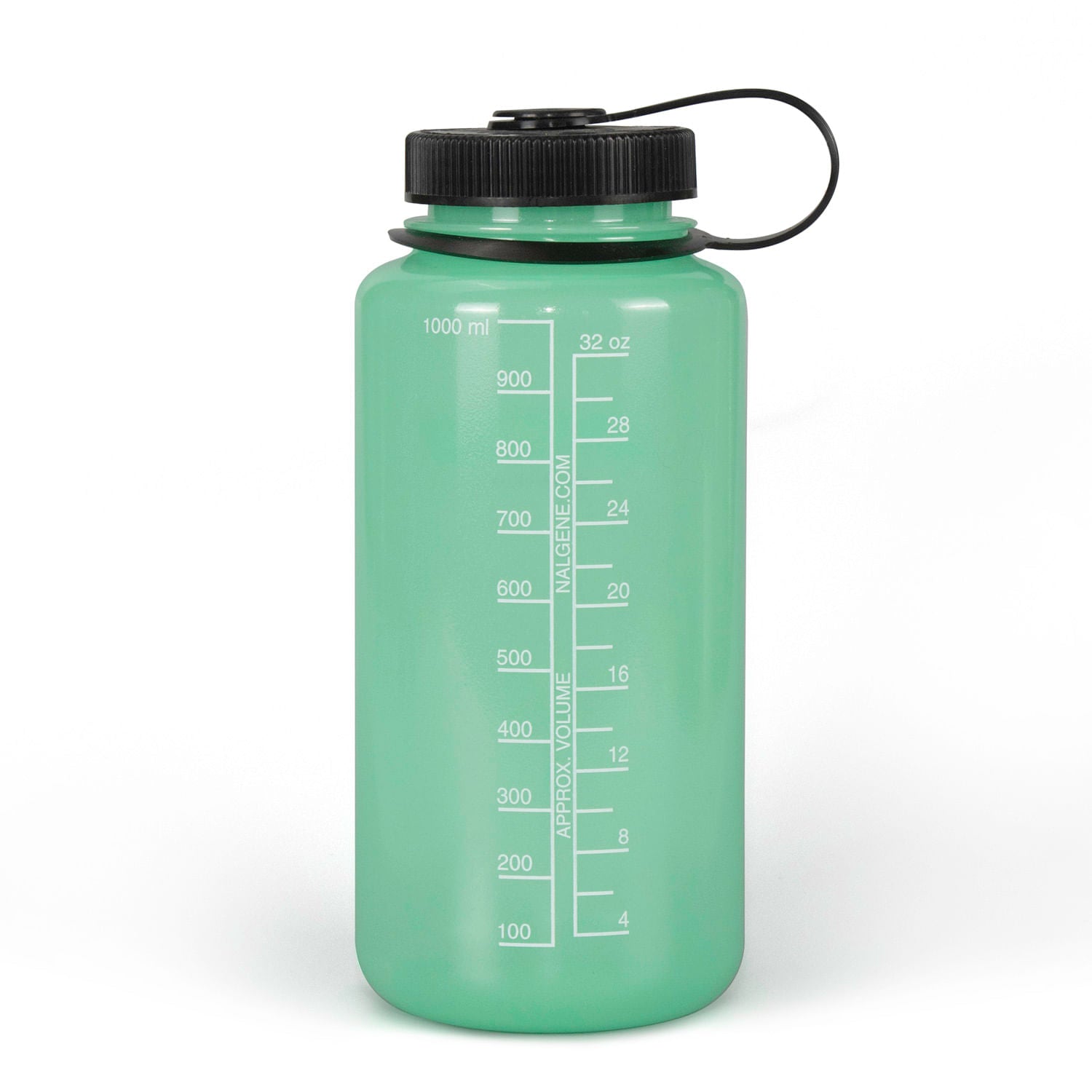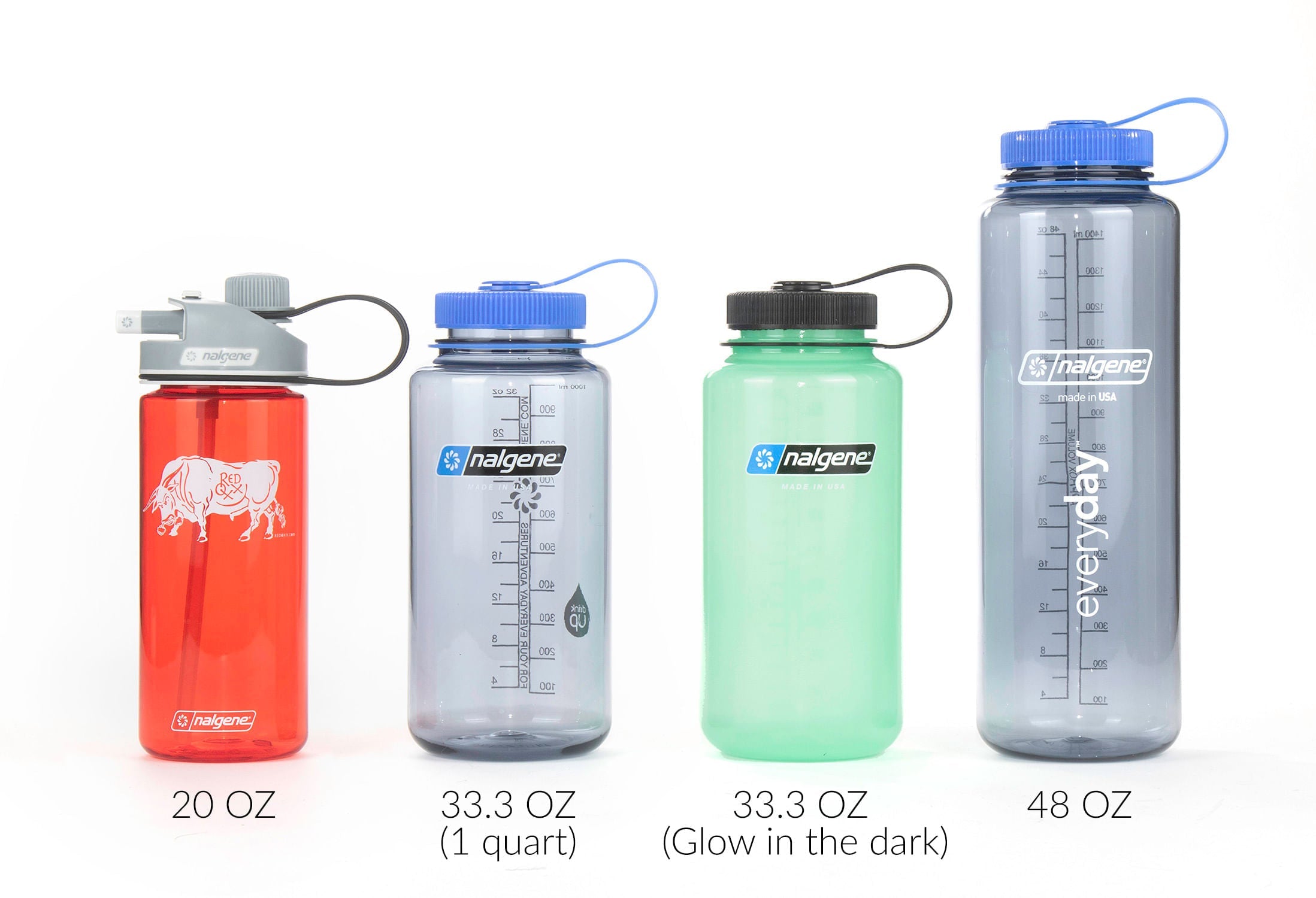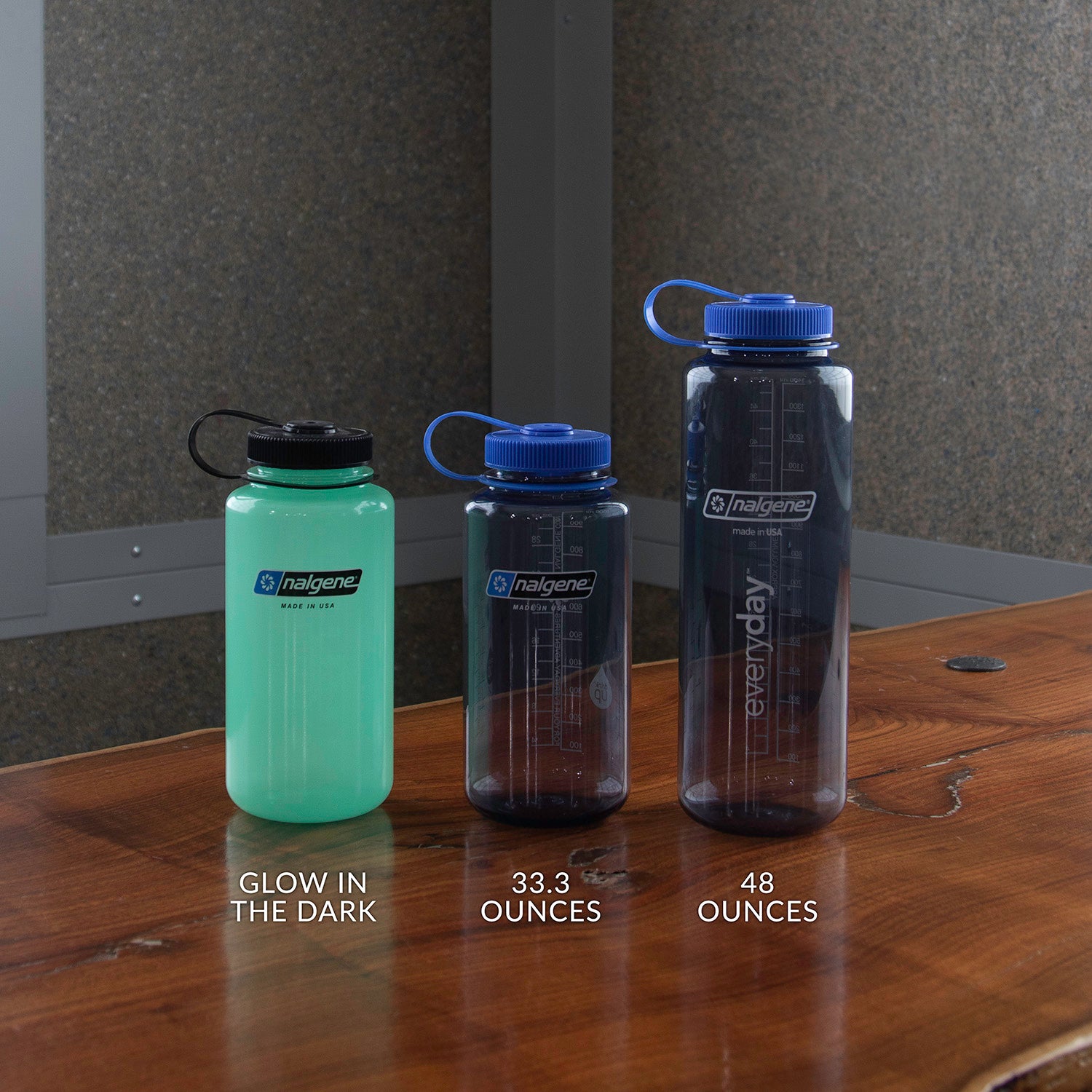 Nalgene Glows Green Water Bottle
Replenish yourself, even in the dark. The Midnight Thirst Quencher is Here!
Dimensions: 3-1/2 inches diameter x 8.5 inches H

1 Quart Nalgene water bottles are made in the U.S.A.

Nalgene water bottles are made in the USA

BPA free plastic

Lifetime guarantee

A Red Oxx Recommended Travel Accessory.

Fluorescent technology has now arrived in a water bottle! Introducing the world's first "Glow in the Dark" water bottle. Nalgene's new 32oz Wide-Mouth Water Bottle is made from their exclusive BPA-free "Everyday" foodgrade safe plastic material that glows in the dark.

Simply expose it to a light source for few minutes and you should be able to see it in the dark. You won't be able to read by it, obviously, but you will be able to see it on your night stand. Faintly, but it's there.

The Nalgene Glow-in-the-Dark water bottle is transparent enough to be able to see the marked fluid volume waterlines on the backside. These are measured in both metric and US. Every 100 millilitres up to 1000 ML and every 4 ounces up to 32 OZ.

Includes the typical features of Nalgne's "Everyday" water bottle series:

sturdy nearly unbreakable plastic,
easy to care for dishwasher safe top rack cleaning,
wide mouth spin-fast loop attached leak-proof lid and
BPA free composition.
Glows in the dark.

Be sure to pick up an Easy Sipper Cap for a drip proof sip.

The large wide mouth opening easily accommodates ice cubes, fits most water purifiers and filters, and makes hand washing a breeze. You'll love the never-lost loop-top wide mouth lid. Nalgene's Wide Mouth Glows Green Water Bottle is dishwasher safe --just remember to use the top shelf only or it could melt.

Made in U.S.A. by Nalgene.
Does not contain BPA

Made in U.S.A.

Guaranteed for life

Extremely durable

Resists odors

Dishwasher Safe - Please make sure the cap does not touch the heating element

Withstands temperatures from -40ºF to 212ºF

This bottle is made from Eastman Tritan TM copolyester that is manufactured without Bisphenol A (BPA)

3 1/2 inches diameter x 8.5 inches H

Recycling code of #7, which means "other"
Is this water bottle carry-on legal?
Yes. As long as you empty the bottle before going through airport security.

Where do I send my bottle or jar if there is a warranty issue?
Send the jar or bottle directly to Nalgene for warranty coverage. Do not send it to Red Oxx.

Is this water bottle free of BPA?
Yes, Nalgene does not useBPA in the manufacture of these water bottles.

What kind of fluids can I put in this water bottle?
Anything you can drink, though boiling hot fluids such as coffee or tea are not recommended.

How long does the glow last?
It depends on the intensity of the light source, how long, how bright and also how dark your environment is. So it could be anywhere from a few minutes to a few hours.
This product has no reviews yet.
This product has no reviews yet.