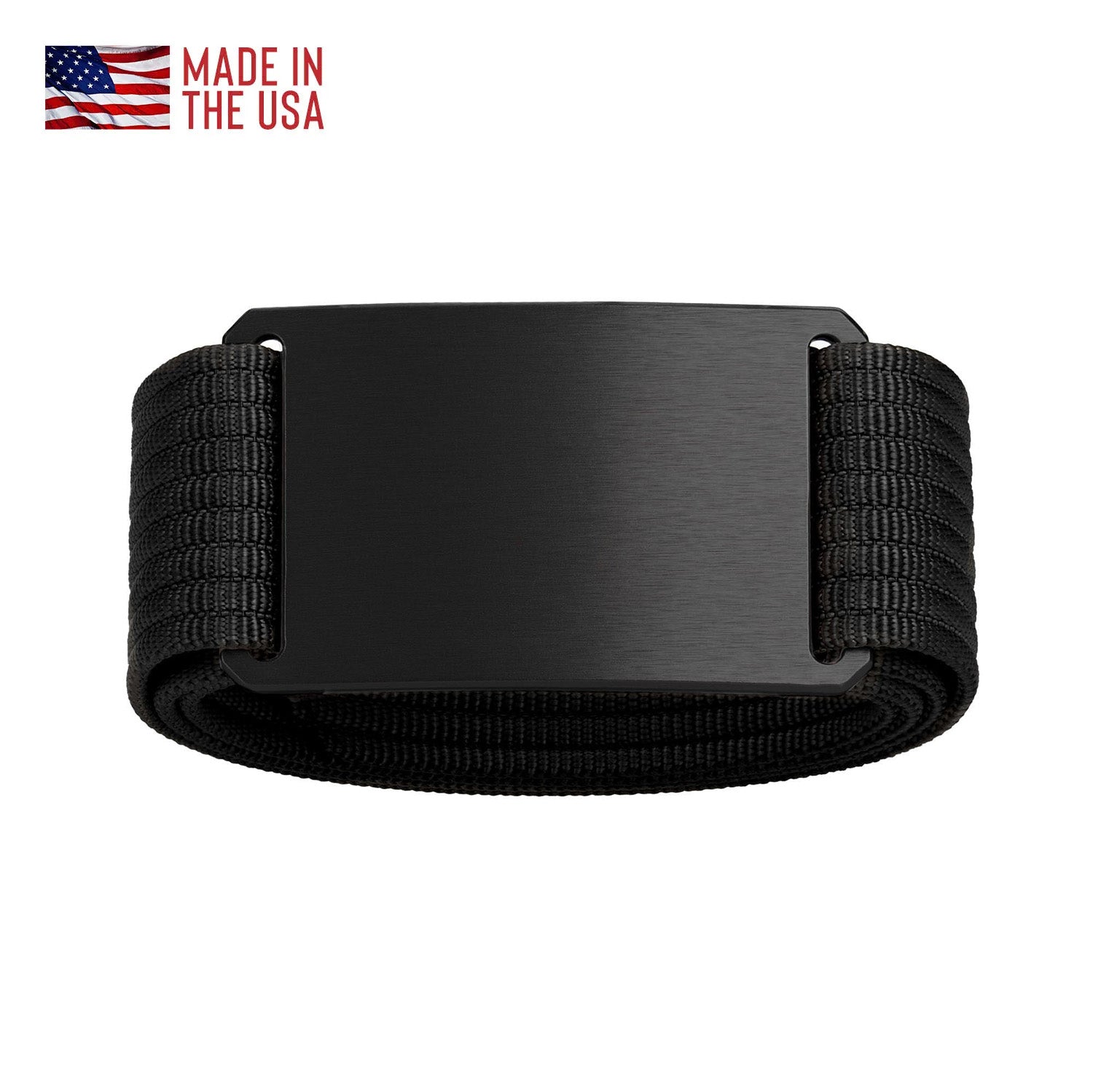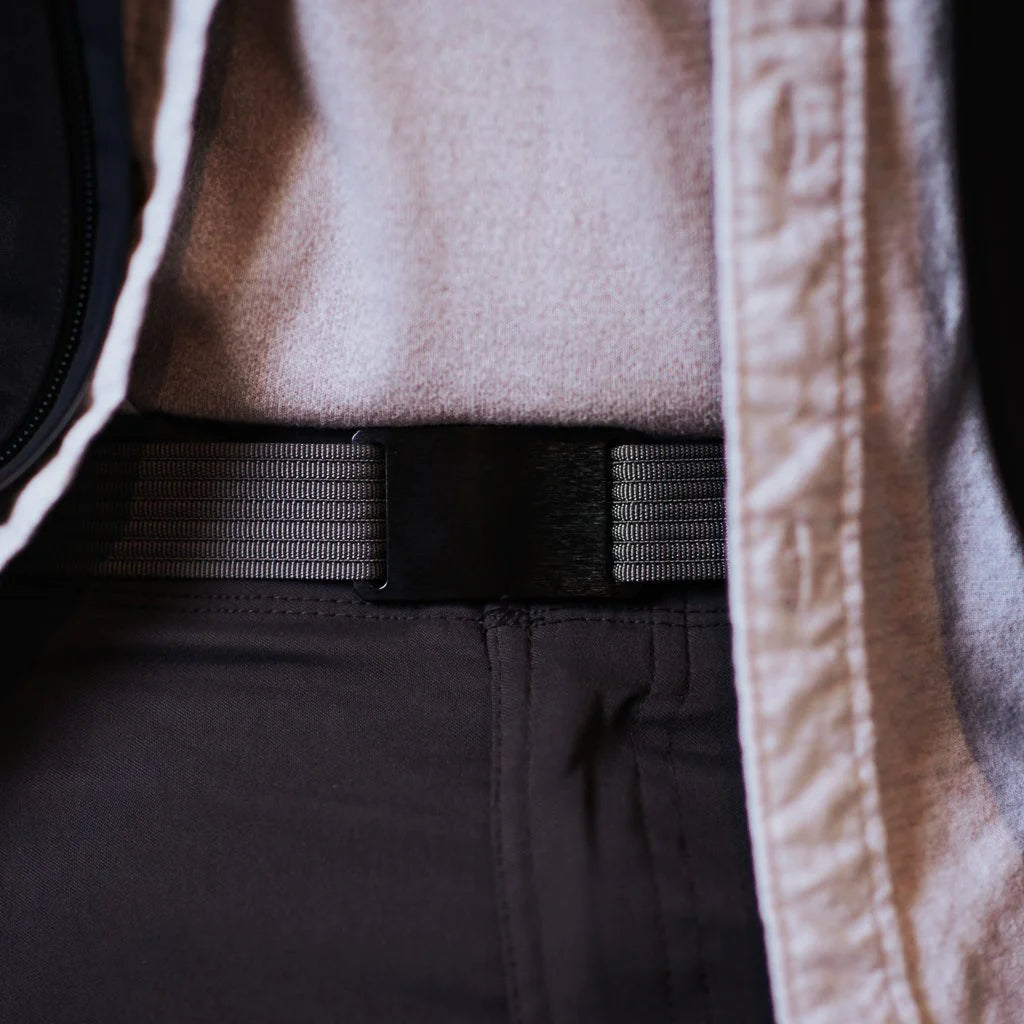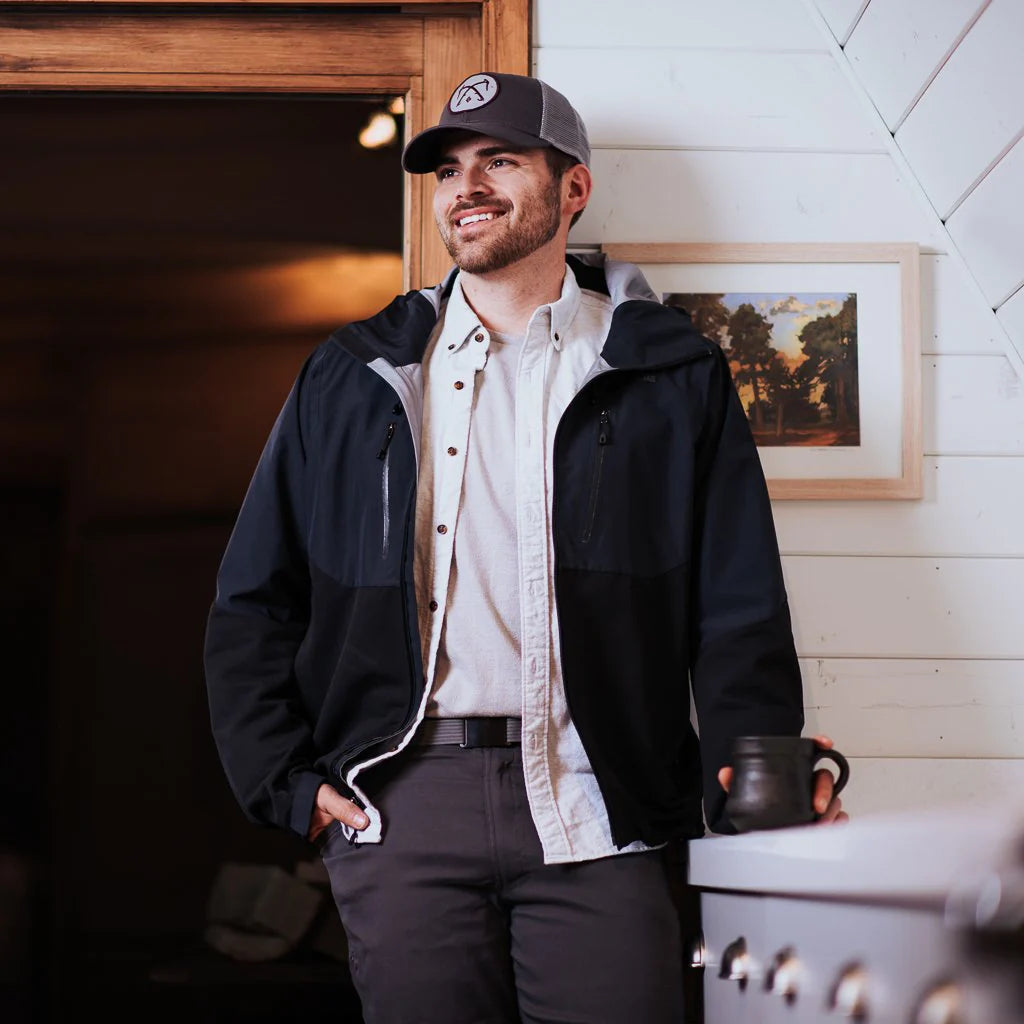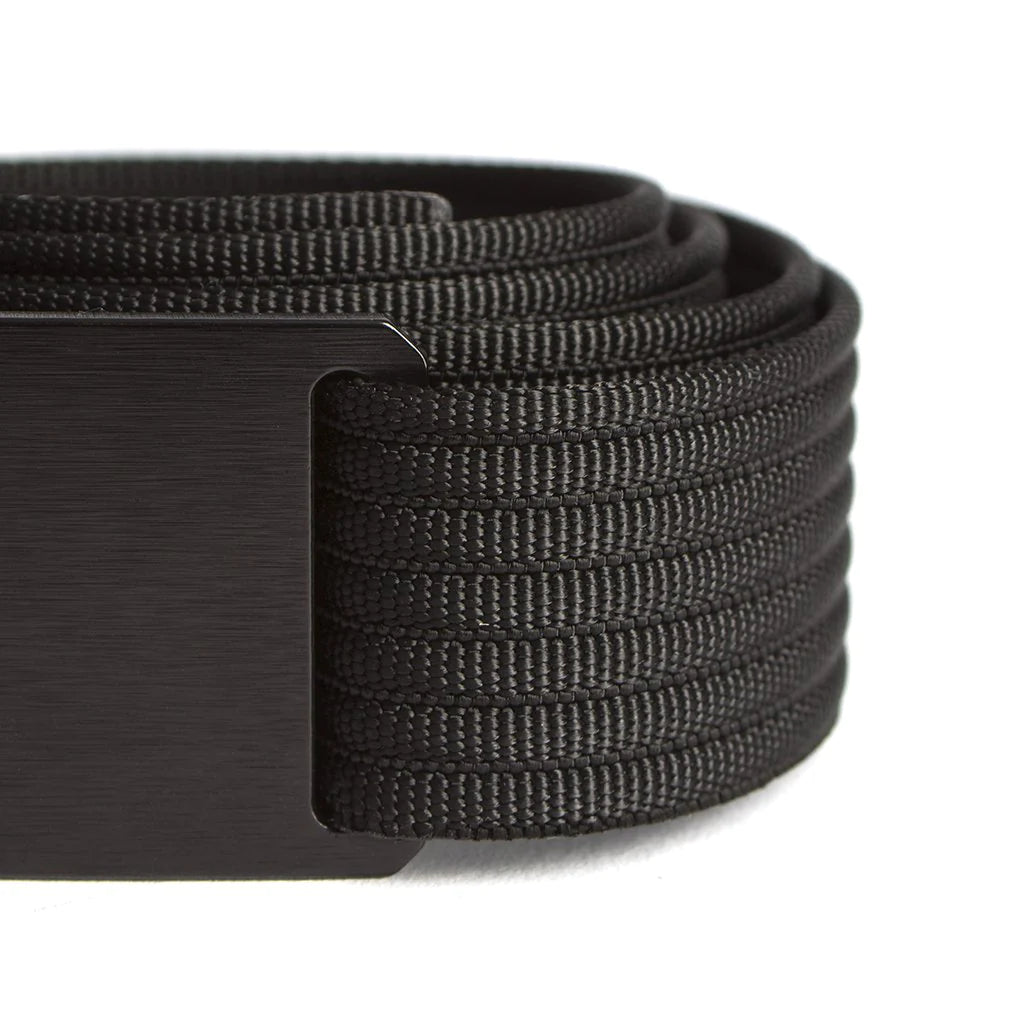 Men's Grip6 Black Ninja Belt
Fastest belt at the TSA checkpoint
GRIP6's Men's Black Ninja Belt offers unbeatable convenience and comfort with its interchangeable buckles and straps. Crafted from tough and lightweight materials in the USA, this belt features a classic series buckle and is backed by an unlimited lifetime warranty. Make use of the A3 Guaran-damn-tee to protect against wear & tear for a lifetime of worry-free style.    
Comfortable and fully adjustable
Made in the USA
Made from high grade lightweight materials

LIFETIME WARRANTY-The GRIP6 A3 Guaran-damn-tee protects against any malfunction, accident, and all possible wear & tear. These high-quality products were designed to last a lifetime.

MADE IN THE USA - GRIP6 is a provider and supporter of good local jobs.

INTERCHANGEABLE BUCKLES AND STRAPS- Mix and match with your other Grip6 belts.

LOW PROFILE BELT- This belt lies down flat and will not protrude out from the pants or dig into the skin.

DESIGNED WITH COMFORT IN MIND- Ultra-lightweight buckles are shaped with a slight bend for extra comfort.

NO-SLIP LOCKING MECHANISM- Buckle designed as a single solid part so it doesn't slip or need adjustment throughout the day.

HIGH GRADE MATERIAL- Buckles are laser cut from T6061 Aluminum. Strap is woven with high strength nylon webbing.

ONLY BELT WITH NO HOLES & NO FLAP- The tail of the belt tucks behind the buckle, providing a clean, sleek look.

Now you can get a fully adjustable belt that is never too tight, nor too loose. Notched belts can head for retirement because Grip6 is here.

Grip6 Belts are made in the U.S.A., from American-sourced components, just like Red Oxx Gear. Just like our Grip6 Radial belt, the buckle is machined super-thin from sturdy T6061 Block Aluminum. It's only 2.85 mm thick, but it won't bend, break, rust, or warp.

The buckle is smooth to the touch and has a gentle curve to match your waists contour. The ultra low profile helps make the Grip6 the world's most comfortable adjustable belt and buckle combination.

The belt strap is made from 1.5-inch wide high-strength nylon fiber weave. And no worries about where to stuff any extra length, since it's only 2mm thick, the belt will slip under and tuck into your pant loop. You won't feel the tucked belt at all. You want to have about 8quot&; overlap to tuck, but if you need trim it down for a resize, visit How to trim your Grip6 Belt

You'll love the infinitely adjustable feature of this tough, stylish belt. A belt so tough it can hold up to 2000 pounds - suspended.

HOW TO ADJUST FOR THE PERFECT FIT

Slip your Grip6 belt round your waist through your pant loops.
Admire how smoothly the weave slides through the belt loops.
Tuck the belt end into the open slot on the buckle front, sliding the belt under the buckle.
With the buckle angled outward from the other end, you can adjust the comfort fit of your belt, easily sliding the belt in or out for fit, tucking the end into a belt loop under the belt if needed.
Next, push the buckle flat against your stomach and admire in the mirror the slim, trim and fashionable look you've achieved.
Or just check out the How to Adjust graphic for informative visuals, in case descriptions aren't your thing.
GRIP6 BUCKLES

Dimensions: 3.0" x 1.8" x .125"
Weight: 25 Grams or .88 ounces

GRIP6 STRAP

Width: 1.5 inches wide
50-80 grams depending on size
Infinitely adjustable
High-tensile nylon fiber weave
Breaking strength of over 2000 pounds
My belt is frazzled,where do I send it for warranty and repair?
Send your Grip6 belt directly to Grip6 for any and all warranty issues. Do not return it to Red Oxx.

Can you ship USPS?
Yes, Red Oxx will ship USPS upon request. Simply state, "Please ship USPS" in the cart comments during checkout and we will adjust your billing accordingly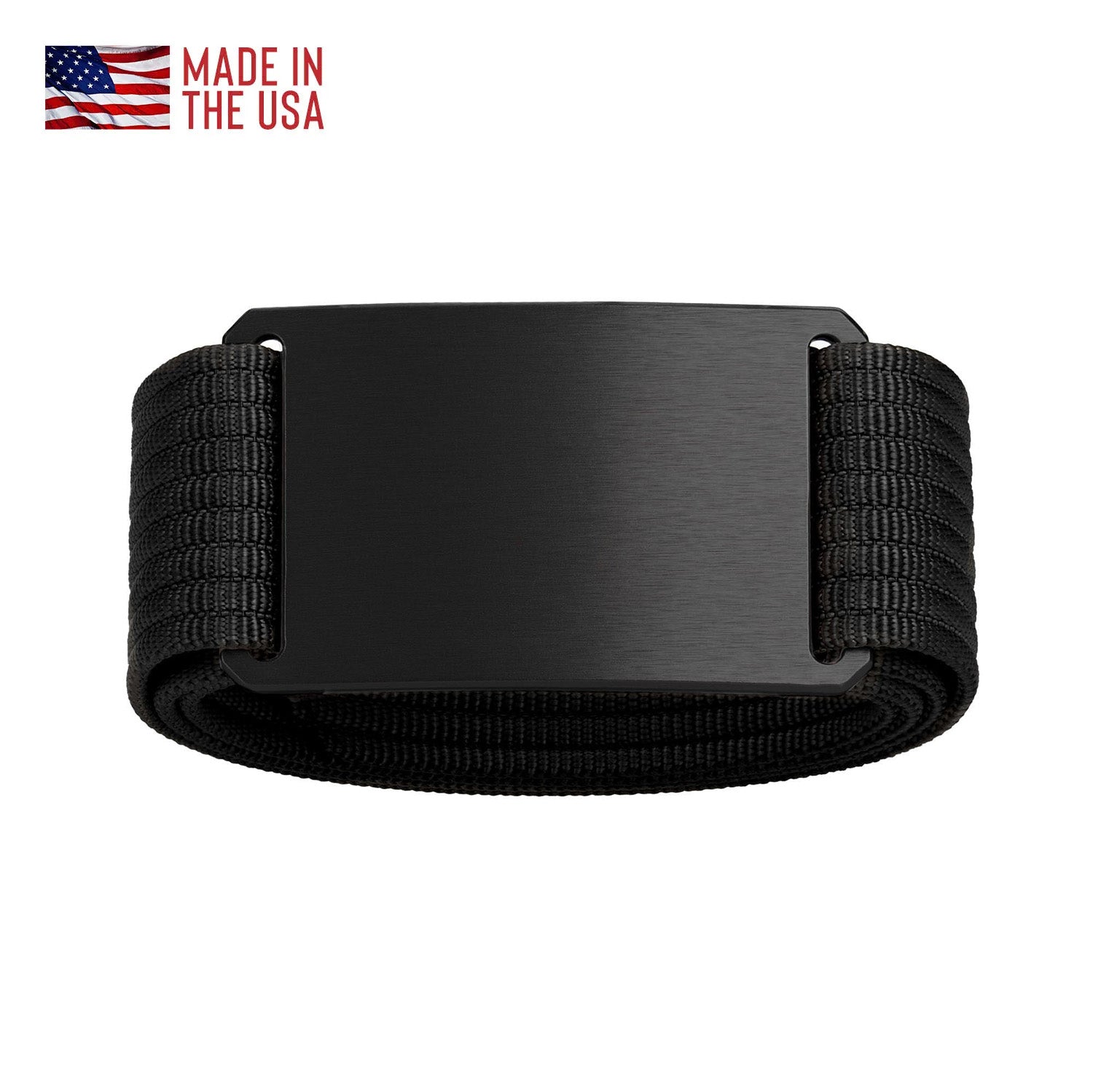 This product has no reviews yet.
This product has no reviews yet.