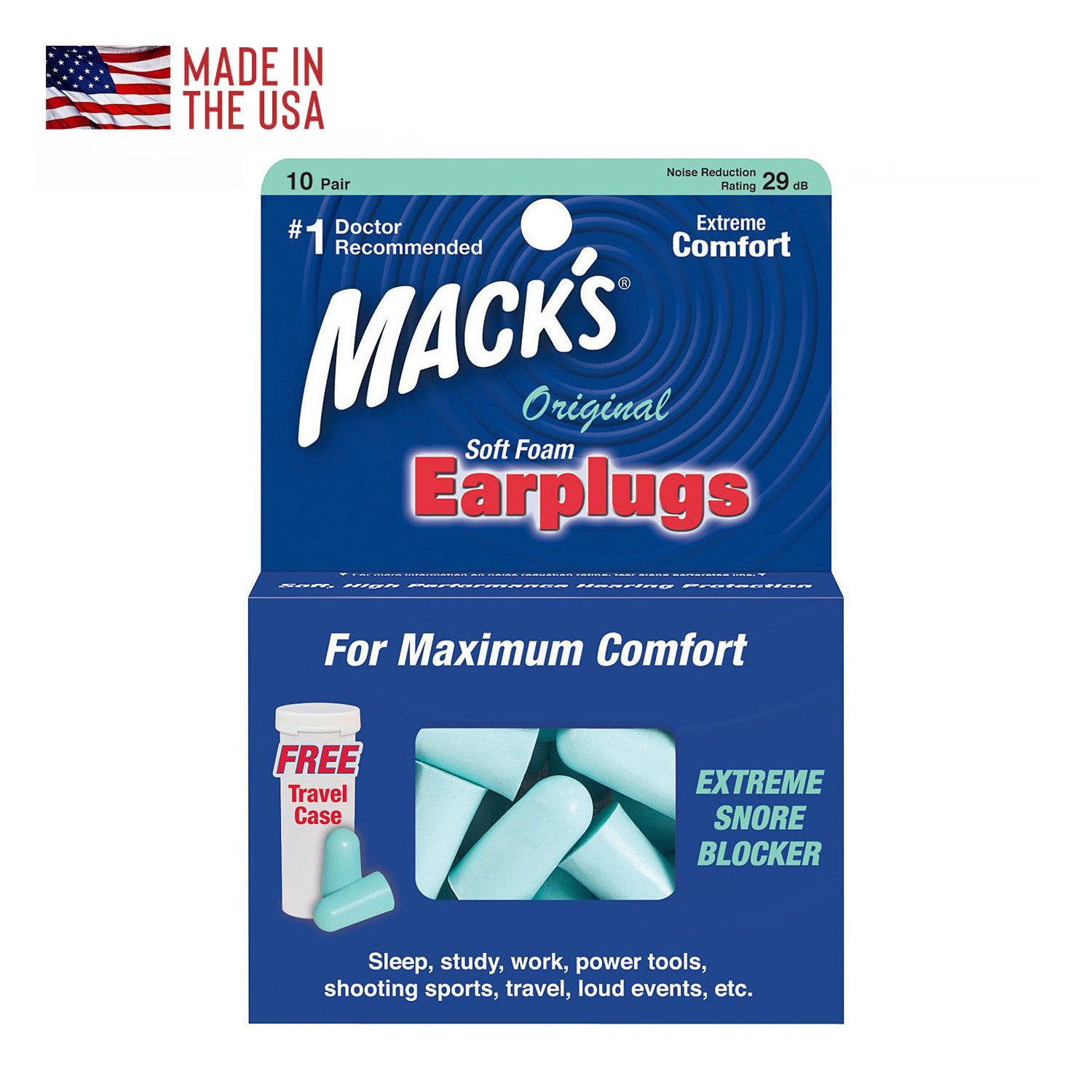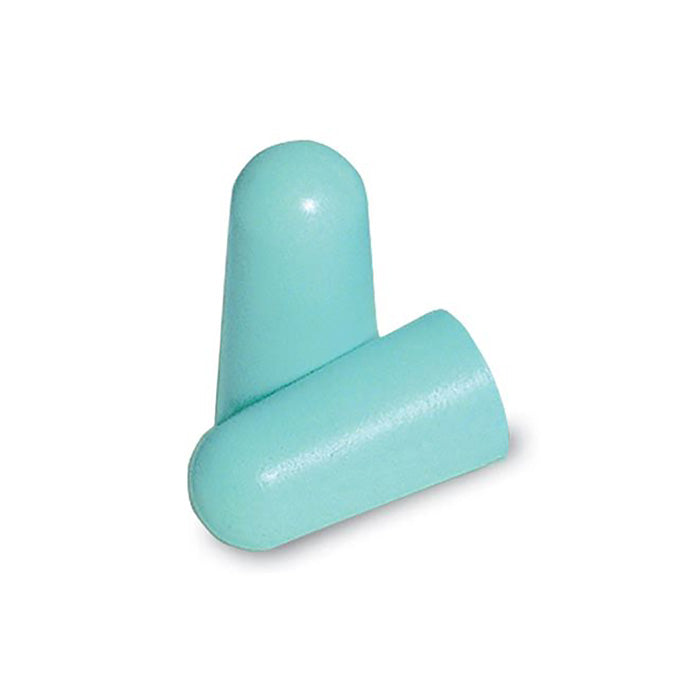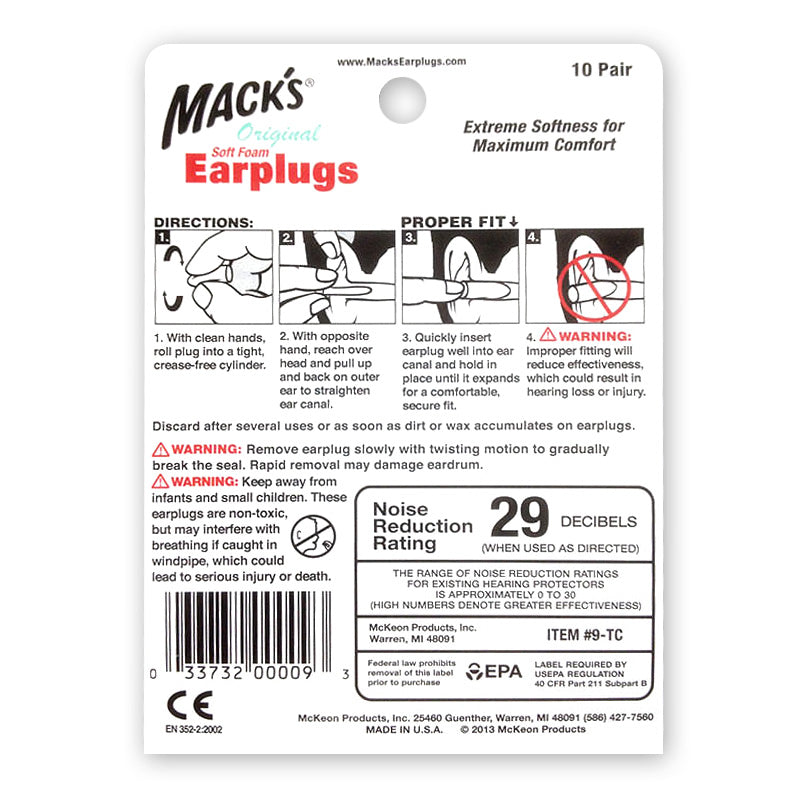 Macks Original Earplugs
Can you hear me now? 
Macks Original Earplugs provide a superior noise-blocking experience, thanks to their Number 1 Doctor recommended gentle soft hearing protection and top-notch design.


Made in the USA 
Noise reduction rating of 32 decibels.

Number 1 Doctor recommended gentle soft hearing protection

Noise reduction rating of 32 decibels

Super low-pressure, slow-release Urethane comfort foam

A Red Oxx Recommended Travel Accessory.

Why go deaf, indeed? Considering hearing aids can cost up to $10,000, or more, and tinnitus (ringing in the ears) is a permanent uncomfortable and annoying condition, there's no excuse when you can comfortably and easily use Mack's Original Soft Foam Ear Plugs to protect your hearing for just pennies a use.

These earplugs are made with super soft foam for maximum comfort and are reusable until dirty. They are perfect for extended wear in situations where your comfort is paramount.

Reduce noise volumes (NRR) up to 32 decibels, when used as directed, one of the highest noise reduction ratings available for hearing protection earplugs.

Molded with state-of-the-art, super low-pressure, slow-release Urethane comfort foam and fully skinned and tapered, Mack's Original Earplugs provide unmatched user comfort and hygiene. The bright user-preferred teal color makes them as easy on your eyes as they are in your ears.

Each package of Mack's Original Earplugs includes 10 pairs of earplugs and a compact plastic keychain earplug carrying case for ease of storage and travel.

Mack's Original Soft Foam Ear Plugs are designed for:

Sleeping
Studying
Shop noises
Work - industrial machinery
Powered yard and lawn tools
Travel: noisy planes, trains and automobiles
Loud concerts
Ball games and sporting events
Shooting firearms
Handling fireworks
Racing events
Motorcycling on or off road
Anywhere noises can exceed hearing damage levels

Earplug installation instructions:


With clean hands, roll an ear plug into a tight, crease-free cylinder.
With opposite hand, reach over head and pull up and back on outer ear to straighten ear canal.
Quickly insert earplug well into ear canal and hold in briefly until it expands for a comfortable, secure fit. Repeat for other ear.
IMPORTANT: Improper fitting will reduce effectiveness and could result in hearing loss or injury.

Discard after several uses or as soon as dirt or wax accumulates on earplugs.

Ear Plug Removal Instructions - warnings and precautions:

IMPORTANT: Remove earplug slowly with twisting motion to gradually break the seal. Rapid removal may damage your eardrum.

IMPORTANT: Keep away from infants and small children. These earplugs are non-toxic, but may interfere with breathing if caught in a windpipe, which could lead to serious injury or death.

IMPORTANT: It's advisable to keep your ear canals clean and free of earwax. If you feel your earplugs may be impacting earwax, making it difficult to hear after removing them, immediately discontinue use and see an eye, ear and nose specialist.
Number 1 Doctor recommended

Gentle soft hearing protection

Noise reduction rating of 32 decibels

Super low-pressure, slow-release Urethane comfort foam

Fully skinned and tapered shape

Teal colored

10 pack (10 pairs - 20 in all)

Includes Free Keychain Travel Case

EPA USEPA regulation 40 CFR Part 211 Subpart B

Made in U.S.A. by McKeon Products, Inc.
What are the foam earplugs made of and do they contain latex?
The earplugs are made of urethane foam. The "latex" in our foam earplugs is not natural latex, it is a synthetic latex technically called an emulsion polymer. It has the same properties as latex (water based, adhesive, etc.) but does not have the enzyme allergen problem associated with natural latex.

If, in the extremely rare instance you should experience any type of rash or skin irritation while using this product, please discontinue use immediately. Consult your doctor or go to your local medical emergency room if you believe you require immediate medical attention.

Can the earplugs be cleaned?
No. If these earplugs become soiled, they should be disposed of.

Besides reducing noise, can these earplugs be used to seal out water?
No. These earplugs were specifically designed to provide superior protection against noise. For water protection, we recommend that you try one of Mack's® moldable silicone or pre-molded flanged earplug products (sorry, Red Oxx does not carry these items).

First try re-inserting the earplugs after carefully re-reading the directions. Be sure to insert the ear plug while pulling (with the opposite hand) up and back on the outer ear to straighten the ear canal. If you are still unsuccessful with an ear plug that has now warmed to body temperature, try another "cooler" plug. An ear plug that is cooler in temperature will retain its compressed shape and rigidity slightly longer, sometimes making it easier to insert. A sign that the earplug is sealing properly is that your own voice will sound more internal and muffled.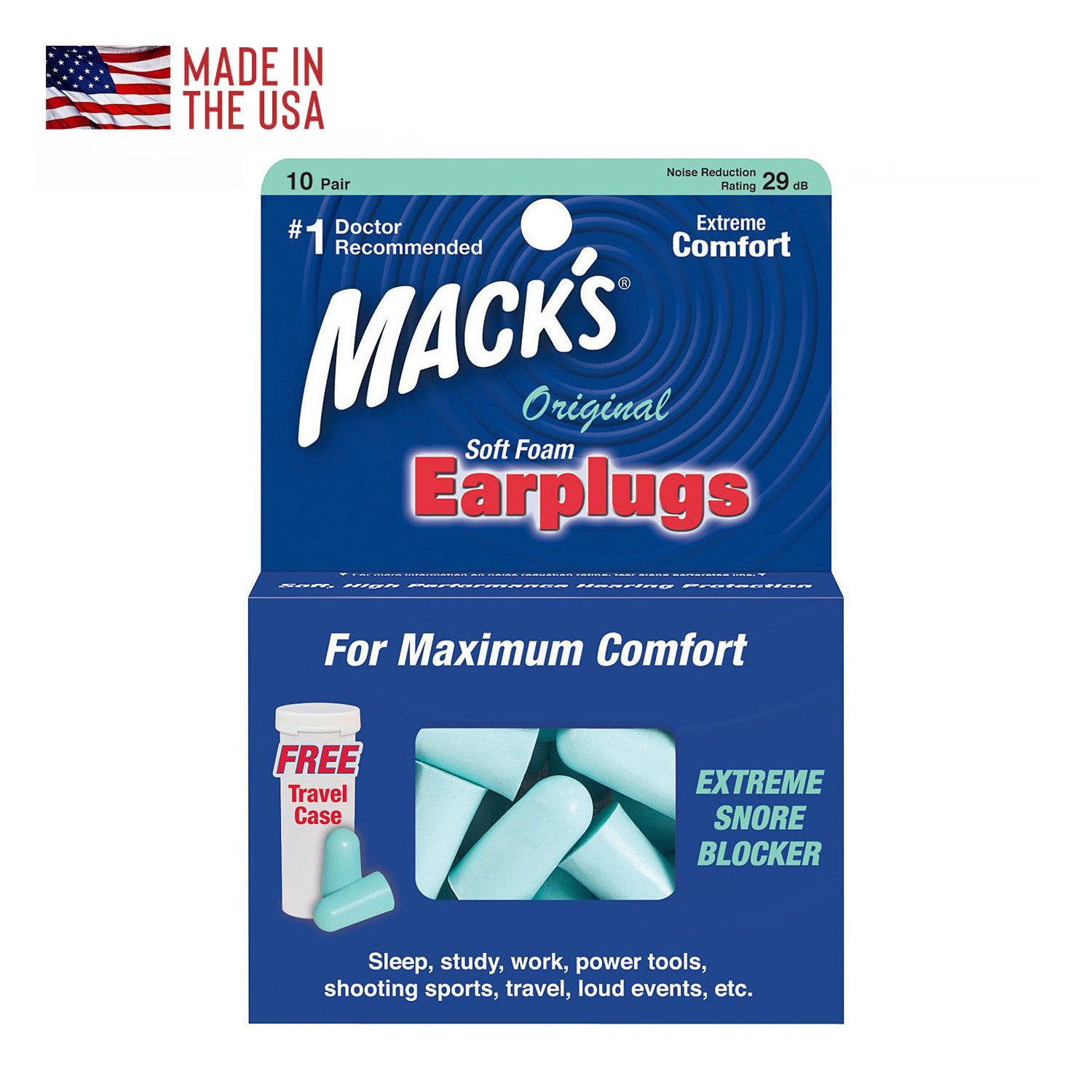 This product has no reviews yet.
This product has no reviews yet.