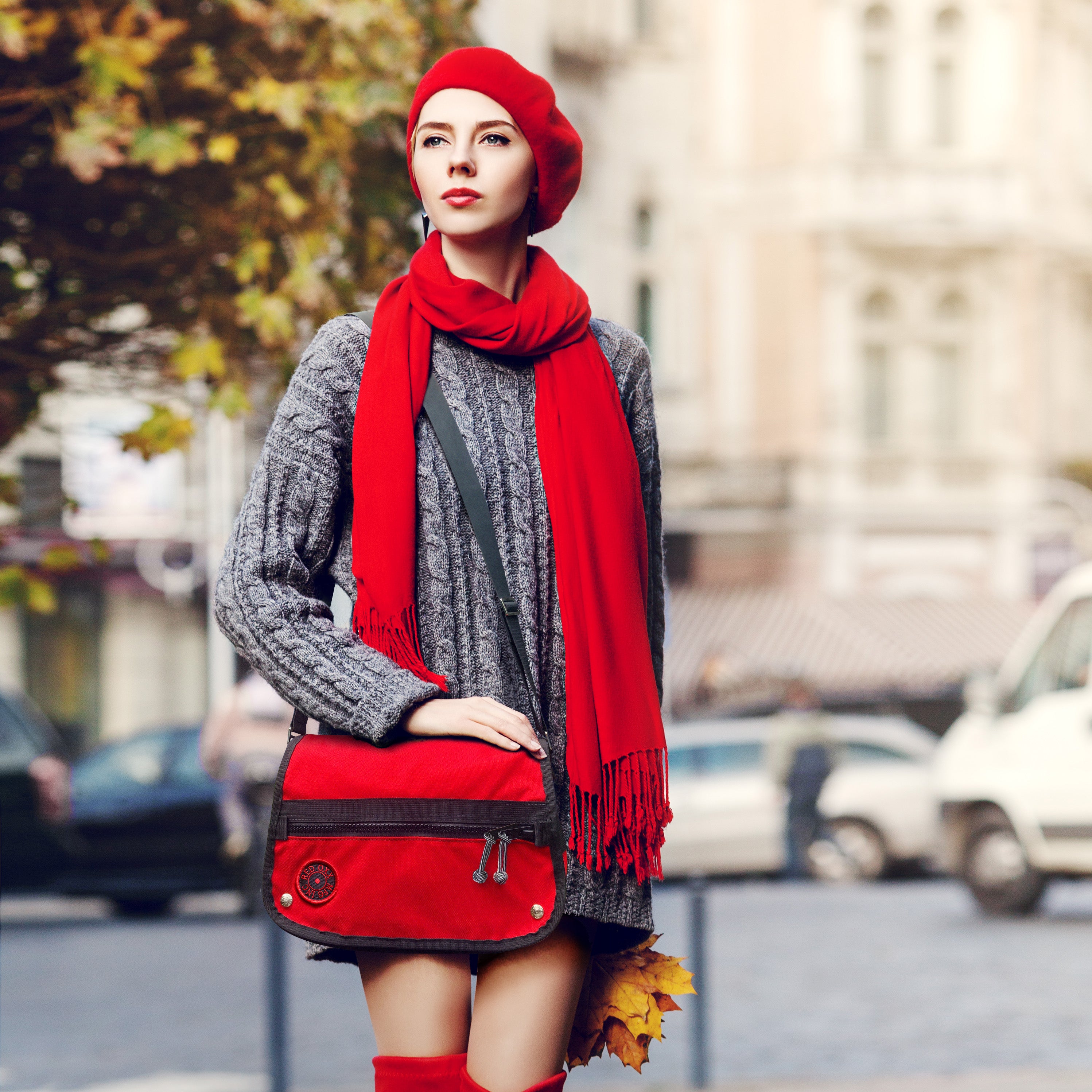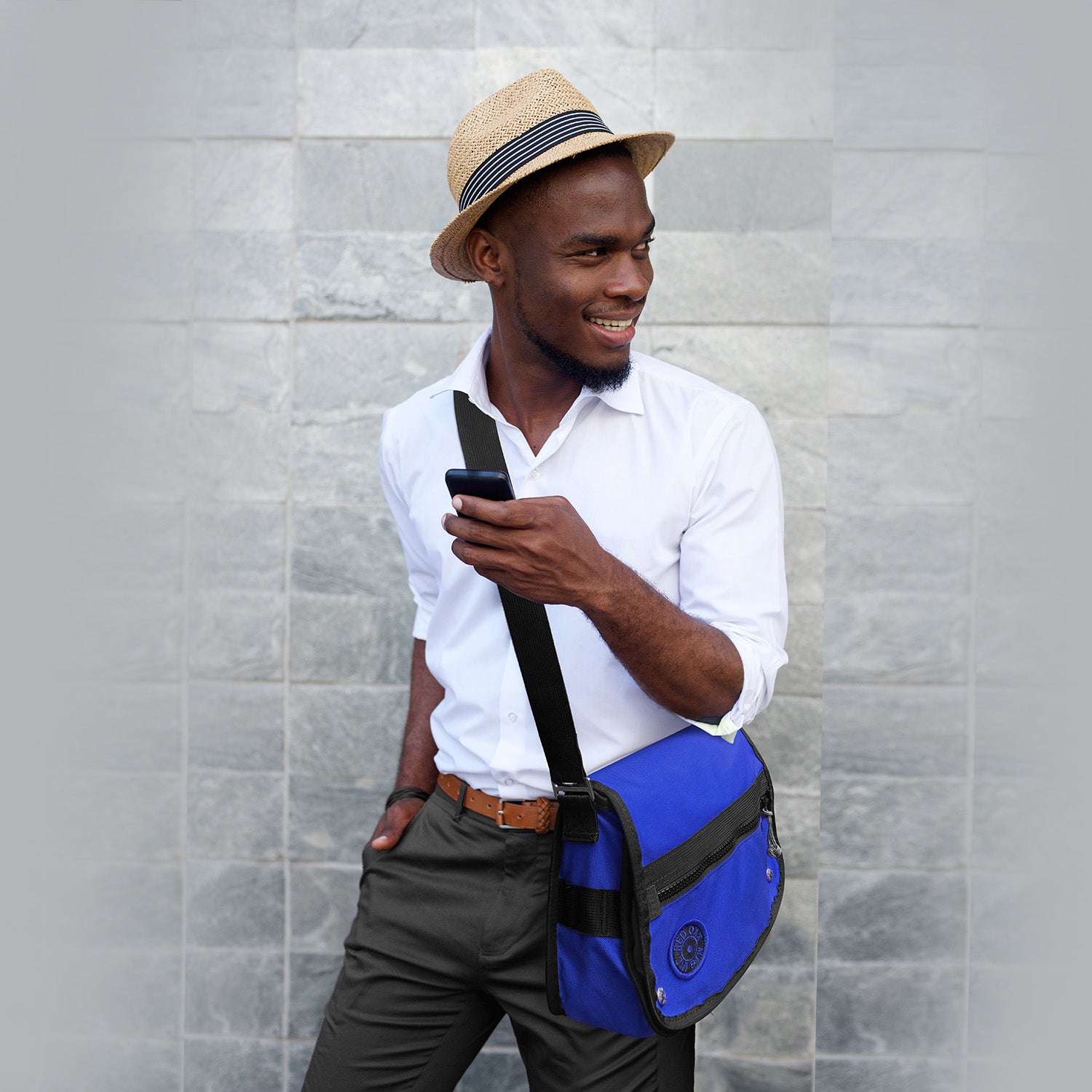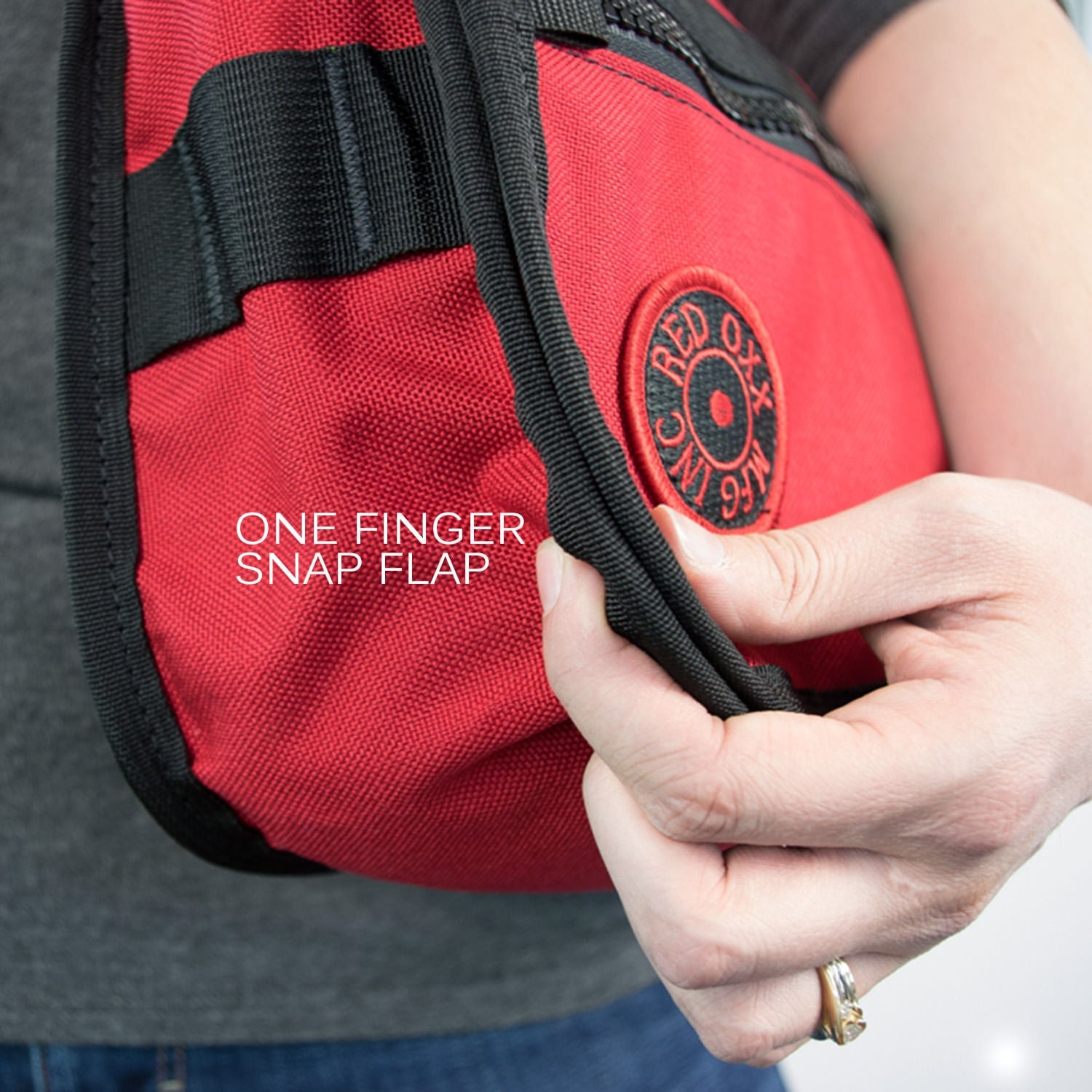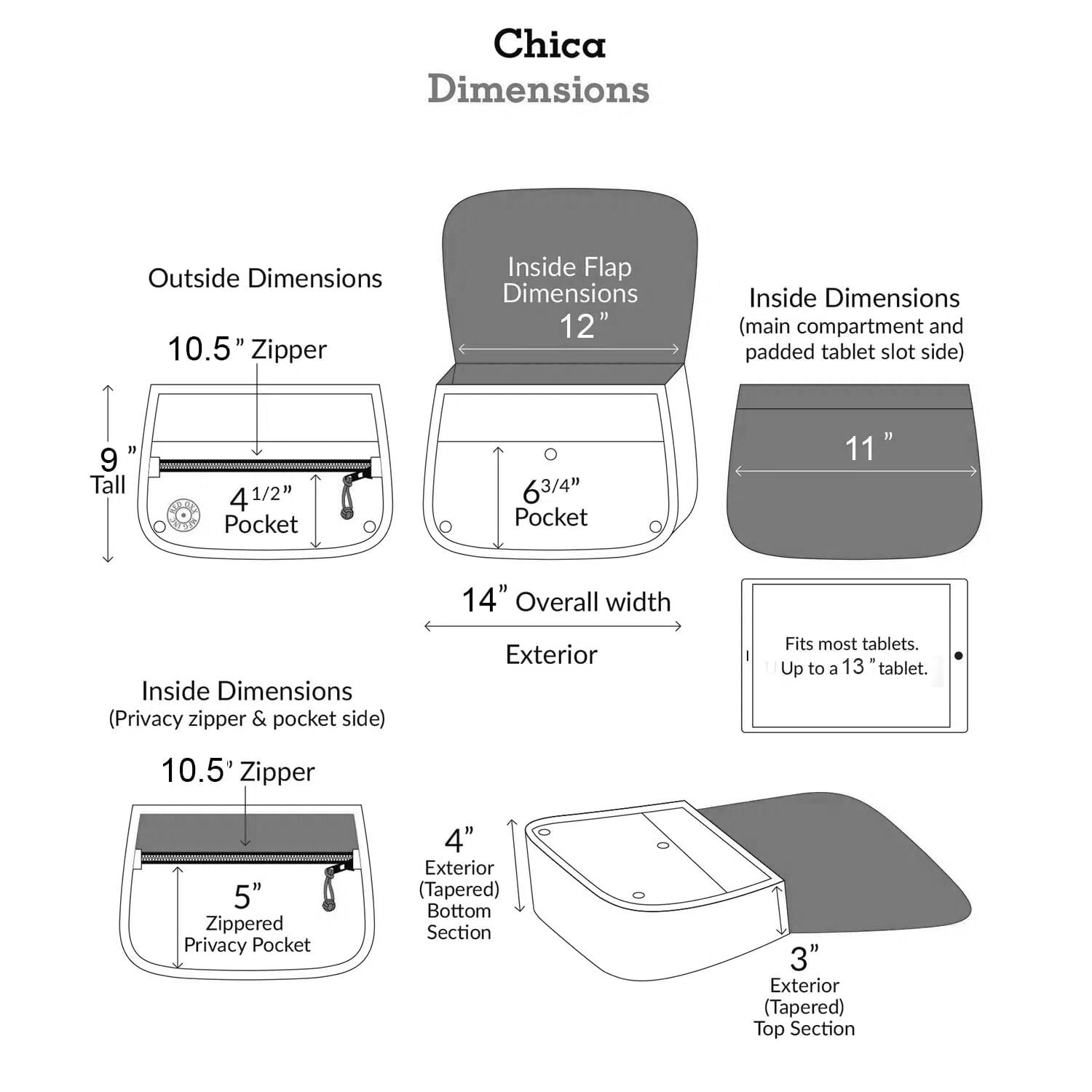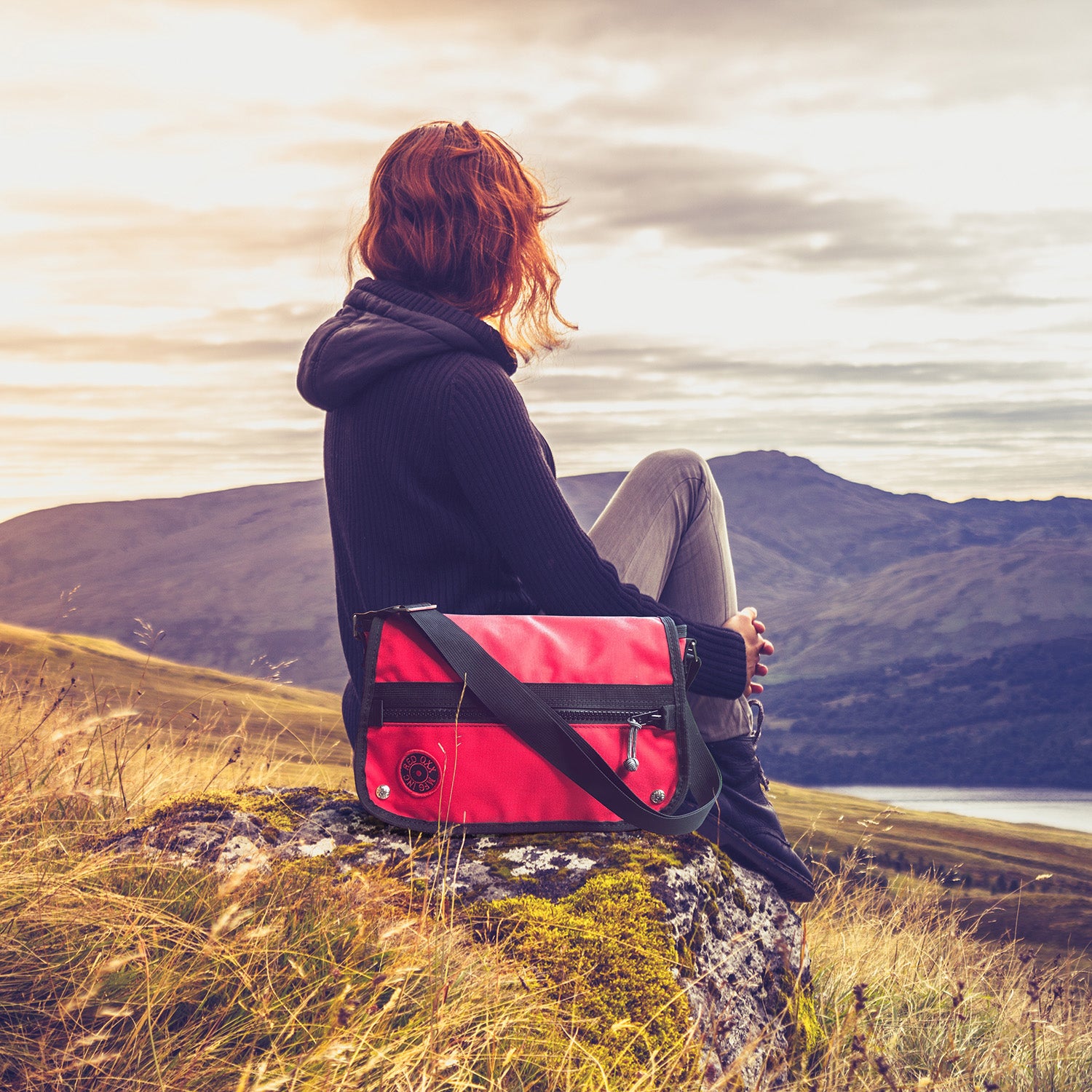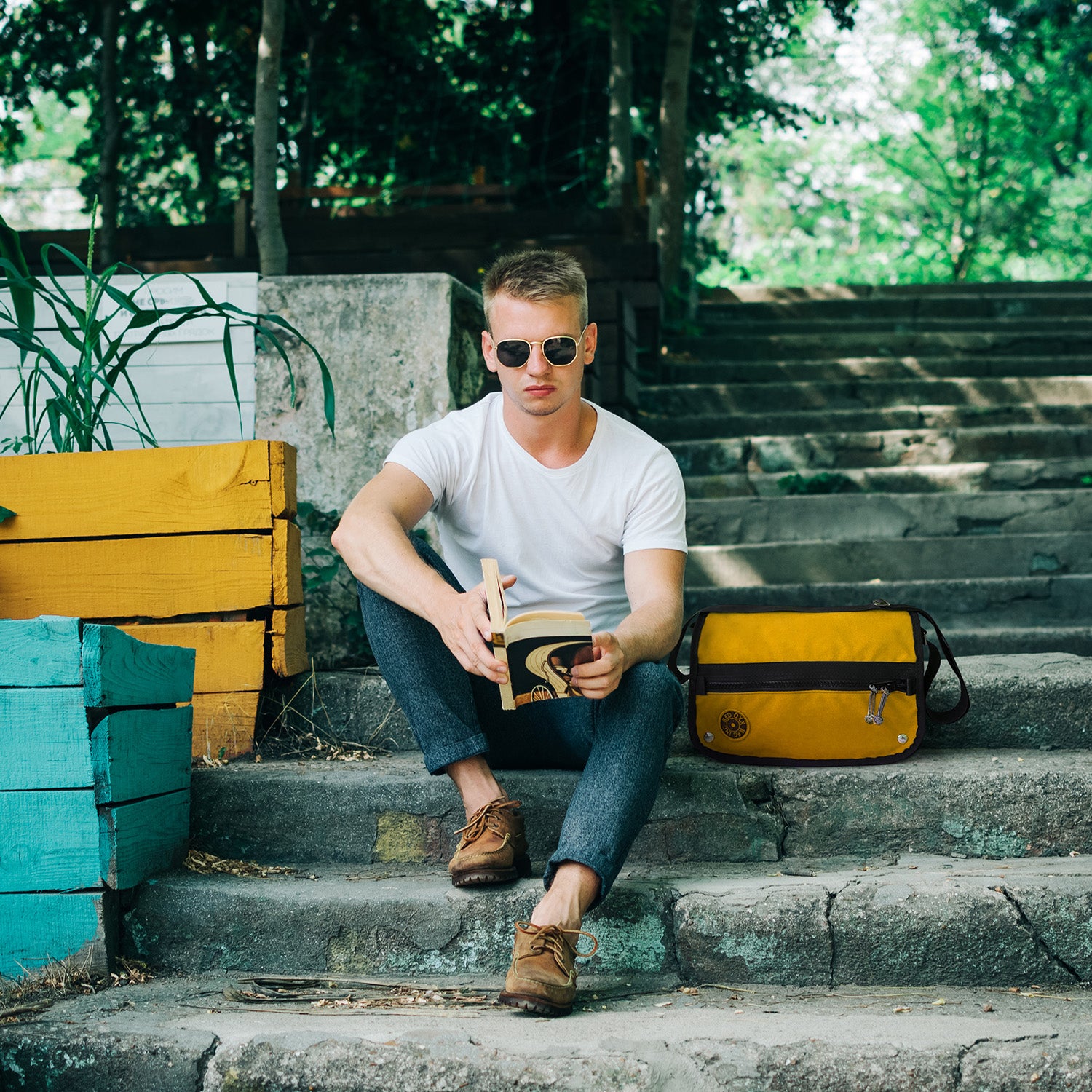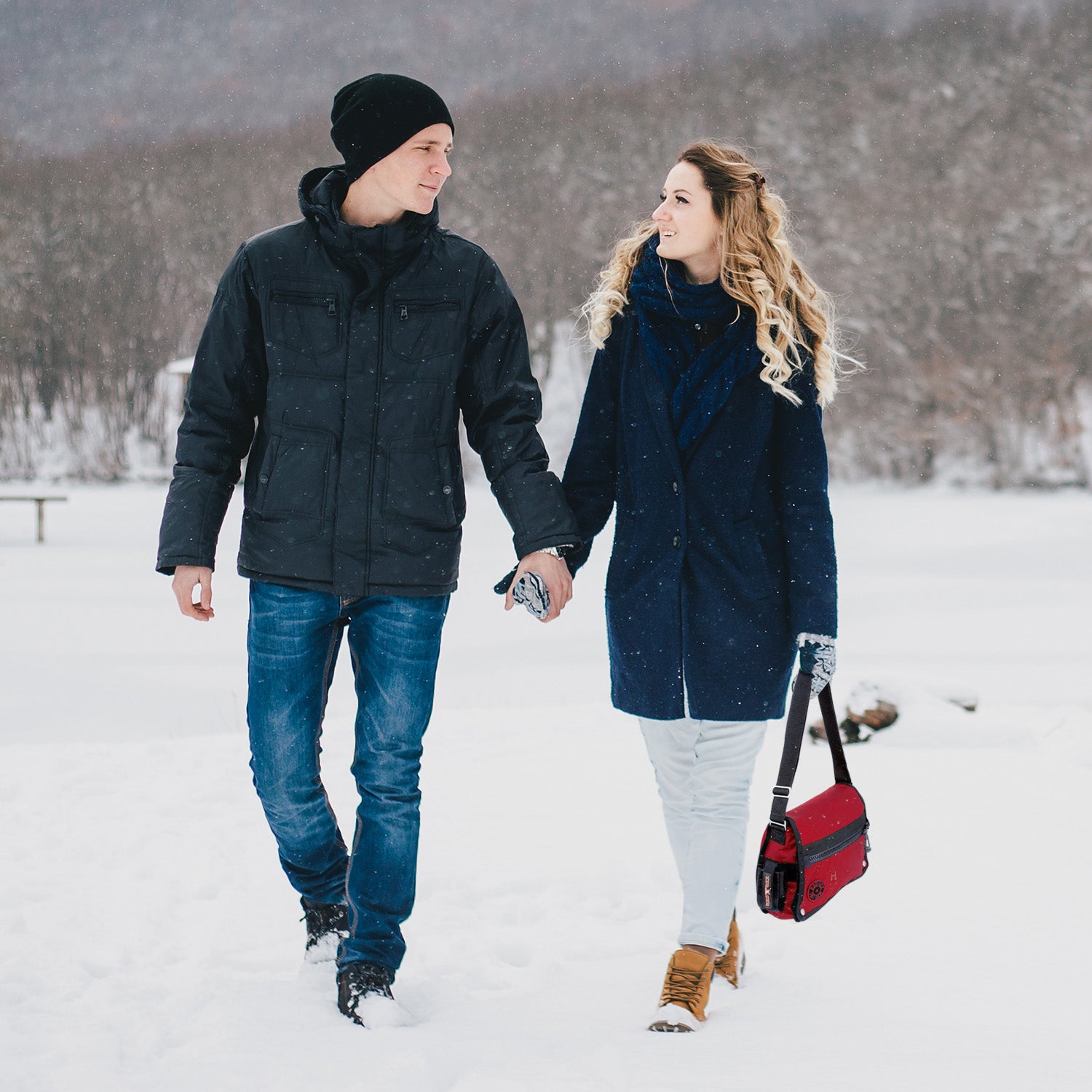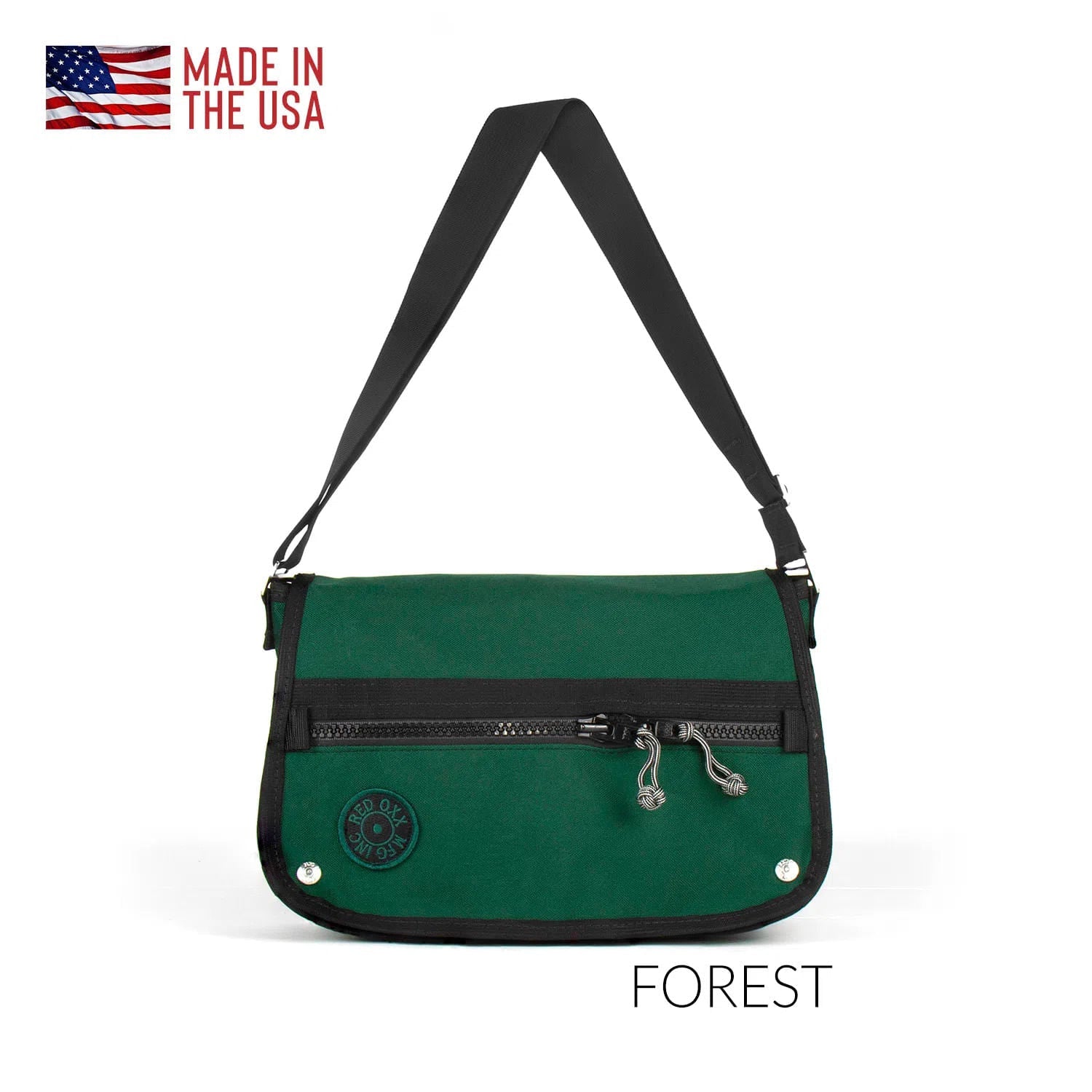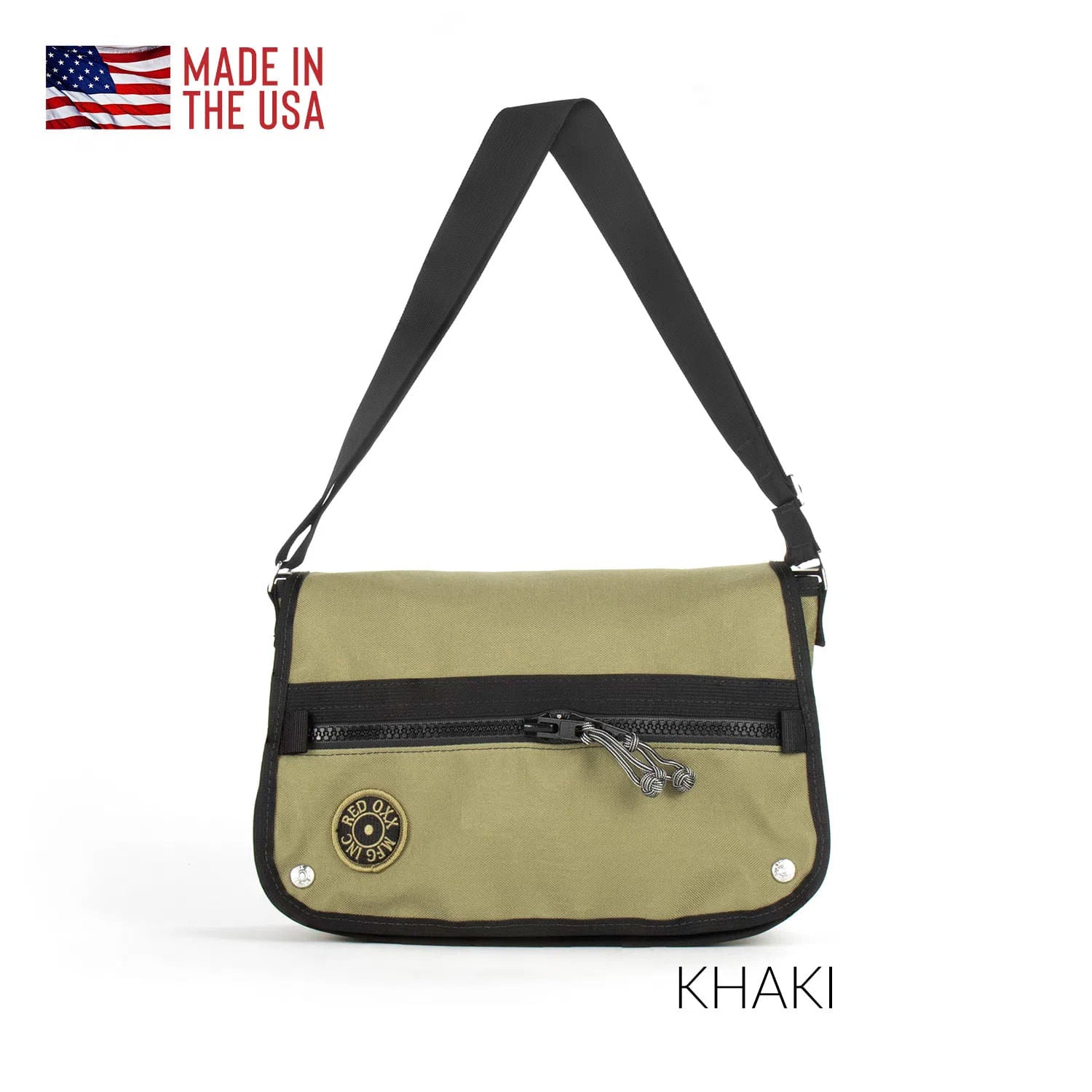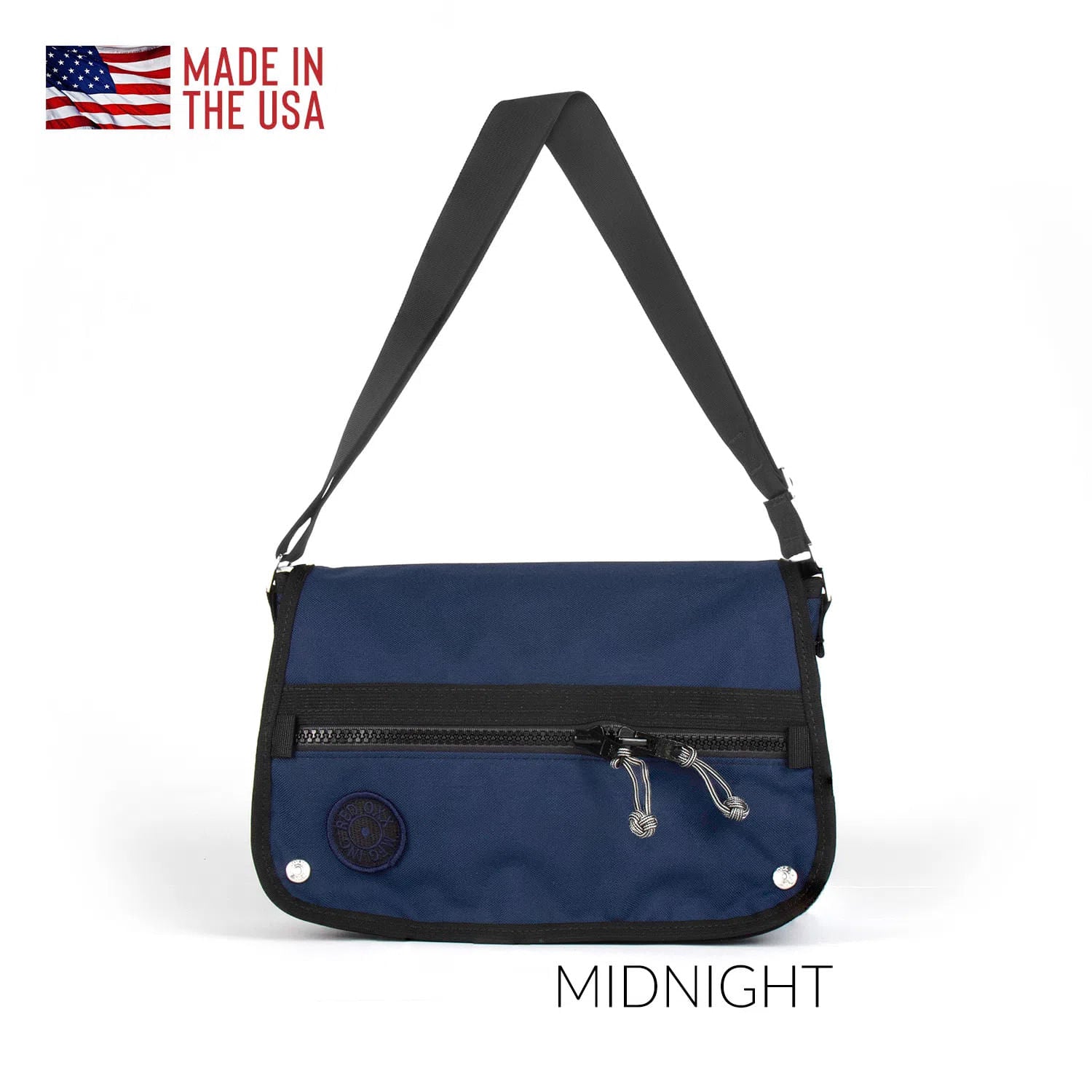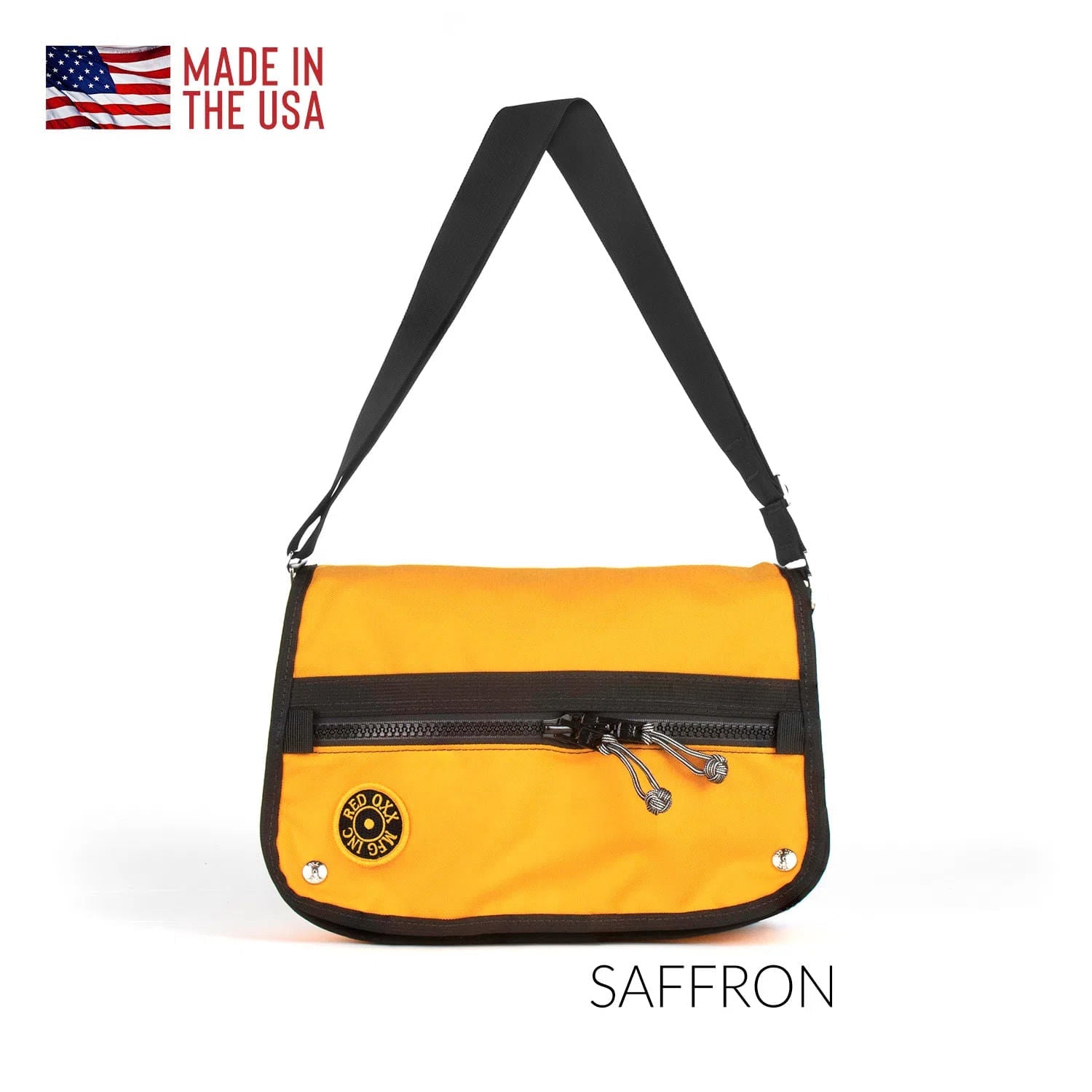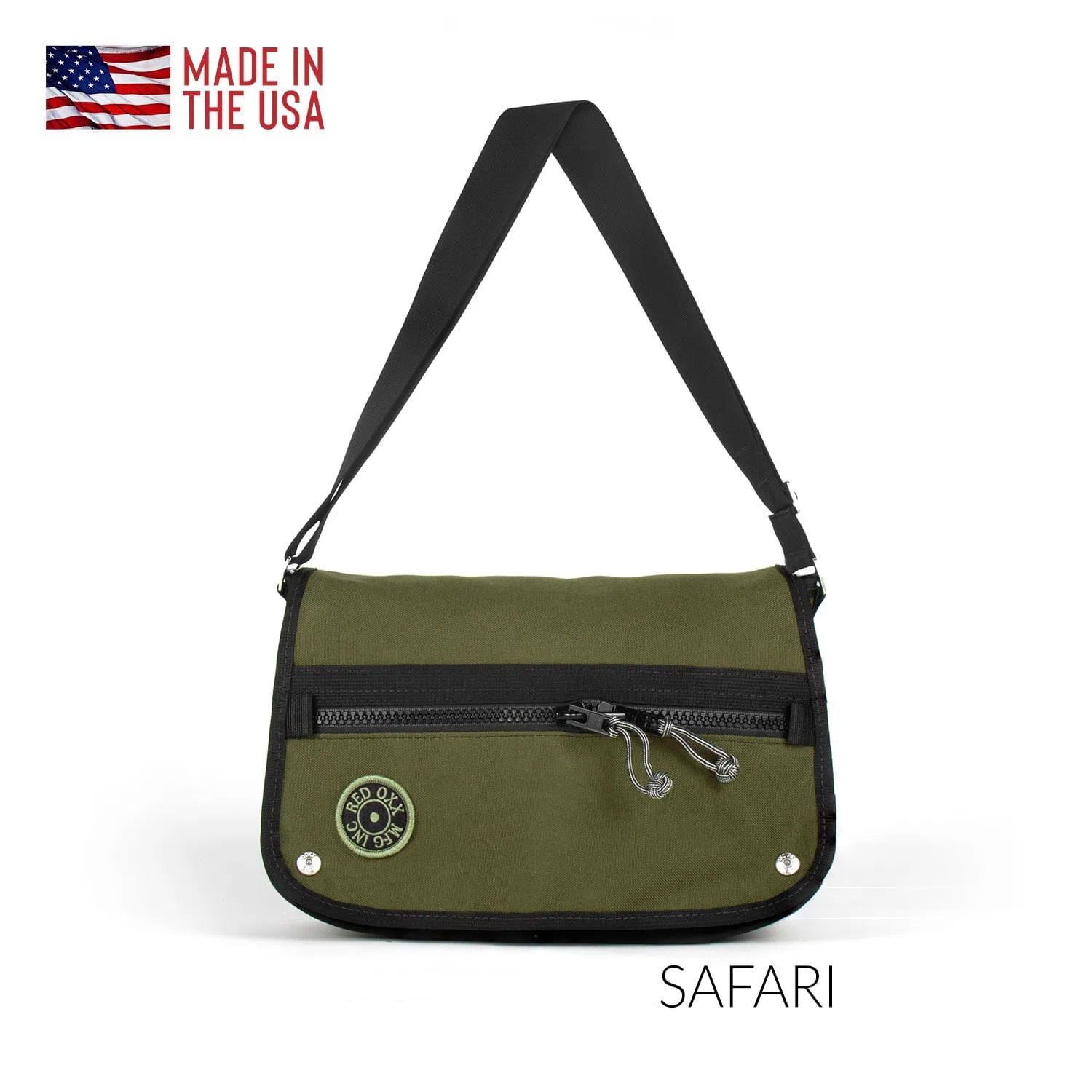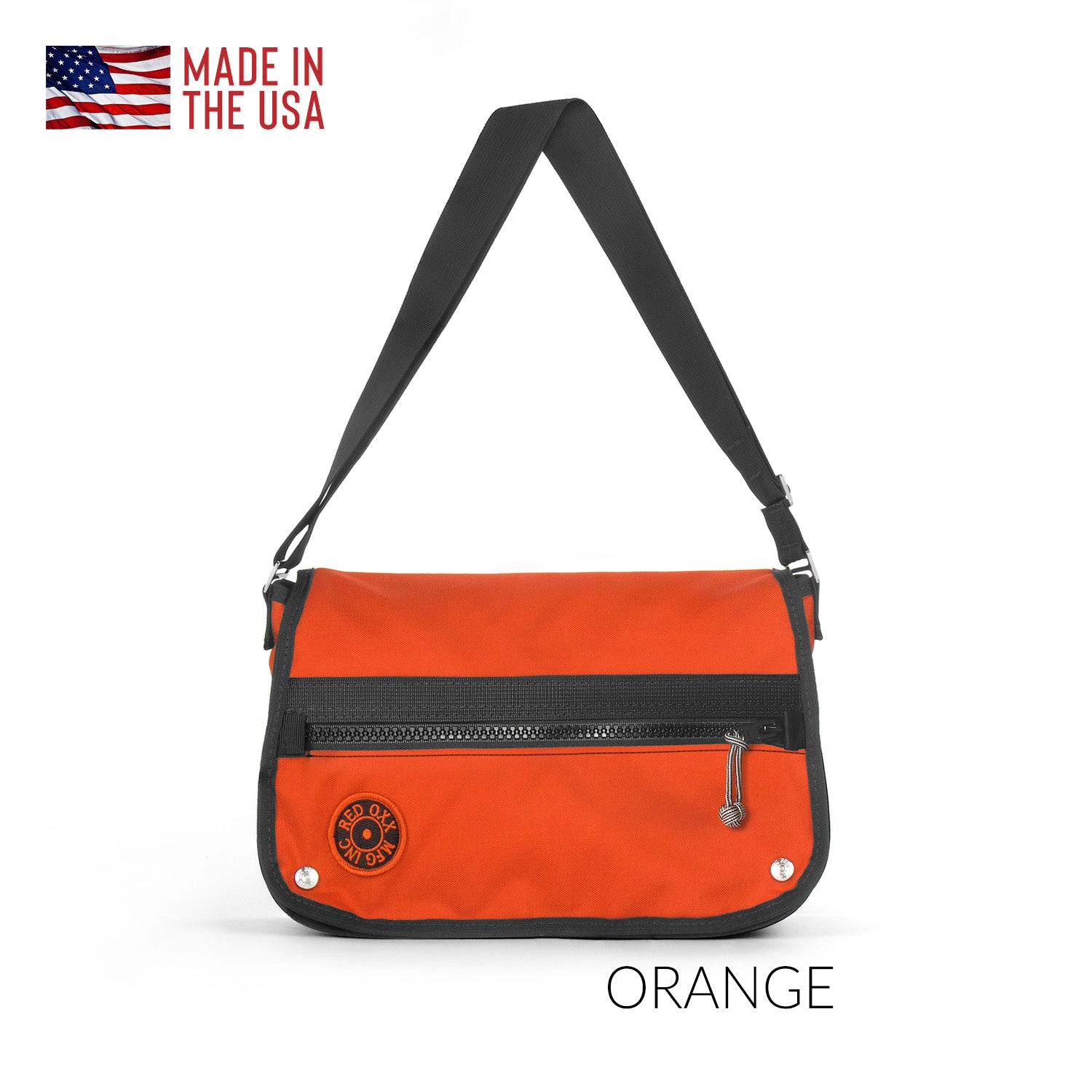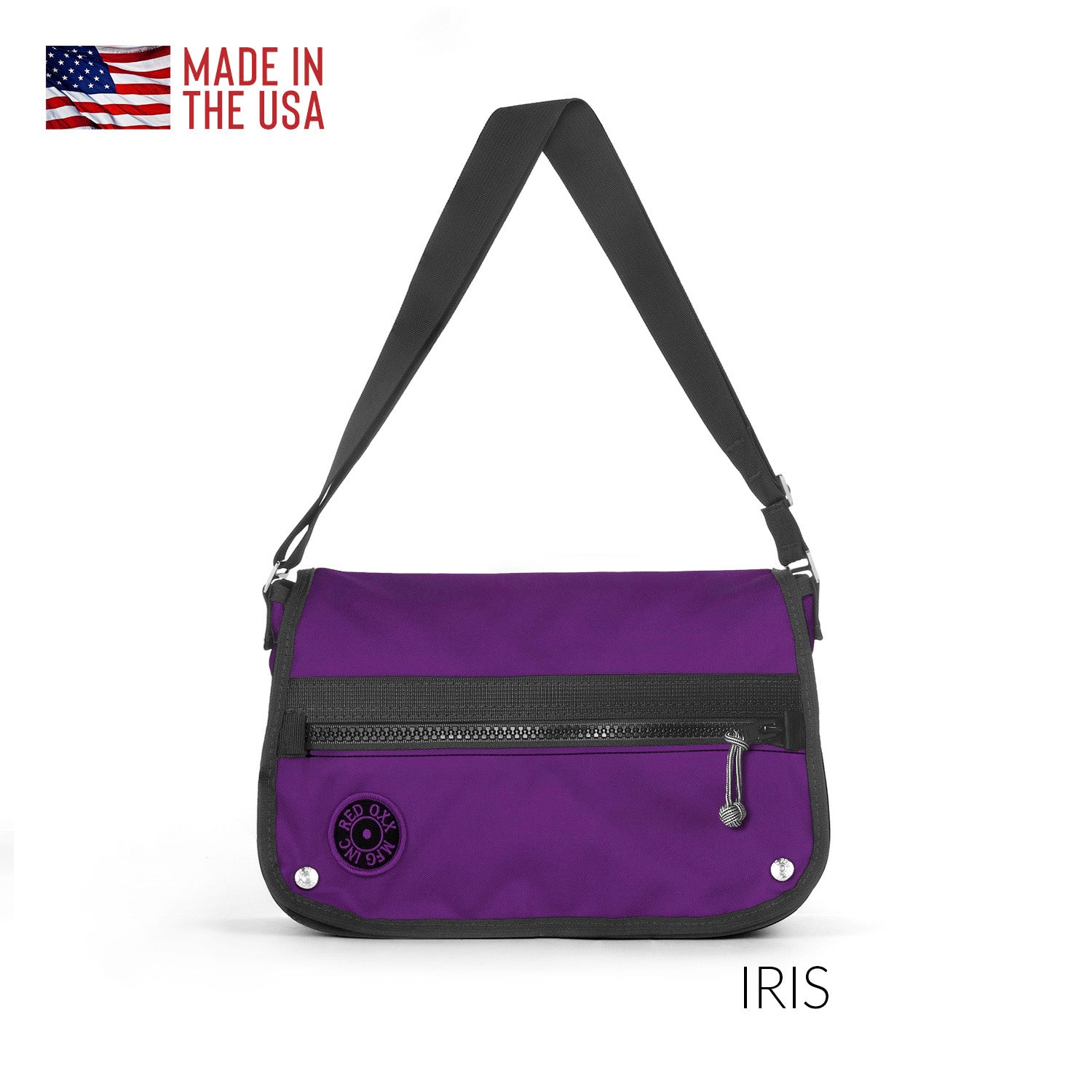 Chica
Safe space for all those rocks you should leave right there....
This classic mini messenger bag design is the perfect solution for outdoor lifestyles.  The Chica can haul more than you would expect. Lightweight and versatile, it's designed to be an everyday carry and can be used by anyone, regardless of gender.
Made in U.S.A. with our "No Bull" Lifetime Warranty
Dimensions: 14"L (base),12"(top) x 9"H x 4"W
Fully padded protection

Plenty of room for tablet, iPad or MacBook or Digital Camera

Unisex styling - Dudes call it a "Chico"

Weather resistant Mini Messenger bag

Great for crossbody wear

Slim design is low profile but holds a lot

Get organized with our mini messenger bag, the Chica (also known as the Chico). This wonderful tablet bag features two interior pockets, one zips, and the other's a flat slip pocket with a padded exterior panel to protect your flat screen electronics such as:

Apple iPad tablet
Amazon Kindle, Kindle Fire HDX and Kindle Paperwhite
Most electronic tablet PCs such as ASUS, Acer, HP and Lenovo ThinkPad
Most eBook readers
Nexus tablets
Windows Surface
Samsung Galaxy tablets
Google Android tablets
Barnes & Noble Nook HD eReader
Mini laptop notebooks no larger than 10.5"W x 8"D - ie: a 13" diagonal screen
NetBooks

REVISED AND UPGRADED
Rounded corners on the outer flap were borrowed from our Limited Edition Chicas. The revised Chica "II" has expanded to 1/2 inch longer at 14 inches and 1/2 inch wider at 4 inches than the original Chica. This brings the Chica "II" to 79 more cubic inches of storage space than the original (504 vs 425). It can now easily handle your paper files, a couple textbooks, a magazine or two, and writing notepad just fine.

RIGHT AMOUNT OF POCKETS.
In addition to the main compartment, there's an exterior slip pocket under the flap with a single snap closure.

The zippered pocket on the outside flap is big enough to hold your keys, makeup, computer power and charging supplies, cell phone, iPhone, Smartphone, iPod, tablet, etc.

There are also nylon webbing loops on the sides to clip a smart phone holster, or hang emergency pepper spray, clip knife, etc. Your Chica folds flat for easy packing and storage.

SATISFIED CUSTOMER REVIEW
"I was on the fence on this, because what I really wanted was a smaller Rock Hopper (discontinued). Now that I have it, it is damn near perfect. Right size, right weight, once I adjusted the straps it worked perfect cross body. The front snaps are great because someone can not easily dip into the bag and steal something. It also does not, absolutely does not, look like a murse (man purse) which I was worried about." ~ Joseph McGraith

The rugged Chica mini messenger tablet bag is sure to keep your tablet or iPad safe and handy and keep you organized while on the move.
U.S.A. Dimensions:

14"L (base), 12" (top) x 9"H x 4"W
Capacity: 504 cu. Inches
Weight: 1.01 pounds

Metric Dimensions:

35.5cm L (base), 30cm (top) x 23cm W x 10cm H
Capacity: 6.9 Liters
Weight: 0.46 Kilos

Pocket measurements:

Main compartment: 12"L x 9"H x 4"W
Exterior zippered pocket: 11"W x 5"D
Exterior snap pocket: 12"W x 6.5"D
Interior zippered pocket: 10"W x 5"D
Interior slip pocket: 11"L x 6.5"D

Features:

Adjustable 1-1/2" wide heavy nylon webbing shoulder strap
Two zippered pockets and two slip pockets for organization
Padded with 4# Fuzion STD Natural closed cell foam padding on back for structure and protection
Fabric: 1000 weight urethane coated, Dupont certified CORDURA® Brand Nylon Fabric
Weather resistant
Red 400 Denier High Density Nylon Pack Cloth lined interior
#10 YKK VISLON® self-locking YKK #10 nylon zippers
Web lash points on each side
All seams double stitched and bound
Mil-Spec Stainless Steel Logo snap closures
Fair trade Monkey Fist Zip Knots on all zippers
Includes Cable Lock
Can I fit a laptop in the Chica? Standard laptops will not fit in the Chica. Mini laptops, tablets, iPads, eReaders, Kindles and netbooks all will fit. If you're looking for a laptop bag, try the Metro or CPA Briefcases or the recent C.C. Rider Messenger bag.Can I fit a laptop in the Chica? Standard laptops will not fit in the Chica. Mini laptops, tablets, iPads, eReaders, Kindles and netbooks all will fit. If you're looking for a laptop bag, try the Metro or CPA Briefcases or the recent C.C. Rider Messenger bag.

Will this work as a camera bag?
The Chica makes for a handy digital camera bag. If you own an SLR camera, we recommend the Gator.

Is this a purse for women?
While designed as a travel purse, we prefer to think of the Chica as a minimalist messenger bag for both women and men. Both sexes can enjoy its many useful features. See our Chica reviews for suggestions of many uses from our loyal customers.

Is the shoulder strap removable?
The shoulder strap is attached to the bag via metal rings which are stitched directly onto the bag using double box stitching. For greater flexibility, some customers have converted their bags on their own to use The Claw shoulder strap.

Is this a messenger style bag?
Sure. Albeit smaller, and more compact than your typical messenger bags.

Can you ship USPS?
Yes, Red Oxx will ship USPS upon request. Simply state, "Please ship USPS" in the cart comments during checkout and we will adjust your billing accordingly.

Is there a way to securely lock my bag?
Sure, you can use any TSA approved bag lock or try our Cable Lock for a simple, semi-secure solution. Watch this video where CEO Jim Markel demonstrates how you can use the cable that comes with the product Dog Tag price tag to secure your bag. Keep in mind, any determined thief can still cut open a soft-sided bag with a sharp knife.

How do I use or store my bag to keep it's original upright padded shape and prevent it from slouching?
When using your bag, pack heavy items in the bottom of the bag. When storing your bag, remove any items and press flat. You can stack your bags in your closet in this manner or better yet, use a compression strap (sold separately) to hang your bag.
Chica
Sale price

$165.00 USD
Regular price
(/)
This product has no reviews yet.
This product has no reviews yet.
This product has no reviews yet.