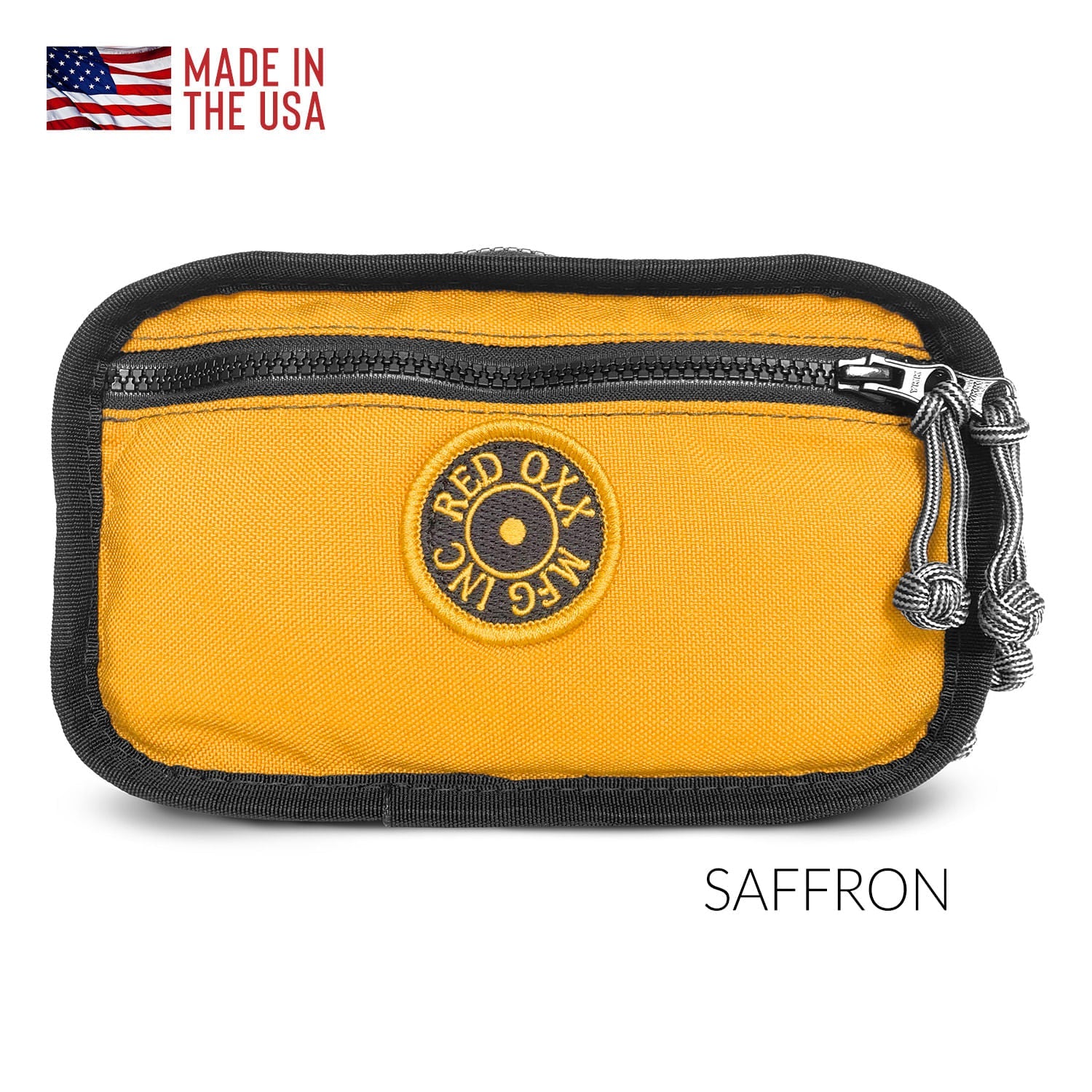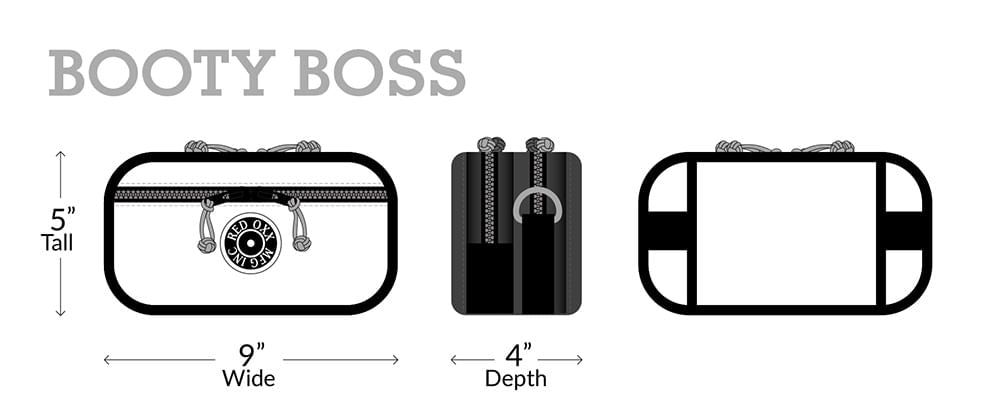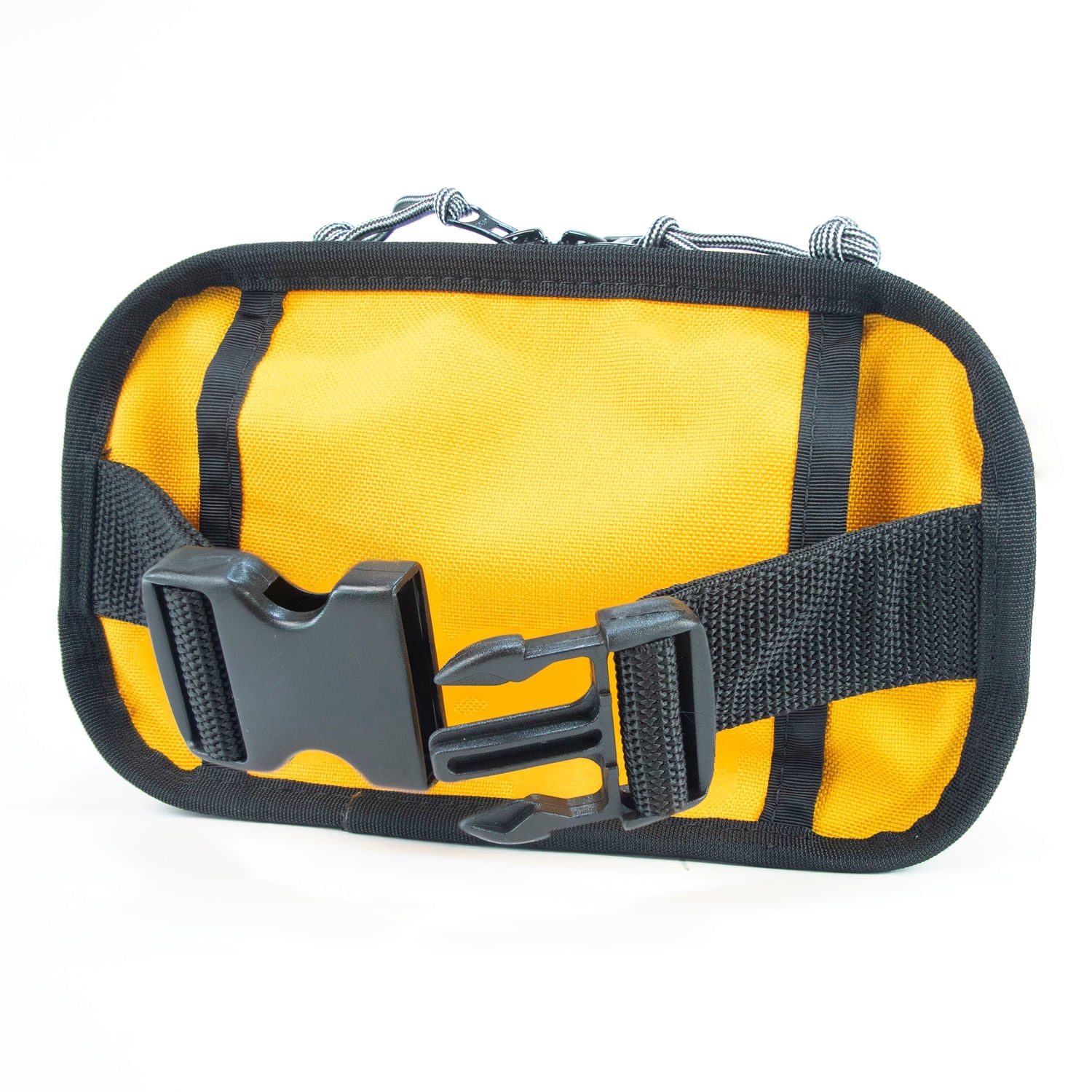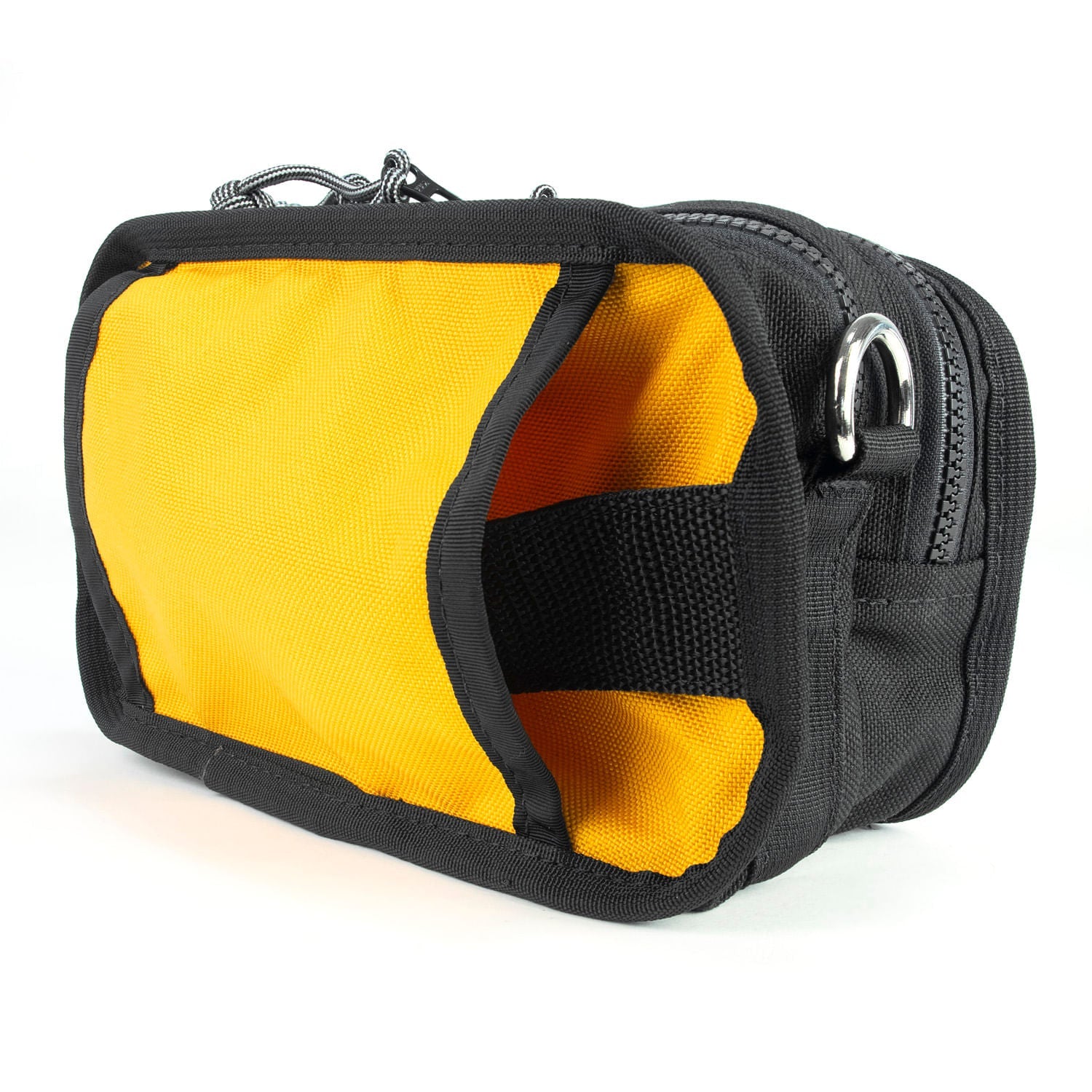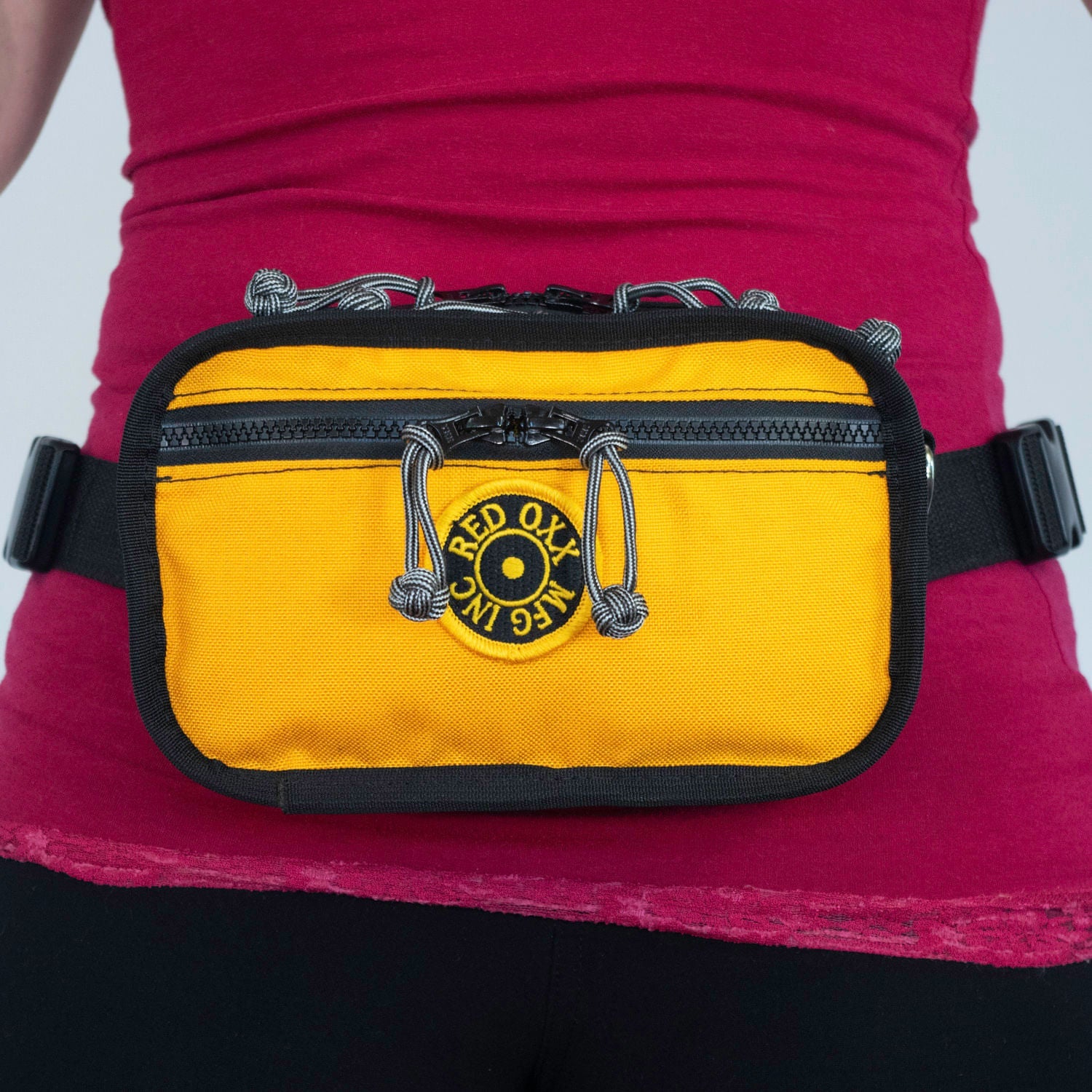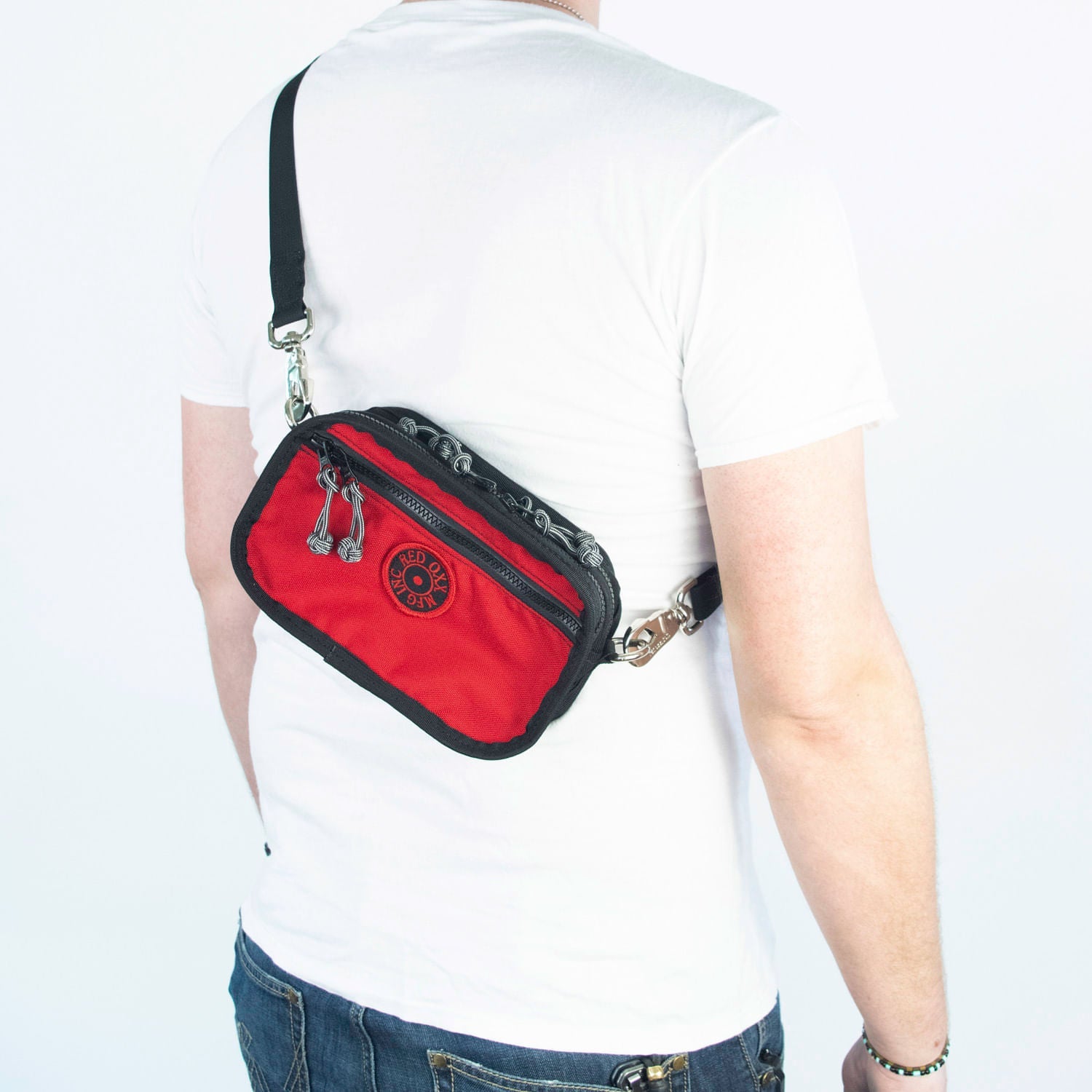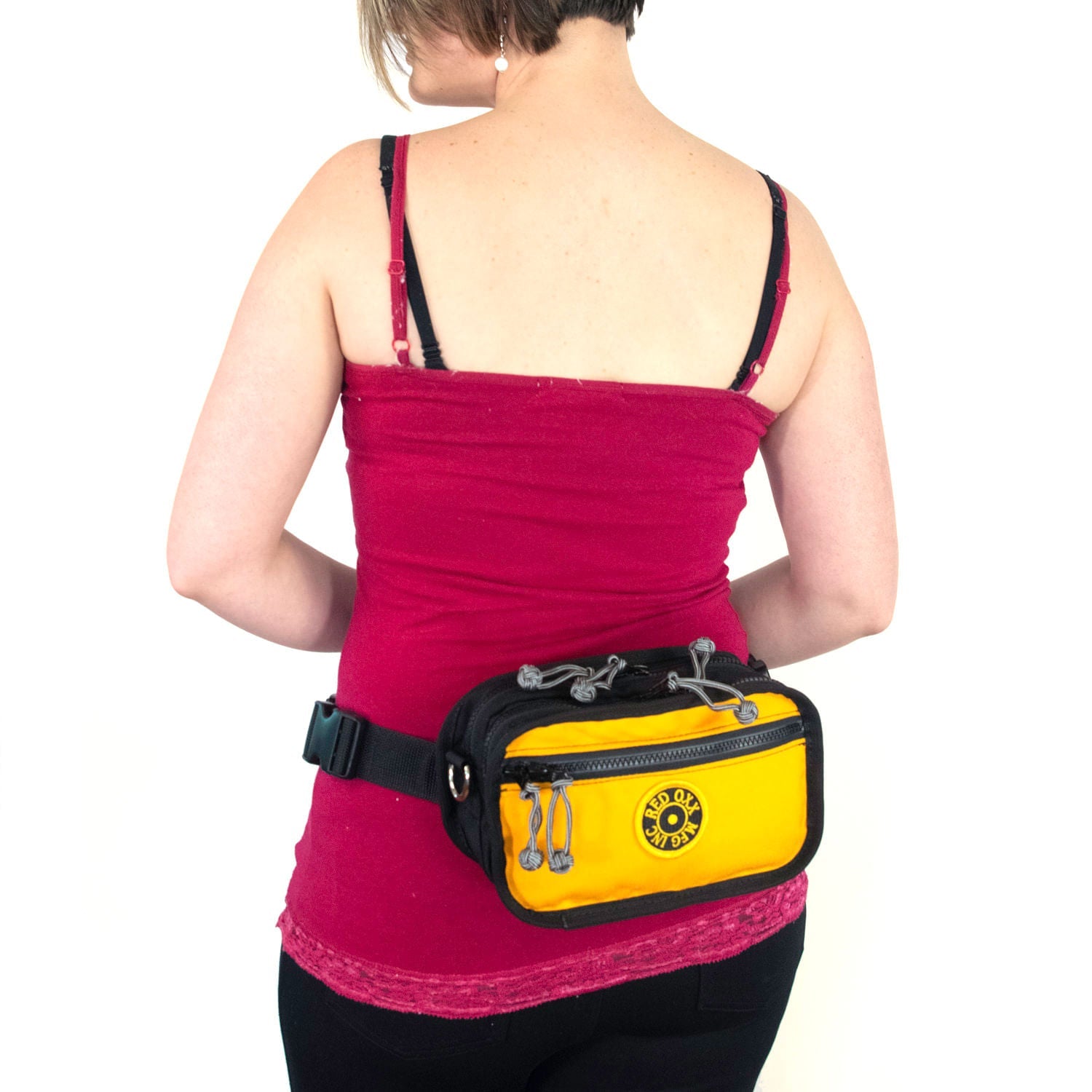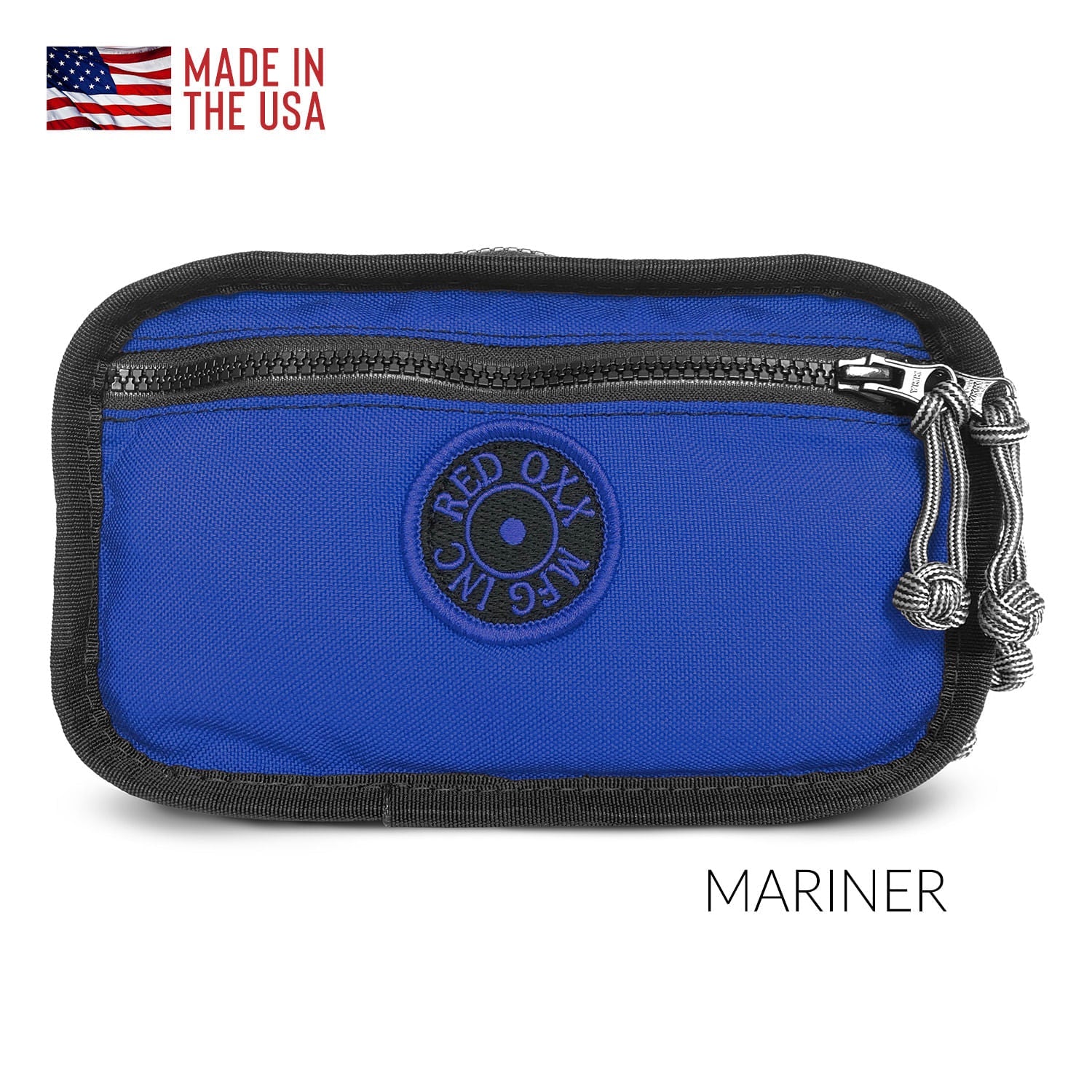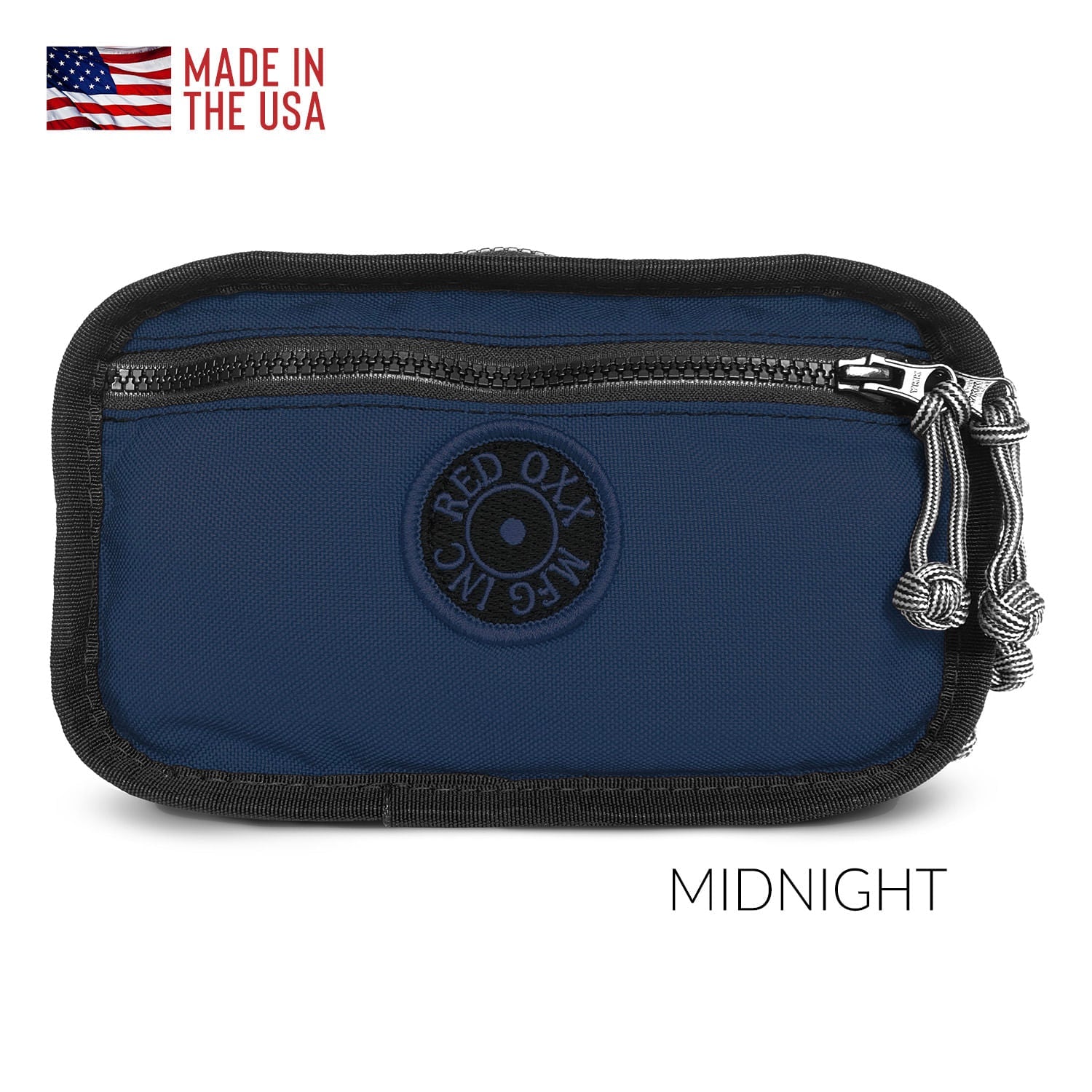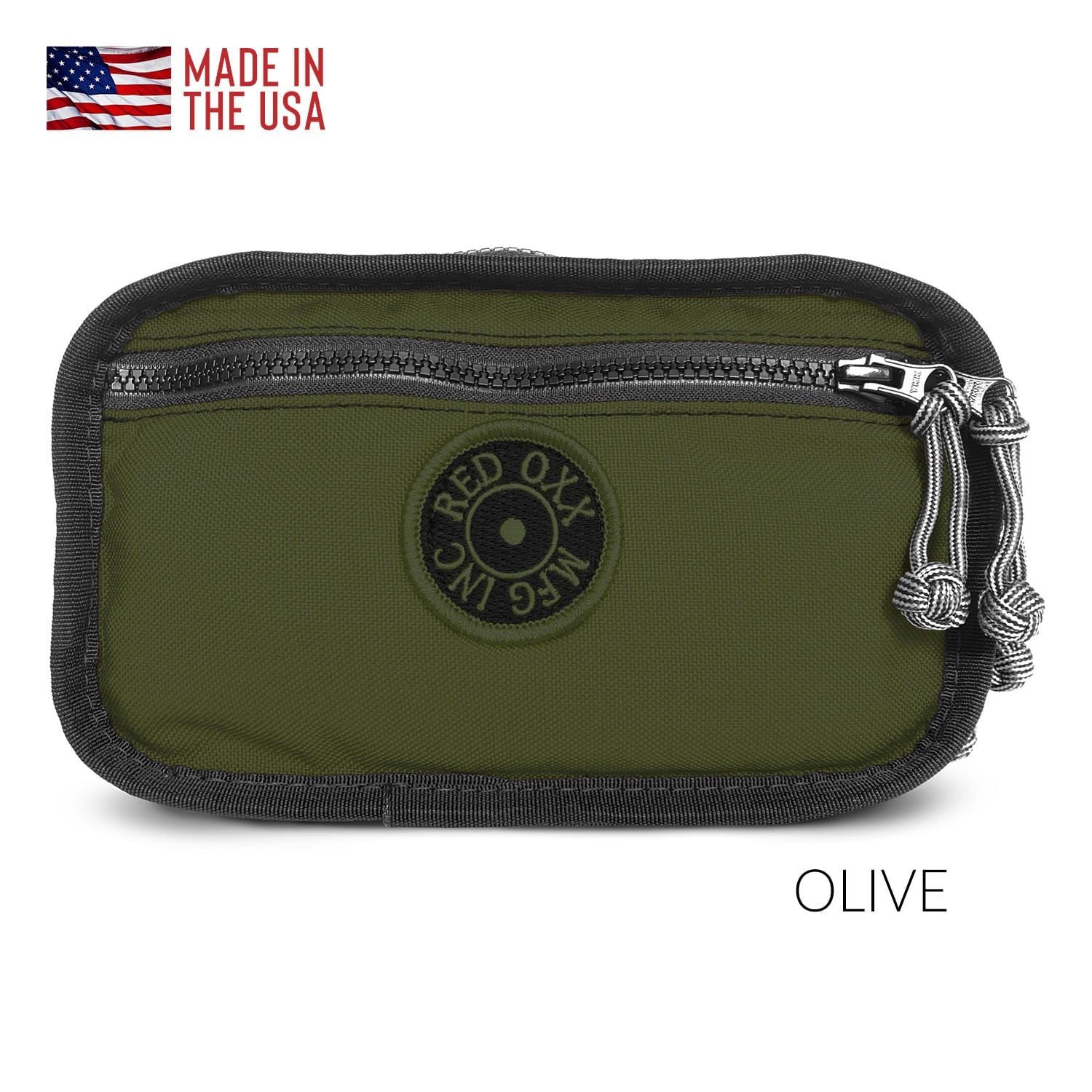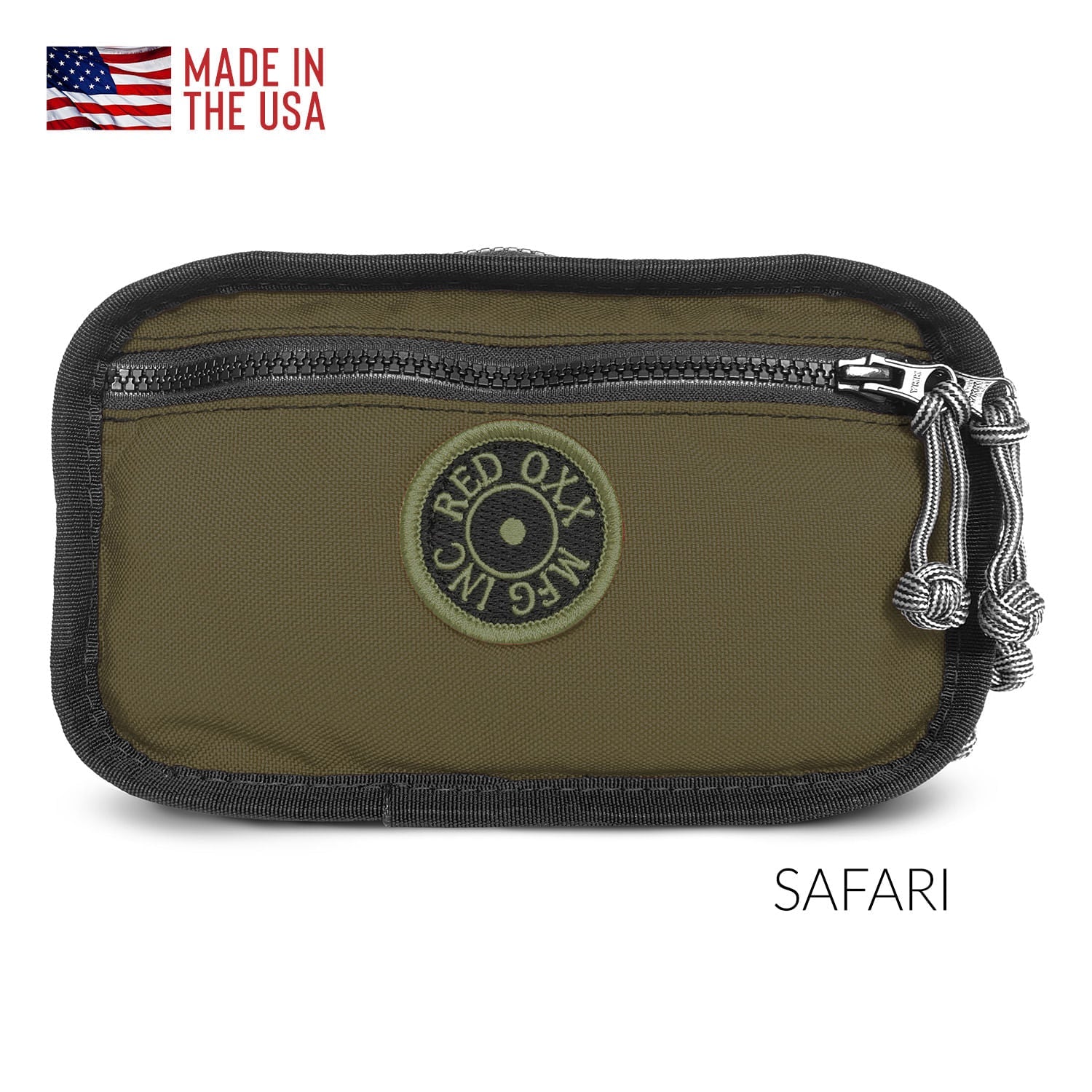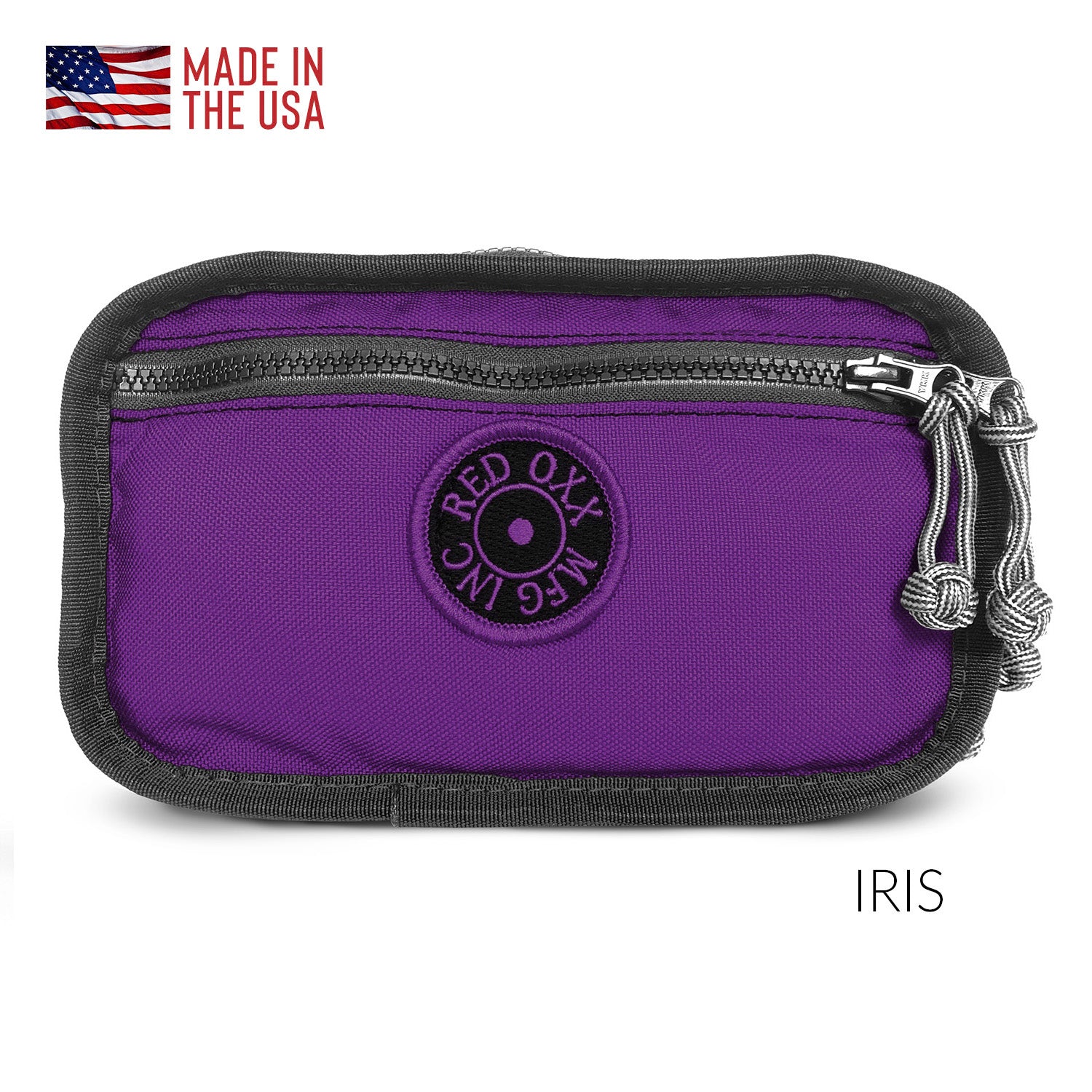 Booty Boss Waist Pack
Old school cool, Love me , hate me I am here to stay. 
The Booty Boss Waist Pack offers convenient and stylish storage solutions for on-the-go lifestyles. Crafted from durable materials, it can be worn as a traditional fanny pack, shoulder bag, or clutch, giving you multiple ways to keep your essentials close. Make it your go-to accessory for any occasion and never leave your must-haves behind.
Crafted in the U.S.A. and comes with our "No Bull" Lifetime Warranty. Dimensions: 9"W x 5"H x 4"D.
Multiple carry options: around waist front or back, over shoulder, cross body, hand carry (clutch)

Removable belt and carry strap included

Inside slip pockets for organization

DESCRIPTION

Imagine a fanny pack that looks cool. Imagine it as a belt bag for front access, or perhaps a shoulder carry bag, kind of like a sling bag? Or use it like a clutch purse. This bag can do all that and more.

Plenty of useful pockets are located inside the dual compartments. The front compartment measures 9" long and is about an inch wide. At its back there is housed a mesh see-through zippered pocket, making for a secure place to store your valuables.

There are two small slip pockets on the front of the breathable see-through mesh pocket. You can use them for keys, change, lip stick, zip drives, the sort of small items you may need right away.

The second back compartment is a hair deeper, big enough for a pair of gloves or a knit cap. On the back of this compartment is a slip pocket that will fit most of today's larger phones. The backing of this pocket is padded with Hyper-Cel padding, further protecting your precious communicator.

Round back is where the secret stash is. Behind a panel you'll find two large Fastex buckles. Pull these out and you can do many things with them. Clip them together and carry your Booty Boss like a clutch purse. Or clip it to your bike, scooter, etc.

Each Booty Boss comes with a 1-1/2 inch wide and about 39-40 inches long (when set at maximum length) adjustable webbing belt that can also be used as the shoulder strap. This clips to the Fastex buckles (about 17" length including the width of the bag) on the bag and then it can be worn in front like a belt bag, or out back over your booty, like a traditional fanny pack. Overall maximum wearable belt length when attached to the fanny pack belt clips is about 56 inches.



U.S.A. Dimensions:

Overall 9"L x 5"H x 4"W
Capacity: 180 Cubic Inches
U.S.A. Weight: 1.25 Pounds

Metric Dimensions:

22.8cm L x 10cm W x 12.7cm H
Capacity: 2.95 Liters
Weight: 0.57 Kilos

Pocket measurements:

External front zippered flat slip pocket: 8"L x 4"H
Front compartment: 8"L x 5"H x 1.5"D
Front compartment Mesh Pocket: 8"L x 4"H
Front compartment twin slip pockets: 4"L x 3"H
Rear compartment: 8"L x 5"H x 2"D
Rear compartment slip pocket: 8"L x 3"H

Features:

Multiple carry options
Removable adjustable webbing belt and carry strap
Fits most fly tackle boxes, wallets and more
Outdoor adventure ready
Fabric: 1000 weight urethane coated, Dupont certified CORDURA® nylon
Weather resistant
All zippers #8 and #5 YKK VISLON® self-locking
Thread: Anefil Nylon, Bonded Type 6,6 Tex 90-Black
All seams double stitched and bound
Monkey Fist Zip knots on all zippers
Includes Cable Lock
1.5" dual-adjustable poly webbing belt
1" shoulder carry strap included
1.5-inch sure-clip Fastex Buckles
Belt / strap extends to 40" or 55" if attached to Booty Boss Buckle
Double box stitching on shoulder strap
Dual stainless steel D-rings
Good morning, I was wondering if this bag will fit my Kindle which is exactly 7"x5", will the bag stretch?

A 5" x 7" Kindle will just fit. Our CORDURA nylon does not stretch but the depth of the compartments inside the Booty Boss allow for a bit of flexibility on the height of what will fit. Additionally, where the corners start to curve down the side of the bag is roughly an in on each side giving enough space to accommodate a small 7" tablet.

Can I use the Booty Boss to carry my PPE (Personal Protection Equipment) with me?
Absolutely, the Booty Boss Belt Bag is the right size, shape and has plenty of room to store your face mask, sanitation gloves and wipes, hand sanitizer, goggles, bootie covers, and other useful COVID-19 protection gear.

Will the Booty Boss Fanny Pack fit in the end pocket of the Safari Beano's Bags?
Yes, the fit will be tight in the smallest bag, the PR4, but will fit inside all the other Safari Beano's models, such as the PR5, and including the large raised side pockets on the Sun Chaser and Flying Boxcar.

What's the difference between the Booty Boss Waist Pack and the Lil Roy?
The Booty Boss is designed to be carried a variety of ways. Wear it as a fanny pack, or in front as a belt bag, or use the strap and carry it over your shoulder like a sling pack, or cross body. Or you can pull out the belt buckles, buckle them together and use that as your "clutch carry handle". The Lil Roy is a catchall or electronic gadget bag with two interior mesh pockets and is limited carry-wise by the simple carry handles.

Are there pockets on the inside?The Booty Boss Belt Bag has two interior compartments. Each compartment has pockets. The front compartment features a zippered mesh pocket, and two small slip pockets. The back interior compartment has a single flat pocket for items like a smartphone.

I've read you referenced EDC. What does it mean?
EDC is an acronym for Every Day Carry, a popular new market segment that defines the importance of bringing along certain items that you use daily.

My zipper broke. The teeth have separated. Do I send it in for warranty repair?
No need for warranty repair, try to fix it yourself. Check out this video where CEO Jim Markel shows how easy it is to do it yourself.

I use my Booty Boss Fanny Pack in my medical profession. Can I wash my Booty Boss?
Absolutely! CORDURA® Brand Nylon Fabric is easily cleaned with warm soap and water, bleach wipes and a mild bleach solution. (note: heavy use of bleach may discolor your bag).

Can you ship USPS?
Yes, Red Oxx will ship USPS upon request. Simply state, "Please ship USPS" in the cart comments during checkout and we will adjust your billing accordingly.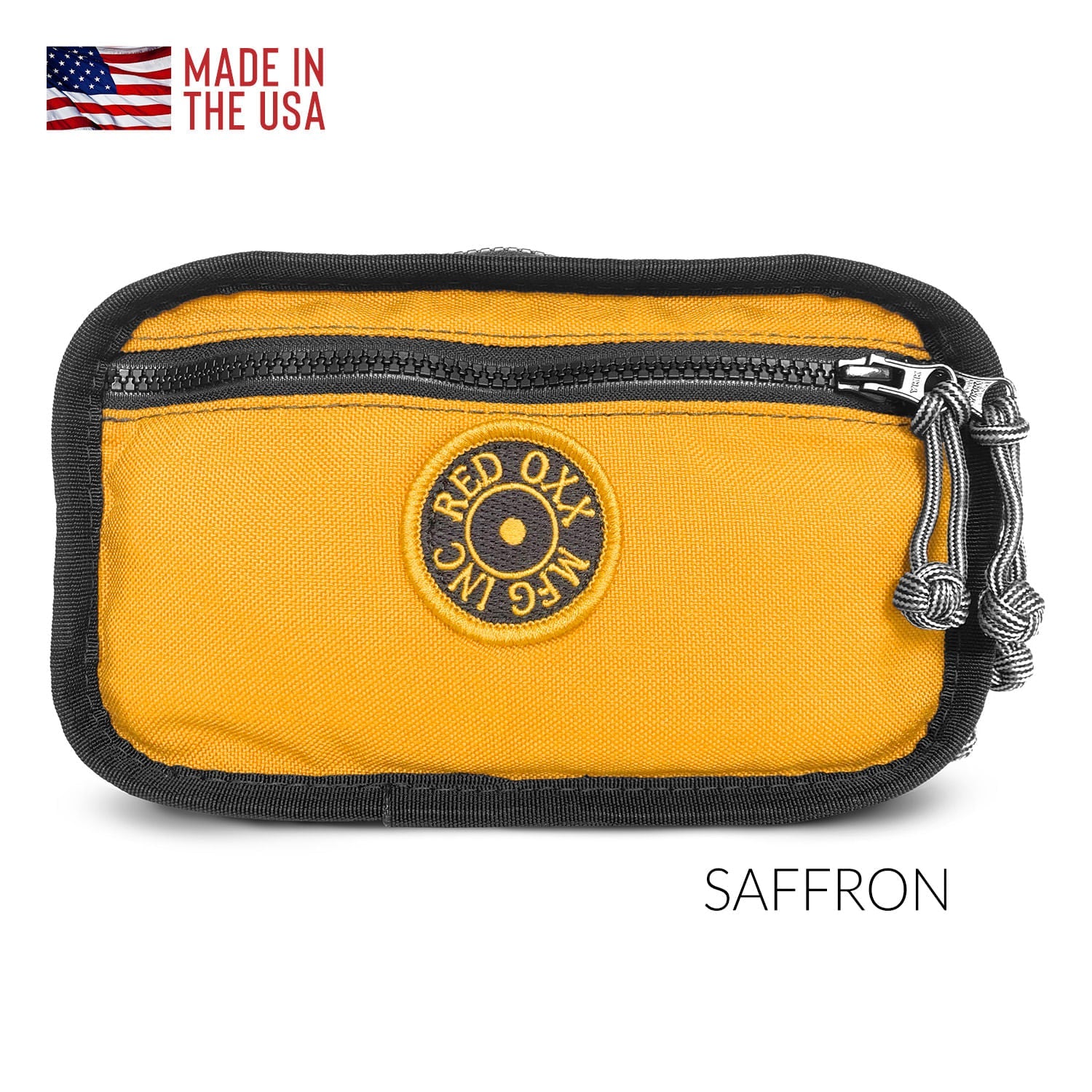 This product has no reviews yet.
This product has no reviews yet.
This product has no reviews yet.