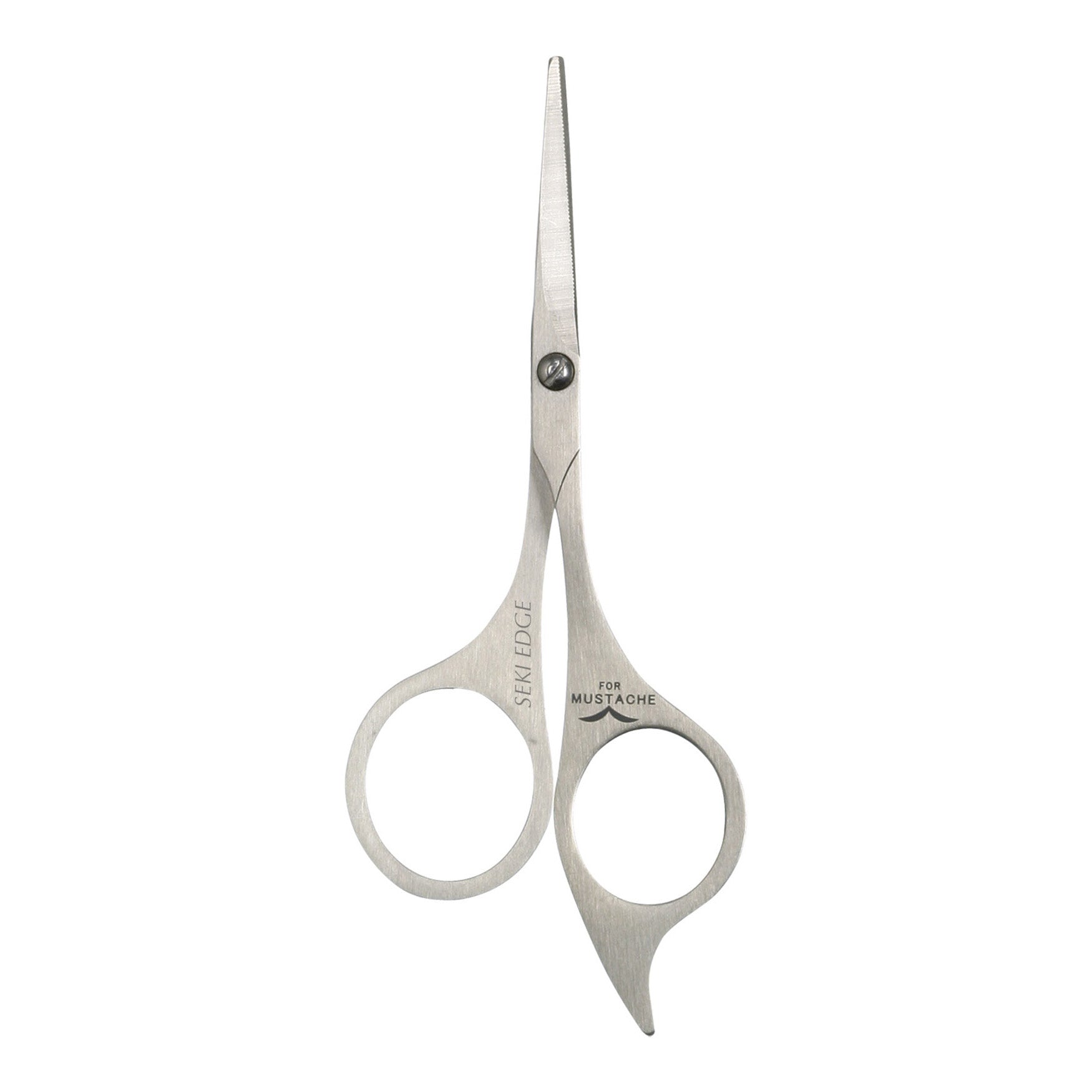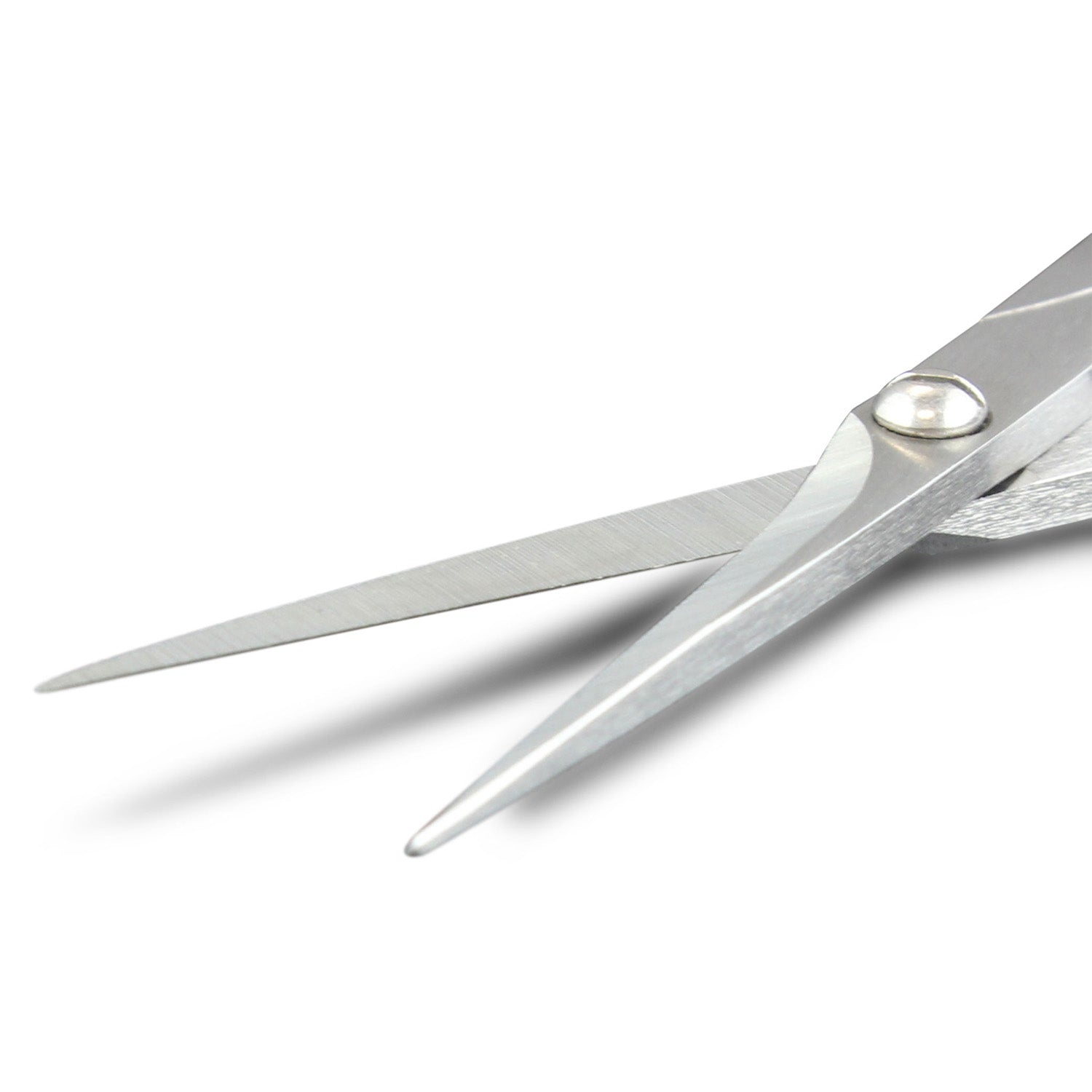 Seki Edge Mustache Scissors
Trims your mustache handlebars straight. Now You're in Control.
Serrated edges for pain-free trimming
Dimensions:
4-7/8"L x 2" W.

Serrated edges for swift pain-free hair trimming

Made in Japan with a Lifetime Guarantee

Made from legendary Samurai steel

A Red Oxx Recommended Lifestyle Grooming Instrument.

The face splitting moustache (or mustache) has made it's triumphant return to facial fashion. From handlebar moustaches to Fu Manchus, gents everywhere are re-discovering the hair on their upper lips can look neat and clean.

Those groomers who prefer to go "snip snip" instead of powering through lip hair with an electric razor can now rejoice. Seki Edge introduces the world's finest Stainless Steel Moustache and Beard Hair Trimming Scissors.

Samurai Blade Technology
From the creators of the Samurai sword in the mountains of Seki, Japan, age old craftsmanship meets modern design and technology to create an exquisite blend of ergonomics and art.

Seki Edge, crafters of fine hand finished personal care grooming products proudly announce a pair of Moustache Scissors with a sleek stainless steel satin finish, hand ground, individually sharpened scissor blades with precision tips and ergonomic handles for a lifetime of rust-free use.

Seki Edge Stainless Steel Moustache Scissors feature precision blades with micro serrated cutting edges that can trim through the toughest moustache or beard hair.

Designed with grooming performance in mind, these moustache scissors won't "pull" at your sensitive facial hairs when you trim away. They're made from twice-tempered stainless steel for a sharp blade edge and a lifetime of use.

The ergonomic finger rest provides control for smooth operation and suitable results. Now using moustache scissors is a comfortable and relaxing experience.

Not only can you use them for trimming moustache hairs, they also work great for other facial hair like horseshoe moustaches, pencil moustaches, Fu Manchus, soul patches, toothbrush moustaches, walrus moustaches, the "Zappa" stache, Van Dyke beards, sideburns, chin curtains, mutton chops, goat patches, goatees, neckbeards, Shenandoahs, side-whiskers, and plain old boring beards. Leave a sharp stylish impression and keep your moustache, beard and other facial hairs in full control.

Sharp serrated blades "catch and hold" hair to prevent slipping and painful hair pulls.
Use to trim facial hair with ease and precision.
Ergonomic handles provide a comfortable grip while trimming.
Lifetime performance.
Twice tempered stainless steel construction
Serrated edges for pain-free trimming
Ergonomic finger rings and finger rest
Hand-finished
Sharp cutting blade edges
Made in Japan
Lifetime Guarantee
Believe it or not, my Seki Edge Moustache Scissors have an issue?No problem, Seki Edge provides a Lifetime Guarantee. Clickhere for information on how to returnyour Seki Edge Nostril Trimming Scissors for servicing such as sharpening or repair. Do not return them to Red Oxx!
This product has no reviews yet.
This product has no reviews yet.